56 DIY Wood Pallet Ideas (with Pictures)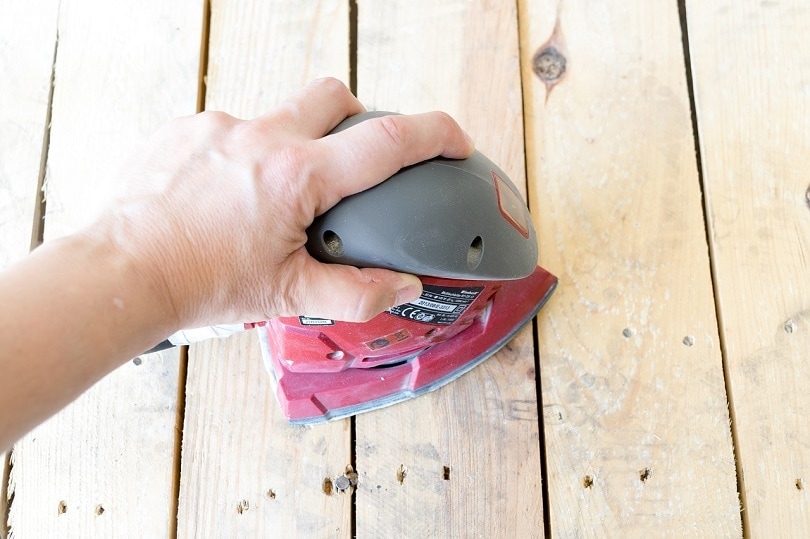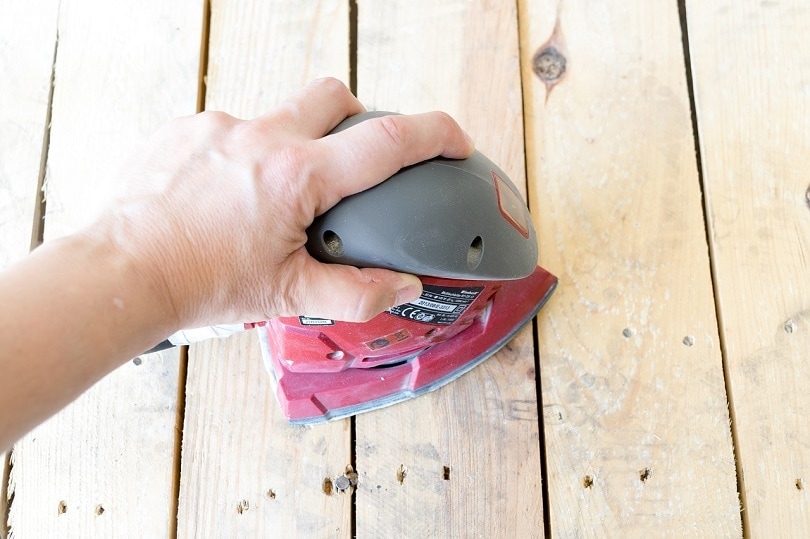 If you have pallets sitting around your home, you may be looking for some ways to recycle them. Used pallets are also easy to get at local grocery stores and other outlets, so they are an easy way to get cheap lumber if you are a beginner woodworker, and you may be wondering what kind of projects you can create with them.
We've searched the internet for as many ideas as we could find, and we are going to present them to you here with pictures and a description telling you a little more about it.

DIY Pallet Projects
Here are several projects we've been able to round up for you to try out.
1.

Pool Bar
The Pool Bar pallet project is easy to build and only requires a few pallets. The resulting project is functional and attractive. It's perfect for the outdoors and will allow you to serve drinks at your next party.
---
2.

The Spruce Tool Holder
The Spruce design is probably the easiest on this list to create, and it only requires a single pallet. It can hold several long-handled tools like your rakes and shovels and provide you with an easy way to access and store them. You can improve it more with some paint or stain, and polyurethane will help keep out the moisture for added durability.
---
3.

Allison Whelan Laundry Helper
With a single pallet, a saw, and some nails, you can create this handy laundry basket holder from Allison Whelan. It holds up to three baskets, so you can pass them out for easy collection.
---
4.

End Table
The pallet End Table will require a few hand tools and some time to put it together, but if you are looking for a light challenge, this end table is the perfect project. You can even improve it further with some paint or stain.
---
5.

Rustic Gate
If you have small children or pets that you need to prevent from going up or downstairs or going into certain rooms, you need to try out the Rustic Gate project. You can build this gate with a single pallet and a few hinges, and it results in a durable gate that's more stable than many you can purchase.
---
6.

Fantasy Hut
The Fantasy hut is a great addition to any large porch or patio. Its pyramid-shaped design will likely require a few pallets, but it's easier than it looks to create and will get plenty of attention from visitors. Christmas lights on the outside are a nice touch, and you can improve it further with paint.
---
7.

Console Bench
If you only need to get rid of a single pallet, the Console bench is the perfect project. It's easy to build and provides you with a stable place to store your television and gaming system. With a little stain, it will look amazing in any room of the house.
---
8.

Gracie Oaks Coat Rack
If you are a beginner, the Gracie Oaks Coat Rack is a great project to start building. It only requires a partial pallet, so you can be selective about the wood you use, and it results in a functional place to hang your coats and hats.
---
9.

Rustic Dog Dish
The Rustic Dog Dish is perfect for people with pets, and it makes a great gift. It's easy to build and has a space for food and water, and raises the bowls off the floor, making it easier to eat and creating less mess.
---
10.

Sliding Barn Door
If you have a storage shed or closet that needs a door, the Sliding Barn Door is the perfect project. It makes use of at least two pallets and some steel pipe, but it's easy to build and results in a unique and attractive solution.
---
11.

Industrial Bookcase
The Industrial Bookcase is another great project for beginners, and you can build it with very few tools. You might not even need to cut any boards. You can make it as large or small as you need to fit your needs.
---
12.

Rustic Knick-Knack Shelf
The Rustic Knick-Knack Shelf is the perfect way to display your Christmas decorations and other valuables. It's easy to build and customizable to suit your needs.
---
13.

Entryway Coat Rack
The Entryway Coat Rack is a little more challenging to build and will require at least three pallets, but the finished product provides guests with a great place to store their coats and shoes while they visit. It even provides a bench so they can get their shoes back on when they are leaving.
---
14.

Hanging Candle Holder
While candles aren't as popular as they once were, the Hanging Candle Holder is an easy, highly customizable project.  It makes a great addition to a meditation room or a hunting shelter.
---
15.

Orchard Rack
The Orchard Rack will require you to be handy with your tools, but it provides you with an extremely attractive way to store all of your fresh vegetables. It's perfect for potatoes, carrots, onions, and more.
---
16.

Dart Board
The Dart Board project is easy to build and will provide you with years of fun. It's customizable, so you can build it to suit your needs, and several finishes will look great on it. You shouldn't need more than a single pallet to complete it.
---
17.

Cross
If you or your family are followers of Jesus, this easy to build Cross symbol makes a perfect gift and looks great on any wall. You can apply a wide variety of finishes to improve the look further and match its surroundings.
---
18.

Rustic Table
The Rustic Table is a functional piece of furniture and a great way to recycle an old pallet or two. It's lightweight and has many uses at the cookout or in the workshop. Don't be surprised if you find yourself building more than one.
---
19.

Stylish shelving
The Stylish Shelving project is perfect for beginners. It only requires changing a few boards and results in several shelves with a back, so it's perfect for gardening supplies, books, and much more.
---
20.

Fold Away Bar
The Fold Away Bar is a little more complex of a design, but it's perfect for those that like to entertain guests. It hangs on a wall and folds down to reveal shelving to place your drinks. When not in use, it folds up and out of the way.
---
21.

Rustic Toilet Paper Dispenser
The Rustic Toilet Paper Dispenser is not as difficult to build as it may look, and it's the perfect addition to hunting cabins and outhouses. It may even look good in a DIY basement bath, and the candle shelf is a great feature that's missing on most commercial dispensers.
---
22.

Country Chick Cottage Shelf
The Country Chick Cottage Shelf is another upright shelf with a backing that's a little more difficult to build than the earlier versions on this list but more stable and durable. This design looks great as it is, but you can improve it with paint or stain.
---
23.

Entryway Organizer
The Entryway Organizer is easy to build, attractive, and functional. It supplies you with a place to store your keys and knick-knacks or pictures. You can add as many key hooks as you need, and you can also widen the shelf for more space.
---
24.

Sign
A Sign is a great way to use up an old pallet. You can make For Sale, For Rent, Keep Out, and much more easily, and you can paint over it when you need to make a new one. You can also design it to hang on a wall or stick in the ground.
---
25.

Sabina Picture Frame
The Sabina Picture Frame is similar to the Sign project we just looked at, but it adds clamps that you can use to hold pictures of your loved ones. It's quite attractive over a desk, or anywhere you would hand a painting.
---
26.

Coffee Cup Holder
The Coffee Cup Holder is a brilliant design that's easy to create. You can apply several different finishes to customize it to your kitchen, and you can add as many hooks as you need. You can also label the hooks to keep your cups in order.
---
27.

Plant Stand
The Plant Stand is a moderately difficult project that looks great when complete and can hold several larger sized plants up to 15-pounds for display or watering. A thick polyurethane or paint will make it last longer outdoors.
---
28.

American Flag
The American Flag project is similar to the Sign we mentioned earlier, but pallets are so well suited to making flags we thought we needed to point it out. This project is perfect for the 4th of July and any displays of patriotism.
---
29.

Pallet Shelving
Pallet Shelving is another easy project similar to a few we've seen already. This design is best hung on the wall and provides space for knick-knacks and pictures.
---
30.

Pallet Bench
The pallet bench is a great way to use up several pallets while keeping the project simple. The resulting project will provide you with a bench large enough to seat three people, and you can finish it in several ways to make it more attractive and durable, especially if you intend to leave it outside.
---
31.

Corner Knick-Knack Shelf
The Corner Knick-Knack Shelf is no more difficult to build than the wall shelves we've already looked at, but it will provide you with more stability in many cases. There's always a corner that can use a shelf to break up the monotony of the room.
---
32.

Multiple Candle Holder
The Multiple Candle Holder is a simple project that's not much different from a standard wall shelf but with small grooves to place your candles and collect any dripping wax. It's easy to build, and you can make several from a single pallet.
---
33.

Pallet Bar
The Pallet Bar is so simple; you'll wonder why you didn't come up with it yourself. It requires two to three pallets, depending on if you want a swinging door and some nails. You'll need a few boards to make a wider shelf on top and some paint or stain to make it look nice.
---
34.

Entryway Mail Storage
The Entryway Mail Storage project provides you with a place to store your keys and important mail when you get home from work. It only requires a few boards, and you should get a few out of a single pallet so you can give them away as gifts.
---
35.

Custom Planters
Custom Planters are perfect if you have a lot of outdoor wall space you would like to make use. These planters are easy to build and hang on the wall, so you can place as many as you need. You can fill the box with dirt or set the pot inside for an attractive flower display.
---
36.

Farmhouse Coffee Table
The Farmhouse Coffee Table is quite easy to build and only requires placing two or three pallets on top of each other and nailing or gluing them together. You can finish it with any color paint or stain you like, and the best part is that it rolls on four caster wheels, so it's easy to maneuver around the room and makes cleaning a breeze.
---
37.

Hide Away Trash Bin
The Hide Away Trash Bin is a little more difficult to build than some of the other projects on this list, but it's not as hard as you think. It mostly makes use of decorative staining and plenty of sanding. The resulting project provides you with a place to store your garbage can where visitors won't see it.
---
38.

Outdoor Trash Bin
The Outdoor Trash Bin is another hide a can type project that allows you to hide two garbage can in a chest style box with a lift-up lid. It's perfect for patios and decks to improve the appearance and prevent the trash from blowing around the yard before you empty it.
---
39.

Room Divider
If you have a large family, a Room Divider can be a great way to add more private space without making any permanent changes to your home. Learn how to build a pallet room divider here! This project is easy to build and only requires one or two pallets and some hinges.
---
40.

Serving Tray
A serving Tray is very useful and easy to build. No more slippery hot pads when you need to move hot food between rooms. The project requires very little wood and makes use of old spoons to provide the handles.
---
41.

Fall Decorations
Turn your old wood pallets into Fall Decorations, like candy corn, to provide vintage style decorations that go great with straw, bails of hay, and other decorations that were around before modern plastics became available.
---
42.

Rustic Pallet Bar
This Rustic Pallet Bar is a  little harder than the pallet bars we've mentioned previously, but it provides you with an extremely versatile workspace that will please even the most discerning drink mixer. It has plenty of space for your tools, bottles, and glasses.
---
43.

Wall Organizer
The Wall Organizer is a fancy but not that hard to build project for storing your keys, mail, and more. It has a built-in metal door for storing important items, and you can even install a lock for more protection.
---
44.

Tool Tray
The Tool Tray is the perfect project for anyone with a lot of tools. It's easy to build, and you can customize it to any size to fit your tools. You can give it any finish, and it will be a durable and lightweight way to transport your equipment.
---
45.

Christmas Decoration
You can make a simple yet effective Christmas Decoration with a pallet, lights, and tinsel. Hammer some nails into the boards in the design you want, and wrap the lights and tinsel around the nails. It's easy to build and limited only by your imagination.
---
46.

Rustic Sconce
Learn how to build a sconce with this plan! The Rustic Sconce is easy to build and allows you to hang candles from your wall in glass jars that are safer than placing them on a shelf and is more attractive. You can also lift the candle off the Sconce to carry with you like a lantern.
---
47.

Angela Clark Bookcase
The Angela Clark Bookcase cheats slightly and uses larger lumber pieces for the shelves and top, but pallet lumber makes up the backing. This bookcase is quite durable and stable and worth building if you have the boards.
---
48.

Loon Peak Porch Rope Swing
The Loon Peak Porch Rope Swing is an elegant and comfortable way to spend more time on your porch. It takes a little more effort than some of the other ideas on this list but is well worth the time. It's quiet and large enough to fit two people comfortably.
---
49.

Large Planter
This Large Planter is perfect for the avid gardener who always needs a little more space for a few more plants. This planter is easy to build, and you can fill it with dirt and plant directly inside. There is also a shelf below it to store your tools and seed.
---
50.

Firewood Shed
The Firewood Shed is the perfect project for people with a wood burner that need a place to store their wood over the winter months. This shed is easy to build and durable enough to last many years.
---
51.

Wall Clock
The wall Clock is an inventive way to use your spare pallets, and it's easy to build. You only need a few boards, and the timekeeping mechanism I available at any large hardware store.
---
52.

Outdoor Bench
This Outdoor Bench is easy enough to build in a single weekend but durable enough to last several years outdoors. It also features a unique sitting space design that is more attractive than the long straight boards of many other projects.
---
53.

Store
This small Store project is great for selling products at the Flea Market or Farmers Market, and it's also good for the backyard to keep your food and drinks out of the harsh sun. It's easy to build, and the shingled roof will protect it for a long time.
---
54.

Bear Decoration
The Bear Decoration is a lot easier to build than you might think. You only need to nail the board to backing support, trace your design, and cut it out with a jigsaw.  You can do the same with many other animals s well, including the deer, moose, dog, cat, and lots more.
---
55.

Star Bench
The Star Bench is an extremely decorative way to create two back-to-back benches for your yard or home. It can seat up to four people and is a bit more complex to build, but you can do it with patience and persistence. It will also use up a few of your pallets, so it's a good choice if you have several sitting around.
---
56.

Bench Swing
The Bench Swing is a little more complex to build and will require several pallets, but the result is well worth it. The Bench Swing is comfortable and will provide you with many hours of relaxation.

Summary
We hope that this long list has provided you with a few ideas to get started with woodworking or eliminating junk pallets. If you are new to woodworking or have limited tools, we recommend starting with one of the wall shelves to get some experience cutting, measuring, planning, and finishing. Once you gain some experience, you can try your hand at the easier and harder projects on this list or use the ideas to invent something new.
If we helped get you going, please share this guide to 56 DIY pallet projects you can build today on Facebook and Twitter.
---
Featured Image Credit: bricoydeco, Pixabay