22 DIY Wood Pallet Ideas (with Pictures)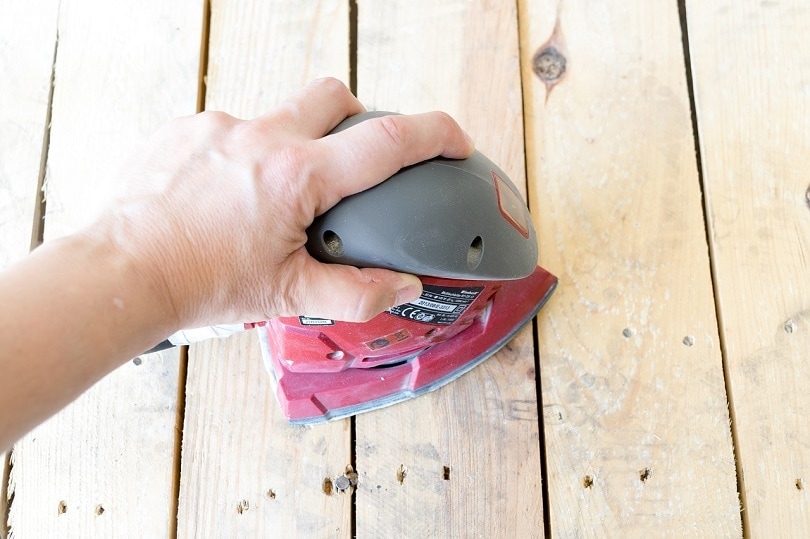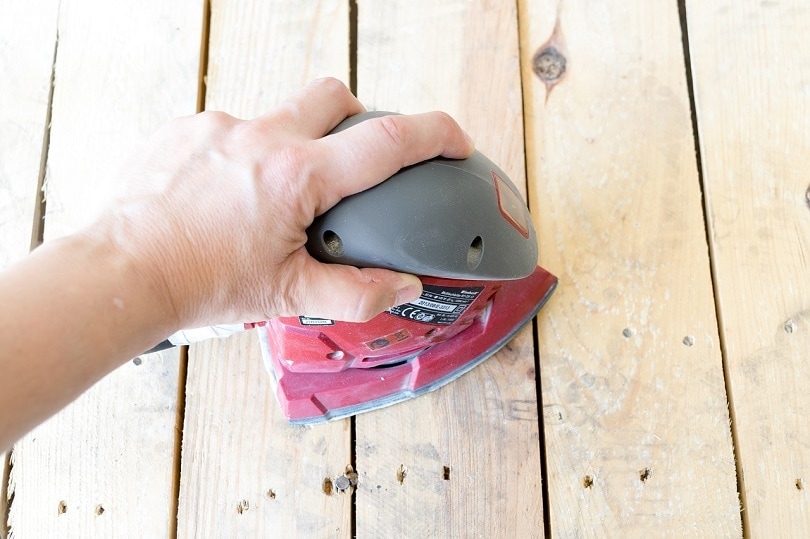 If you have pallets sitting around your home, you may be looking for some ways to recycle them. Used pallets are also easy to get at local grocery stores and other outlets, so they are an easy way to get cheap lumber if you are a beginner woodworker, and you may be wondering what kind of projects you can create with them.
We've searched the internet for as many ideas as we could find, and we are going to present them to you here with pictures and a description telling you a little more about it.

DIY Pallet Projects
Here are several projects we've been able to round up for you to try out.
1.

The Spruce Tool Holder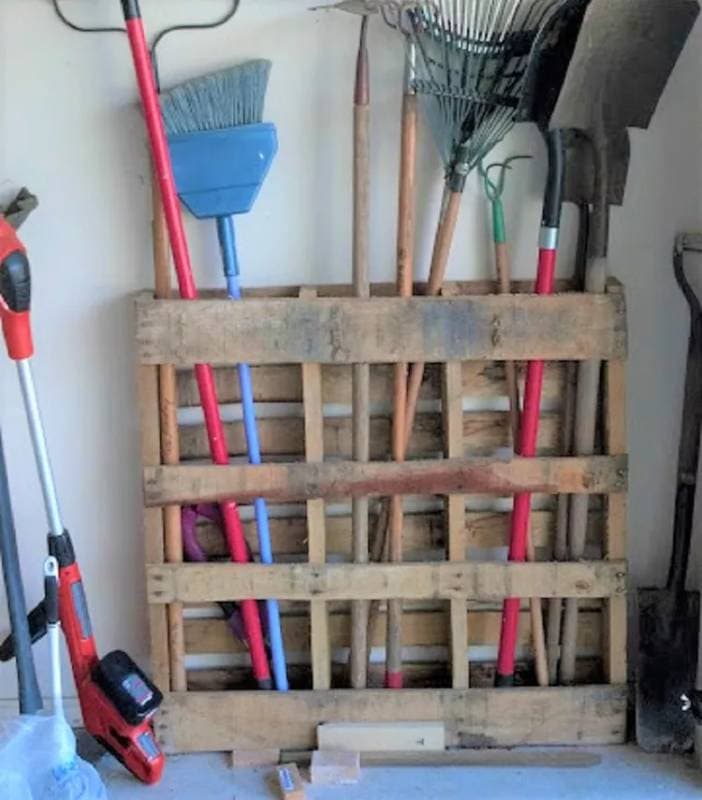 The Spruce design is probably the easiest on this list to create, and it only requires a single pallet. It can hold several long-handled tools like your rakes and shovels and provide you with an easy way to access and store them. You can improve it more with some paint or stain, and polyurethane will help keep out the moisture for added durability.
---
2.

Allison Whelan Laundry Helper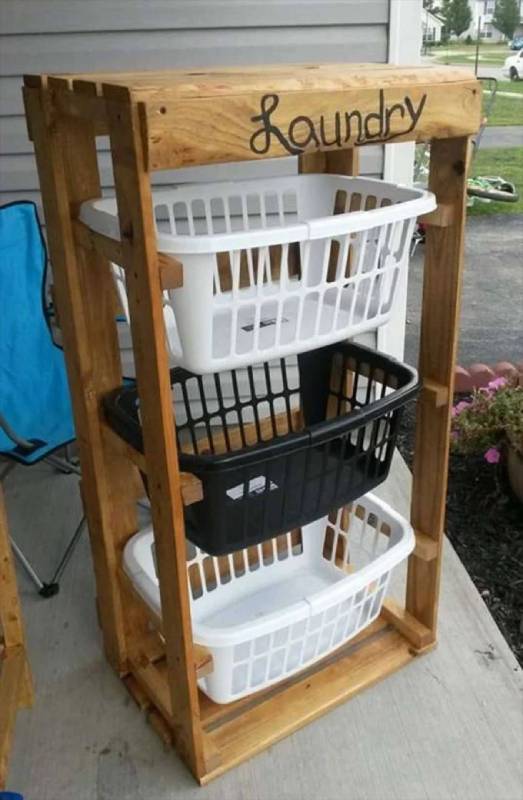 With a single pallet, a saw, and some nails, you can create this handy laundry basket holder from Allison Whelan. It holds up to three baskets, so you can pass them out for easy collection.
---
3.

Rustic Gate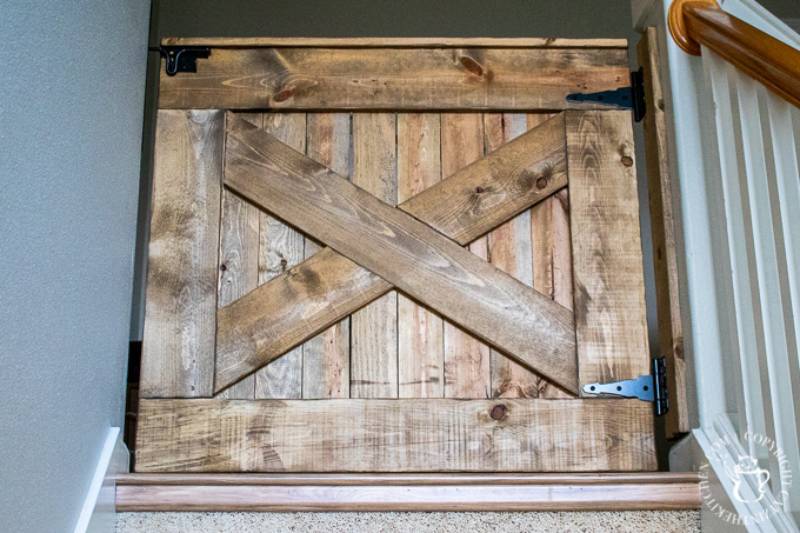 If you have small children or pets that you need to prevent from going up or downstairs or going into certain rooms, you need to try out the Rustic Gate project. You can build this gate with a single pallet and a few hinges, and it results in a durable gate that's more stable than many you can purchase.
---
4.

Rustic Dog Dish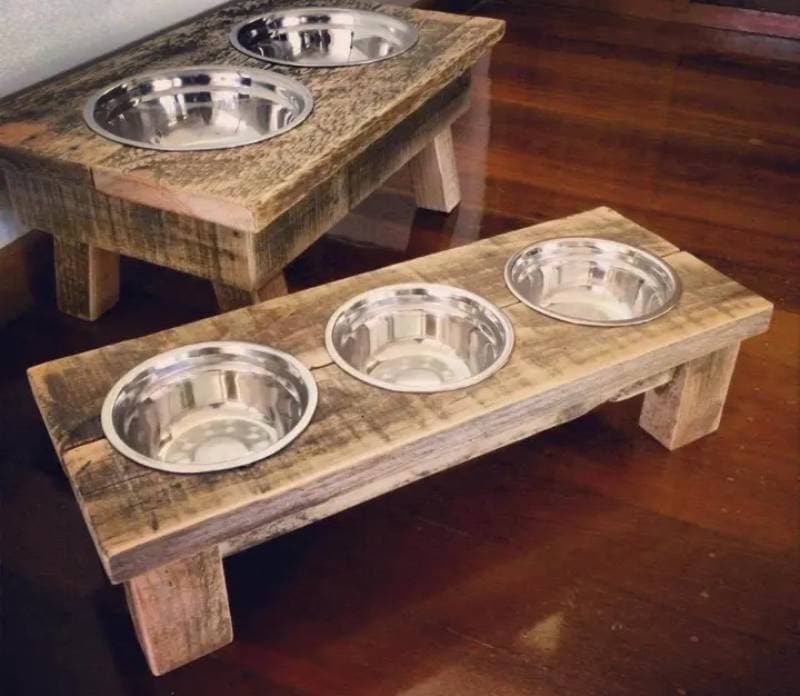 The Rustic Dog Dish is perfect for people with pets, and it makes a great gift. It's easy to build and has a space for food and water, and raises the bowls off the floor, making it easier to eat and creating less mess.
---
5.

Sliding Barn Door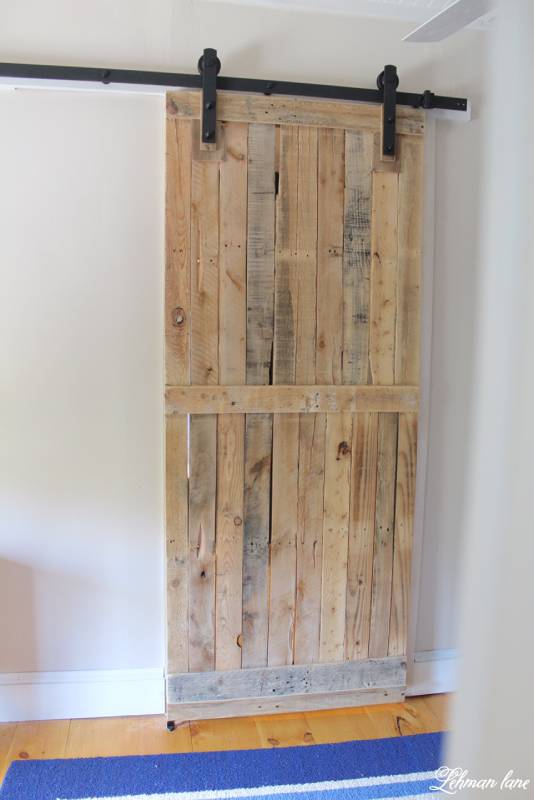 If you have a storage shed or closet that needs a door, the Sliding Barn Door is the perfect project. It makes use of at least two pallets and some steel pipe, but it's easy to build and results in a unique and attractive solution.
---
6.

Entryway Coat Rack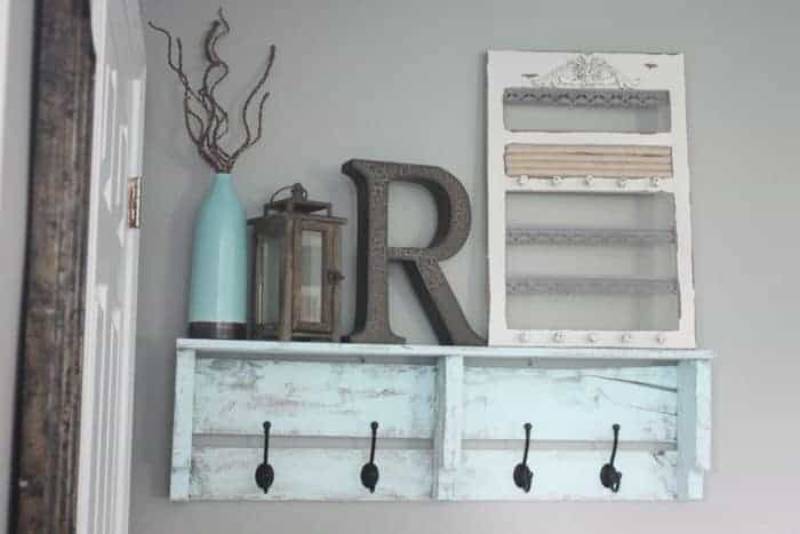 The Entryway Coat Rack is a little more challenging to build and will require at least three pallets, but the finished product provides guests with a great place to store their coats and shoes while they visit. It even provides a bench so they can get their shoes back on when they are leaving.
---
7.

Dart Board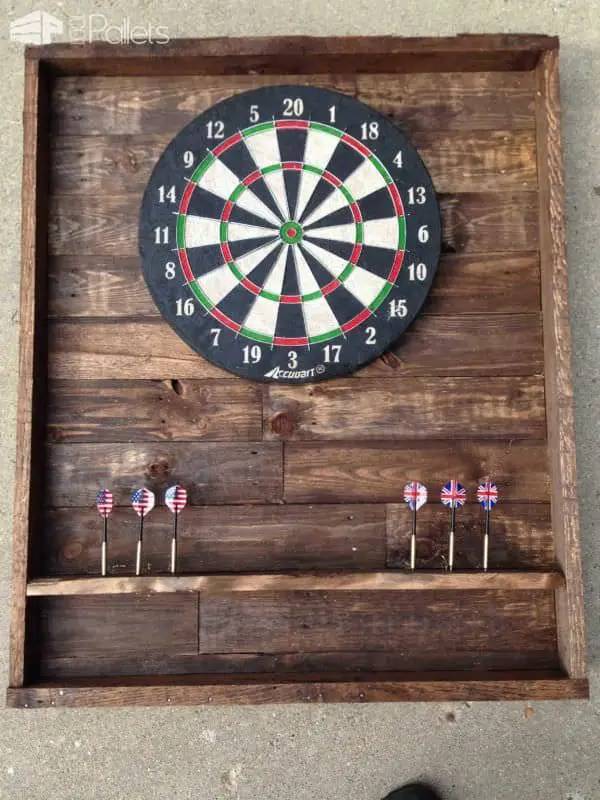 The Dart Board project is easy to build and will provide you with years of fun. It's customizable, so you can build it to suit your needs, and several finishes will look great on it. You shouldn't need more than a single pallet to complete it.
---
8.

Rustic Table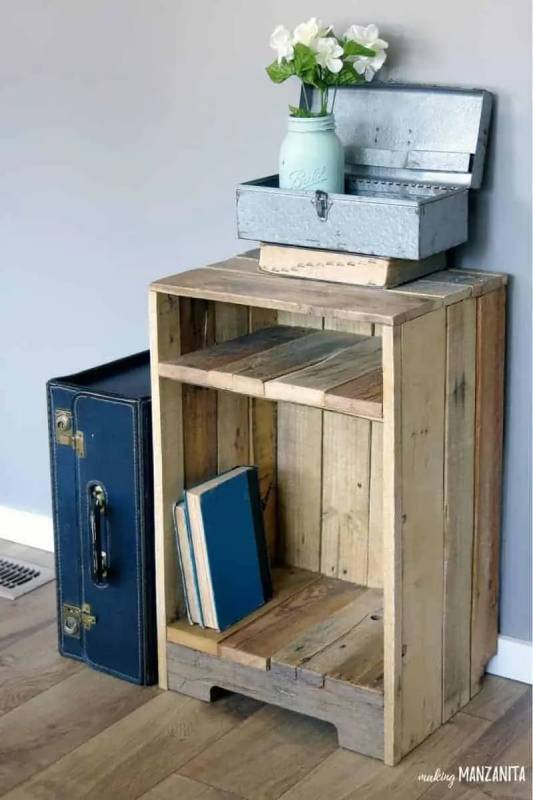 The Rustic Table is a functional piece of furniture and a great way to recycle an old pallet or two. It's lightweight and has many uses at the cookout or in the workshop. Don't be surprised if you find yourself building more than one.
---
9.

Stylish shelving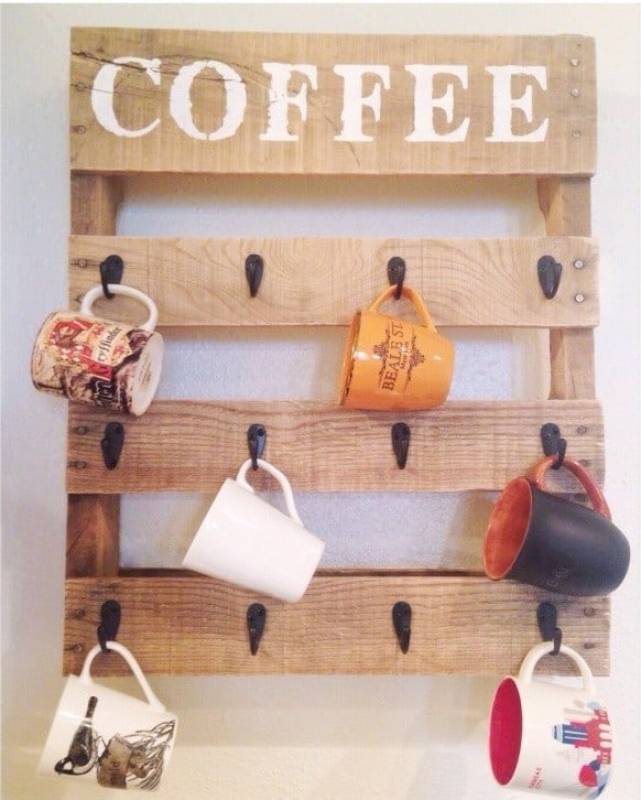 The Stylish Shelving project is perfect for beginners. It only requires changing a few boards and results in several shelves with a back, so it's perfect for gardening supplies, books, and much more.
---
10.

Country Chick Cottage Shelf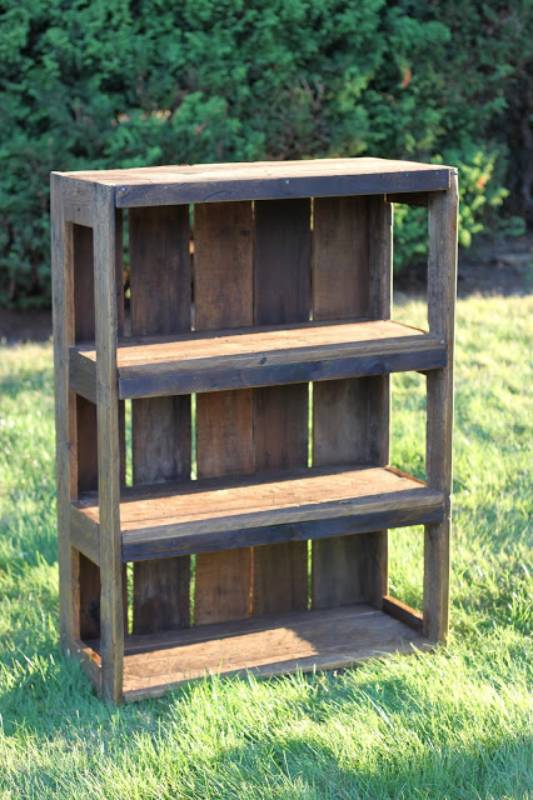 The Country Chick Cottage Shelf is another upright shelf with a backing that's a little more difficult to build than the earlier versions on this list but more stable and durable. This design looks great as it is, but you can improve it with paint or stain.
---
11.

Coffee Cup Holder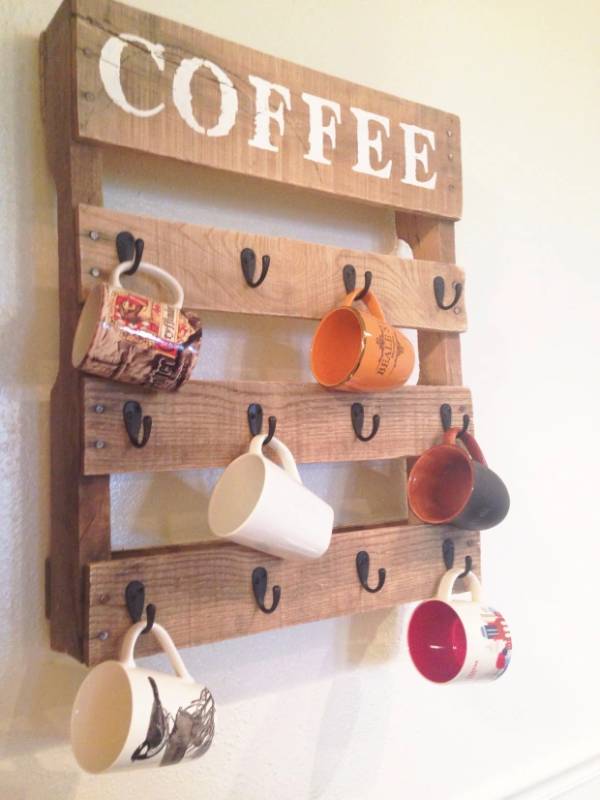 The Coffee Cup Holder is a brilliant design that's easy to create. You can apply several different finishes to customize it to your kitchen, and you can add as many hooks as you need. You can also label the hooks to keep your cups in order.
---
12.

Plant Stand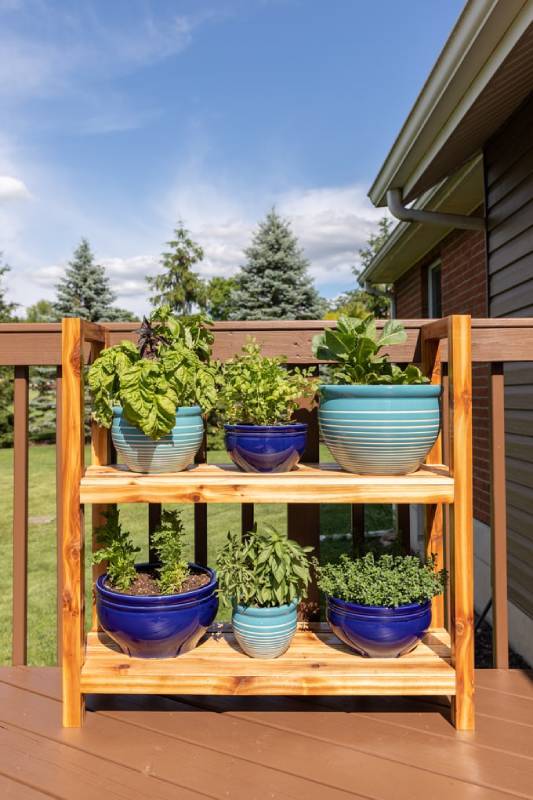 The Plant Stand is a moderately difficult project that looks great when complete and can hold several larger sized plants up to 15-pounds for display or watering. A thick polyurethane or paint will make it last longer outdoors.
---
13.

American Flag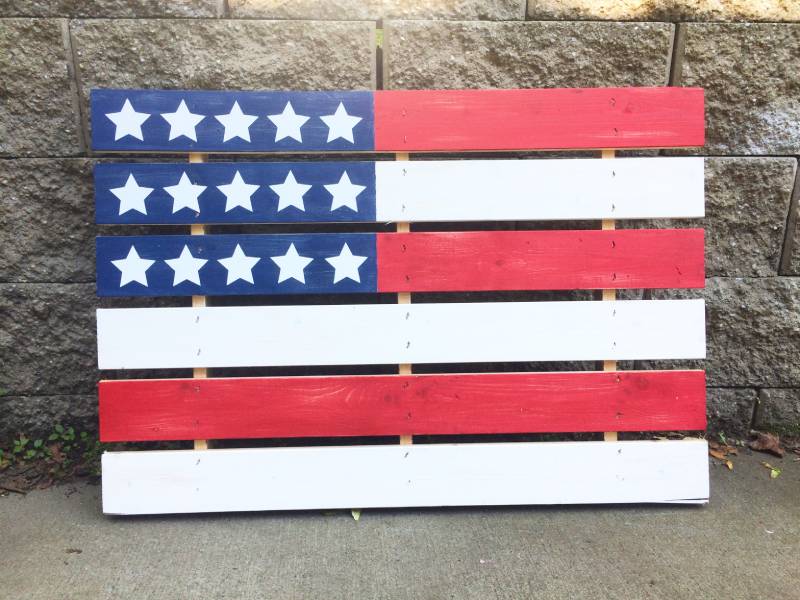 The American Flag project is similar to the Sign we mentioned earlier, but pallets are so well suited to making flags we thought we needed to point it out. This project is perfect for the 4th of July and any displays of patriotism.
---
14.

Pallet Bar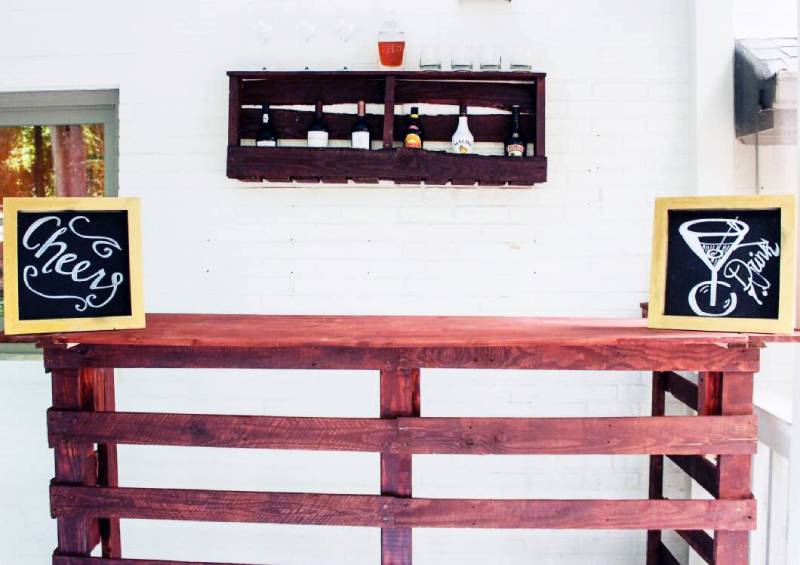 The Pallet Bar is so simple; you'll wonder why you didn't come up with it yourself. It requires two to three pallets, depending on if you want a swinging door and some nails. You'll need a few boards to make a wider shelf on top and some paint or stain to make it look nice.
---
15.

Farmhouse Coffee Table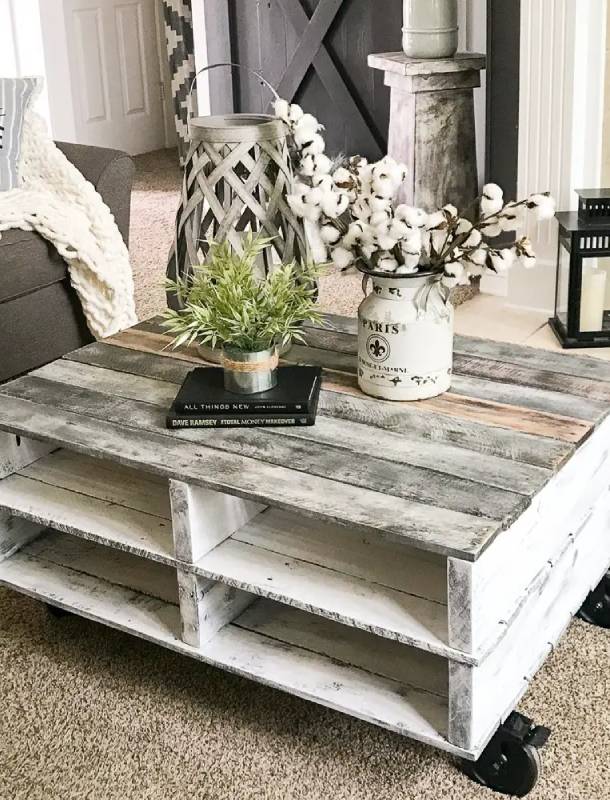 The Farmhouse Coffee Table is quite easy to build and only requires placing two or three pallets on top of each other and nailing or gluing them together. You can finish it with any color paint or stain you like, and the best part is that it rolls on four caster wheels, so it's easy to maneuver around the room and makes cleaning a breeze.
---
16.

Outdoor Trash Bin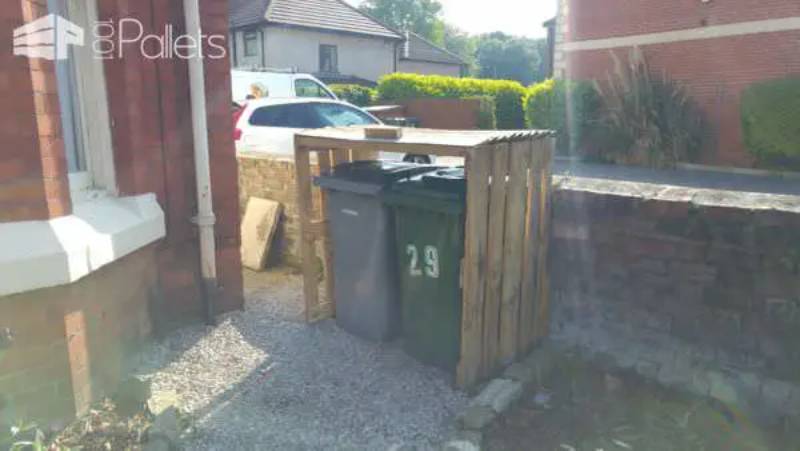 The Outdoor Trash Bin is another hide a can type project that allows you to hide two garbage can in a chest style box with a lift-up lid. It's perfect for patios and decks to improve the appearance and prevent the trash from blowing around the yard before you empty it.
---
17.

Tool Tray
The Tool Tray is the perfect project for anyone with a lot of tools. It's easy to build, and you can customize it to any size to fit your tools. You can give it any finish, and it will be a durable and lightweight way to transport your equipment.
---
18.

Rustic Sconce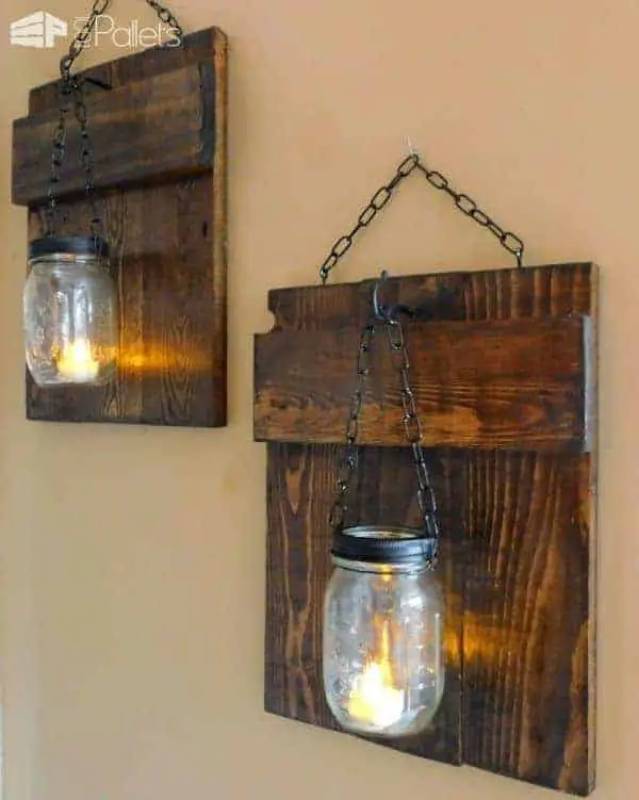 Learn how to build a sconce with this plan! The Rustic Sconce is easy to build and allows you to hang candles from your wall in glass jars that are safer than placing them on a shelf and is more attractive. You can also lift the candle off the Sconce to carry with you like a lantern.
---
19.

Wall Clock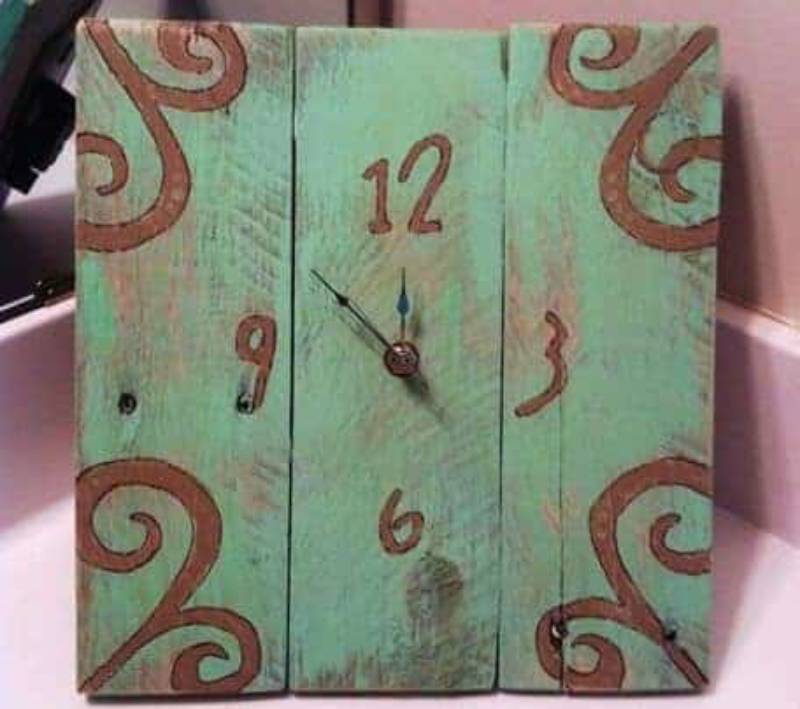 The wall Clock is an inventive way to use your spare pallets, and it's easy to build. You only need a few boards, and the timekeeping mechanism I available at any large hardware store.
---
20.

Outdoor Bench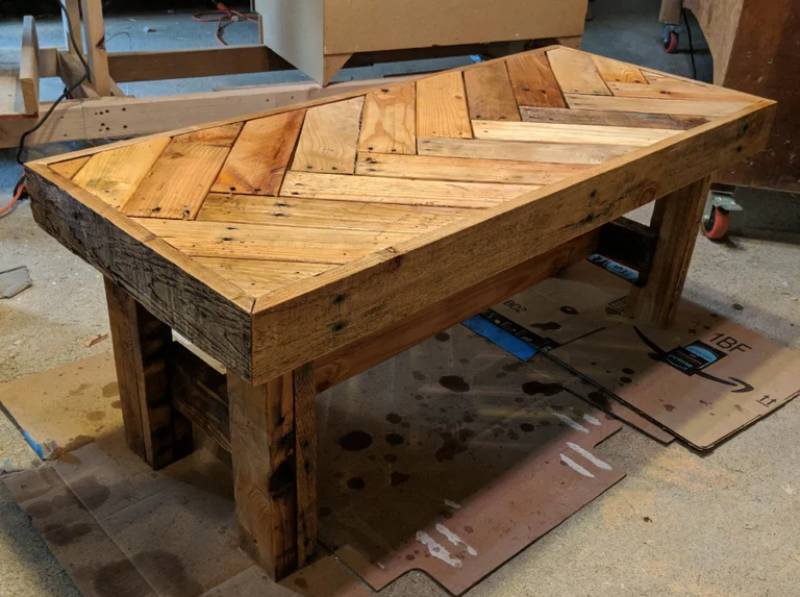 This Outdoor Bench is easy enough to build in a single weekend but durable enough to last several years outdoors. It also features a unique sitting space design that is more attractive than the long straight boards of many other projects.
---
21.

Store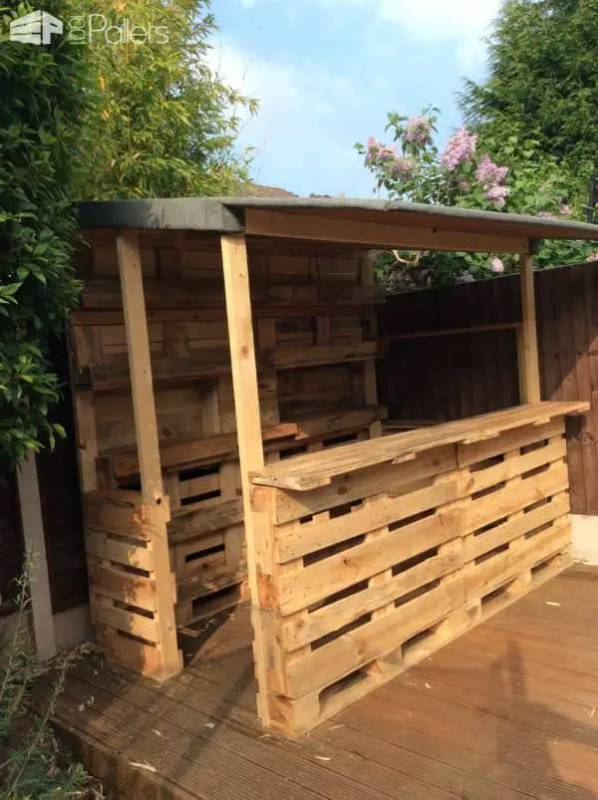 This small Store project is great for selling products at the Flea Market or Farmers Market, and it's also good for the backyard to keep your food and drinks out of the harsh sun. It's easy to build, and the shingled roof will protect it for a long time.
---
22.

Bench Swing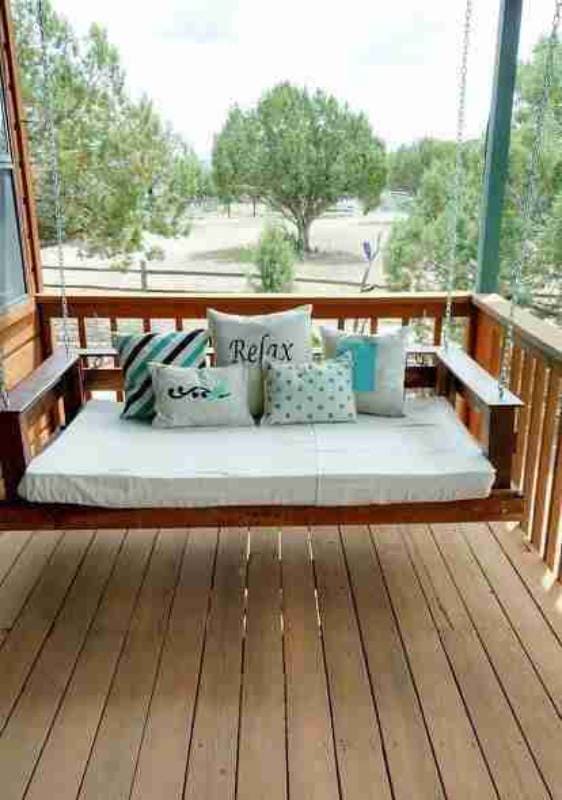 The Bench Swing is a little more complex to build and will require several pallets, but the result is well worth it. The Bench Swing is comfortable and will provide you with many hours of relaxation.

Summary
We hope that this long list has provided you with a few ideas to get started with woodworking or eliminating junk pallets. If you are new to woodworking or have limited tools, we recommend starting with one of the wall shelves to get some experience cutting, measuring, planning, and finishing. Once you gain some experience, you can try your hand at the easier and harder projects on this list or use the ideas to invent something new.
If we helped get you going, please share this guide to 23 DIY pallet projects you can build today on Facebook and Twitter.
---
Featured Image Credit: bricoydeco, Pixabay