21 Free DIY Pallet Bench Plans You Can Make Today (with Pictures)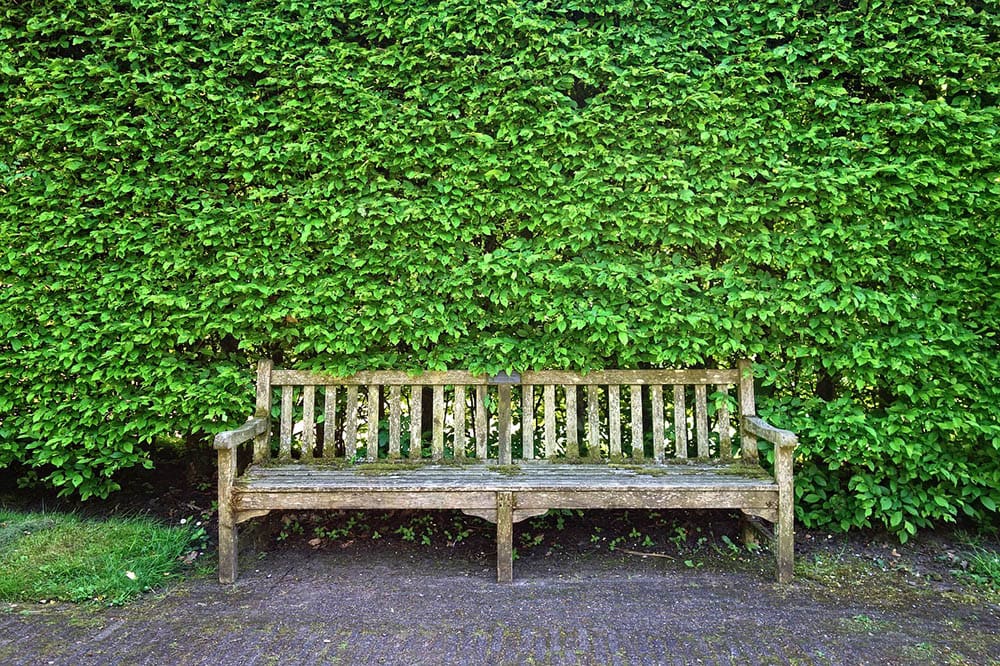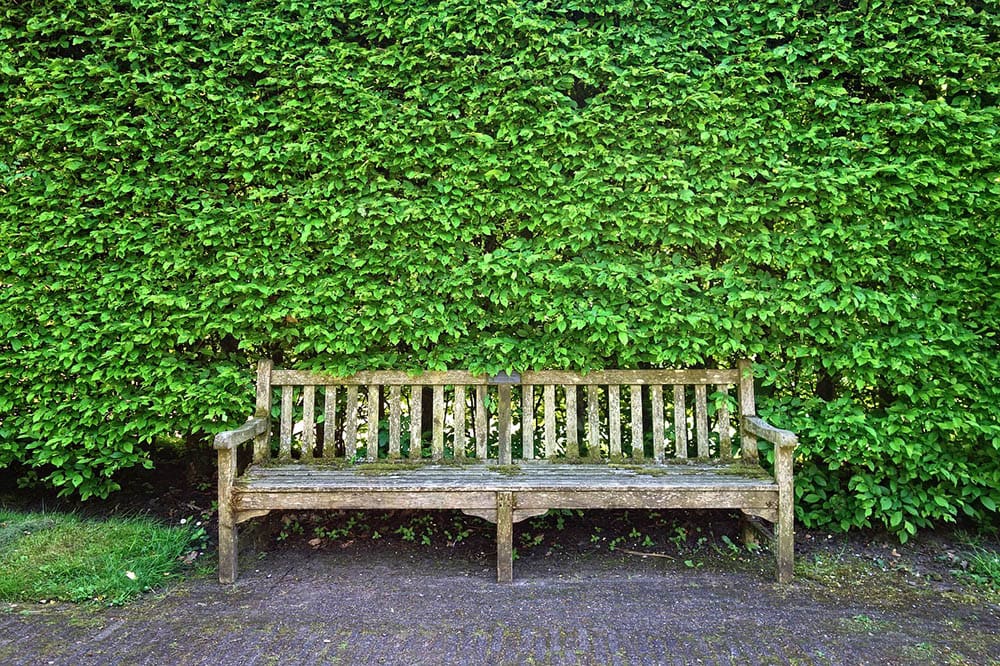 Pallet benches offer somewhere convenient and comfortable to sit, typically in the yard but sometimes on the patio, the porch, or even in the house. Building your own not only gives you the sense of satisfaction that comes from constructing a functional item, but it allows you to modify the design and customize the finish to your liking.
The plans below teach you how to build a pallet bench using old and recycled wood as their primary material. You do need to ensure that the wood hasn't rotted and that the original manufacturers didn't use chemical preparations to treat the pallet. Generally, national pallets used for shipping within your own country won't have been treated. Pallets used internationally, on the other hand, should have a stamp on the wood. Look for those with an HT stamp, which means that they have been heat treated. Alternatively, a KD stamp means that they have been kiln dried and should be safe to use.
You should also consider filling any holes in the wood, but using recycled pallets means that you can enjoy a natural-looking bench with a design that keeps with the great outdoors. The wood is easy to paint and decorate, and well-sourced pallets can last for several years before they need replacing or recycling again. Below are some of the best pallet bench plans we've found online.

The 21 DIY Pallet Bench Plans
1.

DIY Wooden Pallet Bench From Amy Latta Creations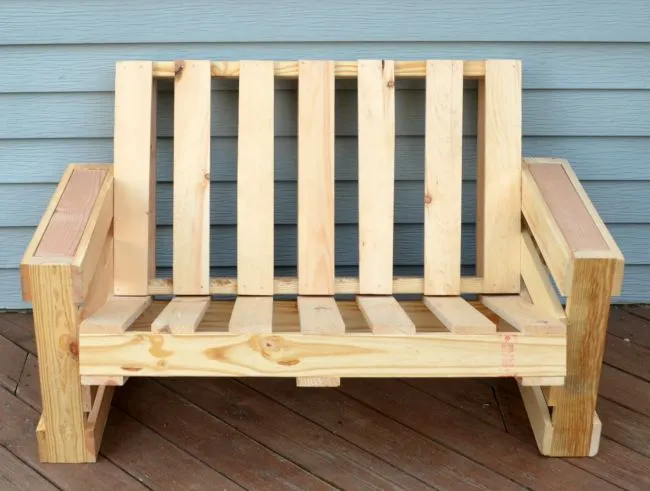 The DIY wooden pallet bench from Amy Latta Creations uses two half pallets and two quarter pallets, as well as a few  pieces of 2×4. The bench is a simple design but looks effective once finished. The pallet ends form an attractive geometric finish for the arms of the bench, and the whole thing should take no more than an afternoon to complete. As with most of these projects, the DIY bench uses a nail gun. You can use a hammer and nails, but be aware that it will take a little longer.
---
2.

Pallet Bench Project From Instructables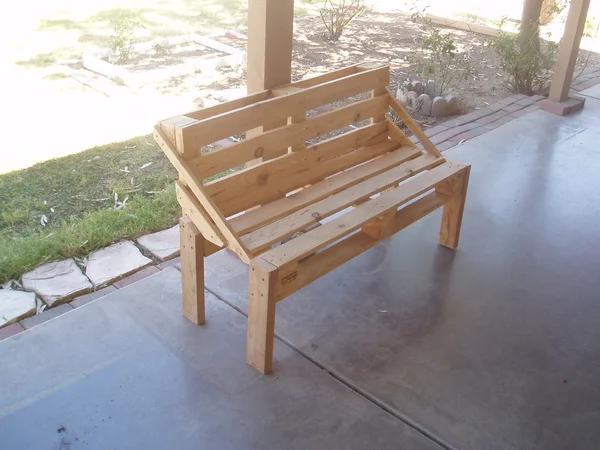 The pallet bench plan is one of several found on the Instructables website, and this one is easy to make. There are no arms on this plan, but it will sit straight on a flat floor, like a patio or deck. It also only uses a single pallet, albeit with a few extra scraps of wood. The original poster made this for a family party, so it does have a "raw finish," but that gives it rustic appeal for a garden bench.
---
3.

Freckles and Fluff's Wooden Chillout Pallet Bench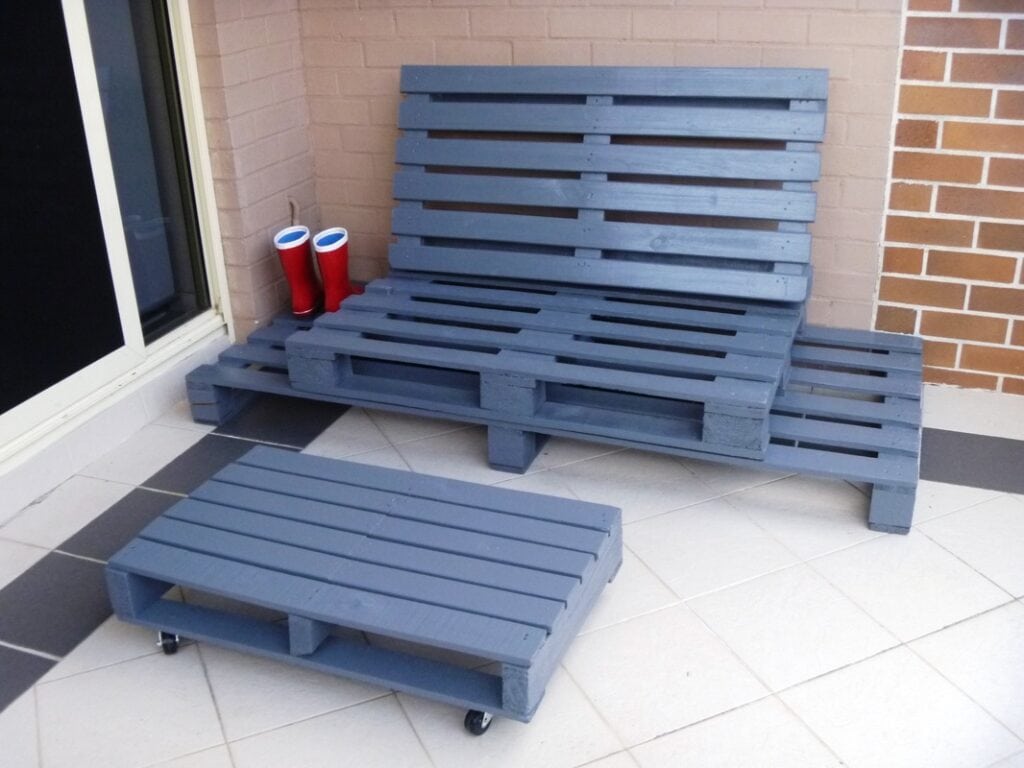 The wooden chillout bench plans from Freckles and Fluff are easy to follow, and the bench can be made in a couple of hours. Rather than having to concentrate on precise measurements to ensure that the legs and feet are steady on the ground, this plan uses two stacked pallets. The end result is a low bench ideal for chilling out. The blue color looks great too, although you can change this according to your exterior décor or garden design.
---
4.

Corner Pallet Bench From Shanty 2 Chic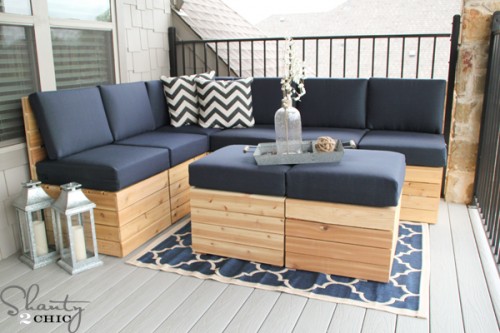 The corner pallet bench from Shanty 2 Chic is the corner piece for a modular bench or outdoor sofa. On its own, it's just a block made from pallets. With the additional sections also available from the Shanty 2 Chic website, the benches have a high back and look quite comfortable when combined with attractive cushions.
---
5.

Recycled Pallet Storage Bench From Instructables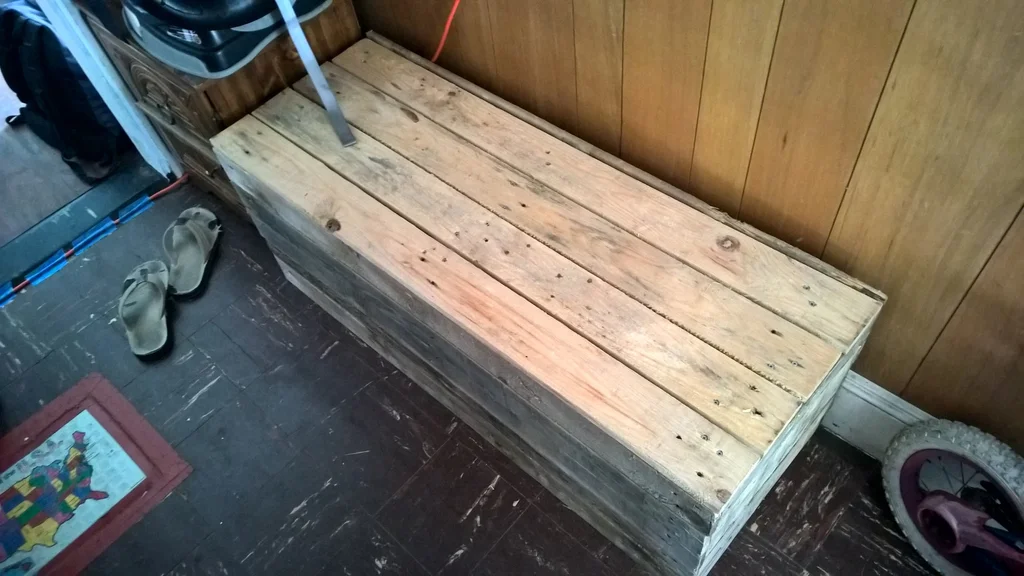 The recycled pallet storage bench is another guide found on Instructables. This one is easy, as it is basically a rectangular box with a removable lid. The storage is great for keeping cushions, the kids' toys, or practically anything else, and the bench should only take an hour or two to complete. The trickiest part of this design is ensuring that the lid fits snugly on the bench.
---
6.

Do Lee Noted's DIY Pallet Bench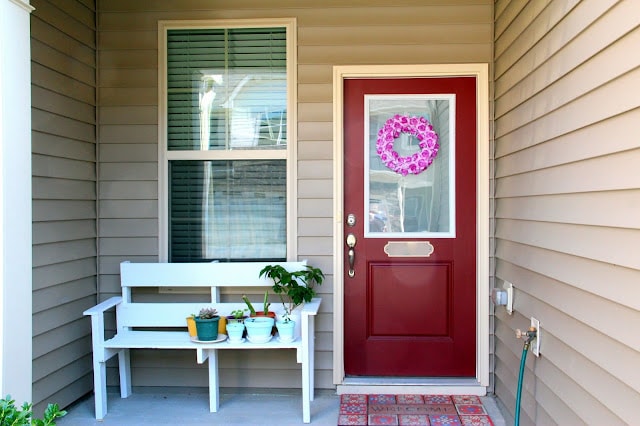 The Do Lee Noted DIY pallet bench takes a single pallet, and the builder has managed to create an elegant-looking piece from old recycled wood. They have painted their bench white and placed it on the front porch, giving a homey touch to the front of the property.
---
7.

R K Black's Outdoor Patio Bench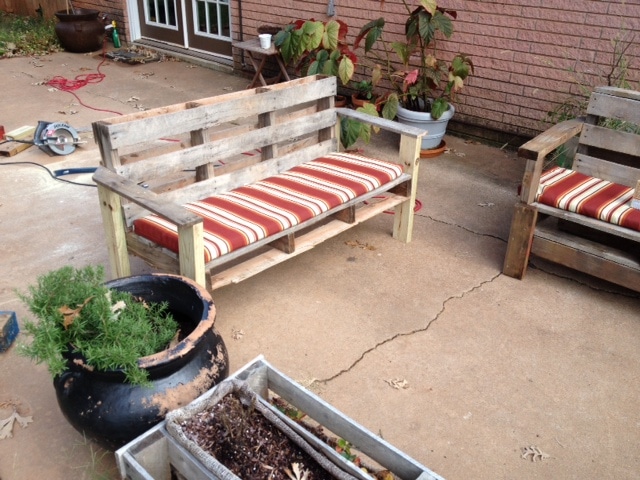 The R K Black outdoor patio bench design uses copier pallets to create a great-looking bench. They have combined two of these benches and added simple cushions to create a homey-looking outdoor seating area. They advise using pallets with minimal cracks and splinters. If your pallets are splintered, we strongly urge you to sand them down first.
---
8.

Homedit's Colorful Garden Bench Plans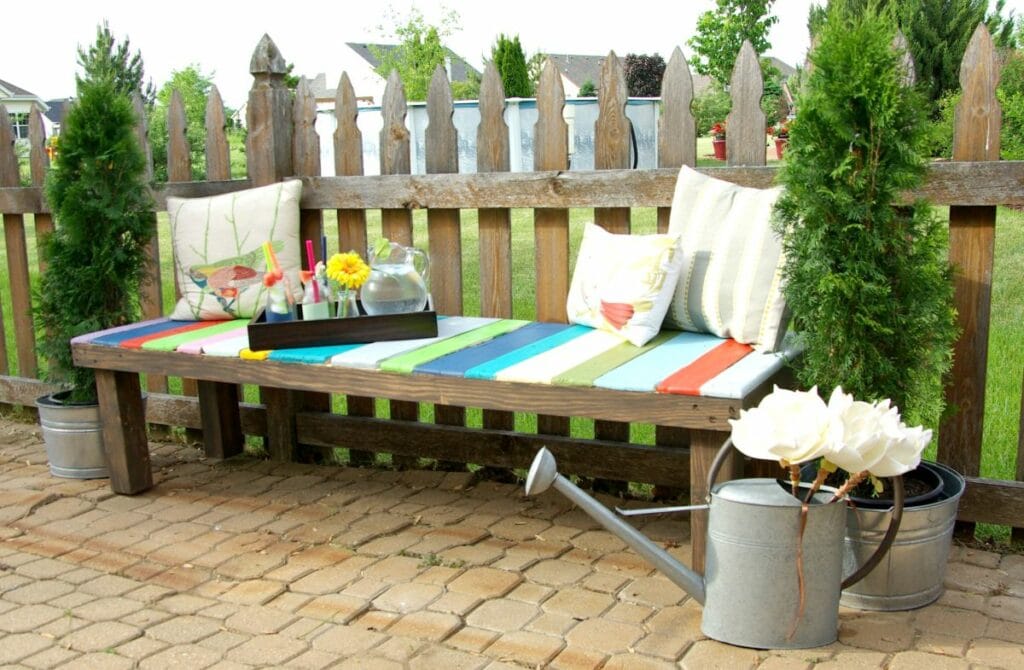 These colorful garden bench plans from Homedit show the versatility of working with recycled pallets. The bench itself is simple, with no back and using a single pallet, but the painting of the top slats gives it a playful finish that is perfect for placing in the back yard.
---
9.

DIY Hexagonal Pallet Tree Bench From Instructables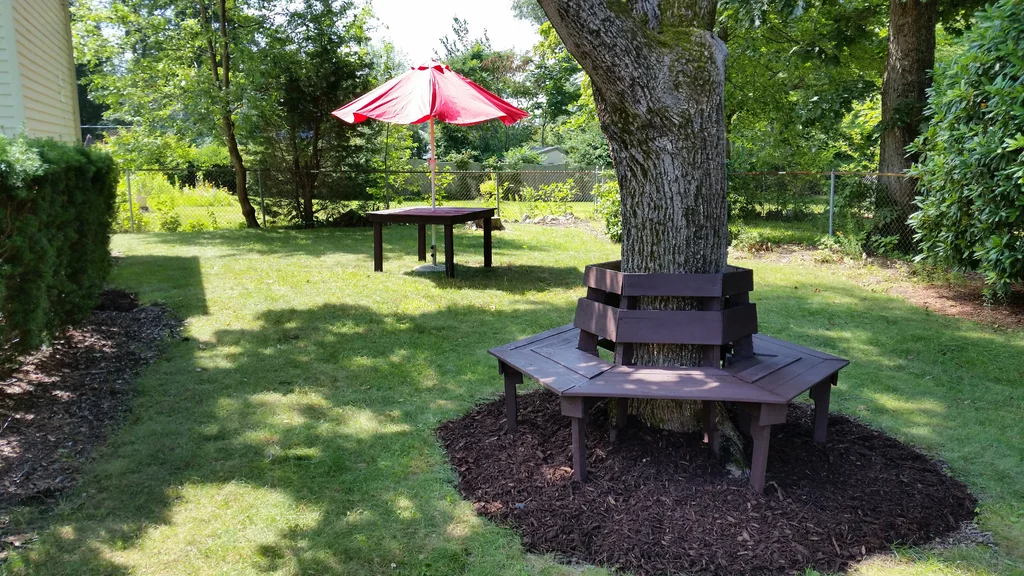 Tree benches are functional and attractive. They offer you the benefit of shade from the tree, whether to avoid the sun's rays or to hide from a light shower while still enjoying the fresh air. They also take advantage of the natural shape of the tree. This DIY hexagonal pallet tree bench plan is at Instructables. It uses up to six pallets, and you will benefit from the use of a miter saw to ensure that your hexagon is even and doesn't have any large gaps between the seating areas.
---
10.

Pallet Hallway Bench From Hometalk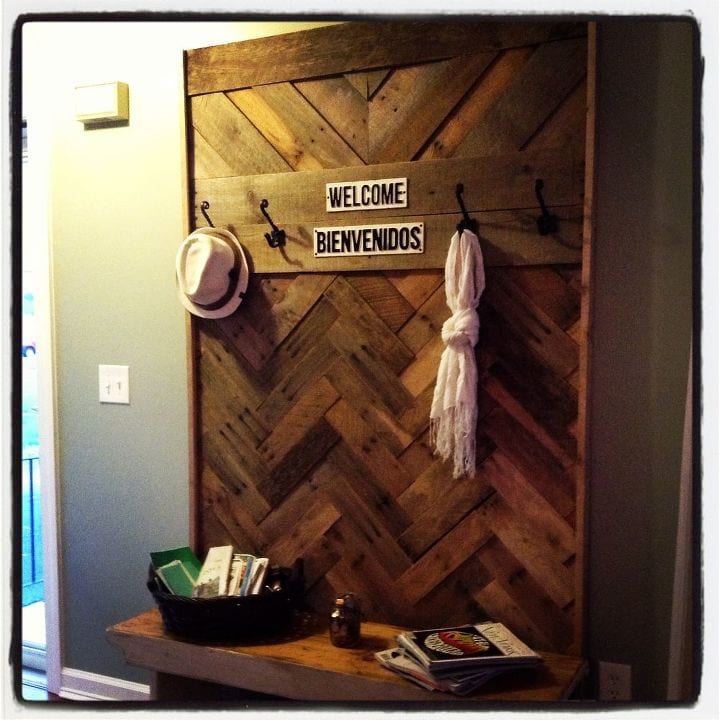 Benches aren't just useful in the garden. Hallway benches give you somewhere to sit while taking off your muddy shoes, and those with high backs that incorporate hooks also give you a convenient place to put your coat or jacket. The pallet hallways bench plans from Hometalk cost $30 to make and benefits from the high back with its diagonal pattern.
---
11.

Jenna Burger's Outdoor Pallet Sofa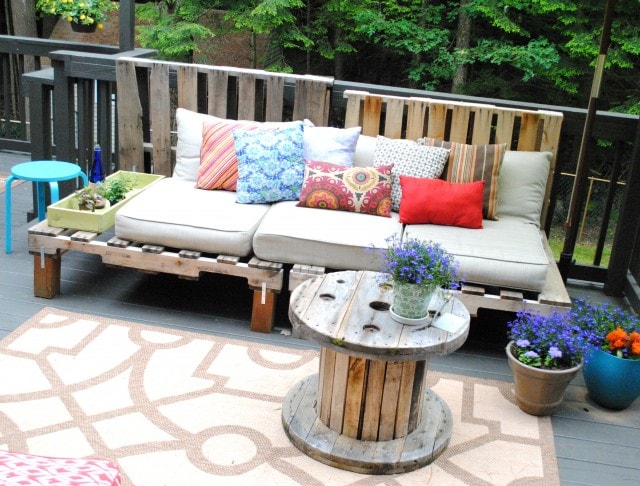 Jenna Burger's outdoor pallet sofa design is basically a sofa frame, but you can add whatever you want to the top. Add cushions to create a sofa all the way along or leave a section of the base free to use as a table. The creators used pallets that they picked up for free from a local hardware store, which kept the cost of this particular bench down to less than $5.
---
12.

Rustic Patio Bench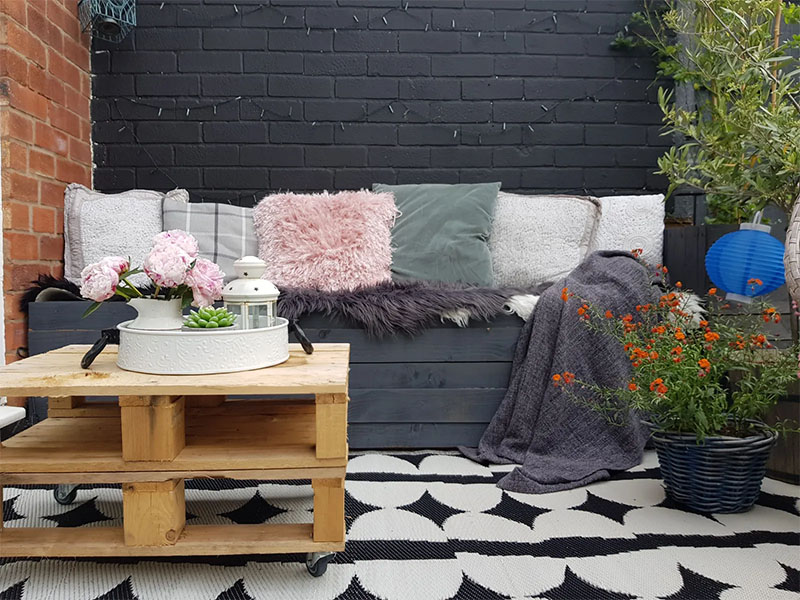 With some fuzzy pillows, blankets, and cushions, you can make this relatively easy bench into a comfortable patio couch. Plus, you need extremely few tools and supplies. All the wood comes from a pallet, keeping the cost of this project extremely low.
---
13.

Simple Pallet Bench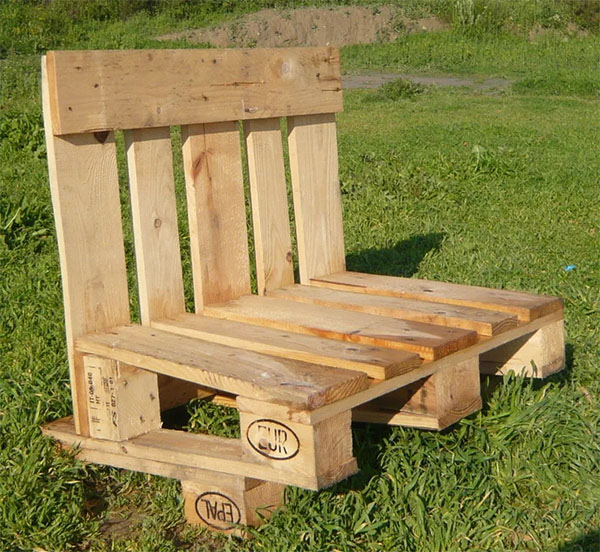 To be honest, it doesn't get much simpler than this extremely straightforward pallet bench. With the simple instructions, you can easily construct this little chair, which is designed to be used in a backyard. You can paint it or leave it, depending on your preferences.
---
14.

Industrial Cable Spool Bench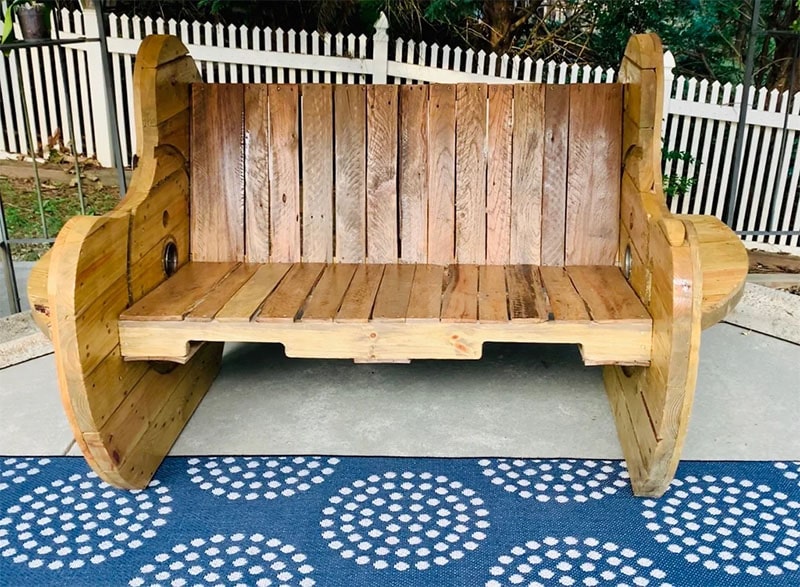 For those with wooden cable spools and pallets laying around, you can easily craft this outdoor bench. It doesn't require much wood beyond the pallets. However, it does require several woodworking tools that you may (or may not) have.
---
15.

Rustic Pallet Bench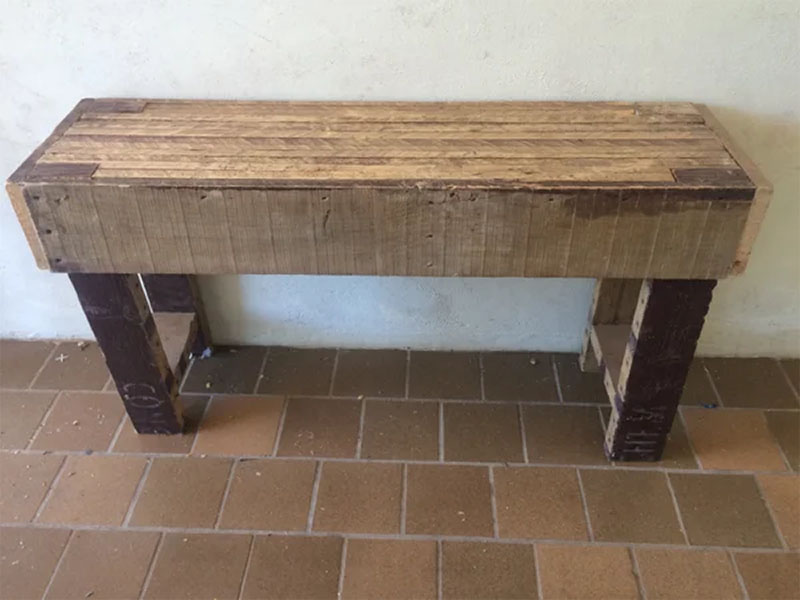 This pallet bench is very straightforward and easily doable. You can make it using any type of recyclable wood, including pallets. You'll also need some woodworking tools, nails, and wood glue. You can paint it or finish it however you would like.
---
16.

Corner Pallet Bench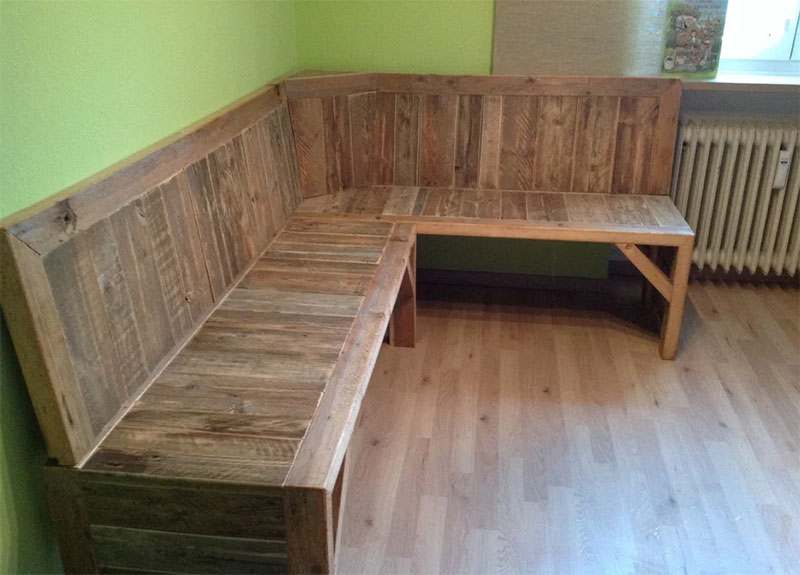 If you have several wooden pallets, you can construct this relatively easy corner pallet bench. All you need to do is cut the pieces of wood according to the instructions, nail it together, sand it, and then finish it. It's a pretty straightforward plan for a very functional bench.
---
17.

Classy Pallet Bench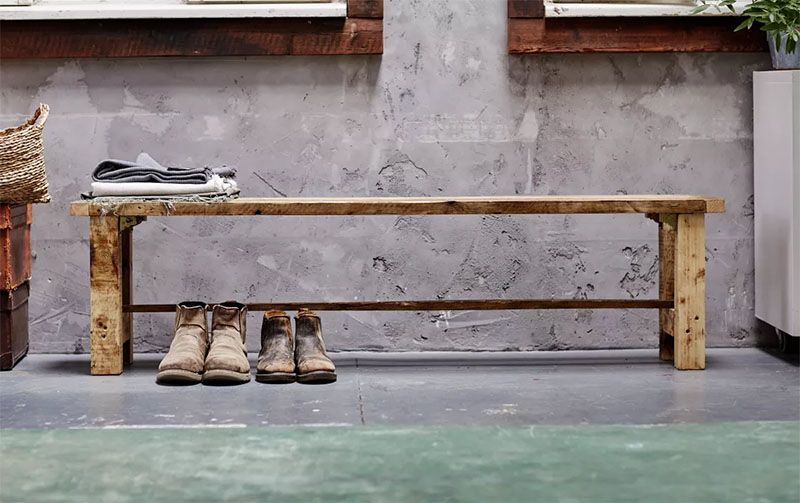 Who doesn't just love an old-fashioned bench? If you're looking for something rustic and classy, then this very easy bench is the one for you. You do need a few required tools, including some more expensive woodworking tools. However, if you already do some woodworking and already have these tools, creating this bench should be very straightforward.
---
18.

White Pallet Bench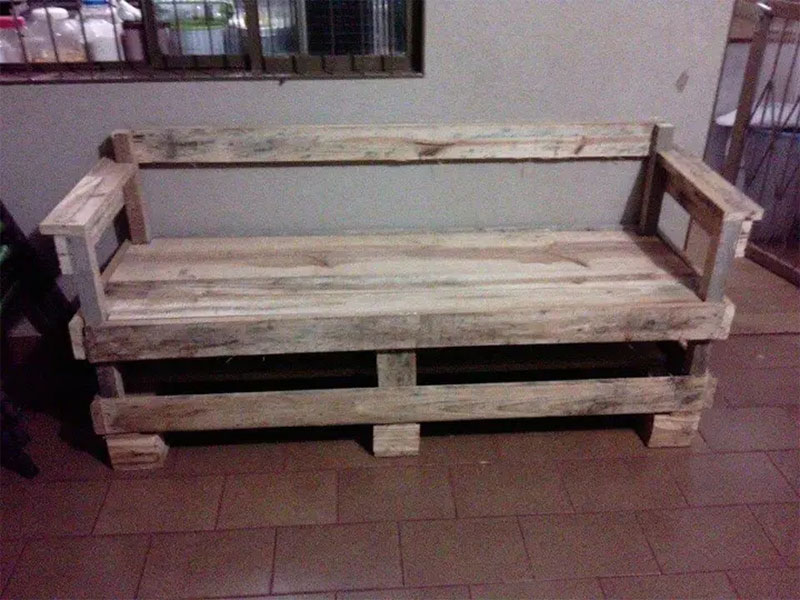 With tilted back support, this white-washed bench is extremely comfortable. Add a cushion and you'll add a cozy spot to your garden. It doesn't require any excessive tools and the design is very simple. Therefore, we also consider it a great option for new DIYers.
---
19.

Pallet Bench with Storage
If you have several pieces of pallets laying around, you can turn them into a pallet bench that also doubles as a chest. You can use them to store your outdoor equipment while still making use of the space by providing seating. Storage is always a problem, and this bench helps you tackle it.
---
20.

Pallet Bench Bar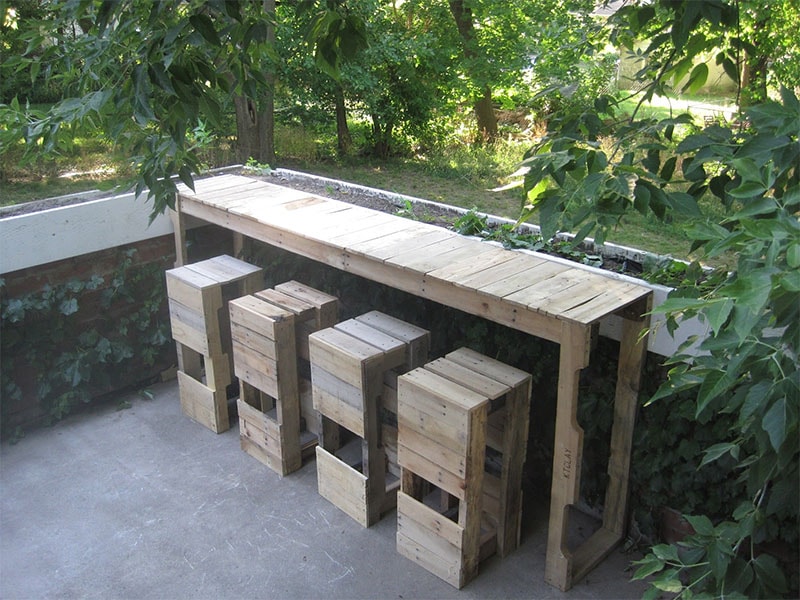 You can also use the pallets to craft an interesting bar area. With a long, bench table and several stools, this plan provides you with everything you need to make a complete bar area outside. Add a fresh coat of paint to spruce it up even more.
---
21.

Pallet Bench with Wheels
Following these video plans, you can create a pallet bench that rests on top of four car wheels. It's a great option for anyone who loves cars, or who just happens to have car wheels laying around. It's pretty straightforward and doesn't require many materials or tools.
DIY Pallet Bench Building
Learning how to build a pallet bench is an inexpensive and resourceful way of creating an extra place to sit. They can be combined with a table section for convenience, and they can even be built around tree trunks to take advantage of the natural cover and shade that the tree affords. An indoor bench, made from recycled pallets, still looks great and provides a focal point as you enter the home. Check that you use good-quality pallets that have not been chemically treated, prepare the wood properly beforehand, and plan carefully to avoid mistakes and unnecessary work.
You might also be interested in: 9 DIY Reloading Bench Plans You Can Build Today (With Pictures)
---
Featured Image Credit: MabelAmber, Pixabay