22 Rustic Basement Ideas & Design Tips (With Pictures)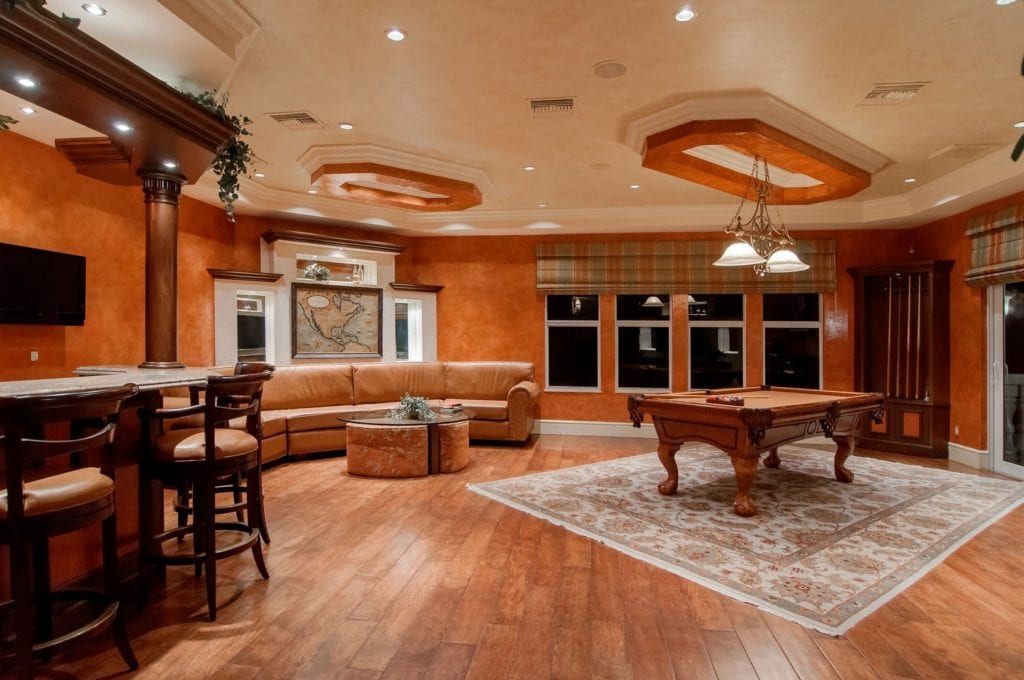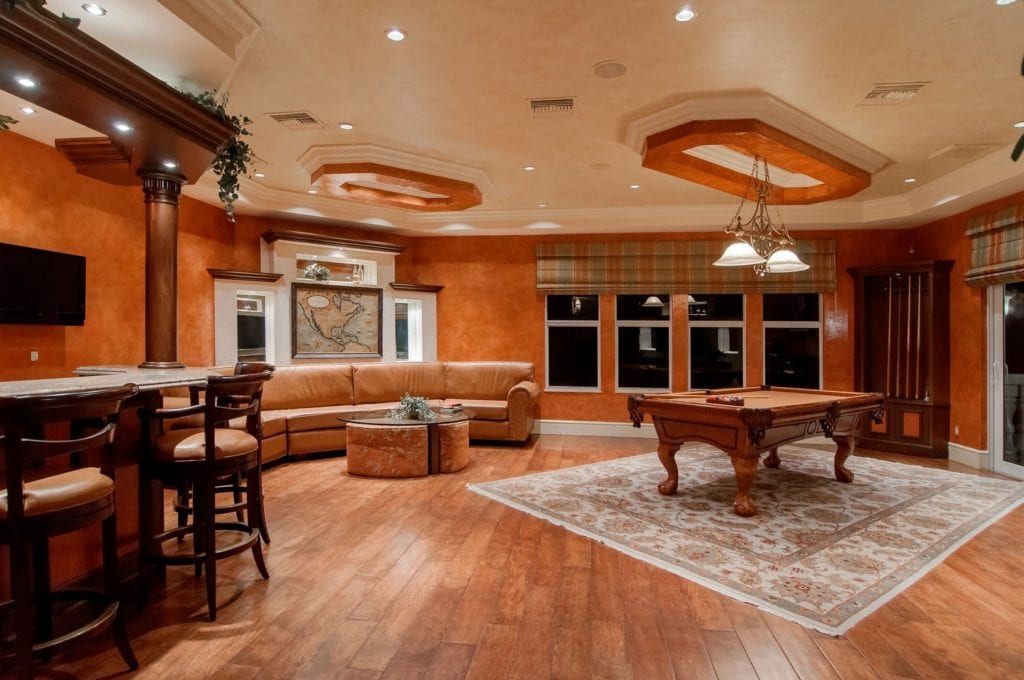 Many homes have a basement, and yours doesn't have to be the dark, empty room beneath the house. Rustic appeal is the secret to bringing out the best in your basement renovation. It can provide warmth and character to your underground hideaway, whether planning a cozy office space, a buzzing pub, or a wine cellar.
So, if you want to transform your basement, look no further as we dig into some rustic basement ideas and design tips that will create a warm, inviting atmosphere and bring life to that sometimes underused space.
Click below to jump ahead:

What is Rustic Design?
The inspiration for rustic interior design comes from early American settlers who built their homes in rural areas during the 19th century. Since space was limited and furniture was heavy, many of the pioneers took little to no furniture with them. They constructed their homes using materials they could find nearby when they settled and established their homesteads.
Ruggedness, letting the natural beauty shine, and celebrating character are what rustic interiors are all about. By emphasizing the use of wood, stone, and other organic components, the idea is to create a cozy and relaxing atmosphere. Earthy features can be used in rustic environments to create a warm and inviting aesthetic. The rustic style allows each piece's individuality to shine through rather than focusing on clean lines and perfection.

Top 12 Rustic Design Ideas
By adding a few elements to your space, you can easily create a rustic interior. From repurposed wood to stone-clad walling, a simple idea can help turn your basement into a rustic haven.
1.

Wood Flooring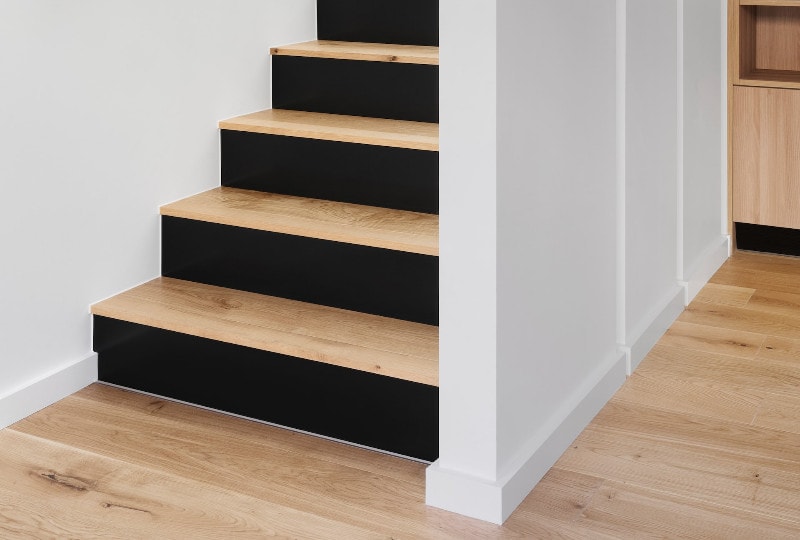 When entering a basement, wood flooring is one of the first features that gives a rustic and grounding appeal to the room. With its inherent charm and warmth, wood has the special power to turn any space into a cozy sanctuary instantly. Pretty much any type of wood you choose will breathe new life into your basement and will especially leave a rustic aesthetic if you choose not to hide any imperfections.
---
2.

Embracing a Brick Wall that is Exposed
An exposed brick wall can be reminiscent of the skill and history of the architecture. Without paint, the bricks stand exposed, telling stories about their past. You can achieve this look by strategically sanding down certain areas of the already-painted wall.
Every flaw, chip, and discolored area on a brick becomes the center of attention, providing a rustic feel that is still artsy and chic.
---
3.

Stone Wall Cladding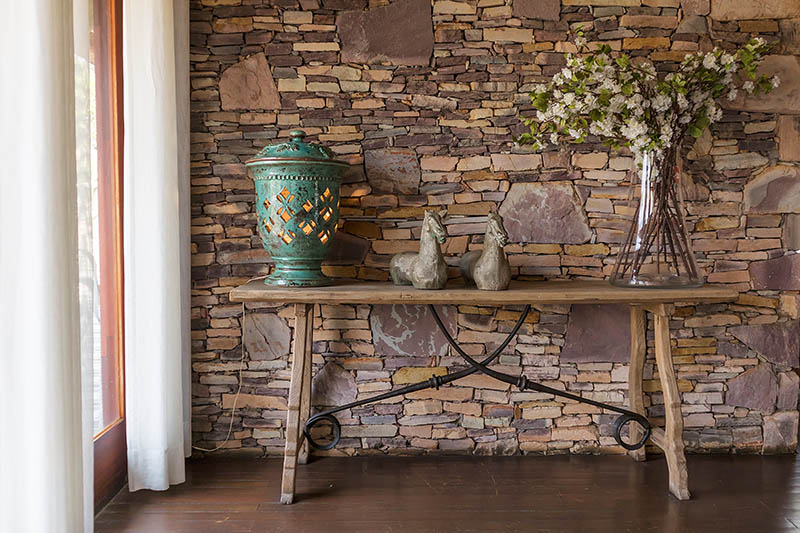 Stone wall cladding instantly takes you back in time, but it is still popular in architectural and interior design today. The exposed stones are the epitome of rustic as they add elements of nature, texture, and imperfection. You can include stone wall cladding on all your walls or use it as an accent wall to add rustic charm to the interior.
---
4.

Incorporate Reclaimed Wood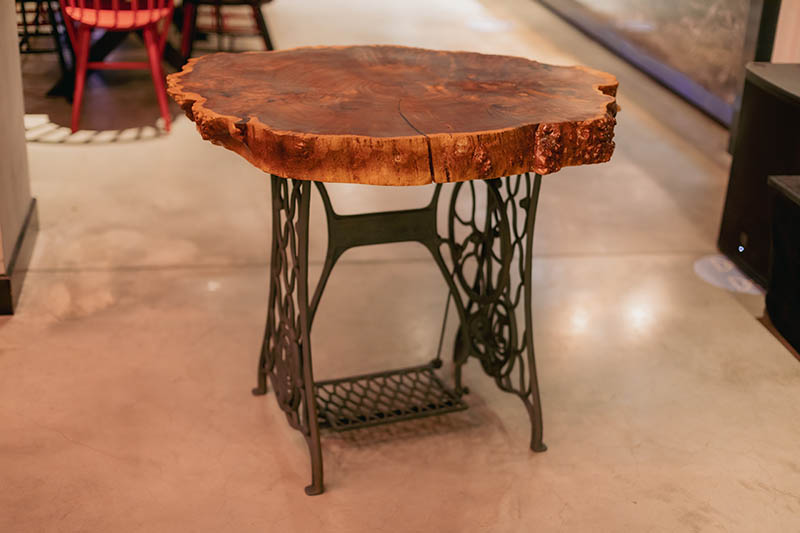 Incorporating recycled wood accents into a rustic basement design has an undoubtedly magical quality. Using reclaimed wood pieces provides a great aesthetic appeal and an excellent way to reuse a material that would otherwise end up in a landfill.
---
5.

Exposed Ceiling Beams
Ceiling beams have the structural role of carrying the weight of the building, but leaving them exposed can provide a raw and rustic beauty to the space. They are a testament to the craftsmanship and the structural beauty of architecture.
A room might feel bigger and taller with exposed beams, giving it character, a rustic charm, and a sense of openness. Acoustic advantages of exposed ceilings can also be achieved, especially with the addition of sound-absorbing materials.
---
6.

Iron and Wood Furnishings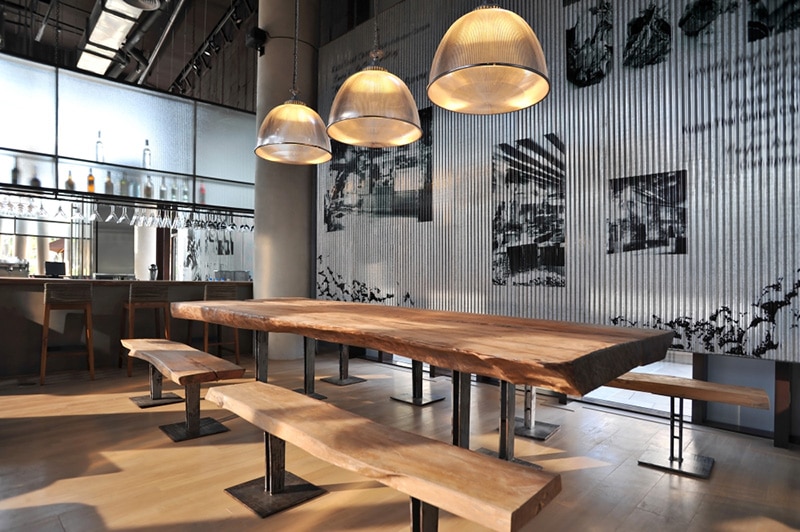 Iron and wood are contrasting materials that can work so well when incorporated together. It brings together an industrial aesthetic and provides a great balance of rustic and modern charm.
The wood's texture, knots, and rich natural tones add warmth and soften the iron's straight lines and angles. Adding a few pieces of wood and iron furniture can effortlessly add rustic appeal to your basement.
---
7.

Wood Barn Doors
A barn door in a basement setting transforms the space rather than just serving as a practical element. The door acts as a bridge, connecting the past's charm with the present's comfort. Their rough, imperfect character makes them a statement piece, perfect for a rustic ambiance.
---
8.

Corrugated Metal Accents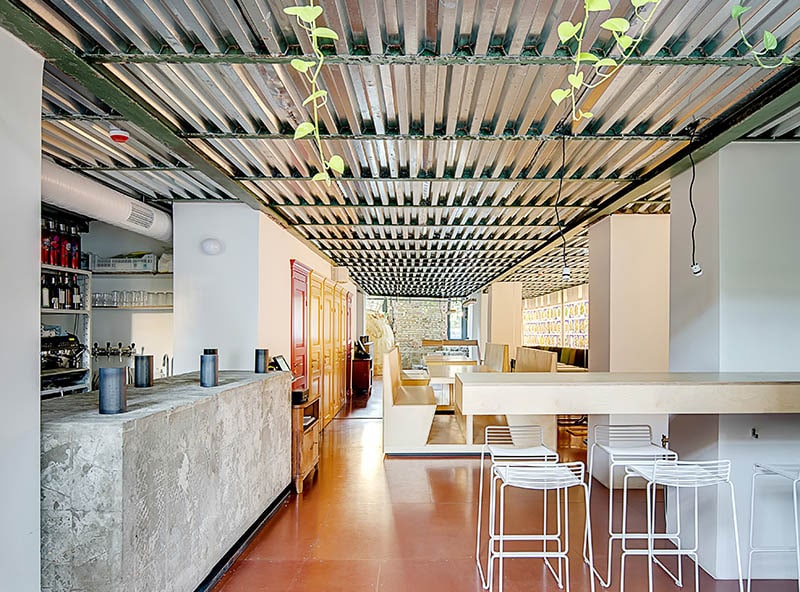 Corrugated metal sheets are often seen in industrial settings, but they take on a whole new dimension when used as an accent inside, particularly in a rustic setting. These wavy, textured sheets give the room a sensory dynamic with their play of shadows and light.
A corrugated metal sheet accent in a basement can be used as a stylish accent wall or used in smaller areas to fill gaps and add character.
---
9.

White-Washed Rustic Accents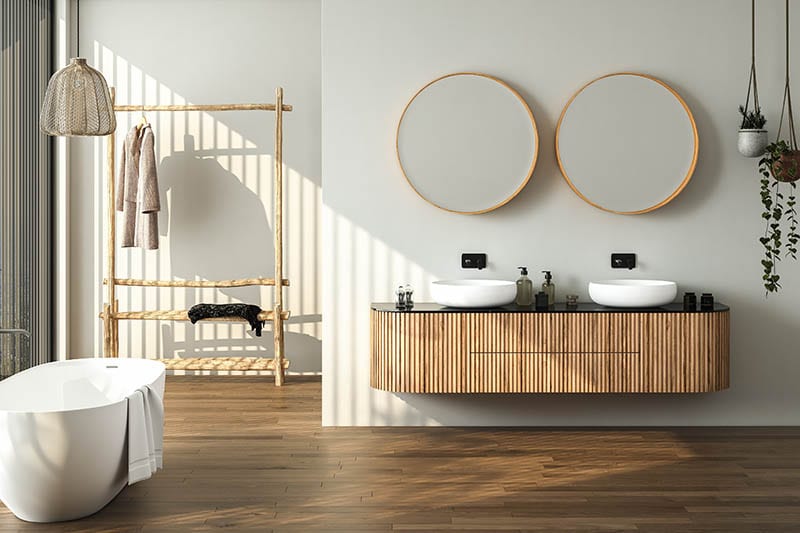 Using the white-washed technique changes furniture, wooden paneling, or beams by giving them an old charm, which can enhance the rustic design. It is also an excellent opportunity to get creative and play with your upcycling skills. You can also apply this technique to walls and ceilings to give the space a new look and lots of texture.
---
10.

Industrial Style Light Fittings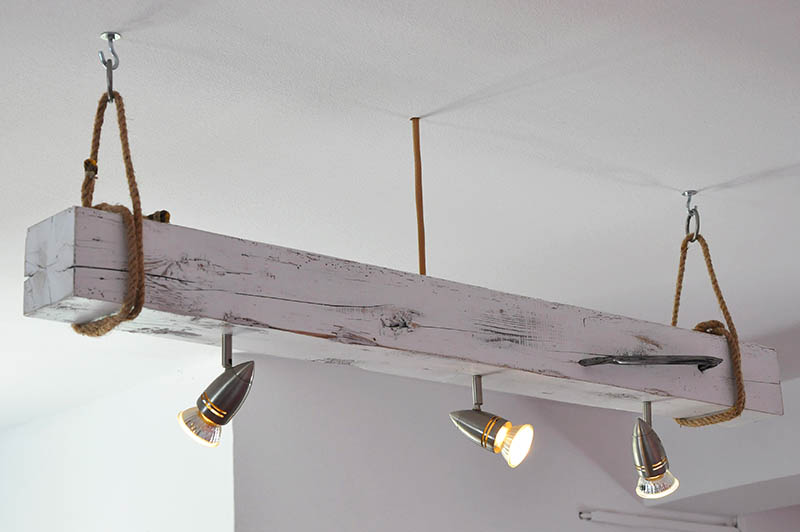 Your basement can become cozy and elegant while maintaining its rustic charm by adding industrial-style light fittings. Again, these can include iron and wood or even large wood accents that are seemingly unfinished or unpolished.
You can choose from several light fittings, but the light should be warm and dim to enhance the cozy ambiance and rustic setting.
---
11.

Add Leather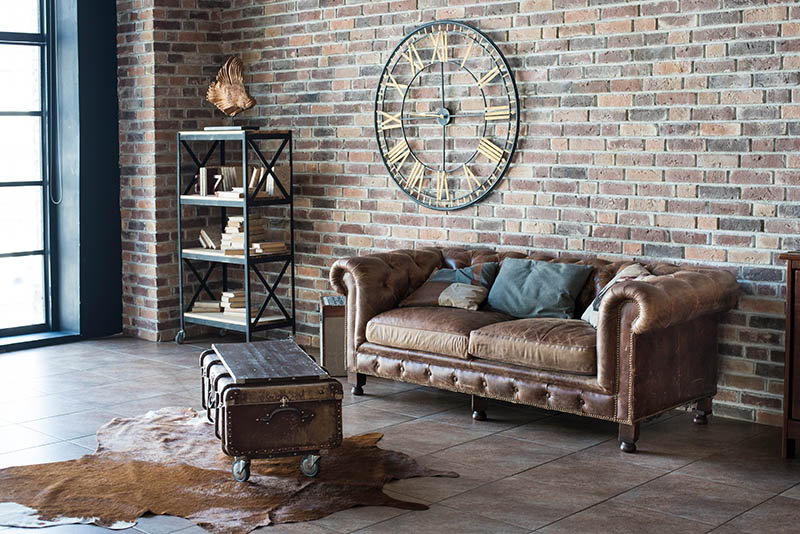 Adding leather accents can be another great way to create warmth, comfort, and a rustic aesthetic. A cowhide rug or worn leather poufs can add charm, and a large, vintage-style leather sofa as an accent piece can draw the eye and provide that welcoming appeal that a rustic design creates.
---
12.

Faux Fur Accents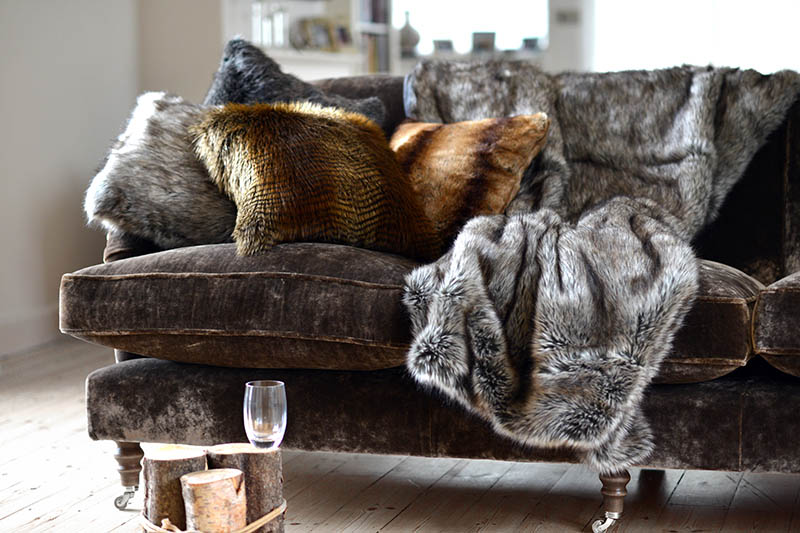 Faux fur is not for everyone, but if you love plush materials, it can be one of the coziest elements of a room design. You can give a modern space rustic charm by incorporating a faux fur throw or even a few accent cushions. Faux fur pairs well with wooden furniture and a stone-clad fireplace and could be the finishing touch you need to create a rustic atmosphere.

Top 10 Rustic Basement Ideas
Now that you have some great rustic design tips, you can incorporate any of them to transform your basement into a useful space. Here are some great rustic basement ideas to get your creative juices flowing.
13.

Wine Lover's Dream
If you are a wine connoisseur or simply a lover and collector of fine wines, you could consider transforming your basement into a wine lover's dream. A wine cellar is more than just a place to store wine; it's a time capsule that preserves the efforts of vineyards and the delicate art of winemaking. Stone floors, exposed brick walls, and bespoke wooden wine racks will create the essence of a rustic wine cellar.
---
14.

Rustic Home Pub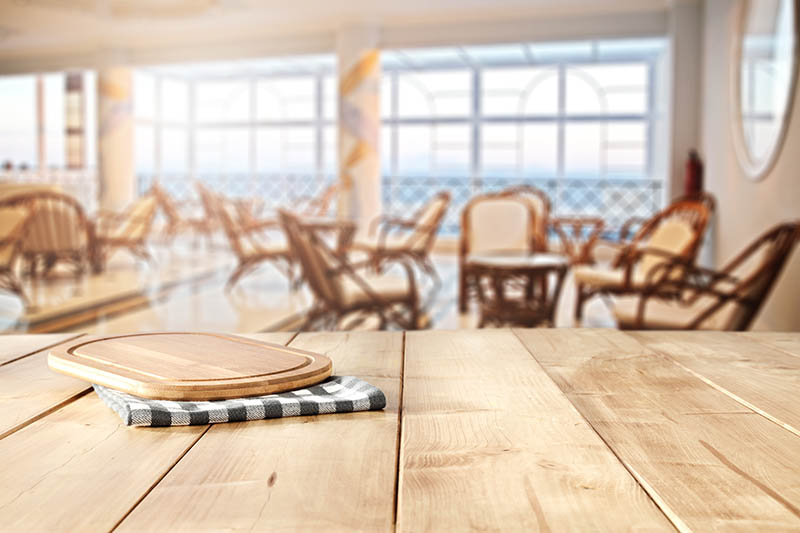 If you want to bring the cozy and buzzing vibe of pub life into your home, your basement can provide the perfect space for a rustic home pub. It can be the perfect space for you and your friends to gather and talk about life over your favorite drinks. A handmade wooden bar top, bar stools, warm lighting, and textured walls can provide the perfect rustic atmosphere.
---
15.

Rustic Cabin Style Guest Room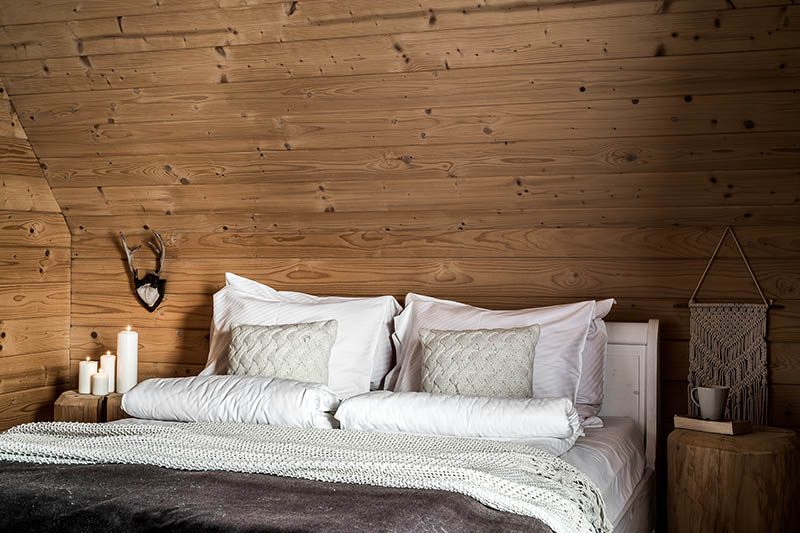 Every home needs a guest room, and your unused basement can provide an ideal space for just that. You can create a rustic, cabin-style room that your guests will love and will make them feel as though they are deep in the tranquil woods.
You can use the design tips we have mentioned above to create a rustic but chic aesthetic, but for the ultimate cabin-style feel, wood paneling and exposed beams will be the perfect finish.
---
16.

Rustic Home Gym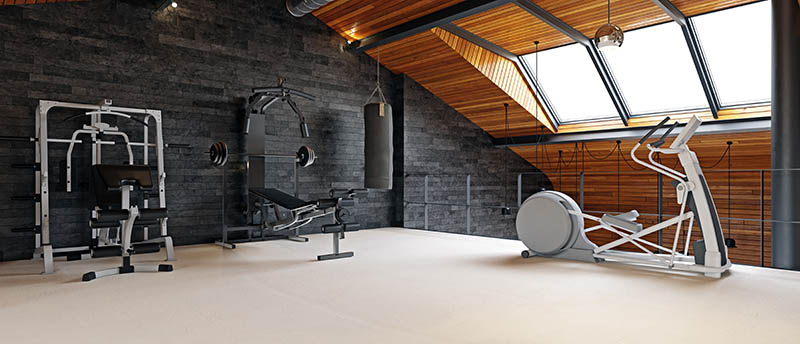 If you have felt drawn to join the gym but are put off by the crowds, why not turn your basement into your very own gym. That way, there are no excuses, and you will have a better chance of reaching all your fitness goals!
Gyms don't need to be modern and fancy but can be cozy and rustic too, which will make them more inviting. By incorporating rustic design ideas into the gym space such as exposed brick walls or stone cladding, your gym can be more welcoming and less intimidating.
---
17.

Pool Room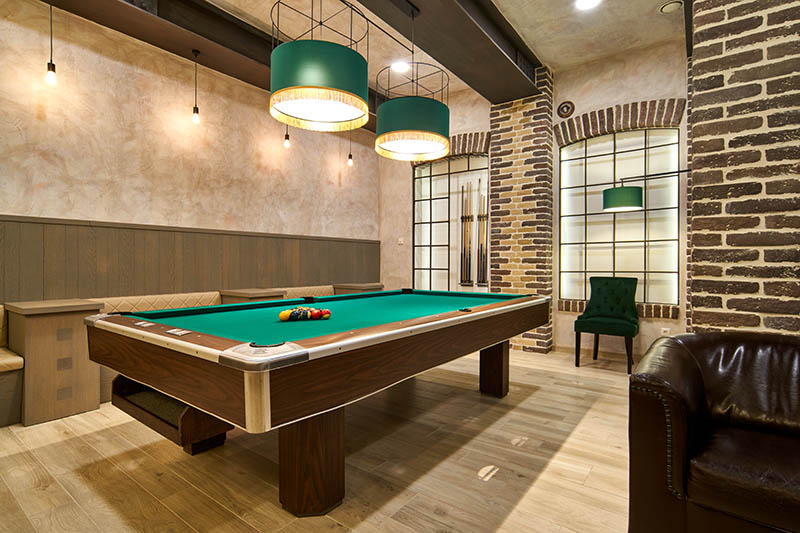 One fun and entertaining activity to do with friends is playing pool, and an unused basement can be the ideal place to create a games room. To create a rustic feel you can use wooden features, such as the floor and the furnishings, along with wood and iron furniture.
---
18.

Rustic Theatre Room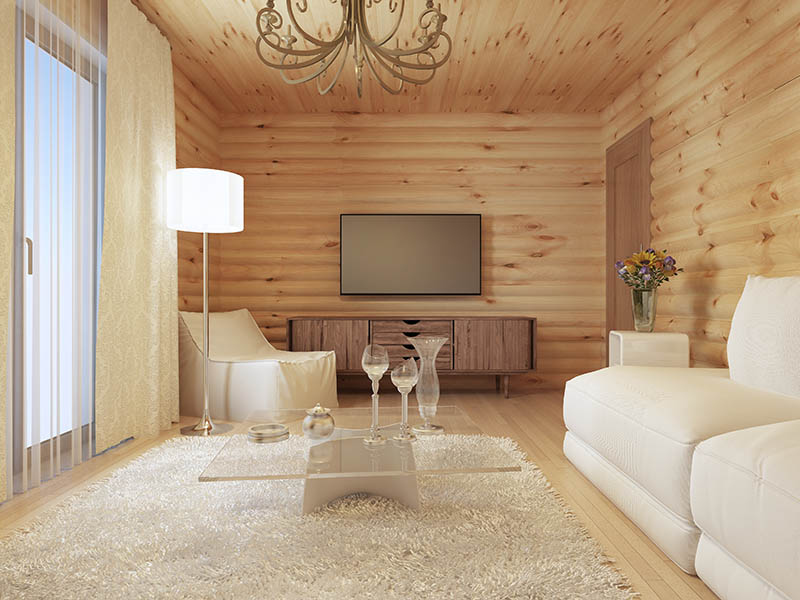 You could transform your basement into your very own theater room where you can enjoy your favorite sports games, video games, or movies in comfort. You can install a large-screen TV or even a projector for a more theater-like experience. Big, soft sofas, wooden accents and furniture, dim, warm lighting, and imperfect design finishes can transform your basement into the coziest, rustic theater room.
---
19.

Rustic Keg Room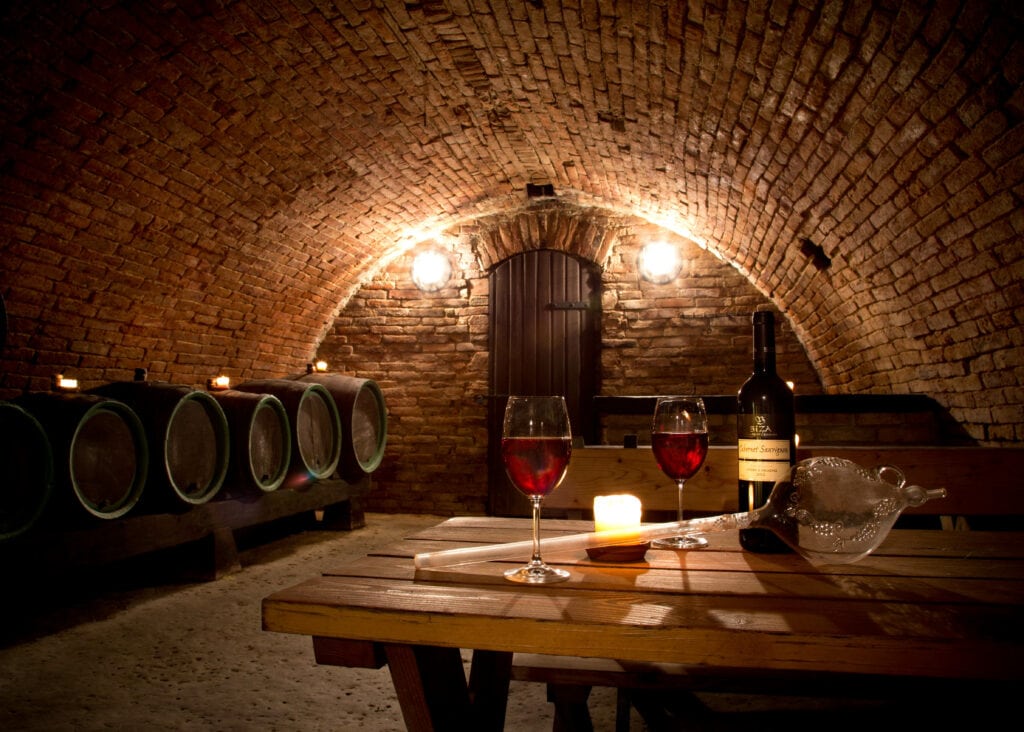 Your basement can be used as space for the men to smoke cigars, drink beer and do what men do. Keg-style tables and wooden bar stools can set the tone for a rustic keg room theme, and you don't even need to be a brewmaster to enjoy it. The kegs can be empty and serve the simple purpose of rustic aesthetics.
---
20.

Rustic Basement Library
Creating a rustic library and reading nook in your unused basement can be a fantastic way to preserve the life and magic of books, especially in today's digital age. If you have a massive book collection and find yourself with your nose stuck in a book on a daily basis, why not transform your basement into a cozy library space where you can enjoy your favorite novels or study history in a quiet and cozy space.
Antique wooden bookshelves, warm lighting, soft leather seating, and other rustic design accents can create an inviting, rustic home library that you may not want to leave.
---
21.

Rustic and Cozy Living Room
Take your living room downstairs by converting your basement into a cozy lounge. Incorporate leather sofas, cowhide rugs, wooden furniture, and some antique accents. Keep your color pallet more neutral and lighter and provide as much warmth and lighting to create a cozy space where you can relax and unwind.
---
22.

Rustic Art Studio
A basement is a perfect space to create a personal art studio. A studio has a rustic vibe due to its beautiful chaos and messy charm. Whether it's a painting studio, a pottery studio, or a mix and match of various crafts, you can create an inspiring rustic space using repurposed wooden tables and chairs, industrial lighting, and incorporating antique art pieces and equipment as part of your design.

Conclusion
A lovely aesthetic that emphasizes the unpolished components of nature is what rustic interior design is all about. It creates a warm, welcoming ambiance while bringing the beauty of the outdoors inside. An unused basement is the perfect space to make your rustic dreams happen, whether it's a man cave, a home theater room, an art studio, or even a rustic getaway for your guests. There are many several elements you can incorporate to transform your basement into a charming rustic haven.
See Also:
---
Featured Image Credit: PxHere