30 Rustic Basement Ideas & Design Tips (with Pictures)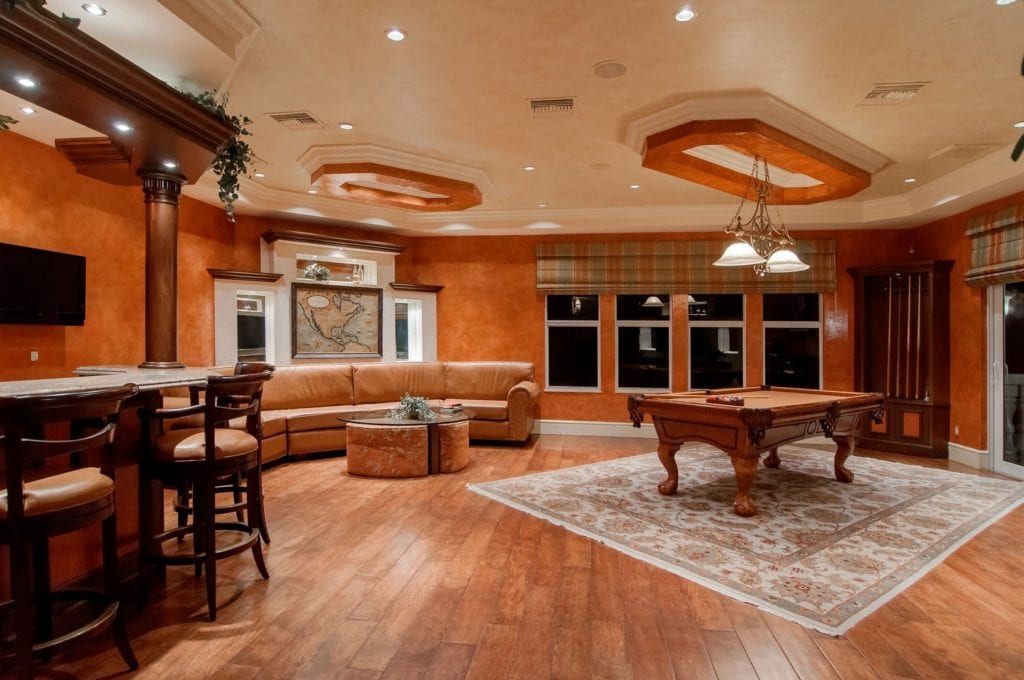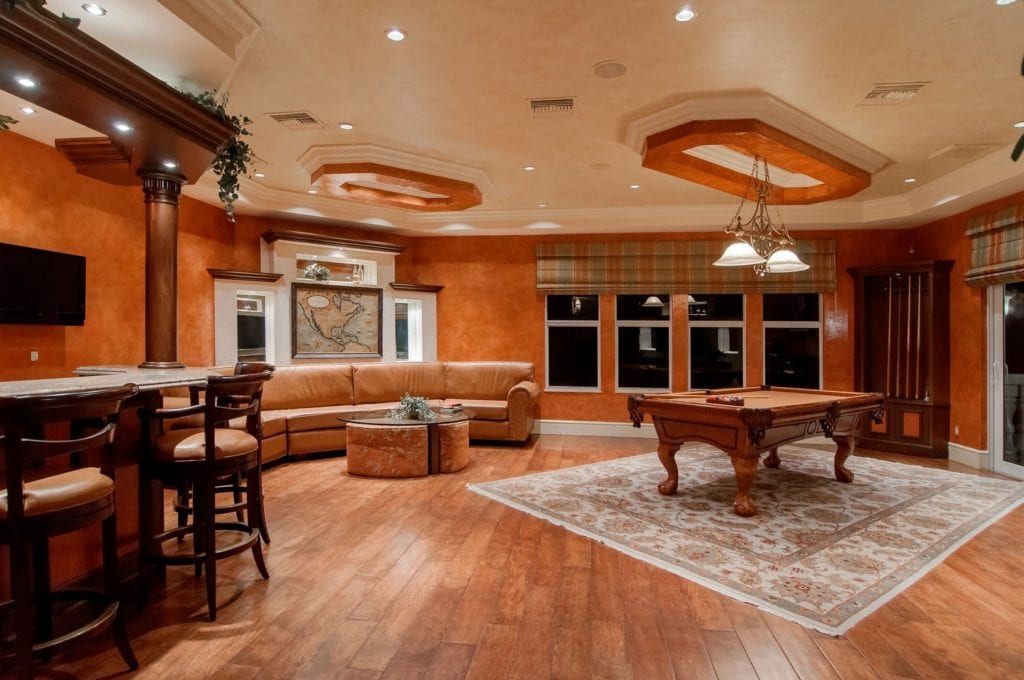 Your basement doesn't have to be that abyss that lurks under your house. Your basement can be anything you want it to be! The possibilities are endless.One of our favorite designs and templates is the rustic feel.
There's something so homey about a vintage, old-timey look. From wood paneling to dated décor, rustic basements are absolute beauties. And when done properly, they will make you the talk of the town and the envy of your neighborhood.
That's why we've collected 30 different rustic DIY motifs, décor ideas, and themes that you can take advantage of when designing your basement.

The 30 Rustic Basement Design Ideas
1.

All Wood Theme
If you're looking for that rustic feel, why not try an all-wood theme. It's as if you're smack in the middle of a mountain log cabin and escaping the hustle and bustle of everyday life.
---
2.

All Stone Theme
Very similar to the all-wood theme above, but this time it's with stone. A stone-centric basement can be a bit more challenging to create. However, when done properly, there's very little that can compete with it in terms of rustic beauty.
---
3.

Fireplace Centric
A fireplace can easily transform any room into an interesting gathering place. Use your existing fireplace (or install one) to serve as the room's centerpiece and work outward from there. You'll find that you've got an amazing basement you'll never want to leave.
---
4.

Earth Tones
If you're going for the rustic look, you don't have to go all out. Simply by utilizing the proper color palette, you can achieve the vibe you're looking for. Stick with neutral earth tones such as browns, golds, and other autumn harvest colors.
---
5.

Classic Library
There are few themes more classic and rustic than a home library. If you're a bibliophile or a collector of rare books, creating a personal library might be the direction you want to take.
---
6.

Rustic and Classy
Just because you're going for a rustic look doesn't mean that you can't be classy about it. Some of the classiest places in the world are among the most rustic. There's no reason why your basement can't be the same.
---
7.

Old Pool Hall
The rustic feel can sometimes come across as a bit too posh and stuffy. But it doesn't have to be. Instead, convert your basement into an old-fashioned billiards hall. You get to keep the rustic atmosphere while maintaining a place to relax and unwind.
---
8.

Home Entertainment Center
Home theaters have always been the rage, and they aren't going away anytime soon—especially when they're converted to a more rustic setting. When done correctly, a rustic home theater will guarantee that movie night is always held at your house.
---
9.

Wine Cellar
Are you a wine connoisseur? If so, then you know the importance of proper wine storage. Protect your collection by creating suitable storage for it.
---
10.

Lodge Living
Are you looking for your little lodge getaway? By converting your basement into one, you'll always have your hideaway to escape to!
---
11.

Farmhouse
Those keen on country living might enjoy this farmhouse theme. It brings a certain charm to any home even if you're located in the city or suburbia.
---
12.

Pub Style
Who says you can't go to the pub every night? Well, you can if you transform your basement into one. Pub styling is very simplistic, yet sophisticated. If you're looking to complete the experience, consider installing a few beer taps so you can draw yourself a fresh pint whenever you desire.
---
13.

Paneled Walls
Wall paneling can be a rather chic, yet rustic way to spruce up any basement. And as far as renovations go, wall paneling is one of the cheaper options.
See also: 20 Clever Basement Wall Ideas & Design Tips (with Pictures)
---
14.

Neutral Grays
While we recommended earth tones above, some of you might not enjoy them. However, if you're still searching for that rustic vibe, consider neutral grays. They can be very elegant and inviting when done properly.
---
15.

Sliding Barn Doors
To complete any western or farmhouse theme, you should install or display a set of sliding barn doors. The heavy wood makes for a great accent and will provide tons of character to your basement.
---
16.

Garage Bar
Rustic themes are often associated with country elegance. However, that doesn't mean it has to be. Gearheads can utilize many of the same principles for generating a rustic look but with their familiar materials. Utilize tin and sheet metals to bring out the spirit of your basement.
---
17.

Keg Room
You don't need to be a home brewmaster to appreciate a keg room. And the kegs don't even have to contain any liquid. However, they provide a very unique aesthetic that's sure to be the desired meeting place for you and the boys.
---
18.

Smoker's Lounge
Fancy a cigar? Turn your basement into the ultimate stogie lover's paradise by adding in a walk-in humidor, comfy furniture, fancy ashtrays, and all the gear you'd need to have a pleasurable smoking experience.
---
19.

Trophy Room
Every hunter needs a great place to display their trophies—especially big game hunters. Keep your upscale display right in your basement. It will make for a place of quiet motivation as you draw up plans for your next hunt.
---
20.

Game Room
Looking for a place to escape from the ho-hum of daily life? Build a game room! If you're not into arcade games, a shuffleboard table makes for an excellent choice. Or look into crafting a custom dartboard and adding a snooker table.
---
21. Rustic Meets Modern
Rustic themes are often associated with antique or classic feelings. However, it's still entirely possible for you to have a very modern, rustic style that looks great.
---
22.

Simplistic
Sometimes, it's the simple things in life that are truly best. You don't need to have a full-blown entertainment complex to be comfortable. Simple approaches often provide the most breathing room and relaxation. And they're normally the cheapest to put together for those on a budget.
---
23.

Bowling Alley
But if simple isn't how you roll, install a bowling alley! If you've got the room and resources, a basement bowling alley can be the ultimate addition to your basement. Now, it doesn't need to be drawn up with tacky décor either. Instead, it can be charming and inviting.
---
24.

Industrial
Into the more industrial vibe? Rustic and industrial looks were seemingly meant for each other. And if you're into the Victorian era steampunk setting, this is the perfect theme for you.
---
25.

Wrought Iron
If you want to hammer home the rustic look, use wrought iron decorations and fixtures. Wrought iron is some of the most beautiful materials around and looks great in rustic homes.
---
26.

Exposed Brick
Have exposed brick in your basement? Don't cover it up! Just give it a good scrubbing and incorporate it into your design. It's all the rage now, and it won't cost you an arm and a leg to make it work.
---
27.

Basement Bar
Adding a home bar into your basement theme almost seems like an automatic thing to do—even if you're not a drinker. They look great and provide a terrific place for gatherings and socialization.
---
28.

Neutral Chic
This is very similar to the modern rustic scene, but with a little more pizzazz. This theme can be difficult to pull off, but very exciting when done correctly. This blend of art and class is sure to make the basement your favorite room in the house.
---
29.

Cozy Man Cave
There's nothing wrong with having a cozy little man cave—as long as your better half says it's alright. Most people think of a man cave having neon lights and a little minibar. However, it doesn't have to be. A cozy place to sit and watch the game or pass out on the couch watching old reruns of M.A.S.H. is just as great.
---
30.

Eccentric Lighting Fixtures
Your main lighting fixture can set the tone and mood of your basement. Using a unique chandelier or recessed lighting can be what elevates your basement to the next level.

Choosing the Right Rustic Setting for Your Basement
As you can see, there are a ton of different ways to achieve the beautiful, rustic basement of your dreams. But which is right for you?
Don't choose your theme on whatever is the trendiest or most elegant. Select your basement's theme on what fits you best. Ask yourself some questions:
Can you afford it?
Are you willing to facilitate its upkeep?
Do you see yourself being able to live with this every single day?
Only you can determine what's best for you. But hopefully, we've been able to give you a couple of great ideas to get you started.
You may also be interested in:
---
Featured Image Credit: PxHere