8 DIY Wooden Go Kart Plans You Can Make Today (with Pictures)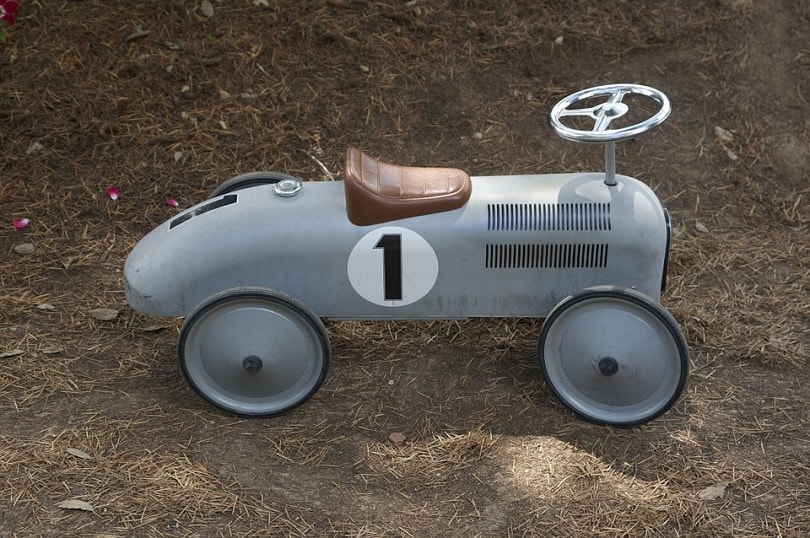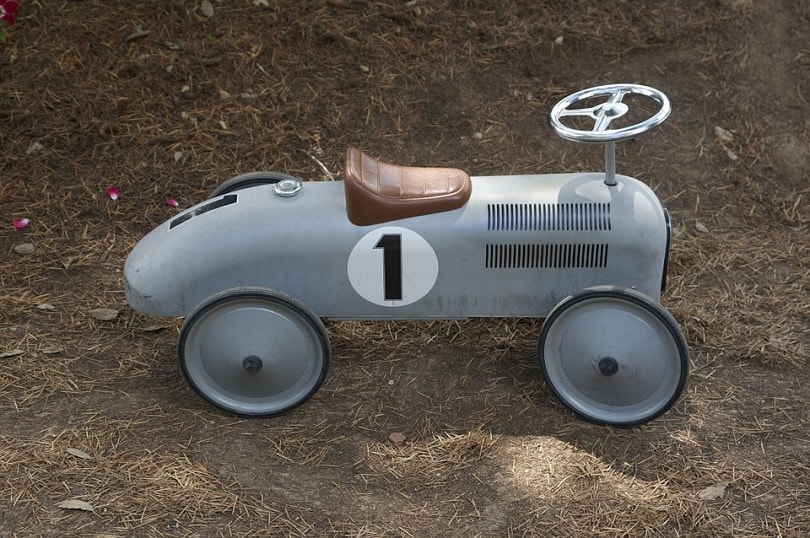 Summer is around the corner, and what kid wouldn't love to spend it racing around the neighborhood on a go kart? For a lot of families, the main thing stopping them is how expensive a premade kart from the store can be.
But have no fear! Because we've gathered plans for a slew of plans that teach you how to build a wooden go karts you can DIY yourself today. You'll save money AND get the kids out of the house this summer. Win win!

The 8 DIY Wooden Go Kart Plans
1.

Downhill DIY Wooden Go Kart Plans from Instructables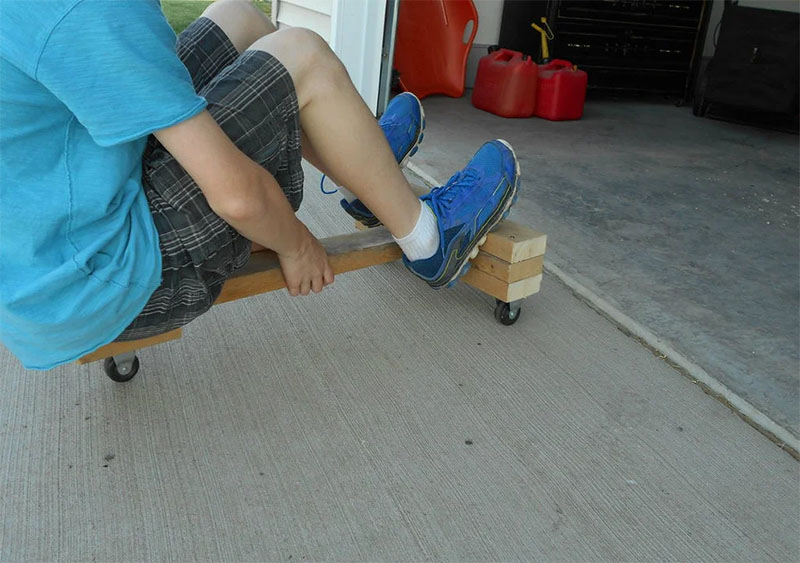 | | |
| --- | --- |
| Materials: | (1) 10'- 2×4, 3 small non-swivel caster wheels, Construction screws, Wood screws, Carriage Bolt – 2½" x ¼", Nut – ¼" |
| Tools Needed: | Drill, Sander, Chop saw |
If you're looking for a simple go kart that you and the kids can put together with whatever you have laying around the workshop? These downhill go kart plans from Instructables may be perfect. Super simple, but crazy fun.
This build is simple enough that any novice with the right tools will make short work of it.
---
2.

Simple DIY Wooden Go Kart Plans from Instructables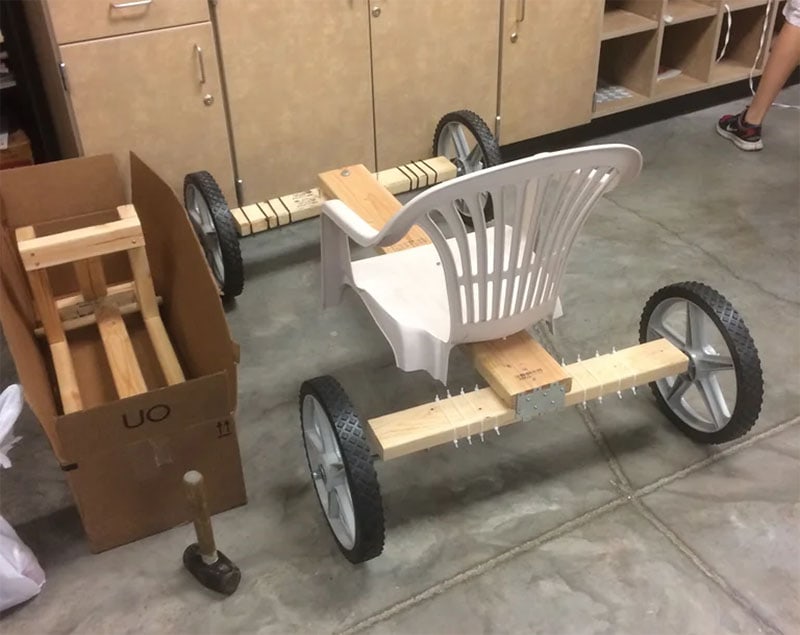 | | |
| --- | --- |
| Materials: | 4 wagon wheels, 100 Zipties, 4 eyehooks, Rope, 2 threaded rods able to support (100 lbs.) each, Washers, locknuts, nuts, screws, (2) 2×4 planks, (1) 2×6 planks, 1 screw plate, 1 lawn chair |
| Tools Needed: | Drill, Wrench, Saw |
This simple go kart design from Instructables is another option for using household items to make something awesome. Most low budget kart builds don't include a seat at all, but these crafty builders repurposed a plastic lawn chair for maximum comfort while cruising.
With just a few tools anyone will be able to follow these in-depth instructions to make their own wacky racer! Please keep in mind that these are not professional plans and exercise caution.
---
3.

Old Fashioned Go Kart Plans from Instructables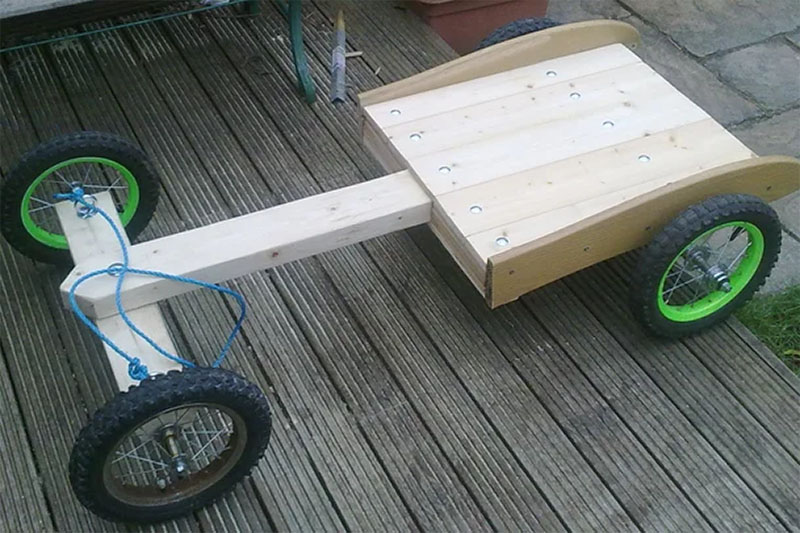 | | |
| --- | --- |
| Materials: | Wheels from two small bikes, Wheels from two small bikes, 10 cm x 4 cm slats from a garden fence, Extra wood for the sides, Steel, Carriage bolts with nuts and washers, 2 eye bolts, Length of rope |
| Tools Needed: | Welder, Clamps, Drill, Saw |
These bogie kart plans on Instructables are another ingenious use of household objects. The builder pirated bike wheels from their kid's outgrown bicycles and made this simple, old fashioned bogie kart. Inexpensive, sturdy, and fun.
While this build is quite strong, the instructions are not so in-depth as to be useful to beginners. The builder also notes that you may not need a welding tool yourself if the local mechanic is willing to do the job. Advanced craftspeople only for this one.
---
4.

Skateboard Style DIY Wooden Go Kart Plans from Instructables
| | |
| --- | --- |
| Materials: | Plywood or board, Durable rope, Screws, Nails, 3 sets of skateboard wheels (1 wide, 2 narrow) |
| Tools Needed: | Hammer, Screw driver |
These plans from Instructables for a skateboard style kart might be a good project for a kid this summer. This little sled on wheels is easy to build and dirt cheap to boot.
Please be aware that this is not a professional design, and that you should exercise extreme caution when riding. Always wear protective gear!
---
5.

Car Seat DIY Plans from The DIY Plan
| | |
| --- | --- |
| Materials: | (2) 2x6x8′, (1) 2x4x8′, (1) 11″x8″- 1/2″ plywood, 1⅝" and ½″ wood screws, 4 wheels, (2) ⅝″ threaded rods, Nuts and washers, (1) 4″ Bolt, Car Seat, Rope |
| Tools Needed: | Drill, Miter saw, Tape measure, Sawzall |
Here's another great build inspired by items around the house that you can use to make an adventure: a car seat go kart on Instructables. The builders took the classic kart idea and made this comfortable and sturdy little downhill racer.
These plans come with handy diagrams, cut lists, and step by step instructions. Anyone with the proper tools should find this a simple and fun project that they can complete in a weekend.
---
6.

Little Car DIY Wooden Go Kart Plans from Instructables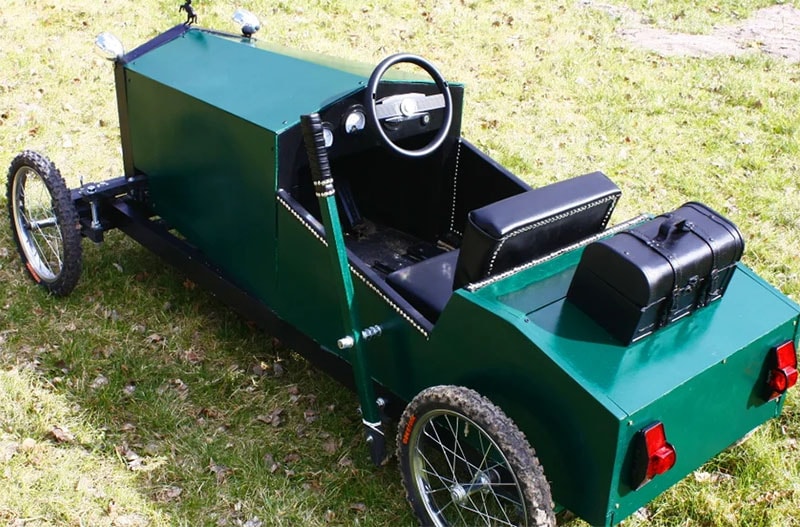 | | |
| --- | --- |
| Materials: | Wood (pine), Bicycle wheels, Electric engine with controller (optional), 12 batteries (optional), 2 long construction screws, Wood glues (polyurethane recommended), Nails and screws |
| Tools Needed: | Drill, Saw |
We are in love with the old school jalopy look for this little car go kart on Instructables!
These plans are not terribly well organized for novice builders, though you may be able to get some inspiration for your design. We recommend this project for advanced craftspeople, especially if you are planning on adding a motor.
---
7.

Colorful Racer DIY Plans from Instructables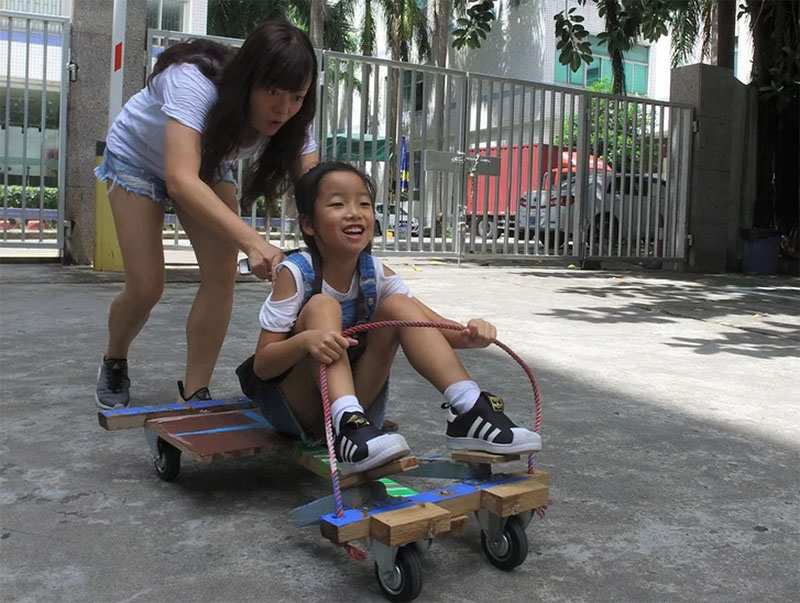 | | |
| --- | --- |
| Materials: | Pine 2x4s, 5 square meters of 2 cm or thicker plywood, 4 caster wheels, at least 10 cm diameter, (20) 3 to 3.5" wood screws, with washers, (6) 5" bolts, nuts, washers (1.5-2 cm thick) |
| Tools Needed: | Paintbrush, Saw, Drill and bits, Ruler, Pencil, Pencil, Wrenches to fit bolts, Clamps |
These colorful and simple go kart plans on Instructables are another excellent example of the downhill racer or bogie kart design. You might have some of these supplies leftover from other projects, but even if not this is an inexpensive and easy build.
These plans are less technical and diagrammed, but full of in-depth instruction and photos. Beginners may find it challenging, but it's a forgiving build that could be a fun project to do with the kids. So grab some crazy paint colors and go wild!
---
8.

Baby DIY Go Kart Plans from Instructables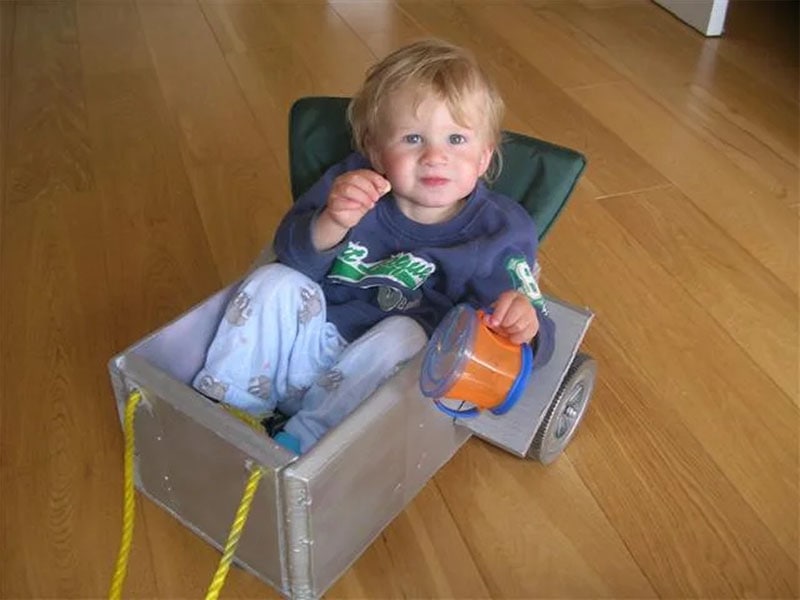 | | |
| --- | --- |
| Materials: | Plywood, MDF, etc., Wheels, Screws, Rope, Spray paint |
| Tools Needed: | Drill, Hand saw, Pencil, Speed square, Tape |
Believe it or not, this tiny go kart for a toddler on Instructables can be made out of whatever you have laying around in about 15 minutes! As long as you have some wheels (this builder got them off an old BBQ grill), a drill, and some wood you can bring a big smile to the face of your little one.
The only skill level recommendations we have are that you know basically how to use a drill and saw, otherwise you're golden! No toddler is going to critique your ignorance of pocket hole screws or table saws. They'll just be happy you thought of them.

Final Thoughts
Want to get the kids out in the sun and off their phones this summer? If you build them a wooden go kart of their very own you can bet they'll spend a lot more time outdoors and having fun!
Go karts don't have to be expensive either. Learning how to build a wooden go kart with the plans we collected here for you provide a variety of options for every skill level and budgets, but most of them are made from basic household items and scraps!
We hope you've gotten some inspiration and ideas today, so that tomorrow you can go build an amazing kart with your kids and start the summer off right.
Happy building!
Related Reads:
---
Featured image credit: Toy car by 272447, Pixabay