10 Free DIY Bow Rack Plans You Can Make Today (with Pictures)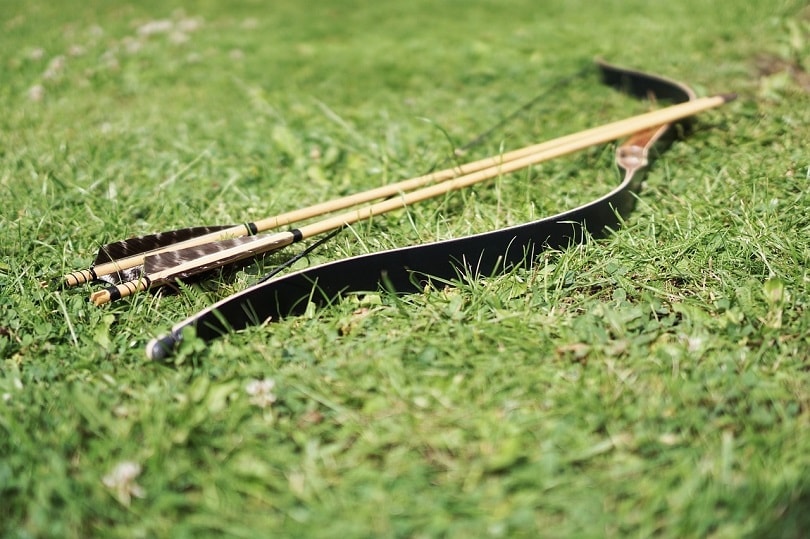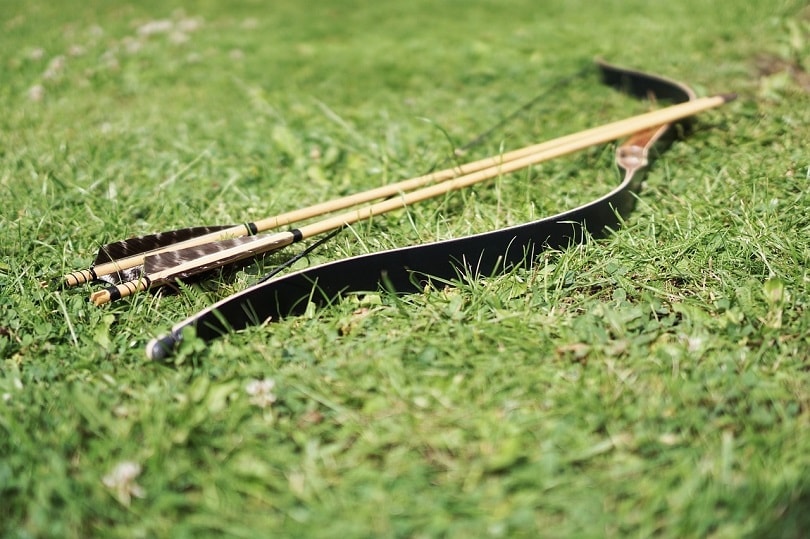 Whether you're an avid bowhunter, a precise target shooter, or a Renaissance Faire hero, there's nothing more convenient than a rack where you can hang your bows.
It's never fun to have to hide your favorite gear away in a closet or under your bed. Not only are bow racks a great way to proudly display your bows and arrows, they're also easy and cheap to make at home with basic woodworking tools. Even if you're not a woodworker, this list has something for you — PVC is a popular material for archers.
Learning how to build a bow rack is as common in the DIY circles as other furniture, so good plans can be tough to find. Luckily for you, we've gathered some of the best from across the internet. Spend today building a bow rack you'll be proud of, then tomorrow out on the range or in the backcountry.
The 10 DIY Bow Rack Plans
1.

Homemade Bow Rack by The Sticks Outfitter
The Sticks Outfitter posted this fun and easy bow storage hack on Instructables. The heart of this design is a spare wooden pallet, so if you've got one of those lying around, the rest is easy. The instructions are in video form, and it definitely helps to have a six-pack handy to complete the aesthetic.
| | |
| --- | --- |
| Tools Needed: | Screwdriver, Hammer |
| Supplies Needed: | Pallet 2×4 Screws Hooks |
---
2.

Simple Bow Rack by One Project Closer
This One Project Closer design for a beginner bow rack, devised by a dedicated bow hunter and woodworker, can be built for only $20 worth of supplies. Once you've built it, bolt it onto a bare wall, and use the pegs to store up to four bows of any kind — and if you stain it, it even looks greater.
| | |
| --- | --- |
| Tools Needed: | Pencil, Tape measure, Speed square, Hammer, Saw, Drill driver and bits |
| Supplies Needed: | Stain grade pine, Dowel oak, Drywall screws, Wall anchors |
---
3.

PVC Bow Rack by Hunt Addicts
If you're not a woodworker, then not to worry — Hunt Addicts has a DIY rack plan with PVC pipe, just for you. It's great for quickly putting down your bow while you go retrieve your arrows from the target but works for long-term storage too.
This design can also be adjusted to fit the length of your bow. There are even built-in holders for more arrows.
| | |
| --- | --- |
| Tools Needed: | Hacksaw, Tape measure |
| Supplies Needed: | PVC pipe, PVC Ts, PVC elbows, PVC end caps, PVC cement, Sandpaper, Foam insulation |
---
4.

Compound Bow Rack by Popo's Woodworks
This video tutorial from the Popo's Woodworks YouTube channel will help you build a rack that's perfect for holding compound bows and hunting arrows. It's one of the best-looking $20 builds we've ever seen, and you can get it done
| | |
| --- | --- |
| Tools Needed: | Table saw, Jigsaw, Pencil, Tape measure, Clamps, Sander, Drill, Pocket hole jig, Brush |
| Supplies Needed: | Boards, Dowel rods, Wood glue, Pocket hole screws, Stain, Wall anchors |
---
5.

Bow Storage Box by National Archery in Schools Program (NASP)
NASP, the National Archery in Schools Program, teaches how to build a bow rack for an archery storage box available on the New Jersey Fish and Wildlife website. This plan makes a large box for bows and a smaller box for arrows attached to the top — perfect for archery classes or other large groups.
This plan doesn't give advice, so it's best for woodworkers who already know what they're doing.
| | |
| --- | --- |
| Tools Needed: | Drill, Hammer, Screwdriver |
| Supplies Needed: | Plywood, Pull handles, Boards, Chest handles, Nuts and bolts, Castor wheel assemblies, Hinges, PVC pipe, PVC caps, Screws, Nails, Sinkers, Stain, Wood glue |
---
6.

Bow Stand by World Archery
World Archery, the international governing body of championship target shooting, released a manual with extensive instructions on how to make your own equipment. It can be tricky to find — the easiest way is to follow that link — but it's more than worth the search.
This stand can hold up to 10 bows, so like the NASP design, it's great for teaching camps or holding tournaments.
| | |
| --- | --- |
| Tools Needed: | Saw, Drill, Screwdriver, Wood planer |
| Supplies Needed: | Bolts, nuts, and washers, Screws, Wood glue, Dowels, Wooden boards, Aluminum |
---
7.

Pallet Bow Rack
| | |
| --- | --- |
| Tools Needed: | Drill, Jigsaw, Tape measure |
| Supplies Needed: | Old Wooden Pallets, Screws, Mounting Hardware |
This simple bow rack design by Tradebow provides plenty of storage for all your archery gear in one neat corner. You don't need a budget, especially if you have an old wooden pallet in your backyard. The rack has a unique rustic character and is sturdy enough to hold two bows and a whole set of arrows.
---
8.

Homemade DIY Bow Rack
| | |
| --- | --- |
| Tools Needed: | Jigsaw, Drill, Sander, Pencil, Tape measure & Brush |
| Supplies Needed: | Lumber, Screws, Wood Glue & Wood Stain |
Would you like to build a DIY bow rack that can be a functional wall art for displaying your archery kit in your living room? Check out this YouTube tutorial from The Sticks Brand. The estimated budget is around $30, although you can cut costs by using leftover lumber from past woodworking projects.
---
9.

DIY 2X4 Bow Stand
| | |
| --- | --- |
| Tools Needed: | Drill, Table saw, Pencil, Tape Measure, Brush |
| Supplies Needed: | Lumber, (2x) Screws, (18″) Magnetic Strip, Ladder Hangers, Spar Urethane Stain |
This DIY bow stand by ErlefromVa is an inexpensive alternative to building the usual PVC bow stands. It is sturdy and can fit in a small corner of your garage. Generally, it provides a better setup for storing your prized archery gear.
Consider playing around with the finishing to give your stand a personalized visual appeal.
---
10.

PVC Bow Caddy
| | |
| --- | --- |
| Tools Needed: | Tape measure, Hacksaw |
| Supplies Needed: | (1.5″) PVC pipes, PVC Tees & Caps, Sandpaper |
PVC DIY bow racks are a staple among archery lovers. First, they are cheap to build, and you only need a budget of $20 or less. Second, anyone can build a sturdy and functional piece, regardless of skill level. If you want to create a premium-looking bow rack in just a few hours, try out this project by Rated Red.
---
Featured Image Credit: TheDigitalWay, Pixabay