24 Free DIY Wooden Shelf Plans You Can Build Today (with Pictures)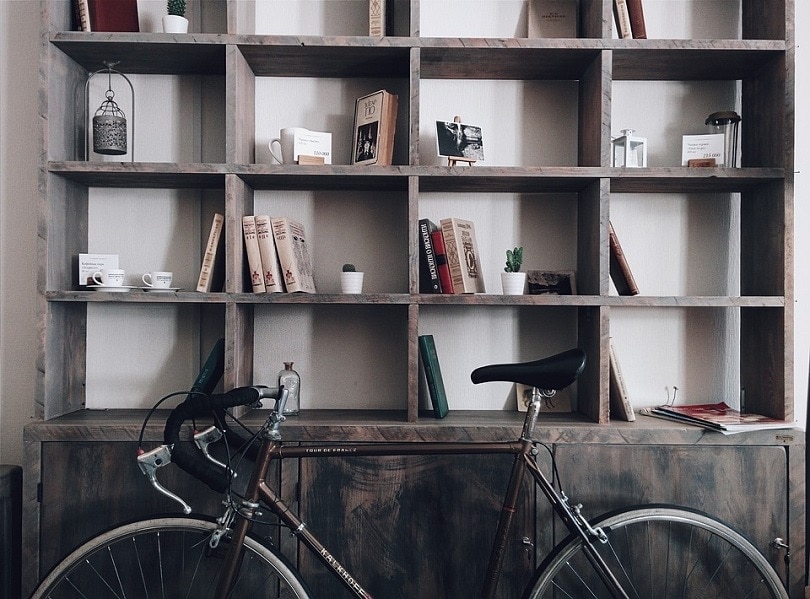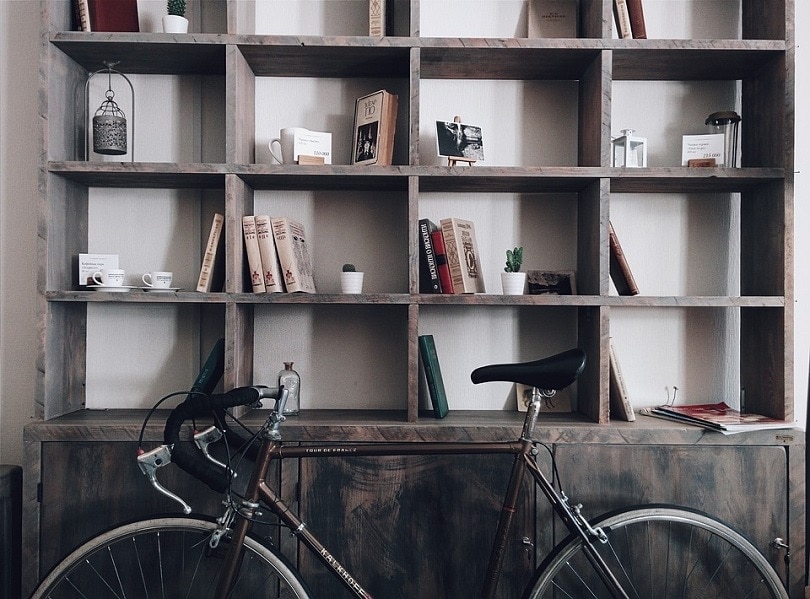 Shelving units can be one of the essential parts of finding the right home for some people. Storage is a significant part of staying organized and maintaining overall cleanliness. As they say, we fill whatever space we inhabit. From large to small, finding the space to fit new finds or organize the kid's rooms a bit better can make all the difference.
Below, we have compiled a list of instructions that teach you how to build wooden shelves that should fit in any living space you find yourself. Are you looking for something different to show off a collection of items or prized possessions? We have got those as well. Scroll down to find the right match for your needs, in any room of the house.

Top 24 Free DIY Wooden Shelf Plans
1.

DIY Kentwood Bookcase from Ana White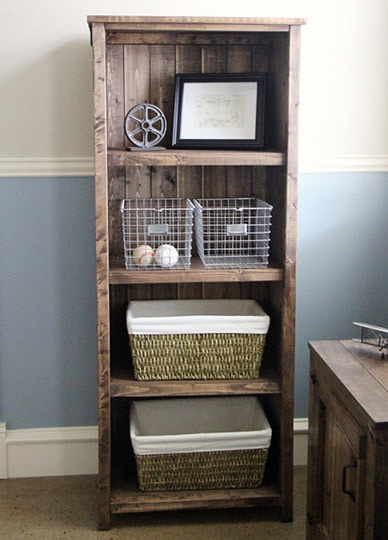 Ana White can always be trusted to exhibit some great finds for DIY designs. This Kentwood bookcase looks like it comes straight out of a catalog. It is built for a larger space and a perfect fit for a variety of uses. The tall form allows for a lot of storage space while enabling it to fit into a corner or the leftover side wall of a room. Find the design through Ana White or Shanty 2 Chic.
---
2.

Easy Rope Shelf from Burkatron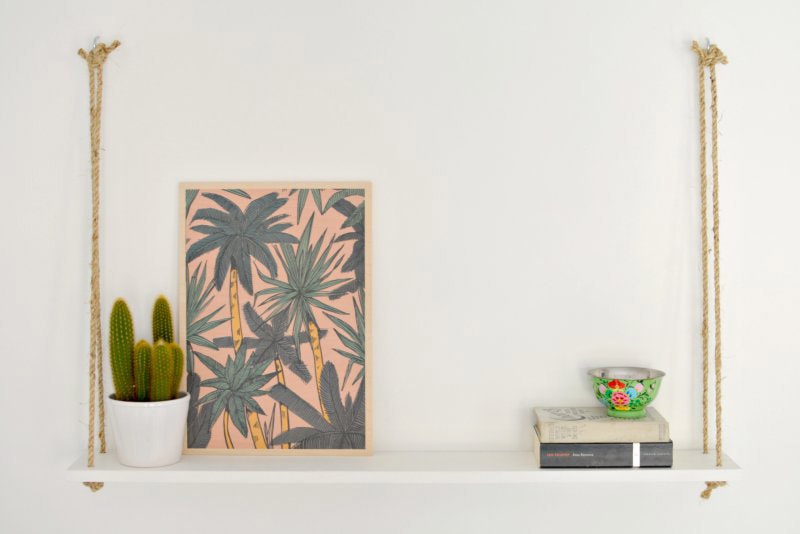 Some people simply don't have the floor space to make another shelving unit work. If you find yourself in the same boat, then check out this incredibly simplistic design from Burkatron. Clear off more of your desk space or free up space in front of your TV by hanging up a shelf with rope. You can have this unit mounted in less than an hour once all three materials are together.
---
3.

Suspended Bookshelves from The Family Handyman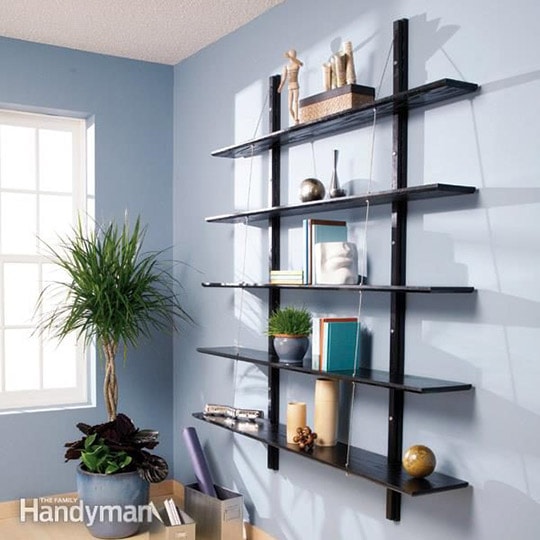 Another design meant for those who might like to keep things away from the floor. This one also appeals to those with a creative decor streak. The combination of the wood and the wiring helps to reinforce it on a practical level, but also gives it a modern or edgy look to set it apart. Find this open-ended shelving design on The Family Handyman.
---
4.

Kee Klamp Shelving from Instructables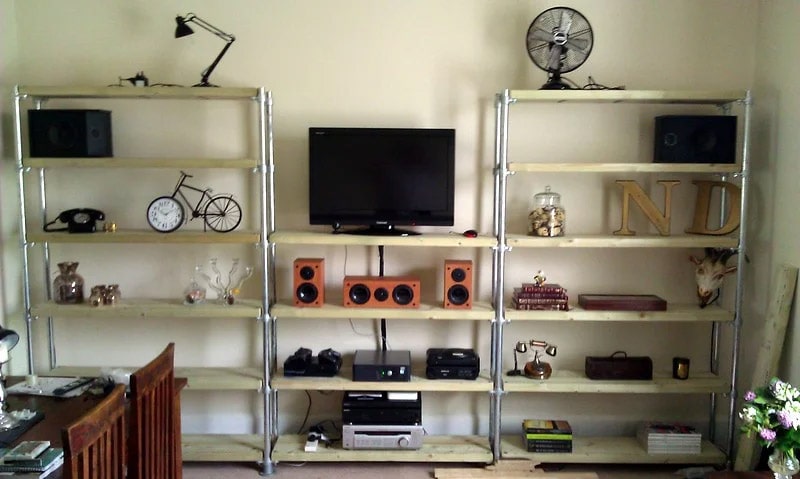 Shelves can be for just about anything. If you are looking for a design that is easy to adapt for whatever space or contents you have for it, this unit could be the one for you. The model showed above was modified to also be the TV stand by merely taking the top two layers of boards off. It isn't even necessary to make it three units long if you don't have space. Make it for your home by going to Instructables.
---
5.

DIY Garage Storage Shelves from Ana White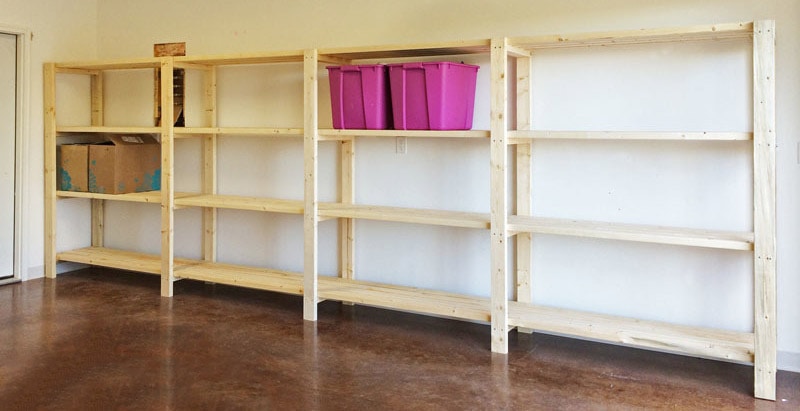 Shelving isn't only useful for the interior of the home. Organizing a garage or shed area can be just as crucial for keeping items organized and out of the way until they are needed. This shelving unit fits standard-sized tubs or larger boxes. Up your storage game with this unit and get the plans from Ana White.
---
6.

DIY Copper Peg Shelves from Vintage Revival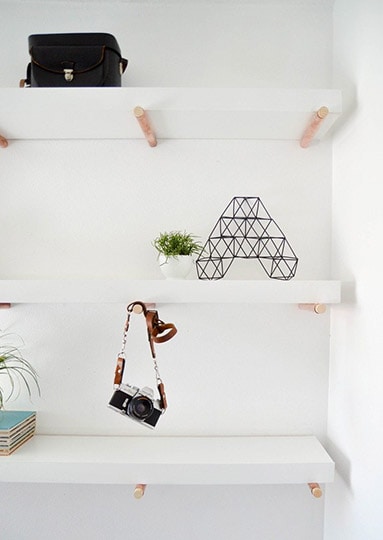 Shelves don't only need to be planks of wood drilled or wired together. Their design can be enhanced to add extra dimensions of decoration or hanging in this case. Here, the shelves are available to set a variety of materials, and the pegs are there to give you even more space to work with, this time vertically. Try it out by following the directions from Vintage Revival.
---
7.

Custom Hanging Shelves from Instructables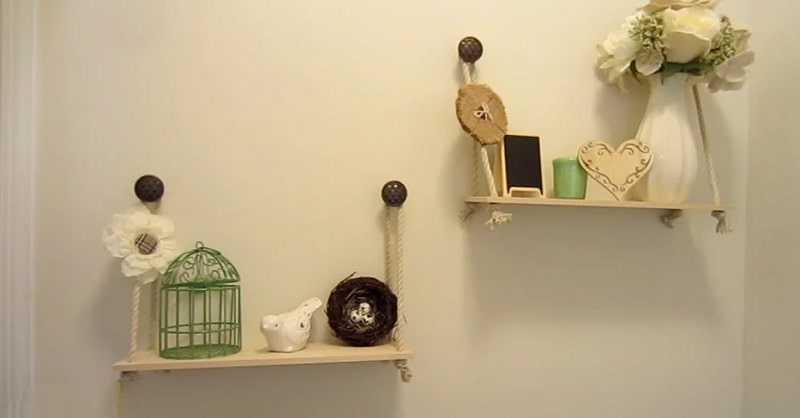 This is another hanging design, although slightly more involved than the one featured above. It may be a better match for the interior of your home, depending on the theme you have throughout your home. These shelves don't just hang from hooks in the wall, but a feature like a drawer handle. The plans can be found in detail at Instructables.
---
8.

Industrial Bookcase Plan from Rogue Engineer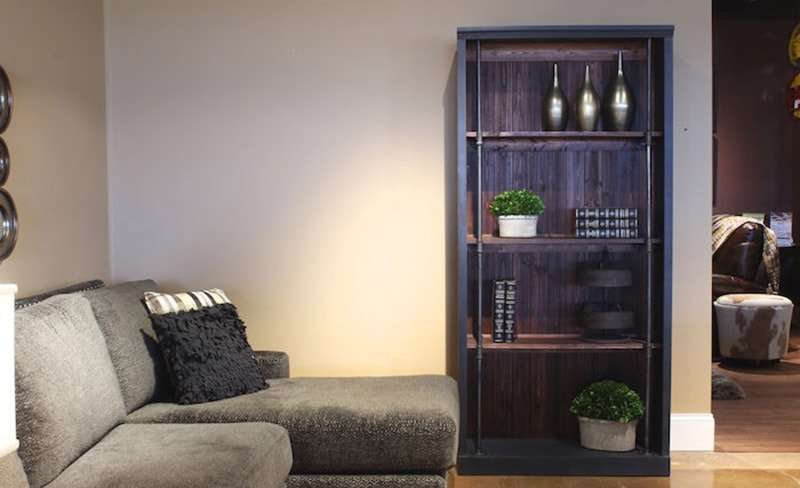 Taking on this project ends up giving you credit to your strength as a builder. Although it is not too much more complicated than other designs featured on our list, it does appear to be. This industrial bookcase has a feeling of strength with a real design flair. The plan was originally adopted from a similar piece from Pottery Barn selling for $1900. Making it yourself doesn't come close to this price and is also served with a side of deep satisfaction. Get the plans from Rogue Engineer to marry up your steel and wood.
---
9.

DIY Bed Built-In Shelves from Family Handyman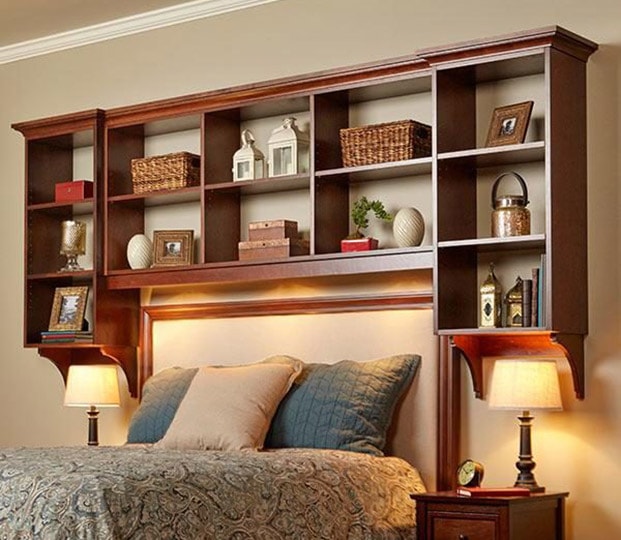 Shelving units can be beneficial additions to any room of the house. This design is made to act as a modified addition to the headboard area of the bed. Instead of buying a large and bulky headboard, make something easier to transport in and out. By fixing the shelving to the wall, you keep everything off the floor and can keep your bed right next to the wall, expanding the area of the room. Head to Family Handyman to make your own.
---
10.

DIY Rustic Pallet Wood Shelves from Instructables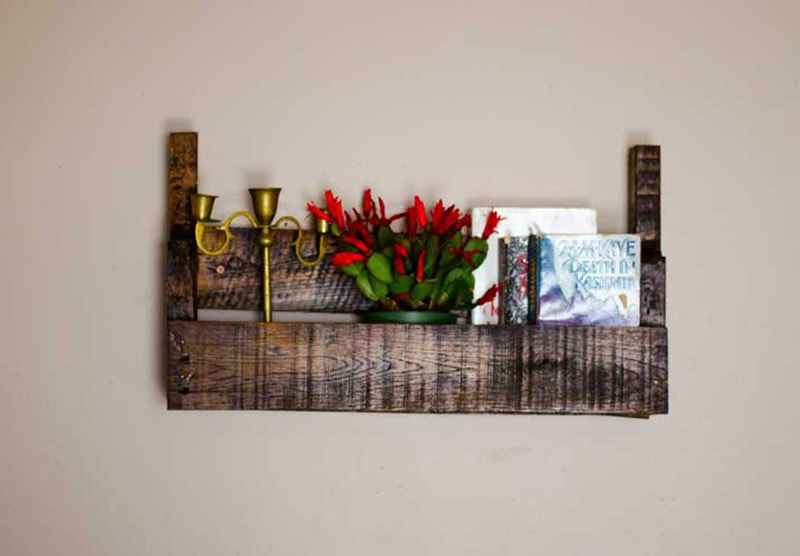 Large units aren't always necessary for the home. If you have seen those beautifully decorated homes with the small shelves that hold herbs or cookbooks in the kitchen and wondered how to do this yourself, now you have an answer. Although these shelves are small, they are instrumental in a variety of areas of the home. They also have a rustic air for those that are looking out for that in a design. Find the plans at Instructables.
---
11.

Simple Pallet Shelves from Instructables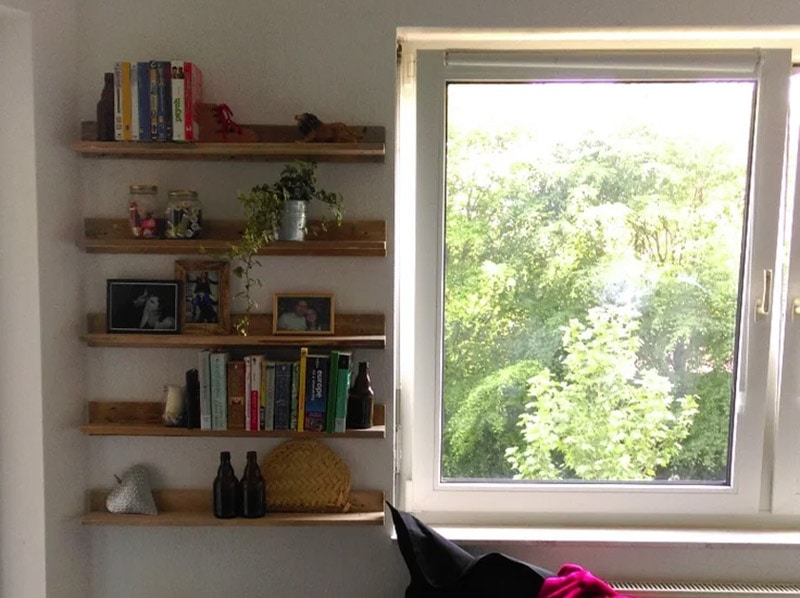 A DIY list of wooden objects wouldn't be complete without having a couple of designs that involve repurposing pallets. This design offers you a full plan for floating shelves that are a flexible add for a smaller room with open wall space. Depending on how much you need, you might only want to make one or stack them higher up on the wall. The plans are on Instructables.
---
12.

Industrial Rustic Shelf from Sylvie Liv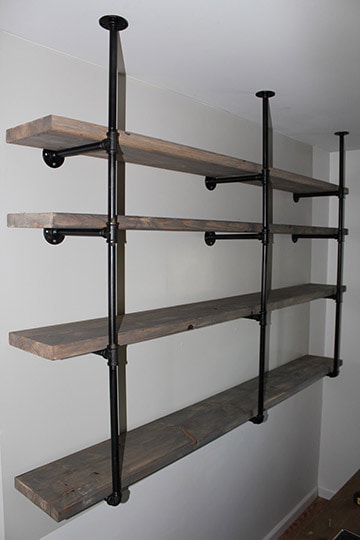 Another industrial design paired with some rustic flair to make it versatile. The actual construction for these shelves is less than some of the others. It makes a fantastic addition to those that move, quickly screwing in and out of walls and filling the holes back up with caulk and painting over to move along. These shelves are then entirely disassembled and smoothly put back together in the next place. Try it out for yourself by going to Sylvie Liv's blog.
---
13.

DIY Sawhorse Bookshelf from Shanty2Chic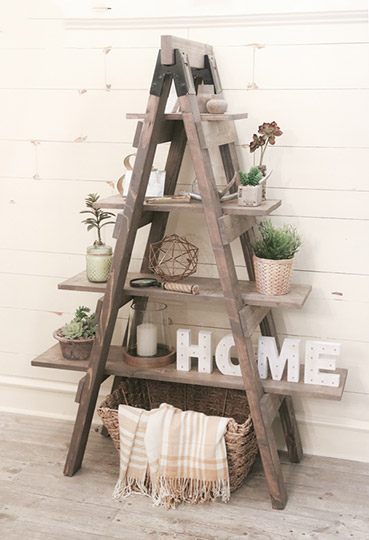 Put an old wooden sawhorse or step ladder to use again by making it into a bookshelf. However, if you don't have something like this on hand, don't worry since it is easy enough to put together yourself. It works well in homes that have a rustic or farmhouse-style interior. Or you can paint it to match a brightly-colored theme. It can also be an easy addition to a garage that needs some more shelving. Find the design at Shanty 2 Chic.
---
14.

Cottage Shelf from Family Handyman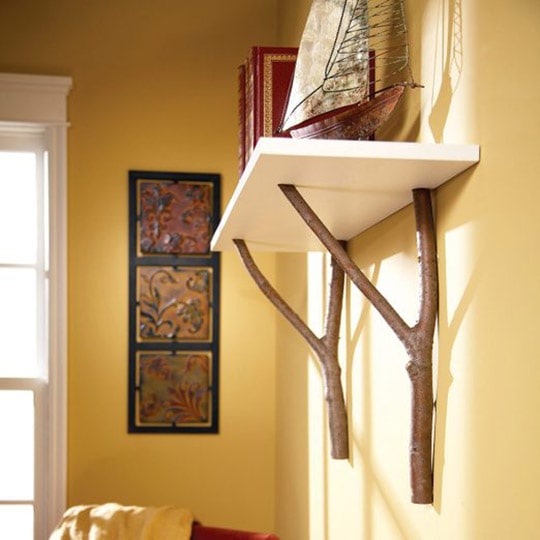 Perhaps you have a cottage or a log cabin by a lake that you are looking to put more shelving into. This cottage shelf is a unique design that adds some character to the room. By using sticks or finding craft supplies in order to make rods appear like sticks, you can make this design yourself. Family Handyman has the details to make this a reality for you.
---
15.

DIY Spherical Waffle Shelves from Instructables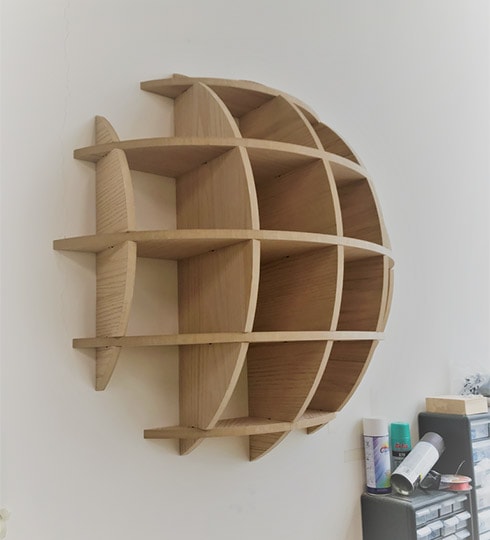 A Star Wars fan? That might have been what it reminded us of, but the designers of this shelving unit were uniquely creative with their "waffle" design. It isn't only different, but also useful if you need some shelving to have more length than a standard unit would have. As you can see from the picture, it is a great addition to a crafting space, or perhaps a learning room for the kids. Try it yourself by heading to Instructables.
---
16.

Reclaimed Wood & Galvanized Pipe Shelves from Instructables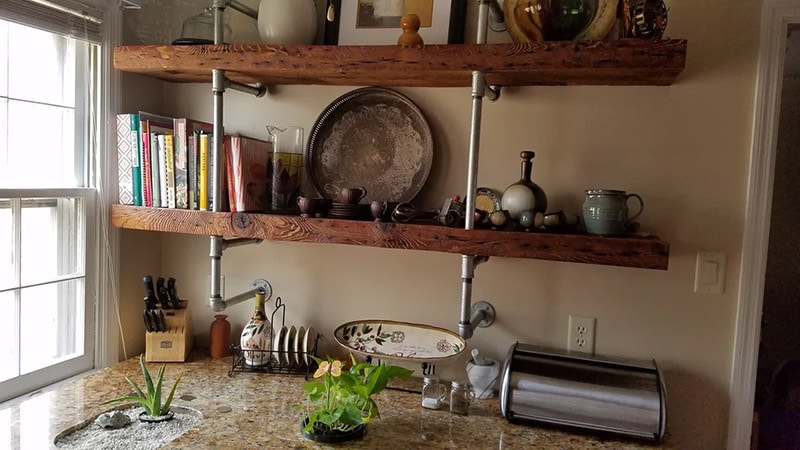 A design that gives another, smaller take on the pipe and wood combination that has been seen in a couple of the other plans above. With the rich stained wood and the piping, the look is both industrial and elegant. The original method uses reclaimed wood to make the design less expensive and even more appealing to DIY-ers. Find the how-to guide at Instructables.
---
17.

Floating Shelves from Keys to Inspiration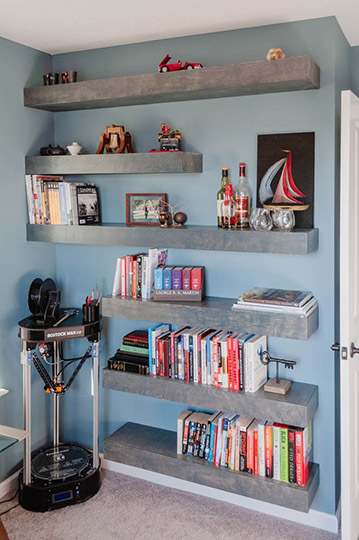 Although this plan doesn't appear to be in keeping with the "wooden" theme of this article, it is entirely wood stained with the tint called "Graphite". The varying lengths give it a textured look and can give you the freedom to build them around fixed pieces of furniture or even other hangings that already have a spot on the wall. Build your own by using the plans from Keys to Inspiration.
---
18.

LED Wall Cube Shelves from Instructables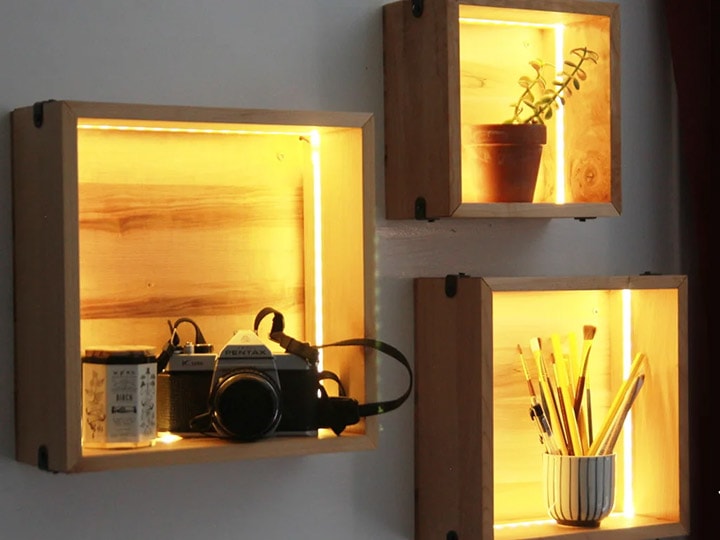 These shelves are meant for display and carry their own wow factor by including LED lights on the interior. The design plans don't only walk you through how to design these cubic shelves, but also install the LED's. Since this plan involves electricity, be sure to read through the warnings and guides that may come with the LED's, as well as the plan for the overall design, carefully before beginning. This is another wonderful design from Instructables.
---
19.

Rolling Industrial Farmhouse Pantry Shelves from The Weathered Fox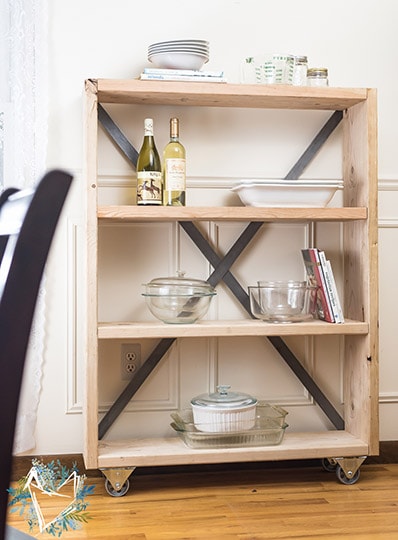 Bookcases and shelving units are often thought to be pieces of furniture firmly fixed into place for safety and aesthetics. This doesn't always have to be the case, however. If you are looking for something with a little bit more flexibility, give this unit a spin by heading to The Weathered Fox. Equipped with wheels at the bottom, these shelves are meant to be an extension of the pantry. They can be used in an array of different scenarios within or outside of the home and look good anywhere.
---
20.

Necklace Shelves from Instructables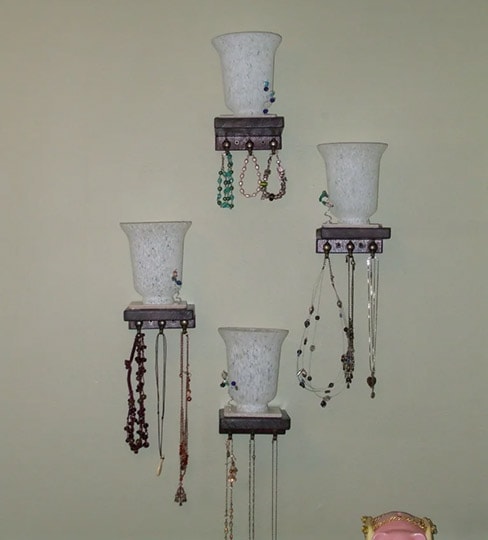 Sometimes it is the little things that look the best and add the most aesthetic value. These necklace shelves may do just that for you. In the photo above, they hold candles in glass cups on top and have hooks to hold your jewelry on the bottom. These can be mixed and matched with different items as well. Give it mini a spin with this design from Instructables.
---
21.

Simple Barrister Bookshelf Plan from Popular Woodworking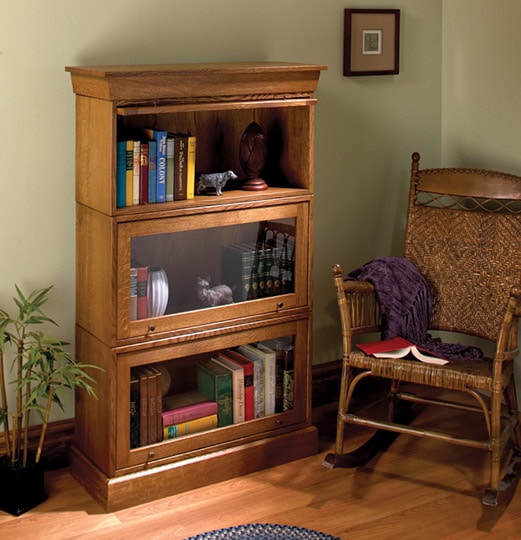 A classic case for any theme that is already going on in the home. It is the only unit that features glass, hinged doors built into it for extra safekeeping of more valuable items that you still want on display. This barrister bookshelf is brought to you by Popular Woodworking for a woodworking challenge to enhance your carpentry skills.
---
22.

DIY Henry Bookshelf from Ana White/Shanty2Chic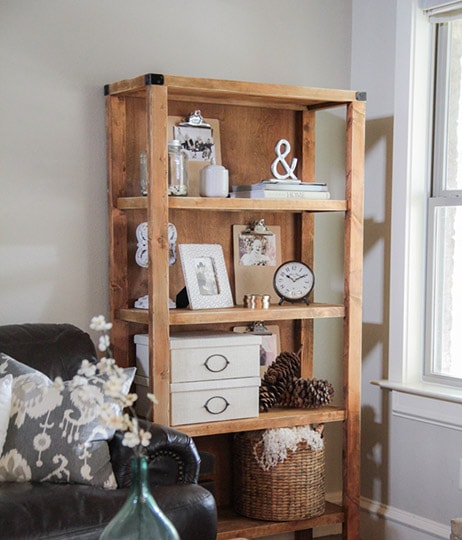 This simple shelving unit is another one inspired by a king in the furniture world, Pottery Barn. It is based on the design of the Hendrix bookshelf. Although it is an upper-scale, expensive unit when it is bought new, it is a straightforward design to make yourself. A chic design to add to your living area or bedroom, it can be found on Ana White.
---
23.

Simple Ledge Shelf from Chistina's Adventures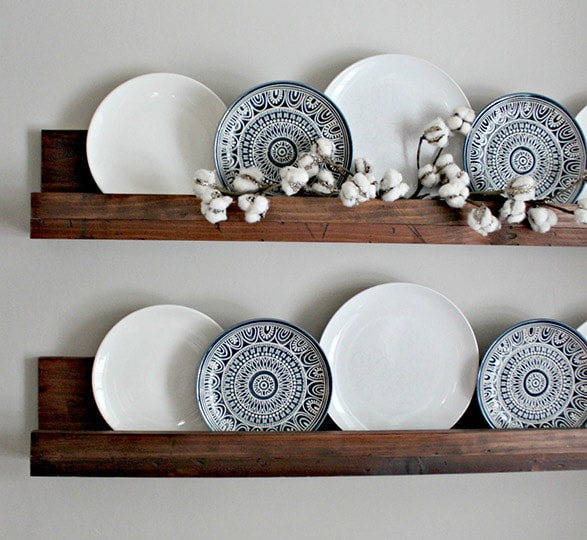 These shelves are not as versatile as most of the other ones that we have featured on the list. It is a ledge shelf, meant for showcasing fancy or expensive dishware or maybe some tiny knick-knacks. If you have been looking for a way to display your grandmother's beautiful china sets or the like, follow the plan found on Christina's Adventures.
---
24.

DIY Oil and Vinegar Shelf from Over the Big Moon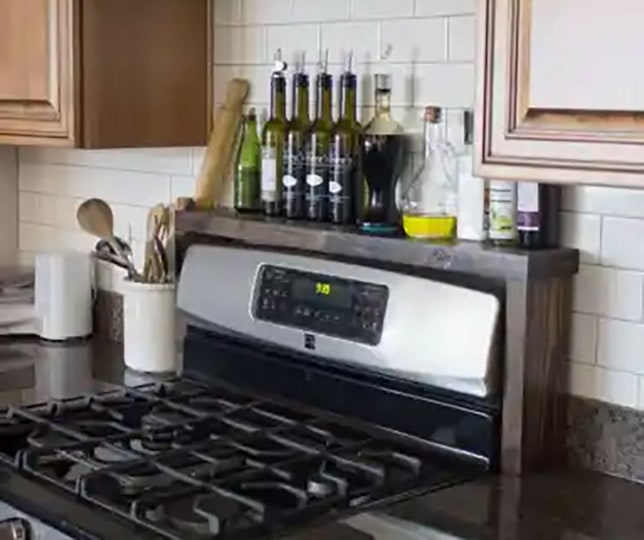 The last plan we compiled for you is a specific design that teaches how to build wooden shelves meant to work well when installed over your oven in the kitchen. This provides you with more counter space, freeing up the area to have multiple cooks in the kitchen. It will need to be adapted to whatever oven and area that you have, but this is easily done. Base the modifications on the original plans, and you will be cooking in no time. Find them at Over the Big Moon.
See Also: 
---
Featured image credit: Wooden shelf by Free-Photos, Pixabay