12 DIY Corner Shelf Plans You Can Make Today (With Pictures)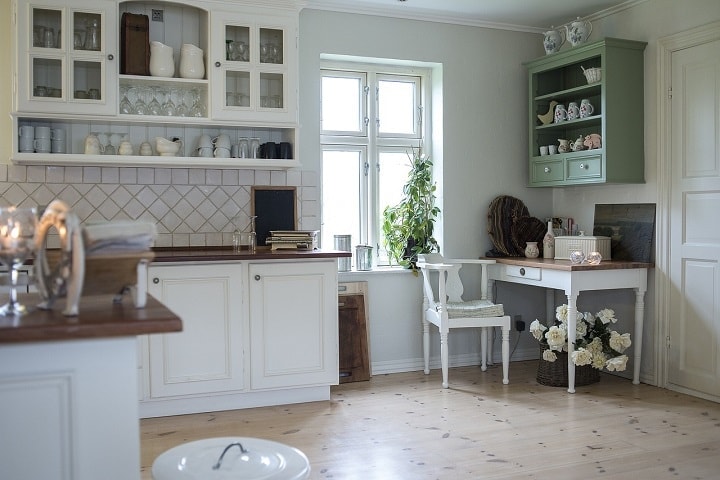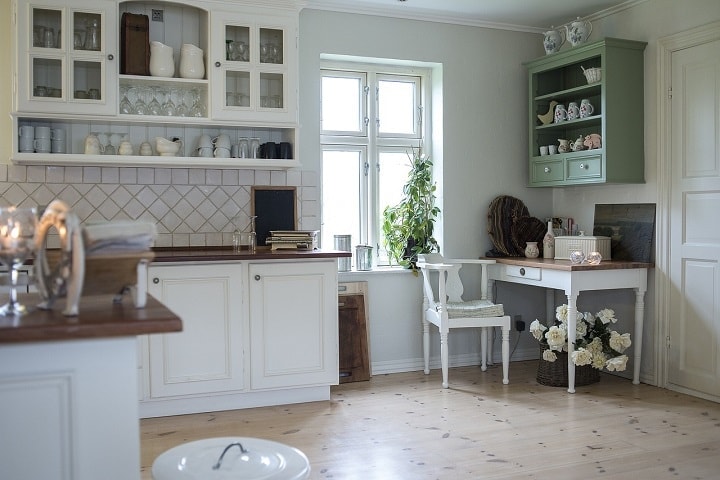 A corner shelf can help clean up unsightly clutter and tools, store plants and herbs in your kitchen, and provide a great-looking bookshelf.
Corner shelves can range from simple triangular floating shelves to large and complex heavy-duty bookshelves. They are all easy to construct for a DIY enthusiast and don't require many materials or specialized tools to make.
We've found 12 free DIY plans to help you figure out how to build a corner shelf of your very own, starting today!

The 12 DIY Corner Shelf Plans
1.

Floating Corner Shelves From Abeautifulmess.com
These elegant floating shelf plans from abeautifulmess.com look great and are functional too. They are unique in that no unsightly elbow brackets hold them up, giving them a "floating" appearance.
---
2.

Corner "Door" Shelf From Beentherediydthat.com
This is a unique corner shelf design from beentherediydthat.com that will transform an old unused door into a functional corner shelf. If you love to "up-cycle" old wood, this plan will add a unique look to any corner!
---
3.

Corner Book Shelf From Abeautifulmess.com
This large corner shelf design from abeautifulmess.com is ideal if you are an avid bookworm.  It is super easy to build and will add much-needed space for books and magazines. It is highly customizable, so you can add or take away shelves according to your needs.
---
4.

Shutter Corner Shelf From Thriftytreasures.Blogspot.com
Ever wondered what to do with old shutters? This plan from thriftytreasures.blogspot.com will help you put them to good use! This is a quick and easy-to-build plan that has its own legs, so it can be moved anywhere you like or mounted onto the wall.
---
5.

DIY Corner Cabinet From Myrepurposedlife.com
This DIY corner cabinet from myrepurposedlife.com is functional and easy and inexpensive to build. It can be used as a corner shelf, and you can easily add a hinged door for a nifty corner cabinet.
---
6.

Rotating Corner Shelves From Familyhandyman.com
This rotating corner shelf from familyhandyman.com is the perfect addition to a workshop or garage. Each layer of shelving rotates, so you can discreetly store tools and still access them. It is a fairly complex build, though, so more advanced woodworking skills and specialized tools are needed.
7.

Herb Garden Corner Shelf From Instructables.com
This nifty corner shelf from instructables.com is a great addition to any kitchen. It is designed to hold all your growing herbs, so they are fresh and ready to use during cooking. It is also easy and inexpensive to build and install.
---
8.

Floating Corner Shelves From Lumberjack.com
This corner shelf plan from lumberjack.com is about as simple as it gets. This blog shows you how to build corner shelves that are quick to make and install and are all about functionality. They are also inexpensive to build, only requiring laminated timber slats.
---
9.

Corner Shelves And Cabinet From Ana-White.com
This corner shelf-cabinet combination from ana-white.com is great for both display and storage. It will take skill, specialized tools, and time to construct, but the extra storage space will be well worth it.
---
10.

The "Bat-shelf" From Instructables.com
This small and functional "bat-shelf" design from instructables.com is the perfect design to remove clutter from your desk. It is easy to build and can be completed in a matter of hours.
---
11.

Corner Bathroom Shelf From Instructables.com
This corner shelf plan from instructables.com is great for clearing up the clutter that can easily collect on your bathroom or kitchen sink. It is highly functional but looks great on the wall too.
---
12.

Stylish Corner Bookshelf From Instructables.com
This stylish and easy-to-make corner bookshelf plan from instructables.com is designed with book lovers in mind. It will store hundreds of books without taking up too much space

Summary
A corner shelf can offer an aesthetically pleasing and space-saving addition to any home or workshop. It also tends to be easy and inexpensive to build and is a great DIY project, no matter your experience level. Hopefully, we've helped you find the perfect corner shelf plan to suit your unique needs, so you can get started today!
Related Reads:
---
Featured image credit: u_jup1hbno, Pixabay