21 DIY Corner Shelf Plans You Can Make Today (With Pictures)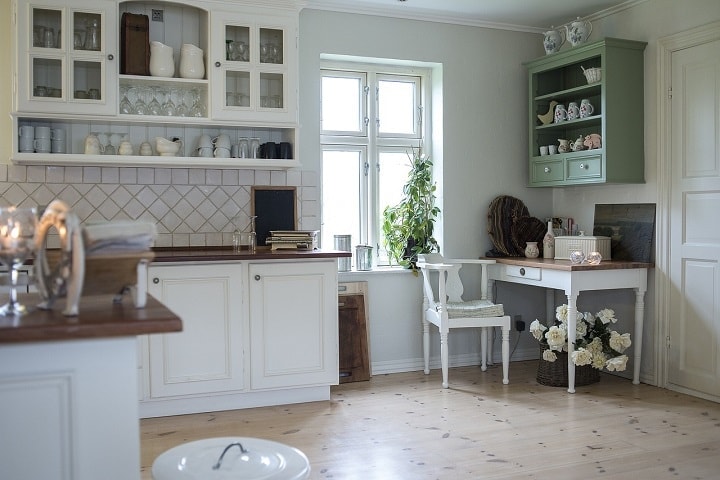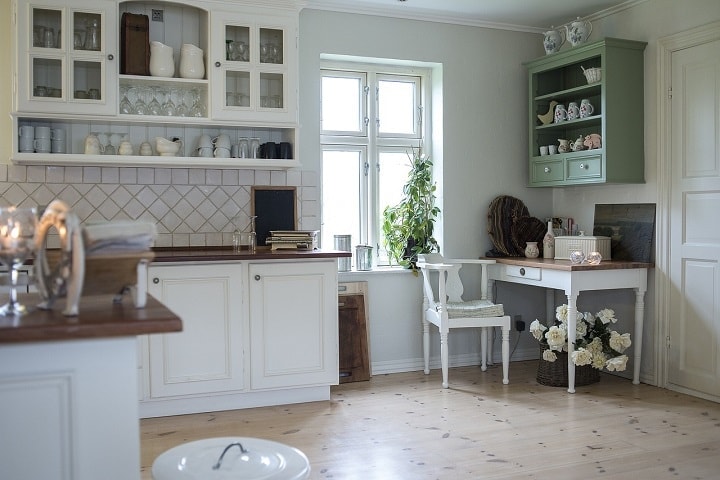 A corner shelf can help clean up unsightly clutter and tools, store plants and herbs in your kitchen, and provide a great-looking bookshelf.
Corner shelves can range from simple triangular floating shelves to large and complex heavy-duty bookshelves. They are all easy to construct for a DIY enthusiast and don't require many materials or specialized tools to make.
We've found 11 free DIY plans to help you figure out how to build a corner shelf of your very own, starting today!

The 21 DIY Corner Shelf Plans
1.

Floating Corner Shelves From Abeautifulmess.com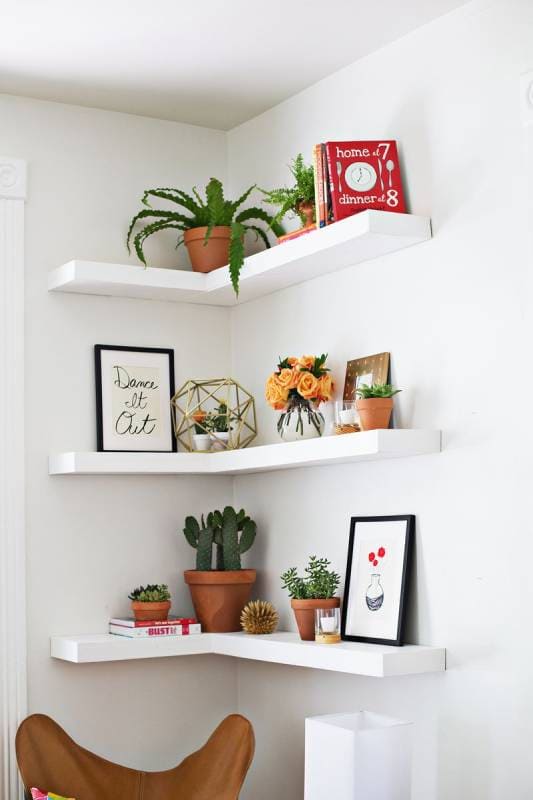 These elegant floating shelf plans from abeautifulmess.com look great and are functional too. They are unique in that no unsightly elbow brackets hold them up, giving them a "floating" appearance.
---
2.

Corner "Door" Shelf From Beentherediydthat.com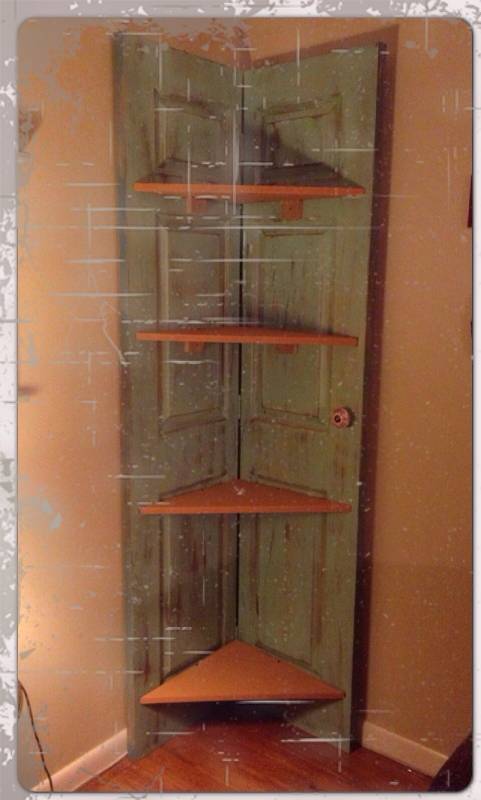 This is a unique corner shelf design from beentherediydthat.com that will transform an old unused door into a functional corner shelf. If you love to "up-cycle" old wood, this plan will add a unique look to any corner!
---
3.

Corner Book Shelf From Abeautifulmess.com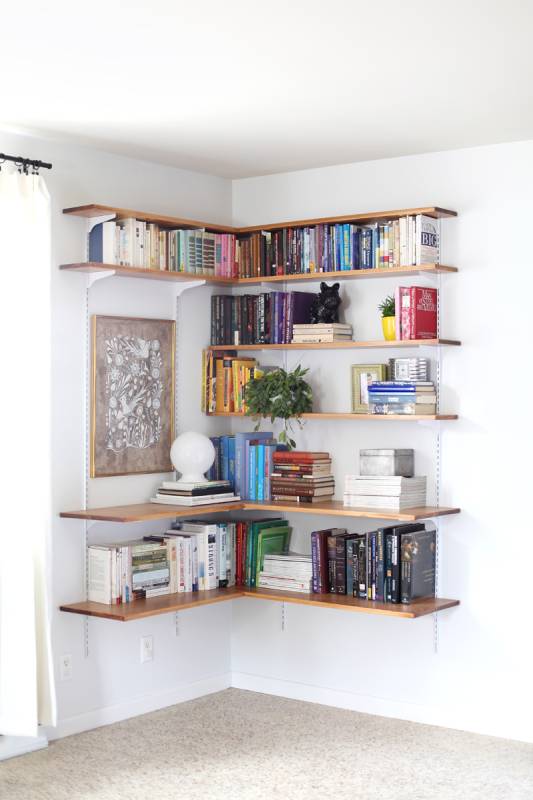 This large corner shelf design from abeautifulmess.com is ideal if you are an avid bookworm.  It is super easy to build and will add much-needed space for books and magazines. It is highly customizable, so you can add or take away shelves according to your needs.
---
4.

DIY Corner Cabinet From Myrepurposedlife.com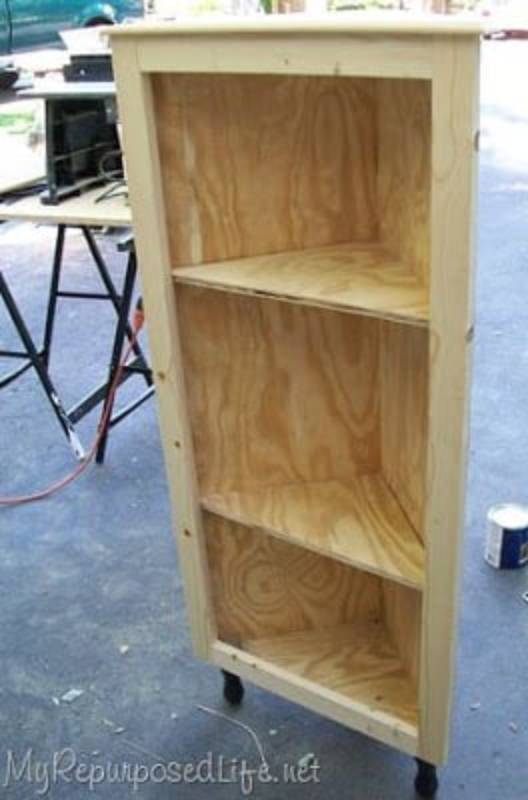 This DIY corner cabinet from myrepurposedlife.com is functional and easy and inexpensive to build. It can be used as a corner shelf, and you can easily add a hinged door for a nifty corner cabinet.
---
5.

Rotating Corner Shelves From Familyhandyman.com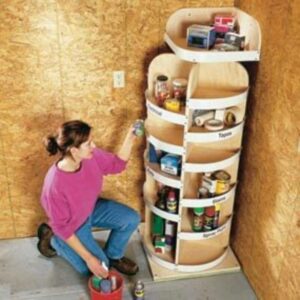 This rotating corner shelf from familyhandyman.com is the perfect addition to a workshop or garage. Each layer of shelving rotates, so you can discreetly store tools and still access them. It is a fairly complex build, though, so more advanced woodworking skills and specialized tools are needed.
---
6.

Herb Garden Corner Shelf From Instructables.com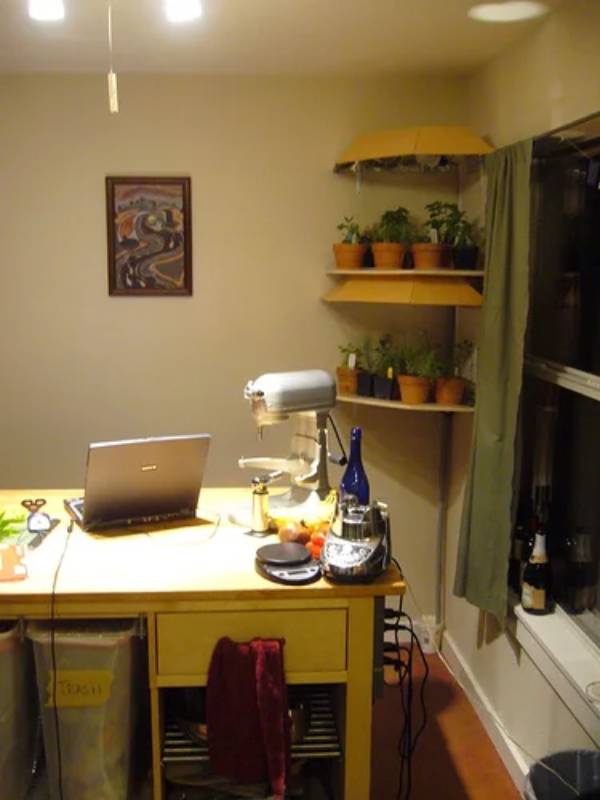 This nifty corner shelf from instructables.com is a great addition to any kitchen. It is designed to hold all your growing herbs, so they are fresh and ready to use during cooking. It is also easy and inexpensive to build and install.
---
7.

Floating Corner Shelves From Lumberjack.com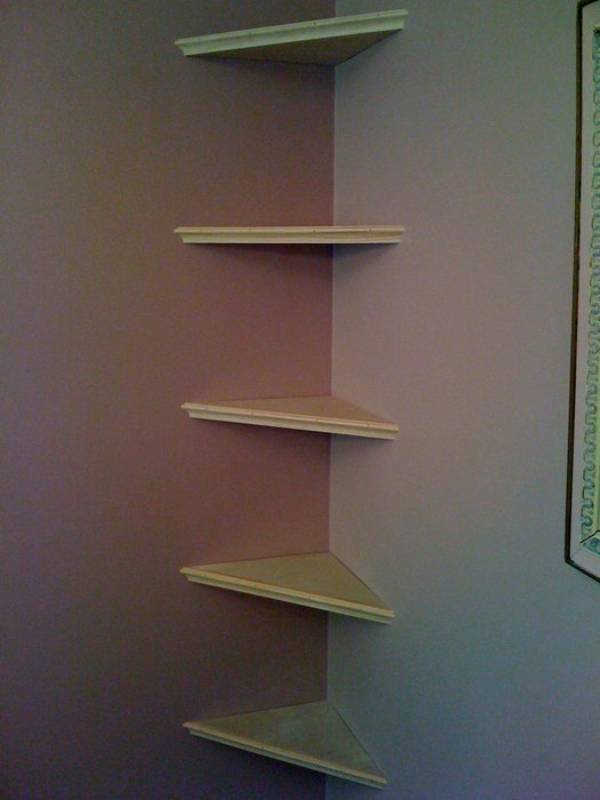 This corner shelf plan from lumberjack.com is about as simple as it gets. This blog shows you how to build corner shelves that are quick to make and install and are all about functionality. They are also inexpensive to build, only requiring laminated timber slats.
---
8.

Corner Shelves & Cabinet From Ana-White.com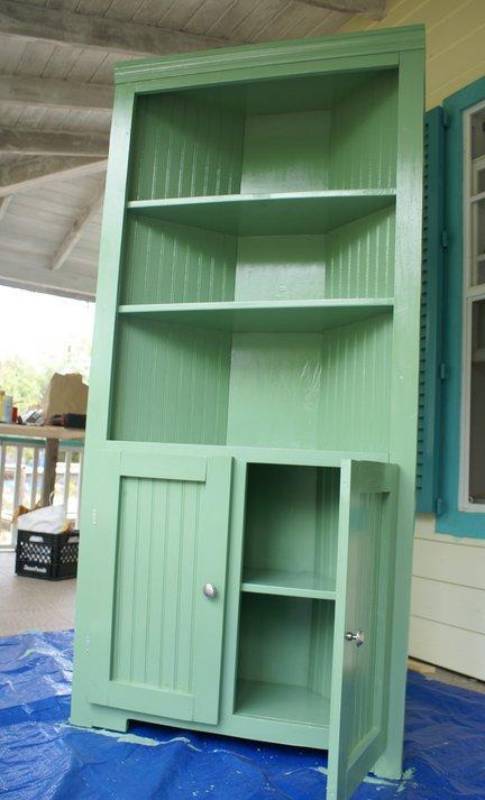 This corner shelf-cabinet combination from ana-white.com is great for both display and storage. It will take skill, specialized tools, and time to construct, but the extra storage space will be well worth it.
---
9.

The "Bat-shelf" From Instructables.com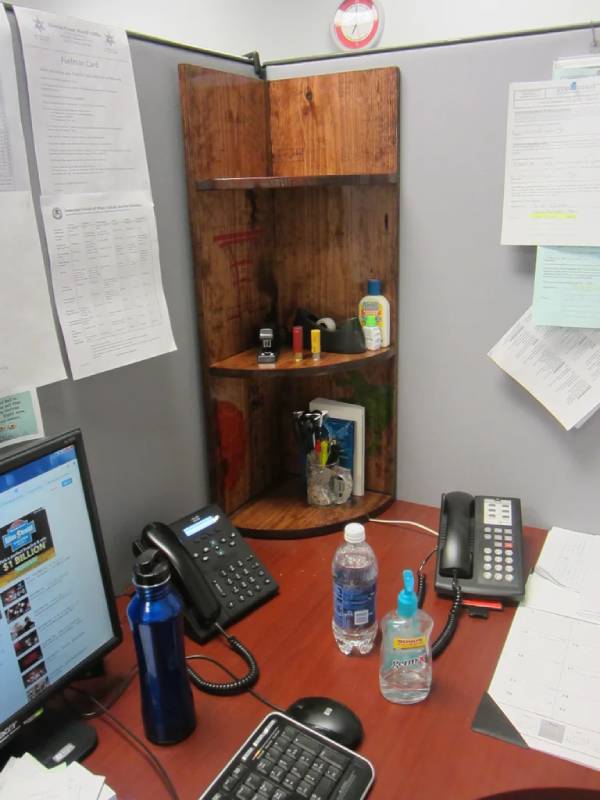 This small and functional "bat-shelf" design from instructables.com is the perfect design to remove clutter from your desk. It is easy to build and can be completed in a matter of hours.
---
10.

Corner Bathroom Shelf From Instructables.com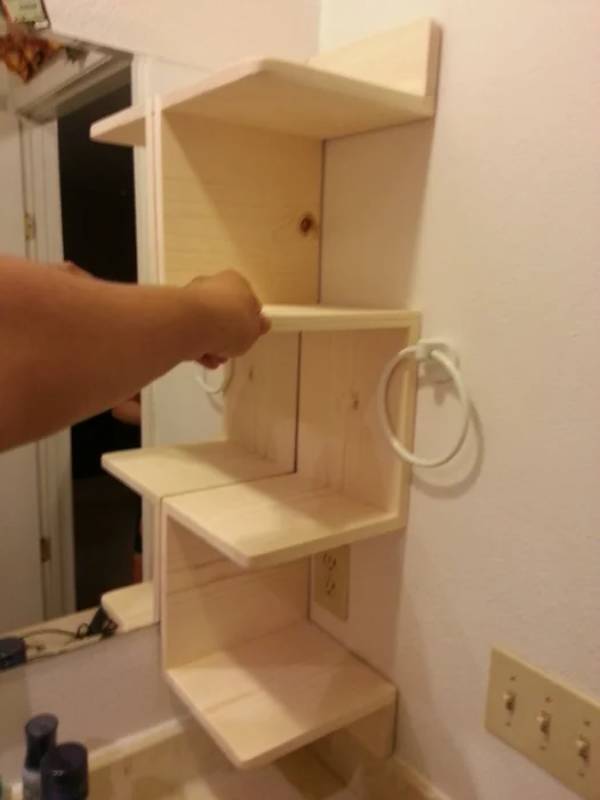 This corner shelf plan from instructables.com is great for clearing up the clutter that can easily collect on your bathroom or kitchen sink. It is highly functional but looks great on the wall too.
---
11.

Stylish Corner Bookshelf From Instructables.com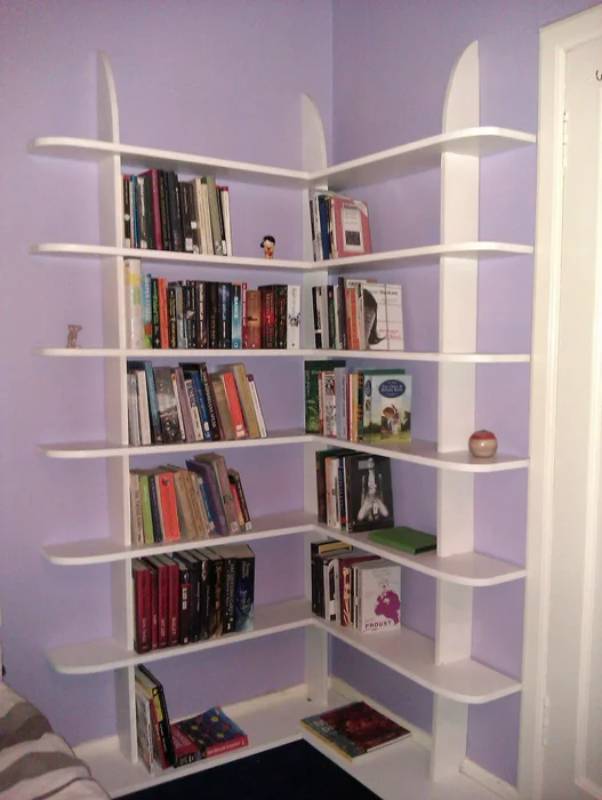 This stylish and easy-to-make corner bookshelf plan from instructables.com is designed with book lovers in mind. It will store hundreds of books without taking up too much space
---
12.

Easy DIY Corner Shelf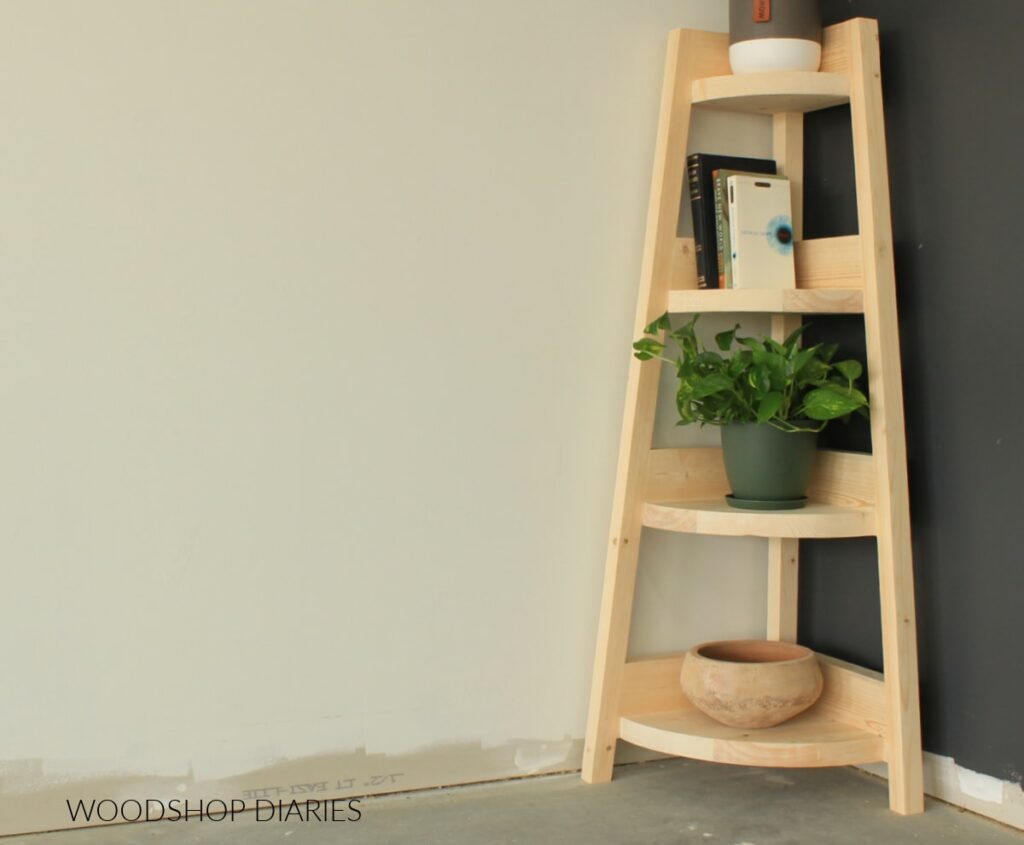 This easy DIY corner shelf is inexpensive, practical, and easy to make, which is why any DIYer should try making it, regardless of their experience and knowledge. You can tackle this project in a couple of hours, and it only requires a couple of wooden boards and basic woodworking tools, so even beginners can try to make this shelf for their homes.
---
13.

DIY Corner Storage Shelf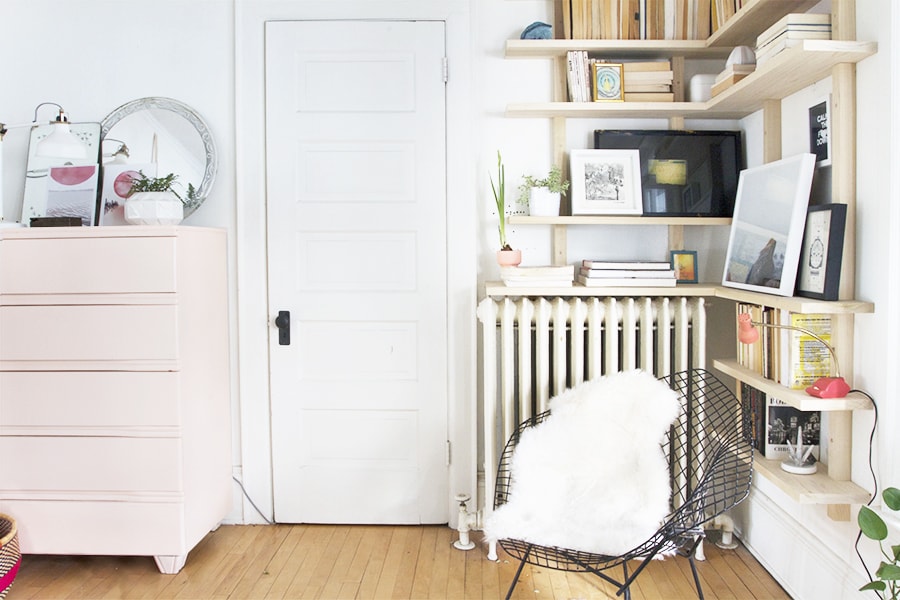 If you live in a small apartment and you're looking to create additional storage space, you can consider creating this DIY corner storage shelf. This shelf is easy to make as it only requires you to get lumber of different sizes, meaning that both beginners and expert DIYers should be able to make it in a day without any issues.
---
14.

Triangle Floating Corner Shelf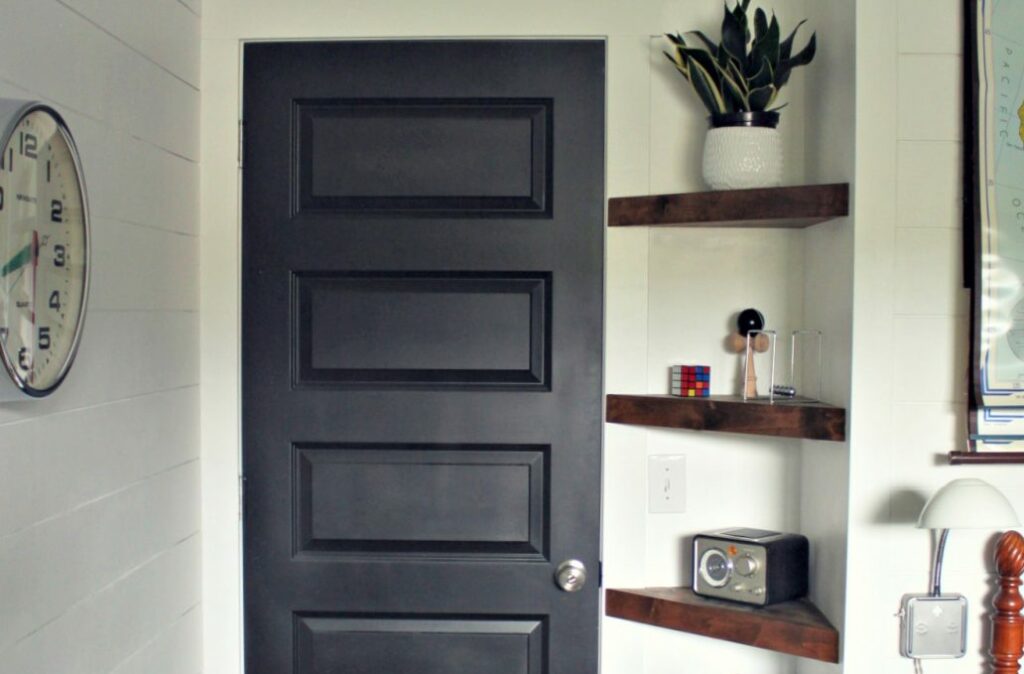 If you have an annoying corner in your home that simply has no purpose and looks empty, you can consider building this triangle floating corner shelf. These shelves can be a great addition to your bedroom, living room, or office space, as they're both highly functional and beautiful. This shelf plan requires you to have some more advanced tools, such as an electric drill and a table saw, but it's still easy to make, and you should be able to construct it in a day without any problems.
---
15.

Cheap Floating Corner Shelf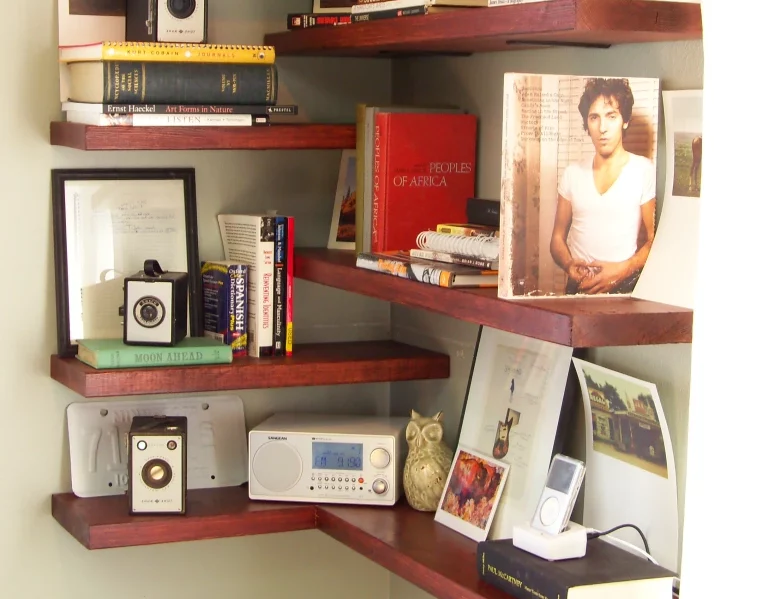 Many people have a lonely corner in their homes that serves no real purpose. If you have such a corner in your home, and you want to utilize its space without spending too much money, consider building this cheap floating corner shelf. The plan for making this shelf is straightforward, and it doesn't require you to have tons of DIY experience; as long as you're slightly handy, you'll be able to execute this plan in a day and make the stunning shelf for your corner.
---
16.

Inexpensive DIY Floating Corner Shelf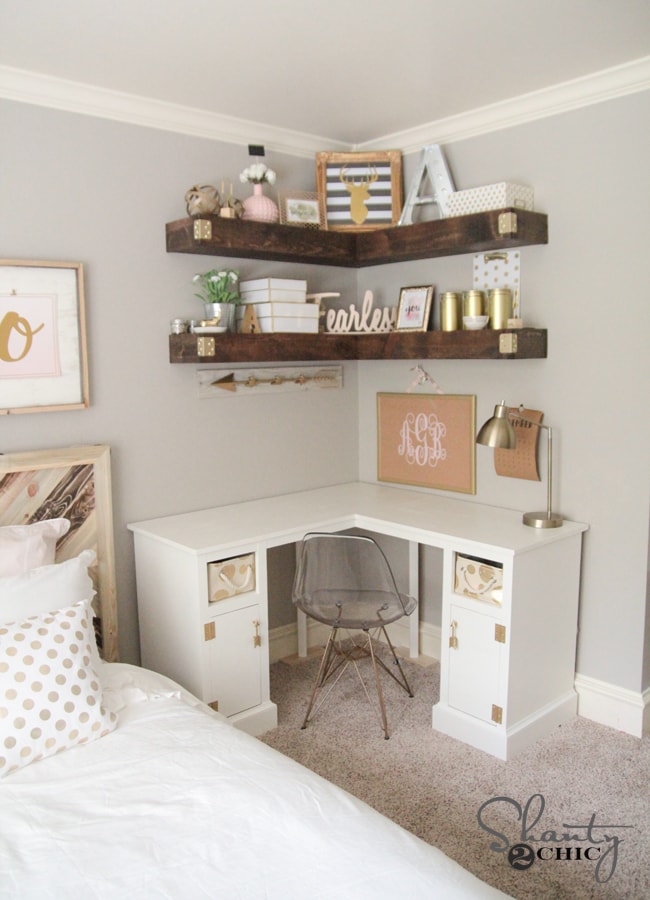 If you have a corner in your home you'd like to use but are unsure how to utilize such a space, you can make this inexpensive DIY floating corner shelf. This project is slightly harder than other projects on our list as it will require you to have some advanced tools, such as a pocket hole jig and a cordless drill. After you finish, you'll have a stunning shelf that will bring practicality into your home and allow you to have more free storage space.
---
17.

Zig-Zag Corner DIY Shelf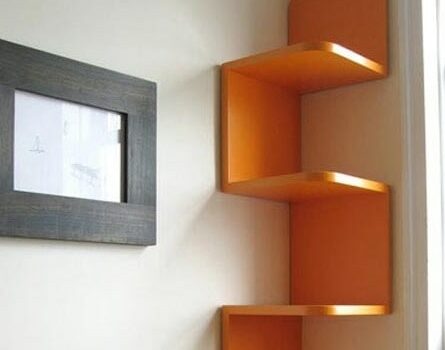 If you have free corner space you'd like to utilize but are unsure how you can consider building this zig-zag corner DIY shelf. This project requires you to have intermediate woodworking skills and tools such as an orbital sander, miter saw, and biscuit jointer. The instructions for building this stunning shelf are straightforward, so you shouldn't have any problems executing them and giving your corner a practical purpose.
---
18.

DIY Corner Plant Shelf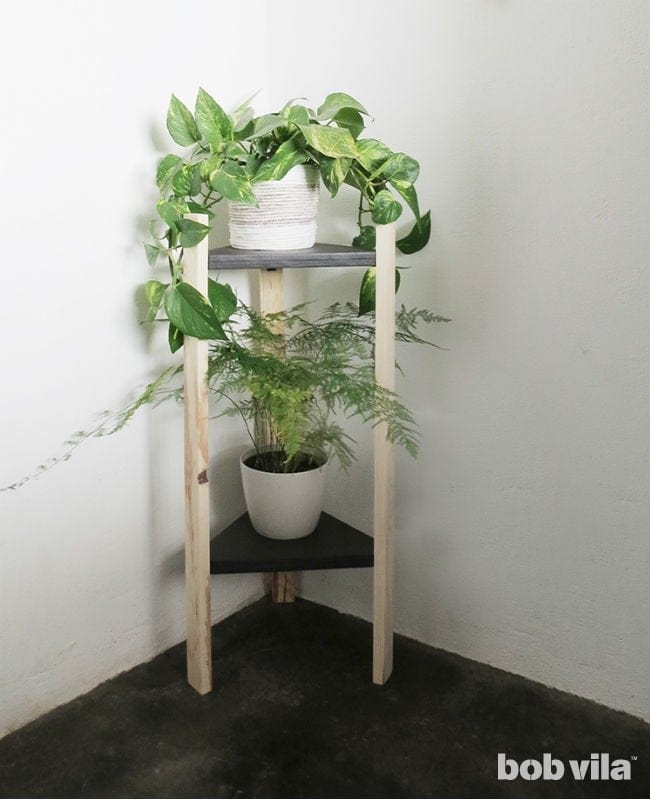 If you're a plant lover but feel like there's not enough space in your home to store more plants, you can consider making this DIY corner plant shelf. The triangular shape of this shelf perfectly fits into the corner of any room, and it utilizes the otherwise unapproachable space. You can also build this shelf and use it to store other items in case plants are not your thing.
---
19.

DIY Corner Pantry Shelf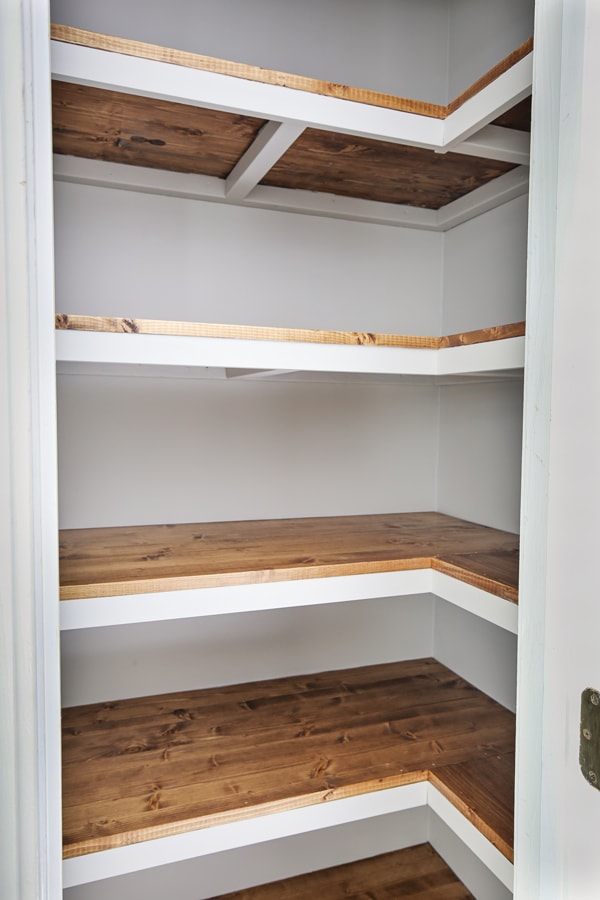 People who lack storage space for their food and other items can consider building this DIY corner pantry shelf. This pantry shelf is easy to make with some basic tools, such as a miter saw and an electric drill. As the instructions for making this shelf are straightforward, you should be able to build it in a day and utilize your space in a better way. Making this corner pantry shelf won't cost a fortune, and it will help you create a better-organized environment in your pantry or home.
---
20.

Shower Corner DIY Shelf
Many people struggle with finding the space to place their shampoos, hair conditioners, and other bathroom essentials; if you're one of them, think about building this shower corner DIY shelf. The finished shelving will look beautiful and make your bathroom more practical, which is why this is a project to definitely try out. It doesn't require any advanced tools, which is why even people with zero handy skills can make these shelves in no time.
---
21.

Corner Shelf With Hidden Drawer DIY
If you want to make your corner beautiful and utilize the available space you have in multiple ways, check out this corner shelf with a hidden drawer DIY plan. This corner shelf plan is modern and straightforward, and it will allow you to create a practical space even on a low budget.

Summary
A corner shelf can offer an aesthetically pleasing and space-saving addition to any home or workshop. It also tends to be easy and inexpensive to build and is a great DIY project, no matter your experience level. Hopefully, we've helped you find the perfect corner shelf plan to suit your unique needs, so you can get started today!
Related Reads:
---
Featured image credit: u_jup1hbno, Pixabay