5 Best HVLP Paint Sprayers of 2023 – Top Picks & Reviews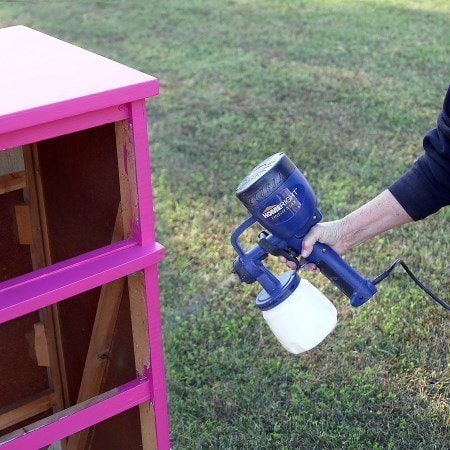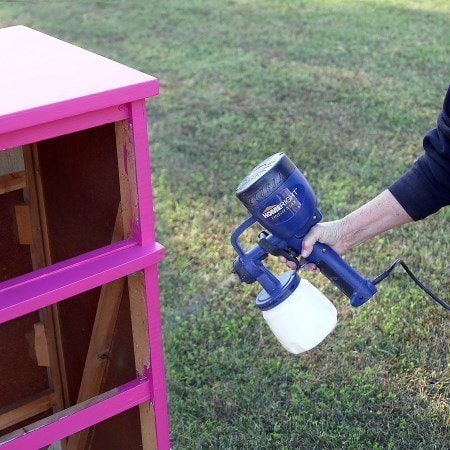 There are many reasons why you should consider buying a great HVLP paint sprayer. In particular, it's a very efficient way of painting which should save you a great deal of time, particularly with bigger tasks. Less overspray means you won't need to spend as long cleaning. Because there's less paint in the air, HVLP paint sprayers are seen as safer to use. Add to this the quality finish that they provide for a great price and you've got yourself a winner!
Finding the right HVLP paint sprayer for you is not necessarily an easy task. We've tried to make the process much quicker and more convenient by compiling the following list of HVLP paint sprayer reviews. By reading about the various products and their pros and cons, you'll quickly have an idea of what you're looking for! And if you need any further information, there's always our comprehensive buying guide with everything you need to know.
---
A Quick Glance at the Winners of 2023
Rating
Image
Product
Details

Best Overall

Fuji Semi-Pro 2

Non-bleed
Minimal overspray
Strong and sturdy build
CHECK PRICE

Earlex HV5500

Lightweight design
Has sufficient power
A range of controls
CHECK PRICE

Best Value

HomeRight C800766

Comfortable to use
Adjustable spray control
Quite easy to clean
CHECK PRICE

Wagner Flexio 890

Space-saving
Not too heavy
Easy product to use
CHECK PRICE

Wagner 0518050

Weighs 4.2 lbs
Variable control
Vertical
horizontal and circular spray patterns
CHECK PRICE
5 Best HVLP Paint Sprayers – Reviews
1.

Fuji Semi-PRO 2 HVLP Paint Sprayer – Best Overall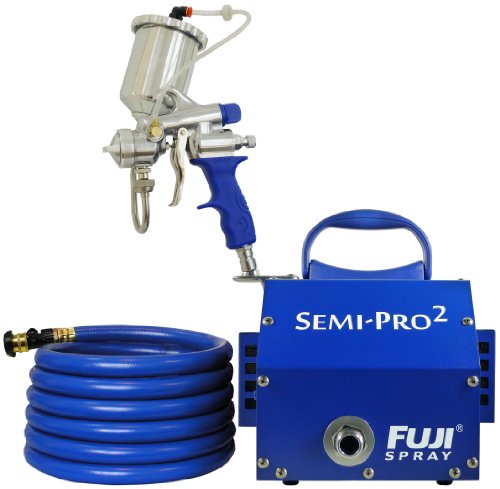 It may not have the most conventional design but the Fuji Spray Semi-Pro 2 is the best HVLP paint sprayer on the market. This is a paint sprayer that has adjustable pattern fan control. This means that you can have anything from a small circular spray to one that is much wider. We found that such flexibility makes tackling a wide range of tasks so much easier. One of the main advantages of this product is that it's non-bleed. As such, you don't need to worry about unexpected and inconvenient mess! What's more, there is very little overspray compared to most paint sprayers on the market. This is a huge plus in our book.
What's very impressive about this product is the strong and sturdy build. The gun itself is made of metal and worked very well, producing a nice even spray. Meanwhile, there's also a metal turbine case. This is an HVLP sprayer that should stand the test of time thanks to its durability and reliability. Where it lets itself down somewhat is in its weight. The Fuji Spray Semi-Pro 2 weighs 26.1 lbs. While there is a handle on top of the unit for more convenient carrying, it would benefit from a longer handle and some wheels for additional portability. While it's not the cheapest HVLP paint sprayer you're likely to come across, it's well worth the additional cost.
Pros
Adjustable pattern fan control offers versatility during projects
Non-bleed and minimal overspray for less cleaning
Strong and sturdy build for a long life
We feel that it is well worth the price
Cons
Could do with a set of wheels as it weighs 26.1 lbs
---
2.

Earlex HV5500 HVLP Paint Sprayer Station
With a relatively compact and lightweight design, the Earlex HV5500 Spray Station may well suit those who are looking for comfort and portability. It weighs 12 lbs which is half the weight of many other HVLP paint sprayers on the market. With a 650 watt turbine that generates 2.2 PSI, this paint sprayer packs plenty of power for light to medium-duty tasks. The unit itself has storage for the spray gun as well as a hose, cord and a carry handle. Having everything close at hand makes this a particularly convenient product. We really like the durable spray gun which has a 2mm stainless steel tip.
A clear benefit of opting for the Earlex HV5500 Spray Station is that it offers so much flexibility when working. The spray pattern changing system is quick and easy to use as is the paint volume control dial and control trigger. For these reasons, you can easily complete a variety of projects with various materials including lacquers, sealers, enamels and more. The hose could be improved as it is prone to becoming disconnected and tangled up. Otherwise, this is a very solid product that also comes with a 2-year limited warranty. It's well worth investigating due to the quality offered for the price. For these reasons we rank it as the best HVLP paint Sprayer for the money.
Pros
Lightweight design which makes it very portable
Has sufficient power for a variety of tasks
A range of controls for when you have specific spraying requirements
2-year limited warranty to ease any concerns
Cons
The hose is known to disconnect and even become tangled
---
3.

HomeRight C800766 HVLP Paint Sprayer – Best Value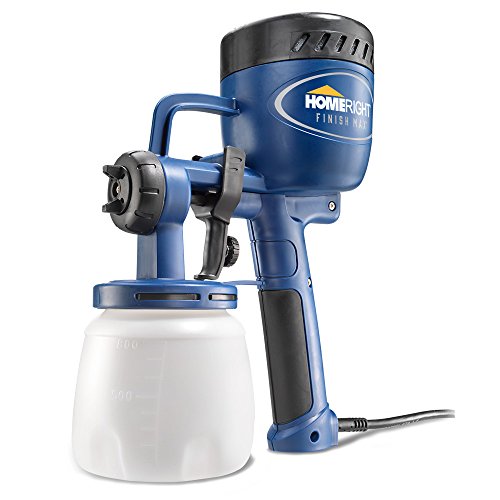 A cheaper alternative to the previous products in this top 5 list, the HomeRight Finish Max is the best HVLP paint sprayer for the money. Weighing just 3.4 lbs and with dimensions of 6 x 11 x 13 inches, it's a portable product that can be used comfortable indoors or outdoors. Despite the low price, there is still the adjustable spray control option as well as three different spray patterns for when you need a little versatility. Although this is only really an HVLP paint sprayer for small projects, it tackles them surprisingly well.
Where the HomeRight Finish Max disappoints is in the construction of the product. It is known to leak on occasion and a better seal would make the world of difference. However, it is an easy paint sprayer to clean thanks to the relatively simple design. Plus we cannot complain about the plastic construction when it makes it so comfortable to use with minimal hand fatigue. As you may expect with a paint sprayer that offers such good value, you may have to thin some of the materials you use before spraying. Other than this and the poor seal, the great value of the product is clear.
Pros
We found the size and weight made it comfortable to use
Adjustable spray control and different spraying options
Quite easy to clean thanks to the simple design
Cons
Paint will often require thinning before spraying
Poor seal which means there can be occasional leaking
---
4.

Wagner Flexio 890 HVLP Paint-Sprayer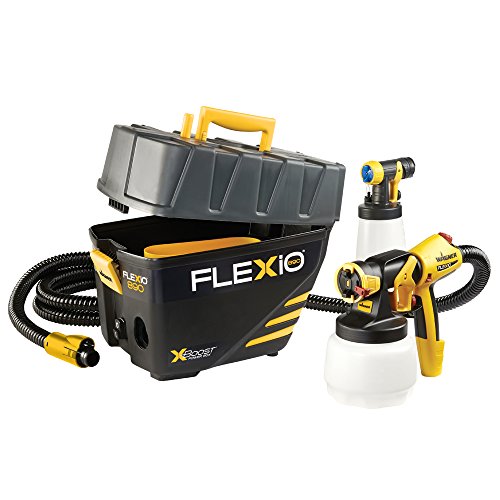 The Wagner Flexio 890 is an option well worth considering. The HVLP sprayer features integrated storage for the hose and nozzles and so on. This space-saving is appreciated and we like the fact that it's a portable product thanks to the handle. In fact, it only weighs 12.3 lbs which is a nice balance between being too flimsy or too heavy. Decent power is provided and in 5 minutes it is able to cover a wall of 8 x 10 feet. However, there is quite a bit of overspray to contend with so be prepared to do plenty of cleaning! In particular, the nozzle will need to be wiped on a regular basis to avoid clogging.
With this product, you'll receive two nozzles that allow you to spray with fine detail or for general coverage. For this price, you're unlikely to find an HVLP paint sprayer that is of metal construction. The Flexio 890 is no exception. Despite the plastic construction, it's a fairly sturdy unit. We feel that this is a particularly easy paint sprayer to use and this is helped by the manual provided which is much clearer than most we've come across. It's, therefore, a very suitable product for people with all levels of experience.
Pros
Space-saving thanks to the integrated storage
Not too heavy yet has enough weight to be sturdy
Quite an easy product to use with a great user manual
Cons
Overspray is quite common
The nozzle will need wiping on a fairly regular basis
---
5.

Wagner 0518050 Paint Gun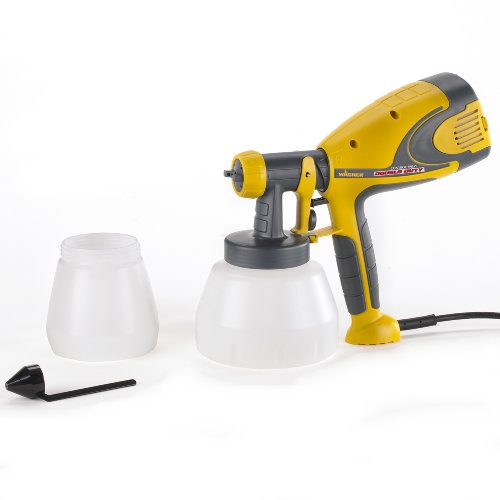 Just like the HomeRight C800766 Finish Max, the Wagner 051050 comes comfortably under $100. So if you're on a budget, this HVLP paint sprayer may be of interest to you. With options to spray in vertical, horizontal or circular patterns, you've got good choice with how you approach certain projects. It weighs 4.2 lbs which is far lighter than many other HVLP sprayers. However, all of this weight is in your hand as you use it. For this reason, hand fatigue can be a factor so this is something to bear in mind.
Ideal for smaller tasks, the Wagner 051050 is quick and convenient to use for the most part. We recommend a test run before using it in order to feel comfortable and confident about using it. In particular, you can experiment with the variable control which is a nice feature considering the low price. However, you will need to make time to thin paint since this product does not perform very well otherwise. This is one of the main differences between budget and premium HVLP sprayers. Also, it is known to leak on occasion. Despite these issues, we're pleased with its overall performance which is very good for the price.
Pros
You have options of vertical, horizontal and circular spray patterns
Weighs 4.2 lbs which is lighter than many other HVLP paint sprayers
Variable control which is a good feature for the price
Cons
Thinning paint is necessary for good results
Prone to occasional leaking
---
Buyer's Guide – Choosing the Best HVLP Spray Gun
So you're interested in buying an HVLP paint sprayer rather than an airless or compressed air sprayer? This is a great choice for a number of reasons. Take a look at some of the advantages of the HVLP paint sprayer!
Advantages
Less Overspray
HVLP paint sprayers tend to produce less overspray. As such, you can spend less time cleaning and more time actually spraying! Having to clean up after paint spraying can be laborious so this is a huge plus in our book!
Health and Safety
Due to the high transfer efficiency of the paint, HVLP paint sprayers are generally considered to be better for your health and safety. Less paint in the air is always a good thing! That way you can work uninhibited though we still highly recommend you buy safety equipment.
Quality Finish
Known to provide smooth coatings, HVLP sprayers generally allow for quality finishes. This is in part thanks to their excellent accuracy. This is in contrast to some types which can be inconsistent which means having to apply a second or even a third coating.
Great for Small Projects
Thanks to the high level of precision offered by HVLP paint sprayers, they're great for smaller projects in which you're spraying small surfaces. The adjustable controls allow you to apply a level of detail that other types simply can't.
Money Savings
Savings can be made with HVLP paint sprayers due to the reduced overspray which means less wasted paint. The transfer efficiency is very high when compared to other types which also means less mess!
More Money Savings!
Not only do HVLP sprayers waste less paint, they also often cost less than airless paint sprayers and compressed air sprayers. As such, you can save a lot of money when you buy this type of paint sprayer, leaving more money for paint and the like!
While there are so many positives to HVLP paint sprayers, there is one small setback that you may wish to consider:
Disadvantages
Slow Application
The only real disadvantage of the HVLP paint sprayer is that the application is slower than some other types of sprayers. This is due to the low pressure and, for this reason, HVLP paint sprayers are best suited to smaller surfaces.
What can I use my HVLP paint sprayer on?
As we mentioned in the pros and cons list above, HVLP paint sprayers are best suited to smaller projects since they're not the quickest application and because they provide a high level of detail. As such, you could use your HVLP paint sprayer on the following:
Windows
Cabinets
Doors
Cars
Boats
While you could no doubt find many more specific uses for an HVLP sprayer, these are some of the most popular. You'll notice that we haven't included 'walls' in our list. That's because these are typically too large for an HVLP paint sprayer. Note that we've also written a guide on the top paint sprayers for kitchen cabinets.
5 Features we really like on HVLP paint sprayers
1. Tight Spray Pattern
When you compare different products side-by-side, you'll actually find that the spray patterns produced by-products can vary substantially. In particular, we like the spray pattern to be nice and tight. This allows for a smooth finish and good control without too much overspray. Less expensive products with plastic tips are less likely to have a tight spray pattern so this is something to consider if you're looking for a truly high-quality finish.
2. No Thinning
Some of the higher-end products on the market can spray materials unthinned. This presents a clear advantage since you can save a great deal of time and effort in the process. HVLP paint sprayers with powerful turbines and good quality needles and tips are more likely to be able to handle this. Regardless of whether a unit can spray unthinned paint or not, it's still worth spraying it both thinned and unthinned to compare the quality of results.
3. Brass Needles and Tips
In the case of budget HVLP paint sprayers, the needles and tips are often made of plastic. This is perfectly adequate in most cases. However, it's well worth knowing that the best quality are those made of brass. These can be found in high-end products and tend to be more hard-wearing. They're also removable for easy cleaning as well as when they do eventually wear out.
4. Adjustable Controls
The very best HVLP spray guns for woodworking allow you to make quick and easy adjustments. The advantages of this are obvious. Being able to adjust the spray pattern, flow control and the thickness of the spray all add to the versatility of the product. After all, you may want a completely different setup when you're spraying a door as to when you're spraying your car! Remember, these should be quick and easy to do.
5. Integrated Storage
This is a fairly simple feature but integrated storage is something that we always appreciate. Being able to keep the hose and nozzles together with the unit is very convenient. There's nothing more annoying than getting ready to start spraying and finding that you're missing equipment! Having integrated storage also makes a product much more storable and portable. For this reason, be sure to keep an eye out for this feature.
10 Steps to Using an HVLP Paint Sprayer
While your HVLP paint sprayer should come with a comprehensive set of instructions, here are the 10 main steps you should take when using your new product:
The area in which you're spraying should be well ventilated. This is so that fumes don't build to dangerous levels which can be dangerous to your health.
Be sure to check and clean the filters before use as the quality of the spray will be greatly reduced if these are clogged either prior to or during spraying.
Move or cover anything that you do not want to be sprayed! Even with the lesser overspray produced by HVLP units, there can still be some mess!
Connect the unit to the power supply and ensure that the air hose is connected to the unit. The hose should be clear of any potential snagging problems.
You may need to thin the paint before you spray so it's worth following the manufacturer's instructions for this in order to achieve the best results.
Check that the air nozzle you're using is the right one for the particular paint application. This will make your work much easier later!
Connect the air hose to the gun and adjust the air pressure. You may only require low pressure if you're looking for detail. Speed will require higher air pressure.
Adjust the fluid control. This dictates how much paint you spray for whether you want a thick or thin coating. Also, by adjusting the air cap, you can spray horizontally, vertically and, in some cases, even in a circular pattern.
Apply the paint in a consistent pattern, maintaining a consistent distance from the surface on which you're spraying.
Thoroughly clean all parts of the paint sprayer after you use it. This will ensure that it's ready for the next session and will ensure a longer life for the product.

Conclusion:
When you're buying an HVLP paint sprayer you can rest assured that there are plenty of products out there to suit your needs. Whether you're a casual DIY'er looking for a budget product or someone in need of some serious paint spraying power, there are products at all sorts of price points to suit.
What's particularly interesting is that technology surrounding the HVLP paint sprayer has really progressed in recent years. Despite this, the prices have continued to fall, becoming even more competitive. Take another look at our reviews of HVLP sprayers and our comprehensive buying guide and you'll soon be on your way to paint spraying like a pro!
Related posts: