14 Facts About Tsunamis – Data & Statistics In 2023
This article's statistics come from third-party sources and do not represent the opinions of this website.
Tsunamis are long and high waves that are caused by some underwater disturbance, usually an earthquake. They travel quickly, slowing down as they get closer to land. They are also known as seismic sea waves and mistakenly referred to as tidal waves.
When tsunamis hit land, they cause massive devastation and the only way to ensure safety and to minimize loss of life is to get to high ground. Despite myths, it is impossible to outrun a tsunami. Although some efforts have been made to improve early warning alert systems, an impending tsunami still has the potential to cause a massive loss of life and significant financial damage.
Read on for 14 facts about tsunamis and their effects in the following categories:

The 14 Tsunami Facts & Statistics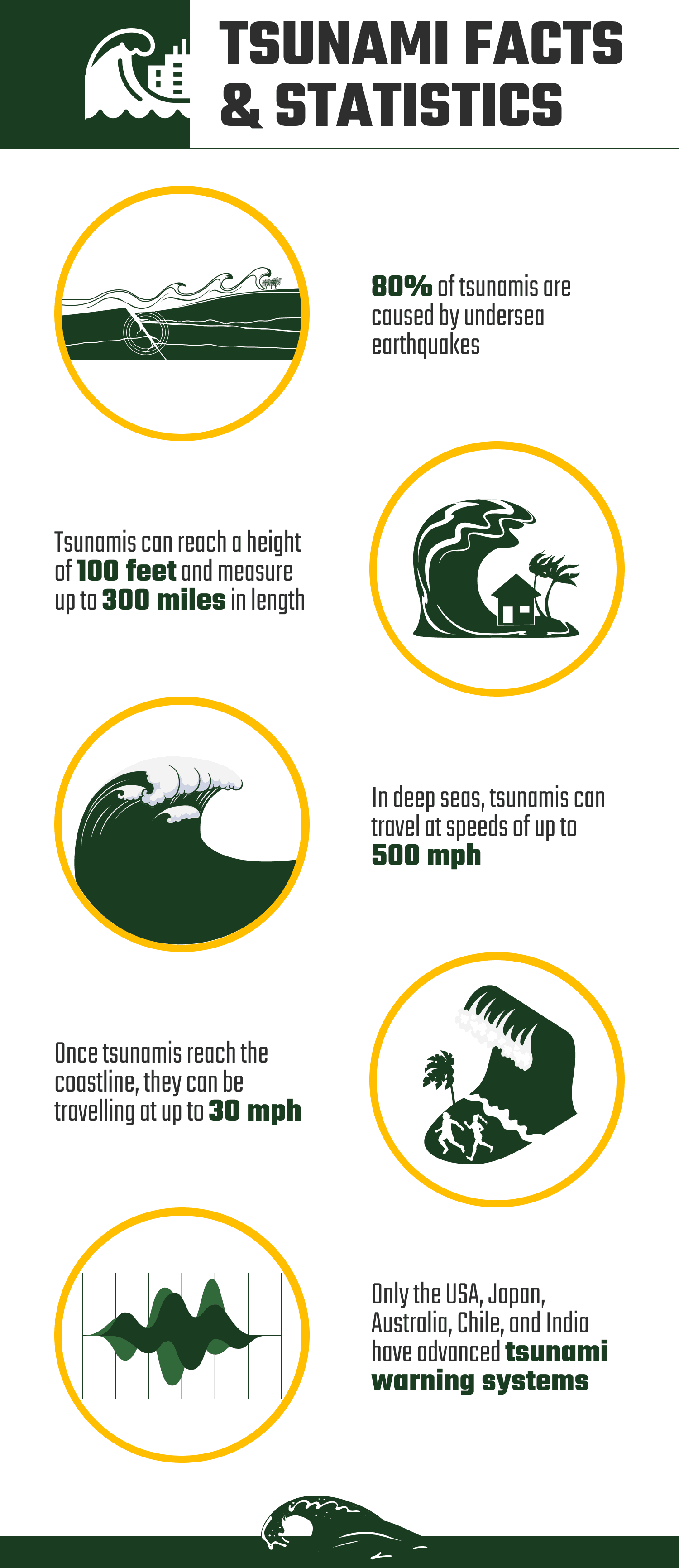 Tsunami Causes and Characteristics
1.

Tsunamis are caused by undersea earthquakes
(National Geographic)
Tsunamis are caused by some kind of massive underwater movement. 80% of tsunamis are caused by earthquakes, but other causes can include landslides, weather phenomena, and even volcanic activity. Asteroids or comets exploding above the ocean could also cause these massive waves.
---
2.

The word Tsunami is Japanese and means "harbor wave"
(Australian Government Bureau of Meteorology)
"Tsunami" is a Japanese word that translates as "harbor wave". They have been called "seismic sea waves", typically by the scientific community. They have also been inaccurately described as "tidal waves". The term tidal wave is inaccurate because these giant waves are not affected by tidal patterns or tidal movement. Although "seismic sea wave" is more accurate, because one can be caused by seismic movements, this isn't the only possible cause so this term can also be misleading.
---
3.

Tsunamis travel as fast as a jet plane
(National Geographic)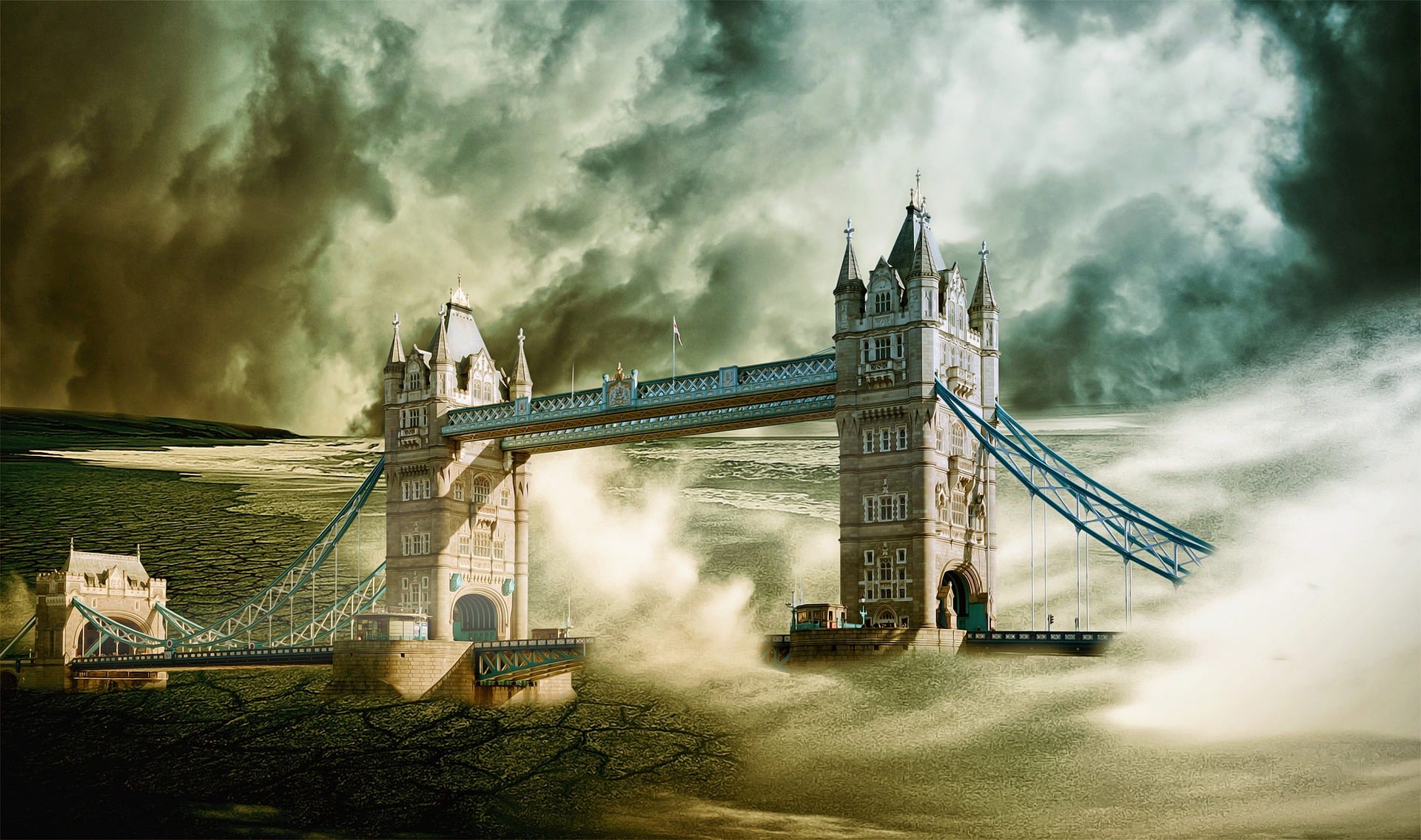 The speed of a tsunami depends on the depth of the ocean. In deep seas, they can travel at speeds of up to 500 mph, which is roughly the same as a jet plane. As the wave approaches and reaches the coast, the wave slows to between 20 mph and 30 mph. While this is much slower, it is still fast enough to cause considerable damage and loss of life.
---
4.

Tsunami waves can reach a height of 100 feet or more
(National Geographic)
A typical tsunami will not cause the sea to rise more than 10 feet, but the current means that they will continue at this height onto land. Some, such as the Indian Ocean tsunami, can reach heights of 30 feet, and scientists say that a mega-tsunami could reach as high as 100 feet or even more.
---
5.

They have a wavelength of 10 to 300 miles
(Australian Government Bureau Of Meteorology)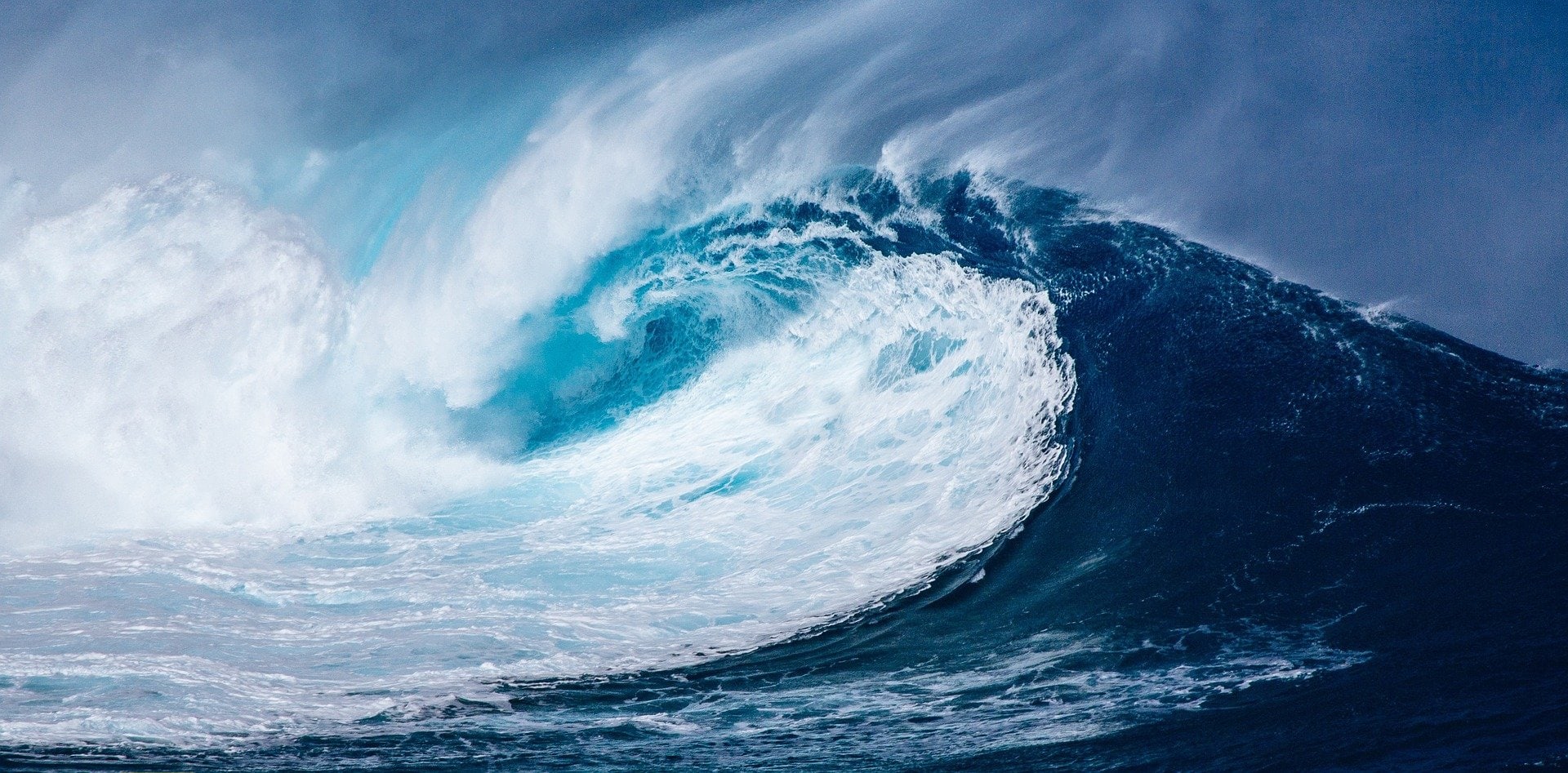 Wavelength is how far across the tsunami waves measure. While wind waves have wavelengths measured in feet, tsunamis are measured in miles, and they can range in length from 10 to as many as 300 miles long.

Tsunami Detection
6.

Mega-tsunamis occur every few thousand years
(SMS Tsunami Warning)
Tsunamis that cause damage or death near their source occur twice a year while those that cause damage or death more than 600 miles away from their source occur twice every ten years. Mega-tsunamis, which are extremely rare and could reach up to 12 miles inland, compared to the 300 meters of standard tsunamis, only occur every few thousand years.
---
7.

In the deep ocean, they are practically undetectable to the human eye
(Australian Government Bureau of Meteorology)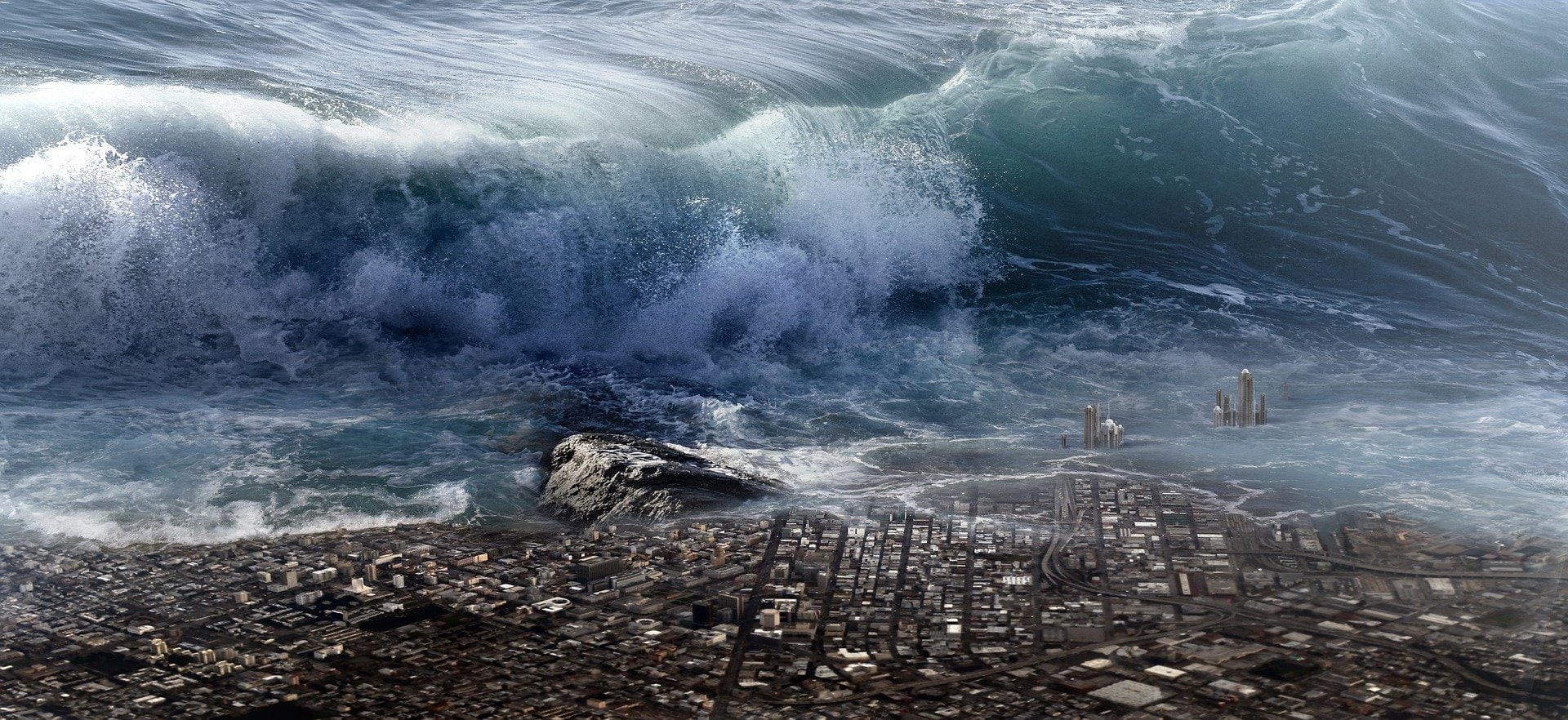 While tsunami waves can reach 100 feet or more, this is uncommon out at deep sea. In fact, a tsunami in deep water will only cause the sea level to rise about 3 feet higher than its standard swell. This means that even a boat on the surface of the ocean may not be able to detect the start of a tsunami and also makes it difficult to detect these powerful waves.
---
8.

Five countries have advanced tsunami warning systems
(United Nations Office for Disaster Risk Reduction)
The earlier a tsunami is detected, the greater the chance of getting people to safety. However, they are difficult to detect and can hit land in a matter of minutes while being virtually undetectable to the human eye until they get close to shore. Advanced tsunami warning systems are a solution, and they can detect small changes in currents and underwater waves but they are expensive and difficult to establish. Five countries currently have these systems: The USA, Japan, Australia, Chile, and India.
---
9.

They can reach shore within a matter of minutes in some cases
(U.S. Department of the Interior)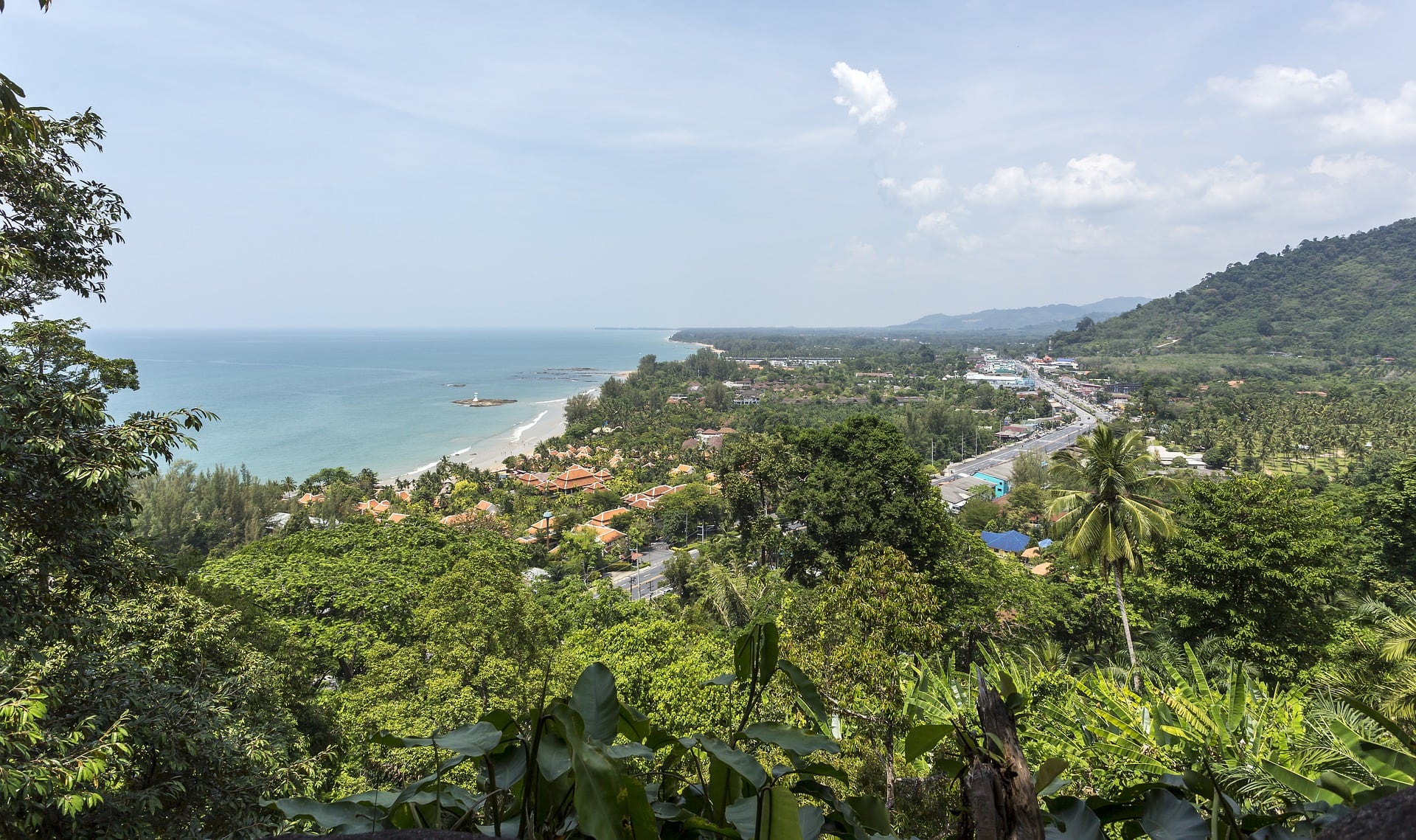 At a speed of 500 miles per hour, a tsunami could cross the entire Pacific Ocean in less than 24 hours. Smaller, locally generated waves can reach land in just minutes, making it very difficult to respond in time.
---
10.

They usually consist of multiple waves, rather than one large wave
(U.S. Department of the Interior)
Rather than hitting the shore in a single wave, a tsunami usually consists of several waves and the first wave is not usually the largest. This series of waves is referred to as the tsunami wave train.

Major Tsunami Facts
11.

The 2004 Indian Ocean tsunami killed more than 200,000 people
(U.S. Department of the Interior)
On December 26th, 2004, an undersea earthquake struck off the coast of Sumatra, causing a tsunami. In some areas, the waves reached heights of 30 feet. Indonesia, Sri Lanka, India, Maldives, and Thailand were the hardest hit and recent estimates suggest that more than 225,000 people were killed because of the tsunami.
---
12.

It took between 15 minutes and 7 hours to reach affected coastlines
(Australian Government Bureau of Meteorology)
Depending on the distance from the epicenter of the wave, it took between 15 minutes and 7 hours to hit the affected coastlines, giving very little time for people to get to high ground or safety.
---
13.

The Indian Ocean tsunami did $13 billion in damage
(National Weather Service)
The tsunami not only caused the sinking of ships, but it destroyed houses, bridges, roads, farms, and caused serious damage to infrastructure and other materials. It is estimated that more than $13 billion of damage was done.
---
14.

The most recent tsunami occurred in 2018
(International Tsunami Information Center)
The most recent tsunami event to have caused damage and probable loss of life was in 2018. A 7.5 magnitude earthquake occurred off the coast of Indonesia. It killed several thousand people, injured many thousands, and displaced hundreds of thousands, having damaged more than 60,000 houses.

Frequently Asked Questions About Tsunamis
How Long Does A Tsunami Last?
A tsunami consists of a series of waves, called a wave train. A wave train can last for several hours from the first wave to the final one and the destruction can continue long after the waves have subsided because their destructive power can lead to buildings collapsing and other damage. People affected by tsunamis should get to high and safe ground and remain there until they are told it is safe because waves can come in surges with the water retreating after one surge before coming again.
What Are The Five Causes Of Tsunamis?
The most common cause of tsunamis is underwater earthquakes, but there are four other potential causes: landslides, volcanic activity, seamount collapse, and even the impact of a meteorite.
Can You Outrun Tsunamis?
Tsunamis do slow down as they reach land, but they can still hit at speeds of 20 to 30 miles per hour. Even Usain Bolt, the world's fastest man, can only run 100 meters at an average speed of just over 20 miles, on a flat track that is free from debris, in good conditions and wearing appropriate clothing. It is not possible to outrun a tsunami and the only safe way to evade one is to get to high ground, as far away from the sea as possible.
Can Tsunamis Destroy Skyscrapers?
Not only is it rare (although not unheard of) for skyscrapers to be built right on the coastline, but they also tend to have much deeper foundations than smaller buildings. Skyscrapers are also built to withstand greater pressures than smaller buildings. This means that while smaller buildings may be destroyed, skyscrapers are unlikely to be completely destroyed by a tsunami.
What Is The Tallest Tsunami Ever Recorded?
The tallest tsunami ever recorded didn't occur at sea and although it did cause damage, it was nowhere near as devastating as the likes of the Indian Ocean tsunami. In 1958, an earthquake in Alaska caused a mass of rock to slide into a fjord, leading to a 1,720-foot tsunami over Lituya Bay. The tsunami only killed five people. (Prevention Web)
Facts About Tsunamis
Tsunamis are large waves, usually but not always caused by undersea earthquakes. They can lead to massive loss of life and considerable damage to property. These monstrous waves often measure miles in length, come in a series of waves called wave trains, and are powerful enough to destroy homnes and buildings. The tallest ever recorded tsunami wave reached over 1,700 feet in height but somehow only killed five people. The most devastating in recent memory is that of the Indian Ocean tsunami that killed over 200,000 people and did more than $13 billion of damage.
---
Featured Image Credit: Pixabay