Fluke 115 vs Fluke 117: Which One's Best?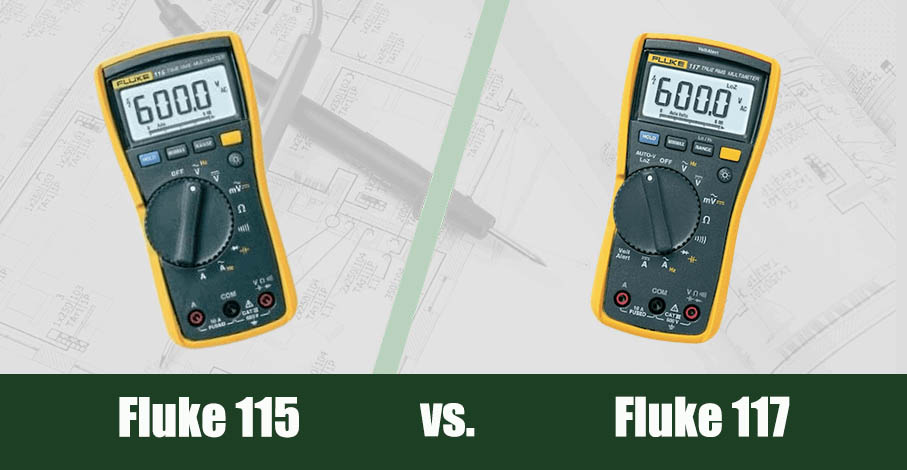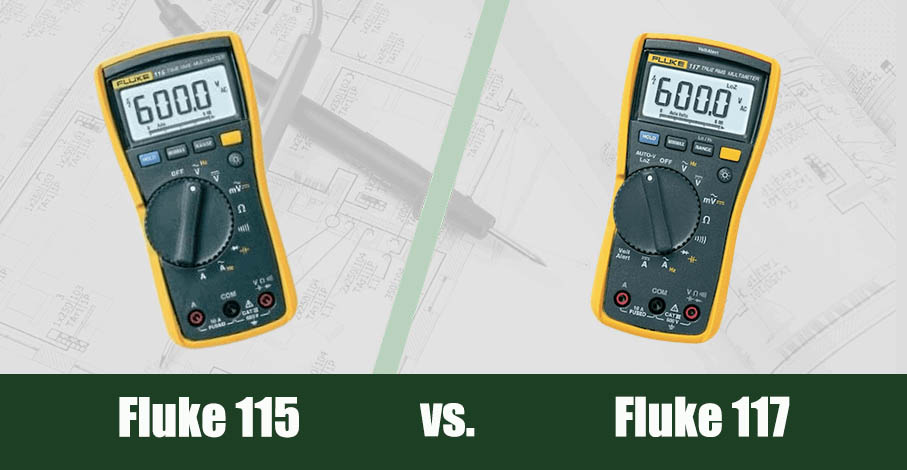 Rating
Image
Product
Details

Best Choice

Fluke 117

Durable
Added features for faster
safer work
Great advanced multimeter for electricians
CHECK PRICE

Best Price

Fluke 115

Durable
More affordable
Great basic electrical multimeter
CHECK PRICE
Review Summary
The Fluke 115 and 117 offer great benefits for home multimeters. Although neither option reads in the milliamps or microamps, making them unsuitable for professional use, they are great additions to test appliances around the home.
Still, which one is better? In short, the Fluke 117 offers more features, making it more ideal for versatile and enhanced safety use. The 117 offers non-contact voltage detecting and automatic AC/DC selection, making your job easier and safer. Still, it is more expensive than the 115, making it less than ideal for those on a budget.
In contrast, the Fluke 115 may be the option for you if you want an affordable, basic multimeter. The 115 offers accurate readings and is easy to use. With a one-handed design and laterally opening case, the 115 is easy and comfortable for an introductory reader.
With these features in mind, the Fluke 117 is the better overall choice, while the 115 is the better budget pick. Before you make your final decision between the two models, though, you need to read about them in more detail.
Read on to learn about the exact specs of both the Fluke 115 and 117.
At a Glance
Let's look at the key points of each product.
Fluke 115
Checks continuity, frequency, capacitance, and diode
One-handed design
Includes a laterally opening case
Do not need to remove multimeter from case to use
True RMS readings
Tested safe for CAT III 600V environments
Fluke 117
VoltAlert technology for non-contact voltage detection
AutoVolt automatic AC/DC voltage selection
Prevents false readings due to ghost voltage
Large white LED backlight suitable for darker areas
True RMS readings
Tested safe for CAT III 600V environments
---
Overview of the Fluke 115
The Fluke 115 offers handy digital multimeter readings throughout the house. It does not test amperage in the milliamps or microamps, making it unsuitable for electronic works. Still, this model is a great reader for home testing, especially due to its affordable price.
The 115 provides good readings for general purpose electronics. It measures 10A AC/DC with 20A overload for 30-seconds maximum. The readings show true RMS voltage and current readings with 600-count resolution, continuity, and capacitance.
One beneficial aspect of the Fluke 115 is its compact design. The body of the 115 features one-hand operation, making it easy to use this reader while working with your other hand. At the same time, the reader is safe since it is CAT III 600V safety rated.
With the Fluke 115 comes a case. This case opens laterally, meaning you can use the reader without removing it from the case. This makes your job safer and elongates the lifespan of the reader.
It is important to note that the 115 is a very basic reader. It does not offer any additional features in terms of performance or safety. For example, it does not provide non-contact testing or low input impedance like the 117.
Overall, the Fluke 115 is an excellent choice if you need a basic and reliable multimeter for your home. Although it is not suitable for professional use and does not come with enhanced features, this multimeter will get the job done for basic testing purposes.
Pros
Comes with laterally opening case
Suitable for one-handed use
More affordable
Cons
Does not come with enhanced features

Overview of the Fluke 117
The Fluke 117 is a slightly more advanced version of the 115. Although it is not suitable for electronic use, several additional features enhance usability and safety.
This multimeter features AutoVolt automatic AC/DC voltage selection, making it suitable for both currents. The Fluke 117 works at a range of 600.0 mV, with a resolution of 0.1 mV on DC. This makes the Fluke 117 more versatile and useful.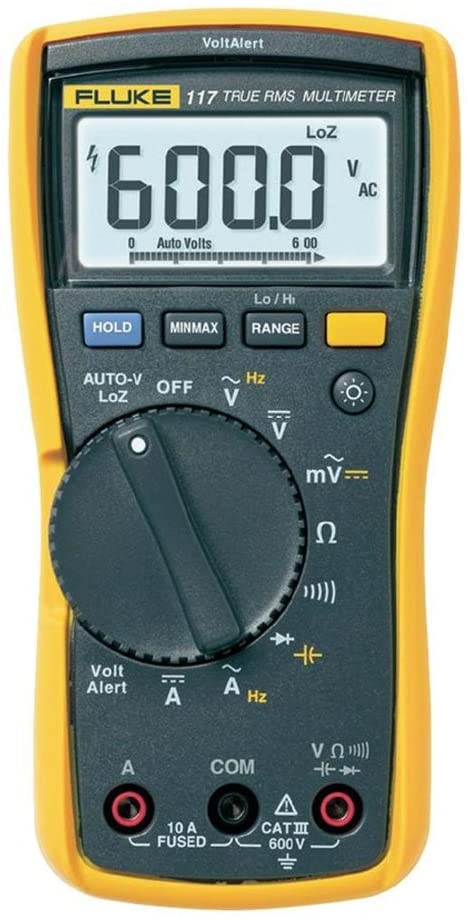 It also comes with VoltAlert technology, providing non-contact voltage detection. This makes the readings easier and safer to get. By minimizing contact, you don't have to worry about electrocuting yourself.
When you purchase the Fluke 117, you also get several other items in the kit. Notably, the Fluke 117 comes with a 4 mm silicone test lead set, making it even more convenient to use this multimeter around your home.
This model's main downside is that it is more expensive than other home-use multimeters, including the 115. Of course, you get more features with this item, making the price worth it to some buyers.
Additionally, the 117 does not come with a one-handed design. You will almost certainly have to use both hands with this device, even if you are using the non-contact feature.
To sum it up, the Fluke 177 is a more advanced home multimeter. This multimeter is very versatile for a home multimeter because of its non-contact reading and AC/DC capabilities. Although it costs more and is not designed for one-handed use, the 117 is highly impressive.
Pros
Reads both AC and Dc currents
Offers non-contact voltage detection
Cons
More expensive
Not designed for one-handed use
---
What Are the Differences Between Them?
Performance
Edge: Fluke 117
Performance-wise, the Fluke 117 is by far superior. From its non-contact voltage detection to AutoVolt automatic AC/DC voltage selection, the 117 offers more features that make your reading experience quicker, safer, and more efficient. If you want the highest performing multimeter, then you want the 117.
In contrast, the 115 offers very basic readings. These readings are reliable and stable, making them an excellent choice for beginner use. Still, the 115 simply cannot compete with the 117 in terms of performance.
Design 
Edge: Fluke 115
The Fluke 115 reigns supreme where design is concerned. Designed with one-handed operation capacities, you can use this multimeter comfortably and efficiently. More so, the lateral opening case means you don't have to remove it every time you need a reading. This makes the readings more time-efficient.
We should mention that the non-contact detection of the 117 is a major design benefit. However, you will need both hands to use this device, which is why we have voted the 115 as the better-designed multimeter.
Price
Edge: Fluke 115
Since the Fluke 115 has fewer features than the 117, it is more affordable too. This makes the 115 the best option if you are looking at price alone. Still, you might want to shell out the few extra bucks for the 117 if you need enhanced performance features.
What the Users Say
Although we conducted our own research, we also wanted to know about other users' experiences. Here are what we found when we scoured the internet for other reviews of the Fluke 115 and 117:
Fluke 115
Benefits:
Almost all of the reviews for the 115 were entirely positive. The Fluke 115 had some of the highest ratings on most seller sites.
Many reviewers cited the compactness and accuracy of the 115 as significant benefits. Some of the reviewers were even electricians who mentioned that they always rely on this multimeter around their home.
Another common positive about the 115 is the convenient holster. Many people noted that although the device itself is durable, it is always great to have a little extra protection that you can count on. They pointed out that this case is highly convenient and functional.
Some of Fluke's more avid customers note that the Fluke 115 fits nicely on the accessory clamp. Though this is not that big of a deal if you don't own this clamp, it is helpful if you already have a convenient place for it.
Drawbacks:
The feedback about the Fluke 115 was almost exclusively positive, but there was one common critique of the product. Several users, even those who loved the product, wished that it had milliamp capabilities. Although Fluke outright says that the 115 does not read in the milliamp, it is a drawback for the device.
Fluke 117 
Benefits:
The Fluke 117 had even more positive reviews than the 115, meaning that it is a wildly loved multimeter. Several users noted that the AC/DC readings were highly useful, especially for electricians.
More so, users loved the non-contact capacity of the 117. They noted that it made the reading process much easier than with other meters, making them feel safer when using the product. This positive comes as no surprise to us.
Several electricians also commented on how reliable and fast the 117 is, especially the continuity reading. They noted that the screen updates frequently enough that you get exact results in real-time.
Drawbacks:
There were even fewer negative reviews about the 117 than the 115, making it challenging to find negative reviews at all. The only repeat negative review that we could find is that the screen is lacking, making it difficult to read the results accurately.

Conclusion
Both the Fluke 115 and 117 are impressive multimeters, but the 117 is far better. The 117 offers more features that make the reading experience more efficient, speedy, and safe. For these reasons, the Fluke 117 is the winner in this roundup.
Still, the Fluke 115 is impressive too. Although it has fewer features than the 117, it offers accurate readings and is easier to use. All the while, it is more budget-friendly, making it an excellent option for those who want a basic reader on a budget.
If you are unsure about which option to get, we recommend going with the Fluke 117. Although design and price are important factors to consider, the performance is what matters most. The Fluke 117 outperforms the 115 any day.
Related Reads: