Fluke 179 Multimeter Review 2023 – Pros, Cons, & Verdict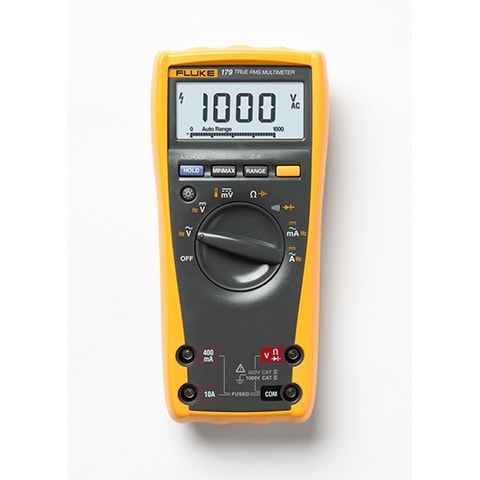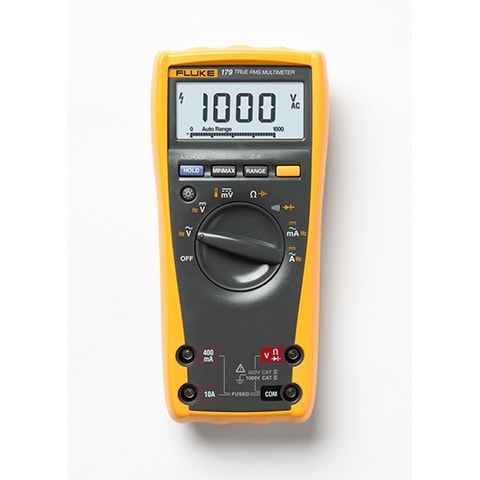 We give the Fluke 179 a rating of 4.8 out of 5 stars. 
Build Quality: 5/5
Safety: 4.8/5
Features: 4.9/5
Price: 4.5/5
Review Summary
Fluke multimeters are all pricey products and the 179 model is a premium version that's priced higher than most. But there are good reasons why you'll find more electricians that trust Fluke meters than any other brand. Fluke is known for making reliable and accurate tools that last a lifetime. In fact, the Fluke 179 is even backed up by a lifetime warranty. If you buy it, you're purchasing it for life.
This tool allows you to perform a wide range of tests and offers some top-notch features that you won't find on cheaper multimeters. Plus, it's got Fluke's well-known accuracy, making it an excellent choice for professionals. It's even great for hobbyists who are willing to shell out the extra money for a tool that they'll never have to replace.
Let's take a closer look at what this multimeter has to offer.

Fluke 179 – A Quick Look
Pros
Lifetime warranty
Rugged, durable design
Offers bar graph readings
Includes high-quality test leads
Impressive accuracy ratings
Performs a wide range of tests
Specifications
Specifications
Brand name: Fluke
Model: 179
Ranging: Auto and manual
Max voltage: 1,000 AC or DC
Max resistance: 50 Megohms
Max capacitance: 10,000 microfarads
Battery: 9-volt
Battery life: About 200 hours
Safety ratings: CAT III 1000V and CAT IV 600V
Multiple Measurements Plus True RMS Reading
This multimeter offers a wide range of tests, allowing you to use it in a variety of situations. It's capable of measuring AC and DC voltage up to 1000 volts, AC and DC current up to 10 amps, resistance up to 50 megohms, capacitance to 10,000 microfarads, frequency to 100 kilohertz, and even temperature from -40 degrees Celsius to 400 degrees Celsius. However, it cannot measure temperature in Fahrenheit.
Because this is a true RMS device, it can take true readings of AC voltage. Cheaper devices only measure averages, which doesn't give you a true reading of the voltage.
Also, consider the accuracy of this multimeter. On most measurements, it offers accuracy within 1%, which blows a lot of the competition out of the water. It's one of the many reasons that professionals often choose Fluke.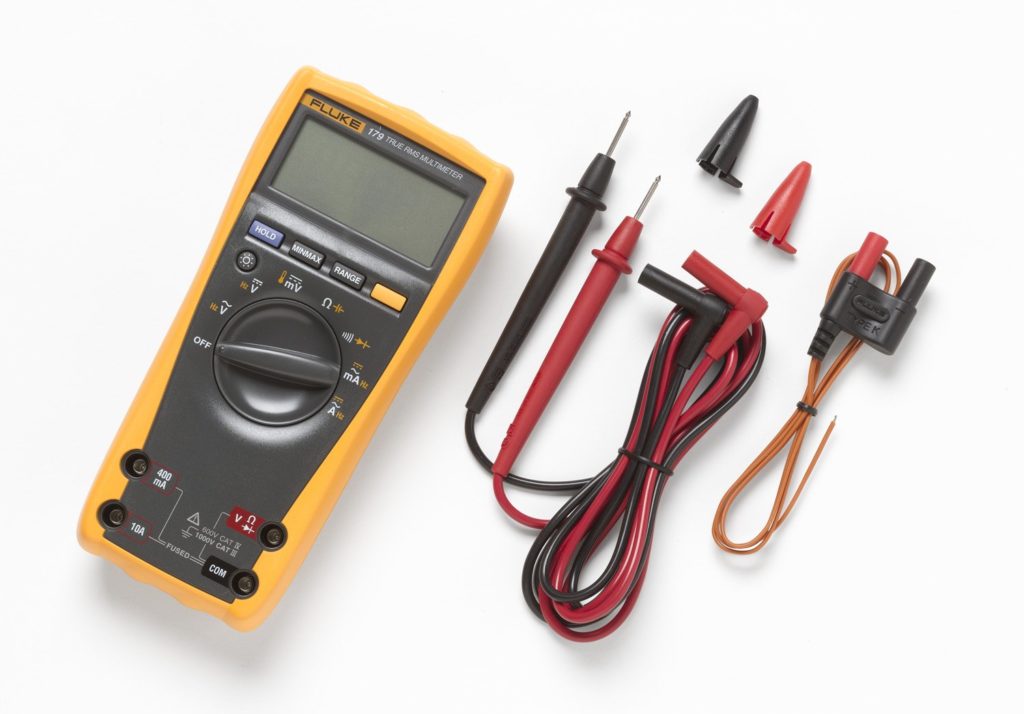 High Input Protection Ratings
This device is rated for CAT IV up to 600V and CAT III up to 1,000 volts, allowing it to be used in a professional capacity safely. If you're working on electrical panels and building power supplies, then this multimeter has the safety devices built-in that you need to ensure that a mistake doesn't cost you your life. It doesn't take much electricity to kill a human, but with these safety ratings, you'll be protected.
It's Expensive, But Warrantied for Life
We've already covered several reasons for the high price of this multimeter, but here's one more — a lifetime warranty. When you purchase this multimeter, you're purchasing it forever. If it dies in the line of use, it will be replaced. Essentially, you're purchasing the last multimeter you'll ever need.

FAQ
What type of batteries does the Fluke 179 use and how long do they last?
This multimeter uses a single 9-volt battery. If you're not using the backlight, that battery will last about 200 hours on average. Using the backlight will reduce the overall battery life.
Why is the Fluke 179 so much more expensive than cheap multimeters on Amazon?
The cheap multimeters you see online don't offer anywhere near the accuracy of this Fluke product. Likewise, this multimeter has far better durability than cheaper units, proven by the lifetime warranty that Fluke provides with purchase. It's also got features you won't find on cheap options, such as true RMS reading.
Is the Fluke 179 a good model for a homeowner?
If you take on a wide range of DIY projects, then you'll likely benefit from the Fluke 179, finding many uses for it over time. But if you're not the type to dive into a lot of DIY projects and you just need a multimeter for some basic testing, then you would probably be served just as well by one of the less expensive models in the Fluke lineup.
What the Users Say
We've been using multimeters for many years, so we know how to tell when one is worthwhile. But we're not the only people who've used this multimeter. Loads of people, professionals and not, have shared their opinions of this multimeter online. To make sure we're giving you the full picture, we carefully read through those reviews to bring you their opinions here.
The most common sentiment we heard was that you get what you pay for. Most people say they decided to spend the extra money on a Fluke meter after hearing about their reliability. These users reported that they were not disappointed.
Many people said they purchased this meter because the Fluke they had been using got so old that they'd worn it out, though it still works.  These users also seemed to be very pleased with the new features that weren't available on the older models.
Another common comment was that people had purchased this device because of its accuracy, which everyone seemed to agree was much better than on other devices.
Most people seemed to be pleased with the included test leads and many even called them high-quality. However, there were a few people that were disappointed by the lack of alligator clips or other accessories for the price.

Conclusion
If you're looking for a multimeter for professional use, then the Fluke 179 is one of the best options you could choose. It offers a wide range of measurements with astonishing accuracy. With this tool, you can measure high-voltage systems safely, thanks to built-in safety features that allow it to offer high safety ratings.
If you're a serious hobbyist or advanced DIYer, then this is also a great choice. You'll never need to purchase another multimeter again, thanks to the lifetime warranty. And with this level of accuracy and versatility, you'll be hard-pressed to find something it can't do.
Related Reads: