30 Free DIY Storage Shed Plans You Can Build This Week (With Pictures)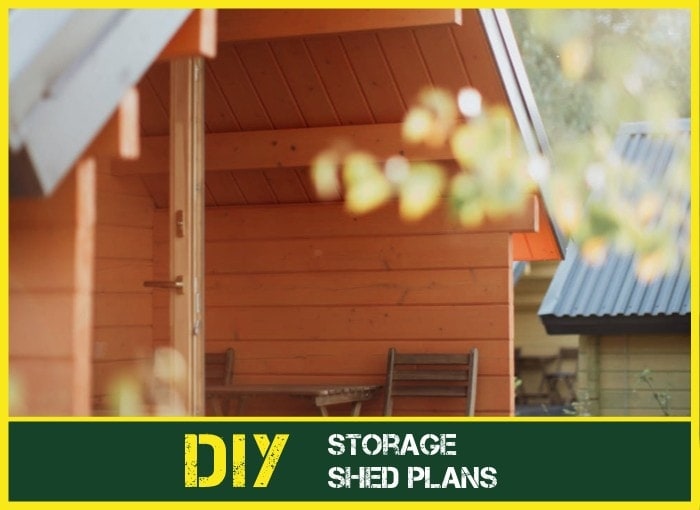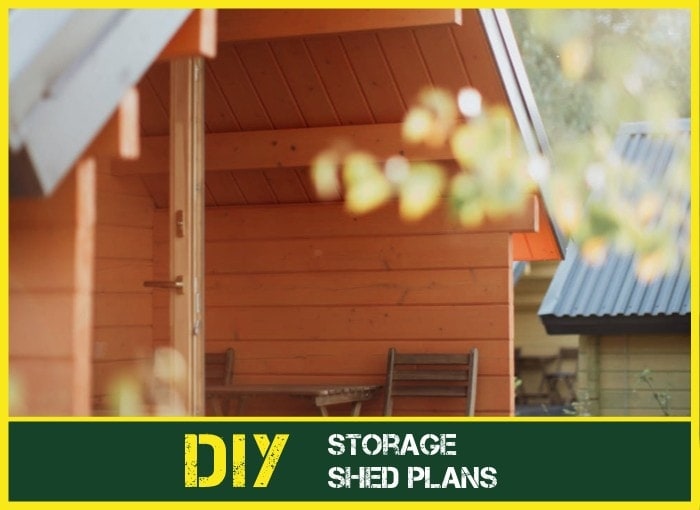 If you've got a big yard, you need a shed—a place where you can store the tools needed to take care of your lawn and garden. You can find them at any big box store, but these sheds are one size /one look fits all. Is your yard one size / one look fits all? No, it's an extension of your personality.
We looked at plans across the Internet and offer the following ideas for you to peruse. These sheds come in various shapes and sizes. One thing they all have in common is that teach you how to build a shed with ease.

The 30 DIY Storage Shed Plans
1.

Dream shed plan from The Family Handyman
This dream shed from The Family Handyman isn't just a storage place; its porch is a place to kick back and relax once the work is done. Or, to escape a rain that starts to fall while you're working. You might even want to give up on it as a storage place and turn it into a kid's playhouse or a small guest cottage.
---
2.

Cottage style shed plan from Today's Plans
Big enough to serve as a kids' clubhouse or a rustic overnight guest house, these plans from Today's Plans aren't as complicated as they appear. The instructions offer detailed blueprints on how to measure out each wall and how to support it with beams.
---
3.

Garden shed plan from Mother Earth News
This attractive tool storage shed from Mother Earth News will be a great focal point for guests who visit your backyard or garden. It's perfect for storing tools or lawn furniture and maybe even a badminton set. The lattice on the outside is perfect for allowing vining plants to flourish, providing an even better effect.
---
4.

6×6 storage shed plan from Plansd
If you're looking for a little standalone color, this 6×6 storage shed from Plansd is a great manmade addition to your backyard's natural decor. It's big enough that if you really need to, you can store a riding lawnmower and its associated maintenance equipment in it.
---
5.

Colonial-style garden shed plan from Popular Mechanics
If you're looking for something with a rustic look, Popular Mechanics has this plan for a Colonial-style garden shed. It helps accentuate your backyard look with window boxes under glass windows that—while mostly there for show—do provide a little bit of light.
---
6.

Pallet shed plan from Summerville-Nova Scotia
If you like upcycling, this shed built from pallet wood is a perfect DIY project. The materials are basically lying around waiting to get used, and the door is big enough that you can store a riding lawnmower in it. It also comes with a ramp, making access a lot easier.
---
7.

Small storage shed plan from Black and Decker
Not everyone needs a large, complicated shed. Sometimes what you need is a shed just big enough for a handful of tools or even a couple of coiled hoses. This small shed from Black and Decker is a perfect vertical small shed that lets you organize your tools without taking up a lot of space.
---
8.

Drive-thru backyard shed plan from Extreme How To
Designed to store big things—from lawnmowers to ATVs to a big collection of chainsaws—this drive-thru shed will help you take care of your property. It's sized perfectly for a small folding workbench so that you can also perform light maintenance on your equipment.
---
9.

Gabled garden shed plan from DIY Garden Plans
This gabled garden shed from DIY Garden Plans isn't fancy, it's just a basic design with a basic construction. It is, however, perfect for giving you a nice-looking place to store your tools, hoses, and lawn furniture. Its foundation excels if you live in a high-moisture environment.
---
10.

Outdoor storage locker plan from The Family Handyman
This outdoor storage locker from The Family Handyman delivers big things in small packages. It packs your tools into a small, compact space that frees up room in your garage. It's loaded with shelves and hooks for hanging tools. It's also relatively easy to build if you follow the plans.
---
11.

Garden tools shed from This Old House
This garden tool shed from This Old House has a lot of storage potential for such a small space. It's also pretty easy to build and has a rustic look about it, so it'll fit right in with most decor schemes. It's also small enough to fit easily on a patio or even in a garage.
---
12.

Board and batten shed plan from Build Eazy
This is a pretty straightforward simple garden shed from Build Eazy that provides an attractive, low-key space for organizing and getting your garden tools out of the way. It does permit some options for customization, and it's big enough for an interior shelf.
---
13.

Simple shed plan from Popular Mechanics
The plans for this shed from Popular Mechanics say it's simple, but it packs a lot of utility in that simplicity. It's got feet that keep it out of water, plus a window to provide some interior light when you're looking for what you need. It's also tall enough that you won't bang your head stepping into it.
---
14.

Garden tool shed from Outdoor Life
This no-nonsense garden tool shed from Outdoor Life is all function with a rustic look. It has plenty of space for storing all your lawn maintenance tools, from push mowers to fertilizers to pruning shears hung from the walls. Plus, it's small enough that it takes up very little space.
---
15.

Lean-to shed plan from Home Tips
Designed to sit up next to a structure and provide out-of-sight, out-of-mind storage, this lean-to shed from Home Tips gives you a tasteful looking way to organize your tools and keep them out of the weather. As long as you get the angles cut right, it's also pretty simple to build.
---
16.

Pallet shed plan from Rural Routes
From the outside, this shed plan from Rural Routes looks like a vinyl-sided building similar to your house. The inside frame, however, is all upcycled pallet wood. It's cheap to build but won't look like nailed-together driftwood. Plus, it's got sliding glass doors in case what you really want is a clubhouse for the kids.
---
17.

Garden tool shed plan from Calredwood
This simple all-wood garden tool shed plan from Calredwood will fit in with a rustic design for your backyard or garden area. It's got plenty of space to store your important tools and a roof to keep them dry. Plus, it's big enough for you to store a wheelbarrow in between seasons.
---
18.

All-purpose storage shed plan from Today's Plans
This storage shed from Today's Plans is perfect for storing a riding lawnmower or an ATV that you use to travel around your property to take post-storm inventories. The doors are made for vehicles; they open out of the way so you can get in and drive to where you need to go.
---
19.

Basic backyard shed plan from Rona
This is a great shed for storing tools, but it's also suitable as a clubhouse for your kids. This basic backyard shed from Rona has windows to let in light so you can see what you're looking for, or to let your kids know when it's stopped raining and they can go back outside to play.
---
20.

Garden tool shed plan from Extreme How To
This basic tool shed from Extreme How To is a great supplemental storage space to have in your garage or alongside its exterior. It's simple enough that you can build a bunch of them if your storage needs expand.
---
21.

Garden shed plan from NZ Wood
These shed instructions from NZ Wood aren't nearly as easy as some of the other shed designs we looked at, so if you're new to woodworking you might want to look at something less complicated. But if you like complicated, this offers a great, unique option for storing tools.
---
22.

Wood drying house plan from Burn Dry Firewood
This isn't a shed for storing tools or getting your mowers out of the weather. But it is a place to keep cut wood dry so that you can use it to heat your house come winter. It comes complete with an elevated floor to keep your wood off the wet ground when it rains or snows.
---
23.

Firewood shed plan from Ana White
This firewood drying shed from Ana White is another great option for you to get your cut wood off the wet ground and out from under the elements. It's a simple design with a simple construction because, at the end of the day, you're just drying wood in it.
---
24.

Cute Garden Shed by PrettyHandyGirl
If you are looking to strike the fine balance between aesthetic appeal and a large door, you should consider trying out this plan. The obvious choice of a large entry is usually a garage door. However, it tends to ruin the aesthetics of a garden setting. This particular design comes with sliding doors to allow you a wider opening without ruining the ambiance.
---
25.

The Potting Shed by the NittyGrittyDirtman
The potting shed is an excellent option for gardeners. It is divided into three sections, with the first being for storing gardening tools, the second for storing pots and trays thanks to its overhead shelves, while the third acts as a greenhouse. Its dimensions are large enough to allow for a worktable. Here are the plans.
---
26.

8×7 Tudor-Style Garden Shed by BuildEazy
This small 8×7 shed is ideal for storing seasonal tools, such as the snowblower. We appreciated how well BuildEazy broke down the plan to ensure that even an amateur woodworker can tackle this project. It also comes with detailed graphics for better understanding.
---
27.

The Red-Hot Workshop by FamilyHandyman
This shed is perfect for those looking for a workshop with lots of space and ventilation. This project was featured in the Family Handyman magazine in 2008. The plan goes into detail to ensure that everything is clear.
---
28.

The Ultimate Shed by FamilyHandyman
If you are constantly squeezing your motorbike or lawnmower in all kinds of awkward spaces, you are going to appreciate this shed immensely. This shed's design resembles that of a garage. As such, you can use it as one. However, make sure that it blends with your house. Here are the plans.
---
29.

The Ultimate Garden Shed
This incredibly cozy shed was the FamilyHandyman's ultimate garden shed of 2014. Its tiered roof and exposed wood façade blend into a garden setting seamlessly. If you are up for it, here are the plans.
---
30.

The Double-Duty Pub Shed by FamilyHandyman
How about this one? Instead of storing items, you store memories. Learn how to build a garden shed like this one – it is an ideal lounging spot that you can use to entertain your loved ones. The plans are also remarkably easy to follow.
See also: