10 DIY Outdoor Storage Ideas You Can Make Today (With Pictures)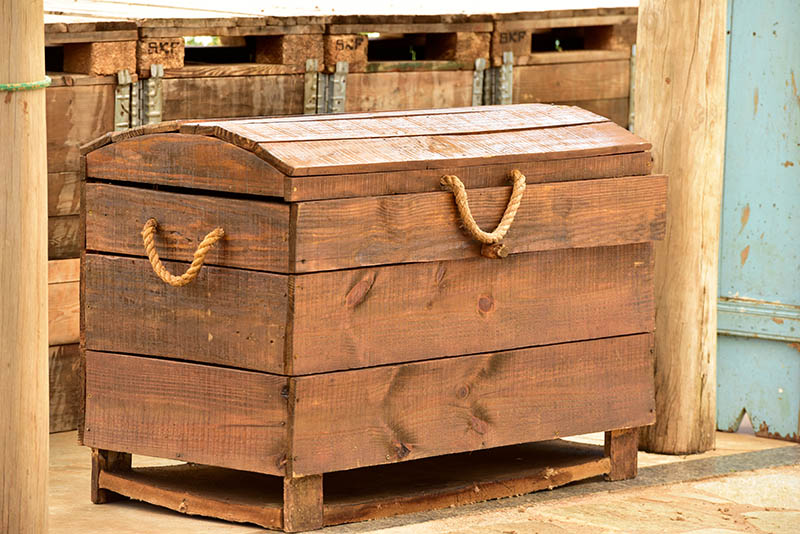 Outdoor storage can be a frustrating puzzle to solve. Most people end up piling everything in a garage or shed which can result in cluttered and unsightly messes. Other outdoor storage options are expensive or ugly. The good news is that you can take your outdoor storage solutions into your own hands with these amazing ideas.
This list includes amazing ideas for DIY outdoor storage that can be built at home in just a few hours with the right materials. With some creativity and a little work, you can get the outdoor storage solutions of your dreams without having to settle on store-bought junk.
Here are ten clever and creative DIY outdoor storage ideas you can build today.

The 10 DIY Outdoor Storage Ideas
1.

Rustic Outdoor Storage Box by The Handyman's Daughter
| | |
| --- | --- |
| Materials: | 2×2 cedar (x4), cedar fence pickets (x9), 1×8 cedar (x2), screws, hinges |
| Tools: | Table saw, clamps, drill, nail gun, jig |
| Length: | Intermediate |
This rustic outdoor storage box is the perfect way to spruce up your outdoor space. This box not only looks great, but it is also extremely functional. With tons of space inside and a hinged lid, you can store plenty of loose items to get them off the porch or out of the yard. Since this box is made from cedar, you can finish it however you like. You can keep it rough sawn for a rustic look, sand it down for a more polished look, or paint and stain it to your liking. This box should be a breeze to build for anyone with some carpentry experience and can be finished in one afternoon.
---
2.

DIY Bike Shed
| | |
| --- | --- |
| Materials: | Pressure treated 2x2x10 (x4), 2x2x8 (x9), 1x8x12 (x7) 1x8x14 (x2), beveled siding (x3), screws, siding nails |
| Tools: | Circular saw, sander, drill |
| Length: | Intermediate |
If you are out of room in the garage (or don't have a garage at all), you can build yourself a DIY bike shed from basic pressure treated lumber. This shed is big enough to store a bike, plus some odds and ends from the yard. You can finish it out with hooks, baskets, and shelves for extra storage as you see fit. The end result is a place where you can quickly store your bike, scooters, helmets, and gardening tools without having to clutter up your home or garage. Some of the cuts for this shed are a little complicated, so some experience is likely required to finish these plans in a single afternoon.
---
3.

Build It Yourself Wooden Bar Cart by Build Something with Kreg
| | |
| --- | --- |
| Materials: | 1x2x8 (x19), 1x4x8 (x18), 2x4x8 (x5), screws, brad nails, chest cooler to fit, wheels |
| Tools: | Miter saw, drill, hammer, nail gun |
| Length: | Complex |
Don't spend hundreds of dollars on a custom wooden outdoor bar cart. Instead, take some time and build this awesome bar cart yourself. This movable cart will hold a chest cooler that you can store your ice and drinks in. You can also use the top to set things like a bottle opener, spatula, and more. When you have friends over, wheel the whole cart to where the party is. You can build this cart out of pressure treated wood or cedar and finish it out in any way you choose. You can paint it a funky color, paint it to match your favorite sports team, or give it a classic stained look. This wooden bar cart will instantly enhance your outdoor look and make it easier than ever to entertain.
---
4.

Adorable Children's Garage
| | |
| --- | --- |
| Materials: | 3/4"x10' PVC pipe (x5), outdoor cloth, PVC T and elbow joints, corrugated roofing panels, screws, wire stakes |
| Tools: | Drill, PVC saw, scissors |
| Length: | Basic |
Most kids don't have their own garage, so their stuff ends up cluttering your garage. That can change in an afternoon if you choose to build this adorable children's garage for their outdoor toys. Using readily available PVC piping, this covered garage allows your kids to park their outdoor toys under cover and even close them in with a heavy outdoor curtain. Not only is this a clever build, but it is also extremely useful at freeing up space that is otherwise taken up by a myriad of outdoor items. Now kids can park their trikes, bikes, and push toys under cover. They will be out of the way and out of sight. Brilliant.
---
5.

Unique Lounge Chair with Storage
| | |
| --- | --- |
| Materials: | 2x6x8, 2x2x8, 1x6x8, heavy strap hinges, screws |
| Tools: | Miter saw, drill, sander |
| Length: | Intermediate |
Upgrade your outdoor seating and storage with this unique DIY outdoor lounge chair. The genius of this design is that it takes a typical outdoor storage box and adds some seating elements. Unlike other boxes, you can sit on this one and even lean back and relax. This dual-purpose chair has the potential to look great, feel great and add a large amount of storage utility to your outdoor space. Few other ideas can both increase your available seating for entertaining and your available storage with one project. Build this chair in one single afternoon and watch it start a conversation at your next outdoor gathering.
---
6.

Wooden Seating Bench with Storage by The DIY Plan
| | |
| --- | --- |
| Materials: | 3/4x4x8 plywood (x1), 2x4x8 (x5), 1x4x8 (x16), hinges (x4), wood glue, finish nails, screws |
| Tools: | Drill, miter saw, table saw, circular saw, jig, nail gun |
| Length: | Complex |
If you are feeling more ambitious, you can tackle a full corner bench with under seat storage. These plans will walk you through how to build a large bench with ample storage underneath. You can make this bench an outdoor bench by simply using outdoor paint and pressure treated lumber. This outdoor bench is an amazing project because it can add four to six seats plus a ton of versatile storage. You can partition the storage for better organization. These plans are fairly complex and require a large number of power tools to get just right, so this project is not for the faint of heart.
---
7.

Classic Woodshed by How To Specialist
| | |
| --- | --- |
| Materials: | 2x4x8 (x25), 2x6x8 (x2), 3/4x4x8 plywood (x1), shingles and paper (25 SqFt each), screws, wood glue |
| Tools: | Drill, miter saw, jig saw |
| Length: | Intermediate |
There are few things as classic as a basic woodshed. These sheds are staples of outdoor spaces all around the world. They store firewood in the winter and look great near firepits and garages. This classic woodshed will give you a functional and aesthetic storage option. This shed can store more than just firewood. Since it is covered and built from outdoor materials, you can store many different things under cover with this classic lean-to. This shed requires quite a few pieces of wood, but overall, the construction is fairly basic for those willing to put in the time and effort.
---
8.

Stylish Storage Ottoman by Craft Box Girls
| | |
| --- | --- |
| Materials: | 5-gallon bucket with lid, 150 ft. of sisal rope, heavy-duty exterior glue, gel stain |
| Tools: | Scissors |
| Length: | Basic |
Quickly turn any outdoor bucket into a clever and creative ottoman in just an hour. These free plans can help you create one (or multiple) storage ottomans. These buckets are wrapped in rugged outdoor rope and can be decorated to match your style. With the lid on, you can easily prop your feet up while sitting in your favorite outdoor chair. With the lid off, you can store odds and ends inside the bucket to keep them out of sight. Together, you get a unique addition to your outdoor seating game and extra storage. Since this project is fast and cheap, you can easily make multiple in a single afternoon.
---
9.

Clever Trash Can Cover by Woodshop Diaries
| | |
| --- | --- |
| Materials: | 2x4x8 (x5), 1x4x8 (x13), wood screws, hinges, and latch, paint or stain |
| Tools: | Miter saw, drill, jig |
| Length: | Intermediate |
Trash cans can be an eyesore. Bulky trash cans and recycling bins can easily throw off a carefully curated curb appeal. Now, you can hide those ugly trash bins inside a clever and pleasing trash can cover. These plans will walk you through how to build what is essentially a miniature shed that will hide your ugly trash cans. You can put a hinged lid on it so you can still easily throw your garbage away. Since it is made from basic wood, you can paint it or stain it however you want to perfectly match the exterior of your home.
---
10.

Repurposed Water Trough Table
| | |
| --- | --- |
| Materials: | Old water trough, old wood flooring for top, casters, 2x4x8 (x2), wood glue, hinges |
| Tools: | Drill, clamps, miter saw |
| Length: | Basic |
This repurposed water trough table is a great way to use old materials and give them a completely new lease on life. The creator of these plans used old hardwood flooring they had in their shop, but you can use any old wood that you have lying around. All you need to do is glue up the old wood to create a top, add the casters to the old trough, and attach the top using some heavy connective hinges. The result is a rustic table that can easily be opened and used for storage, including drink storage. This table looks great, will seamlessly fit a rustic aesthetic, and can be used in multiple unique ways.

Tips for Creating Outdoor Storage Areas
Building an outdoor storage area can be as simple or as complicated as your DIY skills can handle. However, you should consider a few things before you get started so that your project is constructed correctly and you don't injure yourself in the process.
Use the Correct Ear and Eye Protection
No matter which project on today's list you decide to create, it's critical that you protect your delicate eyes and ears. Even something simple, like using a hammer, can be loud enough to cause hearing damage. Also, using any type of tools to cut, drill or otherwise prepare and attach wooden pieces is inherently dangerous for your eyes.
Be sure to use goggles to protect them from flying debris and a good set of earmuffs to protect your ears and prevent tinnitus. If you construct a project with a friend or family member, be sure to provide them with eye and ear protection also, especially adolescents.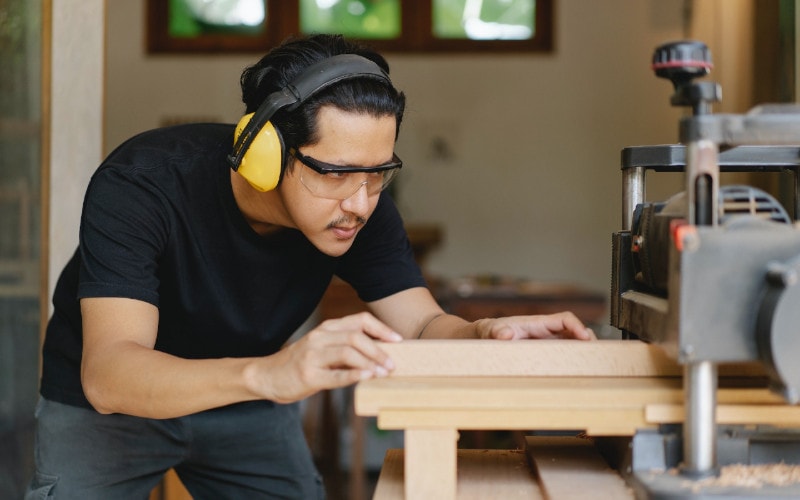 Measure Twice, Cut Once
One of the most common mistakes many DIY enthusiasts make is cutting a piece of wood or other material to the wrong size. To avoid this common problem, use the old carpenter's saying; measure twice, cut once. This old adage simply means to measure anything that needs to be cut two times to be sure it's the correct size before cutting. That way, you'll only have to cut once and will keep material waste to a minimum.
Choose Your Location Wisely
If you decide to make a shed or lean-to shed, be sure to choose your location wisely. Once you've laid a foundation and built your shed, moving it could be difficult, if not impossible. A lean-to shed, for example, attaches to your home and usually involves making several holes when sawing or drilling.
Some sheds need a concrete base that will be heavy once poured and difficult to move. Also, placing a shed or lean-to shed where it will be well protected from the elements is essential, especially if you live where it rains a lot.
Remember that the sun will heat up a shed, and its interior, to extremely high levels and could damage the items stored inside. If you can place it where the sun won't affect it as much or on the side of your home that's better protected from rain and wind, the items you store will be better protected.
Conclusion
From Boho chic ottomans to classic rustic woodsheds, there are ideas on here for every skill level and style. Soon, your curb appeal will be enhanced with these clever storage ideas. Don't leave your loose items outside anymore. Instead, store them in your very own custom-built storage solution. You and your neighbors will love these fantastic ideas.
---
Featured Image Credit: Giovanni Seabra Baylao, Shutterstock