8 Free DIY Table Saw Workbench Plans You Can Build Today (With Pictures)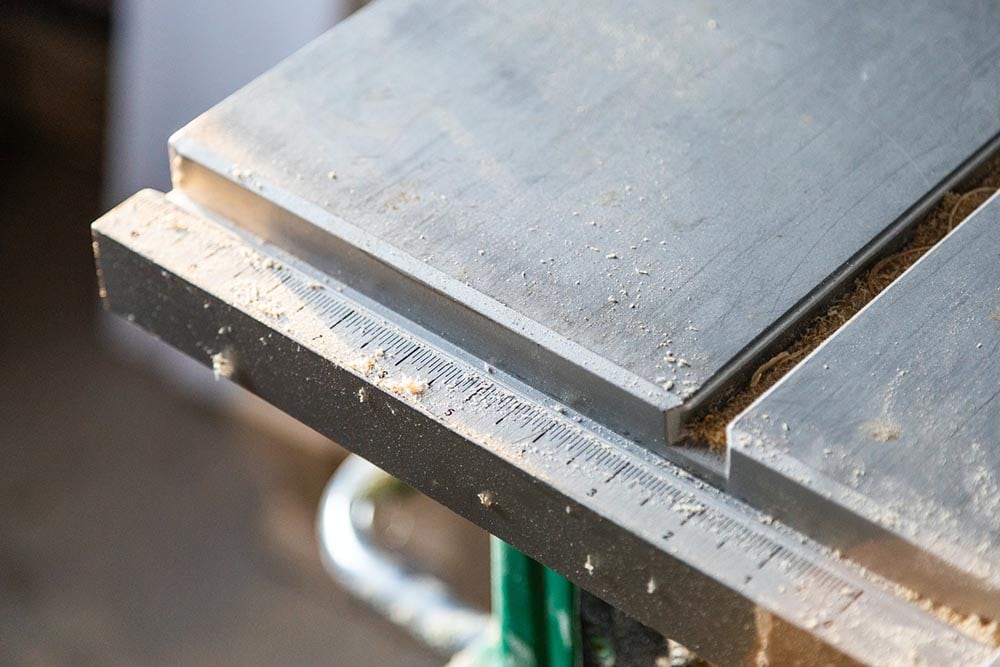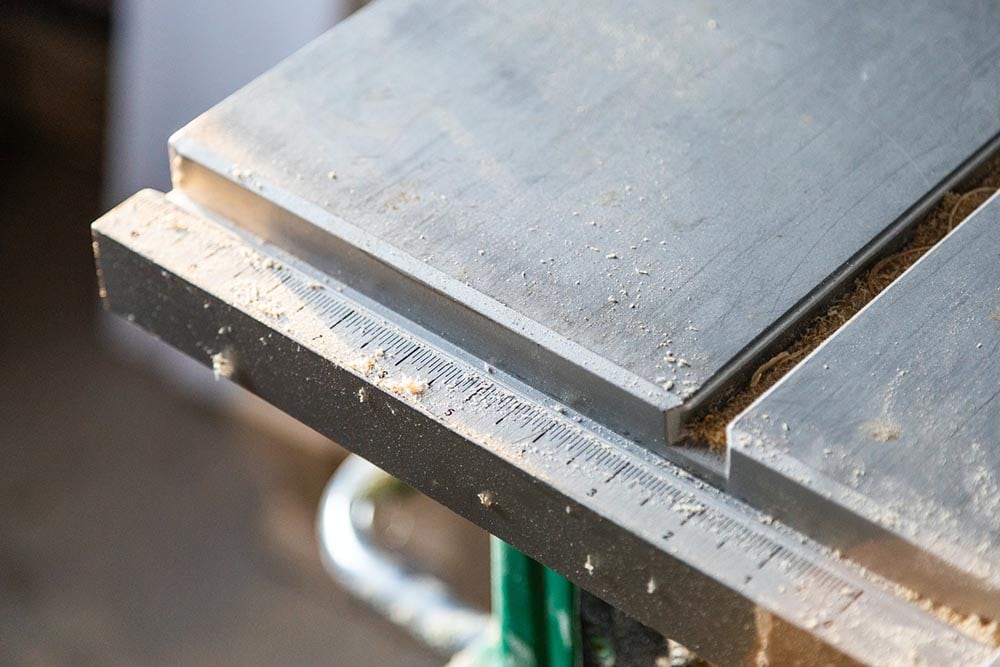 Though you can purchase one, it is very rewarding to learn how to build a table saw workbench yourself. The designs featured in this guide provide you with an affordable way to get a bespoke workspace. Plans range in complexity, but if you're the kind of person that owns a table saw in the first place, none of them should be beyond your skill level.
So, let's get right to it. Read on for some free table saw workbench plans you can build today!
The 8 DIY Table Saw Workbench Plans
1.

Ultimate DIY Rolling Workbench: From Ana-White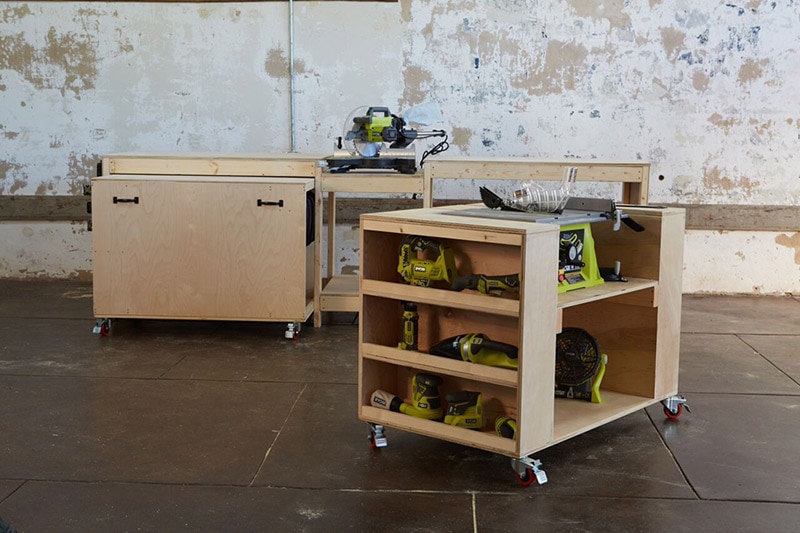 If you'd like some storage space in your workshop, this rollaway workbench has you covered. It creates not only a workbench, but plenty of rollaway storage and a built-in miter saw stand. We really like that the second cart can serve as an outfeed table, which saves tons of time when working alone. As a bonus, there's a spot for a Shop-Vac to make cleaning up a breeze.
---
2.

DIY Table Saw Workbench With Wood Storage: From ToolBoxDivas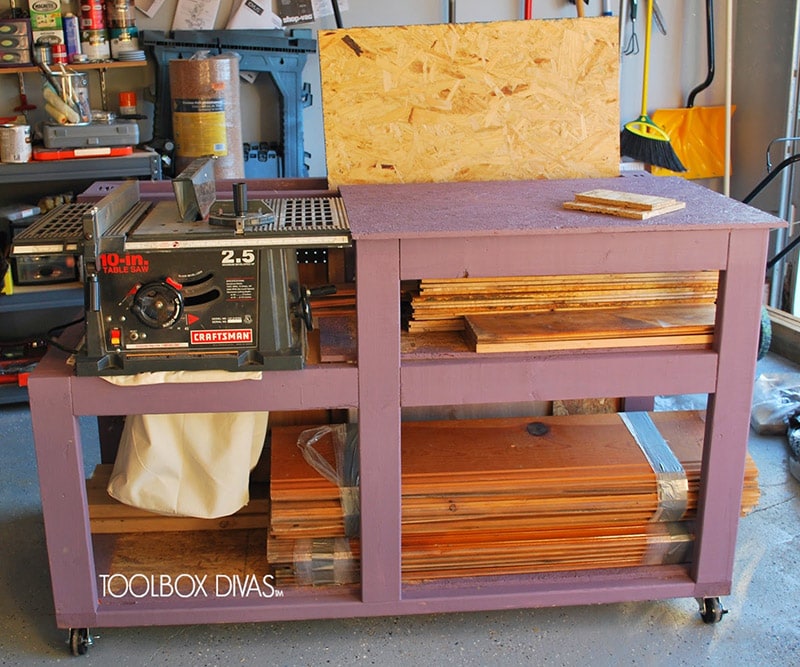 Storage can be hard to find in crowded workshops, but this handy workbench plan gives you plenty of under-table space to put pieces. This saves time finding the right workpieces when you need them, and you could use it for storing tools too. The middle is composed of two beams rather than a solid piece, which lets you put a dust bag below to catch sawdust.
---
3.

DIY Table Saw Stand with Folding Outfeed Table: From Anikas DIY Life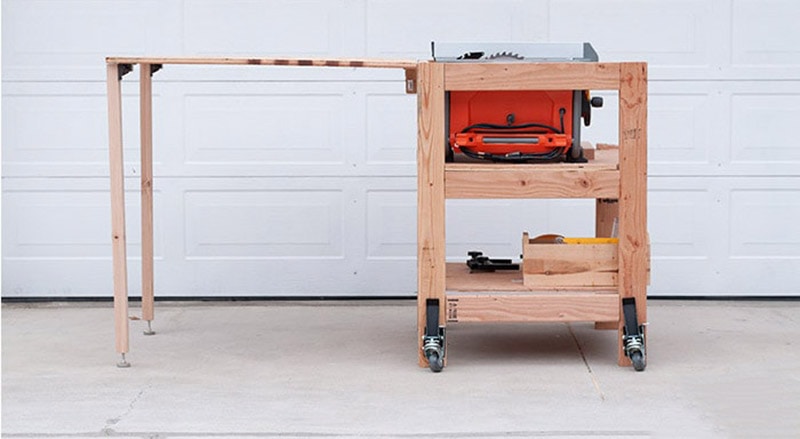 Space is at a premium in any garage or workshop, and this DIY table saw stand keeps that in mind. Rather than a solid table, half of the workbench is put on hinges to fold down when not in use. On the bottom half, you have some storage space, too, which is always welcome. Use it to more efficiently use your space or just as a compact rolling workbench.
---
4.

Customizable DIY Table Saw Workbench: From 100Things2Do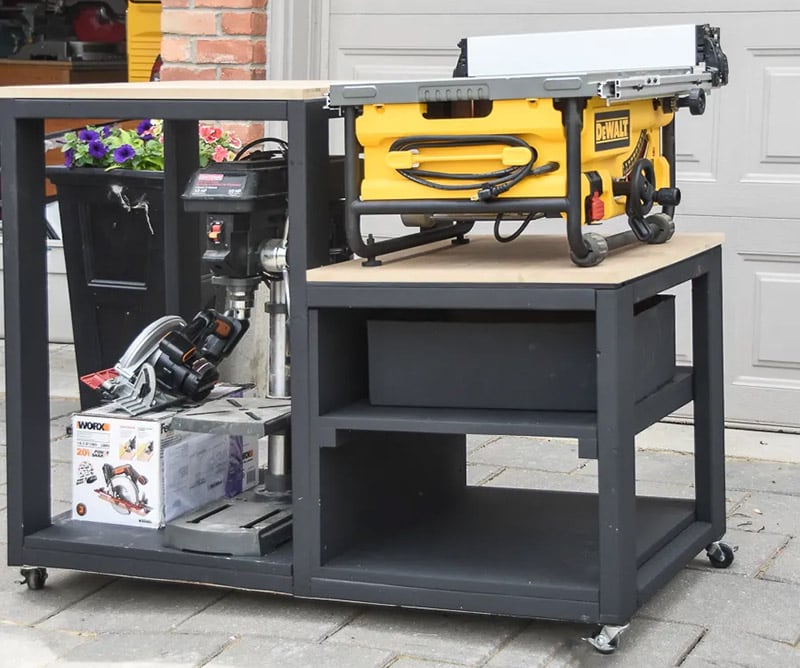 If you're tired of workbench plans that don't suit your storage needs or preference, build this customizable table saw workbench today. It gives you the basic template and instructions, then shows how you can adapt it to build your ideal shelves. The default plan has a large space underneath the outfeed table and two smaller shelves for tools, but there's a lot you could switch up with it.
---
5.

DIY Table Saw Stand with Storage: From The Handyman's Daughter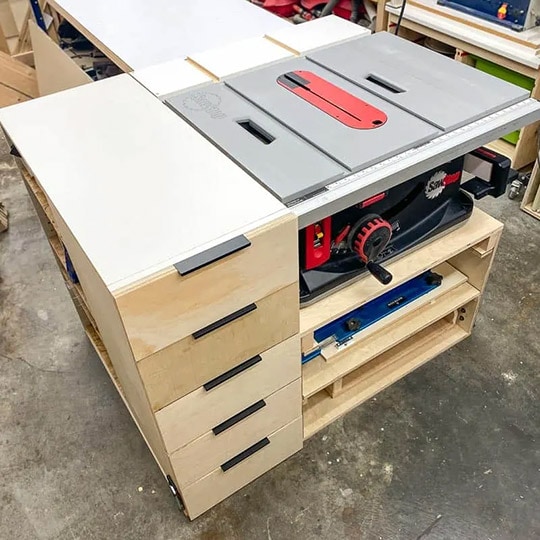 If the preceding plans didn't have enough storage for you, this table saw stand with multiple drawers and shelves is sure to fit the bill. There are some really nice features like a built-in dust collection hose and tray for sawdust, but we love the ample storage.
There are no less than five sliding drawers and four shelves, which should be plenty. Last but not least, this workbench has a shockingly small footprint to fit cozily into the most crowded spaces.
---
6.

DIY Mobile Miter and Table Saw Workbench: From Tylynn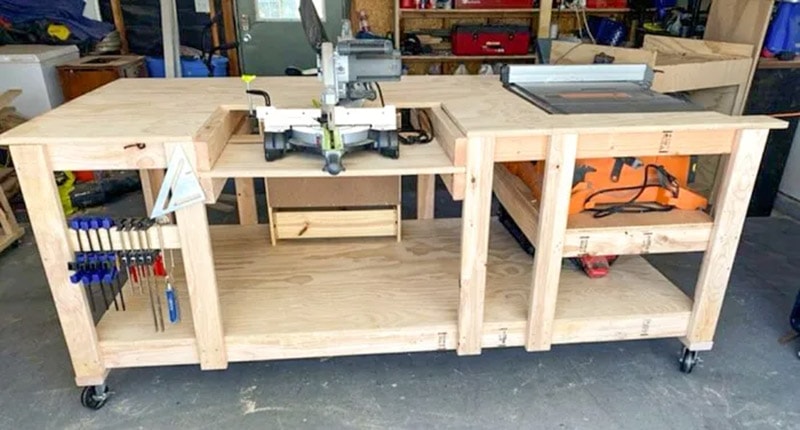 This mobile workbench plan gives you a place for your table and miter saws without skimping on your work surfaces or storage space. This cleverly designed workbench has a vertically sliding shelf that comes down to hold your miter saw, and you can slide it back up to smoothly feed boards into the table saw. For folks that use both saws regularly, this is an awesome way to neatly organize them.
---
7.

Miter Saw Bench: From Shanty-2-Chic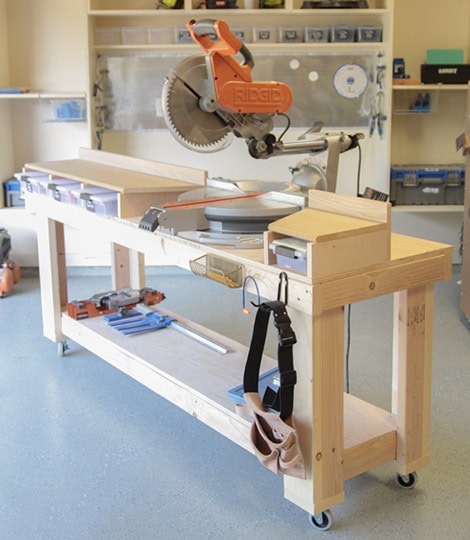 This miter saw bench has everything you need. Plus, the minimalistic design helps you save space while still having plenty of room to hold your saw and other tools that you don't have storage for. The wheels on the bottom also make it easy to roll around so that you always have plenty of room and flexibility while you work.
---
8.

3 in 1 DIY Plan: From CreativityHero
Finally, from CreativyHero, we have a design that can be built around up to three different tools. It's perfect for those that have a large collection, but it's also compact enough to comfortably fit even in smaller workshops.

Conclusion
There really is something on this list for everyone. Whether you want something premium or just a basic workbench that will help you accomplish your goals, learning how to build a table saw workbench is easier than ever. The table saw is one of the most important tools in any woodworker's arsenal, so choose a design that you will be happy with!
---
Featured Image Credit: David Ballew, Unsplash