20 Front Yard Landscaping Ideas (With Pictures)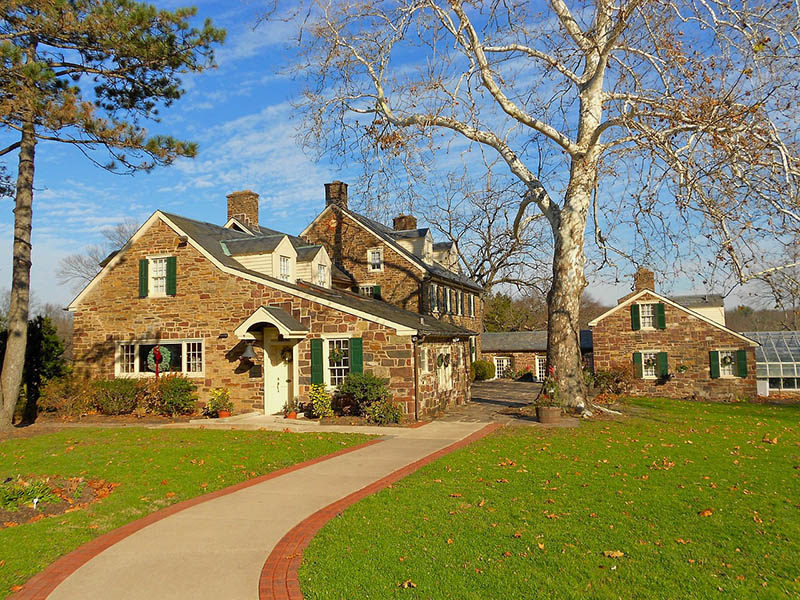 While we focus on cleaning and decorating inside the house to make it more comfortable, we can't forget the value of our landscaping. Outdoor spaces impact anyone who passes, significantly affecting how they perceive us and our home. Beyond the pleasing looks, many people believe the power of that first impression can even increase their home value by up to 11 percent!1
An immaculate front lawn will undoubtedly turn heads. However, if yours is the victim of poor planning and unkempt gardening, you can expect your outdoor design to capture attention for all the wrong reasons. Start moving your home's curb appeal in the right direction with these 20 front-yard landscaping ideas.

The 20 Front Yard Landscaping Ideas
1.

Curving Stone Path
A well-defined path to the door is a logical step in giving guests a warm welcome to the home. A curved walkway adds fun and interest every step of the way. With footpaths separating shrubs and delicate landscape features from the lawn, you'll also make mowing much simpler.
---
2.

Rockscaping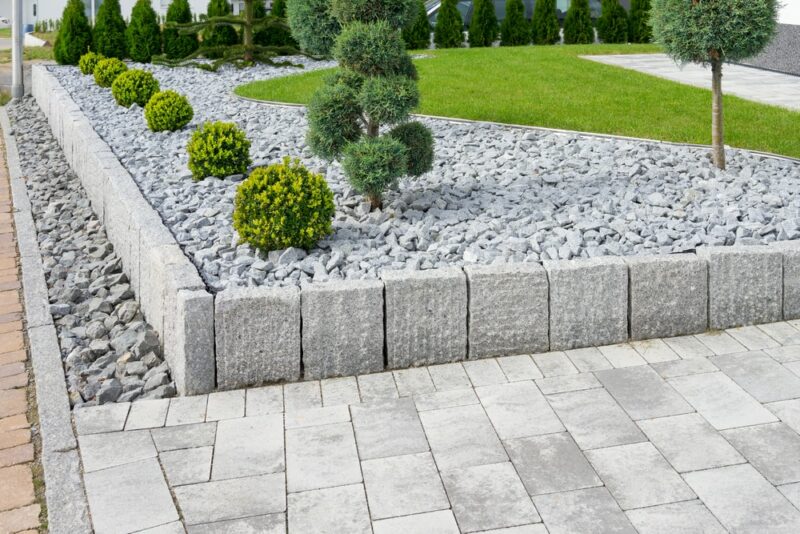 Gravel, river rocks, and other colorful and textural stone features add modern beauty and practicality to the front yard. Needing little help, they can withstand foot traffic, improve drainage, and stop pests from making a home. Even the most subdued plants pop against the complementing sea of neutral-toned rocks.
---
3.

Low-Maintenance Features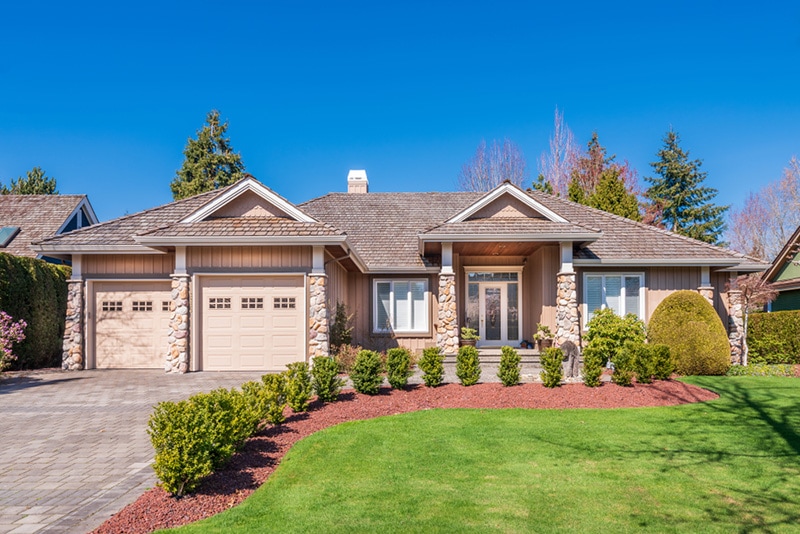 A crisp front yard doesn't always demand constant upkeep. With durable hardscaping features carrying more of the load and simple aspects like a lush lawn and mulched shrubs, the look stays clean and controllable.
---
4.

Bold House Numbers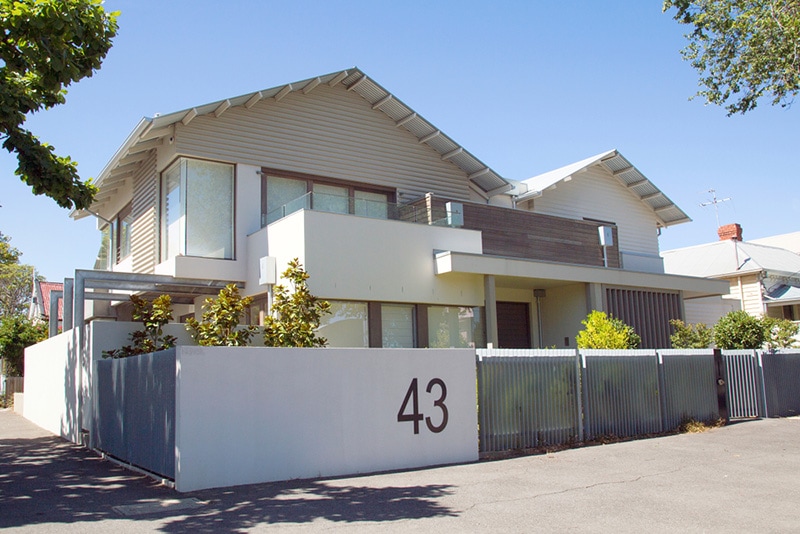 Make a statement while making it easy to find your house. Every house needs a house number, and getting creative with essential details like these will add up to an overall impressive design.
---
5.

Lush Evergreens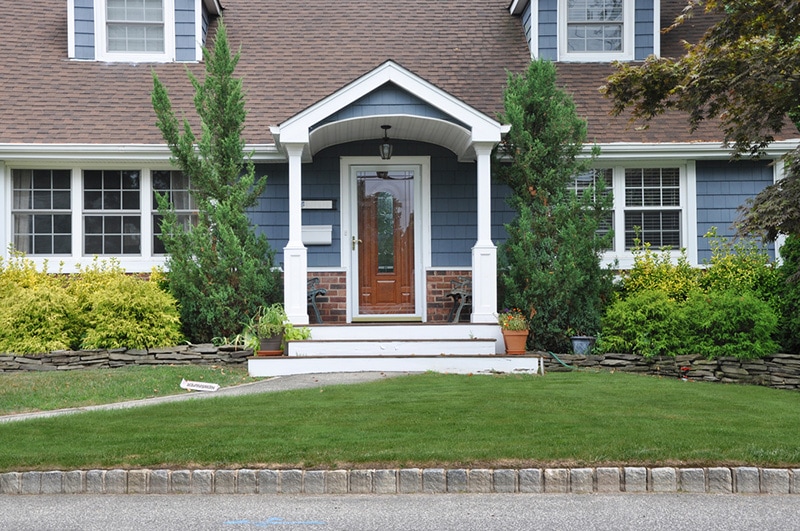 A bevy of bright and deep evergreens maintain year-round delight, some with enduring colors and others with seasonally shifting tones. Boxwoods, Japanese holly, Leyland cypress, and countless other plant choices can create contrasting colors, sizes, and forms.
Evergreens offer manageable aesthetics that effortlessly complement the home and highlight perennial floral hues.
---
6.

Pollinator Plants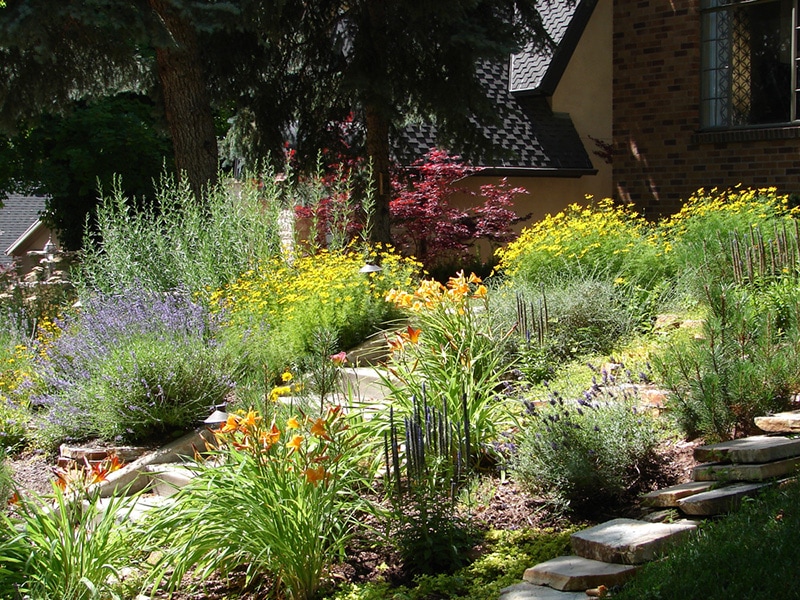 Plants don't just supply liveliness and color; they invite it, too. Pollinator plants like coneflowers, lavender, sunflowers, and foxglove create wondrous palettes to line driveways and paths.
Attracting butterflies, hummingbirds, and other seasonal pollinators, the additions bring even more entertainment and beauty to an already attractive front yard.
---
7.

Spring Garden
A spring garden takes planning and work, but the sensory splendor is something your entire neighborhood can look forward to every year. Layers of gorgeous seasonal blooms transform the front yard as the weather warms. Fragrant flowers, full shrubbery, and ever-expanding patches of bulbs make for dazzling displays.
---
8.

Containers Galore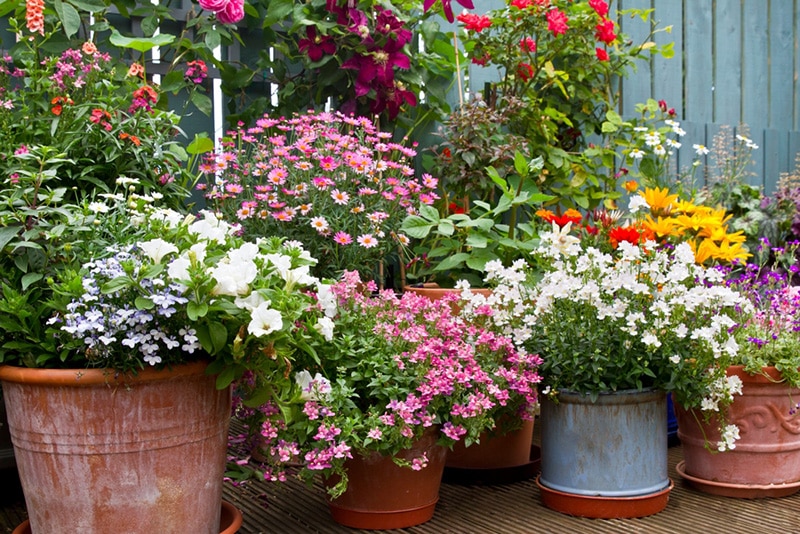 Containers add two levels of aesthetic delight. Alongside the rotation of flowers keeping the show fresh, the containers can infuse the front yard with class and personality. Whether you use a vintage metal drum, a classic terracotta pot, or a fashionable modern planter, the container can always elevate the design.
---
9.

Retaining Walls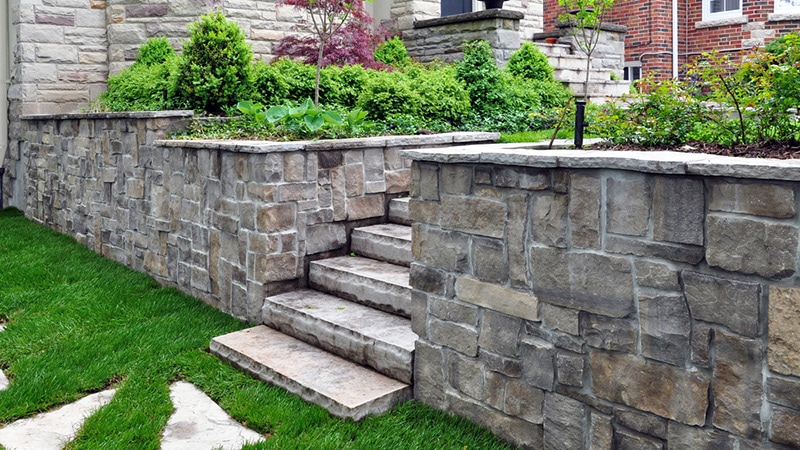 A series of retaining walls will manipulate a tricky front slope into a versatile planting solution. Tiered layouts allow you to break up the design and create unique patterns of flowers, shrubs, and low-lying leafy vegetation. The neutral backdrop of the wall can take on any color and texture to emphasize the landscaping precisely as you want.
---
10.

Softer Barriers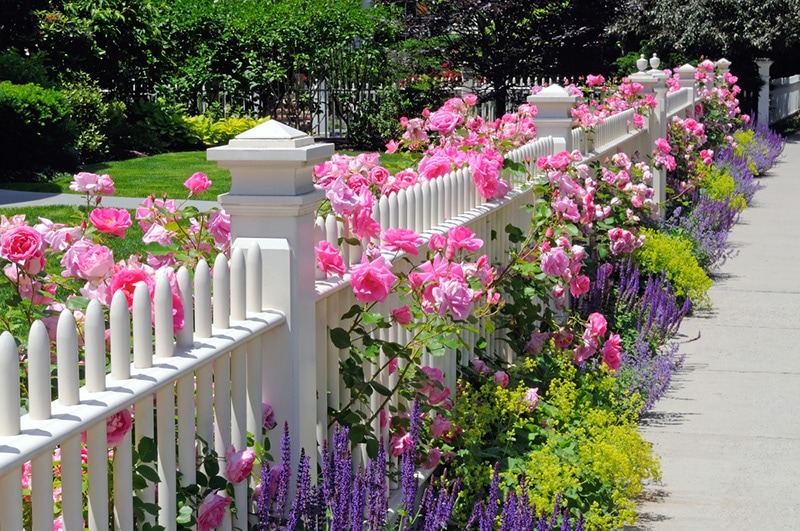 Maintain privacy and a welcoming tone by sprucing up the front lawn border against the road. Climbing roses, Boston ivy, and other bright plants create a visual shield that delights passersby, while herbal fragrances offer an added perk.
---
11.

Japanese Garden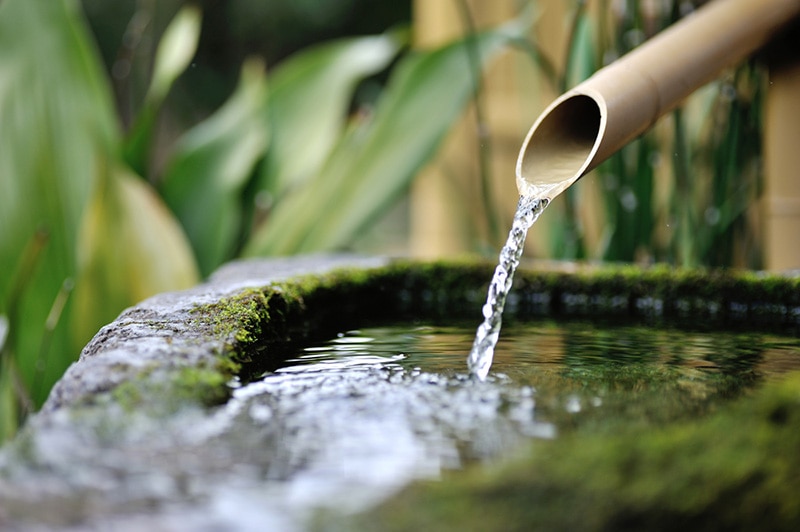 A tranquil atmosphere isn't only appropriate for a secluded backyard. Create a relaxing mood for anyone coming to the front door with Japanese plants, stone sculptures, and water features, such as a shishi-odoshi.
---
12.

Shade-Tolerant Undergrowth
The towering tree is a quintessential front yard feature, but while we enjoy the shade, it can seem limiting for other plants. Rather than settle for a swath of mulch to surround it, add shade-loving plants to liven up the lawn.
Hostas, ferns, rhododendrons, and much more can handle limited light, giving your yard a notable upgrade in its darker patches.
---
13.

Single-Plant Focus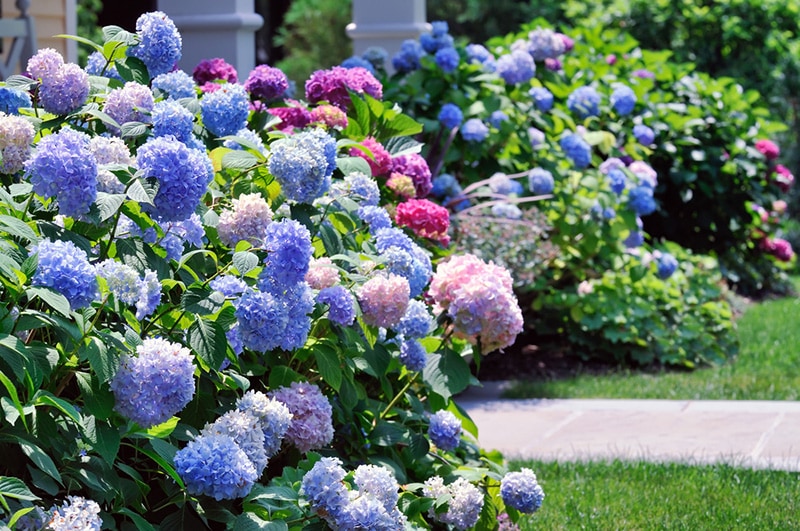 Curating a cohesive collection of evergreens, annuals, and perennials can seem overwhelming if you're only starting to design your front lawn. Sometimes, the simplest approach is best. Picking a single can't-fail plant, like reliably gorgeous hydrangeas, as a foundation for your yard's landscaping will ensure it always looks well-coordinated.
---
14.

Hedge Borders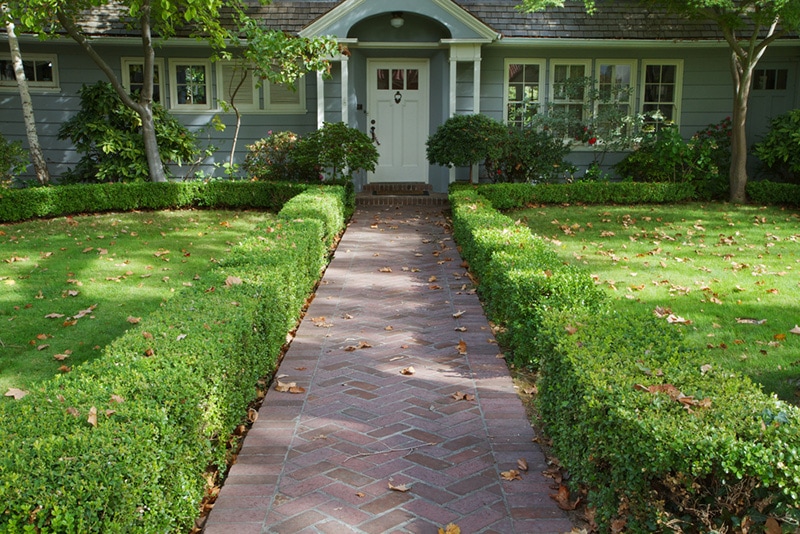 Shaped hedges are classy and professional. Adding art and utility, they make excellent solutions to fill spaces along walking paths, create a privacy screen against the edge of the lawn, and serve as a living neutral backdrop for colorful floral shows.
---
15.

Embrace Minimalism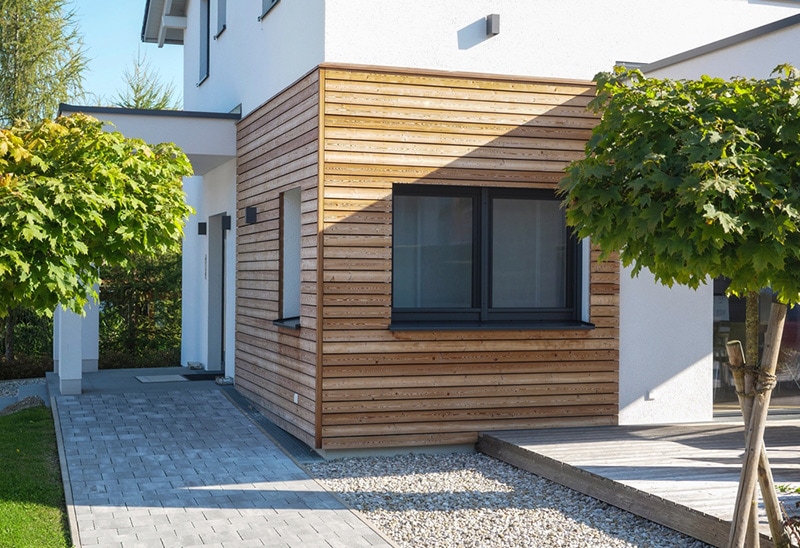 A modern geometric home pairs well with simplicity on the front lawn. Keep the cleanliness going by selecting hardscaping features like sharply defined stone borders, concrete paths, and elegant organic splashes in leafy plants like fig trees and Japanese maples.
---
16.

Colorful Borders
A vibrant pathway is a delightful way to treat your guests, enhancing the front yard with a dreamy quality on the walk to the door. From flowering shrubs to aromatic herbs, numerous low-growing plants can create a pleasant experience.
---
17.

Flowery Edges
Manicured hedges and shrubs are foundational bits of outdoor decor, but if you feel like they're lacking life, a contrasting line of low-growing flowers will deliver a much-needed spark. Perennials like sedum, phlox, or daylilies can tie the landscaping together and provide new perspectives on your other greenery.
---
18.

Patterned Driveway
The lawn takes center stage, but the driveway plays a critical supporting role in an attractive front yard design. Use colored pavers in sophisticated layouts or break up the sections to let the grass peak through. Whether your style is more traditional or modern, there's always a way to zest up your drive with an inspiring pattern.
---
19.

Dynamic Forms
Front lawns can show off with more than pretty colors. Bold, unique plants capture attention with their moving forms. Grasses and succulents like aloe, agave, and zebra plants combine to form sensational explosions that will surely catch anyone's eye.
---
20.

Xeriscape Layouts
The conservative, low-maintenance, and always attractive xeriscape yard is a clever choice for a modern home. Add layers of color, texture, and movement with succulents, grasses, and cacti that need little water or maintenance to look their best.
Factor in the various shades of gravel, and you have even more ways to coordinate the elements with your home and each other.

Conclusion
A well-designed front yard is your chance to show off your creativity, personality, and stylistic sense to the world. While a showstopping arrangement may seem beyond your scope or budget, anyone can use simple touches to make meaningful upgrades. With inspiring landscaping designs like these, you can find the perfect way to boost your home's curb appeal today.
---
Featured Image credit: David Mark, Pixabay