7 Best Drill Press Tables in 2023 – Reviews & Buying Guide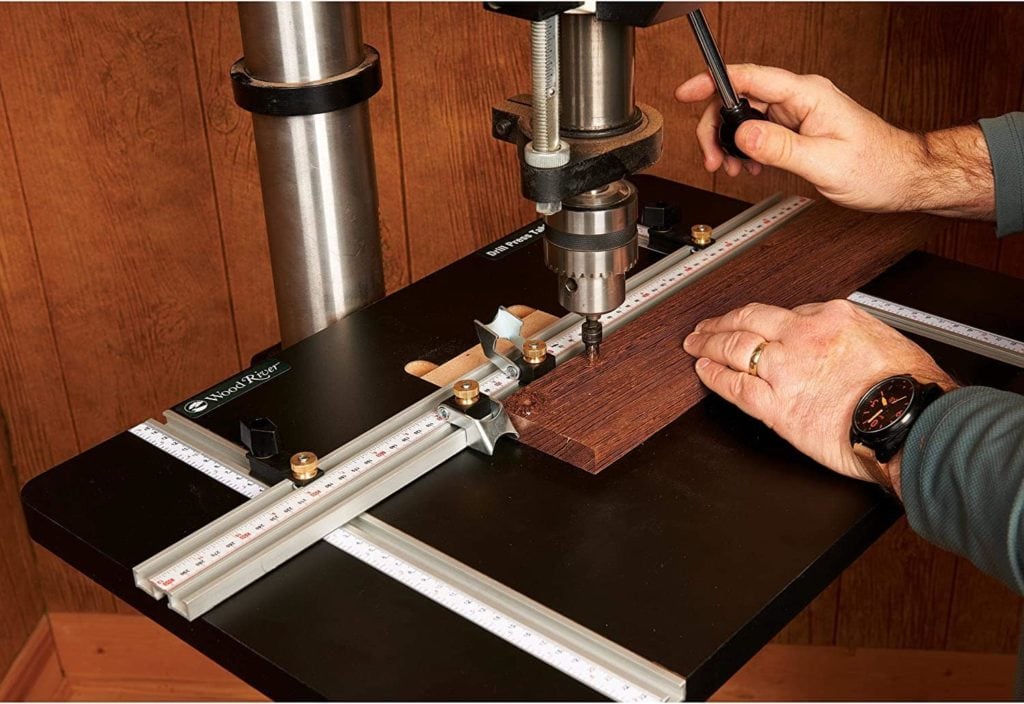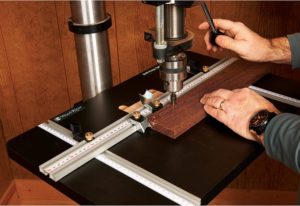 Drill press tables will usually work with a range of hand drill press models, although some models are specific to certain brands and sizes of drill press. These aftermarket drill tables are stronger, sturdier, more adjustable, and generally better quality than the often flimsy and small cast-iron tables that come as part of many drill presses.
The table is meant to improve your accuracy and reliability, increase the speed and precision at which you work, but it will usually take up more room than the included table. Look for long-lasting models made from durable materials. Ensure that your drill press fits the table without having to customize and alter the table itself. Finally, make sure that the table is adjustable and that it will fit in the confines of your workshop or work area.
The list of available drill press tables includes models from manufacturers like DeWalt, ShopFox, and WEN, it can be difficult to find the ideal model for requirements, but we've compiled a list of seven of the best tables you can buy.
---
A Quick Comparison of Our Favorites (2023 Update)
Rating
Image
Product
Details

Best Overall

Fulton 1014 Drill Press Table

Thick tabletop offers vibration dampening
Center cut out for drum sander
Easy to clean
CHECK PRICE

Best Value

WEN DPA2412T Drill Press Table

Cheap
Compatible with 5"-16" drill presses
Sliding fence stop block
CHECK PRICE

Premium Choice

WoodRiver Drill Press Table

Large table
Compatible with 14"+ drill presses
Folding saddle stops
CHECK PRICE

Woodstock D4033 Drill Press Table

Cheap
Good quality fixing clamps
CHECK PRICE

Woodpeckers WPDPPACK2 Drill Press Table

Large table surface
Microdot coating grips well
Engraved measures on tracks
CHECK PRICE
The 7 Best Drill Press Tables
1.

Fulton 1014 Drill Press Table – Best Overall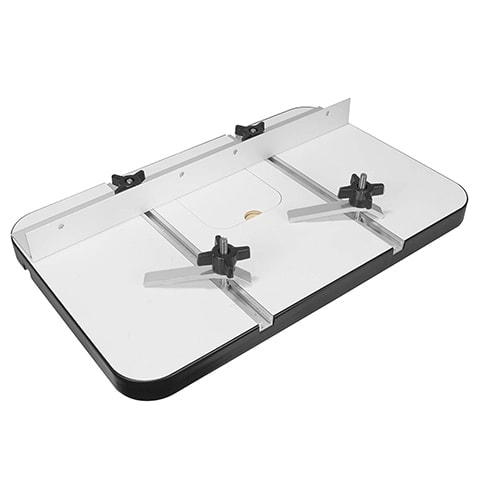 The Fulton 1014 Drill Press Table measures 15 by 24 inches and is made from 1⅜-inch thick MDF atop alloy steel. It is easy to clean, using household cleaners, and it has two racks with a ⅜-inch hex bolt. As well as being compatible with most drill presses, including slotted and non-slotted tables, thanks to its track mounting feature, and it also has a 1-inch deep hole in the top that accepts a drum sander and enables you to use this table as a table sander surface, too.
Despite being less expensive than the majority of tables on our list, the Fulton is a thick table and it offers excellent vibration dampening. Its ability to accept a drum sander further increases its value and usefulness. The only major complaint is that the assembly screws that come with it are low quality, and you will be better swapping these out with something more robust and long-lasting. Also, you will have to adjust the fence when first installed, because this won't be square.
Pros
Cheap
Thick tabletop offers vibration dampening
Center cut out for drum sander
Easy to clean
Cons
The fence isn't square on arrival
Assembly screws are of poor quality
---
2.

WEN DPA2412T Drill Press Table – Best Value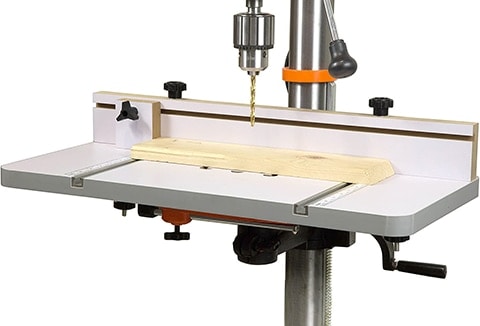 The Fulton is cheap and good quality, but it is WEN that brings us the inexpensive DPA2412T Drill Press Table that costs even less. It measures just under 24 x 12 inches, which means that it is slightly smaller than the Fulton. It's also 1-inch deep, which means that it is thinner and you will notice this when drilling into workpieces because the thinner tabletop does not do as good a job of killing vibrations.
While the WEN DPA2412T has been designed to be compatible with all WEN drill presses, the table will work with any 5 to 16-inch drill press. It includes an adjustable fence and because it doesn't have the sander cut out of the Fulton, it does have a sliding fence stop block. It also has onboard rules to help insure accurate drilling and measurements every time.
Oddly, although this drill press table does well as a universal table, some WEN drill presses do not fix well using the included clamping system and you might find that the whole table slips and slides during use, especially with the 4214. You will need to make some adjustments to the clamps to get the best results with this drill. However, its price and decent features mean that the WEN DPA2412T Drill Press Table is one of the best drill press tables for the money.
Pros
Cheap
Compatible with 5"-16" drill presses
Sliding fence stop block
Cons
Bit small and lightweight
Some clamp adjustments may be required
---
3.

WoodRiver Drill Press Table – Premium Choice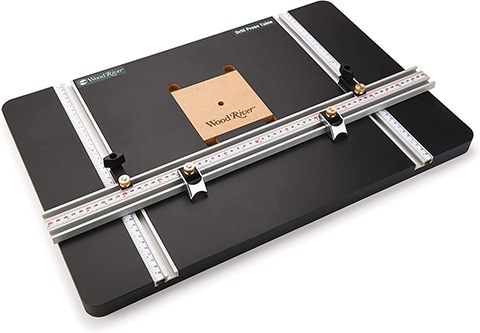 The WoodRiver Drill Press Table is a premium drill table. It measures 15½ x 23⅜ inches, which makes it a large tabletop. However, it is a modest 1-inch thick design.
The table is designed to fit on 14-inch and larger drill presses. It has a double T-track with an anchor fence that includes a measure to ensure precise drilling and accurate holes. Saddle stops can be easily flipped out of the way when not in use, allowing unrestricted access to more of the tabletop. The table mounts using bolts and screws, although you will need to provide your own screws, which is a bit of a shame considering this is one of the most expensive tables on our list.
However, it is a very well made table, is a good size, and the backstop and saddle stops are very useful additions to the table.
Pros
Large table
Compatible with 14"+ drill presses
Folding saddle stops
Fence backstop
Cons
Expensive
Need your own fastening screws
---
4.

Woodstock D4033 Drill Press Table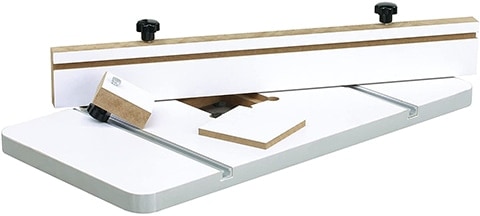 The Woodstock D4033 Drill Press Table is an inexpensive tabletop that measures 23¾ x 11⅞ inches, which means that it is a small top when compared to others we have reviewed.
It does, however, have a very useful 3-inch high fence and has two universal clamps to connect the table to your drill press. The T slots are smooth and easy to use, although it is sadly lacking any kind of a measure, and it is not made from a durable or particularly strong material.
Designed for light and occasional use, this drill press table will need to be combined with other items like long measures, but while the tabletop could be made from a more durable material, the clamps that connect it to your existing drill table are a reassuringly good quality metal compared the plastic models that you get in other, more expensive, tables.  If you're a regular or heavy user, look for something more robust. If you're an occasional use, the price tag and the decent fixing clamps, mean that this is worth the low investment.
Pros
Cheap
Good quality fixing clamps
Cons
The fence is a bit tall
The table itself is not made from the best quality material
---
5.

Woodpeckers WPDPPACK2 Drill Press Table
The large Woodpeckers WPDPACK2 Drill Press Table is a well-thought-out drill press table. It measures 16 x 23 inches so is on the large side. It is made from 1-inch thick MDF and has a laminate microdot coating. The drill press table is designed for use with 12-inch and larger drill presses.
The microdot laminate protects the MDF, enables relatively easy cleaning, and the microdot texture means that it offers some grip for your workpiece while still making it relatively easy to move your wood or other material around. The T tracks and the slide have accurate measurements engraved onto them, which negates the need to use additional equipment while drilling. However, the drill table can be difficult to attach to some tables, despite being billed as a universal table. What's more, it's difficult to get hold of because it is frequently out of stock.
However, if you can get hold of it, the engraved measurements on the tracks are excellent and may be enough to swing this purchase for you, if precise measurements are important and you don't mind fabricating some parts to help you attach the table to your drill press.
Pros
Large table surface
Microdot coating grips well
Engraved measures on tracks
Cons
Difficult to get hold of
May need to make your own fixtures to attach drill press
---
6.

MLCS 9765 Drill Press Table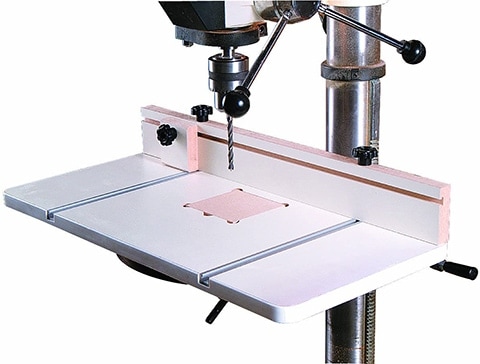 The MLCS 9765 Drill Press Table is a medium price table that offers decent results but would benefit from some refinement. The table measures 24 x 12 inches, so is a small drill press table but still probably larger than the one that was included with your press.
Made from ⅞-inch thick MDF, the MLCS 9765 is the thinnest of the tables on our list. It has two T tracks as well as an adjustable fence that is easy to move around and that can be removed when working on larger workpieces. The removable insert also allows you to add a sanding drum to convert the use of the table and making it multifunctional.
As with many of these tables, you may need to adjust the fixings and add some of your own hardware to ensure a stable fit, but the table has been designed for use with drill presses that have parallel slots and that accept 9½-inch or smaller center bolts. The fence seems to sit square without the need for any adjustments, but this table does fall on the higher end of the price scale, is quite thin and made from low-quality MDF, and it is sadly lacking in any measures or guides on the tracks.
Pros
Removable fence
Removable insert
Cons
Thin
Low-grade MDF
No measures on tracks
---
7.

Grizzly H7827 Drill Press Table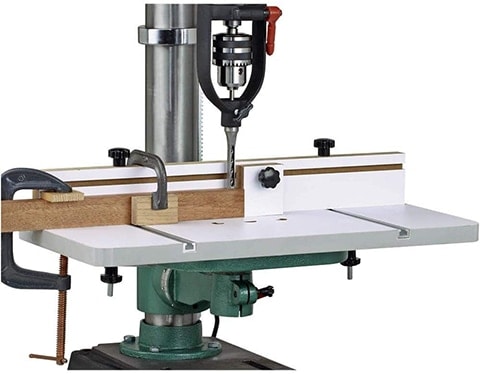 The Grizzly H7827 Drill Press Table costs slightly more than the MLCS above. It is approximately the same size at 23 ¾ x 11⅞ inch and it is made from 1-inch-thick melamine covered board.
Unfortunately, the board isn't the best quality, and the table is not durable or hardwearing because of that. The table has a universal fitting and includes two clamps, but you will want to swap out the screws that connect the clamps. The ones included are small land flimsy; They will easily break and leave the table to come apart during use. There are no measures on the tracks and the fence.
The fence is also a little big and cumbersome for the table, and the fence fastenings protrude which means that nothing can sit flush up against the fence face. There are better tables on the list, including some that cost less and offer greater durability and better features.
Pros
Universal clamps included
Cons
No measures on tracks or fence
Fence is too large
MDF is poor quality
Not that cheap
---
Buyer's Guide – Finding the Best Drill Press Table
Drill press tables combine with an existing drill press. They usually affix to the existing table using bolts or clamps, and one of the biggest buying decisions you make will be whether a table fixes robustly and firmly. It is important to bear in mind that drill press tables only include the table: they do not include the drill press itself, and you will have to buy one of these or use an existing one.
Below are some of the most important factors to consider when buying this type of product, to ensure that you get one that best fits your requirements and budget.
Why Not Just Use The Built-In Drill Press Table?
Drill presses are available as benchtop and standalone models. While benchtop drill presses attach to an existing bench and use this surface as the table that will hold your workpieces, standalone models have their own table. These tables are usually made from a piece of cast iron. While cat iron is a durable material, it vibrates a lot and the table tends to be very small. It is useful for machining, but not for drilling holes in long boards or for uniformly and accurately drilling repeated holes. The drill press table allows you to work on larger workpieces. It enables you to make a greater variety of cuts, and it encourages you to do so with much greater precision and accuracy.
However, to enjoy these benefits you will need to ensure that you get a good quality drill press table. Poor ones are weak, no bigger than the table that you already have, and it won't include features like engraved rulers or measures.
Can You Make Your Own Drill Press Table?
Of course, one way to ensure that your drill press table has all the required features and that it fits your drill press model to perfection is to machine your own table.
In fact, doing so enables you to use better quality lumber than the MDF that commercial tables are usually constructed from. You may even have this laying around your workshop or home, which means that you can save money on its manufacture, too. You can add multiple aluminum T tracks and you can incorporate removable inlays that enable you to turn your drill table into a desktop sander.
However, to build your own table you will need an array of tools and equipment, including a hole saw, table saw, router, drill and drill bit set, a belt sander, and a collection of drill bits including straight cut bits and bevel bits. Not everybody has access to these devices and buying them all means that you will surpass the $100 that the most expensive commercially made drill press tables cost.
Table Size
One of the biggest benefits of buying a drill press table, compared to using the one incorporated into your drill press, is that it is larger. It offers more room to work on so that you can work on larger pieces and you have more room to move about and get your work ready.
Typical tables range from 24 x 12 inches to 24 x 16 inches, but you may find some that are slightly smaller or larger than these dimensions.
Thickness
As well as the length and depth of the table, there is also the thickness to consider. Most of these tables are made from MDF, and in all but a couple of instances, they are 1 inch thick. Thicker tables, that can be as thick as 1½-inch thick, do a better job of dampening vibrations which makes them more comfortable to use but, more importantly, helps ensure accurate and precise drilling.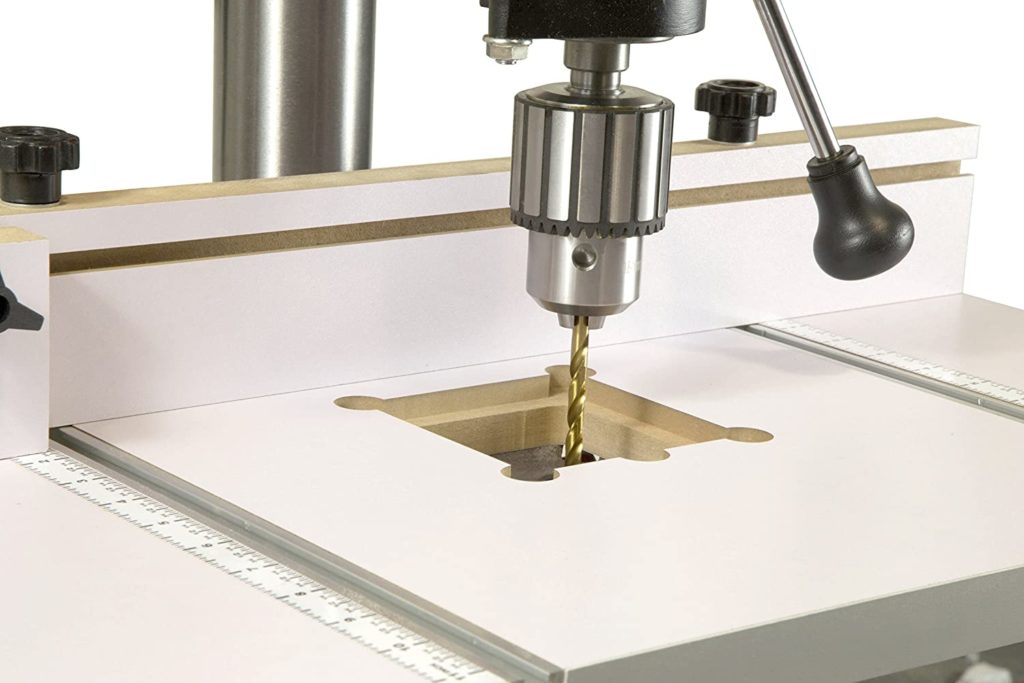 Fittings And Clamps
The drill press table will connect to the existing table that is part of your press. The most common means of doing this is via clamp so that the new table sits over the top of the existing table, and you turn the clamp fastenings into place so that they sit under the tabletop and prevent the table from slipping thanks to the application of pressure and the placement of the table overhang. Some aftermarket drill top tables may use a combination of bolts, washers, and screws to add further stability to the connection.
Check to see if the press table you are buying says that it is compatible with the size of the drill press that you own. Most say they are compatible with 15-inch presses, but some are compatible with smaller devices on the market too.
Fences
Fences are not usually included with the standard tables, but they are included with the best aftermarket tables, and they are crucial for some precision work. The fence sits at the back of the table and enables you to push your workpiece up to it.
This enables you to make precise holes in the wood and it ensures that you hit the same hole and the same position with every hole you make. Fences may be made from wood or metal, and some are removable, which is essential if you ever work with an oversized workpiece. If the fence cannot be removed, this prevents you from working with large pieces.
Product reviews may indicate if a fence doesn't sit square to the table. When this happens it can be very difficult to achieve straight drilled holes, and you may need to fiddle with the fence and the table to get a perpendicular finish.
T-Tracks
T-Tracks run perpendicular to the work surface and are usually made from aluminum, although some plastic variants do exist. They can be used to fasten a movable fence and they allow you to easily incorporate your own tools and accessories, such as clamps and other fasteners.
If you work with unusual workpieces or you have more than the most basic drilling requirements, these tracks will prove invaluable in your work efforts.
Measures & Guides
Some tracks and fences include laser precision guides and rulers. These can be engraved into the material and they enable accurate measurements before you drill. They reduce the amount of marking and measuring you have to do away from the table, therefore reducing worktime and increasing accuracy and reliability.
Although the addition of measures might be considered easy, these do not come as standard in drill press table design, so if this feature is important to you, look for it specifically.
Removable Inserts
You will notice that some of these aftermarket tables have removable inserts or removable inlays. These can be easily removed and they enable you to add different heads and devices to the table.
For example, you can remove the drill bit from your drill press and add a drum sander barrel, therefore turning the device into a capable table sander. Not all tables have these removable sections, and if you have no plans on using the table for any other purpose other than drilling, you may not need one.

Conclusion
A drill press table offers greater precision, accuracy, and reliability for your drilling. It will usually be more stable and provide a better work surface than the flimsy and often too small table that was included as part of the drill press itself.
They use clamps or bolts to fasten to the existing table, have T -track slots and fences to offer accurate drilling, and they can incorporate additional features and extra like engraved measures, or the capability to remove an insert and apply a drum sander to create an efficient table sander.
Choose a table that is compatible with your model and size of the drill press, ensure that it includes everything you need to affix it, and remember that features like engraved rulers aren't standard on all tables. Using our reviews, you can find the best drill press table that matches your workshop requirements, your project needs, and your budget, and we hope that we've made your drill press table buying experience a little easier with our guide.
The thick tabletop of the Fulton 1014 drill press table is surprisingly reassuring considering the table's relatively low price. While the WEN DPA2412T Drill Press Table is a little smaller and thinner, it is also cheaper, and despite its size difference, it is surprisingly tough and does have the sliding stop block.