Fuji Mini-Mite 3 PLATINUM Paint Sprayer Review 2023 – Pros, Cons, & Verdict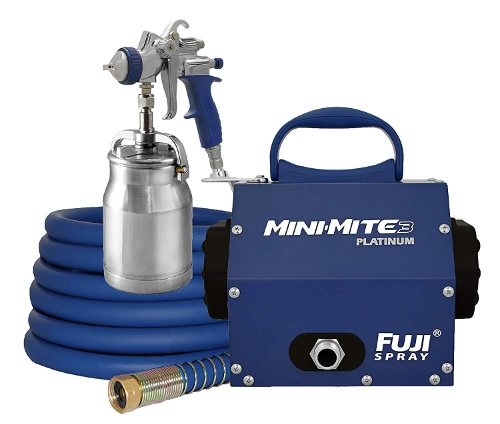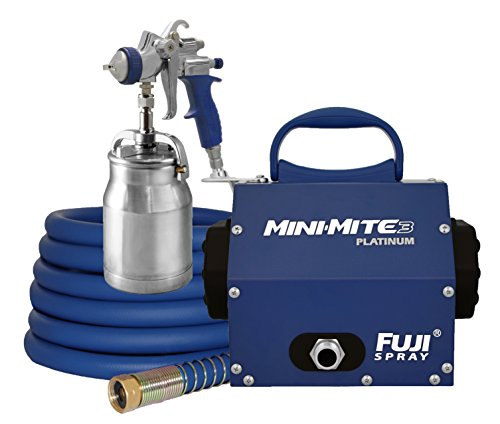 We give the Fuji Mini-Mite 3 PLATINUM a rating of 4.5 out of 5 stars. 
Build Quality: 4.5/5
Power: 5/5
Features: 5/5
Price: 3/5
Review Summary
If you're looking for an industrial grade finisher at a price that won't bankrupt you, the Fuji Mini-Mite 3 Platinum is going to be something to think about.
Though very expensive, this unit is still more affordable than many professional quality spray systems. And it delivers results that users at every level will love.
Fuji has a reputation for making high-quality finishers, and the Fuji Mini Mite 3 will certainly serve well to maintain that reputation.
The unit comes with a powerful, three-stage turbine motor, it can work with all known coatings (assuming they've been thinned as recommended), and it's optimized to run quietly, which is a big plus since finishers are known for getting loud.
Another nice thing is the fact that there aren't many cons to speak of. We did notice that the tool can get very hot around the host coupling, and we also found that the valve near the hose is a little bit flimsier than one would expect from a tool in this price range.
Of course, we don't expect you to make a buying decision based on this information alone.
That in mind, let us now dive into our Fuji Mini-Mite 3 PLATINUM review:
Our Fuji Mini-Mite 3 Platinum Review – A Quick Look:
Specifications
Company: Fuji
Model:Mini Mite 3
Cord Length: 25 Feet
Motor: 3 Stage
Weight: 27.9 pounds
Dimensions: 15 x 9.5 x 14.8 inches
Important Features:
Easy to Transport: For Professionals on the Go
If you're a pro who needs to travel with their equipment a lot, or if you're just an average do-it-yourselfer who appreciates a tool that's easy to move around the house, you're going to appreciate the Fuji1 Mini Mite 3's transportability.
The tool itself is relatively lightweight (weighing approximately 28 pounds), it's compact, and it even features a handle that will make transporting it easy as pie.
Optimized for Noise Reduction: Good for… Everyone
No one likes noise pollution, right? Finishers are notorious for being noisy, but this doesn't have to be the case. Fuji actually has a reputation for making remarkably quiet sprayers, and this unit is no exception.
The tool features noise reduction covers that will ensure a relatively peaceful work environment.
Can Work With Any Known Material: Good for Users Who Demand Versatility
Last but not least, the high-quality turbine motor, coupled with the highly proficient spray tips, ensure that you'll be able to use any finishing material that you can think of—assuming of course that they have been properly thinned.
The benefit of this is, of course, obvious. This versatility ensures that you will find lots of work for the Mini Mite 3 to do.
FAQ
Can you use this product to paint cars?
Yes! Painting cars is one of the many functions that the Fuji Mini-Mite 3 is capable of.
How durable is this sprayer?
Very durable. The Fuji Mini-Mite 3 is made of a durable metal housing that should have no trouble at all standing up to the wear and tear of any job.
What kind of warranty does this sprayer come with?
All Fuji products come with a standard two-year warranty.
What the Users Say
It's really hard to find a user of the Fuji Mini-Mite 3 who has something bad to say about it. Users really appreciate its versatility, power, and most importantly, the high quality of the finish.
Because of the easy-to-use interface, we hear from people with various levels of experience who enjoy the results that they see with this finisher.
Beginners are reporting something of a learning curve, but that's to be expected. Experts, on the other hand, seem to be unreservedly fond of this unit.
We've heard from a number of professionals who are using it with great success, which certainly tells you a lot about the tool.
In terms of complaints, there's not much to mention. The biggest and most consistent issue that we see pertains to the flimsy nozzle that we mentioned in the introduction.
Flimsy parts are never ideal, but in the event of a problem, your warranty should cover it.
Note! We've also reviewed these:
-> An in-depth review of the Fuji Mini-Mite 4
-> How does the Fuji mini mite 3 compare against its big brother, the Mini-mite 4?
Conclusion
If quality is your number one buying concern, then the Fuji Mini-Mite 3 is, without question, going to be a great investment. The power, the easy-to-use interface, and the versatility all make for a tool that most finishers simply cannot rival.
However, for many people, quality isn't all that there is to think about. There's no escaping the fact that this is a pricey finisher.
Though you can certainly find many industrial quality units that will cost a lot more, you can also find more basic options that will cost a lot less.
Whether or not the Mini-Mite 3 is worth your money is up to you to decide. We just hope that we helped to make your decision a little bit easier.