Fuji Mini-Mite 4 PLATINUM Paint Sprayer Review 2023 – Pros, Cons, & Verdict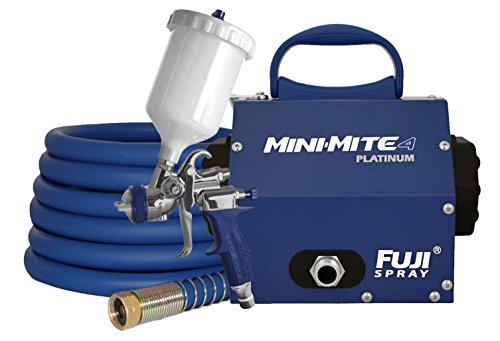 We give the Fuji Mini-Mite 4 PLATINUM a rating of 4.8 out of 5 stars. 
Build Quality: 5/5
Power: 5/5
Features: 5/5
Price: 4/5
Review Summary
Fuji has a reputation for making top-tier paint spray systems that are well equipped for handling do-it-yourself paint jobs, and even more demanding work.
The problem is that, in addition to delivering top-tier quality, they also come with a top-tier price tag. When in the market for an expensive tool, it helps to approach the buying process with as much information as you can get.
That in mind, we've done quite a bit of research and testing with the Fuji Mini-Mite 4 to see if it lives up to the hype.
And for what's it worth, it does in many ways. This unit features a high-quality four-stage motor turbine, it's easy to transport, and also easy to use.
Of course, there are also aspects of this sprayer that we aren't extremely thrilled with. It's a little noisy, a little challenging to clean, and it's also very expensive.
Is the Mini-Mite 4 worth the big price tag? Read on for our review of the Fuji Fuji Mini Mite 4 Platinum!
Our Fuji Mini-Mite 4 Review – A Quick Look:
Pros
Easy to Transport
Powerful
Easy to Use
Specifications
Company: Fuji

Model: Mini-Mite 4 Platinum

Dimensions: 17 x 14 x 16 in

Weight: 28 Pounds

Hose Length: 25 Feet

Motor: 4-Stage
Important Features:
Comfortable Spray Gun: Good for Long Days on the Job
You don't often think of comfort when looking into spray guns, but if you're serious about your finishing, you probably should. This is a tool that will spend a lot of time in your hands.

It should feel good while it's there, right?

The spray gun featured on this unit is designed to be lightweight, and even features an ergonomic grip that will keep you feeling comfortable as you work.
Professional Quality Motor: Good for Professional Level Quality
The motor that you get here is the same four-stage turbine kind of model that you're going to find in professional-tier units.

With a four-stage turbine motor, you're going to get all the power that you need for spraying a wider range of materials.

If you're looking for professional-level quality, these are the type of features that you really need to look out for.
Easy to Transport: Good for Users on the Go
Last, but certainly not least, the Fuji Mini-Mite 4 has also been optimized for easy transportation. The product's relatively low weight (28 pounds) shouldn't be extremely burdensome for most users, and the low profile design will be easy to move by hand or by vehicle.
FAQ
What kind of warranty does this product come with?

The Fuji Mini-Mite 4 comes with a limited two-year warranty that keeps you covered in the event of a malfunction.

Can this sprayer be used to refinish a tub?

Yes! You can use the Mini Mite 4 to easily refinish tubs and countertops.

Is this product durable?

While sprayers generally aren't meant to come into contact with much stress, this tool will be well-suited to handle the wear and tear of the job.
What the Users Say
The majority of people who use the Fuji Mini-Mite 4 are really glad that they do. In particular, we hear a lot of praise about the wide range of materials that it's able to use smoothly.

People also appreciate the fact that it's easy to transport and durable.

We've even heard from a lot of professionals (in departments like wood finishing) who are really happy with this purchase.

When the pros like it, the finishing tool must be doing something well, right?

The complaints aren't huge. We've heard from repeat Fuji customers who were a little surprised by how loud the tool runs. Fuji actually has a reputation for making quiet finishers. Unfortunately, this unit departs (ever so slightly) from that reputation.

That said, it's probably about as noisy as the traditional sprayer.

All in all, most people are really thrilled with the Mini-Mite 4!

Conclusion
So, is the Fuji Mini Mite 4 Platinium going to be right for your needs? There's no doubt that there are more affordable finishers out there. But for your money, you do get the professional quality that you'd be hard put to find elsewhere.

The tool is easy to transport, versatile, and most importantly, it creates an incredible finish that the majority of finishers out there just won't be able to rival.

If quality is important to you, the Mini Mite 4 is going to be an option you'll want to keep in mind.

Some other Fuji sprayers we've blogged about: