9 Garage Door Trends in 2023 – Design Ideas for a Modern Home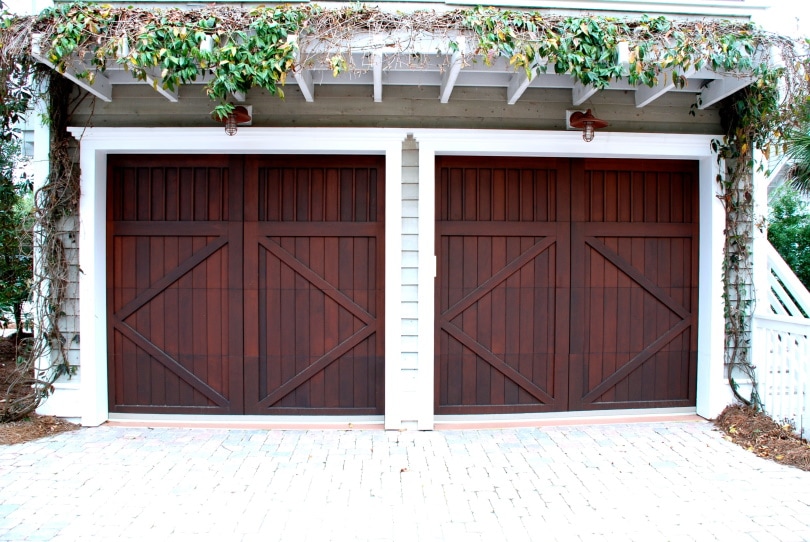 Garage doors have an important role in the exterior of your home. They can add curb appeal and make it unique and interesting. Having a trendy garage door is crucial to making your home stand out, so if you plan to replace yours, make sure you check out the new fresh styles on the market.
Several current trends will be attractive this year, so we wanted to help you get to know them better. Below is a list of the best garage door trends this year, so take a look and decide which ones will fit into your external aesthetics.

The Top 9 Garage Door Trends in 2023
1.

Farmhouse Garage Doors
Farmhouse Garage Doors will add a timeless, rustic but contemporary feel to your home. They are indeed a trend you don't want to miss this year. The outside of your home will look inviting and warm, while your garage will be protected and safe. Farmhouse garage goors come in various colors, shapes, and sizes depending on your needs. They come in lighter and darker wood shades and have modern details like steel or glass. You can choose the color palette to match the rest of the house and create a cohesive, harmonious environment.
---
2.

Colorful Garage Doors
If you're looking to spice things up and want to add personality to your home, replace your regular garage doors with colorful garage doors. It will be a perfect opportunity for you to show your character and add a personal touch to your exterior. Colorful garage doors are going to be a major trend today. The right color of the garage door will enhance the appeal of your house and make it attractive. You can go for any color you have in mind, such as green, blue, red, or even yellow. The variations are endless, so you can go for anything that appeals to you the most.
---
3.

Wood Trim Garage Doors
Wood trim has become extremely popular in the last couple of years, and there's no wonder that it will remain trendy this year. Depending on the style and color of wood you go for, you can make your home stand out, making it look luxurious and high-end. It is also a perfect way to add a natural feel to your overall aesthetic, especially if you mix it with other raw materials. Your home will look more cozy and comfortable on the outside, and there's a diversity of styles you can go for. Having wood trim garage doors is something you should surely consider for your home today. They are usually more expensive than steel doors, but they are worth the price.
Consult a garage door expert
Find a garage door specialist in your area, and get free, no-commitment estimates for your project.


---
4.

Black Garage Doors
Dark colors and bold looks and styles are very modern this year. If you decide to replace your garage door, you can go for black garage doors. The main goal with this type of garage door is to turn heads and catch the eye of anyone who's observing your home. Your home will get more curb appeal, and it will seem contemporary and expensive. A great thing about black garage doors is that they fit into any home type, so they will fit in perfectly regardless of your home being colonial, traditional, or in some other style.
---
5.

Garage Doors With Glass Windows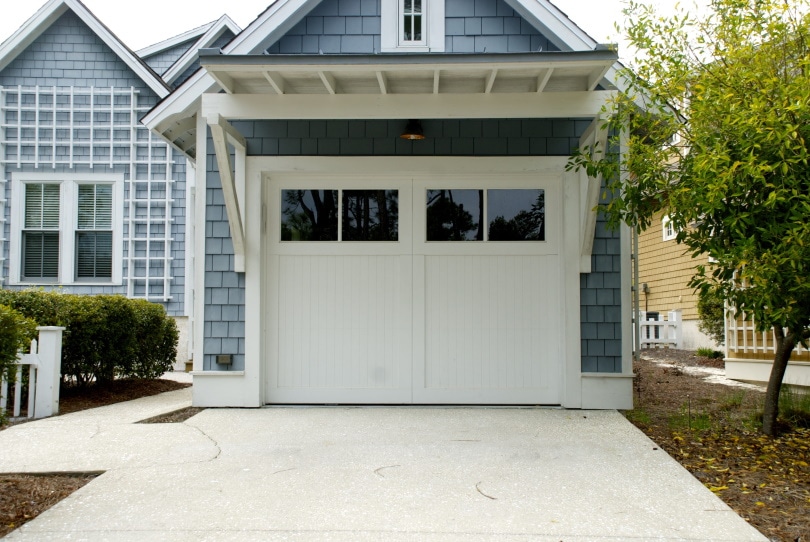 It's always good to have natural light in any room of your house, which also applies to your garage. That's why garage doors with glass windows will be super popular this year. Also, having glass windows on your garage door will make it better looking and more modern. They can easily fit in with any style of garage doors and transform their whole style. You can customize them per your wish, and the overall look of your home will be improved with this simple change, adding value and curb appeal to your exterior.
---
6.

Full Glass Garage Doors
Full glass garage doors are also becoming fashionable this year and are among the latest trends. They are also known as see-through doors, made out of metal framing and large glass panels. By installing this type of garage door, your home will look fresh and elegant on the outside. There's no doubt that they will look beautiful and add a lot of natural light to your garage. If you're considering this garage door type, be aware that they can get pretty pricey. Also, security can be compromised in a garage with this door type because neighbors or potential burglars might see inside the garage.
---
7.

Plank Garage Doors
Since the garage doors are one of the first things people notice once they pass your home, they need to look modern. Plank garage doors are a perfect match for contemporary and traditional design. They will make your home look and feel like an expensive mansion. There are endless options for customization when it comes to this type of garage door. Another great thing about plank garage doors is that they are very durable and easy to maintain.
---
8.

Wooden Garage Doors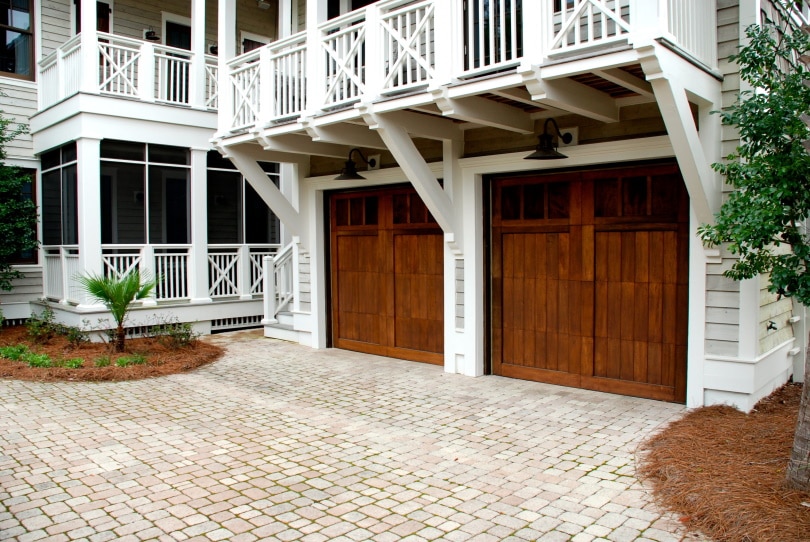 If you want durable but good-looking garage doors, consider one of the biggest trends this year: wooden garage doors. There are different kinds of wood you can go for, but any type will make your home look cozy, natural, and inviting. Since wood is a renewable material, you will also make your home eco-friendly if you go for this garage door type. If you ever get bored of how they look, you can easily repaint them or put on a different finish which is very convenient. Wooden Garage Doors are more expensive than other garage doors, and they require more maintenance, which you should consider before installing them.
---
9.

Durable Material Garage Doors
Durable material garage doors are commonly made of steel, metal, or fiberglass. What's good about these types of garage doors is that they are low maintenance, inexpensive, and, as the name says it, durable. They are a great way to add modern detail to your home that can last for decades. Durable material garage doors come in many unique varieties and can be mixed with other styles to achieve a luxurious, contemporary look.
Related Read: 21 DIY Garage Organization Ideas You Can Build Today

What color should the garage door match?
Your garage door should be cohesive with the color of your home, while it can match the front door. That is not something that has to be done, but it will make a more balanced environment. Other details you can match the color of the garage with are the roof, windows, or even your garden.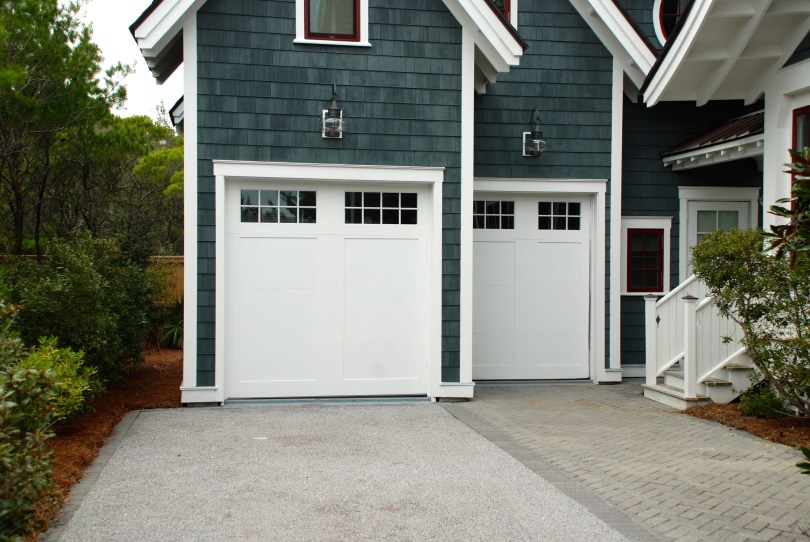 What type of garage door is cheapest, and which is the most expensive?
The cheapest garage doors are made out of aluminum and steel, with a price range of $700+ depending on the size. Of course, if you're planning on installing a custom-design garage door, they will cost more, regardless of the material. When it comes to the most expensive garage door types, those are usually wooden garage doors and full glass garage doors. Wooden ones range anywhere from $1,000 up to over $4,000. In contrast, full glass ones can cost from $1,500 up to $5,000 or more, depending on the design.
Related Read: Double Garage Door Installation Costs This Year

Conclusion
When it comes to garage doors, the options are endless, and there's something for everyone's taste. Think about all pros and cons the door will give you and decide the look you want to go for. Regardless of which popular style of this year you choose to go for, your home will indeed look amazing.
---
Featured Image Credit: Piqsels