13 Kitchen Appliance Trends in 2023 – Design Ideas for a Modern Home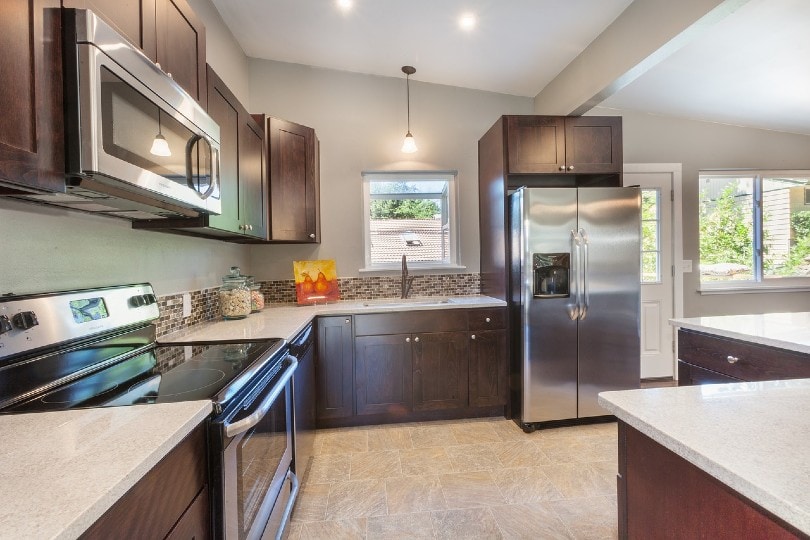 The world is changing at a rapid pace and there's never a shortage of new and exciting trends that take over our hearts and minds. This is especially true for kitchen appliances. Manufacturers from around the world are constantly coming up with new ideas that make our lives easier and more enjoyable. Today, we'll take a close look at 13 top kitchen appliance trends for this year.
We'll go over dishwasher drawers, oil-free fryers, and speed ovens, to name a few. If you've been eager to update your kitchen but weren't sure which trend to follow, this post is for you! So, join us, and let's have a sneak peek at what the future holds. Oh, and don't forget to scroll to the bottom to learn about the latest appliance color trends!
The Top 13 Kitchen Appliance Trends
1.

Vacuum Sealers
Healthy, fresh food is one of the biggest trends of the decade, and that's why this year, vacuum sealers are the next big thing. They've been around for a while, of course, but these days, sealers are much more affordable to the average American household. So, what does a vacuum sealer do, exactly? It packs your food in a plastic roll/bag that's 100% air-free (yes, hence the name).
Exposure to air or, rather, oxygen is what causes food to spoil. But with a vacuum sealer, you won't have to worry about that. And if you're serious about keeping your groceries, meals, or snacks fresh, go for a sealer that keeps the temperature in those bags at absolute zero. That way, your rations will stay fresh for a lot longer.
Now, if you are a fan of minimalistic designs, consider investing in a built-in vacuum sealer. Yes, that will cost a bit more, but in the long run, it will be a great investment.
---
2.

Dishwasher Drawers
Are you a bit tired of the bulky, power-hungry classic dishwashers? Then you'll definitely appreciate the concept of dishwasher drawers. In the US, they're just starting to get well-deserved recognition, but in the EU, this is already a big trend. Most of us don't like to have piles of dishes waiting to be washed, and these appliances are a great solution to that. Dishwasher drawers are much smaller and take less effort to use.
No more waiting for the load to get full before you fire the washer up. That saves water, energy, and time. By doing quick washes after each meal, you can stay one step ahead and always keep the kitchen nice and clean. This is especially true for big families with little kids. Double-stacking dishwasher drawers are also a thing. Yes, they "sit" on top of each other and will be of great help when you have dozens of hungry folks over for dinner.
---
3.

Drawer Fridges
Staying true to the concept of drawers, let's talk about drawer fridges. Just like the name suggests, this trend puts good old refrigerators into drawers to save precious space in the kitchen. In some ways, they resemble the tiny fridges that some people have in their garages. This appliance will be a reasonable purchase for folks that have friends and family members over frequently (like during the hot days).
For example, if you go for a pair of drawer fridges, you can use #1 for drinks (soda, beers, and some cocktails) and #2 for snacks, fresh juice, and cans. Drawer fridges look cool and you won't have a problem fitting them in your kitchen, because they are available in many different shapes and sizes.
---
4.

Wine and Beverage Fridges
If you're a big fan of minibars from fancy hotels, wine and beverage fridges might be worth a look. Let's assume you're throwing a huge party at your apartment/house and you need your bottles to keep coming. That's where a wine/beverage fridge comes in. Specifically designed and engineered to keep the drinks at optimal temperature (nice and chill, but not super cold), it is pretty much an ideal solution.
You may stop worrying about the drinks and enjoy the party. Like all the other drawer appliances on today's list, beverage fridges take little space inside the counter and can lighten up a somewhat outdated kitchen design. Besides, the built-in racks make stacking drinks a joy. However, do keep in mind that people in the market for "traditional" fridges for storing groceries won't find much use for these appliances.
---
5.

Pebble Ice Machines
Still in the party mood? Then a pebble ice machine might be your favorite new appliance. Now, it's a bit expensive and will be considered a luxury investment for most people. It's useful, though, and tends to get addictive once you get into it. Yes, there's something incredibly satisfying about using this machine. Some people like their drinks colder than usual. Others prefer to drink ice-cold water as a part of their healthy morning routine.
However, if you're not an avid fan of ice cubes, the ice machine will almost be a waste of money. Besides, you could go "old-school" and use the regular fridge for this. The results won't be as fancy, but that will still get the job done. And remember: this appliance has to run 24/7, consuming electricity, which means you'll just be wasting that energy most of the time.
---
6.

Oil-Free Fryers
Who doesn't like fried food, right, specifically chicken with potatoes? Well, there is one major downside to these delicious foods, and that's oil. Even if you use premium-quality olive or avocado oil, that still won't be a 100% healthy meal. The good news is—there is a solution: oil-free fryers! This is a relatively new trend and it's getting incredibly popular in US households.
By frying foods oil-free, it helps you stay fit while enjoying a delicious feast. So, how does this appliance work? High-temperature currents are the answer. Air fryers use them to not only fry but also toast food, making it nice and crunchy without a single drop of oil. And you won't have to spend a fortune on an oil-free fryer: there are lots of options on the market right now that cost less than $100.
---
7.

Double Ovens
These can be both in-wall or go under a range, and. Thanks to strict self-isolation rules, double ovens are now one of the biggest trends in kitchen appliances. Essentially, yes, you're getting two ovens instead of one, but that gives so much more room for experiments, not to mention you'll have to spend less time on the cooking. Double ovens are completely separate: you are free to set different times and temperatures on each.
Yep, quite handy. If you have a big family that needs to be fed or constantly have guests over, double ovens might just save the day for you. They're not particularly expensive, despite the huge demand, and are quite universal in terms of design. That means they go well with natural colors, stainless steel, different styles (both modern and retro), and will, eventually, make your favorite microwave oven lose its job.
---
8.

Speed Ovens
Speaking of ovens, we've got another up-and-coming trend that deserves your attention. What's the deal with the speed oven? It's fast. Yes, that's the most important thing to know about it. Much like a microwave, it's perfect for reheating food leftovers but (apparently) it does that two times faster than any appliance on the market. For some meals, it might not be that fast, but the difference in speed will still be significant.
Speed ovens are used for baking as well, and, just like double ovens, their biggest appeal is they get more work done (or, rather, food cooked/heated) in less time. The only downside: it will probably take you a minute to figure this thing out, as it's a bit more complicated than a regular stove. As an alternative, you could opt for a steam oven. It's not as speedy, but much healthier instead.
---
9.

On-Counter Gas Burners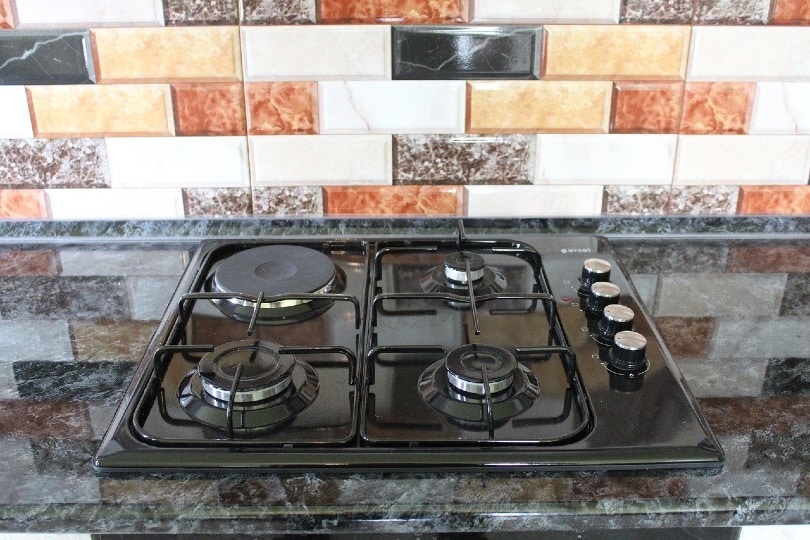 What if you could ditch the traditional gas cooktop and go for something more exciting and eye-grabbing? We're talking about on-counter gas burners, one of the greatest trends this year. And yes, they do go straight onto the countertop. From a stylistic point, on-counter gas hobs are a sight for sore eyes. In addition, they make the room feel bigger. So, what's the catch here? Well, before ordering a gas burner set, you gotta check your countertop.
It might not be compatible with this appliance, with all the cabinets or whatnot. On the bright side, all the technical parts only need +/- 5 inches under the top. The material of the countertop also plays a key role here because there will be no glass or steel covering/surrounding the individual burners. Marble is the way to go here: it's an extremely heat-resistant material (and doesn't stain easily). Ceramic, granite, and composite stones will also do.
---
10.

Non-Electric Stoves and Toasters
Every single appliance we've been talking about so far needs electricity to work. But that's not the case with non-electric stoves. While they're not as powerful as full-fledged ovens, the tradeoff here is mobility. First, these stoves are reasonably compact, and you can easily move them around. Secondly, you won't have to spend the better half of the day in the kitchen just to prepare a meal.
The list of foods you can cook is impressive, by the way. We're talking about toasts (obviously), cake, chicken, and even meat. For campers, non-electric stoves are a God-sent, because, again, they're lightweight, take little space in one's bag, and still cook incredibly delicious meals, if you've got enough gas and all the necessary ingredients.
---
11.

Water Filtration Systems
We can't stress enough how important it is to stay hydrated, especially this year, when our bodies need to be in perfect shape to fight off viruses. Now, you never really know whether the water you buy at a local store is clean or not. That's why water filtration and purification systems found their way onto our list. They've been around for many decades, but mostly only in offices. This year, domestic water dispensers are a massive trend.
They do a great job of filtering contaminants and making sure you only drink pure, healthy water. For a busy family, you could even buy an entire set of dispensers so that there's one in each room. Refreshing water has a positive effect on the human brain and the entire body, so, it will be a worthy investment.
---
12.

Two-in-One Appliances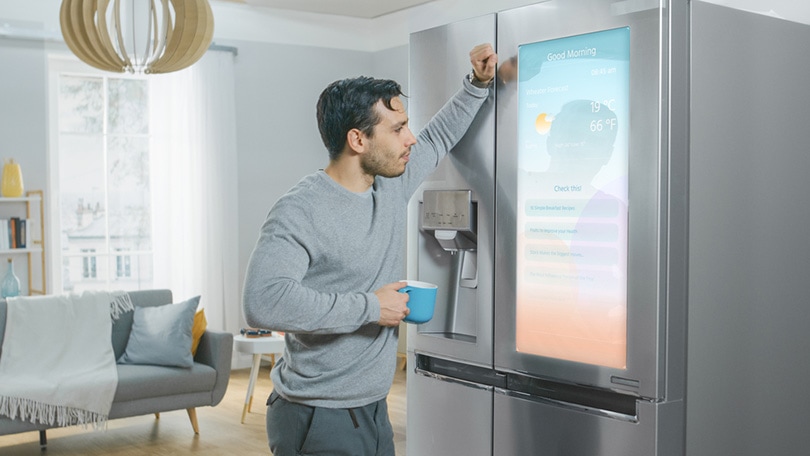 Why buy an appliance with a single function when you can opt for a two-in-one kind of deal? That's exactly what many people around the world think! Multi-functional appliances have skyrocketed in popularity this year and the trend is only about to get bigger. Some examples of these include ovens with dishwashers, fridges with built-in computers, and all kinds of other multitasking appliances.
The most significant pro here is the compact size. These days, rent prices are higher than ever and every single square meter counts. That's why combined appliances that take little space in the kitchen are a trend.
---
13.

Smart Appliance Tech
Last, but not least, we've got the so-called "smart" appliances. This isn't news, of course. Market-leading brands have been implementing forward-thinking tech into their products for a long time. Smart fridges and washing machines are already installed in many households around the globe. And this year, we'll see a heavy focus on voice assistants like Alexa, energy-preserving systems, and apps for wireless control.
Say, if you forgot to turn the oven off, you can do that while on your way to work. All you'll need is a Smartphone with a dedicated app!

The Latest Color Trends for Kitchen Appliances
Alright, now that we've checked out the biggest kitchen appliance trends, let's talk about which colors are ruling the show this year. As always, natural colors are hugely popular—you just can't go wrong with that! If you're tired of the boring "office" colors (overly gray or monotonous), natural wood might be the perfect answer. What you should go with is a combination of inviting, warm colors.
Built-in appliances are very trendy; so, wooden textures on the doors are one great way to light up the kitchen, make it feel more natural. Stainless steel is another fan-favored option. An undying classic, it's incredibly sleek and adds an "expensive" touch to any kitchen appliance while staying neutral. This can be your fridge, oven, or dishwasher. And if you're in the mood for something a bit bolder, black stainless could also work.
It looks great and will probably be a game-changer for your kitchen. Besides, with black being a universal color, it will sync up with various styles. This is important: if you decide to opt for steel, make sure it's stainless. Otherwise, it will be taken over by dirt, grease, and rust in the blink of an eye. Stainless steel is a premium finish that's easy to clean (just wipe it with a soft cloth) and lasts for many years, if not decades.

Conclusion
For most families, a kitchen is more than just a place where they cook. Folks come together to have a nice meal, chat, and connect; so, the importance of an up-to-date, "happy" kitchen can't be overestimated. We just went over the biggest trends in kitchen appliances right now. Thanks to the newest developments in engineering and technology, these appliances help us cook faster, better, and with less effort.
Even if you're not ready for a new update yet, these trends should give you a general idea of what people are into these days. Take care, stay safe, and enjoy every second spent with your fancy new kitchen toys!
---
Featured Image Credit: AddiGibson, Pixabay