21 DIY Garage Organization Ideas You Can Build Today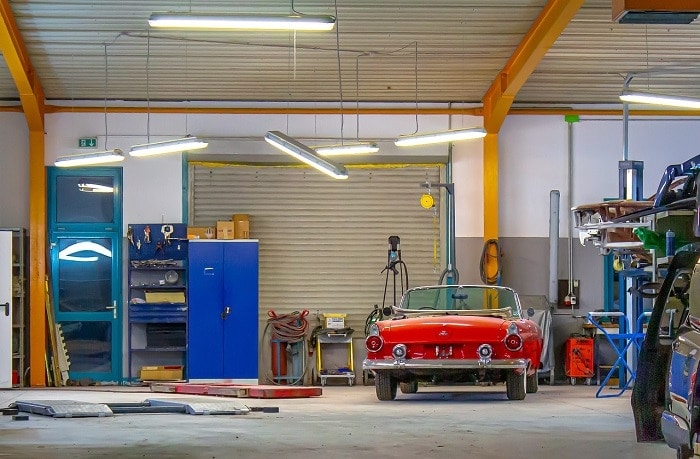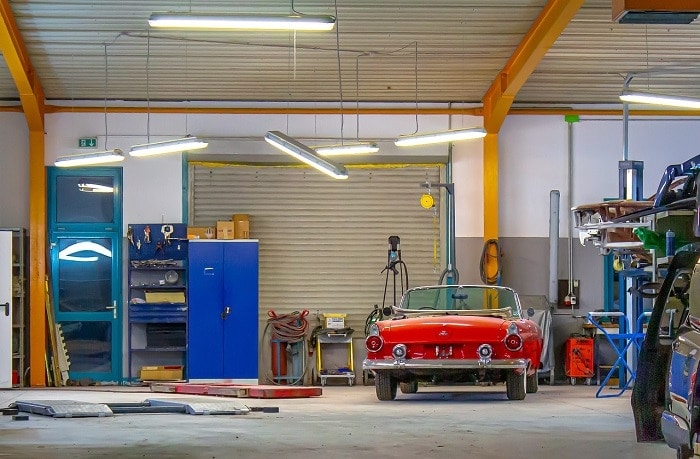 Do you have a garage that's full of a disorganized jumble of boxes, tools, gardening implements and who knows what else?
If so, it may be time to come up with a plan to get organized and sort out the clutter.
To help you take that important first step, we've assembled this list of 21 free garage organization plans that will teach you how to organize your garage and get you on your way to a clean and tidy space.
1. Handy Wall Tool Holders from Woodgears
As a fan of DIY projects, you bound to have an extensive collection of hand tools lying around. Now, you could just throw them into a box and sort through them whenever you have a job to do. But, if you're looking for a simple way to keep all of your hand tools neat and tidy and ensure you can get your hands on any tool simply and quickly, you can't go past this simple but effective design from Woodgears.
Making your custom tool holders is a stylish alternative to a pegboard and a great DIY project in itself. It's the sort of job you can build do slowly, over time, whenever you feel the need to spend a bit of time in the shed, and it could also be a great starter project for any junior DIY'er in your family.
---
2. A Bench Full of Useful Features from Family Handyman Magazine
If you're after the ultimate garage organization plan you'll be hard-pressed to find something cooler, or more practical, than this one from Family Handyman Magazine.  It's an older plan that dates back to their November 2006 issue, but we've been able to track down a PDF copy of the full article and step by step guide, and it's well worth checking out.
---
3. The Jumbo Tape Dispenser from Popular Woodworking  
Have you ever noticed that no matter how many rolls of tape you buy, you can never find one in your garage when you need it? Well, with this great tape organizer and dispenser from Popular Woodworking, we've found the solution. It's quick and easy to put together, and best of all you'll never need to go rummaging through draws or boxes to find some tape again.
---
4. The Garage Storage Tower from Home Handyman
Jumbo storage bins are a great way to organize a variety of household and workshop items, but when you get a few of them stacked up in a corner of your garage they can become a problem to manage. These simple garage storage towers from Home Handyman are a great way to organize your storage bins and make sure that every bin in your stack is easy to access.
---
5. Sliding Storage System from Family Handyman
This is another great solution from our friends at Family Handyman that will show you how to organize your garage and deal with those large storage bins that take up so much room. This roof-mounted storage system is super easy to construct and a great way to free up floor space.
---
6. DIY Storage Shelves from Instructables
When it comes to organizing your garage, it's almost impossible to have too many storage shelves. This article and plan from Instructables provides step by step instructions on how to build your own heavy duty storage rack.
---
7. Over Garage Door Hidden Shelving from Instructables
When you have a small garage, or just a lot of stuff that needs to be stored, floor space in your garage can become a big issue. That's when a solution like this smart over garage door shelving from Instructables could come in handy.
---
8. The PVC Gardening Tool Rack from Ashbee Design
Proving that sometimes simple is best, the storage plan from Ashbee Design is an easy and effective way to organize all of your rakes, shovels, brooms and other long-handled gardening tools.
---
9. Flexible Garage Wall Storage from Family Handyman 
With this all-in-one wall storage solution, Family Handyman has come up with a garage organization plan that can be put together in a day and shouldn't cost more than a few hundred dollars to build.
---
10. The Garage Golf Cady from Popular Woodworking
If you need a great way to organize and store your golf gear, this plan from Popular Woodworking could be the answer you're looking for. It has enough space for two golf bags, your shoes, and shelf for golf balls and can be put together with just a few hour's work.
---
11. Easy and Economical Storage Shelves from Ana White
These easy to construct and inexpensive storage shelves from Ana White are built entirely from lengths of 2×4 inch timber planks. They can be made to suit any length of garage and are a great way to increase your storage space and organize your garage.
---
12. Between the Stud Shelves from The Handyman's Daughter
If you have unlined walls in your garage this shelving plan from The Handyman's Daughter is a great way to make use of some otherwise dead space. The whole project can be completed in just a couple of hours and won't cost much for the necessary materials.
---
13. Super Easy DIY Garage Shelves from Shanty 2 Chic
As their name suggests, these Super Easy DIY Garage Shelves from Shanty 2 Chic are a simple and practical DIY solution to your garage storage woes. They're inexpensive shelves to put together, and the whole task can be done in just an hour or two.
---
14. Rotating Storage Shelves from Family Handyman
These rotating garage storage shelves from Family Handyman are a great way to organizes all those small bottles, cans and other items that typically lie around on your workbench or get lost at the back of large storage cabinets. The plan has a great space-saving design that will allow you to make good use of otherwise dead space or an out of the way corner in your garage.
---
15. The Door Shelf Organizer by Remodelaholic
With their simple shelving unit that is built onto the back of a door, Remodelaholic has come up with a great space-saving idea for organizing your garage. This plan will be particularly useful for anybody who is short of free wall space in their garage and needs extra shelving.
---
16.  Recycle Bin Hangers from Family Handyman
Recycling is not only good for the environment but can, depending upon where you live, also save you money on excessive waste charges. However, then need to have separate bins for different types of recyclable material means that these tubs can take up a large amount of space in your garage. If this is a problem for you, this plan for recycle bin hangers by Family Handyman may be just what you need.
---
17. Garage Truss Shelves from Ana White
An easy and straight forward solution to garage organization, these truss shelves from Ana White can be put together quickly from materials that you likely already have lying about in your garage.
---
18. The Giant Garage Cabinet from Family Handyman
When you need to get your garage looking neat and tidy, there is no better solution than a large wall-mounted cabinet which closing doors. This smart and practical design from the Family Handyman has space-saving sliding doors that won't swing out and hit your car, or need a large space to open.
Building this cabinet will set you back about $1000 in materials and is a little more complicated than some of the storage solutions in this article, but the end result justifies both the expense and the extra effort.
---
19. The Pegboard Book from Pregnant Power
This simple but innovative design from Pregnant Power is a great way to get extra pegboard space when the available wall space is limited. Making use of several heavy-duty hinges, this design creates a double-sided pegboard that opens and closes like pages in a book, allowing access when need and for the board to be folded away against the wall when not in use.
---
20. Easy Garage Storage and Bench from Instructables
If you need a storage solution that will give you plenty or workbench space and a whole stack of draws for storage this plan from Instructables could be the answer you're looking for. Depending on the quality of the plywood you use, this project can be put together for as little as $500 and will likely keep an average DIY'er busy for a couple of weekends.
---
21. Fishing Pole Storage from Instructables
Fishing is a fantastic form of recreation, but storing your fishing poles when you get home can be a bit of a nightmare. Long and thin, they have a habit of getting tangled up and in the way wherever you put them, but with this simple and effective storage idea from Instructables, you won't have any more issues with your fishing poles taking up space in your garage.