25 Great Gardening Gifts for Grandma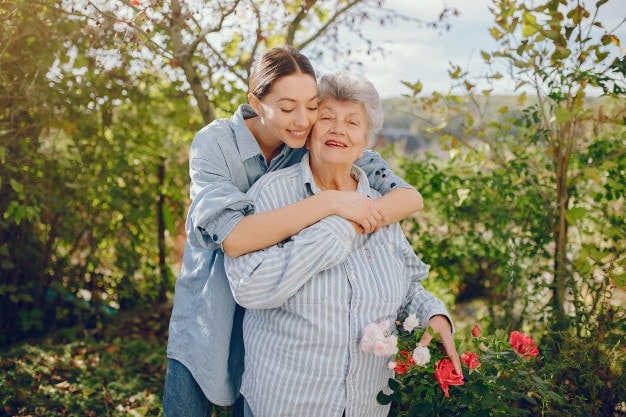 It can be difficult to figure out what gifts to purchase for some people. Grandmas tend to be a bit easier,especially if your grandma is into gardening. For grandmothers with a green thumb, the following 25 gifts are all great ideas to show that you care. Plus, they're useful!
These gifts won't just sit around and take up space in the house; they'll actually see use in grandma's garden. These are the gifts that we'll be wrapping up for our own grandmas since we know that these presents all have what it takes to brighten up grandma's day.

The 25 Great Gardening Gifts for Grandma
1.

Spritely Gardens Deluxe Fairy Garden Kit
Grandmas don't just love to garden, Almost all of them love nick-knacks and trinkets. And what better little items than a set of spritely fairy accessories to turn her garden into a fairy's home. Plus, the grandkids will love to help set it up and will run to go see it whenever they visit grandma.
---
2.

VISEMAN Gardening Foldable Knee Pad
Grandma's not as young as she used to be and she's only getting older. She loves to garden, but it's probably getting more difficult with age; particularly on her joints. But you can help save her knees with a gift like the VISEMAN gardening knee pad. This thick pad offers a comfortable way for her to get down on ground level so she can still garden as much as she wants without all that knee pain afterward.
---
3.

Insect Lore Live Butterfly Garden Gift Set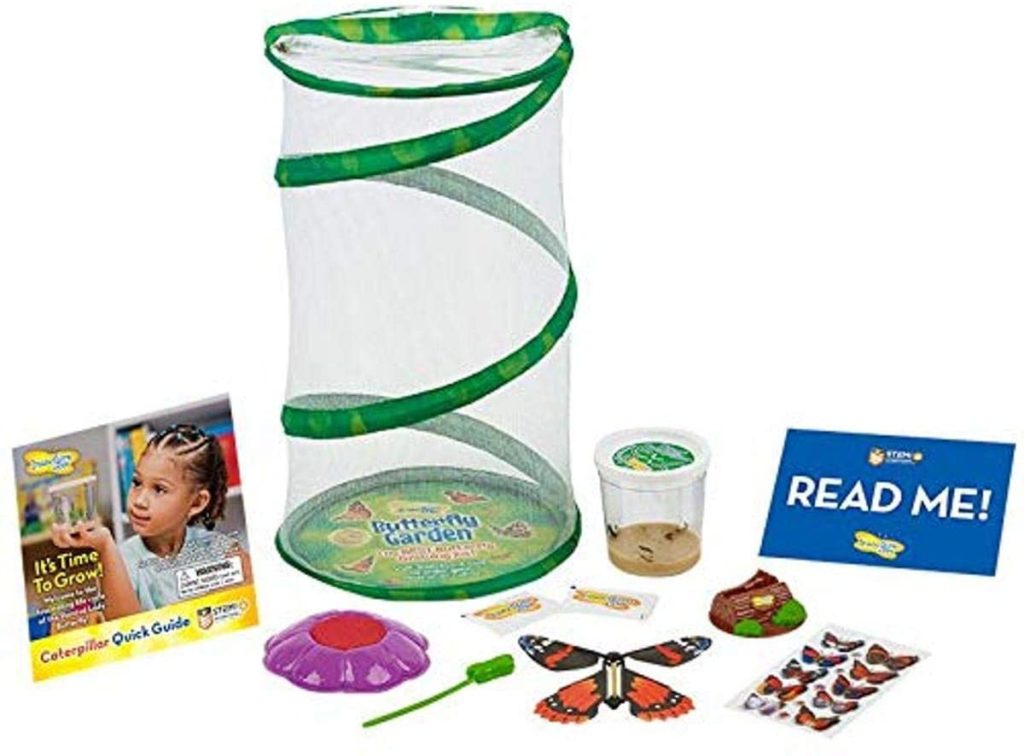 If grandma loves to do learning activities with the grandkids, then this butterfly mini garden gift set is a great gift that you can give her. She'll be able to hatch butterflies with the grandkids from the 5 live caterpillars included in the set. This means they can watch together while the caterpillar undergoes its transformation; a fun and informative experience that grandmother and grandchild can share.
See also: How to Make a Butterfly Garden – Step-by Step Guide
---
4.

Garden Tools Set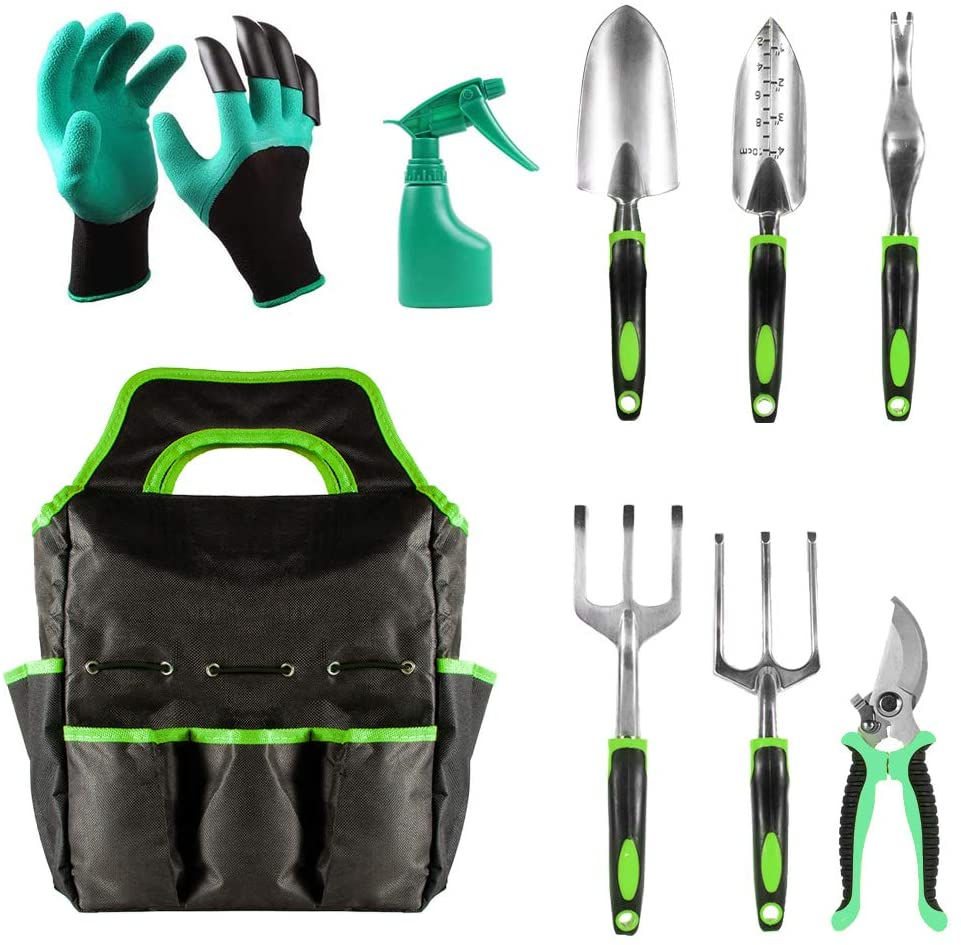 Gardening requires tools. It's likely that your grandma hasn't replaced her tools in quite some time. So, why not do it for her? With the JUMPHIGH garden tools set, you'll be giving grandma 9 useful items to help her keep on gardening. This set includes a trowel, pruning shears, gloves, a weeder, a cultivator, and more. Plus, there's a tote to keep everything organized and easy to transport from the garden to the shed and back.
---
5.

Teabloom Flowering Tea Chest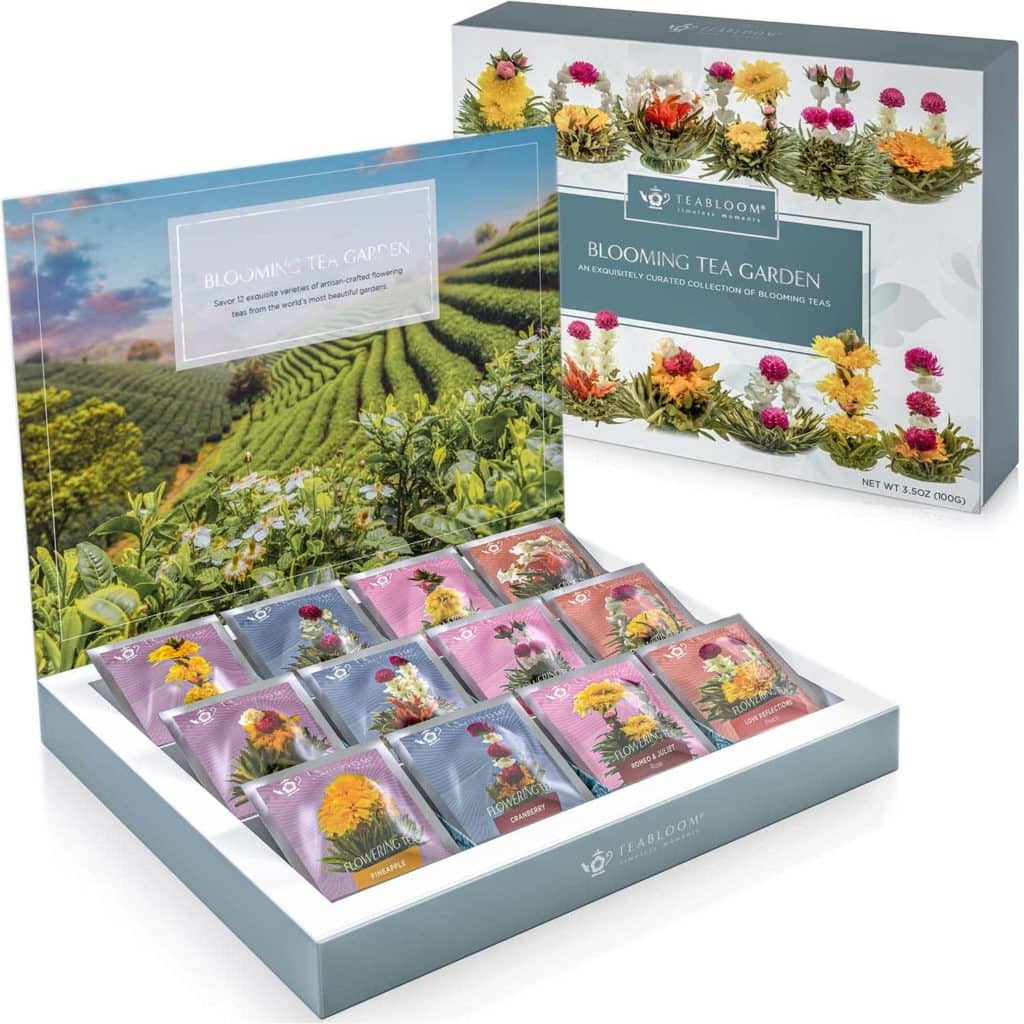 Most grandmas love to garden, and most gardening grandmas love tea. This teabloom flowering tea chest is a great gift that will let your grandma grow her own tea, and even give her all the seeds she needs to get started. It's the gift that keeps on giving as she's able to plant many strains of different tea, enjoying the gardening process and the tea at the end.
---
6.

Grandchildren Welcome Garden Stone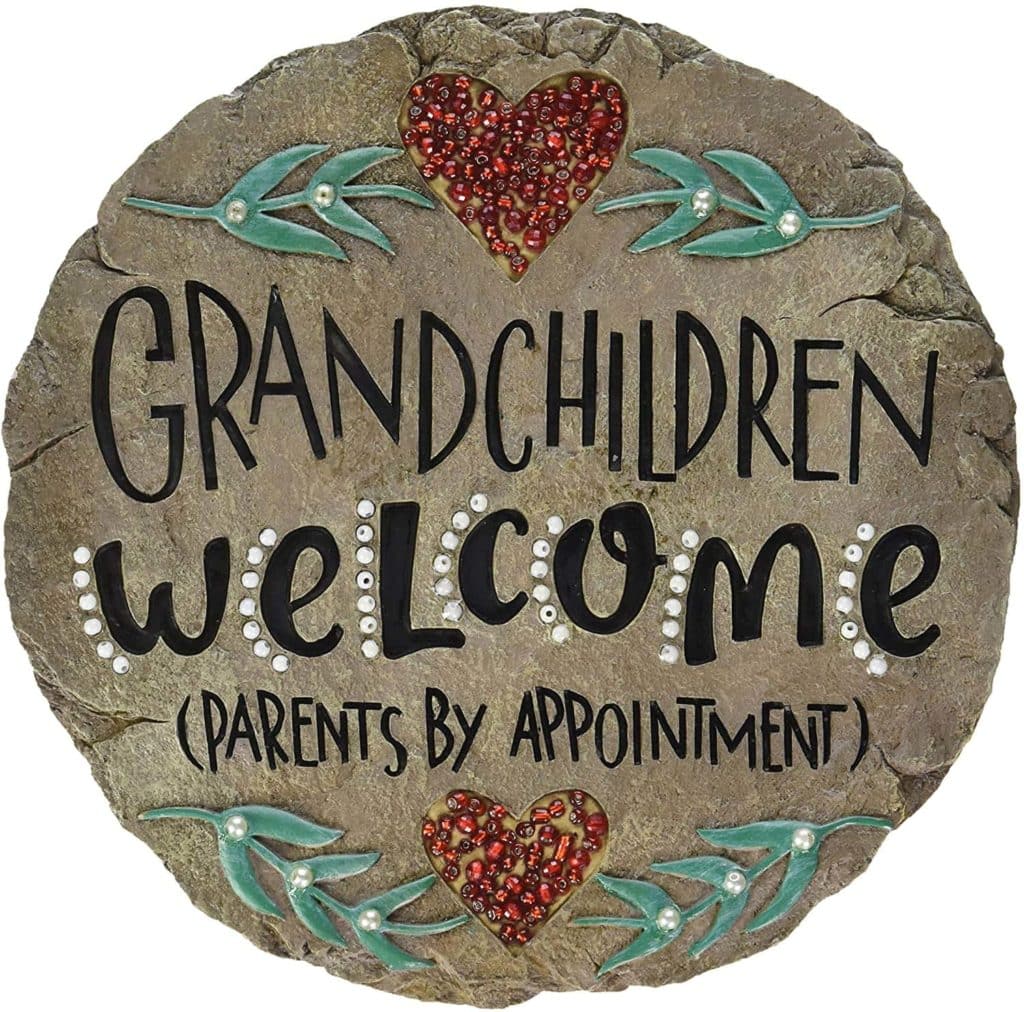 Cheeky humor is right up grandma's alley, making this great garden stone the perfect gift addition to her garden. This could be exactly the thing grandma needs to spice up her garden a bit and give it a personal touch.
---
7.

The Flower Gardener's Bible
If grandma loves to cultivate beautiful flowers, then The Flower Gardener's Bible is a book that's full of the sort of useful information that she can benefit from. This book is loaded with information for growing more than 400 flowers, with proven techniques to help grandma grow her best bloom yet.
---
8.

Long Gardening Gloves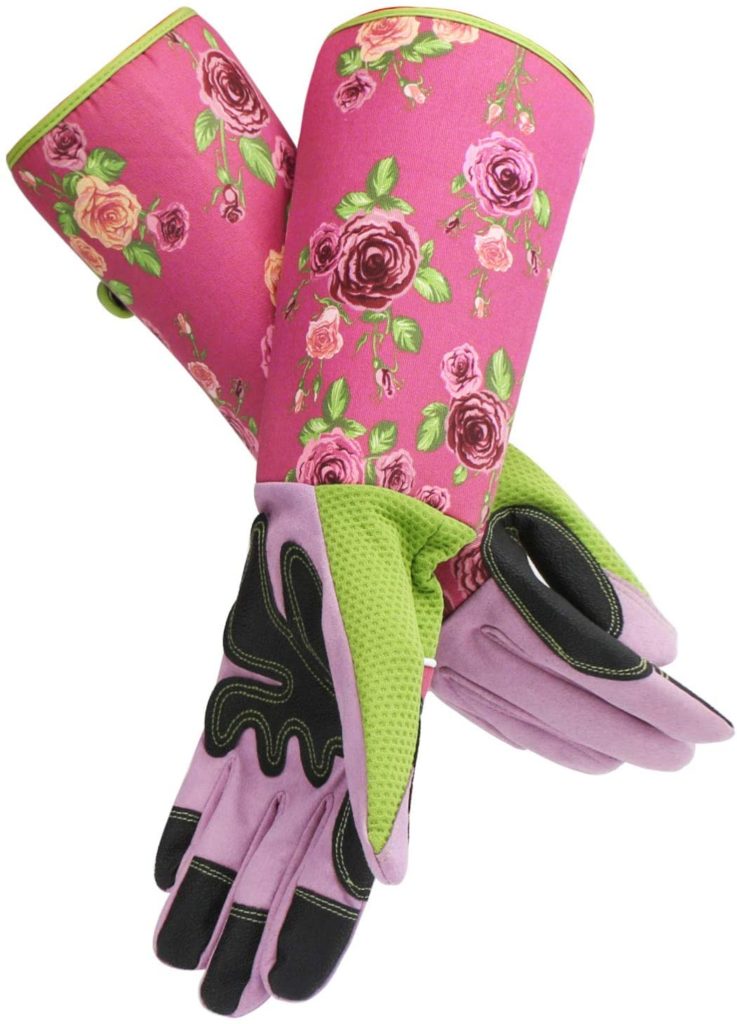 Everyone needs gloves to protect their hands while gardening. These long gardening gloves do even more by protecting grandma's forearms as well. That way, she's safe from scrapes and scratches while pruning the rose bushes. And these gloves even have a beautiful floral pattern to fit with grandma's love of gardening.
---
9.

Never Too Old T-Shirt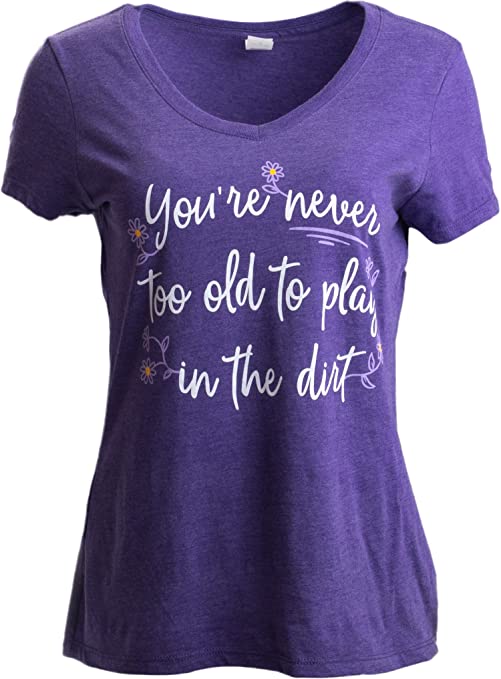 Grandma may not wear this funny shirt while she gardens, but only because she doesn't want to ruin it! But it's a great way for her to show off her love of gardening when she can't be out knee-deep in her favorite past-time.
---
10.

Hummingbird Wind Chime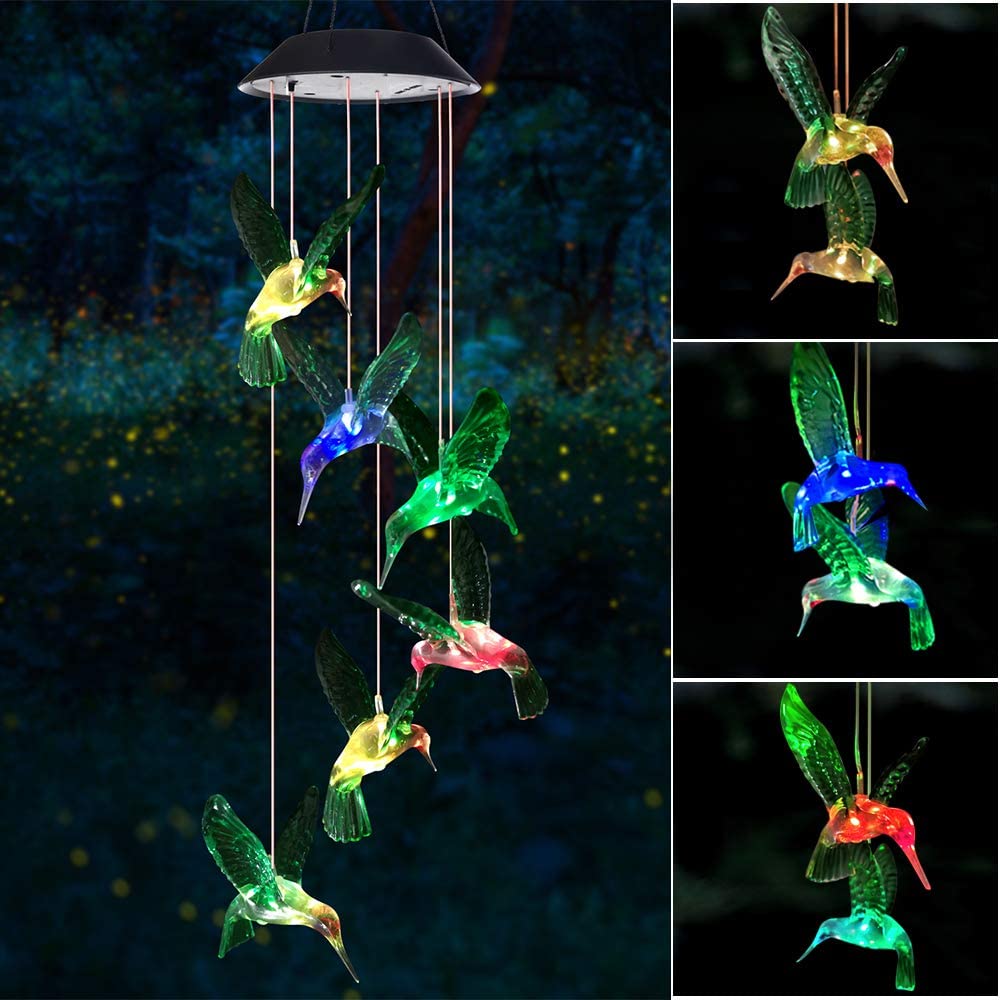 Your grandma probably loves to spend time in her garden simply admiring the beauty of all her plants and her handiwork. But when the sun goes down, that doesn't have to end. If you give her this hummingbird wind chime, it will light up and ensure that the garden is still a spectacle at night when the plants aren't even visible.
---
11.

Women's Sun Straw Hat
Every grandma needs a wide-brimmed straw hat. This one is floppy and can be rolled up and thrown around without any worry. Plus, it will keep grandma's head safe with UPF 50 protection from the sun on those hot, bright days she spends out in the garden.
---
12.

Heirloom Futures Seed Pack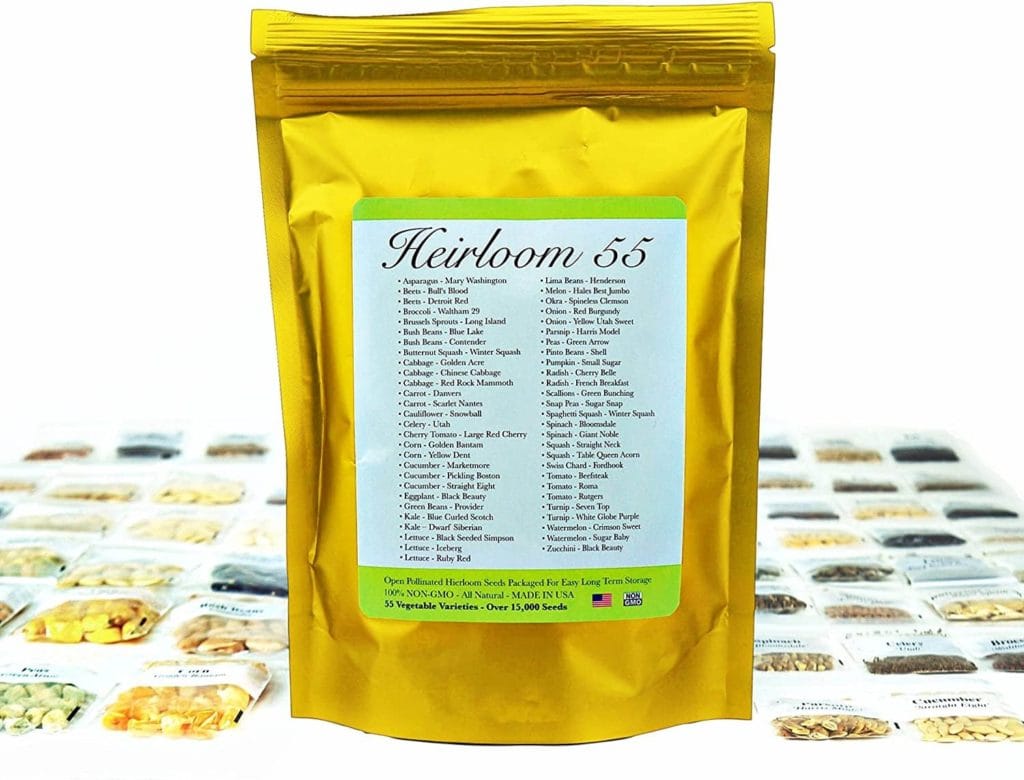 No matter what your grandma grows now, vegetables are always a great addition to any garden. With this Heirloom Futures seed pack, you can give grandma the seeds to plant over 50 varieties of vegetables. These seeds are high-quality, non-GMO, open-pollinated seeds that will help her grow the freshest food of her life. If you're lucky, she'll cook up some of those fresh veggies for you!
---
13.

Ivation Indoor Herb Garden Kit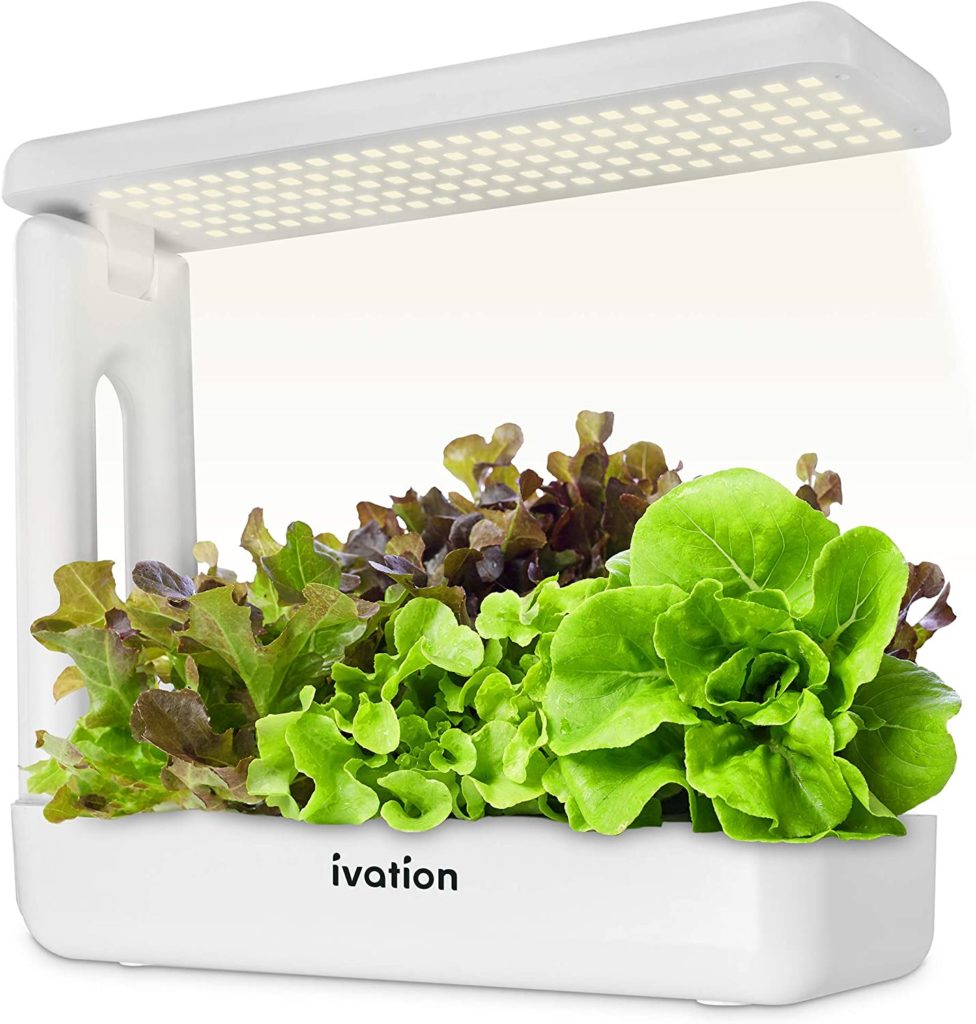 Gardening usually takes place outside in the open air and sunlight. But what about those rainy days or the times it's just too hot for grandma to get outside? Gardening shouldn't have to end then, and with the Ivation indoor herb garden kit, grandma can garden anytime, regardless of the weather. Plus, these plants will all end up on the table, making them more than just a fun pastime and attractive decoration.
---
14.

Bamboo Plant Labels
Is grandma's garden loaded with tons of different plants? It can get difficult to tell them apart. But with these bamboo plant labels from HOMENOTE, it will be easy for her to keep them all well-labeled so she always knows what plant is what. This kit even includes a marker that won't fade in the sun or rain, ensuring that nothing prevents her from telling her plants apart.
---
15.

The Gardener's Friend Pruners
It's an unfortunate fact of life; as you age, your joints start to hurt and muscles begin to weaken. Eventually, these problems can make it difficult to do your favorite things, like gardening. If grandma is in a similar position, then the gardener's friend pruners might offer a solution. These special pruners are made specifically for weak hands, allowing grandma to keep pruning without the pain she's grown accustomed to.
---
16.

Gardener's Gold Soap 100% Natural Skin Care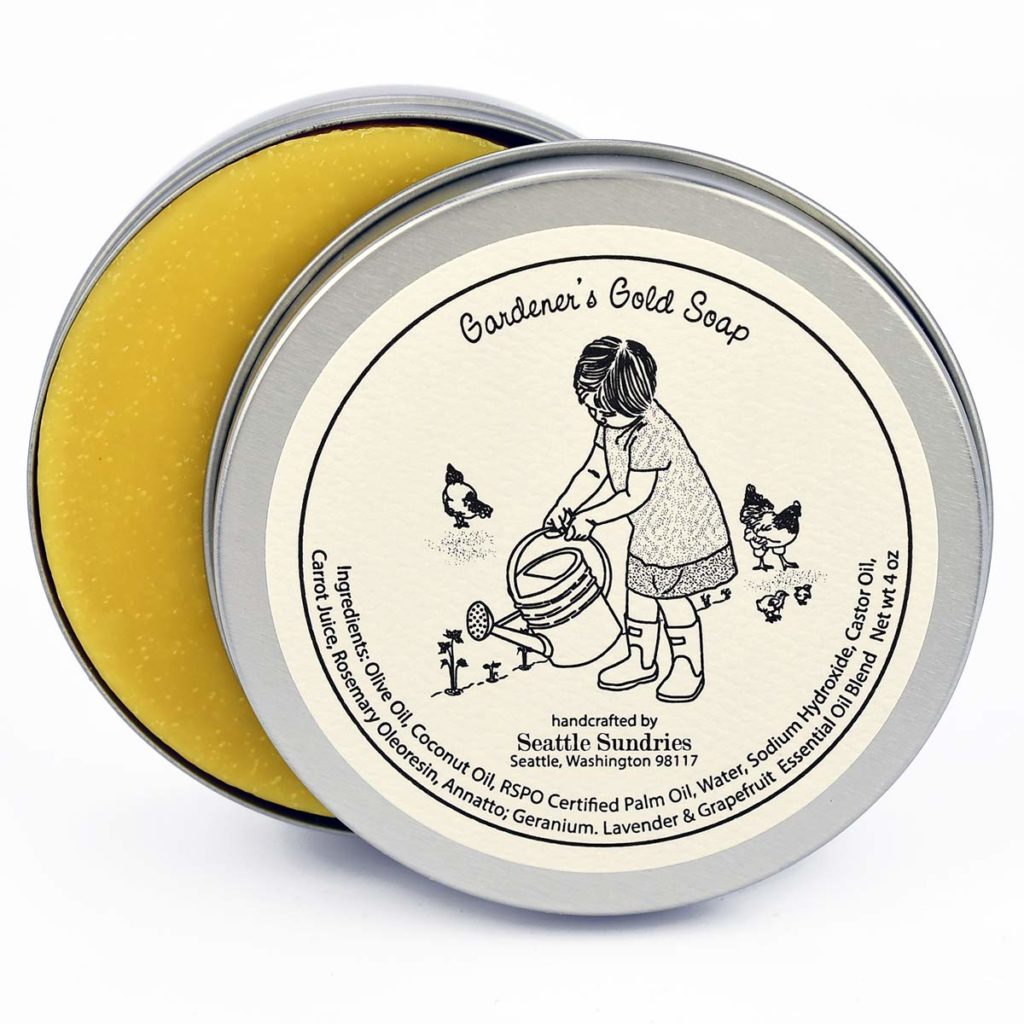 Gardening takes a toll on your hands, and grandma's hands might be taking it worse than some. Any gardener can benefit from the Gardener's Gold soap, but grandma especially. This soap is 100% natural and made with essential oils for a healthy and natural way to repair hands that are damaged from gardening.
---
17.

Garden Cart Rolling Scooter with Seat and Tool Tray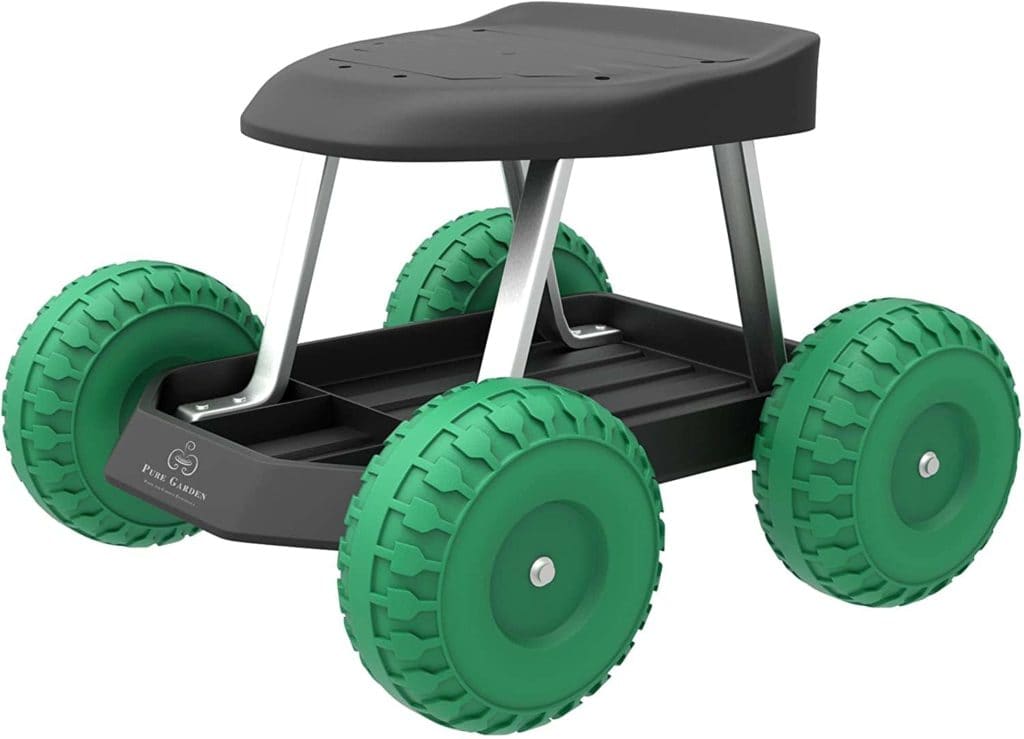 Once grandma gets past a certain age, it becomes pretty difficult for her to get down on her knees to garden like she used to. But with the Pure Garden rolling scooter, she won't have to. This scooter has large wheels that roll easily around the garden, offering grandma a seat with a tool tray so she can still do what she loves, despite her limitations.
---
18.

Gardening and Cooking Apron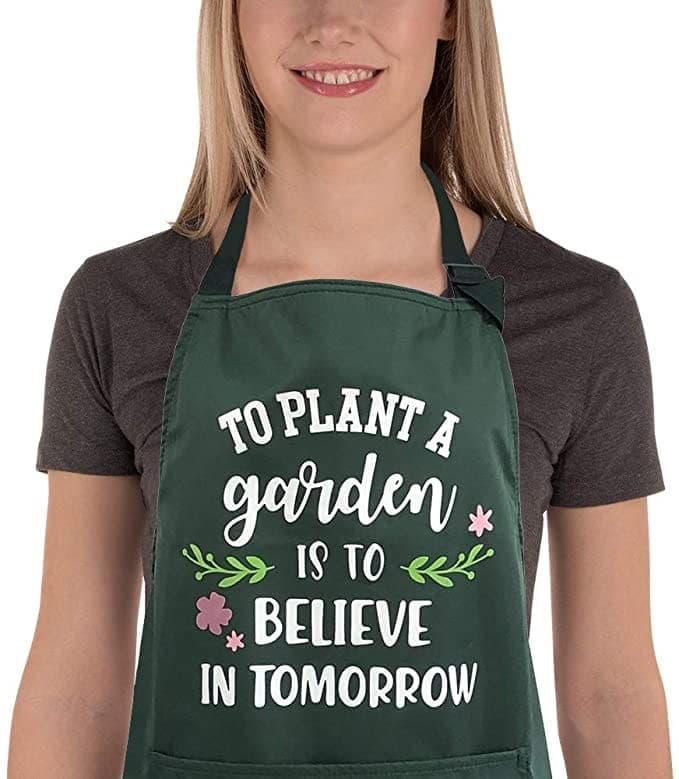 A good gardening apron is necessary for every grandma. This one is a cute choice for any grandma that loves gardening. But it's also perfect for cooking, making it a dual-use apron for any grandma that loves to bake, cook, garden, and more.
---
19.

The Organic Gardener's Handbook of Natural Pest and Disease Control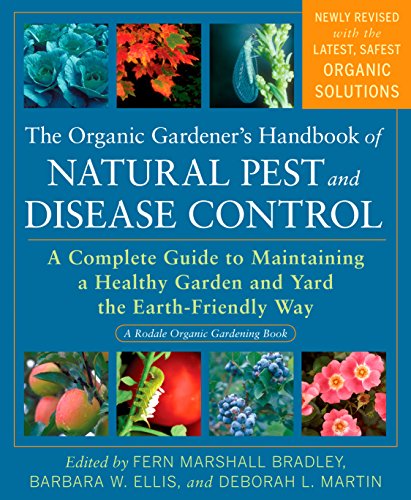 No matter how long grandma has been gardening, her plants can always be attacked by something new. But if you get her The Organic Gardener's Handbook of Natural Pest and Disease Control, she'll know exactly how to fight off any infestation and keep her garden in peak condition.
---
20.

7 Pocket Hanging Vertical Garden Wall Planter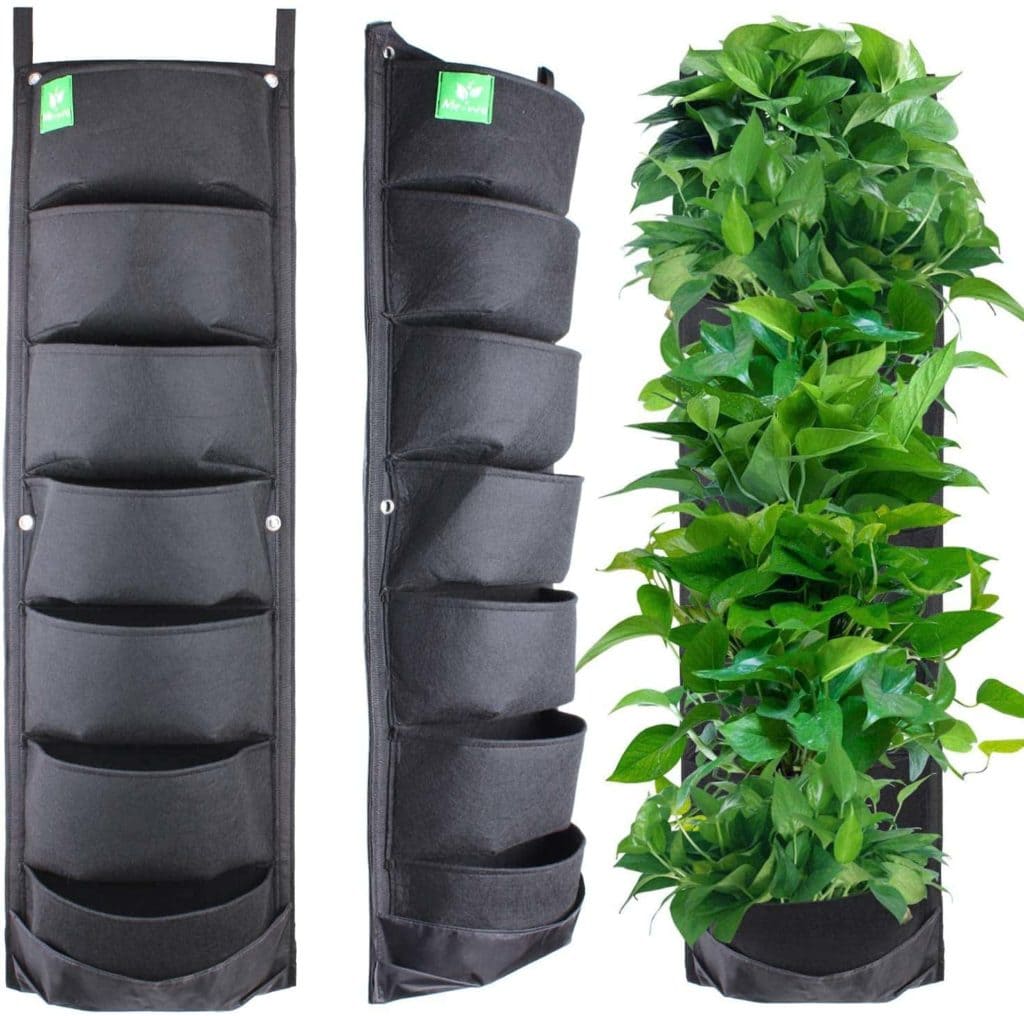 If your grandma loves gardening so much that she's running out of room for plants, then this 7-pocket hanging vertical garden wall planter is a perfect solution. It allows her to fit seven new plants where there previously wasn't room for any.
---
21.

Crocs Slip On Water Shoes
There's a reason Crocs are so popular; they're incredibly comfortable! Plus, they're dead-easy to slip on and completely waterproof. These traits also make them the perfect shoes for gardening, which is why grandma would love to receive them as a gift.
---
22.

I Wet My Plants Mug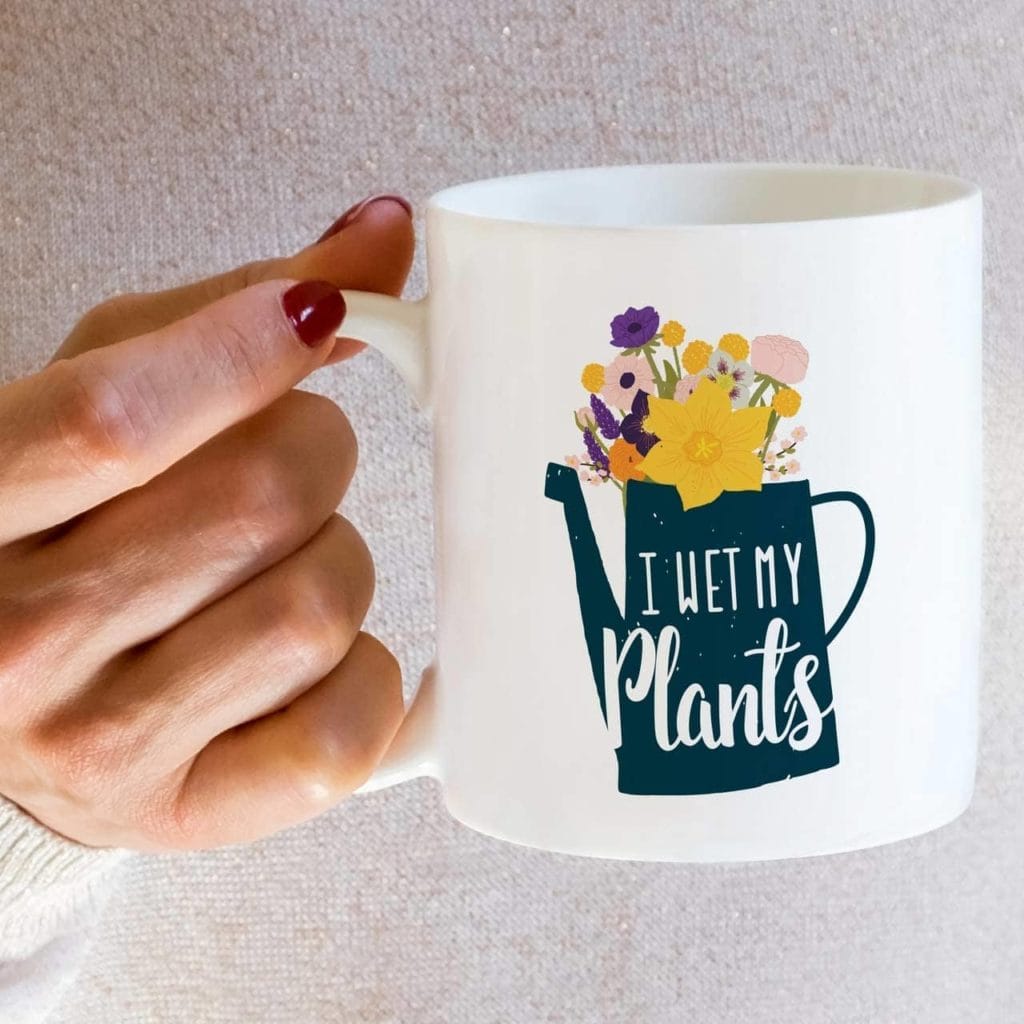 Most grandmas love coffee nearly as much as they love gardening. Now, you can help her merge those two loves with this funny mug that shows off her wit and her love of gardening while she enjoys a nice cup of brew in the morning.
---
23.

Grampa's Weeder Stand Up Weed Puller Tool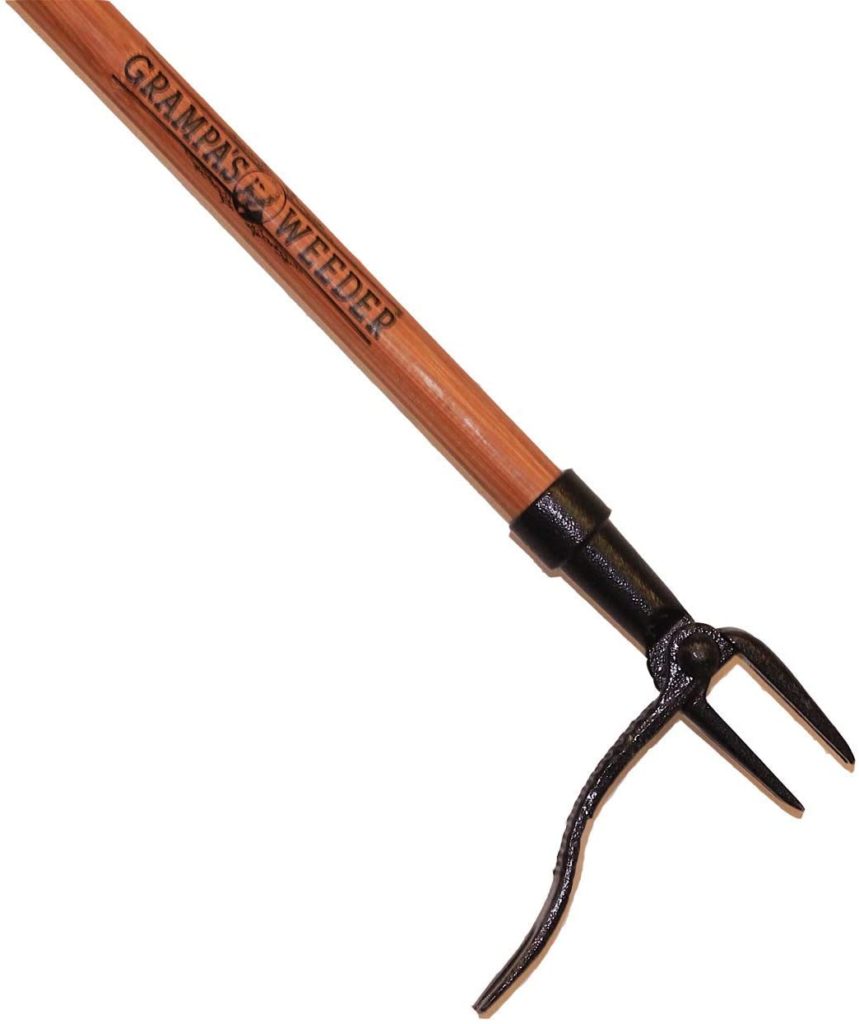 Just because it's Grampa's weeder weed puller tool doesn't mean it's not the perfect gift for grandma. As she gets older, bending over and kneeling down get more difficult. But with this stand-up weed puller, there's no need! With this device, grandma can pull all the weeds from her garden without bending over once, allowing her to keep her garden in perfect condition without any pain.
---
24.

Grandma's Garden Sign
Everyone knows it's grandma's garden, but why not have a beautiful sign to display it? No gardening grandma would be disappointed to receive this cute sign as a gift. It's on a stake that can be easily inserted into the ground and will be a nice addition to any garden cared for by a grandma.
---
25.

Bonsai Tree Kit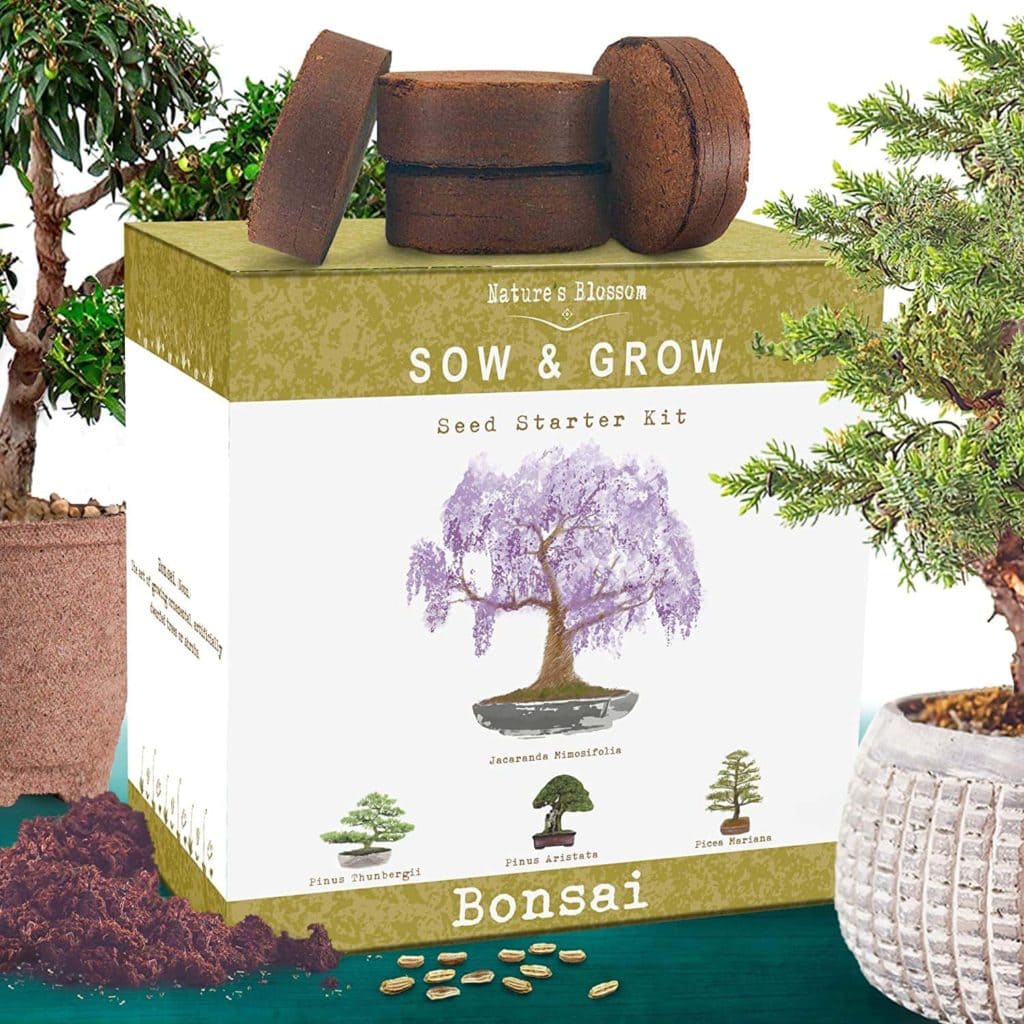 Grandma might be used to gardening in the garden, but with this bonsai tree kit, you can introduce her to a whole new type of gardening. It might be different than what she's used to, but it could be a great way to expand her gardening skills to a new realm!

Conclusion
It's hard to go wrong when giving a gardening gift to a grandma with a green thumb. We've given you 25 great gift ideas, but this isn't a definitive list. If any of these gifts sparked an idea in your imagination, then do whatever you can to ensure you come up with the best gift idea that granny has ever received.
---
Featured Image Credit: Freepik