Graco Magnum Project Painter Plus Paint Sprayer Review 2023 – Pros, Cons, & Verdict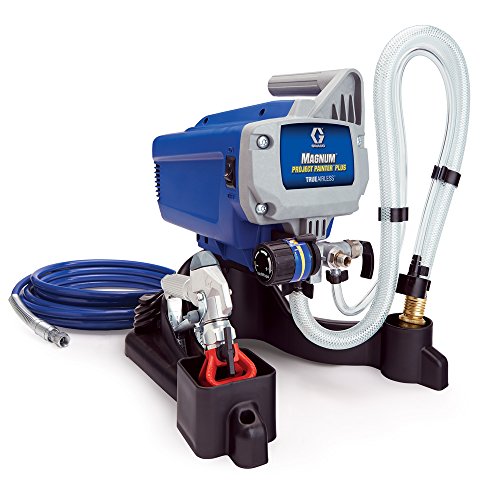 We give the Graco Magnum Project Painter Plus Paint Sprayer a rating of 4.5 out of 5 stars. 
Build Quality: 4.5/5
Power: 4.5/5
Features: 4.5/5
Price: 4.5/5
Review Summary
If you are a homeowner that is on the lookout for a paint sprayer, you have done a wise thing checking out the Graco Magnum Project Painter Plus.
Graco is known for making really good sprayers, and this particular unit has been optimized for the homeowner that wants to give their do-it-yourself job a pro-caliber touch.
There really is quite a bit to appreciate in this sprayer. The Graco Magnum Project painter plus features an impressive reach of fifty feet, it is easy to clean, and it features enough paint flow settings to perform with impressive versatility.
One of the best things about the sprayer is that it is also relatively free of cons. We did notice that the tip is prone to clogging, but even this issue is mitigated by a couple of clever design components. The garden hose hook-up adapter makes the sprayer easy to clean, while the reversible tip will allow users to quickly work through clogs.
If this all sounds good to you, then read on for a more in-depth look at the Graco Magnum Project Painter Plus.
A Look at the Graco Magnum Project Painter Plus Paint Sprayer
Pros
50-Foot Hose Length
Garden Hose Adapter
Reversible Tip
Adjustable Paint Flow
Onboard Storage
Cons
Prone to Clogging
Slightly Prone to Overspray
Specifications
Company: Graco

Model: 257025

Dimensions: 12 x 13.5 x 13.5 inches

Weight: 16 pounds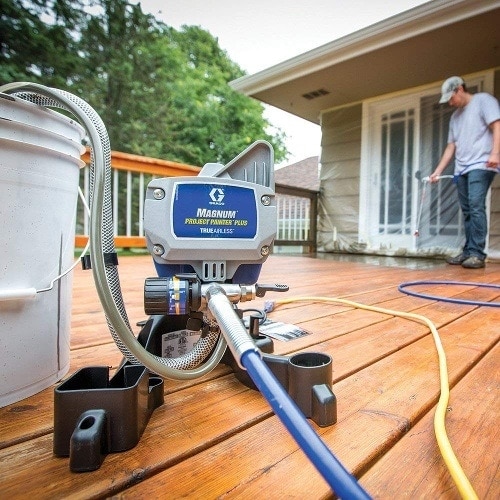 Easy to Clean: Good for Everyone:
One of the best features with this, and in fact many Graco products, is that it is very easy to clean. This is due mostly to the garden hose adapter port.

With this feature, cleaning out the majority of the sprayer is as simple as hooking it up to your garden hose and letting the water do the rest.

This is a nice feature to have for several reasons. For one thing, it is going to save you a lot of time in the long run.

The other factor to consider is the issue of clogging. When you don't clean your spray system well, it has a tendency to clog up and stop performing mid-job.

This happens to pretty much every sprayer from time to time, but with good cleaning practices, it can happen a little bit less.
Reversible Tip: Good for Momentarily Working Through Clogs:
Speaking of clogs, the Project Painter Plus also features a reversible tip. This component of the tool is going to be good for quickly working through clogs that crop up while you are working.

If you do experience a clog, you simply reverse the tip and keep spraying. Eventually, you will have to work on fixing the clog the proper way, but this feature does at least eliminate the need to stop mid-job.

This feature is particularly handy because the Project Painter is somewhat prone to clogging. In fact, it would be fair to say that clogging is this system's Achille's heel.

Naturally, this is going to be a little bit frustrating no matter what, but the reversible tip helps to make the issue manageable.
Fifty Feet of Hose Length: Good For Most Homes:
The motor on this sprayer is capable of utilizing hoses up to fifty feet in length. While this is not the longest hose length that you will ever see, it is going to be enough length to accommodate the needs of most homes.

To put this in perspective, a fifty-foot hose should be able to access the second or even third story of most homes.

If your hose is exceptionally tall, you may need to enlist a sprayer that is a little bit better equipped in the hose length department. However, for most users, fifty-feet is plenty.
On-Board Storage: Good for People With Limited Space:
Lastly, the Graco Magnum Project Painter Plus also features small compartments for onboard storage. With these compartments, you will be able to easily store your spray gun and tips. This feature will do well to accommodate the needs of homeowners that are stressed for storage space.

This feature probably is not a dealmaker, but it is a nice little perk of the product.
We recommend reading: our Graco X7 Review
FAQ
Is this sprayer run on electric or air?

This is an electric sprayer.

Can this product be used to apply stain to wood?

Absolutely! With the right tip, you should have no trouble applying stain to wood.

What kind of warranty does this product come with?

This product features a one-year limited warranty.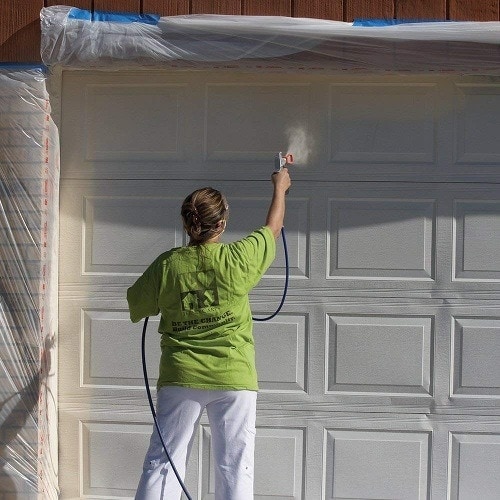 What the Users Say
User reception is mostly very warm to the Graco Magnum Project Painter Plus. Most of the users that we hear from DIYers that are looking for a way to get pro-level quality at an affordable price.

While it would not quite be accurate to say that everyone is completely satisfied with the Project Painter Plus, most people do seem to feel that it delivers in the department of quality.

Users really appreciate the easy to clean factor as well as the reversible tip that eliminates the need to stop working in the middle of a project.

However, there were a couple of concerns. For one thing, most experienced users seem to agree that the Project Painter Plus clogs more than the average sprayer. This issue is helped by the reversible tip, but people do still find it frustrating.

We have also heard from people who say that they tend to overspray with this sprayer, though this could be largely attributed to their own technique flaws.

Related: What's the difference between the Graco X5 and X7?
Conclusion
As you have probably gathered, the Graco Project Painter Plus leaves very little to complain about. The easy to clean interface, the reversible tip, and the pain flow settings are all features that make for a very capable sprayer.

It's even priced competitively. While most people probably would not say that this sprayer was cheap it is affordable relative to other top-tier units.

The issue of clogging is definitely a drag, though it also isn't unexpected. If you can look past this problem, then you will find much to appreciate in the Graco Project Painter Plus. Our view is that this is the perfect option for do-it-yourselfers looking for pro-quality finishes on a budget.

You might also be interested in: 10 Best Paint Sprayers – Reviews & Top Picks