Graco Magnum X5 vs X7: Which Paint Sprayer is Best for Your Needs?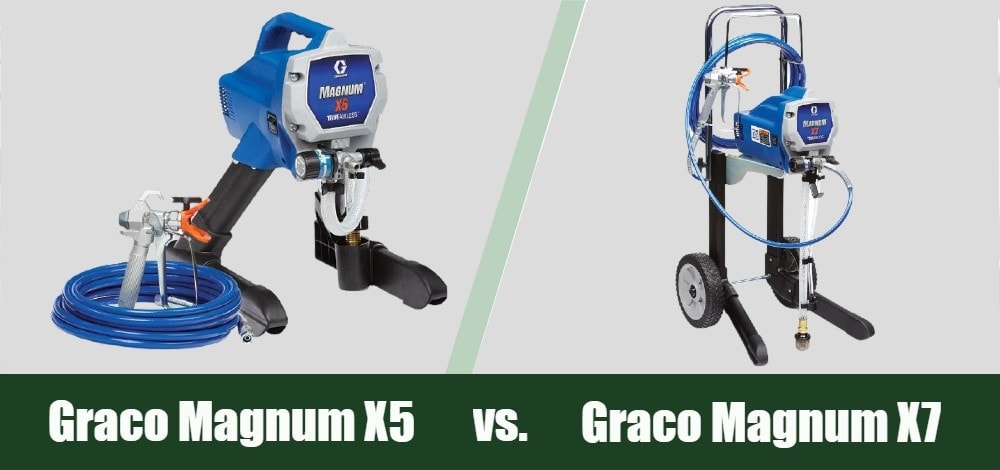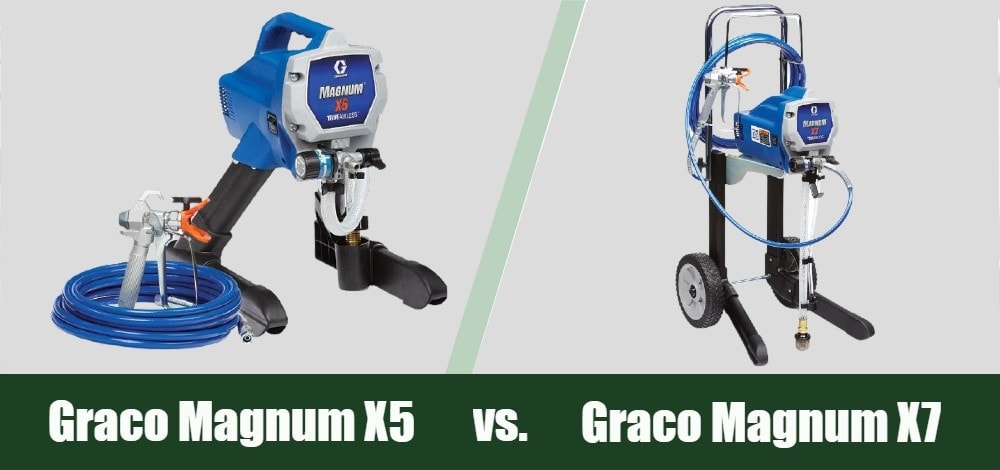 Rating
Image
Product
Details

Best for Large Projects

Graco Magnum X7

100 feet of length
High volume work
Ideal for multi-story homes
CHECK PRICE

Best for Small Projects

Graco Magnum X5

Affordable
75 feet of length
Ideal for indoor and outdoor
CHECK PRICE
At a glance, there are very few discernible differences between the Graco Magnum X5 and the X7. Both tools feature the same range of pressure settings, and they are cleaned the same way.
They even have the same built-in flaw: both spray systems require more cleaning than average because they are prone to clogs.
Indeed, the tools are very similar, which makes it harder to decide between the two. Generally speaking, when comparing two tools, one of them is going to be a clear winner, but that isn't really the case here. Both excel in their own ways.
For example, the X7 is a little more powerful than the Magnum X5, which means that it is able to use longer hoses (100 feet instead of the 75 feet that the X5 is capable of). This means that if you need to paint a three-story home, you will probably prefer the Magnum X7.
However, the X5 is also more affordable, which will, of course, appeal to buyers on a budget.
To determine which of these two tools is going to be better for your needs, read on for a review of the Graco Magnum X5 versus the X7!
What's the difference between them?
Performance: Tie
Performance is the key consideration for any tool buying decision, right? Interestingly enough, there actually is no real difference between these tools in terms of actual spray output.
What they are ultimately able to accomplish is slightly different (we will get to that later), but in terms of how the paint is dispersed, all things are equal.
The Graco Magnum X7 is really just a juiced-up version of the Graco Magnum X5, so this shouldn't be a big surprise.
Both tools feature the same pressure settings, so you can have complete control of how the paint is dispersed.
They are also cleaned the same way, via a hose adapter that makes cleaning this tool as simple as hooking it up to your garden hose, and they even feature the same Achilles heel.
Said heel, in this case, is that both Graco tools are overly prone to clogging, which means that you will want to stay on top of cleaning them to avoid more serious problems.
The Graco X7 technically has a more powerful pump, but this is only because it can use a longer hose.
If finding the spray system that produces the best paint job is your objective, either tool is going to be suitable.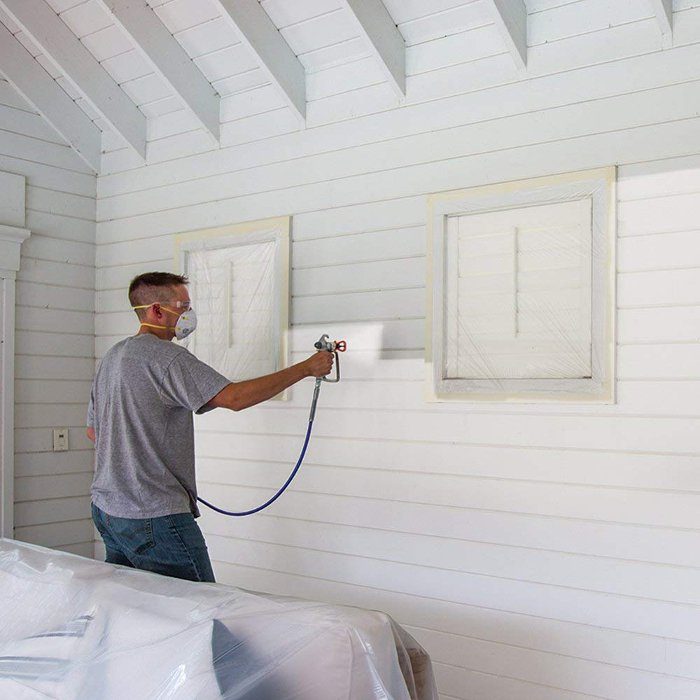 Price: Point for the Magnum X5
As we suggested in the introduction, the Graco Magnum X5 is more affordable than the X7. If you are looking for a way to save money, going with the X5 may be a good idea, though for some users getting the X7 (or a similarly capable tool) is going to be necessary.
Why? The X5's hose maxes out at seventy-five feet, which is fine for one- or two-story homes, but may be a problem for larger-scale paint jobs.
Still, if you don't need the extra length, the differences between these two tools are small enough that you should be just fine with the Magnum X5.
---
Features: Point for the Magnum X7
The features of these tools are also almost identical. Each includes a wide range of pressure settings for complete control of paint flow, a garden hose adapter for easy cleaning, and a flip tip system that allows you to temporarily mitigate clogs while you work.
We have mentioned most of those features already, but that last one is worth elaborating on.
The clog-curing tip feature allows you to work around the clogs that frequently pop up in both of these tools, but it won't prevent them.
If you experience a clog mid-session, you may be able to work around it with this tip. However, you are going to have to clean the entire tool out as soon as possible to avoid a more significant issue.
The biggest feature difference between these tools is that the X7 design includes a wheeled cart system that allows you to push the tool around easily.
If you plan to transport this tool, this feature is going to come in handy. Of course, if you don't want to pay more just for a set of wheels, you can definitely use the X5 if you are willing to carry your sprayer.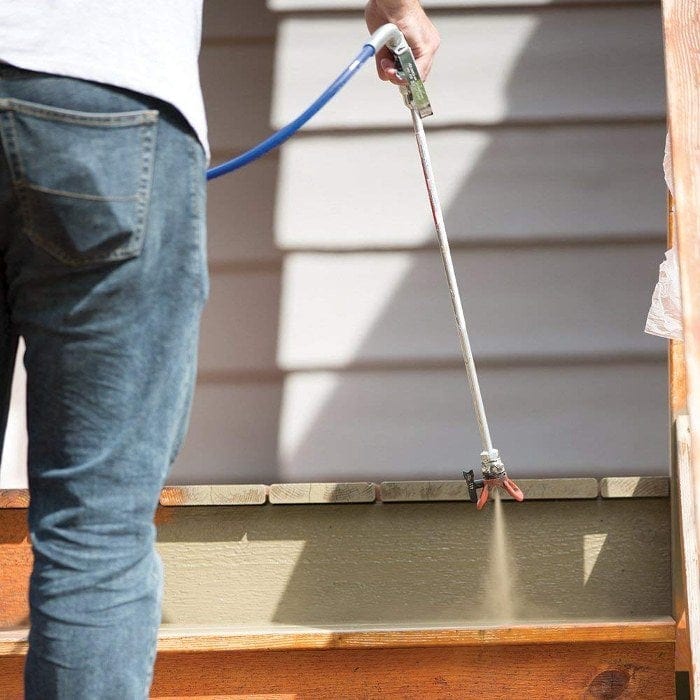 Quick Run Down of the Magnum X5:
Graco Magnum 262800 X5 Stand Airless Paint Sprayer, Blue
Just right for DIY Homeowners and Remodelers looking for more power and mobility when tackling larger projects
Ideal for projects up to 10 gallons in size, allowing you tackle multiple projects every year
Fully adjustable pressure control to give you ultimate control to spray paints or stains unthinned at any pressure
Pros
Affordable
Hose Adapter
75 Feet of Length
Cons
Not quite as suited for high volume work as X7
Prone to clogging
---
Quick Rundown of the Magnum X7:
Graco Magnum 262805 X7 Cart Airless Paint Sprayer, Gray
CONTROL PAINT FLOW: Fully adjustable pressure to give you ultimate control of paint flow for any project size; RAC IV SwitchTip allows...
SPRAY PAINT UNTHINNED: Stainless Steel Piston Pump allows you to spray paint unthinned at high pressure
SPRAY DIRECTLY FROM PAINT BUCKET: Flexible suction tube allows you to spray directly from a 1 or 5 gallon paint bucket
Pros
100 Ft Of Length
Hose Adapter
Better Suited for High Volume Work Than X5
Cons
Pricey
Also prone to clogs
What the Users Say
The user response to both of these tools is remarkably similar, though perhaps this should not be surprising, as the tools themselves are remarkably similar.
Most of what people are saying is very positive. We have heard from users that are painting large projects like the exteriors of their homes, or even the interiors of their homes, without any problems.
We have even heard from people who are getting good results on detailed projects like furniture painting.
The biggest complaint we have seen is that the Graco Magnum X5 and the X7 both clog a lot. The positive thing, however, is that the users do report good results with the actual painting itself.
Our in-depth reviews:
Final Verdict:
There really is no clear winner here. In the X5 and the X7, you have two good tools that are designed to accommodate different needs.
Buyers that have a larger project to work on will want to go with the X7, as the X5 simply can't handle those jobs. You may also want the X7 if you think that the wheel system is going to be important for your needs.
However, if you don't need to tackle larger jobs, and you think you can get around not having a spray system that is on wheels, the Magnum X5 will definitely be more up your alley. This tool does virtually everything that the X7 does, and it is more affordable.
All that is left for you to do now is to evaluate your needs and choose the model that is most suited for your situation.