Hitachi RB24EAP Leaf Blower Review 2023 – Pros, Cons, & Verdict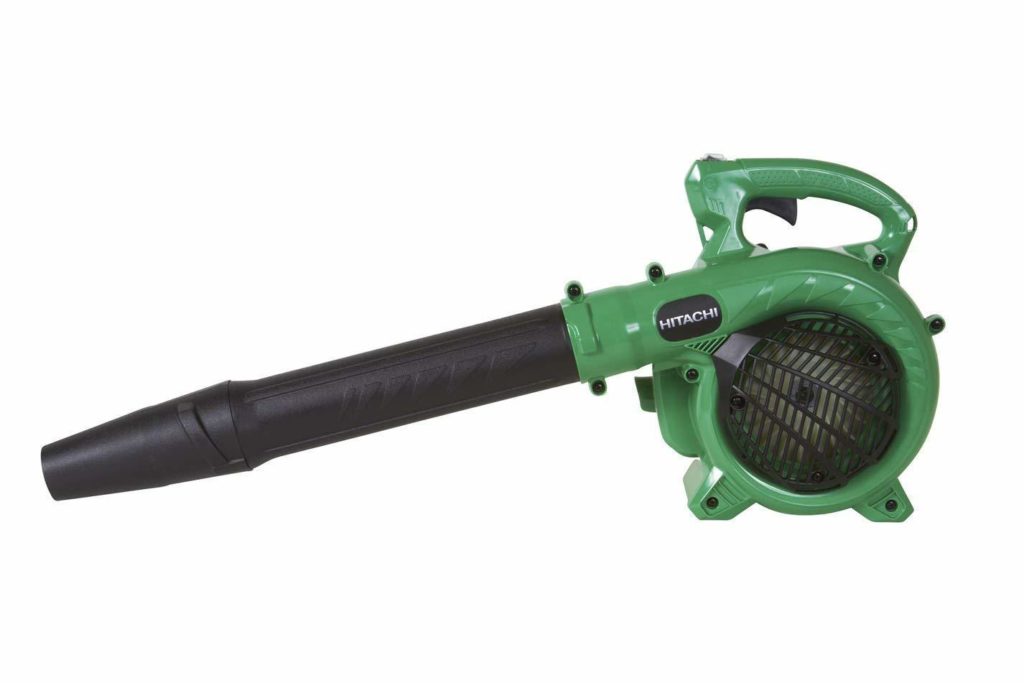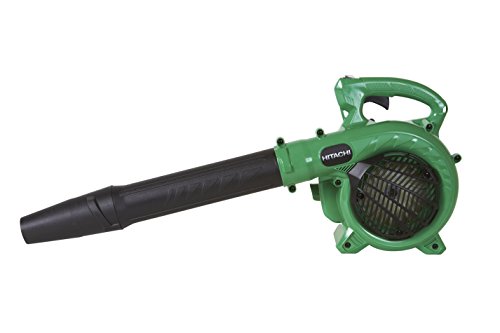 We give the Hitachi RB24EAP Leaf Blower a rating of 4.8 out of 5 stars. 
Build Quality: 5/5
Power: 5/5
Features: 4.5/5
Price: 4.5/5
Review Summary
If you're looking for a good leaf blower (and judging by the fact that you're here, our guess is that you are), Hitachi is a good company to consider.
They have a name in the yard equipment game, and the RB24EAP seems poised to contribute to the goodness of that name.
We're going to take an up-close look at this product in the article that follows, but for now there are a few things that we can mention that should give you a good idea of what it's all about.
The RB24EAP is a commercial-grade leaf blower, though it has lots of features that homeowners will also appreciate: it's light, powerful, and up to the task of working through bulky yard waste.
Of course, with the quality of a commercial blower comes a heftier price tag. Homeowners will likely find that the Hitachi costs a little bit more than they were planning to spend.
Is it worth paying more to get more?
You'll get to decide for yourself as we now dive into our Hitachi RB24EAP review!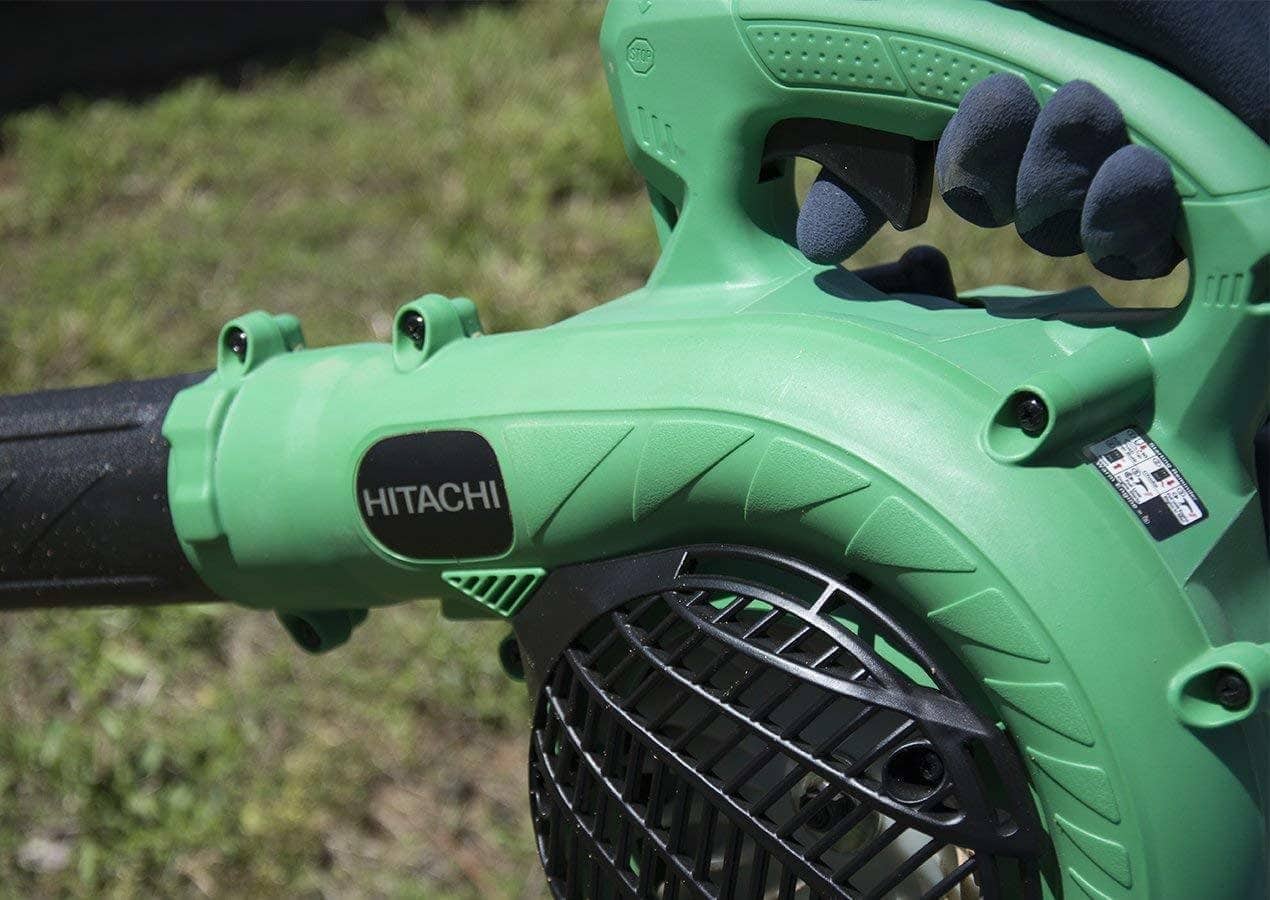 Hitachi RB24EAP – a Quick Look
Pros
23.9 cc Commercial grade 2-stroke engine
170 MPH air velocity
Industry leading warranty
Lightweight (8.6 Pound Build)
Cons
Skews pricey
Gas line prone to leaking
Specifications
Company: Hitachi
Model: RB24EAP
Warranty: 7 Years
Power Source: Gasoline
Engine: 23.9 CC 2-Stroke
Air Emission Velocity: 170 MPH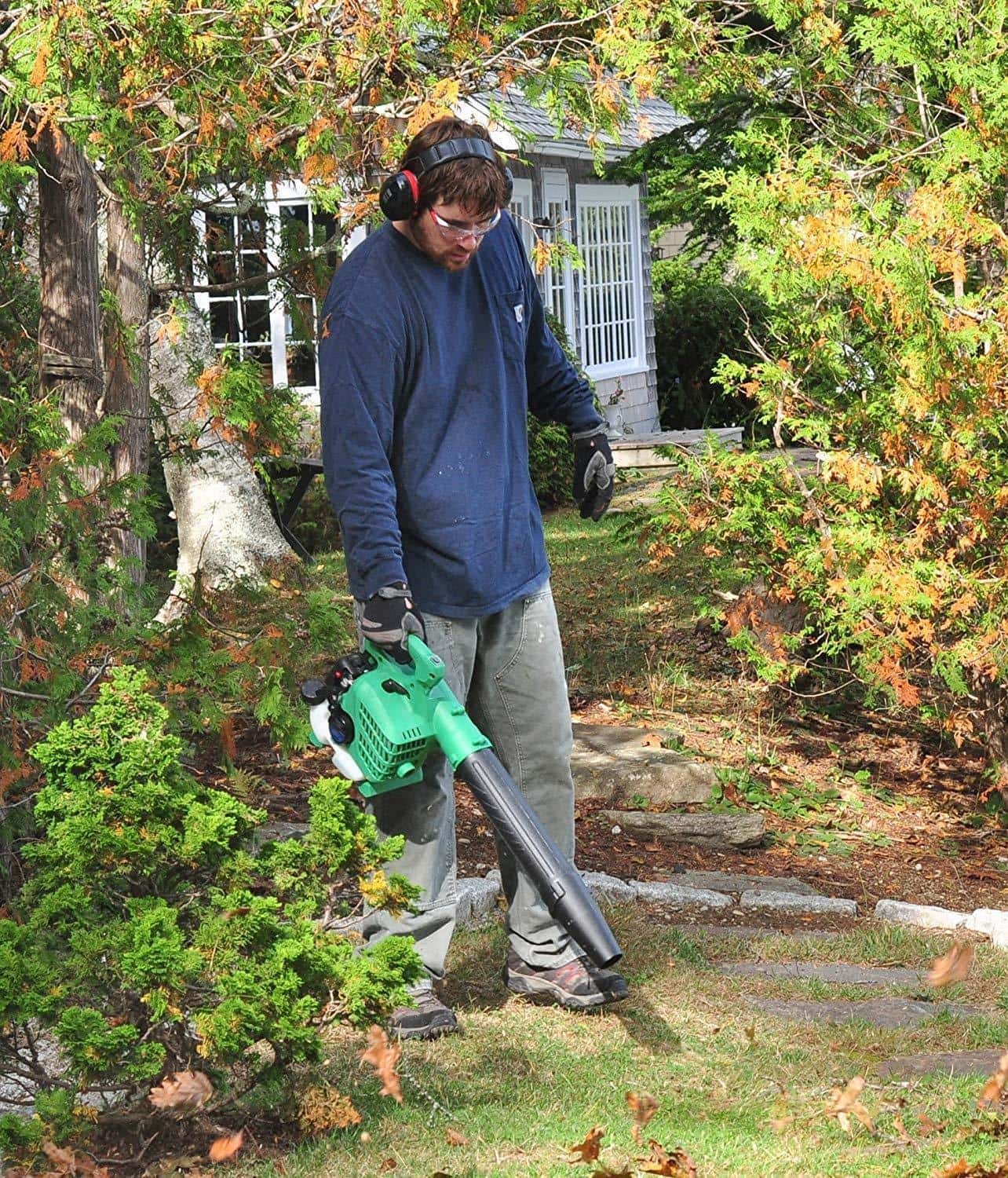 Lightweight
When looking for a new leaf blower, the weight of the unit is definitely something that you're going to want to pay attention to. The reason for this is pretty simple: even though blowing leaves is not a labor-intensive activity, you'll likely feel fatigued and sore at the end of a long day.
Why? Leaf blowers are often pretty heavy. That isn't what you're going to get here. This unit is optimized with a lightweight 8.6-pound design to ensure that you'll feel all right at the end of your work.
This is particularly nice to see in a gas unit, as they usually tend to be significantly heavier than their electric alternatives.
Warranty
You don't often find a product warranty making its way into an important features section of a review, but here it bears mentioning. Hitachi is offering an industry-leading 7-year limited warranty on this unit, which should more or less cover the bulk of the tool's lifespan.
A long warranty means two things: One, that you may not have to pay out-of-pocket should you need repairs, and two, that the company has enough confidence in the quality of what they're selling to back it up with a firm guarantee.
Without a doubt, you definitely want a leaf blower with a good warranty, and this one has it.
Commercial Grade
If you're a professional, the phrase "commercial grade" is going to have to apply to whatever leaf blower that you buy. Homeowners have a little bit more leeway in terms of the build quality of their leaf blower. But wouldn't a commercial grade blower be nice to have?
What gives this unit professional-caliber status is mostly the output. The Hitachi blows air at a velocity of 170 MPH, which is going to be more than enough to take care of most tasks that you come across.
It also comes with an impressive 23.9 cc, 1.13-horsepower engine that will outperform other products of its class. The engine even features low emissions technology, which means that it's better for your lungs and the environment
In fact, this is one of the few gas-powered pieces of lawn equipment that adheres to California's strict emission laws, making it a good option for residents of the Golden State.
FAQ
The nozzle seems pretty short, and I'm pretty tall. Will this be a problem for me?
It's definitely true that the standard nozzle attachment for this blower is a little bit stubby. For most people, and situations, this isn't going to be much of an issue. The power of the engine ensures that, despite its compact frame, the tool is still capable of getting the job done.
How durable is this unit?
Good question! While the Hitachi is generally pretty durable, it does look like the fuel line is a little sensitive to cracking and leaks.
Is this blower hard to start? Many gas units are.
The ease with which you're able to start this product will depend on your situation and the condition of your tool. That said, we found that the Hitachi starts without the need for prolonged effort.
What the Users Say
User impressions are mostly positive. We've heard from many users who appreciate its power, the lightweight design, and the ease with which they're able to start it up.
However, there is one semi-serious flaw that has popped up with regularity. We've heard from several users that the gas line is prone to leaking or cracking.
While this defect does not occur with every unit, it's certainly something to look out for.
Conclusion
So, what are your thoughts? It may not be perfect, but there's no denying that it's a good leaf blower, right?
We think so as well. But is it worth your money? Let's review a few key points. This tool is lightweight, powerful, easy to use, and it comes with just about the best warranty that you're ever going to find.
But it's also disproportionately pricey when compared to many other leaf blowers on the market.
We can't tell you if the impressive features are worth your money or not. Our only hope is that we've helped to make your buying decision a little bit easier for you.