5 Best 4-Cycle Leaf Blowers 2023 – Reviews & Top Picks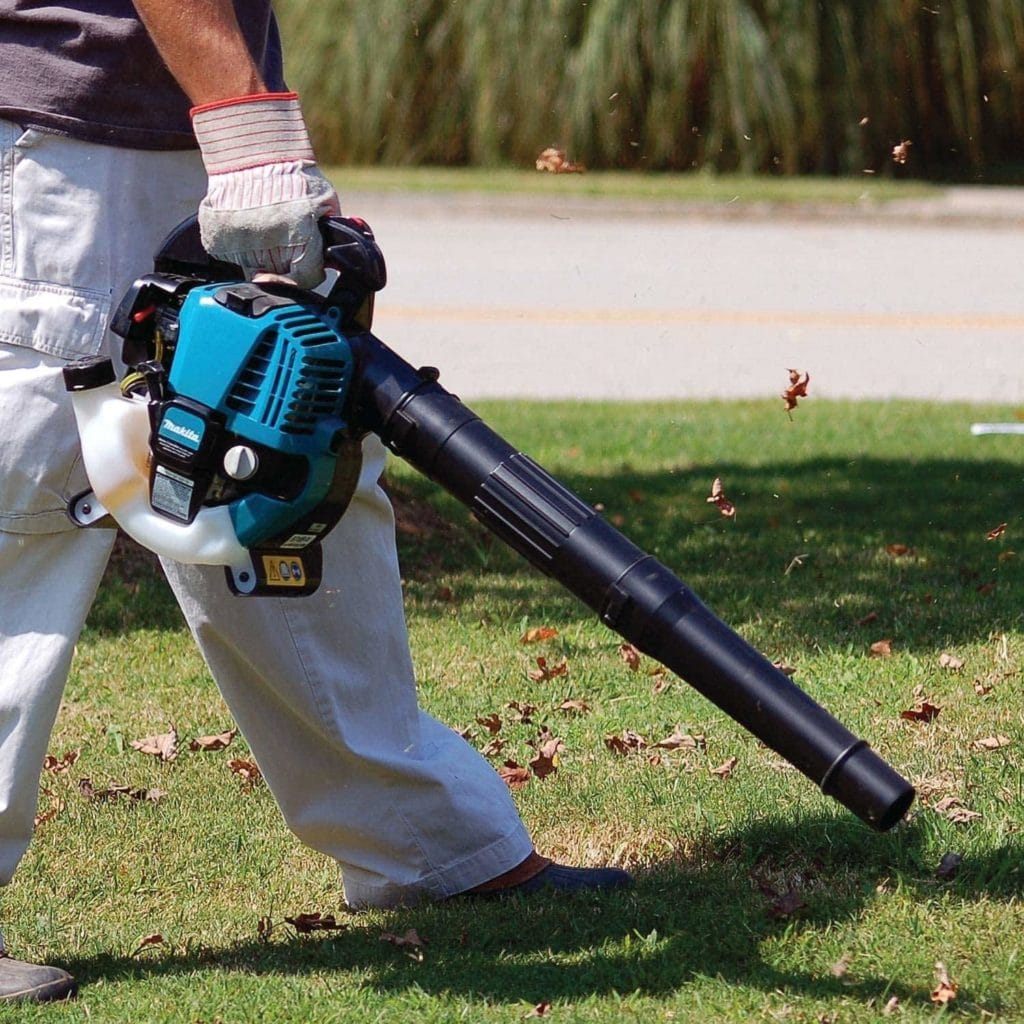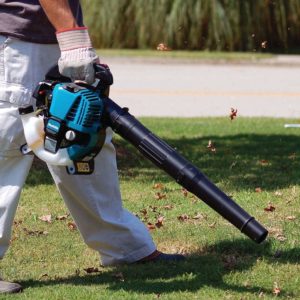 A 4-cycle leaf blower will quickly and quietly move large volumes of leaves. There's no need to mix oil in with the gas, and the best models will start the first time, every time. Look for powerful but efficient 4-stroke engines, lightweight models that you can lug around for several hours without the fear of breaking your back, and those with comfort grips that prevent calluses and blisters.
There are many factors to consider when buying a 4-cycle leaf blower, including whether it is designed for left-handed use. To help, we have compiled a list of reviews of the best blowers you can buy. Using our reviews, you can find models ideal for home or work and long-term or occasional use.
---
A Quick Comparison of Our Favorites in 2023
Rating
Image
Product
Details

Best Overall

Makita BHX2500CA MM4 4-Stroke Engine Blower

Soft grip handle
Cruise control lever
Weighs 9.8 lbs
CHECK PRICE

Best Value

SENIX BL4QL-L 4 Stroke Gas Powered Leaf Blower

Affordable
Auto-choke ignition system
Lightweight
CHECK PRICE

Premium Choice

Troy-Bilt TB4BP EC 4-Cycle Backpack Blower

Powerful engine
500 CFM and 150 mph air speed
Cruise control
CHECK PRICE

CRAFTSMAN BP410 4-Cycle Gas Powered Backpack Leaf Blower

Powerful 32cc motor
205 mph wind speed
460 CFM displacement
CHECK PRICE

Landworks Leaf Blower

Push along model
Very powerful
CHECK PRICE
The 5 Best 4-Cycle Leaf Blowers
1.

Makita MM4 4-Stroke Engine Blower – Best Overall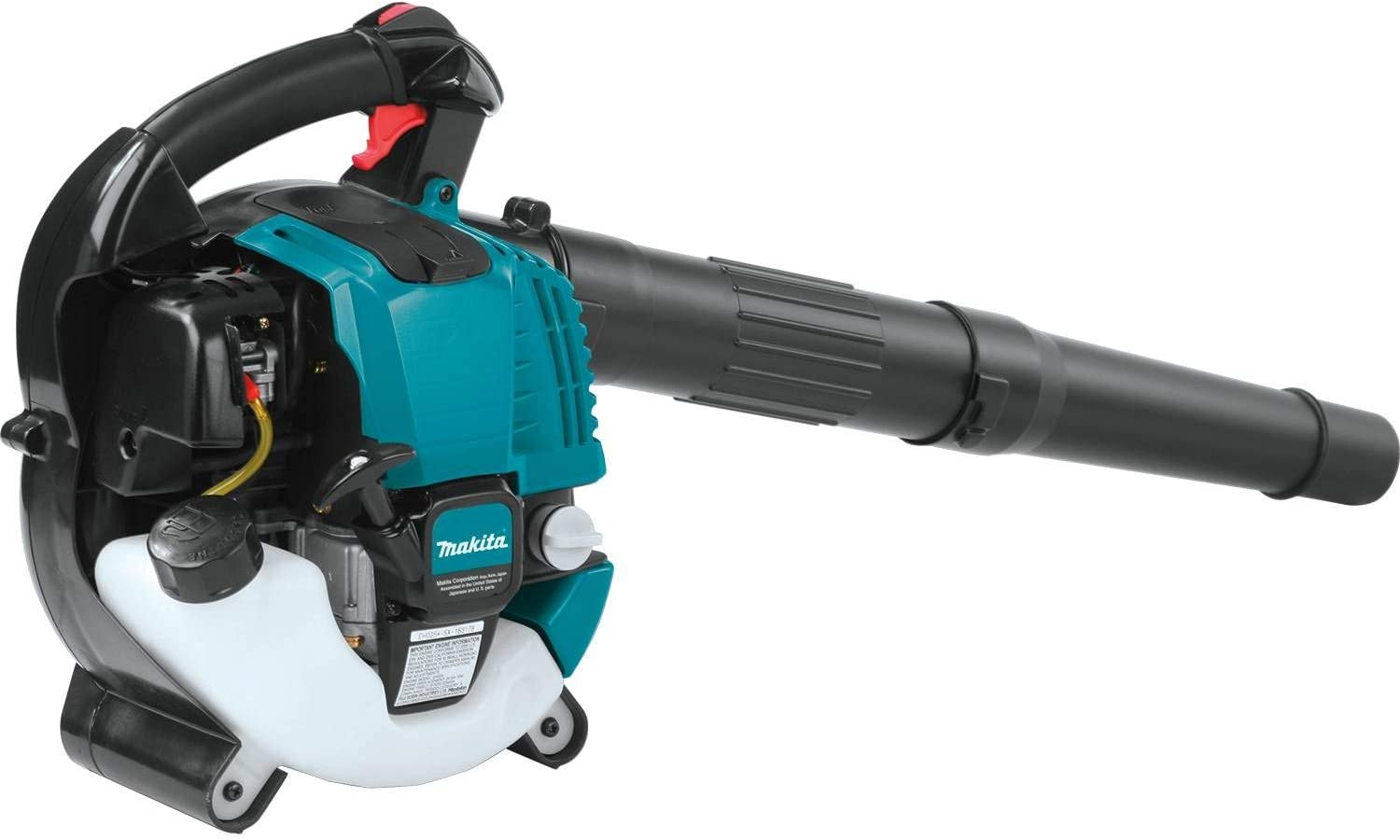 The Makita BHX2500CA MM4 has a 145 mph blow motor, and because it's a 4-stroke engine, there's no need to mix fuel with oil before use. The powerful blower weighs less than 10 pounds, and the 24.5cc engine operates at a volume of 67 decibels. It has an air displacement rating of 356 cubic feet per minute (CFM). The soft grip ensures it can move large piles of leaves without causing pain or blisters on the operator.
It also has a cruise control lever to prevent fatigue caused by having to hold a button or trigger for prolonged periods. The engine features Mechanical Automatic Engine Depression, which helps ensure a first-time start, and the device meets all EPA and CARB exhaust and emissions regulations, and it can be bought and used in any state. Overall, this is the best 4-cycle leaf blower we have reviewed this year.
Pros
Soft grip handle
Cruise control lever
Weighs 9.8 lbs
Muffler reduces noise to 67 dB
Cons
Mechanical Automatic Engine Depression is prone to failure over time
---
2.

SENIX 4 Stroke Gas Powered Leaf Blower – Best Value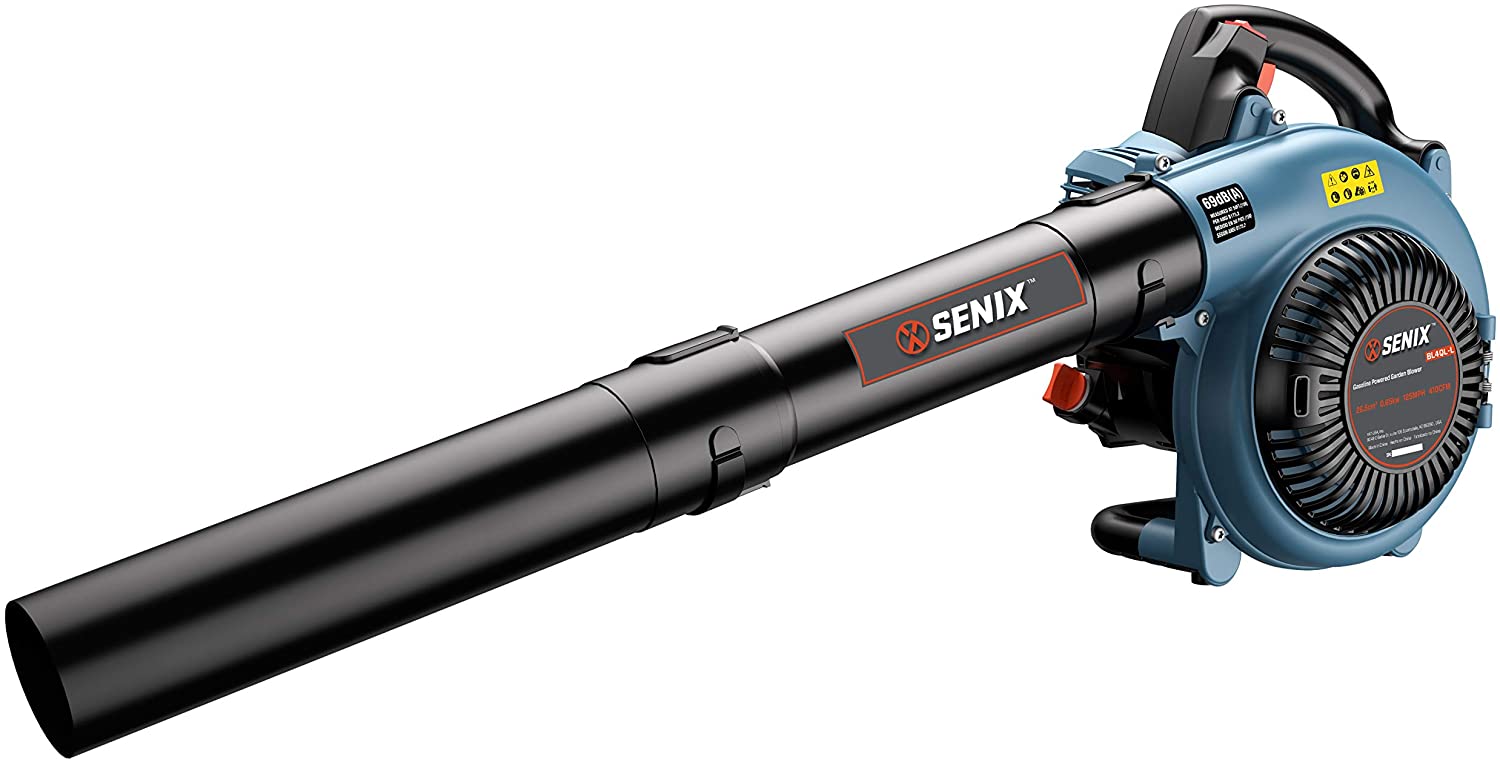 The Senix BL4QL-L 4 Stroke Gas Powered Leaf Blower has a more powerful engine than the Makita, with a 26.5cc output. Despite this, it produces slightly less wind speed of 125 mph. Its air displacement rating of 410 CFM means that you can shift more leaves at once than with the Makita, but you won't be able to move them as far.
The lightweight device is meant for home use, and it has a price tag to match. It offers more than enough power for cleaning your own yard, no matter how large and how many trees you have, and costs a fraction of some of the heavier-duty models. This combination makes it one of the best 4-cycle leaf blowers for the money.
It is slightly lacking in power, and while it has a soft finish handle and low vibrations, it lacks a cruise control lever. The automatic choke ensures that it starts with minimal fuss every time.
Pros
Affordable
Auto-choke ignition system
Lightweight
Cons
Not as powerful as some
No cruise control
---
3.

Troy-Bilt EC 4-Cycle Backpack Blower – Premium Choice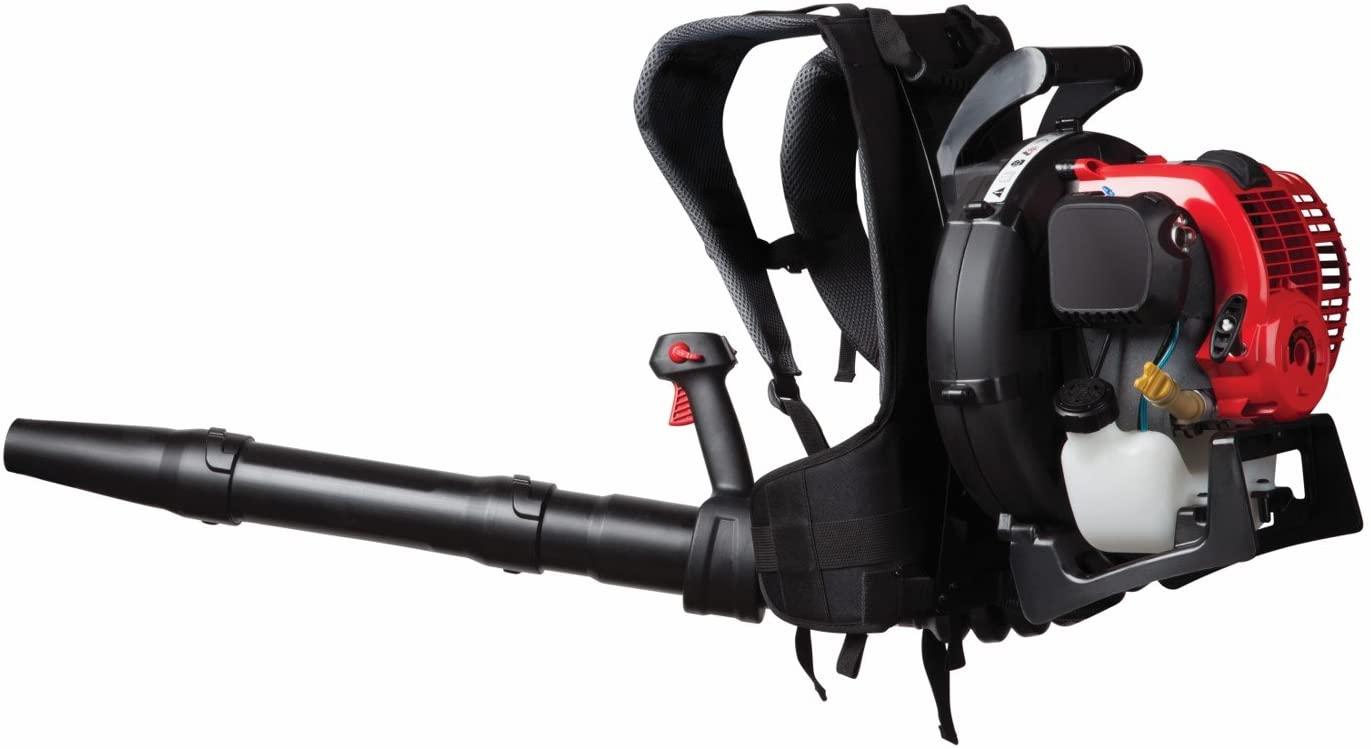 With its 32cc engine, 500 CFM air displacement, and 150 mph air speed, the Troy-Bilt TB4BP EC is a backpack blower designed for commercial and professional use. It is heavy, weighing 21 pounds, but it is a backpack model, which means that the weight is evenly and comfortably distributed across your whole upper body, negating the need for your arms to take all of the weight.
The motor's power makes it louder than other models, rated at 72 dBA, and you must wear ear protection. There is no automatic choke on this model, and you will have to pump the primer ten times, set the choke to the starting position, and then pull the starter rope.
Although a manual choke requires more effort, it is less likely to break down and become a major fault with the blower. This model is designed for comfortable use. As well as the backpack, it has a cushioned belt, and it features cruise control to alleviate operator fatigue.
Pros
Backpack and belt spread the weight
Powerful engine
500 CFM and 150 mph air speed
Cruise control
Cons
Expensive
Manual choke
Heavy
---
4.

CRAFTSMAN 4-Cycle Gas Powered Backpack Leaf Blower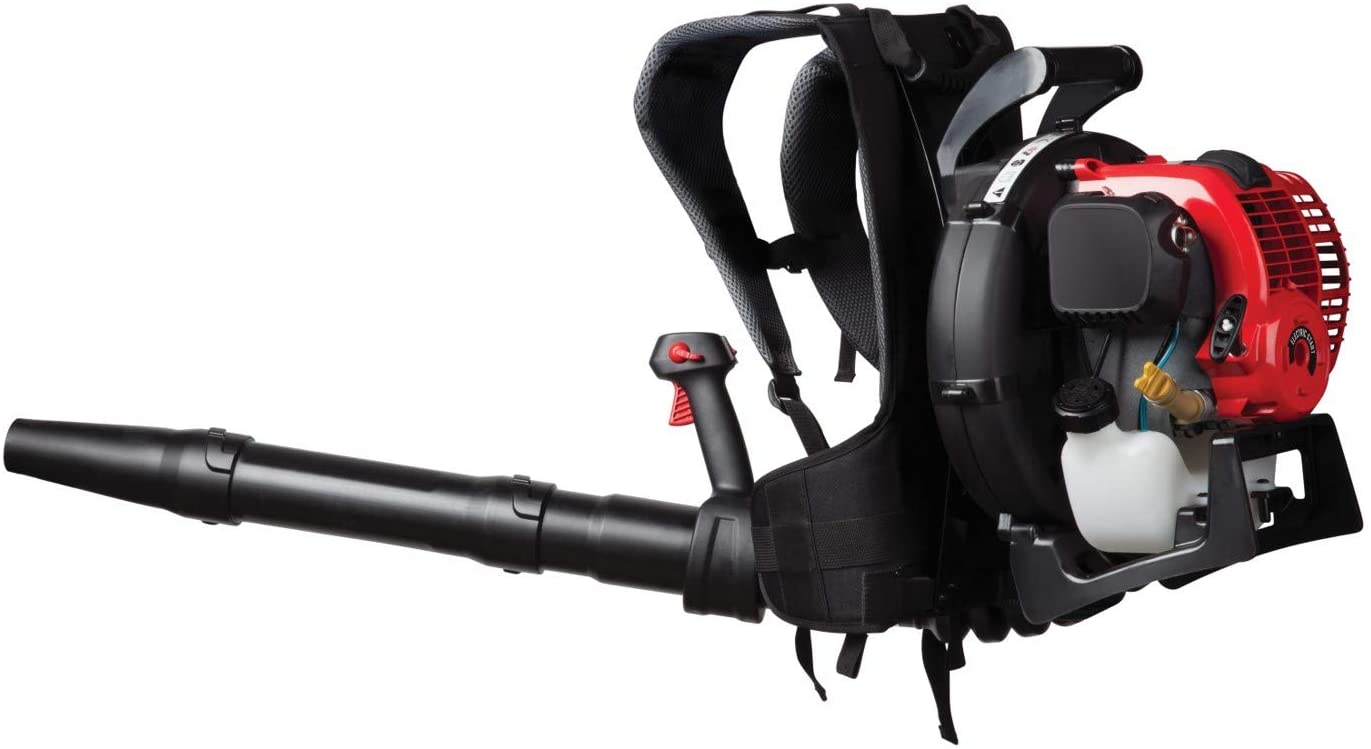 The Craftsman BP410 comes in two models. As well as a 2-stroke, 27cc model, there is this 4-stroke 32cc variant. It is a backpack blower, and the powerful engine produces 460 CFM with a powerful 205 mph wind speed that will shift a lot of leaves in a short time. It's suitable for professional jobs and will make short work of clearing the leaves in your yard, too.
The base model has a pull-start motor, but you can buy an electric starter separately. It has a variable speed throttle and cruise control. It also has an ergonomic handle, and a curved tube that enables you to get into inaccessible areas to clear leaves out behind the shed.
Pros
Powerful 32cc motor
205 mph wind speed
460 CFM displacement
Cons
Electric starter costs extra
Heavy
---
5.

Landworks Leaf Blower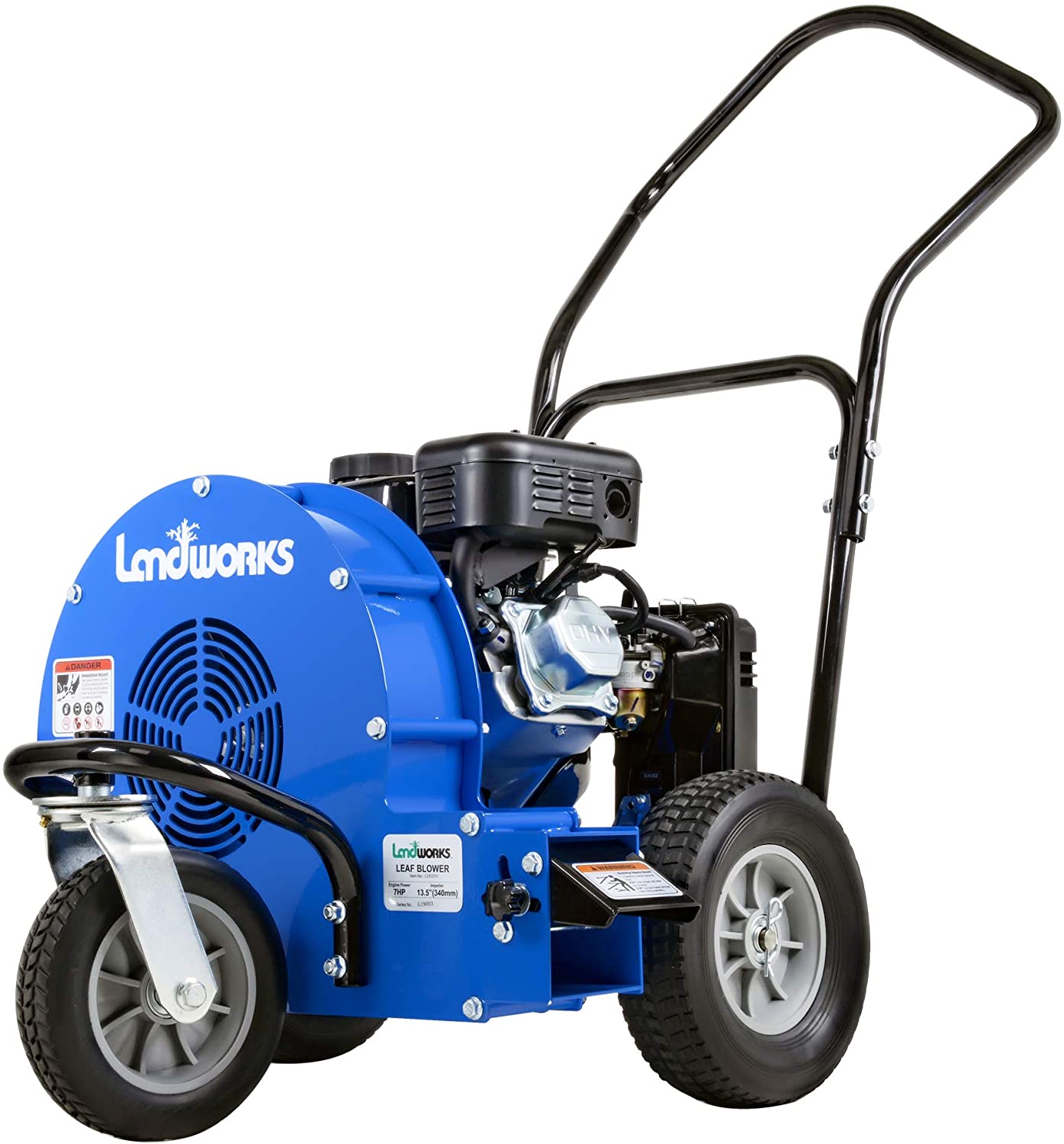 The Landworks Leaf Blower is a very heavy-duty machine. It has a 212cc 4-stroke engine that produces a wind force of 200 mph and air displacement of 2,000 CFM. It is heavy but a walk-behind model, so you don't have to carry it at all, not even as a backpack. It is powerful enough to move wet leaves and other debris, and its air displacement rating allows it to make short work of the largest leaf pile.
The Landworks leaf blower is expensive and more powerful than most domestic settings require. It is primarily meant as a commercial model, as expected from Landworks, who also make products like powered wheelbarrows and utility carts.
Pros
Push along model
Very powerful
Cons
Unnecessarily powerful for most applications
Expensive
Not a propelled device
---
Buyer's Guide – How to Choose the Best 4-Cycle Leaf Blower
The leaf blower is an essential piece of gardening and yard maintenance equipment for anybody who needs it. If you have large trees that shed their leaves during autumn, using a leaf blower negates the need to rake every leaf into a neat pile. Strap on your leaf blower, pull the ignition, and blow them into a pile ready for collection and disposal.
When choosing a 4-cycle leaf blower, there are several important factors that you need to consider if you want to buy the best blower for your yard and your requirements.
Weight
The weight of the blower is important. If you're lucky, it will take 10 minutes to blow a yard's worth of leaves into a pile. If the blower is heavy and doesn't offer backpack functionality, it will be too much for you to cope with. Your arms will ache, and you'll give up through fatigue rather than because you finished the project.
Weight can vary from 10 to 20 pounds for those models that you do have to carry over your shoulder. Backpack models may weigh a little more, and those that you push or pull can weigh significantly more without becoming too much of a strain.
Power
The power of the engine determines how many leaves you can blow at a time and even how far they will blow. Some of the most powerful blowers will deal with wet leaves and heavier debris. Buying an underpowered model will mean you must make several passes to ensure that you have tidily gathered every leaf into a pile.
Engine power is measured in cc and can vary from around 20cc upwards, but this number alone is meaningless. More important is the engine's power and the resulting speed at which air is fired out of the blower.
Measured in mph, this figure ranges from around 140 to 200 mph. The lower end of the scale is ample for home use, but you will benefit from a blower at the top if you are using the blower commercially and will be tidying up leaves for hours.
Air Displacement
Another important number to look at is that of the air displacement. Measured in CFM, or Cubic Feet per Minute. This is the cubic feet of air displaced every minute by the device. Machines with a lower CFM are not useless, and it can prove easier to use this type of machine in a small area. It enables greater precision, prevents you from blasting everything from your flower bed into the middle of the lawn, and is available at a lower price, but that isn't always the case.
A CFM between 200 and 400 is considered suitable for use in a yard, anything above 400 CFM can be used in large yards or for larger areas. If a blower has a variable throttle, you can apply less pressure and use a larger model in a smaller space without it proving too unwieldy.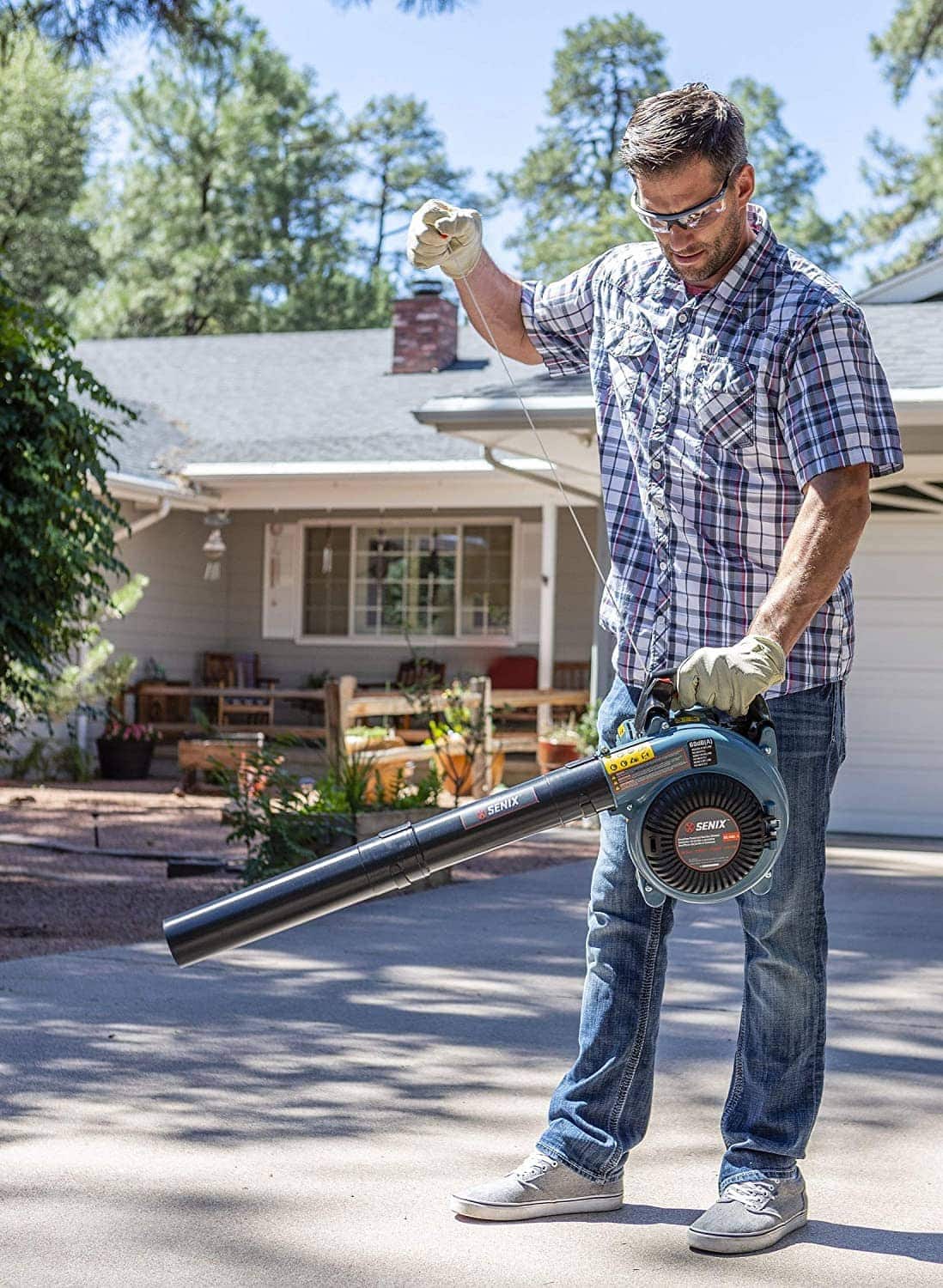 Additional Features
Automatic Choke – Starting a four-stroke motor typically requires priming it. This means injecting fuel into the engine so that it can ignite and start powering the cylinders. This is usually achieved by pumping a small rubber bulb approximately ten times and then waiting before pulling the starter cord. An automatic choke dispenses with the need to prime the engine and will do this for you, usually when you turn the choke to the starter setting. An automatic choke is convenient, but it adds to the cost, and it also adds to the mechanical parts that can go wrong.
Electric Starter – Most machines of this type come with a starter cord, as you would find on an outboard motor. An electric starter is more convenient. It usually requires moving the choke to the proper setting and pushing a button. It may take more than one try, but it is easier on the wrist than frequent starter cord pulling. Some models are described as being electric starter compatible. This means that you can buy an electric starter separately and fit it to the machine, but it does not usually come as standard.
Variable Throttle – You don't need full power all the time, and using a machine at full throttle is energy inefficient, especially if you only have a few stray leaves left to collect. What's more, a powerful leaf blower can decimate delicate plants. A variable throttle allows you to apply varying degrees of pressure to the throttle by depressing the lever more or less, and this will apply an appropriate amount of throttle to the engine. Press less and use less power. Fully depress the throttle and get full power.
Cruise Control – If you're clearing up leaves for an hour, even the simple process of pulling the throttle trigger can cause discomfort after this length of time. Cruise control allows you to find the throttle level you want and then set the cruise control. The machine will continue to deliver a fixed amount of power until you disengage the cruise control.
Soft Grip Handle – Prolonged use of a powered device like this can also lead to discomfort in the hands, while the constant vibration can cause jarring up and down your arm. A soft grip on the handle will dampen the vibrations and reduce the stress on your body. This is especially useful in powerful machines, and even though four-stroke engines vibrate a lot less than the two-stroke engines that were once more common in these devices.
Curve Tube – The tube of most leaf blowers is straight so that whichever direction you face, the blower aims in that direction. A curved tube allows you to reach around behind obstructions and makes it possible to clear leaves out from areas like the back of the shed or from behind the woodpile.

Conclusion
The leaf blower is a relatively humble piece of yard maintenance equipment, but it provides an invaluable service to those of us who have a lot of trees. It enables us to effectively push all the leaves in the yard into a pile ready to be discarded. These are also commonly used in yard maintenance and groundskeeping. We believe that the Makita MM4 4-Stroke Engine Blower is the best blower on the market. It provides enough power to get the job done and is comfortable, lightweight, and reasonably priced. The Senix BL4QL-L 4 Stroke Gas Powered Leaf Blower is cheaper and features an auto choke, but it doesn't have cruise control and isn't as light or refined as the Makita.
More about leaf blowers: