10 Hottest Cities in the World – 2023 Update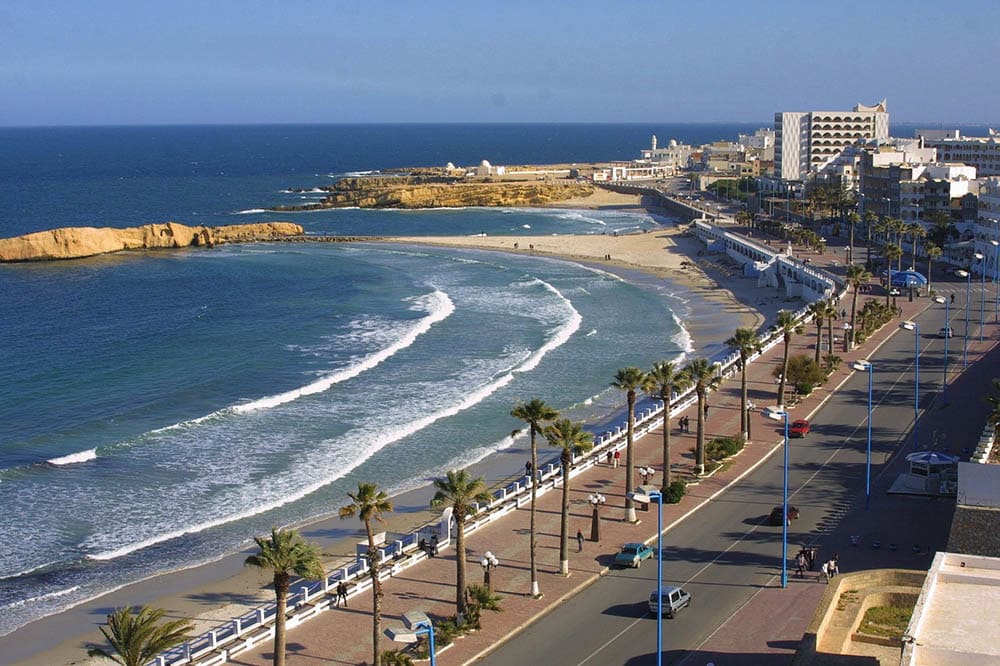 As global warming continues taking its toll, hot spots worldwide have posted record-breaking temperatures in recent years. Heat-related mortality from climate change is rising with the temperature, and quality of life has suffered significantly in many areas.
Even if you have been feeling the effects of increasingly sweltering summer heat, it's likely no match for some of the unbearable regions of the globe. For some perspective on how oppressive the heat can be for some urban-dwellers, here's a look at the 10 hottest cities in the world.
The 10 Hottest Cities in the World
To build this list, we looked only at cities with at least 100,000 residents. Areas like Death Valley and Dallol, Ethiopia, where the temperature averages 94° through the year, boast some otherworldly climates, but their desolate landscapes hardly qualify as livable areas, much less cities.
The list ranks cities according to their average annual temperatures. Although its residents have to tolerate July high temperatures of 115°, Ahvaz, Iran is not part of the ranking due to the winter months offering some relief and bringing down the average annual temperatures. In these bustling urban settings, you can be sure that the heat will be intense no matter when you visit.
1.

Djibouti City, Djibouti
Average temperature: 86.9°F/30.5°C
Hottest month: July
Coldest month: January
Highest recorded temperature: 115°F
Djibouti may be limited in size, but its strategic location on the Gulf of Aden makes it a significant player in global economics. Its capital city's ports serve trade traffic coming from the Red Sea and the Indian Ocean, and it holds the starting point for the only railroad going to its western neighbor, Ethiopia.
Trade is the lifeblood of the dry, arid African city, as its lack of resources gives it few natural advantages. It's one of the hottest and driest places on Earth, where low temperatures rarely dip below 70°. In the hottest month of July, temperatures average 98°, and highs stay near 106°.
Despite the harsh climate, Djibouti features captivating cultural features thanks to its French and African influences. If you can stand the heat, a journey into its lively festivals, diverse cuisine and architecture, and Islamic artifacts make Djibouti a fascinating area.
---
2.

Khartoum, Sudan
Average temperature: 86.7°F/30.4°C
Hottest month: May
Coldest month: January
Highest recorded temperature: 118°F
Over five million people live in the metro area of Khartoum, Sudan's capital. The city is a crucial trade point for North Africa, but a suffering economy has been a source of strife in recent years, resulting in 2019's Sudanese Revolution. The military coup in 2021 hit the country's quality of life even harder, and the embattled city is currently the center of a string of protests and aggressive military action.
Temperatures in Khartoum are slightly more forgiving than in Djibouti. Lows in January dip to a brisk 64°, but the city has otherwise sky-high temperatures, capping at an average high of 106° in May. Although it is dry and consistently torrid, its location on the Nile can be a relief during the hottest summer days.
---
3.

  Jizan, Saudi Arabia
Average temperature: 86.7°F/30.4°C
Hottest month: July
Coldest month: January
Highest recorded temperature: 117°F
Sitting next to the Red Sea, Jizan (or Jazan) is a city on the southern tip of the Tihamah plain that extends up the Saudi Arabian coast. The location in the more fertile area of the country, along with solid infrastructure, makes Jizan one of the country's agricultural hubs. It's well known for its tropical fruit production, but the government continues to expand its reputation with several transportation, tourism, and energy projects.
Jizan does not have the hottest temperature in the world at any point during the year, but it is a model of consistency. Although average highs never eclipse 100° in the hottest stretches, the average monthly low never dips below 73° in the coldest spans. Even in January, Jizan's chilliest month, the average temperature is almost 80°.
---
4.

Kassala, Sudan
Average temperature: 86.5°F/30.3°C
Hottest month: May
Coldest month: January
Highest recorded temperature: 118°F
Kassala is a market town on the eastern edge of Sudan, lying close to the country's border with Eritrea. Nearly 400,000 people live and work in the city, where increasingly hot and drought-ridden conditions make life more difficult with each passing year.
Like much of Sudan, Kassala faces an ongoing crisis with food and clean water. Soil fertility is getting worse, and frequent extreme weather events like dust storms (or "haboobs") can pummel the weakening infrastructure. The summer months are particularly harsh when the Gash River goes dry and average highs hover around 103°. Average high temperatures stay above 90° every month, so there's rarely refuge from the scorching sun, even in Kassala's mildest weather.
---
5.

  Yelimane Cercle, Mali
Average temperature: 86.2°F/30.1°C
Hottest month: May
Coldest month: January
Highest recorded temperature: 117°F
Mali is home to some of the hottest areas on the planet. A weather station in Gao picked up the nation's official record at a scorching 118.8° in 1988, while some more dubious reports indicate temperatures over 130° in Timbuktu several decades prior. But while you can find boiling-hot weather all over the country, only one locale meets the population requirement to make its way onto this list—Yelimane Cercle.
Yelimane Cercle is a smaller city located in the Kayes region of Mali. Mining is the center of the economy in this hot desert locale, where monthly highs average above 90° all year and reach over 105° in April and May. Despite the extreme daytime heat, the temperatures have a wide swing between highs and lows, and it's not uncommon for temperatures to fall below 70° during the winter nights.
---
6.

Niamey, Niger
Average temperature: 85.6°F/29.8°C
Hottest month: May
Coldest month: January
Highest recorded temperature: 120°F
Over one million people live in Niamey, a city of modern amenities, exciting sporting events, open-air markets, and some of the highest temperatures in the world. Its inspiring attractions make it a great place to visit if you want to add one of the world's hottest cities to your bucket list. Along with bustling city life for everyday fun, the Niger River is teeming with fauna to delight wildlife enthusiasts. Meanwhile, the Grand Mosque and National Museum invite you into the history and beauty of Saharan culture.
Niamey is wetter than many other African locales on this list and is subject to frequent flooding during the June-September rainy season. The area receives up to 30 inches annually, with virtually all of it coming during the summer months.
While October–April brings relief from the rain, the heat is constant in Niamey. There is not a single month where the average high falls below 90°. For a three month long hot season between March and May, you can expect to bake in temperatures over 100° during the day.
---
7.

Atbara, Sudan
Average temperature: 85.5°F/29.7°C
Hottest month: June
Coldest month: January
Highest recorded temperature: 118°F
Home to 111,000 people, Atbara rests on the White Nile north of Khartoum. Like many neighboring cities, the railroad serves as the economic hub of the community. The region's railway business has been on a steady downward slide, and since the military coup, low wages and increasing prices have spurred strikes across the industry.
The heat certainly doesn't help the situation in Atbara. Intense average highs stay above 102° for seven months out of the year in the arid desert region. At around 60°, the night-time lows from November­ to February offer the only escape from the heat all year.
---
8.

Bosaso, Somalia
Average temperature: 85.1°F/29.5°C
Hottest month: July
Coldest month: January
Highest recorded temperature: 114°F
The third-largest city in Somalia is also its most vibrant, with a multi-faceted economy bolstered by trade, tourism, education, and retail. The arid northern city is part of Puntland, an independent region formed in the 1990s. Although it has stayed separate from the violence that has overtaken much of the country, Puntland faces unique difficulties with fighting between security forces and attacks from al-Shabab and ISIS groups.
Climate change is pushing much of the conflict in Somalia, and looking at the average temperatures in Bosaso, it isn't hard to see why. Even the monthly average lows never get below 70° at any time during the year, while average highs stay above 90° from March to October.
---
9.

Mecca, Saudi Arabia
Average temperature: 84.3°F/29.1°C
Hottest month: July
Coldest month: January
Highest recorded temperature: 122°F
The birthplace of Muhammad and the holiest city in Islam, Mecca is one of the busiest places in the Middle East. Every year, the annual Hajj pilgrimage brings millions of devout Muslims to the city, expanding its 1.5 million-person population to nearly four million for one week in July.
Temperatures can be extreme in Mecca, with summer highs averaging at or above 100° for six months of the year. Rain is scarce, and most of the annual four inches of rain arrive via winter thunderstorms. Despite the low precipitation, flash flooding remains a threat due to the city's low altitude.
---
10.

Sur, Oman
Average temperature: 83.6°F/28.7°C
Hottest month: June
Coldest month: January
Highest recorded temperature: 117°F
Sur is a hot desert city situated on the Gulf of Oman. An essential trading port, the colorful sea-loving community is famous for its authentic dhows, a traditional ship design.
While it has a culture and picturesque architectural landscape worth experiencing, Sur is also known for its unbearably high temperatures. Average temperatures stay around 94° in May and June. The coldest weather, which never dips below a 70° average, comes in December–March, a period when you can also expect the majority of the Sur's three inches of annual rainfall.
---
Honorable Mentions
The hottest cities on the planet are a far cry from your average American town, but they're not the only overheated sections of the globe. Some areas stay consistently hot, like Coro, Venezuela, where average temperatures stay between 81° and 85° year-round. Other areas have dramatic summertime spikes that lead to much cooler winters, as is the case with Jacobabad, Pakistan, a city with average high temperatures over 110° in May–June.
Final Thoughts
Rising heat is impacting communities around the globe in inescapable and unmanageable ways. As residents of areas like Jacobabad spend their days trying to find relief and places like Sao Paulo suffer through 239 heat-related deaths a year, it's clear that climate change may make many cities unlivable in the not-too-distant future. If any of these 10 hottest cities in the world are on your list for a vacation destination, you'll want to book your flights sooner rather than later!
See Also: 
---
Featured Image Credit: 12019, Pixabay