14 Most Dangerous Cities In Brazil (2022 Update)
Note: This article's statistics come from third-party sources and do not represent the opinions of this website.
Brazil is ranked as one of the world's ten most dangerous countries, by crime rate. In 2020, it had a homicide rate of 23.6 incidents per 100,000 people, although this does represent a sizeable drop from a peak of 30.8 homicides per 100,000 in previous years.
A lot of the country's violent incidents stem from a high organized crime rate with warring factions, the Primeira Commando Capital and Red Command, heavily involved in drug trade and trafficking, kidnapping, and extortion. While this means that many of the homicides and violent crimes take place between rival gangs and the police, violence does spill over and can involve residents and visitors.
In 2017, a tourist was accidentally shot dead by police while on a favela tour. Avoiding the favelas, or shantytowns, minimizes the risk of witnessing or becoming involved in violent incidents but it doesn't completely eliminate the threat.
Most people visit Brazil for samba music, incredible sun and sandy beaches, and for their love of football, but it is important to take care during any trip. Below are 14 of the country's most dangerous cities as well as some information to help you stay safe on a visit to the Land of Palms.

Top 14 Most Dangerous Cities in Brazil
1.

Feira de Santana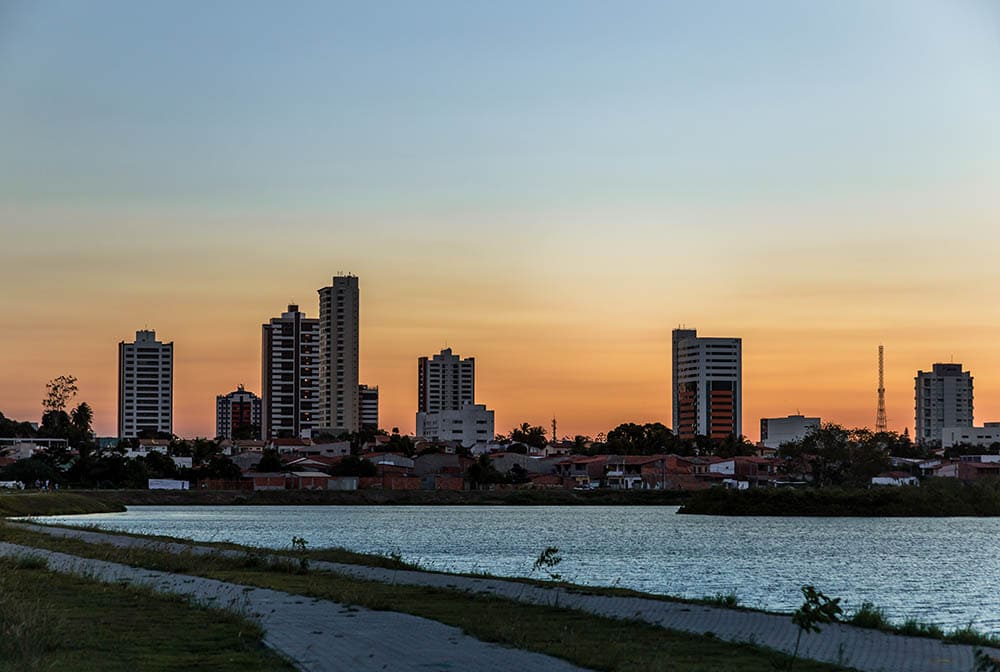 | | |
| --- | --- |
| State: | Bahia |
| Population: | 620,000 |
Feira de Santana is the second largest city in the state of Bahia and is arguably the most dangerous city in the whole of Brazil. It is a former cattle market town, where it gets its name, and it is popular for its festivals, fairs, and party atmosphere. The city sees a lot of drug-related crimes and in 2020, it had the highest homicide rate of any city in Brazil, with 67.5 homicides per 100,000 people. As well as being considered Brazil's most dangerous city, Feira de Santana ranks as the 9th most dangerous city in the world and is one of several Bahia cities to feature on this list.
---
2.

Mossoro
| | |
| --- | --- |
| State: | Rio Grande do Norte |
| Population: | 300,000 |
Although Mossoro has around half the population of Feira de Santana, it is almost as deadly with 62.21 homicides per 100,000 people. Mossoro is known for having abolished slavery five years before the rest of the country, and for being the first city that allowed women to vote, in 1928.
The city itself does not have any beaches, but there are several good beaches within a very short distance and in June, it hosts the Mossoro Junina City Festival, which sees more than a million people visit the area. Economically, the city has been heavily involved in petroleum and salt production and the number of tourists means that the city is prone to pickpockets and thieves.
---
3.

Fortaleza
| | |
| --- | --- |
| State: | Ceara |
| Population: | 4 million |
Fortaleza is a highly populated city. Its 4 million residents make it the 5th largest in Brazil and it also features high in the list of the richest cities in the country. It is popular with tourists, especially those looking for a sunny beachside holiday, because it is home to beautiful white beaches. A national park and central market are also popular tourist destinations.
As is typical with popular tourist destinations, rates of pickpocketing and theft are high in the city, and it also has the second highest homicide rate, witnessing 62.28 murders per 100,000 people. Crime rates are likely to be highest during the annual carnivals that take place in and around the city.
---
4.

Vitoria da Conquista
| | |
| --- | --- |
| State: | Bahia |
| Population: | 340,000 |
Vitoria da Conquista is the third largest city in Bahia and one of its most dangerous with a homicide rate equivalent to 52.47 per 100,000. Its population of just over 300,000 people saw reported 179 homicides in 2020.
One of its main economic inputs is that if coffee growing but the city is experiencing business growth and the city is not known as a tourist destination. It is also still an important part of the livestock industry with food and diary processing plants found in and around the city.
---
5.

Salvador
| | |
| --- | --- |
| State: | Salvador |
| Population: | 3.9 million |
Salvador is the capital and the most popular city in Bahia and is the third Bahia city on our list because it has a homicide rate of 56.8 per 100,000 population. It is a very popular tourist destination with plenty of sites and appealing places to visit.
As well as marvelling at the Portuguese architecture, visitors can stroll down the beaches, shop in local markets, and enjoy the rich cultural heritage of the city. Salvador is considered a major cultural center, and the city is considered the home of modern capoeira: a combination of dance moves and martial arts. There are multiple museums and several annual carnivals, including the Bahian carnival, described as being the largest party on the planet: 4 million people visit the party, which is spread across 16 miles of streets and venues but can be a hotbed for pickpocketing and theft.
---
6.

Rio Branco
| | |
| --- | --- |
| State: | Acre |
| Population: | 420,000 |
Rio Branco is located in the state of Acre and houses more than half of the state's total population. The city was founded in 1882, on the site of a rubber plantation, and during the turn of the century it grew in population as the city expanded its housing, commercial, and nightlife venues.
Although the city is not known for its tourism, Acre is attempting to convert its economy from one reliant on wood and timber, to one that includes ecotourism, so tourism numbers are increasing. Petrobras, the country's largest oil company, has said that Acre has the potential for petroleum extraction.
The city has a homicide rate of 41.85 murders per 100,000 people, making it one of the most dangerous cities in Brazil and 6th on our list.
---
7.

Recife
| | |
| --- | --- |
| State: | Pernambuco |
| Population: | 1.55 million |
Recife's murder rate of 35.55 per 100,000 is lower than the other cities so far on this list, but the city is known for having high incidents of gang-related and organized crime, and these can spill over to include visitors and residents, making it a dangerous city. What's more, because tourism is popular in the city, incidents of pickpocketing and robbery are high.
The Venice of Brazil does have incredible beaches and it gets its unofficial nickname from the network of rivers and waterways that pass through the city centre. If you do want to visit the area, nearby Olinda is considered safer and is a UNESCO World Heritage site. Because it is only 13km from Recife it still allows easy access.
---
8.

Maceio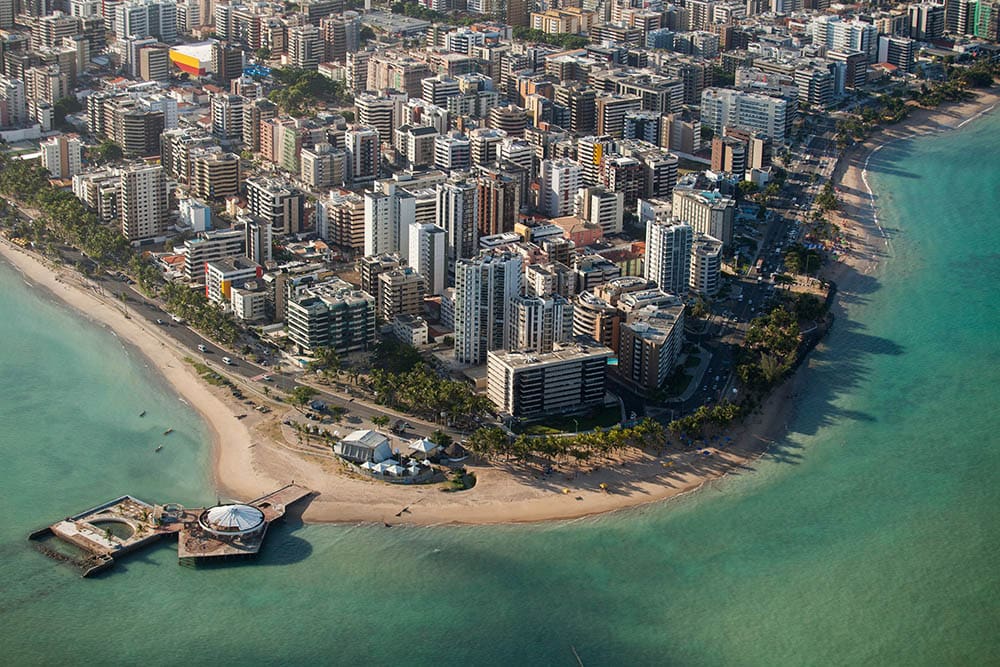 | | |
| --- | --- |
| State: | Alagoas |
| Population: | 1 million |
Maceio has a homicide rate of 34.05 per 100,000 which means that it just falls within the world's 50 most dangerous cities. It has especially high rates of violent crimes, as well as corruption and bribery. Alagoas, overall, is considered a dangerous state because of high rates of gang-related crime.
If you do visit the area, you should visit the Feirinha de Artesanato de Pajucara. The coastal structure accommodates approximately 200 shops selling items ranging from tea towels and hammocks to jewelry and decorations.
---
9.

Caruaru
| | |
| --- | --- |
| State: | Pernambuco |
| Population: | 365,000 |
Caruaru was established as a market town and gained city status in 1857. Today, it still relies on food processing as well as agriculture and livestock as its principle economic sources. Its homicide rate is 44.31 per 100,000 and while the city is not too popular as a tourist destination, it does have some festivals of note.
The Feira da Caruaru is an annual handicraft festival and is one of the country's biggest of its kind. The Festival de Sao Joao is a month-long festival held in June every year that is so popular that it has been known to spread into and throughout July.
---
10.

Natal
| | |
| --- | --- |
| State: | Rio Grande de Norte |
| Population: | 900,000 |
With a population of approximately 900,000, Natal is Brazil's 19th largest city and, as well as being a significant tourism spot, it is a major exporter of goods including papaya, cashew, melon, and other fruits. Natal was one of the cities that co-hosted the 2014 FIFA World Cup and the locals' adoration of football is obvious.
Because of the positive impact tourism has on the city's economy, there has been investment in security. As a result, while incidents of pickpocketing are still as high as expect in such a busy tourist destination, incidents of aggravated and violent assault are lower. Stick to the busy tourist areas to reduce the likelihood of violent crime.
---
11.

Rio de Janeiro
| | |
| --- | --- |
| State: | Rio de Janeiro |
| Population: | 6.75 million |
Rio de Janeiro is the city's second most populous city with a population of more than 6.75 million people. It is often mistakenly named as the capital of the city because it is arguably the best-known location in the country.
It is home to the Christ the Redeemer statue, Sugarloaf Mountain, Copacabana beach front, and, of course, the Carnival. The Carnival takes place in winter every year and climaxes four days before Ash Wednesday. Approximately 7 million people visit the festivities every year. Street muggings and pickpockets are common, especially in tourist areas, but security has improved over the past two years.
---
12.

Manaus
| | |
| --- | --- |
| State: | Amazonas |
| Population: | 2 million |
The 7th largest city in Brazil is Manaus, which is located in the heart of the Amazon rainforest. The city has a freeport and an airport, and it made its wealth from rubber in the early 19th Century. It was one of the 12 cities to have hosted the 2014 World Cup.
The city does attract a lot of tourism because of its position in the heart of the world's largest rainforest. Ponta Negra not only has an attractive beach but a bustling nightlife. The Mercado Adolpho Lisboa boasts being the city's oldest marketplace, where visitors can buy fresh local produce, and the building itself is a replica of Les Halles in Paris. There are several malls and shopping centers in the city, too.
Although it is considered safer than some of the other bigger cities, it is still best to avoid travelling and visiting alone at night.
---
13.

Rocinha
| | |
| --- | --- |
| State: | Rio de Janeiro |
| Population: | 70,000 |
Rocinha is a favela of Rio de Janeiro and while it has a population of just 70,000, it is the largest favela in the country. It has also had such a high crime rate, that, in 2011, hundreds of police and soldiers marched the streets to cramp down on drug dealing and drug crimes. In 2017, drug kingpin Rogerio da Silva was arrested in Rocinha after the work of 3,000 military and police personnel, and it was here that a tourist was accidentally killed by police in 2017. Scenes in Fast Five and The Incredible Hulk were filmed in the favela. Call of Duty Modern Warfare II and Black Ops III have used Rocinha in their gameplay.
---
14.

Sao Paulo
| | |
| --- | --- |
| State: | Sao Paulo |
| Population: | 12.4 million |
Sao Paulo is the capital of the Sao Paulo state, which is the wealthiest state in Brazil. The city itself has the 11th largest GDP in the world. It is considered a cultural, scientific, and economic hub for the country and it has a skyline filled with skyrises and the tallest skyscrapers in Brazil. It features one of the world's best-known fashion weeks and a large Gay Pride parade held every year. Although its homicide rate is not as high as other Brazilian capitals, it does still suffer from high pickpocket and robbery figures. A bustling and hectic nightlife is a popular reason for visitors to flock to the city, but you should stick to the main bars and main areas, if you want to enjoy the nightlife free from potential danger.

What Is The Safest City In Brazil?
Brazil is well-known for its party atmosphere backed by an incredible samba beat. It has stunning beaches and is home to the world's largest rainforest. There are plenty of reasons to travel to the country, and if you want to reduce the likelihood of being victim of a crime while in the country, it is generally recommended that you stick to cities in the South. The South of the country is littered with fishing villages that are friendly, laid back, and have much lower crime figures such as Sao Francisco do Sul.
How To Stay Safe In Brazil
There are some cities that are safer than others and, generally, if you follow the main tourist routes, you will have a better chance of staying safe. It is important to remember that violent crime in Brazil is a problem, and ignoring it is your biggest threat. With that said, there are some general guidelines that can help further minimize the risk of being a victim of violent crime in Brazil.
Travel In Groups – It is always safer to travel as part of a group. This is true whatever city or area you visit, but especially if you are travelling in or around favellas. If you really want to see shantytowns, consider going as part of a favela tour, although this does not guarantee safety.
Stick To Tourist Areas – In tourist areas, you may be more likely to be subject to pickpockets and theft, but you can take steps to avoid these crimes, and there are fewer incidents per 100,000 of violent crimes like assault, rape, and homicide, if you stay in the busy areas where there is a greater police presence.
Avoid Favelas – The favelas are colorful, intriguing, and offer a way to experience local life. But they are also the areas of Brazil that are rife in crime. Avoid them unless you are part of an organized group, and always do thorough research before visiting these spots.
Avoid Beaches At Night – At night, the beaches can have a very different atmosphere to the relaxed and sun-soaked environments of the day. Avoid the beaches at night.
Women Shouldn't Travel Alone – Unfortunately, travelling alone is a very different experience for men and for women, and Brazil does have a high rate of rape and sexual offences. Ideally, women should travel in groups with men or other women, to avoid any potential problems.
Don't Show Off Valuables – There is huge income disparity in Brazil, and the economic gulf between the rich and the poor continues to grow. Advertising the fact that you have an expensive cell phone or other expensive items increases the chance of being targeted by pickpockets and thieves, so keep them securely in your front pocket or inside a zipped and locked bag.

Conclusion
Brazil is a fascinating, beautiful, and vibrant country, with lots of good reasons to visit. However, it does have a significant violent crime and homicide problem. If you do intend to visit, try to stick to those cities that are considered safer and follow general safety guidelines to reduce the risk of becoming a victim of crime during your stay.
---
Featured Image Credit: maykeloenning, Pixabay