What Is Travertine Tile? What You Need to Know!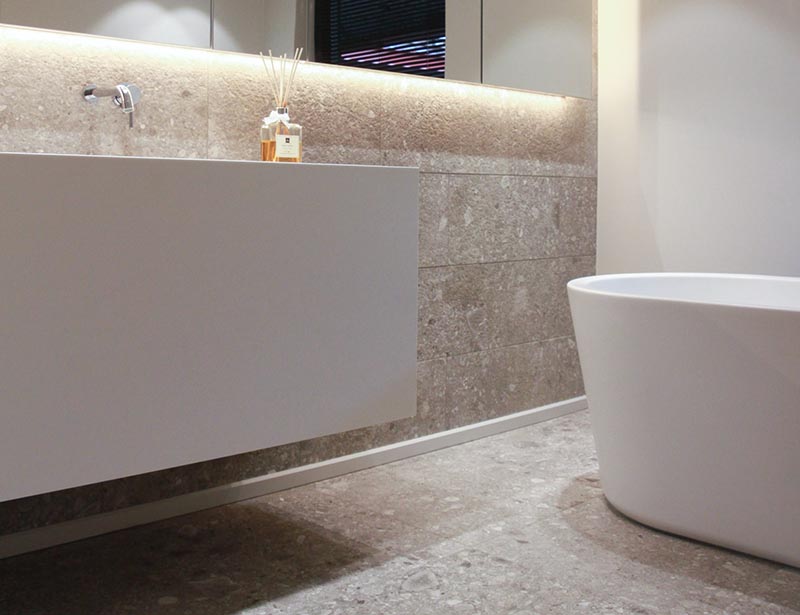 Travertine is a form of limestone available in earth-tone hues like brown, gold, peach, beige, and ivory. This fibrous natural stone forms in mineral spring deposits and is quite distinct, especially in its natural state, because of its rough, pitted surface.
For ages, travertine has been used in artwork and architecture. Currently, it is popular in commercial and residential settings and used for flooring, backsplashes, countertops, and patios. While periodic sealing is necessary to prevent etching and stains, travertine tiles are a top choice for many because of their gorgeous rustic appeal.
The use of travertine tiles to give interiors a pop of elegance and luxury is an up-to-the-minute trend today. If you are considering using the tiles to give your kitchen, bathroom, exterior walls, or fireplace a dazzling look, keep reading. We will discuss everything you need to know about travertine tiles, including their pros and cons.

Travertine Tiles: A Little Background
Travertine is commonly sourced from Italy, Mexico, Peru, China, Croatia, Iran, and Turkey. Tile manufacturers harvest large blocks of natural stone from quarries and process them into pavers, slabs, and tiles.
Durability
Unfortunately, travertine is not as tough as it looks and can scratch if not routinely sealed. While it is harder than other natural stones like marble, it lacks the toughness of granite.
Travertine tiles are durable and can last hundreds of years if properly installed and maintained. No wonder they are a popular scene in some of the oldest buildings still in a usable state. While more maintenance is necessary, mainly when used as flooring for high-traffic areas, the natural weathered style has its unique appeal.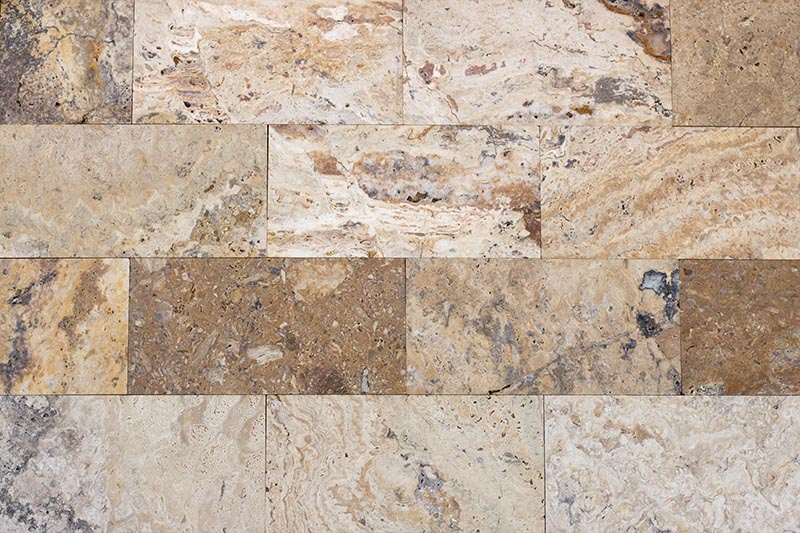 Cost
Installing travertine tiles is pretty affordable contrary to popular belief. While you have to dig a little deeper into your pocket, the cost is still within a reasonable range. It will cost you $15 to $30 per square foot, meaning you'll spend less than you would with other options like granite, terrazzo, or marble.
Your overall expense will highly depend on the finish you choose. With a mid-range budget, you can enjoy the classic aesthetics of high-end natural stone tiling with travertine tiles.
Travertine Tile Colors
Travertine tiles come in various hues, including soft and neutral tones. Because the natural stone forms in mineral spring deposits with iron, it forms different earth tones, including rust, beige, peach, brown, reddish, tan, ivory, neutral gray, and gold. Also, travertine stone has a pitted surface with small indentations and holes caused by hot carbon dioxide bubbling in the mineral pools.
If you are looking for tiles with uniform patterns, travertine tiles are not for you. During formation, the earthy hues swirl in intricate waves on the stone to create artistic patterns. One of the main appeals of travertine flooring is that each tile will have a unique, creative design. Also, note that the color of the tile will highly depend on where it is sourced.
Maintenance
Travertine is porous, making it vulnerable to staining and etching. To protect your tiles, you need to invest in routine sealing projects. Consider various travertine tile finishes to know the level of maintenance expected.
Sealing gives the tiles a smooth, easy-to-maintain surface. You can wipe down travertine walls and surfaces or mop the floors with a mild cleaning solution.
What Are the Different Types of Travertine Tile Finishes?
There are four main travertine tile finishes available on the market. The finish you choose will dictate the aesthetics of your floors or surfaces and the maintenance required.
Honed Travertine Finish
Honed travertine tiles are the most popular and versatile. Because they are neither too rough nor too slippery, you can install them on your walls, fireplace, countertops, backsplashes, and outdoor areas. They also make a suitable flooring material for just about any room in your home, including your bathrooms and kitchen.
Polished Travertine Finish
As the name suggests, polished travertine tiles have a smooth, glossy finish. They are popularly installed on counters, walls, and backsplashes because of their high-end aesthetics. However, they make an ill fit for kitchens and bathroom floors because they can pose a slip and fall risk.
Polished travertine tiles are cut into the desired shape and then filled with epoxy to cover the crevices. The tiles are then polished to give them a glossy finish.
Brushed Travertine Finish
If you want to give your interiors rustic aesthetics, your best bet is to use travertine tiles with a brushed finish. Experts use a wire brush to provide the tiles with a slightly textured surface and weathered look.
Tumbled Travertine Finish
Tumbled travertine tiles have a more textured and weathered appearance than their brushed counterparts. They also have a matte look, making them perfect for any area that requires slip-resistant flooring. Install tiles with this finish around your pool, shower, or fireplace. They are also ideal for your patio and other outdoor areas.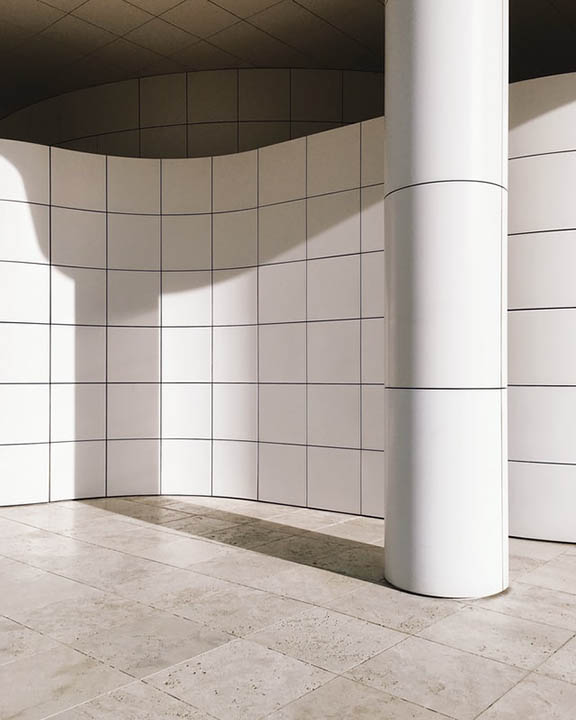 Where to Use Travertine Tiles
Travertine tiles are a top choice for home improvement projects because installing them will increase the overall value of your property. While you can use them to make bold statements about your style and taste, they can be an ill fit for specific areas of your homes. The following are some of the ideal areas to install the tiles.
Kitchen
One of the ideal areas to install travertine tiles is in your kitchen. They are great for countertops and backsplashes. The tiles are also suitable for kitchen floors because of their texture and ease of maintenance. When sealed regularly, cleaning the tiles to clear food and beverage messes is a breeze.
Hallways
You can give your entryways and hallways a high-end and luxurious look with travertine tiles. The tiles will provide these spaces with a sophisticated look, irrespective of whether you want to achieve a classic, rustic or modern design. Because hallways are often dry and don't pose a slip and fall risk, you could opt to use polished travertine tiles.
Bathroom
Travertine tiles are excellent for bathroom walls and floors. While you must avoid installing the polished variety on your floors because they tend to be slippery when wet, it is safe to use honed travertine tiles. They have a natural matte finish that will give your bathrooms an enchanting appeal.
Fireplace
If your fireplace is the centerpiece of your living room, it makes sense to enhance its aesthetics with travertine tiles. Whether your fireplace uses wood or natural gas, these tiles are an ideal choice. Travertine is heat resistant, non-flammable, and can withstand the significant temperature changes prone to the fireplace.
Outdoor Areas
Travertine tiles are pretty versatile, depending on the finish you choose. Tumbled travertine tiles are perfect for decorative exterior walls, around the swimming pool deck, and even on garden pathways. Because the tiles are heat resistant, you don't have to worry about burning your skin when walking barefoot outdoors.

What Are Their Pros and Cons?
Travertine tiles have their strengths and drawbacks. The following are some of them.
Pros
Stylish with timeless aesthetics
Durable
More affordable than some natural stones
Ideal for oddly shaped or tiny spaces
Installs increase property value
Cons
Somewhat expensive
Very porous and necessitates periodic sealing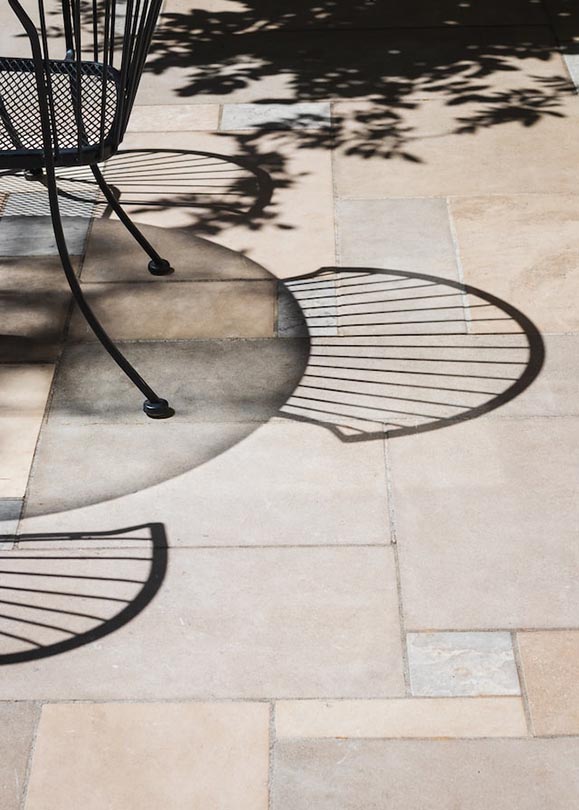 FAQs
You can use travertine tiles for various indoor and outdoor applications to bring elegance and a sense of luxury to your floors, walls, patios, and more. Here is more information about these gorgeous natural stone tiles.
Is the Use of Travertine Tiles a Modern Trend?
Travertine tiles are durable and versatile, making them ideal for indoor and outdoor use. You can choose from different cuts and finishes to achieve diverse décor goals, including a modern, chic, classic, or rustic feel. While the stone is a popular sight in ancient buildings like the Colosseum, the use of travertine is the hottest modern trend. Experts use the stone to fit current interior design trends.
Is Sealing Travertine Tiles Necessary or a Matter of Choice?
Sealing travertine tiles is beneficial because it helps prevent stains and etching. Also, routine sealing can enhance the durability of your floors, ensuring they remain in a pristine state for decades. Generally, sealing is a matter of choice, although it is best to consider the perks you stand to enjoy.
What Is the Ideal Grout Size for Travertine Tiles?
Travertine tiles, like most stone tiles, should have grout lines of 6-10mm. However, you can have grout joints of 3-5mm when using smoother tiles like polished or honed travertine. These tiles have minor irregularities in their dimensions, making grout lines necessary to achieve a uniform look.
Will Travertine Tiles Pose a Slip and Fall Risk in the Kitchen?
When installing travertine tiles, it is best not to use polished stone for your kitchen flooring. Instead, opt for honed tiles because they are easy to clean and will not pose a significant slip and fall risk. Polished tiles, however, are ideal for your Kitchen Island and backsplashes.

Final Thoughts
If you have a mid-range renovation budget and desire to give your floors, walls, and counters trend-setting aesthetics, travertine tiles are an ideal option. Their beauty and durability make them a worthy investment, especially if you have a thing for natural stone.
Protecting your investment and keeping your floors and surfaces in excellent shape can be challenging for some folk. The best trick is to apply a sealant every 3–5 years. More frequent sealant applications are necessary for any high-traffic areas like your entryways.
---
Featured Image Credit: Jean-Philippe Delberghe, Unsplash