7 Best Two Person Hot Tubs in 2021 – Reviews & Top Picks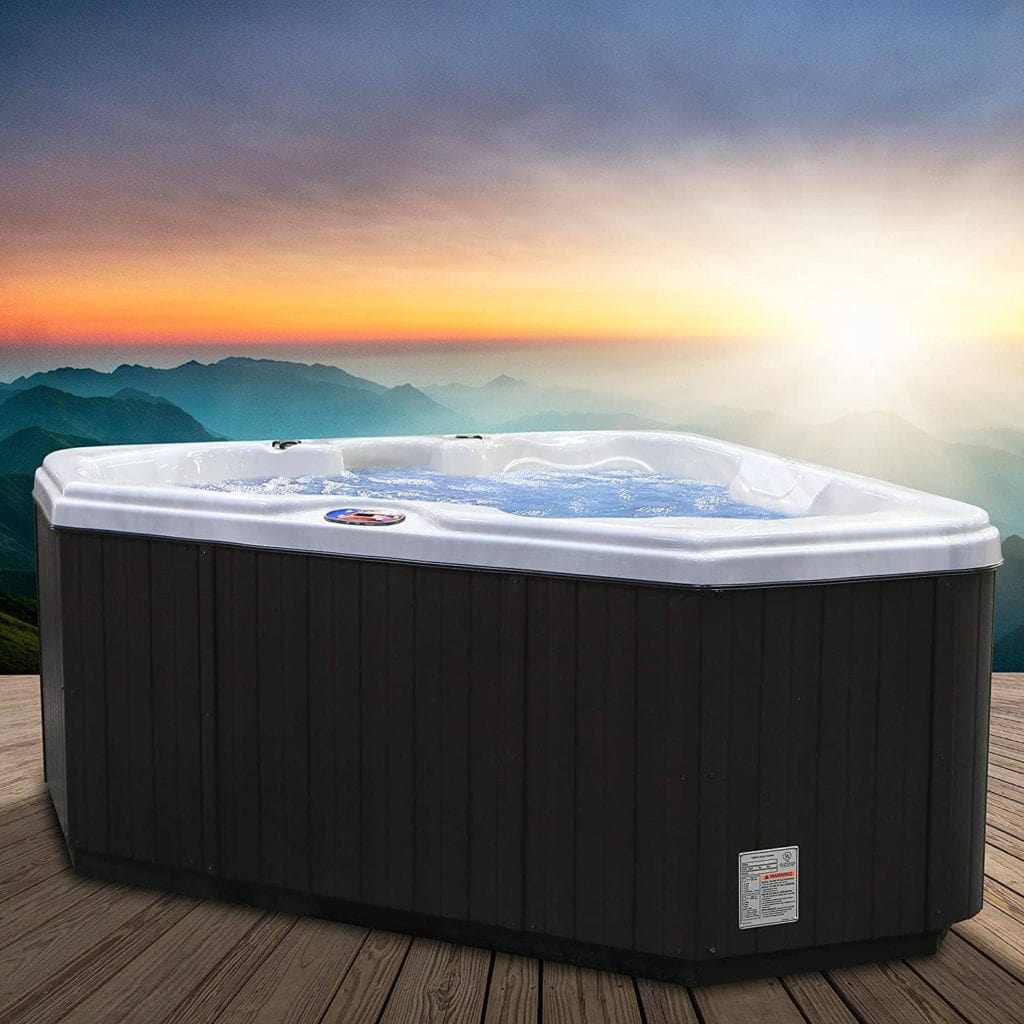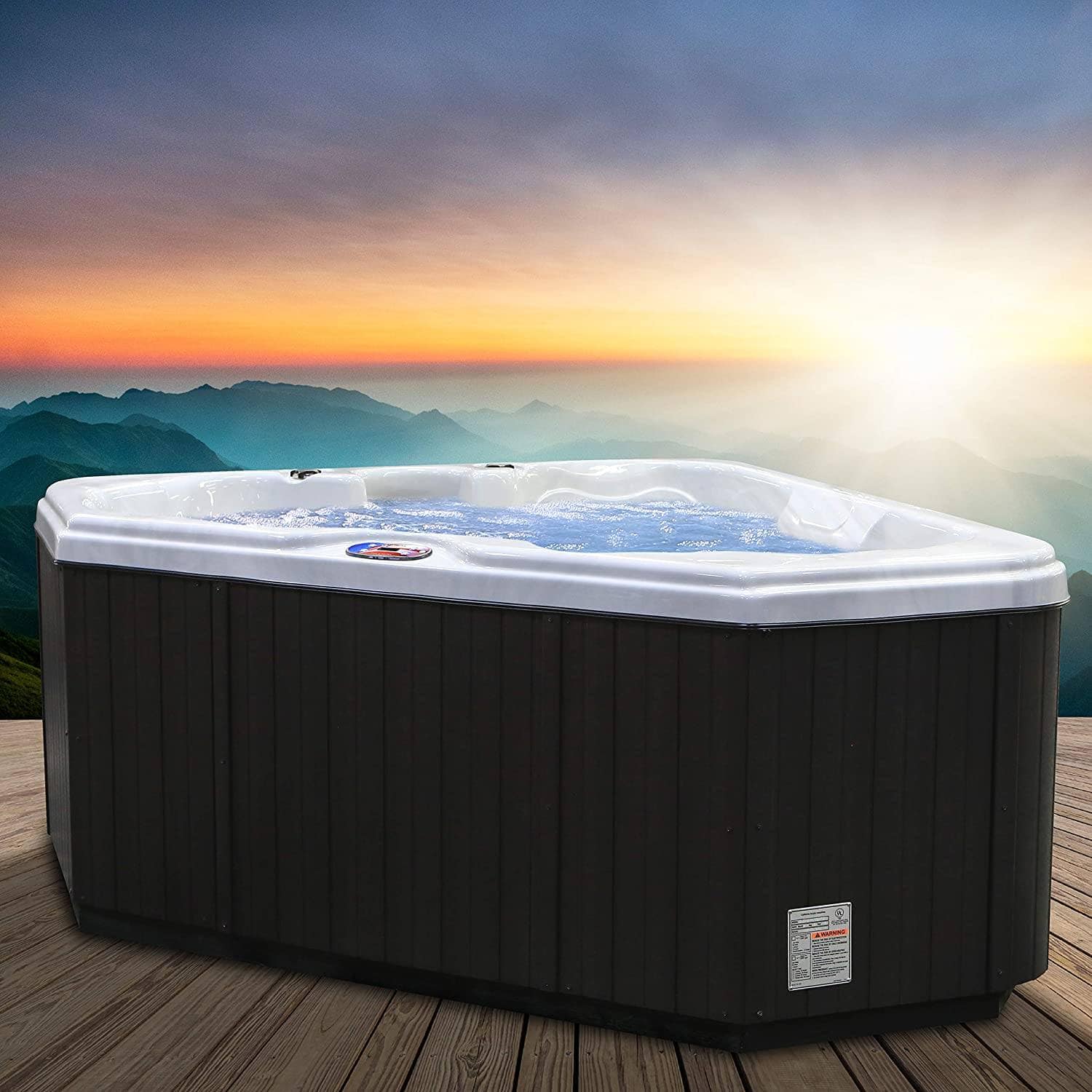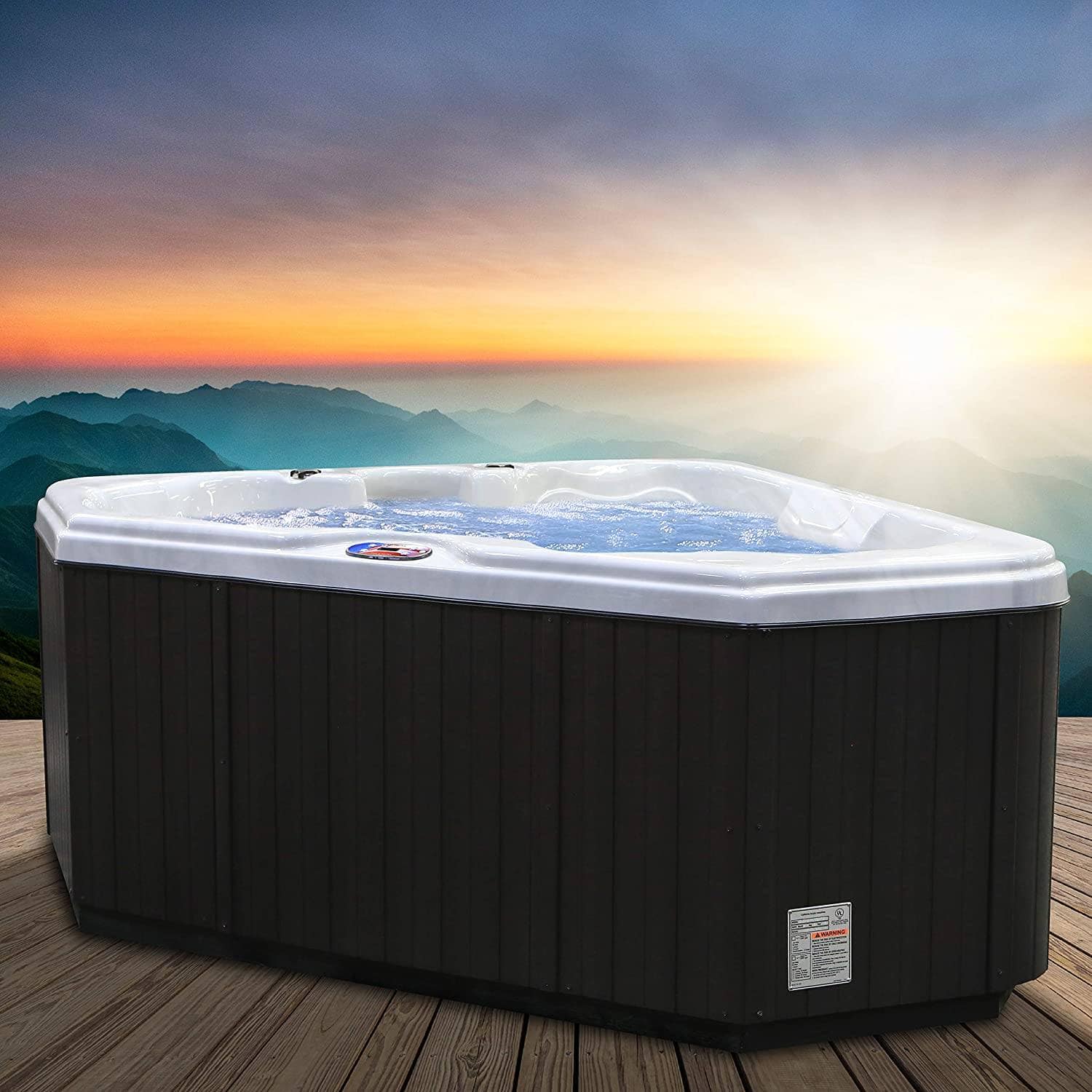 There is nothing more relaxing than a hot tub. The warm water propelled by jets after a hard day of work is priceless, especially as many people suffer from bone and muscle aches. Whether it is winter or summer, there is always a good time to enjoy a lovely soak.
That being said, many hot tubs are big and bulky. They are expensive to run and maintain especially if only one or two people are using it. A good alternative is a two-person hot tub. They are smaller and require less maintenance, but still give you all the perks of a full-size.
Before you grab your bank card, however, you have to pick one out. To help you find the right brand, we have found the seven best two-person hot tubs available. We will cover dimensions, installation, energy consumption, maintenance, and much more. We will also share a buyer's guide, for some extra info!
---
A Quick Comparison of Our Favorites
Rating
Image
Product
Details

Best Overall

AquaRest Spas AR-300 2 Person Hot Tub

20 stainless steel jets
LED lights
Waterfall
CHECK PRICE

Best Value

ALEKO HTIO2BKW Oval Inflatable Hot Tub

Comes fully equipped
120 bubble jets
Touch screen control
CHECK PRICE

Premium Choice

American Spas AM-628TM 2-Person 28-Jet Triangle Spa

Durable
Stainless steel jets
LED lights
CHECK PRICE

QCA Spas Model 0H SM Sirius 2-Person Oval Spa

Econo-boost heat recovery
Plug and play model
Durable
CHECK PRICE

ARIEL Platinum PW1685959CW1 Whirlpool Bathtub

22 jets and four water flow settings
60-minute shutdown
Bluetooth and radio
CHECK PRICE
The 7 Best Two Person Hot Tubs – Reviews 2021
1.

AquaRest Spas AR-300 2 Person Hot Tub – Best Overall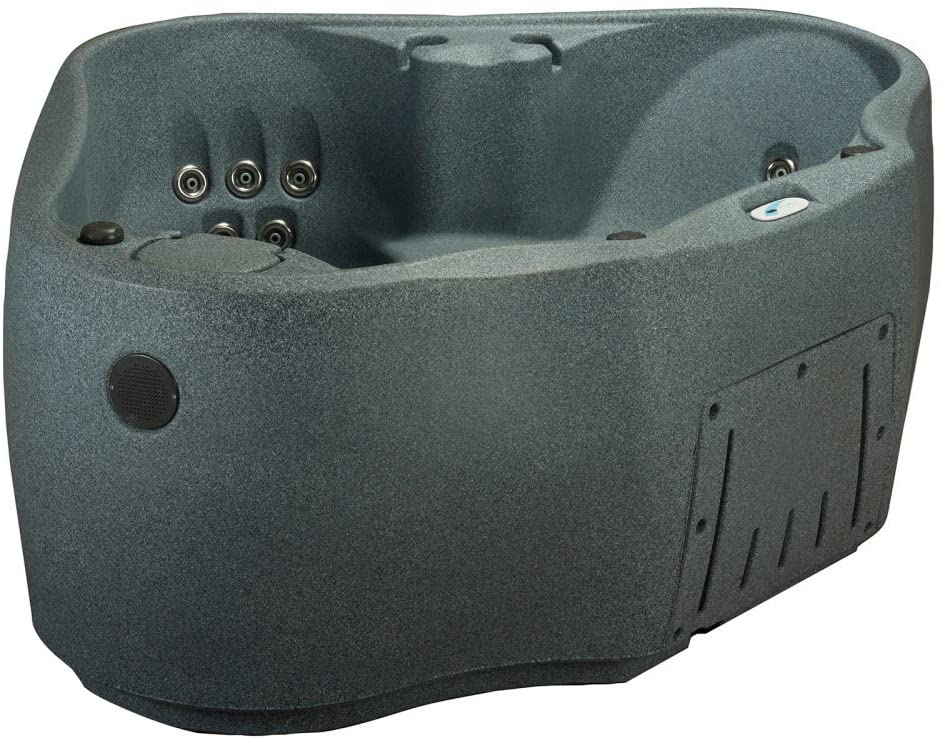 Our top pick is the AquaRest Spas AR-300 2 Person Hot Tub. This machine has 20 stainless steel hydro jets to massage and relax you. It has full-foam insulation to save energy, plus a STM locking safety cover. Not to mention, it is made in the USA.
The AquaRest is made of durable polyethylene. It has dual side air controls, and a waterfall to help you relax. You will also have lumbar support, and the multi-level jets can be set to the degree you wish. There are also LED lights that can be set to nine different colors including your waterfall background.
This tub also comes with an EZ Kleen Filtration system that keeps your water 100 percent clear. It works on the plug and play system, so all you have to do is fill the tub and plug it into a 120-volt outlet. Weighing 232 pounds, you can move the tub from site to site, as needed. What's more, it's easy to set up. At 80"x 68"x 31", it will fit two adults comfortably. Finally, you have an easy to use touch button control, a 1.5-HP motor and a GFCI 12-foot power cord. Overall, this is our favorite two-person option.
Pros
20 stainless steel jets
LED lights
Waterfall
Energy-efficient
Portable & easy to install
Touch control
---
2.

ALEKO HTIO2BKW Oval Inflatable Hot Tub – Best Value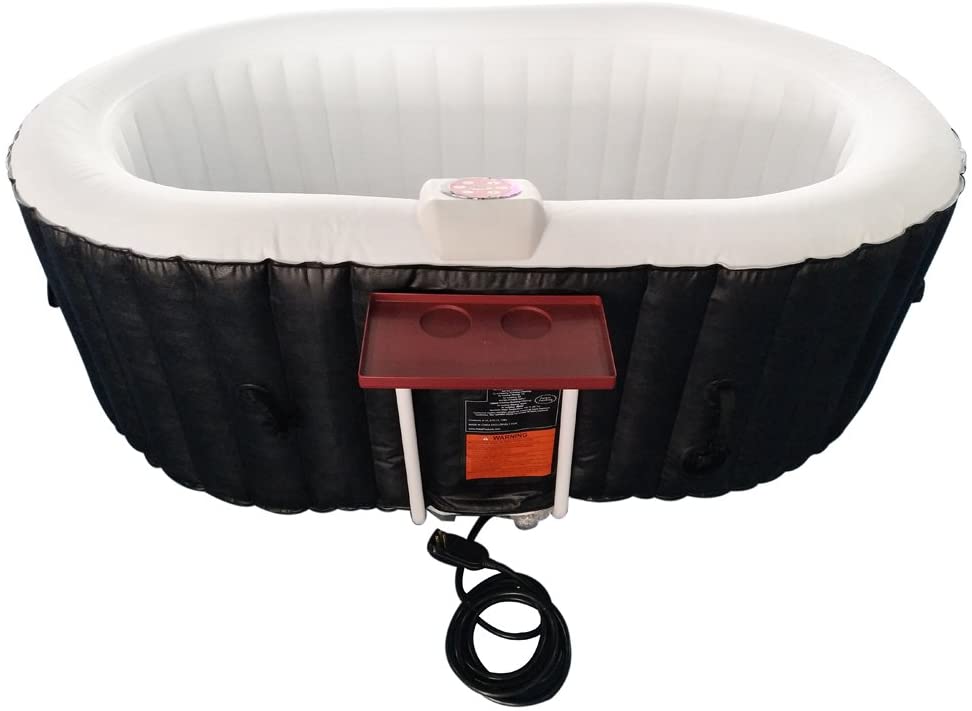 If you need a more affordable option, the ALEKO HTIO2BKW Oval Inflatable Hot Tub is a solid option. Available in six colors, this brand is portable and has a 145-gallon capacity. You will find relief from joint pain, stress, and it's good for parties.
This tub will heat to 108 degrees, but the heat time can vary and be a bit longer than our first option. You have a 1,500-watt power pack, a 900-watt heater, and a 600-watt bubbler. Plus, you have a 12-volt AC filtration system that can handle 420 gallons of water.
The ALEKO comes with all of the basics you need to get your hot tub running including a cover. The tub is made of a durable PVC that will not rip or tear. You also have a front touch screen to control your jets. What's more, you have two convenient cup holders and 120 bubble jets. Two people fit comfortably in this 55-pound tub. Overall, it is the best two-person hot tub for the money.
Pros
Comes fully equipped
120 bubble jets
Touch screen control
Durable
Portable
---
3.

American Spas AM-628TM 2-Person 28-Jet Triangle Spa – Premium Choice
If you are ready to indulge yourself, the American Spas AM-628TM 2-Person 28-Jet Triangle Spa is a great premium choice. This 110/240-volt jet pump comes with a 120-volt plug for easy setup. This product has 28 jets for relaxation that are stainless steel. Plus, it has individual on/off float control for setting your seat to the right amount of bubbles.
The American Spas has a 5.5kW heavy-duty titanium heater that is quiet, yet effective. It heats quickly with one touch of a button. What's more, it comes with a hydro clear ozonator that will keep your water clean and sanitized, plus reusable filters that will provide balanced filtration.
Available in four colors, one drawback of note is this hot tub is a bit more expensive to run than our top model. Also, you will need to have this installed by a professional if you are not able to do so yourself. Otherwise, this model has wood paneling surrounding a fiber and steel frame that is heavy-duty and durable. It also has a seven-color LED system and an effective insulation design.
Pros
Durable
Stainless steel jets
LED lights
Comes with all components
Individual seat control
Cons
Professional install
More expensive to run
---
4.

QCA Spas Model 0H SM Sirius 2-Person Oval Spa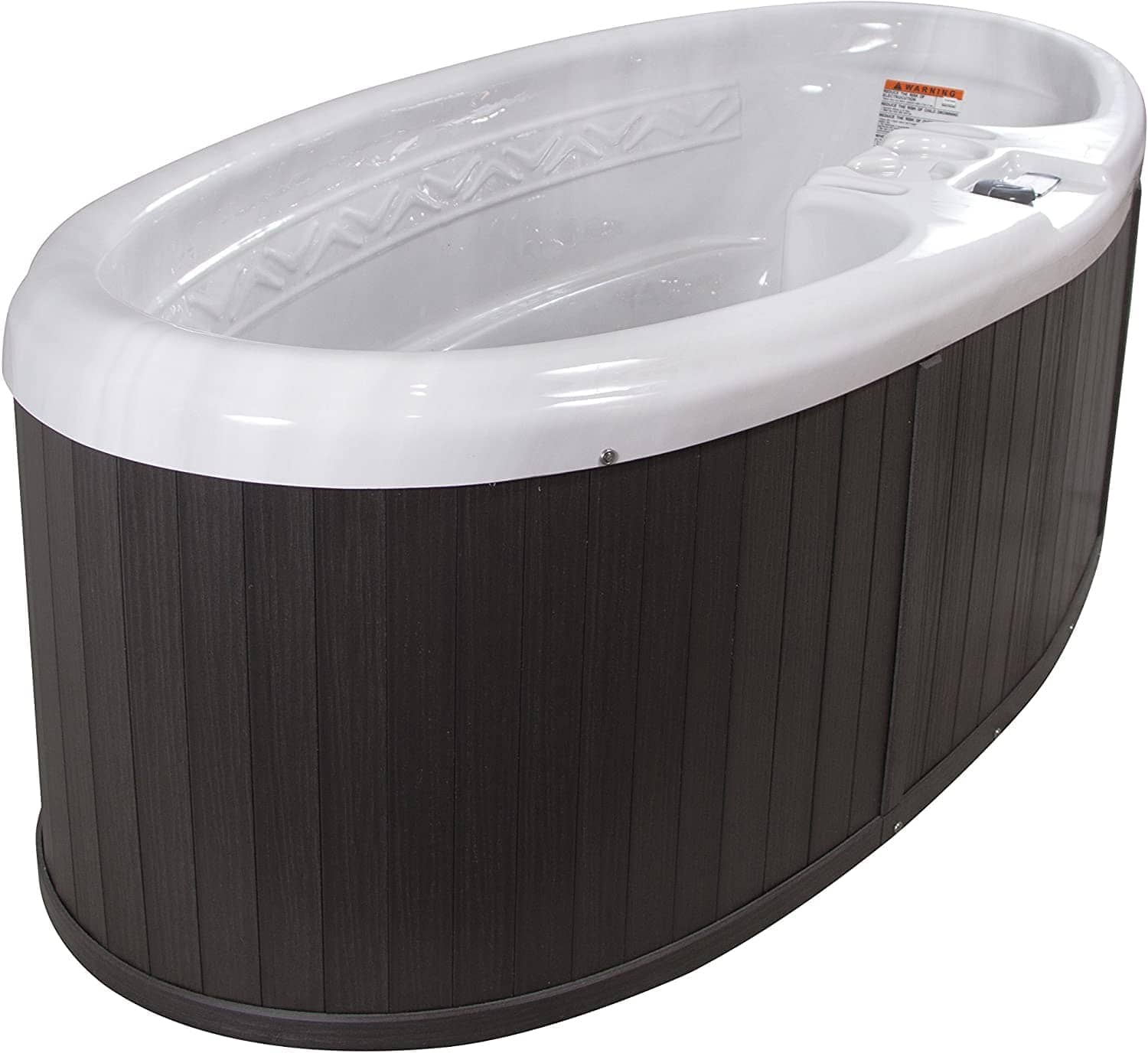 If you are looking to relax, the QCA Spas Model 0H SM Sirius 2-Person Oval Spa will work for you. As the name suggests, the oval design is housed in dark wood paneling, and it plugs into a 120-volt/15-amp GFCI outlet. You also have a 15-foot power cord that makes placing this tub at your convenience easy.
The QCA has a 1.5 HP pump that is energy-efficient. It has 16 stainless steel jets, as well. You should note that this tub comes with a 1 KW heater, but it takes a considerable amount of time to warm the water. What's more, this product is delivered curbside, so you will have to hire a professional to install the unit.
Beyond that, you have 16 jets, and a convenient touch panel to control the tub. It is a plug-and-play brand, so you can plug it in, fill it up, and hop right in. You also have an econo-boost recovery system that helps keep the water nice and warm. This is an energy-efficient model, although you should know that it does not have any lights. Otherwise, the acrylic shell is durable, plus it has great insulation.
Pros
16 jets
Econo-boost heat recovery
Plug and play model
Durable
energy-efficient
Cons
Professional install
No lights
Longer heat time
---
5.

ARIEL Platinum PW1685959CW1 Whirlpool Bathtub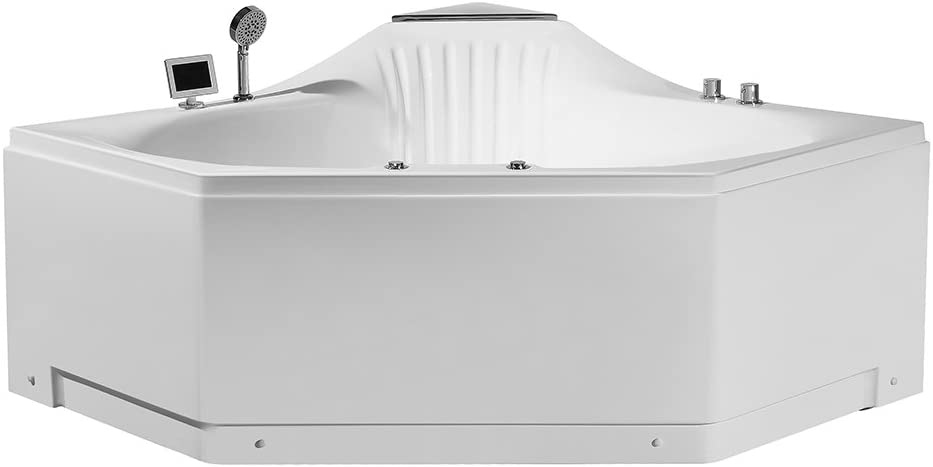 The Ariel Platinum PW1685959CW1 Whirlpool Bathtub is a white corner unit that is best installed inside your bathroom. While it does create a relaxing ambiance for any powder room, it can be difficult if you have limited space.
Beyond that, the durable acrylic frame is built to last, plus the 1.5 HP motor keeps the 22 multi-directional jets running smoothly. You also have four customizable water flow settings. The ARIEL is 59"x 59" X 31.5", so it can be somewhat tight for two grown adults. On the other hand, it has chromotherapy LED lights, and a 60-minute shut down feature.
One important note regarding this model is it is not as energy-efficient as we would like. On the other hand, it has an ozone cleaning system, plus a Bluetooth /FM radio installed and ready to use. Finally, you will find a back waterfall, a touch screen, and a showerhead. Note, the showerhead is not durable, however.
Pros
22 jets and four water flow settings
60-minute shutdown
Bluetooth and radio
LED lights
Durable
Cons
The showerhead is not durable
Not as energy-efficient
Small
Requires large bathroom space
---
6.

Empava Acrylic Whirlpool Bathtub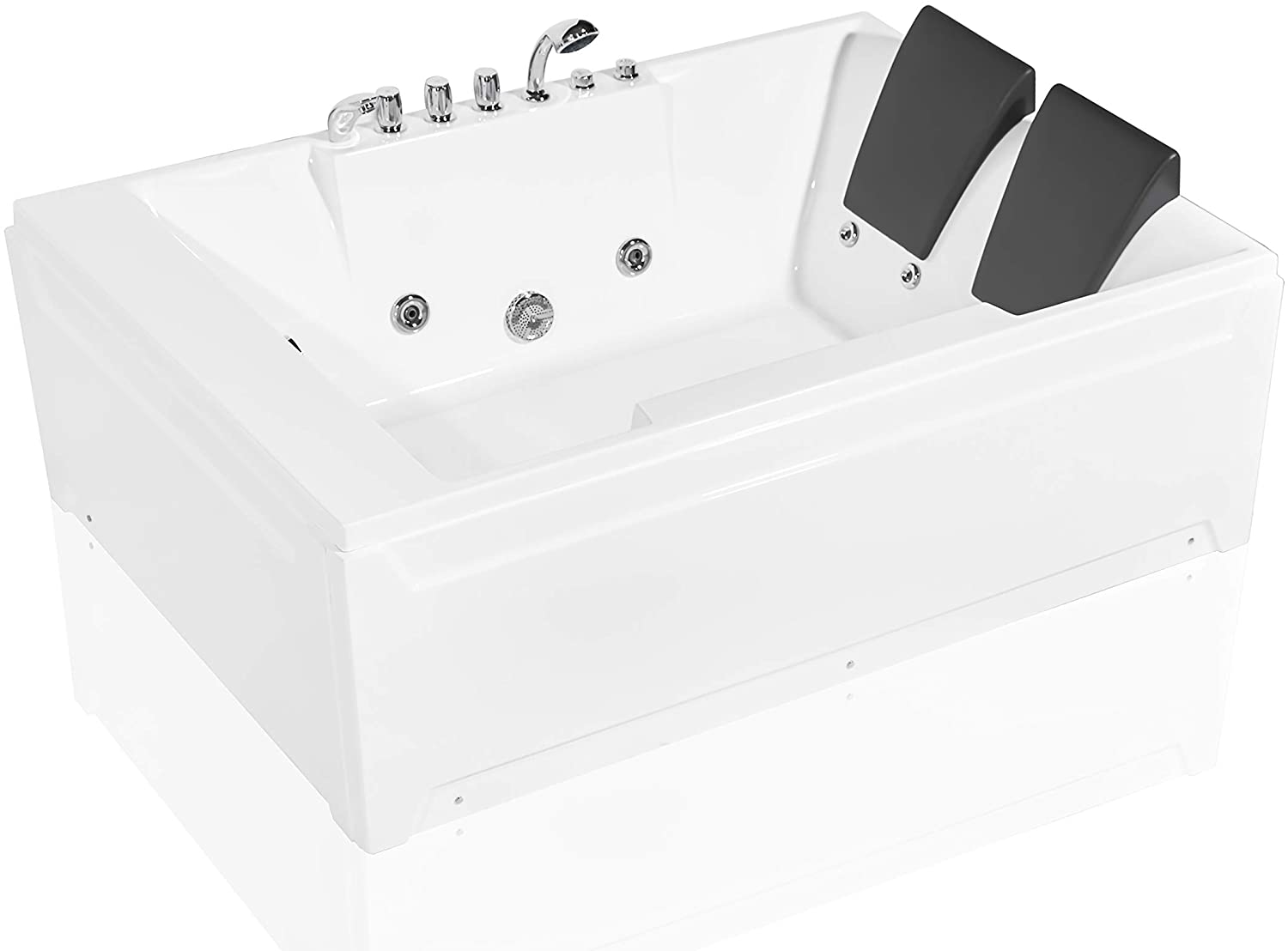 Our number six option is the Empava Acrylic Whirlpool Bathtub. This is a square, white model that is 72"x 48"x 24". Though it is not the smallest tub available, it can be a narrow fit for two adults. Besides that, this is a durable acrylic tub that has a 177-gallon capacity.
This model features a 1.2 HP pump, so it is not as high powered as others. Also, it only has 10 jets, though effective, they are not as well placed or spaced out. You should also note that the Empava is meant to work with your residential hot water, and it does not come with a heat pump. That being said, the faucet and water knobs are pre-drilled and installed for easy installation.
This tub weighs 155 pounds and will fit into most bathrooms. You should be aware, however, that it does not have lights or a touch screen. If you are looking to upgrade your existing bathtub, though, this could work for you. Not to mention, it is energy-efficient.
Pros
Durable
Easy installation
Energy-efficient
Cons
No heat pump
No lights
Smaller design
Only 10 jets
---
7.

SDI Factory Direct 052A 2 Person Indoor Hot Tub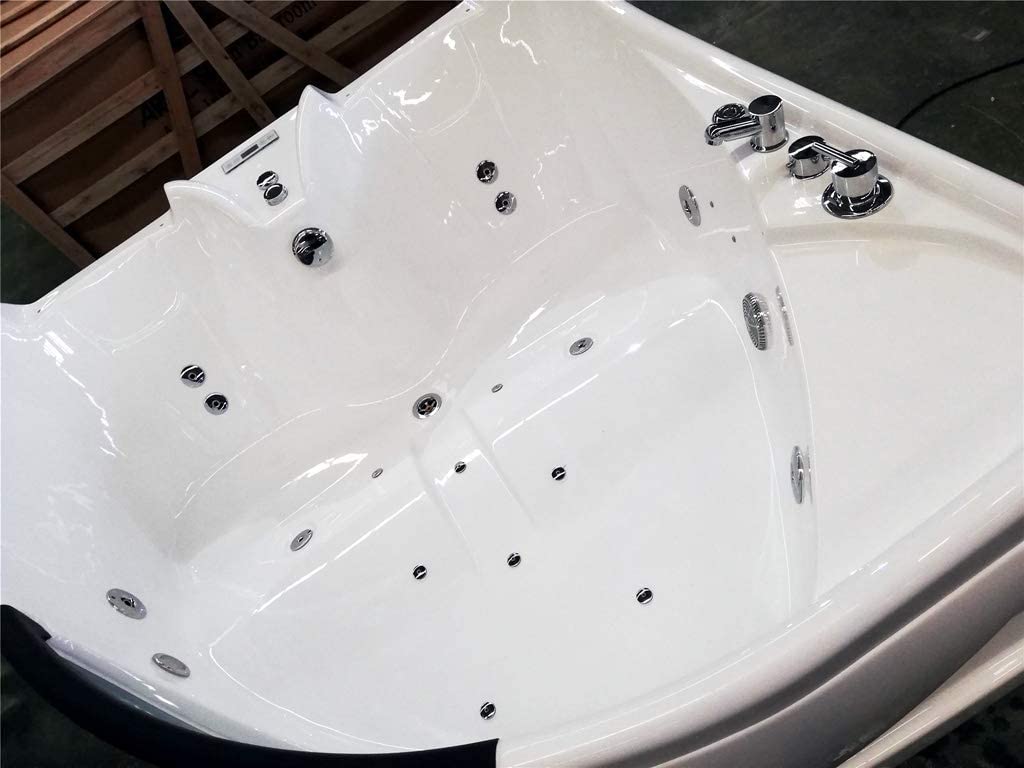 Our final option is the SDI Factory Direct 052A 2 Person Indoor Hot Tub. It is a rectangular model with rounded edges that measures at 71"x 47"x 26". Unfortunately, like our last pick, this can be a tight squeeze for two adults. Also, this model will be dropped off curbside, so you will require assistance to have it installed.
The SDI is made of durable construction, yet it only comes with 12 jets that are not high powered. There is a 250-watt pump that is expensive to run, plus the in-line heater is not effective at keeping your water warm.
On a brighter note, you have LED lights, LCD display, and Bluetooth capacity. However, the speakers leave a lot of room for improvement. It also comes with soft pillows, but they don't last long. Overall, there are many features to this tub that are not as durable as we would like. To end on a better note, however, the SDI comes with a remote control.
Pros
Durable frame
LCD display and LED lights
Remote
Cons
Not energy-efficient
Speakers are sub-par
The heat pump is not effective
Small design
Jets are not strong
Will require professional install
---
Buyer's Guide
Important Things to Know About A Hot Tub
Purchasing a hot tub is an exciting time. They can bring many benefits to your life, not to mention the additional features that have been added to modern models. Before you float away on dreams of hydro-jets and Bluetooth speakers, there are a few practical features you need to consider first.
Take a look at these factors you need to determine before you decide to buy:
Location
The first important consideration is the location your hot tub will be installed. Some two-person tubs can be used free-standing on your patio, while others are designed to either replace your existing tub or be installed in your bathroom. Either way, they are connected to your main water supply whereas freestanding models can be filled with a hose.
Besides water supply, you also have to consider things such as outlets, covers, and weight when determining where your hot tub will reside. Obviously, you need to have a secure connection, along with weight. For now, though, please note that every city and state have different regulations regarding hot tubs. Before you decide on the one of your choosing, make sure you check out your county's policies.
Weight
If you will be placing your hot tub in your home, especially on the second or third floor, be sure you have sufficient support for the weight. A tub that falls through the ceiling can have devastating effects that can be easily avoided with some simple calculations.
Not to worry, this will be simple! Every tub will provide you with its water capacity. For this example, let's say the capacity is 80 gallons. One gallon of water weighs approximately eight pounds. So, we multiply: 8 x 80 = 640 pounds.
You also have to factor in the weight of the tub and yourself, or in this case, two people. Again, we will say the tub weighs 100 pounds, and you and your partner weigh a combined total of 200 pounds. Add everything up and you get 940 pounds.
The trick here is determining how that weight will be distributed over the space. That is where it can get complicated. If you are not sure whether or not your floor can handle that kind of weight, make sure to reach out to a professional for help to avoid a very messy and potentially dangerous situation.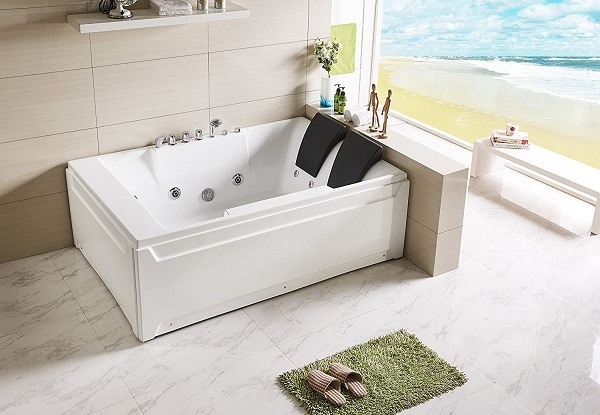 Outlets
The last factor you want to consider is the outlets you will need to run your pumps and heater. Most hot tubs run off of a 120-volt plug, but it is important to make sure your breaker system will be able to handle the additional load.
You also want to be on the lookout for GFCI plugs. This type of outlet is typically found in the bathroom and kitchen or anywhere there is running water. You can spot them by their reset button. The purpose of this outlet is to cut power to the plug when there is an overvoltage. Make sure your tub has a GFCI plug to keep your home and family safe.
---
Shopping Tips
Now that we have gone over some safety features, we can move on to some other fun items you will want to look for with your new purchase.
Size: Depending on whether you will be using the tub alone or with another person, make sure it will fit both of you comfortably.
LED Lights: Lights create a relaxing atmosphere for your hot tub. Many options offer chromotherapy, and they offer several different colors you can choose from.
Bluetooth: What's better than relaxing in a hot tub with your favorite music playing in the background? Instead of having to get out of the tub to switch the track, many brands offer speakers or even radios installed in the tub.
Jets: Jets are one of the biggest appeals when buying a hot tub. This is where you get the muscle-relaxing action. Stainless steel jets are usually better, but you can get a decent option without it. That being said, you want to determine what type of issues or pain you're dealing with so you pick a tub that will benefit you the most.
Touch Control: This feature is convenient for outdoor units, but works well with indoor units as well. This will allow you to view the temperature, set the jets, and even tune the radio from a convenient spot.
Heat Time: Finally, you want to consider the heat time for two reasons. First, being able to hop in the tub when you are ready is a big plus. Having to wait hours for it to get warm after a hard day at work can be tough. Second, the longer your tub takes to warm the less energy-efficient the unit will be. This is also true for other aspects of your tub. Hot tubs can become expensive quickly, so a model that is not a drain on your wallet will be well worth the upfront costs.
---
Conclusion
We hope you enjoyed our reviews on the seven best two-person hot tubs. When making a large purchase, it is important to have all the important information and facts, so you will get the most out of your purchase.
In our opinion, the AquaRest Spas AR-300 2 Person Hot Tub is the best available option. It has all the comfort, relaxation, and energy-efficiency you need. If you need a more affordable option, our pick is the ALEKO HTIO2BKW Oval Inflatable Hot Tub. This will provide you with a lot of relaxation for a smaller price point.