How Long Is a Shower Curtain? What You Need To Know!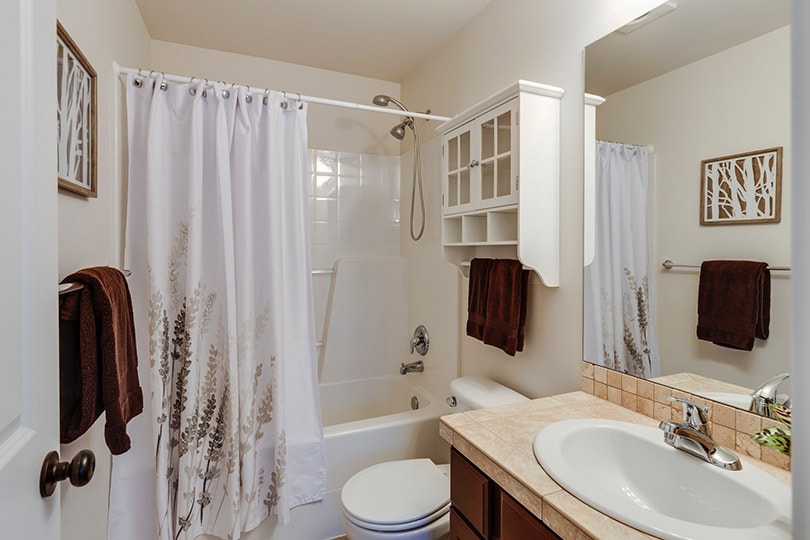 Purchasing a shower curtain can be exhausting since you can easily choose the wrong size, making the curtain would be too long or too short for your needs. Every home and bathroom is different, and we all have showers and baths of various sizes. That's why it's helpful to know how long a shower curtain is to determine the size that fits your shower/bath.
On average, shower curtains are 70 x 70 inches, although there are two larger standard sizes we will mention below. Keep reading to learn more about shower curtain sizes, types, and how to choose the perfect shower curtain for your bathroom.
---
Standard shower curtain sizes
Shower curtains come in various sizes, although most are suitable for bathtubs and showers around 60 inches long.
There are three standard shower curtain sizes that most manufacturers make:
70 x 70 inches
70 x 72 inches
72 x 72 inches
One of these sizes works for most homes, but there are exceptions for people who have oversized showers, walk-in showers, curved curtain rods, or stall showers.
There are also shower curtains that are suitable for extra-tall showers that are typically in these sizes:
70 x 84 inches
72 x 84 inches
You can find curtains of 144 x 72 inches for extra-wide showers, while there are shower curtains of 54 x 78 inches that are adequate for stall showers.
A great thing about finding a proper shower curtain is that it doesn't necessarily have to be the exact size of your shower/tub. Having a few extra inches in the length or width won't significantly affect the overall appearance of your bathroom.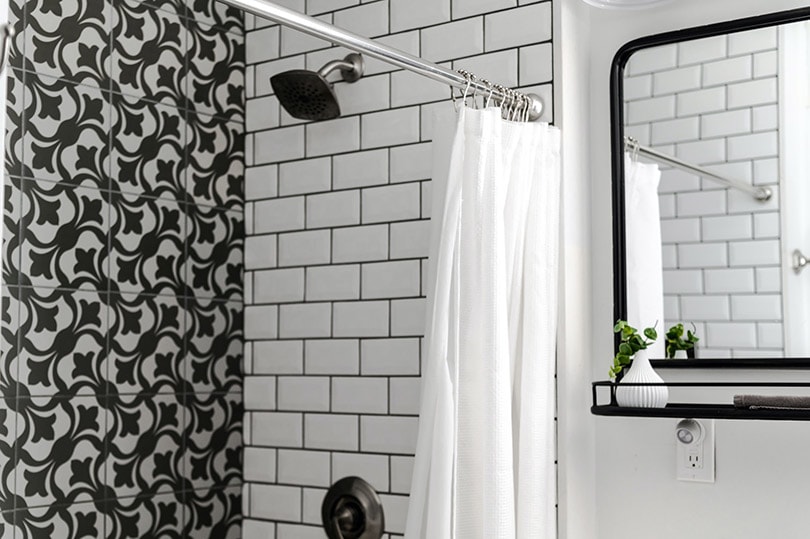 What size shower curtain do I need?
The size of your shower curtain will depend on the size of your shower/tub. To know the exact size, you'll need to measure your shower before purchasing the curtain to find the perfect fit for your bath/shower.
We have you covered if you don't know how to measure and where to begin. Below you'll see everything you need to know about measuring your shower for a shower curtain.
How to measure your shower for a shower curtain?
Measuring your shower to get the shower curtain size is simple, so you'll be able to do it effortlessly by following some simple steps. All you need is measuring tape and a little spare time.
Width
The first thing you should do is measure the width of the shower. Take the measuring tape and line it up wall to wall. Write the measurement down, and add about 12 inches to the size you measured. The shower curtain should be slightly wider so that it hangs with folds instead of being utterly straight once you hang it up. Any shorter measurement could result in water leakage on the sides, which would create a mess in your bathroom.
Height
The next thing you should do is measure the shower height. It's a bit harder to measure than the width since you won't be able to get precise wall-to-wall measurements. Instead, you should begin measuring from the shower rod to the floor.
If you don't have the rod already installed, you'll need to determine where you will mount it. First, consider whether you want to mount the rod inside or outside the shower. Outside rods are flexible and extendable, while inside rods are fixed.
Write the measurement down, but take off at least 8­–10 inches for the curtain rings. You don't want a shower curtain that's too long and drags on the floor as that will look unpleasing, and it can cause mildew and mold to appear.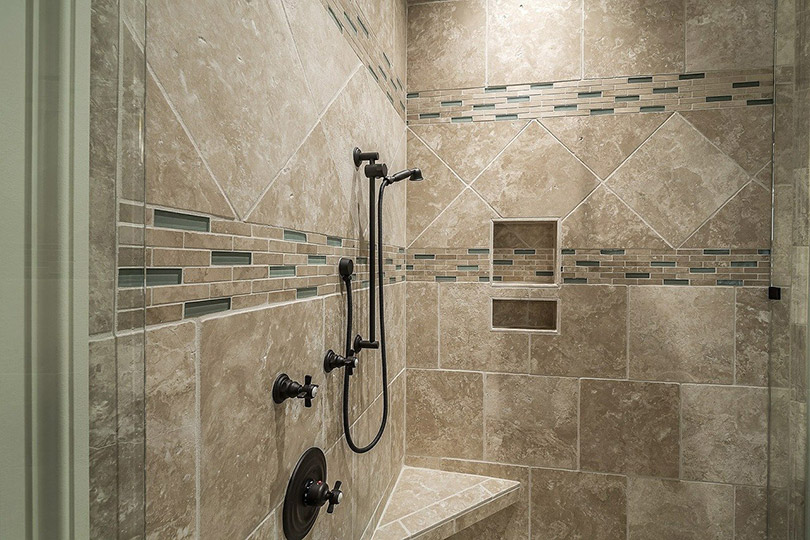 Measuring a Freestanding Shower
When it comes to freestanding showers, measuring will be a bit different. Some freestanding showers have a glass screen, so they don't need curtains, but if your freestanding shower doesn't have a glass screen, the shower curtain will be required not to have water splashing all over your bathroom.
For most freestanding showers, the shower curtains are commonly in these sizes:
50 x 78 inches
54 x 78 inches
Width
For freestanding showers, measuring the width is quite similar to measuring it for regular showers. Take the measuring tape and measure the shower wall to wall, adding the 12 inches to the final measurement. If the shower curtain turns too big, you could cut it to fit your shower, although you should only do this if the curtain is of sturdy fabric.
Height
When measuring the height for freestanding showers, you should place the tape on the floor and measure the size up to the curtain rod. If the rod has rings, just measure the size until the measuring tape touches them. Unlike a regular shower, you should only subtract 2 inches from the size you got to know the dimensions for the shower curtain you need.
What if I Cannot Find a Shower Curtain in the Required Dimensions?
If you cannot find a shower curtain in your measured dimensions in your local stores, there's no need to worry. There are plenty of excellent online stores that offer shower curtains in various sizes and materials, and most of them have fast shipping, so you won't have to wait for ages to get your new shower curtain.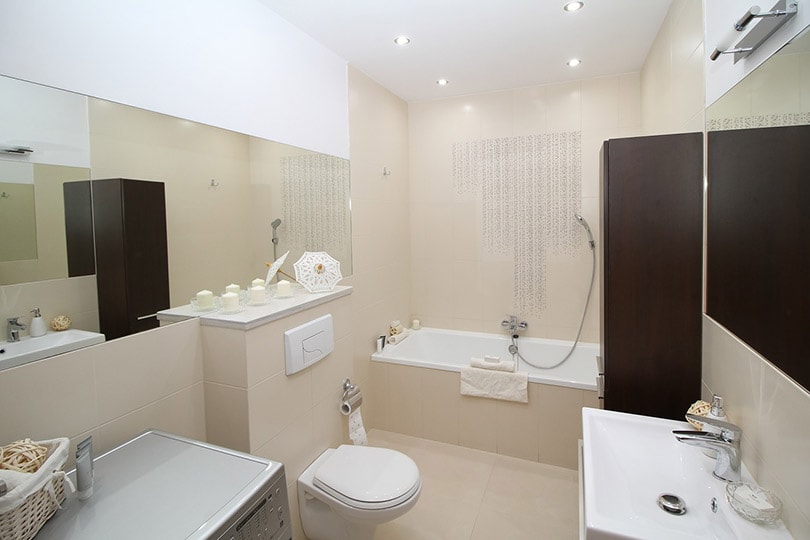 Should Shower Curtains Touch the Floor?
Most people follow their own preferences. Some people think that a shower curtain touching the floor is aesthetically pleasing, while others consider it unclean. When it comes to this,  there's no right or wrong answer to the question, so you can choose whatever works for you.
Types of Shower Curtains
Apart from the size, you'll also need to choose the type of shower curtain. Luckily, there are various materials and patterns you can find on the market.
Here are the most common types of shower curtains:
Vinyl shower curtains: These are the ideal option for anyone looking for low-maintenance shower curtains. They repel moisture, and you can find them in different designs and patterns. You can pair them up with a liner to gain more privacy in the bathroom.
Cotton shower curtains: Often a top choice for many buyers, cotton shower curtains are easy to maintain, and they will add a stylish touch to your bathroom. They come in various styles, patterns, and colors so everyone can find something suitable for their bathroom. The only flaw to these shower curtains is that they are more prone to molding than other types.
Decorative shower curtains: Typically made from faux silk or rayon, these curtains are a great statement piece for your bathroom. They can have lace borders, hand-stitched details, and stunning patterns. You will need to pair them up with liners for better functionality.
Microfiber shower curtains: Upgraded version of plastic curtains that provides more privacy and more design options. They repel water and don't soak in moisture. You can easily clean them since you can put them into the washer.
Hookless shower curtains: A perfect option for people who don't want to use hooks in their bathrooms. Hookless shower curtains will add a contemporary touch to your bathroom, making it look more elegant and sophisticated.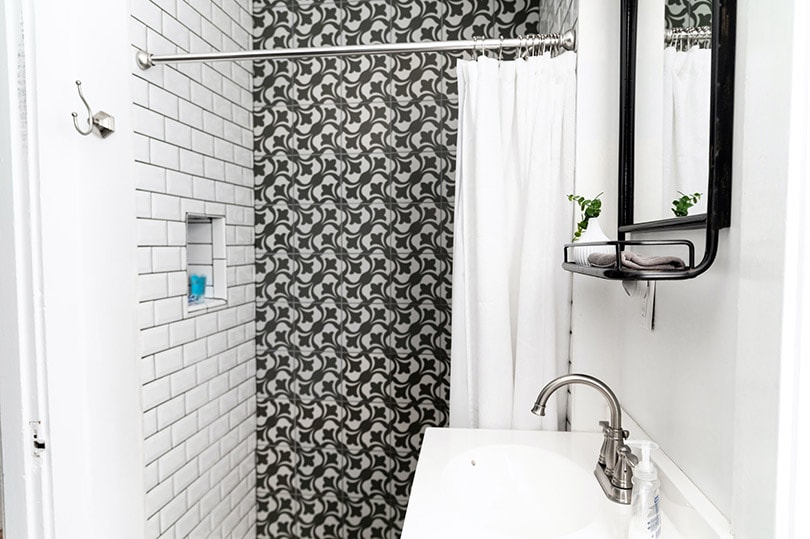 How to Choose the Perfect Shower Curtain
Other than just aiming to find a shower curtain of the perfect size, there are other things you should consider to find the ideal shower curtain for you. Here are some tips on finding the best shower curtain for your bathroom.
Design
The design and style of the shower curtain you choose should match your bathroom to create an aesthetically pleasing, relaxing environment. If your bathroom is already colorful, look for neutral tones, while if your bathroom is neutral, look for a splash of color in the shower curtain.
Light
Your bathroom should appear light and airy, so if your bathroom is darker, go for translucent shower curtains that will allow light to reflect through the space.
Mold
Mold is the biggest enemy of shoer curtains, so before you purchase one, investigate materials to find out which one is the least prone to mold. Also, check the cleaning tips to know if you can wash the curtain in the washer or if it needs to be hand-washed.
---
Final Thoughts
Now you know the three standard shower curtain sizes so you no longer have to wonder how long a shower curtain is. Before you purchase a new one, carefully measure the sizes, and then choose the style and material that will fit into your bathroom.
---
Featured Image Credit: Francesca Tosolini, Unsplash