How Much Does It Cost To Replace A Kitchen Faucet? (2023 Update)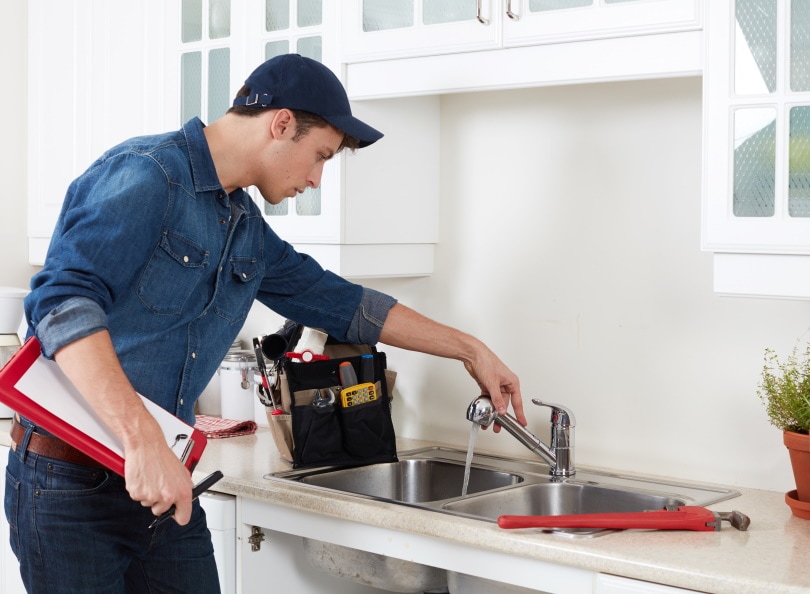 Easily one of the most utilized items in your home is your kitchen faucet, and kitchen faucets need to be replaced from time to time. Whether your faucet is showing natural signs of wear and tear, or you're simply looking for an upgrade, installing a brand new faucet can do wonders for your home.
Several factors play into the costs involved in replacing your kitchen faucet. From the cost of the new faucet to the installation labor fees for hiring a professional, we've got you covered with a breakdown of all the ins and outs to consider when taking on this home improvement project. You can expect to pay between $390 and $830.

When Is It Time To Replace Your Kitchen Faucet?
As with any other household feature, an older faucet is likely to begin showing signs of normal wear and tear. Although it's to be expected, an aging faucet can become problematic if left unprepared.
Generally, any faucet over 15 years old should be replaced soon. Likewise, if a faucet has issues like frequent leaking or dripping, there may be temporary fixes for these problems, but a replacement is usually sufficient to prevent the problems from worsening over time.
How Much Does Installing/Replacing a Kitchen Faucet Cost?
The cost of installation and replacement of a kitchen faucet can vary significantly based on your location. On a national scale, the average cost of replacing a kitchen faucet ranges between $260 to $480 for labor costs alone. While you could attempt to DIY to save on labor costs, this will depend largely on the scope of the project and whether a professional is recommended for your particular job.
The price of the kitchen faucet you choose will also factor into the total project costs. The average price of new kitchen faucets can range between $130 to $350. Prices vary depending on the brand, style, materials, special features, and mount location.
The following table shows the average costs of installing and replacing a new faucet across major US cities. Keep in mind that different factors, such as high-end faucet designs, styles, and special features, can increase the total cost.
Average Faucet Installation Cost by Location

Location
Average Installation Cost

 

New York
$190–$400
Boston
$180–$360
Chicago
$190–$390
Honolulu
$220–$800
Los Angeles
$150–$350
Denver
$190–$420
Dallas
$170–$340
Atlanta
$170–$560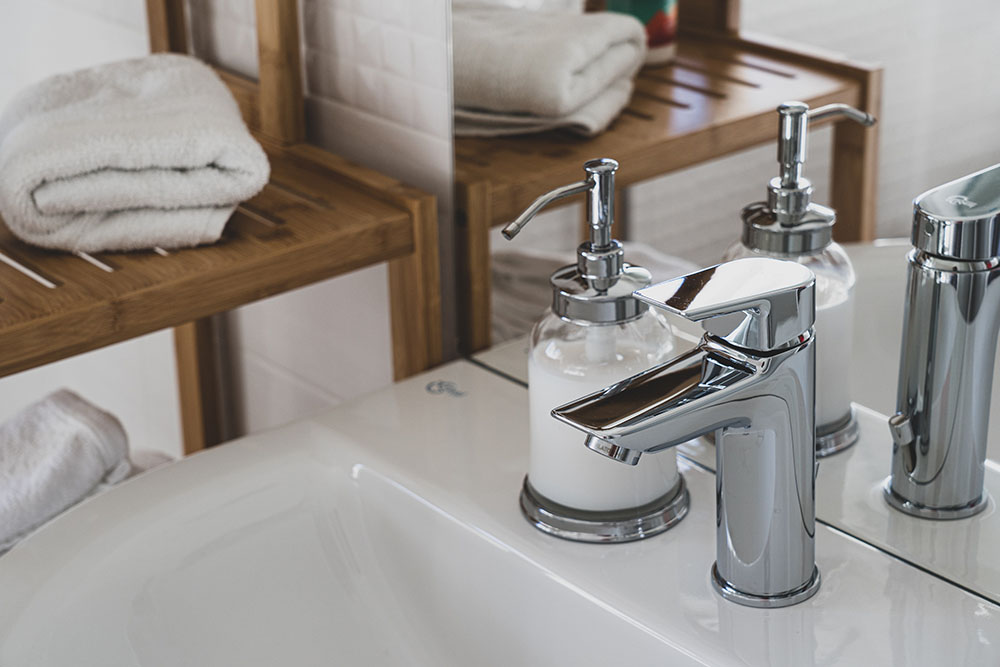 What Factors Influence The Total Cost of Replacing a Kitchen Faucet?
As you've probably seen for yourself, kitchen faucets come in all shapes and sizes, and with various styles and features.. As such, the style of the new faucet will affect the total cost of your project.
When it comes to the style of the faucet, factors that will impact the total cost include the finish, material, and brand. Without installation costs, new kitchen faucets range between $130 to $350 on average.
Generally, kitchen faucets are available in four different styles: pull-down, pull-out, single-handle, and dual-handle.
Factors
Pull-down faucet heads can be pulled downward away from the spout.
Pull-out faucet heads can be pulled out away from the spout and turned a full 360-degrees.
Single-handle faucets are maneuvered from side to side to control temperature, and up and down to control water flow.
Dual-handle faucets have two separate controls for hot and cold water that can control the water pressure.
Here you can see how prices vary by the type and style of the kitchen faucet you choose:
Kitchen Faucet Prices By Type/Style of Faucet
Type
Price Range
Features
Pull-down / Pull-out
$80 – $700
The spray head pulls out, pulls down, or detaches for additional reach.

 

Single-handle
$40 – $500
It's designed with a single-lever and an  optional pull-down or side-mounted spray.
Double-handle
$40 – $500
Spray head pulls out or detaches and pulls down for additional reach.
The cost of replacing your kitchen faucet will also depend on the accessibility of the faucet and the difficulty of removing and disposing of the old faucet. Other factors such as the location of the sink and the condition of the pipes and site will impact how long the project will take, as well as the installation cost.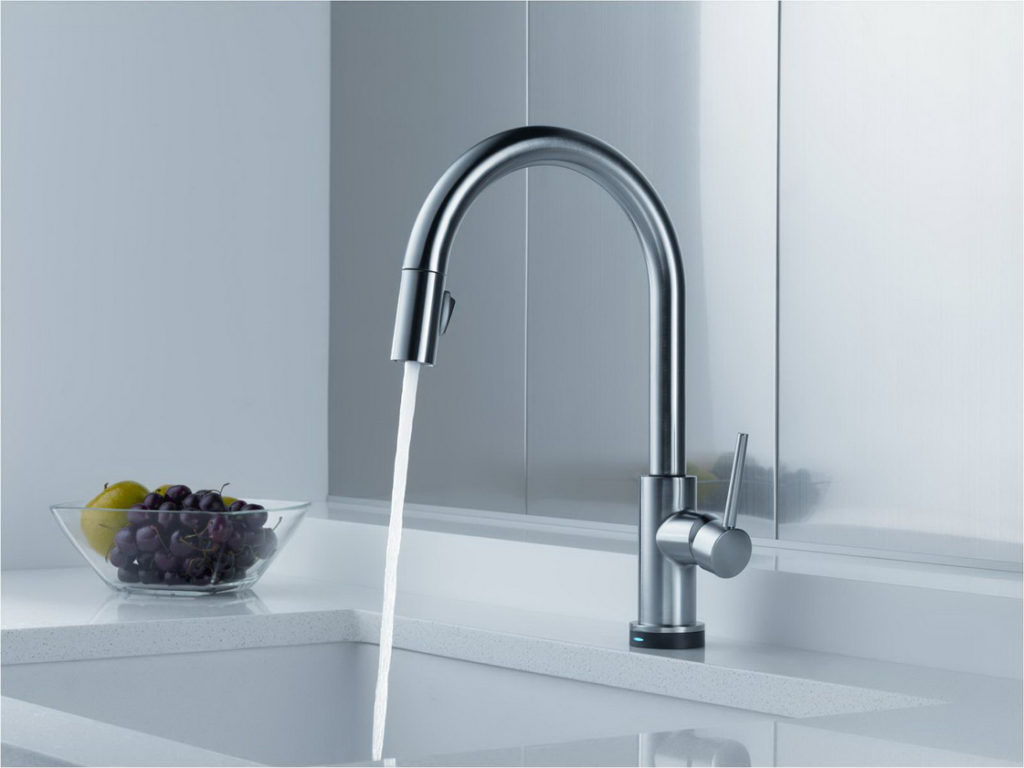 Additional Costs to Anticipate
Installation costs can be pretty hefty, with labor costs ranging between $45 to $150 an hour, depending on who you hire. In most cases, unexpected expenses result from additional labor that you did not anticipate with your project, not to mention any extra materials needed to fix unforeseen issues.
To save yourself some unanticipated labor costs try to choose a practical faucet for your sink. Make sure whichever faucet you choose lines up exactly with your sink holes and existing plumbing setup to avoid any unnecessary delays.
Although it's unlikely, another possible expense may come from previously unknown water damage.. Waiting to fix a leak will only lead to the problem worsening over time and a more expensive repair job down the line.
Even more unlikely, though still possible, is that you may need a permit to replace your kitchen faucet. If you are moving plumbing elements from one location to another, such as relocating an existing fixture or installing a new line, your project will be considered a remodel.
In this rare instance, you would require a licensed contractor with the appropriate permits to complete the project. This would add between $50 to $500 to your total cost.

Should You Hire a Professional?
Generally speaking, hiring a professional to replace your kitchen faucet is a safe bet. Although it's not the most complicated home improvement project, the skills needed for certain aspects of the job, such as adjusting mountings and connectors to fit the new faucet or installing new plumbing in some cases, are best left to the pros.
Depending on the scope of the project, you can either hire a general contractor/handyman or a licensed plumber for the job. If the project is an ordinary replacement job, a handyman would be your best bet, since they are not typically licensed or insured and therefore much cheaper than hiring a plumber. For a more complex project , such as one that requires installing new plumbing, a plumber is usually worth the extra expense to ensure the job gets done correctly.
A DIY faucet replacement isn't totally out of the question for the handy homeowner. If you're up for the task, you can handle a straightforward job that only requires removing the old model and installing a new one. As with any DIY project, you save money on labor costs, which can range between $260 to $480 for a kitchen faucet installation
How Long Does Replacing a Kitchen Faucet Take?
With a professional, most basic kitchen faucet replacements can be done in an hour or less. For those attempting to DIY it, a simple faucet replacement can take up to 2 hours, provided you have at least some basic home improvement skills.
For more complex jobs that include the installation of new plumbing and other necessary modifications or repairs, the job may take up to seven or eight hours to complete. Again, for jobs of this nature, hiring a professional for the job is recommended to ensure it gets done properly.
Conclusion
Home improvement projects involving plumbing can be challenging for the average homeowner.
With so many factors to consider when replacing a kitchen faucet, it's helpful to have as much info available as possible. Whether you are simply replacing or completely upgrading your kitchen faucet, we hope that we've enabled you to make the most informed decision.
---
Featured Image Credit: kurhan, Shutterstock