5 Best Compact Juicers of 2023 – Reviews & Buyer's Guide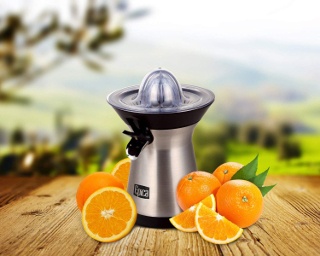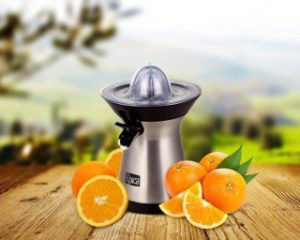 It's easy to do a straightforward review of products. You compare and contrast features and pricing, look at which ones are generally better received by the public, and go with what you find. We opted to look at juicers through a slightly different lens. We wanted to find the best compact juicer, the one that delivers the best pintsize performance.
We found several and wrote some reviews. We ended them with a buyers' guide in case you get to the end of our reviews and wondered how we arrived at our conclusions. We hope you find our reviews useful, or at least are able to take some value from our tips to find the right juicer for you.
A Glance at Our Favorite Picks in 2023
Rating
Image
Product
Details

Best Overall

Breville BJE200XL

Fast
Powerful
Not very loud
CHECK PRICE

Argus Le AL-B5000B

Powerful
Quiet
Good juice extraction
CHECK PRICE

Best Value

Epica Powerful Stainless 1989

Compact
Intuitive to clean
Great for-dollar value
CHECK PRICE

Cuisinart CJE-500

Low price
Good for novices
CHECK PRICE

BLACK+DECKER JE2200B

Cheap
Respectably compact size
CHECK PRICE
The 5 Best Compact Juicers
1.

Breville BJE200XL Small Juicer – Best Overall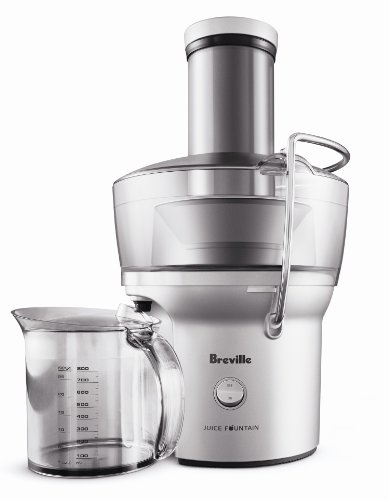 The Breville BJE200XL has "compact" in its product name, and at 9.5 x 8.75 x 16 inches, that's the truth. It's fast and powerful, and its dual-bladed system is capable of making cider before you can say "Johnny Appleseed." Best of all, it's easy to clean and put away when you're done with it. The cherry on top — let's try not to juice this one, folks — is that it's not all that loud.
Unsurprisingly, a machine that can do just about anything you want from a compact juicer has a hefty price tag. It is not "put you in the poorhouse" expensive, but compared to the rest of the field, it's like opting for a brand new Fusion when a used Volvo is available.
To conclude, we think this is the best compact juicer out there this year.
Pros
Compact
Fast
Powerful
Not very loud
---
2.

Argus Le Mini Juicer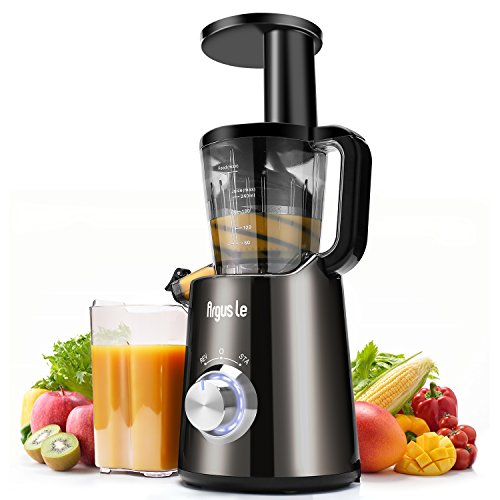 At 7.9 x 8.2 x 16.2 inches, the Argus Le AL-B5000B is even more compact than our top pick, the Breville. It has superior juice extraction and is even a little quieter than our top pick.
In fact, you might wonder why we didn't name it our top choice, especially since the two are similarly priced.
For starters, this one is difficult to clean up. Not all of its parts are dishwasher safe, which means you have to do a thorough cleaning by hand. That was enough to drop it from the top rank since ease of cleaning is pretty important for juicers or any size. To maximize the effectiveness of this model, you also really need to precut hard stuff like carrots and apples.
We really liked its size and performance. We really didn't like the prep needed to maximize it, however, and we also didn't like the amount of time it took to clean afterward.
Pros
Good juice extraction
Powerful
Quiet
Very compact
Cons
Difficult to clean
Requires precutting hard veggies and fruits
Expensive
---
3.

Epica Stainless Compact Juicer – Best Value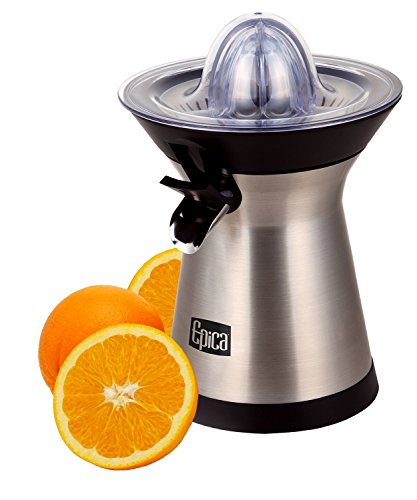 The Epica Powerful Stainless 1989 was the most compact model we looked at, coming in at 8 x 8 x 11 inches. Compared to our top two picks, it also represented a significant drop in price. We ranked it best for the money because the lower price comes with a proportional drop in performance.
We found it the easiest juicer to clean. It's not just simple; it's intuitive. You can disassemble it, clean every part, and put it back together very quickly. That means more time spent enjoying the fruits — literally — of your labor and less time cleaning up.
However, the performance did decline. It's not designed for volume. If you want to make a glass of juice, it's good for that. If you want to make orange juice for a family breakfast, you're really stretching the capabilities of this one.
Pros
Great for-dollar value
Compact
Intuitive to clean
---
4.

Cuisinart Compact Juice Extractor
If you're a first-time juicer who doesn't want to spend a whole lot, this isn't a bad juicer. It will probably do what you want it to, and its price is low enough that if you decide to move on to something more sophisticated, you won't feel bad spending the extra cash.
That's just about where the positives end with the Cuisinart CJE-500. At 11.5 x 11.8 x 14.2 inches, it's the least compact juicer we looked at. It's also poorly constructed. It might give someone new to juicing a good idea of whether they want to really get into it, but for everyday use, it's apt to break because it's just not designed for longevity. Overall, it's also a poor value for those same reasons.
Cons
Least compact model we reviewed
Poorly constructed
Poor value
---
5.

BLACK+DECKER Compact Juicer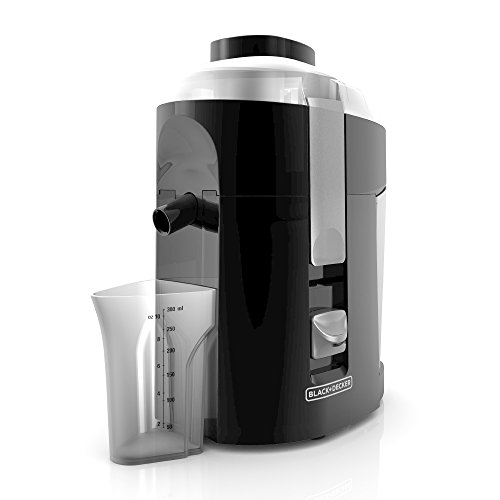 Black+Decker's JE2200B measures in at 13 x 9 x 9 inches, a respectably compact size for our purposes here. It's also the most affordable juicer that we looked at. If small and low-priced are what you want, this isn't a bad model to consider.
But small and cheap is what you're going to get: easy on the wallet, but also cheap in construction. It's just not designed to stand up to regular juicing. Use it too frequently, and you'll find yourself either replacing it with a higher-quality model, or getting the same model multiple times.
Because of that, as easy as it was to call the Breville our top pick, it was just as easy to drop the JE2200B to the bottom.
Cons
Cheap
Seriously … cheap
Good for occasional juicing
---
Buyer's Guide: How to Choose the Best Compact Juicer
If you're looking for a juicer, the market is filled with them. There are so many of them, in fact, that there is likely a model that is perfect for your needs. We don't take it personally if you read our reviews and want to move forward in your own search. If this purchase is important to you, in fact, we encourage it. We've collected some tips to help your research, and we offer them in this buyers' guide.
Type of juicer
The first step is picking the right kind of juicer for you, and we're going to assume that you're looking for a juicer that is compact. There are two basic types: the masticating juicer and the centrifugal juicer.
Masticating juicers, generally speaking, perform better. They grind fruits and vegetables along an augered column with fine-grit teeth that push the juice through a screen and into a receiving cup. They not only extract more juice, but are also quieter and slower than centrifugal juicers. They tend to be more expensive than other juicers, but the real problem for our purposes is that they also tend to be bigger and bulkier. If you're looking for a compact juicer, you'll probably want to go with a masticating juicer.
Centrifugal juicers tend to be smaller and more affordable. They are also faster because they grind fruits and veggies in a centralized column that pushes juice out through a screen. They are also loud. However, they also tend to be more compact. If you're looking for a juicer that doesn't take up a lot of space, this is the model you're probably looking for.
Fruits and veggies
Most juicers can handle hard materials like apples and carrots pretty well. It's when they get to softer fruits and vegetables that they begin to sort themselves out. That especially applies to fibrous leafy vegetables like kale and chard. Depending on what you want to juice, you'll want to look for a model that can handle it.
Ease of cleanup
Juicing is a messy business. If you don't have everything locked right in place, not only is there juice and pulp all over the inside of your juicer, there will be juice and pulp all over your kitchen. Assuming you manage to keep the mess contained, you're going to need to make sure your machine is cleaned. The alternative is at best risking your post-workout mango-banana smoothie tasting like the wheatgrass you used in your morning shake, and at worst risking some kind of foodborne infection.
Noise
Juicing, at its heart, is about grinding stuff up. Grinding anything is noisy, especially if done quickly. This leads us to this inevitable cause-and-effect relationship: the louder your juicer, the more the people and animals sharing your living space will come to resent your juicing. The thing speaks for itself.
Price
If all you want is something small that juices and don't care about how well it juices greens, how messy it is, or how loud it is, you're probably going to care about price. Why? Because everyone does. There's more to price, however. There's the matter of stretching every dollar spent on your juicer so that you maximize the investment. The best price for you might not be the lowest. It might be the one in the middle that offers you the most for your money.
---
Conclusion
It was pretty easy to call the Breville BJE200XL our top compact juicer. It did everything well, and the design is small enough if you have limited counter space. Its price was our only sticking point. The Argus Le AL-B5000B was quieter and did an even better job of extracting juice, but it was difficult to clean and required that you precut hard fruits and veggies. The Epica Powerful Stainless 1989 is affordable and does a good job, but at the price where design limitations start to show. Cuisinart's CJE-500 was the least compact model we reviewed, but that was the least of its problems. It's not designed well and has bad value. However, it was better than the Black+Decker JE2200B, which will make you the occasional glass of juice but is likely to break when faced with anything more taxing.
We hope you found value in our reviews. We enjoyed testing out these compact juicers, but it means very little if people take nothing from them. At the very least, we hope there was a tip in our buyers' guide to help pair you with the best compact juicer to suit your needs.
More popular juicing articles:
Our favorite 5 juicers for ginger
Hurom juicer shootout: they have 1 model that's a big bargain