How Much Does It Cost to Replace a Staircase in 2023?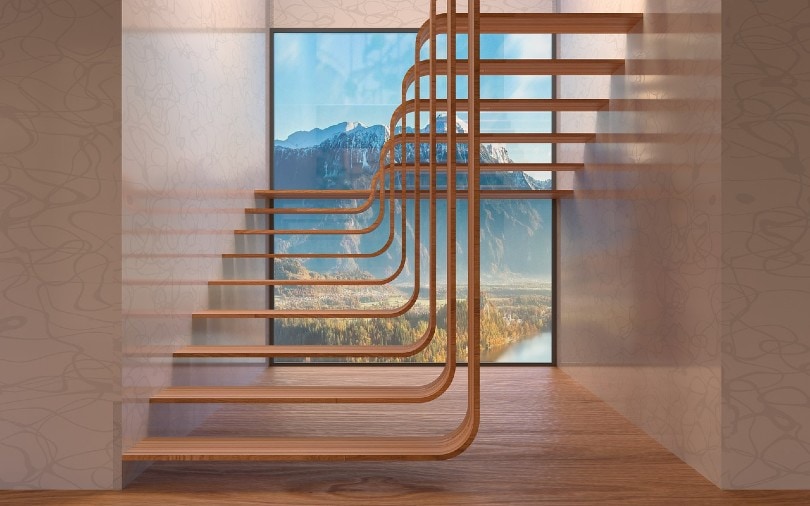 For multi-floor homes, staircases are a functional element enabling people to get from one floor to another. In addition to this essential function, both interior and exterior staircases help to reinforce a home's architectural style — often making an attractive first impression.
As such, replacing a staircase when remodeling your home comes with several factors to consider when calculating the total cost. Factors that affect the overall cost of a staircase replacement include labor costs, materials needed, the extent of the replacement, the complexity of the design, and more.
This article will break down the many factors that impact the total cost of replacing a staircase this year.
Staircase Installation vs. Replacement
First thing's first, there is a difference between installing a brand-new staircase and replacing an existing one. On average, the national cost for installing an interior staircase ranges between $2,000 and $5,000.
If you are already working with an existing set of stairs that needs total replacing, you will likely need to add a fee of between $500-$1,000 for removal and disposal of the old staircase. Homeowners can safely expect to spend a minimum of $10,000 to remove and replace an existing staircase featuring custom wooden stairs, railings, and supporting posts.
If you're looking to simply update the look of your existing staircase without a total replacement, such as by replacing the treads and risers, you can expect to spend between $3,000-$4,000. The total cost breaks down to roughly a week's worth of labor fees plus the cost of materials.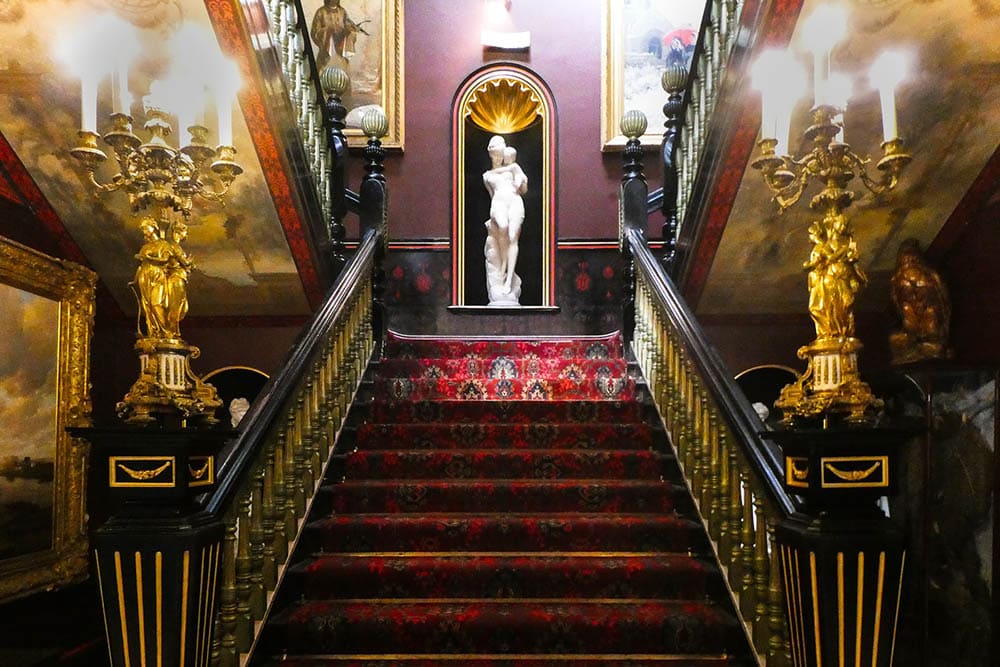 Staircases by Type
A wide variety of stair types can be designed to fit different styles of home layouts. While some swanky floating stairs may work best in a modern-style home, a more traditional staircase with closed risers may fit a more old-fashioned home better. Likewise, a spiral staircase may do wonders to save space in a smaller, more compact home compared to a standard straight staircase in a home with more space.
The different types of staircases include: straight, L-shaped, U-shaped, spiral, winder, curved, circular, and floating.
L-shape staircases are common, featuring a center landing that creates a 90-degree turn between both sets of stairs.
U-shape stairs also include a center landing except they make a 180-degree turn between each set of stairs.
Spiral staircases, while great for saving space and ideal for confined spaces, tend to be more expensive due to material costs (as they tend to be made of metal) and specialized installation costs. An experienced spiral staircase installer may end up costing you just as much as the staircase itself, or close to it.
Winder staircases consist of steps that curve around corners and change direction but don't feature a landing like with L-shape and U-shape staircases.
Curved stairs, also known as arched stairs, are generally found in larger homes with more space and—as their name suggests—curve around the space gracefully. This staircase shape makes an excellent statement feature in hallways and especially in entry spaces.
Circular stairs, also known as helix staircases, are similar to spiral staircases in that they curl around themselves. The difference is circular stairs don't curve around a central post connecting the steps like with a spiral staircase, making the design and the steps themselves wider and generally easier to use for more people.
Floating stairs are some of the most modern and aesthetically appealing. The steps are supported by strong beams attached directly to the wall, giving them their allure as if they're floating in the air. Naturally, the materials used need to be strong and sturdy to support this design, which make floating stairs some of the most expensive to install.
While most staircases are made with a combination of pre-made and custom materials, some types, such as curved and circular staircases, must be entirely custom-built to fit properly in the home. As different styles of staircases each require different scopes of work, the type of staircase you choose will impact the total cost of the replacement.
The table below shows the average costs of different staircase types:
Average Costs of Staircase Types
Straight
$1,900-$5,000
Winder
$2,000-$5,500
L-Shaped
$2,200-$5,700
U-Shaped
$2,500-$6,000
Spiral
$2,500-$15,500
Curved
$9,000-$100,000
Circular
$9,000-$100,000
Floating
$15,000-100,000
Staircases by Materials
When installing a new staircase, the materials you choose are important considerations for not just the look you're going for, but also for the total costs involved. There is a variety of materials to choose from for the treads, or the stairs themselves, as well as the railing to provide additional support and safety for your new staircase.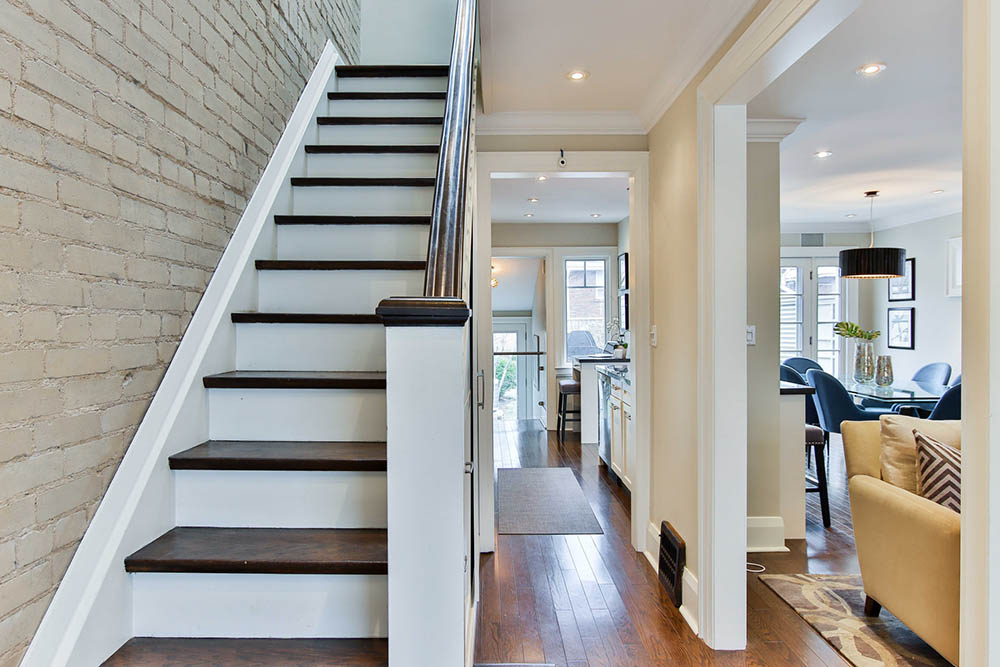 Tread Material
Depending on your design inspiration, as well as your budget, one of the biggest choices to make when remodeling a staircase is which tread materials to go with. The most common tread materials to choose from include: wood, brick, stone, composite, tile, metal, glass, and concrete—each with different variations to choose from as well.
The table below shows you how average costs vary by each tread material:
Average Costs of Staircase Tread Materials (per step)
Wood
$50-$150
Brick
$60-$100
Stone
$80-$120
Composite
$80-$150
Tile
$80-$150
Metal
$100-$200
Glass
$150-$250
Concrete
$200-$300
Railing Material
Railings are an important part of staircases, as they provide additional support and safety for people using them. Railings also help to complement the style of your stairs and the tread material you choose. The type of railing you select for your remodeled staircase will impact the total cost of your replacement project, depending on which material you choose.
The table below shows how average costs vary by common railing materials:
Average Costs of Staircase Railing Materials (per linear foot)
Wood
$10-$40
Stainless Steel
$25-$60
Wrought Iron
$50-$300
Cable
$65-$200
Glass
$100-$500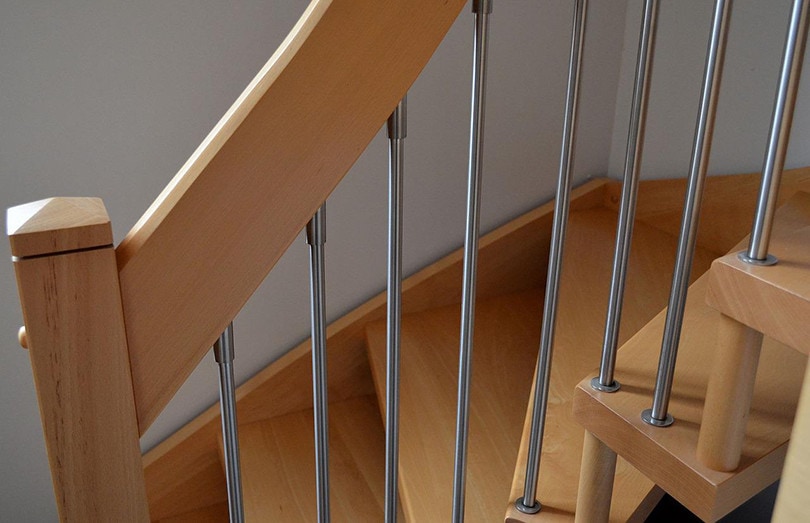 Open vs. Closed Stairs
Another thing to consider when remodeling your staircase is whether you prefer to have open or closed stairs, also known as open or closed risers.
Closed stairs are generally found in older homes, as they are the more traditional option of the two. With a closed staircase, there are no gaps in between the steps. This makes them safer and more practical, as having the stairs closed creates an enclosed space underneath them that can be used for storage and other things. Closed staircases tend to be less expensive than open staircases.
Open stairs are considered more modern and more visually attractive than closed stairs. As there are gaps in between each step, they allow natural light to pass through the home. Open staircases tend to be more expensive to install than closed staircases, costing as much as 10 times more in many cases.
The table below shows the average costs for both open and closed staircases of the same size and material:
Average Costs of Open vs. Closed Staircases (for installation only)
Open Staircase
$10,000-$50,000
Closed Staircase
$2,000-$5,000
Labor Costs
When it comes to expenses, we saved the biggest for last. Most of your total costs when replacing a staircase will likely come from your labor cost.
Depending on the scope of work, which is based on the several factors we listed above, labor costs can range between $1,100 to install a set of straight stairs to as high as $95,000 for a more complex set of stairs. This is based on an estimated $70-$150 an hour for labor on most installations, with a project time of between 8-16 hours for installation of most standard staircases, and as long as 4-6 weeks for more complex staircase installations.
Master carpenters with much experience building and installing stairs typically charge an hourly rate of $45 per person. Considering most large jobs require at least three people, you can expect to pay a total hourly rate of $135 for that level of experience and quality workmanship.
When vetting for installers for the job, experience is key. An experienced stair builder who has the proper know-how of calculating a staircase's correct rise and run is essential for completing the project correctly. In short, the total rise is the vertical height the stairs must cover as they climb, while the run is the horizontal distance the staircase covers. An experienced installer will not only know how to achieve the correct rise-to-run ratio, but they'll also know how to make sure your stairs comply with any code requirements.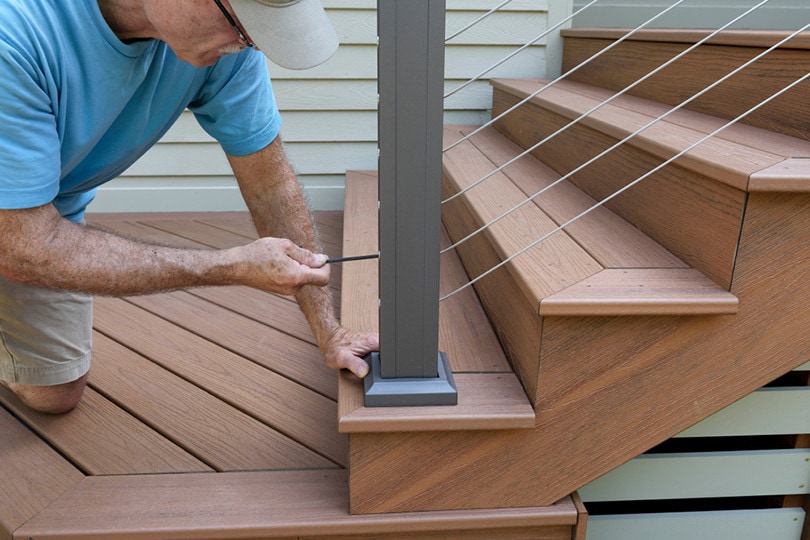 Unexpected Costs
With all the factors to consider when replacing a staircase, it's important to know what is and isn't typically included with a standard cost estimate. This will help prepare you for any unexpected costs that may sneak their way into your final bill.
As detailed above, different factors that play into a total cost estimate generally include: the type of staircase, the materials of both the treads and railings, whether you opt for open or closed stairs, and of course, labor costs.
Other costs that should be included in the initial cost estimate include:
equipment delivery to and from the site
labor set-up time—such as any cost to prepare the worksite, like protecting existing structures, finishes, furniture, etc.
More importantly, what's not usually included in the cost estimate is important to be aware of so you aren't hit with any unpleasant surprises. Such additional costs include:
removing, repairing, modifying, or relocating any existing framing, surfacing, electrical, plumbing, or HVAC systems in place
having to bring any of these systems into compliance of any codes
costs of testing for hazardous materials (e.g., asbestos, lead, mold, etc.)
any permit and inspection fees involved with the project
sales tax on all purchased materials and supplies
Summary/Conclusion
The staircase is one of the first things you notice when entering many homes. Many factors go into choosing the perfect staircase for your home, all of which impact the total cost of such a renovation. Whether you are remodeling your stairs for safety reasons, improved functionality, or giving it a much-needed facelift, we hope this article has helped to break down these many factors to better inform you for your staircase replacement project. Happy remodeling!
---
Featured Image Credit: motionstock, Pixabay