Zodiac MX8 Pool Cleaner Review 2023 – Pros, Cons & Verdict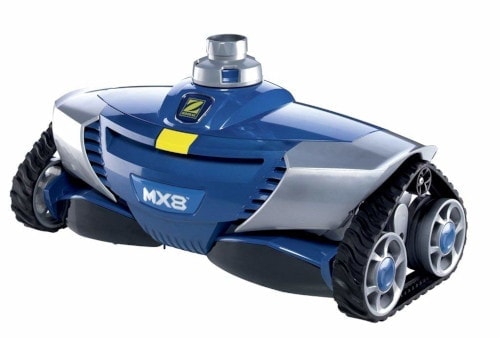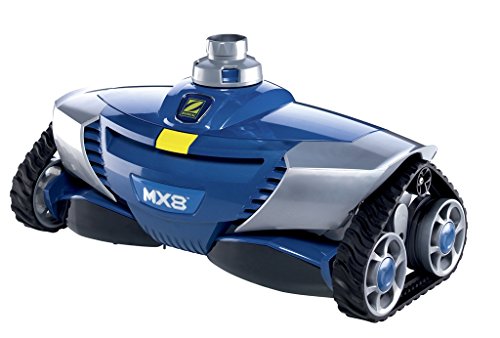 We give the Zodiac MX8 a rating of 4.3 out of 5 stars. 
Build Quality: 2.8/5
Power: 4.3/5
Features: 4.5/5
Price: 3.5/5
Review Summary
The Zodiac MX8 is an advanced lightweight suction side pool cleaner that climbs walls, cleans steps, and reverses itself if it gets into a corner. It works in inground pools of any shape, and its dual cyclonic cleaning system picks up dirt and grit as easily as it does organic materials. It's also designed to be easy to open and maintain, is quiet as a whisper, can reach 36 feet with its hose, and operates on as little as 20 gallons per minute of suction power. Hook it up, put it into your pool, turn it on, and let it go to town.
A word of caution, however. It needs to be cleaned frequently. If it fills with debris, it will simply stop until you clean it. That makes it ideal for smaller pools. It's also a bit on the expensive side.

Zodiac MX8 – A Quick Look
Pros
Two directional gears so it can reverse direction
Easy-open tab
Two turbines
Good debris opening
Cons
Best for small pools
Needs frequent cleaning
Specifications
Brand name: Zodiac
Model: MX8
Type: Suction side
Pool type: Inground
Dimensions:5 x 9 x 14.75 in
Weight: 5 lbs.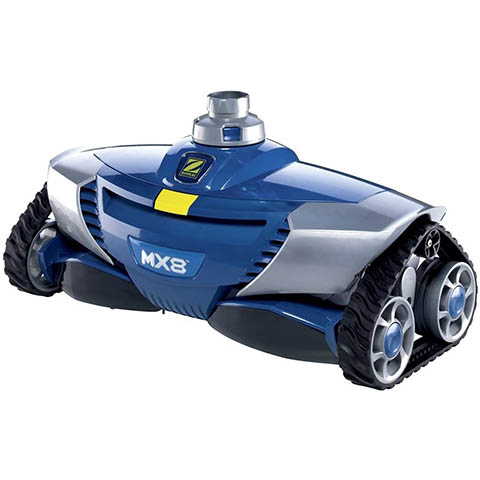 ---
Built For Mobility
Its X-Drive directional control gears allow the MX8 to go everywhere in your pool, including those hard-to-get corners and stairs. If it ends up in a corner, it will turn itself around without your help. Its X-Trax mobility system delivers superior climbing ability for walls and stairs, leaving no square foot of your pool uncleaned.
Dual Cyclonic Cleaning
With its two cleaning turbines, the MX8 does as well cleaning up grit and sand as it does organic matter like leaves and pine needles. It also has a wide path of cleaning, which means it takes less time to do the job than pool cleaners with one, centrally located cleaning turbine.
Versatile Cleaning
The MX8 is designed with energy efficient usage in mind. It works well with variable-speed pumps and can operate with as little as 20 gallons per minute of suction. As long as you supply a consistent source of suction, the MX8 will supply a consistent source of cleaning. This suction side pool cleaner also comes with a flow regulator valve so that if water flow becomes excessive it will still operate at peak efficiency.

FAQ
How good is the warranty that comes with this model?
Zodiac offers a standard two-year manufacturing free-of-defect warranty.
How often does it need to be cleaned out?
Pretty frequently, which is why it's recommended for smaller pools.
What is the minimum pressure required to operate the MX8?
You can use this with as little as 20 gallons per minute.
---
What the Users Say
The MX8 is generally popular among people who leave online reviews about it. What stands out is its simplicity and its ability to clean an entire pool of just about everything. This includes leaves, pine needles, grit, and sand. Users generally feel it's worth investing a little more money to get the MX8. Some users call it the best pool cleaner they've ever used. A few even reported being on their second MX8 after falling in love with their first.
Particularly popular is its ability to climb and clean walls. Lots of pool cleaners can do floors, but the MX8 can get up the walls and clean those as well. It's also praised for its quiet operation. Users report being able to turn it on a few hours every day and, by the end of every week, their inground pool is spotless.
There are some naysayers, however, and they mostly complain that it just dies in the middle of operation for no apparent reason. Efforts to repair the thing usually result in having to replace it with either a new MX8 or a different model altogether. People who said this happened tended to agree that it happened within its first year of operation.
Enough people have reported this to suggest that, once in a while, someone's going to get a faulty unit. The number of reviews appear to support the idea that, in addition to pool cleaners generally being skittish pieces of equipment, there might be a design flaw with the MX8 that gives it a short operational life.
Beyond that, however, the general consensus is that it's a good pool cleaner, efficient, and fast. It might cost enough for a quick shock, but users generally feel this is money well spent.

Conclusion
The Zodiac MX8 is an energy-efficient suction supply pool cleaner that has the juice to clean your entire pool, from the floor to the walls to the hard-to-get corners on your stairs. It cuts a wide path through debris, and its dual cyclonic cleaning system works just as well on organic material as it does on sand and grit. It's quiet and designed to operate on as little as 20 gallons a minute suction of flow, and it can reach out to 36 feet with its hose.
As quiet as this machine is, you still might want to keep an eye on it. If it stops, it's probably for one of three reasons. Either it's completed cleaning your pool, it's filled with debris and needs to be cleaned out, or—according to some of its online reviews—it has just simply died for no particular reason.
See Also: