8 Best SDS Hammer Drills of 2023 – Top Picks & Reviews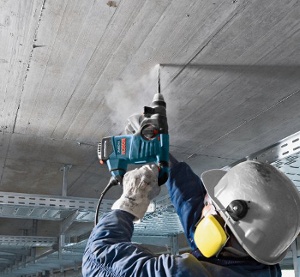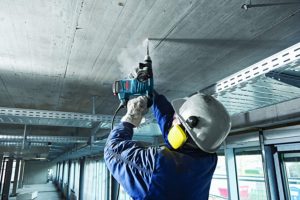 If you work construction where you regularly demolish concrete, metal, and other dense materials, you know how important a slotted drive system (SDS) hammer drill is to your project. It is not just about having the tool, however. It's about finding one that is durable, reliable, and most importantly, powerful. You want a tool that will break apart whatever surface you are working on with as little discomfort to your body as possible.
That is a tall order when you look through all the available brands and models, though. How do you know which one will be worth your time and money? Is a special direct system better than a slotted drive system? Hint: they are the same thing!
If you found this article, you are on the right track! Not only did we find eight good options to choose from, but we also share info on the features you should look for, as well as, some shopping tips after our reviews.
Keep reading below to find all the stats you need on this heavy-duty tool.
---
A Quick Comparison of Our Favorites
Rating
Image
Product
Details

Best Overall

DEWALT DCH273B SDS Rotary Hammer Drill

Brushless motor
Dust port
Good torque and impact power
CHECK PRICE

Best Value

Makita HR2475 SDS Rotary Hammer Drill

Good torque and impact power
Torque limiting clutch
Sequential impact timing
CHECK PRICE

Premium Choice

Milwaukee Cordless Rotary SDS Hammer Drill

Good torque and power
Brushless motor
Durable construction
CHECK PRICE

Bosch RH328VC SDS Rotary Hammer Drill

Integral clutch
360-degree auxiliary handle
Vario-lock
CHECK PRICE

VonHaus SDS Rotary Hammer Drill

3 drill functions
Vibration control
Extra chuck for standard bits
CHECK PRICE
The 8 Best SDS Hammer Drills – Reviews 2023
1.

DEWALT DCH273B SDS Rotary Hammer Drill – Best Overall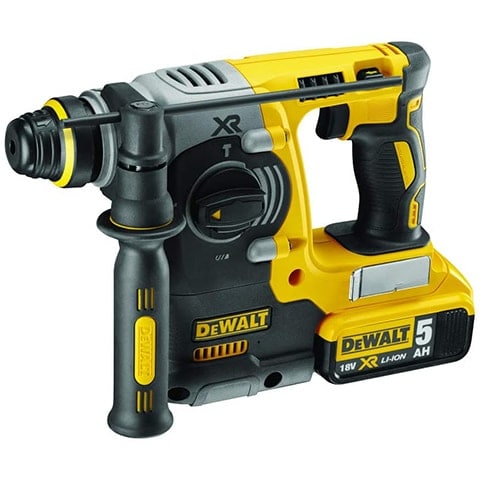 If you want to skip all the details and go straight for the best of the best, we are happy to accommodate. In our opinion, the DEWALT DCH273B SDS Rotary Hammer Drill is the best option on the market. This is a 20-volt, one-inch max capacity tool that uses 2.1 joules impact energy for a powerful yet accurate tool. It also has a no-load 0–1,000 rotations per minute (RPM) and 0–4,600 blows per minute (BPM).
The DEWALT uses a brushless motor that allows you to work longer without overheating or losing power, and it has an extended shelf life. It uses SDS plus bits, not to mention, it has a 360-degree rotating handle, depth rod, and a utility hook for easy storage. You will also find the L-shaped handle is easy to hold, and the active vibration control makes it easy to use. With the excellent power to weight ratio, this six-pound tool comes with a dust extraction point to extend the life of your hammer drill even longer.
This hammer drill has the power of a corded tool without the cord. It is important to note, however, that the battery and charger do not come with the tool. They will need to be purchased separately. That being said, it's compatible with the standard DEWALT battery, so if you already have some of these cordless tools, you'll be all set. Other than that, this drill has a factory-set clutch that reduces torque if the bit jams. The optimal concrete drilling is 5/32 to 1/2-inch, as well. If you want the best option that can be delivered to your front door, this is the SDS hammer drill we would recommend.
Pros
Brushless motor
Dust port
Good torque and impact power
Vibration control
Utility hook
Factory set clutch
Cons
Battery and charger sold separately
---
2.

Makita HR2475 SDS Rotary Hammer Drill – Best Value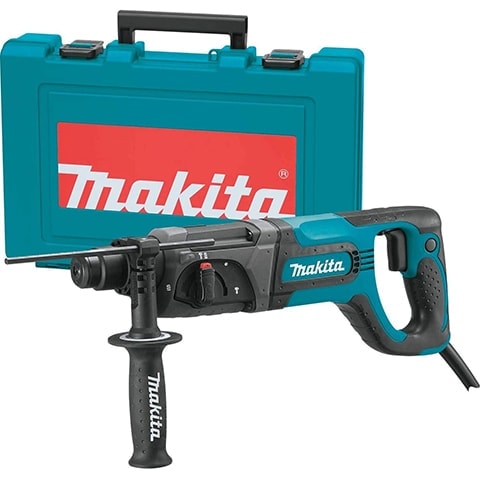 The Makita HR2475 SDS Rotary Hammer Drill is our next option up for review. It is another one-inch hammer that is compatible with SDS plus bits. As a corded tool, you have 2.7 joules of impact along with 7.0 amps of power using 120 volts. This option has an ergonomic D-handle that is rubber-coated and comfortable to use. It also has a torque limiting clutch, so you won't have any gear damage if it jams.
This hammer drill uses no-load 0–1,1000 RPM and 0–4,500 BPM for its sequential impact timing. This creates timed hammering that can increase your work time by 50%. Not only that, the tool is made with core interlocking steel laminations, dual ball bearing armatures, and more copper communication rods for more power, and a better shelf-life. That being said, this is not a brushless motor, so it can still get hot and lose power after extended use.
With a recessed lock-on button, you can use the Makita continually without stopping. Just keep in mind, it is heavy at 10.7 pounds. Beyond that, the one-touch sliding chuck makes bit changes easy and fast. Additionally, though it is a brushed motor, the extended brushes make for less down-time. This tool has a concrete drill capacity of 3/16 to 1/2 inches, plus a 40-bit angle setting. That, along with the three modes of operation (rotation, hammer, rotation, and hammer), make this a great option that is also affordable. In fact, we consider this to be the best rotary hammer drill for the money.
Pros
Good torque and impact power
Torque limiting clutch
Sequential impact timing
Extended life brushes
Lock-on feature
Three mode operations
Cons
Brushed motor
Heavy to use
---
3.

Milwaukee Cordless Rotary SDS Hammer Drill – Premium Choice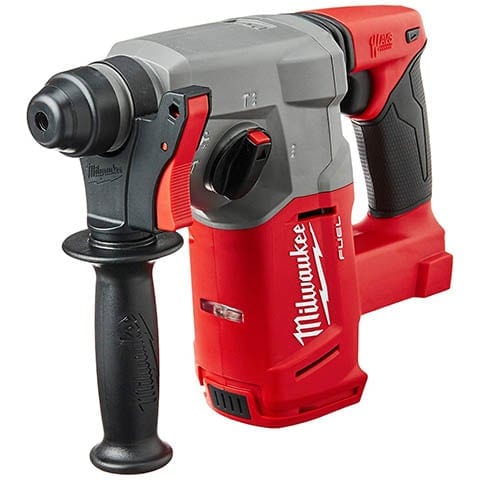 Since we gave you our favorite affordable option above, we also wanted to share the features of the best premium one. The Milwaukee Cordless Rotary SDS Hammer Drill is, albeit more expensive, a great candidate for your go-to power tool. It uses 0–4,900 BPM and 0–1,400 RPM with no load. As the name indicates, this is a battery-operated unit that uses 18 volts, 1.7 foot-pounds (ft-lb) of power, and weighs a comfortable 6.8 pounds.
This hammer drill features a brushless motor that can run for extended periods without overheating or losing torque. It has a one-inch concrete cut capacity, plus a solid bit capacity of 2 ½ inches, and a core bit impact energy of 1.7 ft-lb. The high carbon steel construction is also durable and long-lasting.
The Milwaukee has a D-handle that is comfortable to use with anti-vibration technology. There is also an LED light for your convenience when working in low-light. Not only that, but it has a dust port that is compatible with most standard vacuums. One thing of note, however, is the battery power. Unfortunately, it only lasts for a couple of hours before it needs to be recharged. Also, as this is our premium option, it's more expensive than most. Finally, this SDS plus tool has a mechanical clutch to protect you when the machine binds up.
Pros
Good torque and power
Brushless motor
Durable construction
Dust port
Ergo-handle with anti-vibration
Mechanical clutch
Cons
More expensive
The battery is not long-lasting
---
4.

Bosch RH328VC SDS Rotary Hammer Drill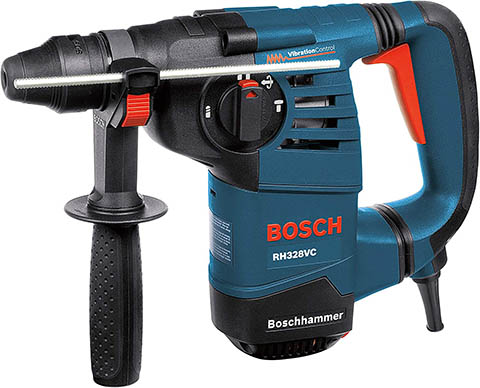 Another SDS plus option is the Bosch RH328VC SDS Rotary Hammer Drill. With a 1 ⅛-inch capacity, this tool has a 2.4 ft-lb impact energy and runs on 8 amps and 120 volts of corded power. This is an ergonomic tool weighing 7.7 pounds. It also has vibration control in the hammer mechanism, as well as, the handle to keep you comfortable while you work.
With three operating modes, the Bosch can be used in rotate, hammer, or rotate and hammer mode. The integral clutch stops the torque if you run into a jam, and the 360-degree auxiliary handle gives you a lot of control. Additionally, this unit has a vario-lock option that lets you put it in neutral. This is a quick and efficient way to change the tool between 12 different positions. Made of metal and durable plastic, this brushed motor is only capable of 0–900 RPM at no-load. Be that as it may, it does have 0–4,000 BPM.
This tool has a core bit max capacity of 3 ⅛ inches. The hammer drill also has a reverse function with a variable speed three-finger trigger that is easy to use. One drawback you should consider is the vibration control. Unfortunately, it is not as effective as it is in others. What's more, there is no dust collection on this model. That being said, you will receive a convenient carry case to easily store and transport the hammer drill.
Pros
Integral clutch
360-degree auxiliary handle
Vario-lock
Reverse capable
Three operation modes
Cons
Only 900 RPM at no-load
Higher vibration
No dust collection
---
5.

VonHaus SDS Rotary Hammer Drill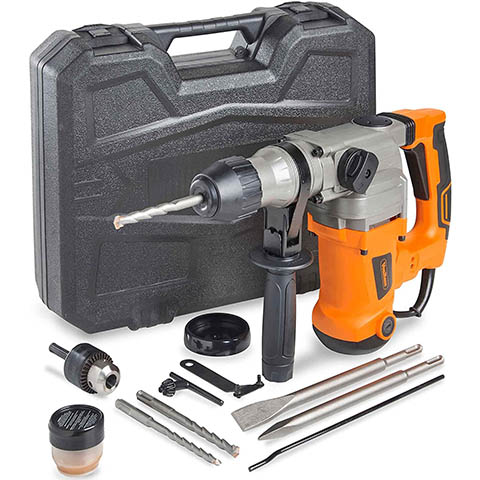 The VonHaus SDS Rotary Hammer Drill is a 10-amp, SDS plus tool that is corded using 120 volts. It comes with a demolition kit with both flat and pointed chisels, plus it works in three drill functions including hammering, drilling, or both at the same time. It has an adjustable handle, and it has a 1 3/15-inch concrete capacity. This tool is also capable of going through steel up to 1/2-inch and wood up to 1 9/16-inch.
Besides the demo kit, you will also receive an additional chuck for regular bits up to 30 mm. The VonHaus has a 360-degree swivel handle with a textured grip, as well. On the other hand, the handle on this tool is not as comfortable to hold. It is also slippery if it becomes damp. Furthermore, be advised that this motor is not brushless. It can get hot to the touch quickly, plus it loses power at high speeds.
This 9-pound hammer drill has vibration control. It has a 3,900 BPM, but it only has no-load 850 RPM. You should also consider that it doesn't have any kind of a dust port, either. This can cause an issue especially as the tool is already prone to gathering heat quickly.
Pros
Three drill functions
Vibration control
Extra chuck for standard bits
Adjustable 360-degree handle
Comes with chisels
Cons
The brushed motor that creates a lot of heat
No dust port
Only 850 no-load RPM
Not comfortable to hold
---
6.

ENEACRO SDS-Plus Heavy Duty Rotary Hammer Drill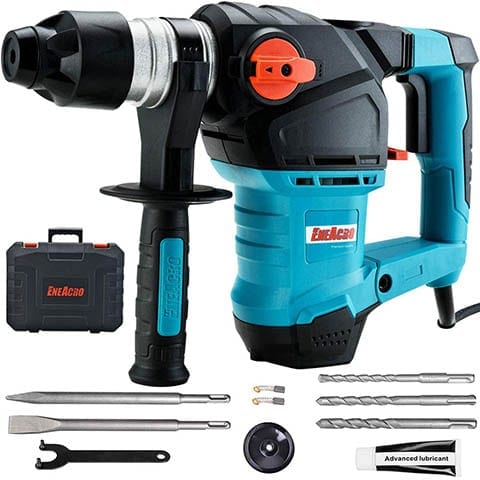 With a 1 ¼-inch capacity, the ENEACRO SDS-Plus Heavy Duty Rotary Hammer Drill is a corded 12.5-amp, 120-volt tool with 5.2 ft-lb of impact energy. This is a three-function drill that does the standard drilling, hammering, and drill plus hammering operation. It has a double-layer vibration control making it more precise and comfortable to hold. Not only that, but it also lowers the noise level of this tool.
The ENEACRO comes complete with a safety clutch to protect your hands and wrist. It also has a 360-degree adjustable handle only it is not easy to adjust. You will need to stop and unscrew it to change position. On the other hand, this option comes with grease, chisels, drill bits, and a carry chase. What's more, there is a double function switch to help extend its shelf life.
This hammer drill is made with a brushed motor, however, it has a heat-dissipating design with an anti-dust bottom to help keep it cool and extend the life of the tool. In the long run, however, it won't last as long as a brushless motor. Furthermore, though it does have some features to protect the inner mechanisms, the overall construction is poor. It also weighs a whopping 16.42 pounds, so it's heavy for extended use. What it does have is a metal cut capacity of ½-inch, and a no-load 880 RPM and 4,350 BPM, which causes it to have less power.
Pros
Safety clutch
Double function switch
Heat dissipation
Anti-dust bottom
Cons
Not as durable
Low no-load RPM
The adjustable handle is hard to change
Heavy
---
7.

Ryobi P222 Ryobi One+ SDS Rotary Hammer Drill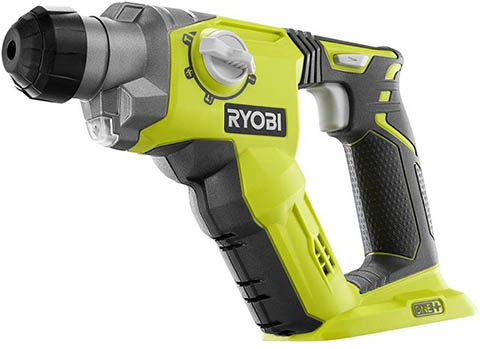 The Ryobi P222 Ryobi One+ SDS Rotary Hammer Drill is our second to the last pick for this tool. With 1,300 no-load RPM and 5,000 BPM, it has decent power, though it's not recommended for professional use. One of the main reasons for this is the plastic housing is not durable. Secondly, there is no information listed regarding the max capacity. Regardless, we do know that this is an 18-volt SDS plus model that has 1.2 joules and is a lightweight 3.65 pounds.
The Ryobi is a battery-operated unit; however, you will need to purchase the battery and charger separately. It has three modes to choose from including rotating hammering, rotating drilling, and chisel only. You will find the tool's bit change to be simple, but the lack of an auxiliary handle can make a lot of jobs difficult. Not only that, but you will not find a dust port and the LED light in ineffective.
Outside of that, this is a brushed motor tool that tends to get hot and lose power quickly. It does have a variable speed trigger, plus a chisel adjustment mode. As mentioned, however, this is not the most accurate nor precise model available.
Pros
Goof torque power
Variable speed trigger
Chisel adjustment mode
Tool-free bit changes
Cons
Not for professional use
The casing is not durable
Brushed motor
Lacks an auxiliary handle
No max cap info
---
8.

KIMO SDS Plus Rotary Hammer Drill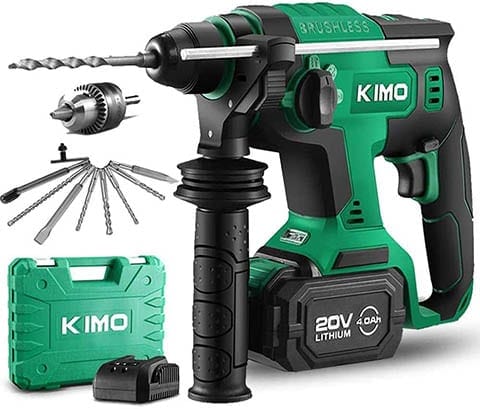 Our final pick is the KIMO SDS Plus Rotary Hammer Drill. This is a 20-volt cordless tool that uses 4.0 amps. It weighs a comfortable 6.28 pounds, but it can be difficult to use for extended periods with higher than average vibration. Not only that, but it is also noisier than most. With the three standard functions, this unit also comes with pointed, flat, and U-groove chisels.
The KIMO is built with a brushless motor. Interestingly enough, though, it also has a built-in cooling system and an overheat protection system. This may be due to the impact of energy being powered by air pressure. Many customers find this model still gets hot to the touch and loses power ay higher speeds. It's also important to note there is no max capacity information for this model.
You will find this tool has variable speed control and an easy bit change. Be that as it may, the 2.1 joules are not housed in a durable case. What's more, it only has a 900 RPM no-load, though it has a 4,550 BPM. You will also find an adjustable 360-degree adjustable handle that is keyless, but it gets stuck in place often. Overall, this model is not precise, and the chuck can be wobbly. In our opinion, it is the least attractive option for an SDS hammer drill.
Pros
Three mode functions
Comes with drill bits
Variable speed control
Cons
Brushless motor is not effective
Chuck is wobbly
Not durable
Handle adjustment gets stuck
High vibration and noise
---
Buyer's Guide – Choosing the Best SDS Hammer Drill
As we mentioned in the intro, an SDS hammer drill is an important tool to have to break up concrete, tile, brick, and other tough surfaces. If you are new to this type of tool, there are a lot of aspects of it that are important to get to know. Not can buying the wrong tool be frustrating, but it can also decrease your work time.
Frequently Asked Hammer Drill Questions
Over the years, we have compiled a series of questions that we found are the most frequently asked when it comes to this type of drill. Take a look at the questions and answers below.
What Is a Hammer Drill?
A hammer drill is a heavy-duty tool that is typically used for drilling through hard surfaces like concrete or metal. You may also hear this tool called a percussion or impact drill, as well. It cannot only rotate your bit but also do a "hammer or percussion" motion simultaneously that makes it easier to break through tough surfaces.
What Is an SDS Hammer Drill?
SDS stands for "slotted drive system". First, an SDS is very similar to a standard hammer drill. They both can rotate while punching through surfaces. With the SDS, however, it uses a piston instead of a clutch to power the bit. This causes a bigger hole, and it's easier to work through tougher surfaces.
Are There Different Types of SDS Hammer Drills?
Yes, there are three types of SDS hammer drills. They come in either a compact, midsize, or demolition size. In the reviews above, we concentrated on the compact group. For the most part, the difference between the three types it the strength. That and only the compact SDS can operate in rotary-only mode. The other two cannot.
What Is SDS Plus?
SDS plus refers to the type of bit. There are only two bit types for SDS drills; either plus or max. The plus, which is used only by the compact SDS, has two open grooves that are held by the driving wedges. They are 10 mm, and they move independently from the chuck. Max bits are for bigger demolition projects and stronger SDS drills.
What's the Difference Between RPM and BPM?
This part can be a bit confusing for some, so we will lay it out in the simplest terms possible. As most of us know, RPM is rotations per minute. This is the rotation of the motor. The more RPM, the stronger the tool will be. In this case, you will often see no-load RPM which means the rotations per minute without a bit (not in use). Now, the motor powers the bit which is where BPM comes in. Otherwise known as beats per minute in the music and exercise world, blows per minute is how many times the bit hits the surface. What you want to strive for is a good RPM with the highest BPM possible. This equates to a high-powered drill with less strain on the motor.
What Is the Difference Between a Brushed and Brushless Motor?
The difference between the two motors is in the name: brushes. Brushless motors are a fairly new technology that takes the brushes out of a standard motor. In a nutshell, this keeps friction low allowing the motor to run cooler and last longer. They are also quieter and often more compact.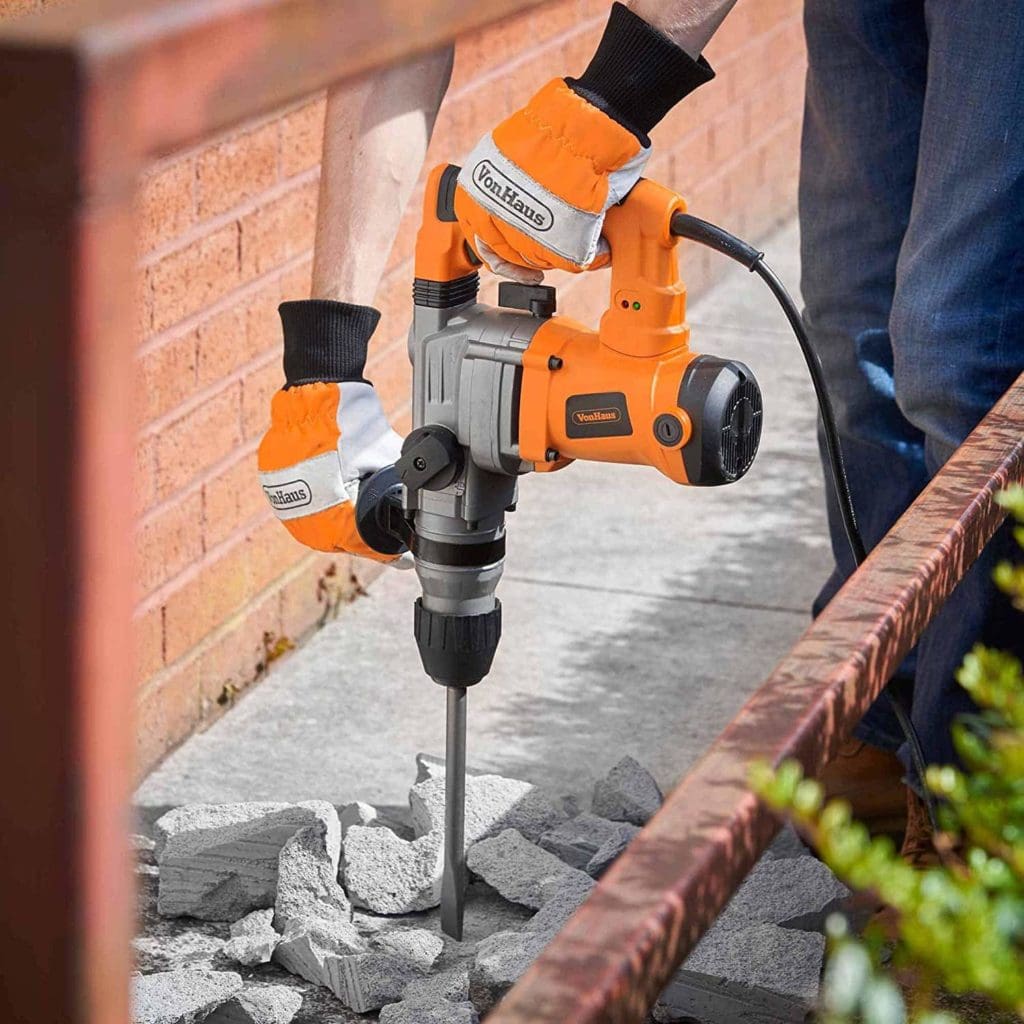 SDS Hammer Drill Shopping Tips
Okay, now that you know the basic answers to the most frequent questions, there are still several features you should look at before making a purchase. Take a look at these shopping tips below.
360-Degree Handle: The auxiliary handle on your hammer drill is what will support the tool during use. Having a handle that turns at a 360-degree angle will allow you to maneuver the drill as you work without stopping.
Impact Energy: The impact energy (joules) is the amount of impact on the surface of your material. For example, each surface has a limit to how much force it can withstand before it fractures. You want to ensure your SDS Hammer drill has enough impact energy to break through the material you are working on. Most SDS's have a range of 1.2 to 2.5 joules.
Variable Speed: Not all SDS drills have variable speeds. Whether you need one or not depends on the type of work you are doing. Typically, if you are using the tool to break up tiles or old concrete stairs, you won't need this function. On the other hand, if you are using it to make holes through tough material, a variable speed tool is better.
Vibration Protection: Vibration is a serious issue with these tools. Not only can it wear on the life of the tool, but it can also wear on your body. Many models have vibration protection in one form or another.
Corded vs Cordless: This age-old question is a popular one. Like most other tools, corded hammer drills will have more power, plus they will be able to take on bigger jobs. Cordless options are smaller, less-powerful, and are better suited for DIY projects.
Clutch: You will notice a lot of SDS drills have a clutch. Though they may be called something different depending on the brand, they are used to slow or stop the torque when it gets jammed. Otherwise, if BPM suddenly stops when the RPM is still going, it can not only break the machine, but it can also cause you injury.
Max Capacity: Finally, you want to take a look at the max drilling capacity for the tool. Keep in mind, some hammer drills will give you the max cap on individual materials while others will only give you the overall numbers.

Conclusion
We hope this article and the reviews above have been able to shed some light on your options for the best SDS hammer drill. Narrowing down your options to one purchase can be tough if you go into it without any extra info. That being said, if you prefer to take go with the best option without going through the process of comparing other models, we suggest you go with the DEWALT DCH273B SDS Rotary Hammer Drill. This is a solid option with a lot of power, safety, and reliability.
If you are more interested in a hammer drill that can be used around the house with the option of some SDS hammering power if it's needed, you will likely benefit from the Makita HR2475 SDS Rotary Hammer Drill. This is not only an affordable option, but it also has the features you need to complete every day drilling chores.