How to Hang a Canvas Painting on a Wall – 5 Easy Tips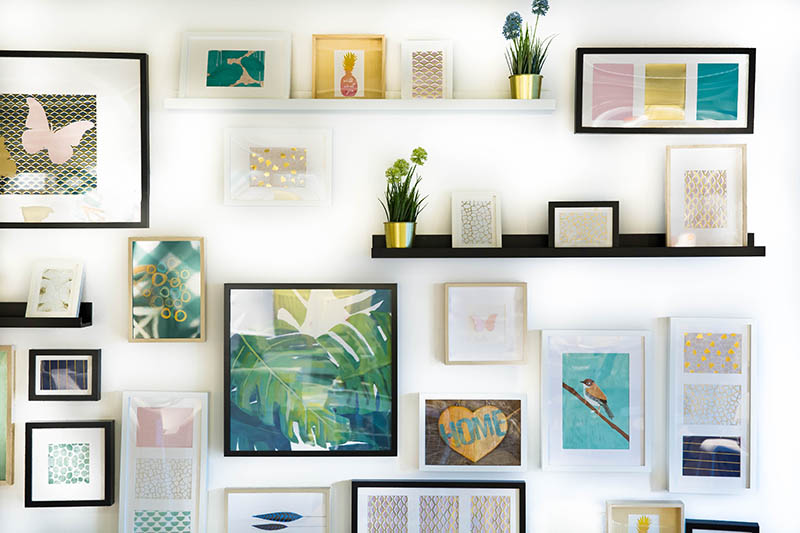 Canvas paintings are lovely pieces of art that come in many styles, shapes, and sizes. It is crucial to find a perfect spot for your painting to hang, whether it is the focal point of your living room or a subtle detail above your bed—it can make any space pop with charm and spirit. Canvas paintings can be printed photographs or authentic pieces of abstract art, and hanging them will make your space feel more like home.
Correctly hanging a canvas painting is a necessary step to have a long-lasting piece of art without the risk of ruining your wall. Read the tips below, and you'll quickly become an expert in hanging paintings in your home!

Before You Start
Since canvas paintings come in many different styles and sizes, you may need to think of the ideal room first. Certain paintings fit in well with different surroundings, and the type of wall you have will also be an important feature to consider. Hanging a canvas painting will be easiest in a room with drywall, while concrete or brick may be challenging.
Before you begin hanging your canvas painting, there are some preparations you need to make. Firstly, you will need to acquire all the tools necessary to complete this project. It is best to gather all the materials and supplies you need before starting this project so everything can go as smoothly as possible.
For this project, you'll need:
Pencil
Level
Tape measure
Nails
Hammer
Wall protection pads
Additional materials(optional):
Sawtooth brackets
Eye hooks
Wire
Screws
J hooks

How to Hang a Canvas Painting on a Wall
1.

Find the perfect space for your painting
As we've mentioned above, your canvas painting needs to be hung in a room where it will bring the most effect. Specific rooms can look much better when a canvas painting is added and can enhance the painting's style. Depending on the style of your canvas painting, it may look better in the living room, kitchen, bedroom, or hallway.
You will also need to consider the size of your painting, as certain rooms look much more decorative with larger canvases hanging above the bed or sofa.
---
2.

Choose the position of your canvas painting
Once you choose a room where you will proudly display your canvas, it is time to choose the ideal location on the wall. Your painting can look great paired with other similar paintings or displayed alone. Depending on its size, you will need to think about the ideal position of the canvas and which way it will look best in a certain space. If you pair it with other paintings or photos, try to match their general style or appearance.
You will need to measure your wall and decide on the height of the painting. This will be one of the most important steps of mounting it on the wall since the height of the hung painting will dictate the room's general atmosphere. Placing it too high or too low can feel awkward. Your artwork will fit on the wall like a glove if you find an ideal position.
---
3.

Plan an ideal layout
Once you've chosen the location of the canvas and its precise position, it is time to figure out which paintings and accessories you'll pair with it. You can use multiple layouts to create visual differences in a room, such as a symmetrical, asymmetrical, diagonal, or simple layout. Each style can create a unique appearance for the room. Once you've chosen your preferred layout, placing everything on the floor first and carefully assembling the pieces is best.
---
4.

Consider the hardware you'll use
Your next crucial step in hanging a canvas painting is to decide the method you want to use for this project. There are five main techniques you can use, each one having different materials to assist you with hanging the canvas. Depending on your personal preferences and the type of wall you have, you can use the following:
Nails and hammer: Hammer the nail into the wall using one or two quick and confident hits. Leave around an inch of the nail out, so you have room to hang your canvas.
Eye hooks: Measure around 5 inches from the top of the frame and screw eye hooks on both sides of the canvas. Attach a wire between the two eye hooks and leave enough room to hang on the nail. Hammer in the nail to the wall, leaving room for the wire.
Adhesive strips: Place the adhesive strips on each corner of the frame and add in between corners if necessary.
J-hooks: Place the hook on the wall and hammer the nail into the hook directly.
Sawtooth brackets: Place the bracket at the back center of the painting and screw both sides of the brackets into the frame. Make sure the bracket is tightly screwed and hammer a nail into the wall where you will hang the bracket.
Most of these hanging techniques require hardware, tools, and hammering to the wall, except for the adhesive strips. Adhesive strips are the easiest method for hanging a painting, although might not be as durable as other options. Each method has its pros and cons. If you want to avoid doing any permanent damage to your wall, then adhesive strips are a perfect option for you.
---
5.

Attach the canvas carefully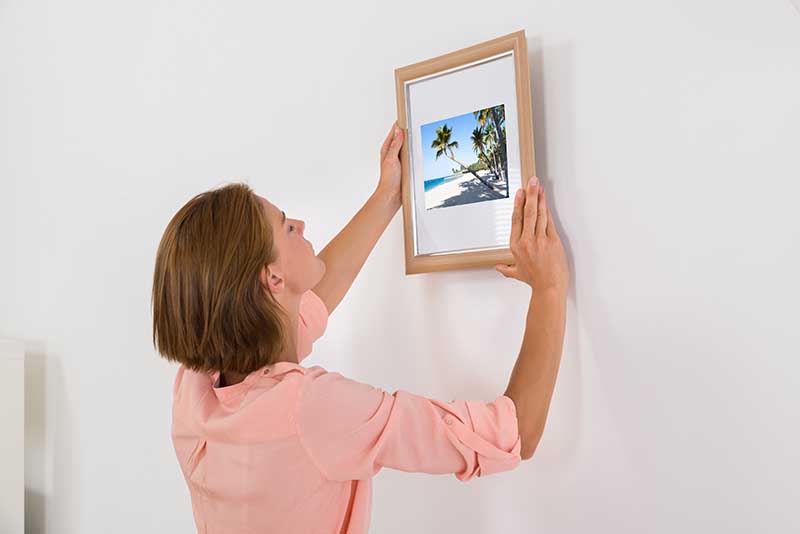 After gathering the tools and hardware for your desired technique of hanging a canvas, it is time to start hanging! The hammering and pinning are quick and easy, so it is essential to prepare and set everything up precisely according to the instructions. Attach the canvas to the wall carefully, ensuring you don't damage the painting or the wall.

Conclusion
Hanging a canvas painting on a wall is a quick and effortless project that any homeowner or DIYer can handle with a few pointers. No matter your previous experience or the set of tools you own, this project is very straightforward.
There are many ways you can hang your canvas, and while some require you to use a hammer and other tools, there are methods that only require a few strips of adhesive tape.
---
Featured Image Credit: Jonny Caspari, Unsplash