6 Best Magic Bullets in 2023 – Reviews & Top Picks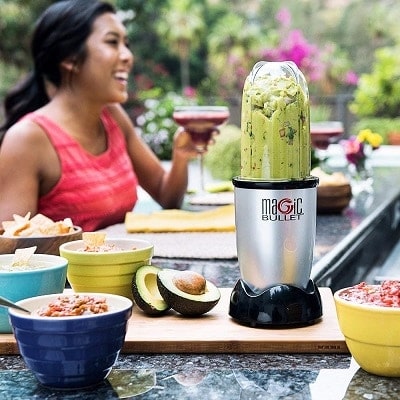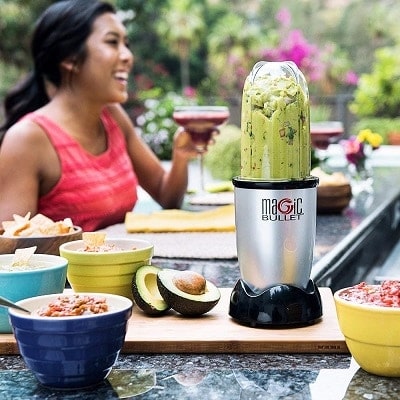 The Magic Bullet is the trailblazer for bullet blenders. Infomercials on TV are likely where you first became familiar with this brand.
In the comically-guided advertisements, this "countertop magician" was shown to be capable of blending everything from a smoothie to muffin mix, pesto, and coffee beans.
This brand is still popular, with many more varieties available. These small blending appliances are widely available, and below are our reviews of our top six picks in the Magic Bullet family.
A Quick Comparison of Our Favorites in 2023:
Rating
Image
Product
Details

Best Overall

Magic Bullet MBR-1701

Two blade sets
Versatile lids
Many containers
CHECK PRICE

Best Value

Magic Bullet MBR-1101

Inexpensive
Three blending containers
Storage and travel lid
CHECK PRICE

Premium Choice

Magic Bullet BX1573-23

Three blade assemblies
Freezer-safe containers
Microwave-safe containers
CHECK PRICE

Magic Bullet BBR-2001

Dated storage cups
Two blade assemblies
Dishwasher-safe parts
CHECK PRICE

Magic Bullet DBR-0101

Fun for fruit lovers
Healthy desserts
CHECK PRICE
The 6 Best Magic Bullets
1.

Magic Bullet Express Mixing Set – Best Overall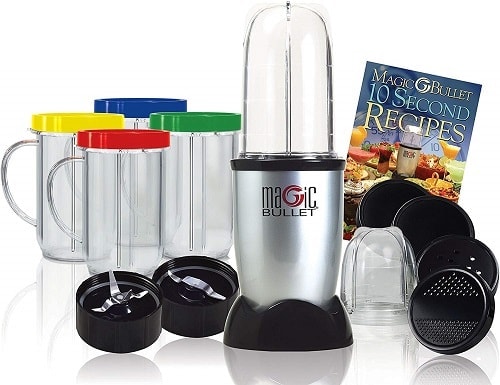 The Magic Bullet MBR-1701 Express Mixing Set is a 17-piece set that includes two stainless-steel base assemblies to chop, grind, whip, and blend. The flat blade is for grinding, milling, and whipping, and the cross blade is for chopping, grating, and blending. There are a variety of cups and mugs. The colorful lip rings cab help identify individual cups at your next smoothie party. Uniquely, there are also two shaker/steamer lids for steaming food in the microwave or using as a shaker top for cheese.
With low wattage, this bullet blender might not work for all your blending needs, as it struggles with leafy greens and may take longer to mix a smoothie with ice and frozen fruit. While the original Magic Bullet wasn't originally made with BPA-free plastic, this updated design does. However, the plastic can crack with heavy use, and this can be frustrating.
Overall, for the price, size of the set, and versatility, this is, overall, our choice for the best Magic Bullet.
Pros
Affordable
Many containers
Two blade sets
Versatile lids
BPA-free plastic
Cons
Low wattage
More storage required
---
2.

Magic Bullet MBR-1101 Blender – Best Value
The Magic Bullet MBR-1101 Blender is an 11-piece set with two 18-ounce containers and one 12-ounce container, two storage lids, and one sipping lid. It also includes a guidebook to help you try out new 10-second recipes. It has the versatility to make smoothies, grind coffee, or blend your favorite guacamole. The attachments are easy to clean by either rinsing immediately after use or putting in the dishwasher. Blending up your favorite morning smoothie before work is quick and easy, taking less than 60 seconds.
Be wary of packing the blending containers too full. The motor is powered by 250 watts and may struggle if overloaded. If protein shakes are your thing, this is an ideal option. This blender is also compact and easily portable.
Comparatively, this blender is better than average, and for the price and functionality, this is our best value choice.
Pros
Inexpensive
Three blending containers
Storage and travel lid
---
3.

Magic Bullet Express Deluxe – Premium Choice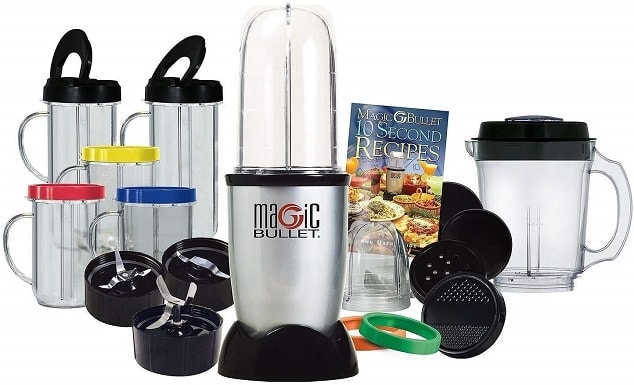 The Magic Bullet BX1573-23 Express Deluxe is a 26-piece set that is powered by a 250-watt motor. The collection includes three blade attachments, two cups of different sizes, a blending pitcher with a lid and pop-top, three mugs, two large mugs, five colored lip rings, two resealable lids, two shaker-steamer tops, two flip-top lids, and a recipe book. The three stainless-steel blade attachments include a cross blade, flat blade, and ice crusher blade. All accessories are BPA-free plastic and dishwasher-safe.
Overloading the containers or running the blender more than 60 seconds will burn out the motor. Simply not doing this will help ensure that the blender lasts a long time. Still, replacement parts are available if needed, and it comes with a one-year warranty. If you want to use the blender for grating cheese, your grating success will depend on the type and sturdiness of the cheese.
This express deluxe set is a pricey choice, but it comes with an abundant number of accessories, making this our premium choice of best Magic Bullet.
Pros
Three blade assemblies
Pitcher attachment
Many cups included
Freezer-safe containers
Microwave-safe containers
Cons
Expensive
More storage required
Low wattage
---
4.

Magic Bullet Baby Care System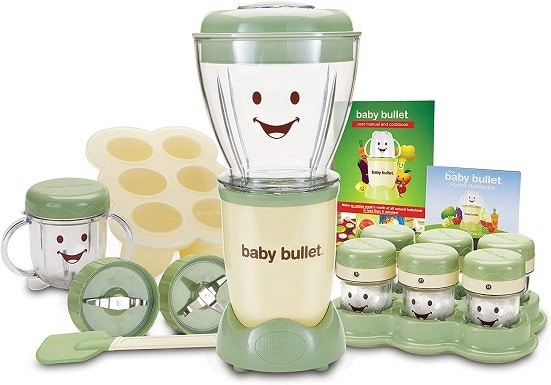 The Magic Bullet BBR-2001 Baby Bullet Baby Care System gives parents a way to provide the best nutrition for babies without much fuss. If you want a separate system from the standard smoothie and margarita blender, this may be the right choice for you. This unit includes the power base, batch bowl, two-blade assemblies for blending and milling, six small storage containers with date-dial lids, and a silicone batch tray. The motor has 200 watts of power and handles small amounts well to blend soft foods. This model is geared toward allowing you to spend as little time as possible preparing meals.
Be aware that raw vegetables will jam the blades. It's best to steam any vegetable before blending, and a steamer is indeed available for separate purchase. The power in this model is weaker than others, so don't overpack it in order to avoid overheating.
The ability to date the lids is a nice touch and helpful to busy parents. If you need a simple, easy, and affordable blender for regular preparation for baby food, this may be a good choice for you. If you need to blend meat or raw veggies, this may not be the best option.
Pros
Affordable
One-year limited warranty
Two blade assemblies
Dishwasher-safe parts
Dated storage cups
Cons
All plastic construction
Soft food only
---
5.

Magic Bullet Dessert Bullet-Blender
The Magic Bullet DBR-0101 Dessert Bullet Blender is for you if desserts speak directly to your soul. If you love a tasty dessert but don't love the calories, fat, and sugar, this blender allows you to use nutritious ingredients and leave the guilt behind. This machine is also a unique find for those who love frozen treats but are lactose intolerant. This blender has a wattage output of 350 watts. The set includes two dispensing spouts with different shapes to add a little fun to the process and a recipe booklet to get you started.
If you expect a frozen dessert with soft-serve texture every time, you may be disappointed. The resulting texture depends on the ingredients you put in. Most of the recipes in the included guide use bananas, which give the creamiest texture. However, if you don't like bananas, the guide won't be much help. This model has an all-plastic construction that may not hold up well to consistent use with frozen fruit. It's also not easy to clean with all the pieces involved.
It's a pricey option for only frozen treats, but if you're looking for a healthy dessert option, you may enjoy this model. If you prefer not to have too many appliances in your kitchen, you may want to pass this one over.
Pros
Fun for fruit lovers
Healthy desserts
Cons
Expensive
Frozen desserts only
Requires storage space
All-plastic construction
Not easy to clean
---
6.

Magic Bullet Food Processor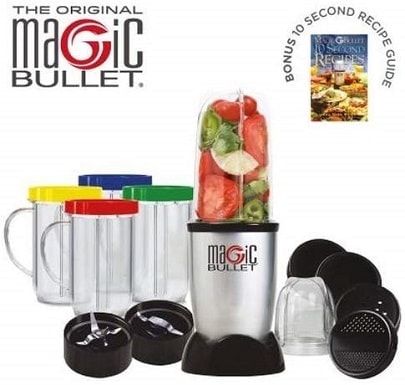 The Magic Bullet MBR-1702 Food Processor is a 17-piece set that includes the original Magic Bullet blender with a 250-watt motor. It's a 17-piece set that consists of a cross blade, a flat blade, two cups, four mugs, two sealed lids, two vented lids, four colored comfort lip rings, and a recipe book. The attachments are BPA-free plastic and are dishwasher- and freezer-safe.
Plastic construction can wear down and crack over time. Fortunately, replacement containers can be purchased separately. The unit is covered under a one-year warranty with replacement parts available. If you don't have the storage space for the extra accessories, you can purchase the Magic Bullet without them.
Pros
Many containers
Two blade sets
Versatile lids
Cons
Slightly pricey
Low wattage
More storage required
---
Buyer's Guide – How to Choose the Best Magic Bullet
Magic Bullet products have stood the test of time, with dedicated fans and fun throwback infomercials cheering on the convenience of whipping up meal after meal in seconds. Whether you're new to the Magic Bullet family or have been an ongoing fan, choosing a Magic Bullet blender can be difficult. In your search, you'll want to consider a few things, such as cost, accessories, storage space, and function.
Cost
The original Magic Bullet is available in a variety of systems with different accessories, which affects the price. If you only want the basic model with a few accessories, the cost is inexpensive and budget-friendly. If, however, you have a large family or like to entertain, you may want to consider the largest system available — if the cost fits within your budget.
Accessories
Having multiple containers with a personal blender is convenient for a multi-user household. Some sets include party mugs with handles. While the traditional containers without handles are safe for the microwave, the party mugs aren't. The colored lip rings are merely for identification purposes at gatherings.
There are usually a few blade attachments. The flat blade is for grinding items like coffee beans. The cross blade is a smoothie blade that does the chopping. In some sets, there's also an ice-crushing blade for extra power.
There are vented lids available for use in the microwave or as a shaker lid.
Storage Space
The basic model is compact, like most personal blenders. It's easy to tuck away in a cabinet or an out-of-the-way place on the counter, as it doesn't take up much room. If you get a system with many accessories, keep in mind that the mugs with handles may be difficult to store. With specialized models for baby food and frozen treats, you'll need additional counter space or storage room for these items. Analyze your kitchen to determine if you can accommodate all the items that come with your potential purchase.
Function
The original Magic Bullet has a low-powered motor of 250 watts. If you make sauces, dips, and smoothies or protein shakes, this may work fine for your needs. However, if you need to blend hard items, the blender may not be strong enough. If you need a specialized blender for baby food or frozen desserts, Magic Bullet has you covered there.
You may be wondering how the Magic Bullet and the NutriBullet are related, and that's because the same company makes both. While the Magic Bullet is the original model, the NutriBullet is the later version that's more powerful and has different features and accessories.
You can also see the 5 Best Bullet Blenders here.
---
Conclusion
If you haven't seen the original infomercials for the Magic Bullet Show, check them out online to acquaint yourself with the silliness. We hope our reviews have helped you learn more about the Magic Bullet systems available, so you can join the fun. In summary, our best overall choice is the Magic Bullet MBR-1701 Express Mixing Set with 17 pieces of accessories, including mugs with handles. The Magic Bullet MBR-1101 Blender is our best value choice. It's the original model with fewer accessories and a bargain price. For our premium choice, we have the Magic Bullet BX1573-23 Express Deluxe, with 23 accessories for the entertaining guru. If you're new, welcome to the Magic family, and if you've been a longtime follower, we wish you well in your 10-second creations!