How to Lock a Door Without a Lock in 5 Steps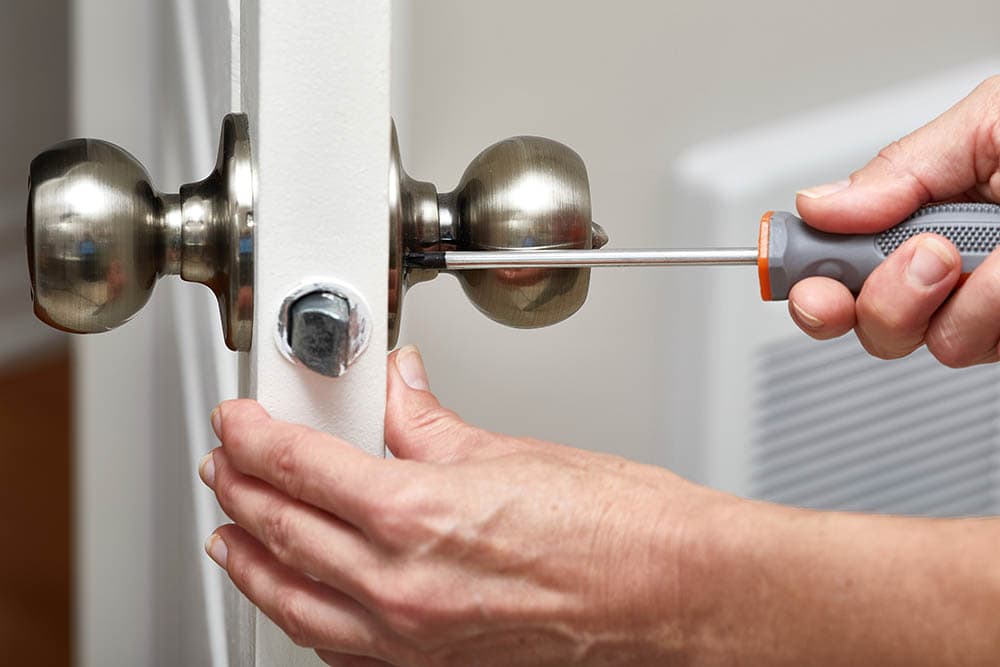 Locking a door is easy. All you need to do is push or pull the doorknob followed by turning it, and voilà! You've locked it! You can do it even with your eyes closed. But, what if you wanted to lock a door without using a lock? Is it possible?
Yes, you can lock a door without a lock following certain steps. In this guide, we'll show you how you can do that. Read on!
The 5 Steps to Lock a Door Without a Lock
We'll discuss the key method (using a fork) when locking a door without a lock. This skill is crucial to master because you may not always have a lock readily available.
You will need the following tools:
Fork
Hammer
Goggles or face shield
Marker
Metal saw
Pliers
Once you have all the required tools, you will now follow the 5 steps below.
1.

Make a line on the latch hole. Then, mark the prongs using a marker.
First of all, you need to locate the latch hole. Insert the prongs of the fork into this hole and push them inwards to prop open the latch.
Then, using a marker, draw a line on the prongs. It helps you transform the fork into a movable lock. Also, it acts as a guide for the depth of the latch hole as you go to the next step.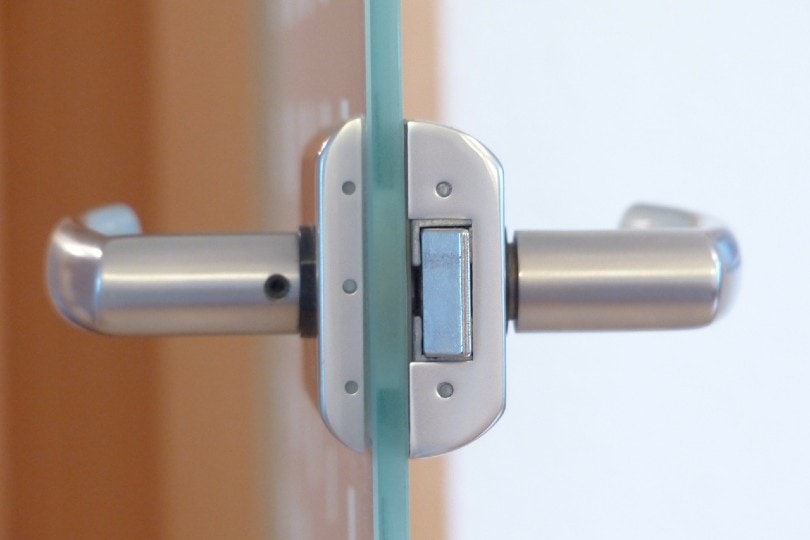 ---
2.

Position the prongs in the vise.
A metal fork makes an excellent lock pick, provided you have a vise to grip it. The tines of the fork act as an improvised lock. You can use it to rake the pins inside the cylinder mechanism.
The vise must be wide enough to fit one of the prongs in it. Also, it should be strong enough to hold up your door. If you don't have a vise, you can use two C-clamps on either side of your door frame to attach the prong.
---
3.

Bend the fork's prongs.
Bend the prongs of your fork at a 90-degree angle. You can use a pair of pliers to do this. Then, remove the part of the fork that sticks out and slide it into the gap between your door and wall. The fork will hold the door closed in place while you are gone.
You won't have any problem if the vise is sufficiently tight. But, if the fork moves when swinging, ensure you tighten the vise. Then, repeat the step for you to have your desired result.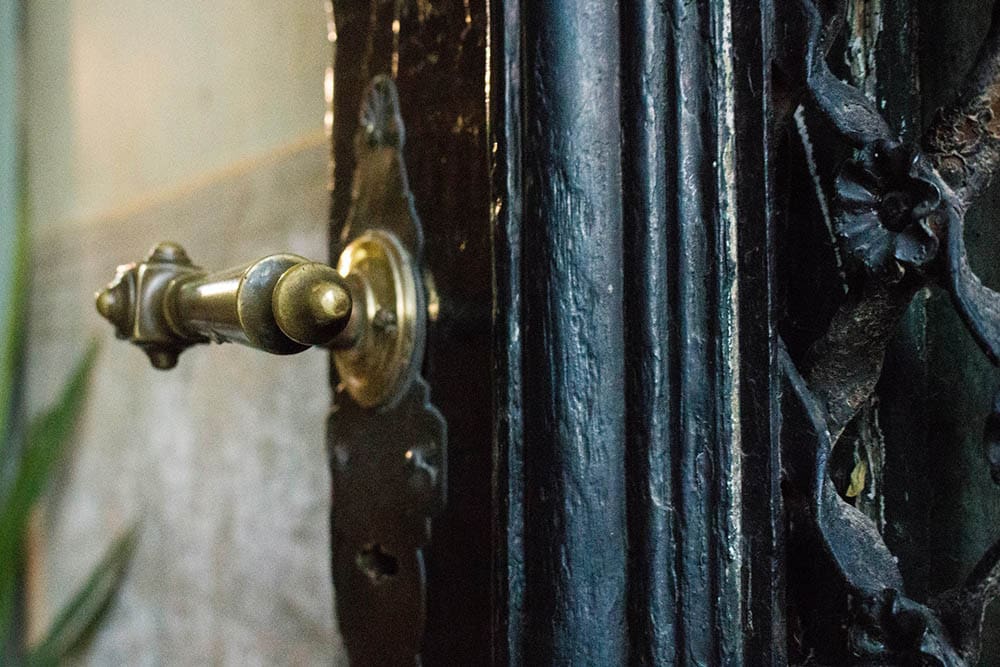 ---
4.

Use a metal saw to cut the fork's handle.
You can use a hacksaw or a circular saw to cut the fork's handle. Make sure you've put on a face shield to protect your eyes. After cutting the handle, inspect if it's fitting between the prongs. If the handle isn't fitting, file the fork to ensure it fits.
The handle is the security lock for the door. So, ensure that it fits snugly. This way, you won't have problems in the future.
---
5.

Insert the Do-It-Yourself lock into the latch.
A DIY lock is any object that can be inserted into the latch of a door and will prevent it from opening. Ensure you keep the door open by holding the handle of the door.
Then, put the prongs into the slot on the latch. It's found near the door frame and the strike plate. Once you're through with this, keep the door closed.
Next, put the fork's handle between the center prongs, and ensure that it's sufficiently tight until it cannot fit anymore. Lastly, inspect if your temporary door lock is opening and closing well using the door handle. If it's functioning well, it means that your temporary door lock is perfect.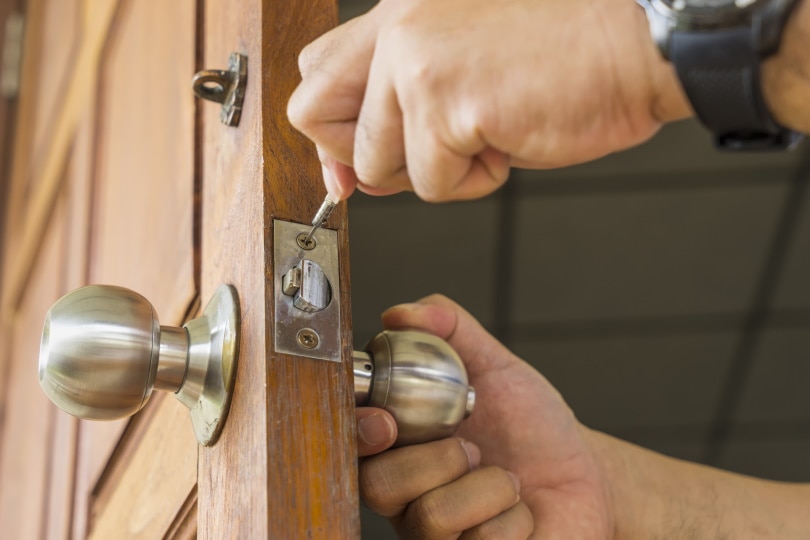 What Are the Other Ways of Locking a Door Without a Lock?
Besides using a fork, there are other methods you can use to lock a door without a lock. We've discussed them below.
Use a Barricade
Hang a barricade on the door or at the bottom of the door to prevent it from opening. The barricade should be sturdy and heavy enough to hold the door shut. To increase its strength, tape anything that weighs over one pound to the barricade. It could be a table, chair, or bookshelf.
A barricade is ideal for doors that open inwardly. The type of barricade you need depends on what you have at hand. You can make a barricade out of almost anything. But, there are three key things to consider when choosing your materials. They're:
Strength
Stability
Height
First, the material should be strong enough to support whatever you are trying to block off and prevent it from entering or exiting. Barricading is a common practice used to secure many doors globally. Also, it's effective.
Buy a Portable Door Lock
A door that doesn't lock is an open invitation for anyone to walk in. It's a security risk, and it's not a safe feeling. A portable lock or a latch is the best solution for this situation.
You can find a portable lock or latch that will fit your door. But consider the door's size, weight, and material. Also, you can use locks that aren't designed for your specific door. Use them with longer screws.
You want to make sure that you're buying a portable lock that is not meant to be used on doors more than 1/8th of an inch thick. It's because they won't work well. These locks are designed with thinner doors in mind. So, they may not work with thick doors.
Use a Wedge or a Doorstop
A wedge can be any object that will fit snugly under your door and against one side of the doorway. It could be an old roll of tape with the sticky side facing out.
The point is, if something's placed there, it will prevent the door from opening because it will be wedged in place. A wedge can even be large enough to block off the bottom part of the doorway.
This way, nothing can go underneath. Also, it requires that you keep your doors closed all the time. Ensure you place your foot behind the wedge (or doorstop). Apply pressure so that it pushes the door shut.
You may have to move the wedge around until you find a good place for it to hold tightly against the door. If you live in an apartment building, there's a chance that there's already a doorstop in place.
If that's not the case, you need to find a doorstop that's as heavy as possible and will fit securely between your door and the floor.
Use a Belt or Rope
The most common way to lock a door without a lock is using a rope or belt. First, tie one end of the rope to a fixed object such as a bedpost or chair leg. Then, wrap the other end of the rope around the doorknob. Tie it off to a doorknob that's on the same side as the fixed point.
Tie the second doorknob directly across from the first one. It'll create an X-shaped pattern through which you can pass your belt and secure it tightly around both knobs. You may need to adjust your knot until the knots are tight enough. This way, they won't slip while someone is trying to open them.
If you don't want to use a rope or belt, you can also try wrapping your long scarf around both doorknobs. Use safety pins to secure the scarf in place and prevent someone from opening it.
Alternatively, use two separate belts, each with its own set of knots, to make it even more challenging for someone to open.
Use a Door Jammer
A door jammer is a tool used to keep doors closed. It consists of a metal bar with two prongs on each end that are forced into the wood of the door frame.
You can lock a door using multiple door jammer devices if the space between the door and the frame is large enough to accommodate them. It may not be feasible on a standard sliding glass patio door.
But, it is possible on a standard entry door. Also, you can only use a door jammer if your door opens inwards.
Use a Security Bar
A security bar is a piece of wood that you prop up against the inside of the door. They come in different lengths and sizes, and they're cheap. So, if you're looking for maximum security from minimal materials, this is the way to go.
Security bars provide as much security as you need for most situations. The basic model is easy-to-use, and it only takes a few seconds to install. It doesn't need any special tools or even screwdrivers. Some models even come with mounting plates that make installation effortless. Nobody can get into your home without going through the door!

Modern Alternatives to the Conventional Lock and Key
In recent decades, modern technology has slowly but surely entered the market. These new, more technological innovations have somewhat phased out the classic key.
Smartlock
The first modern alternative to the conventional lock and key is the smartlock. Smartlocks are electronic devices that operate on batteries. You can activate a smartlock when you enter a code on an app or device. Then, it grants you access.
Touchscreen Locks
Touchscreen locks have been around for a while now. They're becoming more popular every day. These locks use fingerprint recognition software to function well.
To unlock the door, place your finger on the screen installed on it. If your fingerprint matches, the door will open. If not, it'll remain locked!

Reasons you may want to lock a Door without a Lock
There are several reasons you may want to lock an entryway without the benefit of a locking door. You may not want to install a lock because it's not aesthetically pleasing, or it'll spoil the look of your new home. Other reasons include:
The Installation Cost of Locks
The installation cost of locks in your home is also a factor that keeps many homeowners from installing locks on each door. If you like the idea of keeping your home secure without having to spend a lot of money, consider some alternatives to locking your doors.
Businesses that have their doors open during normal business hours should always have some level of security. It's meant to keep criminals out and customers safe while inside the store.
While most businesses have locks on their main entrance doors, many do not install locks on every door in their building. Instead, they rely on other less expensive methods to keep their customers safe while they shop.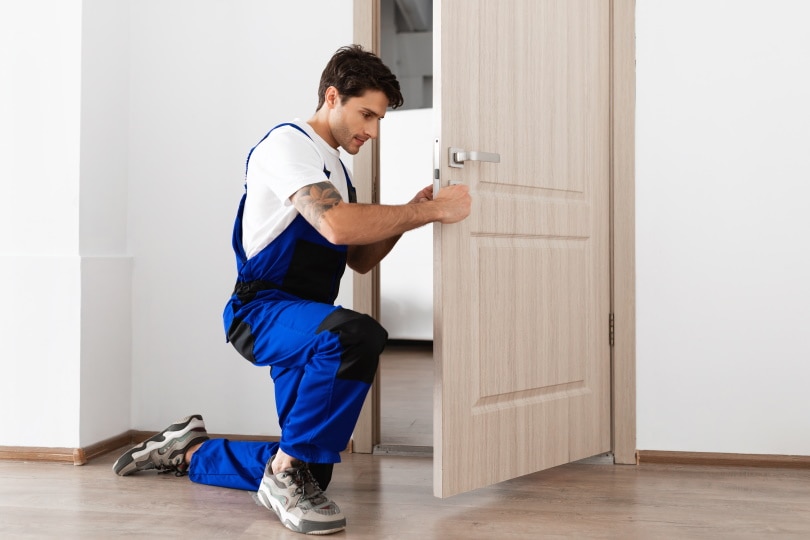 Your Current Lock Is Faulty
Secure your home when you're away on vacation or business trips. The last thing you want is someone breaking into your house while everyone's out running errands. If this is the case for you, and your current door lock is not working then this guide will be of help.

Advantages of Locking a Door without a Lock
Locking a door without a lock is an effective way to keep your valuables safe. It's an excellent alternative to using a lock if you don't own one and want to make sure no one can get into your house without your knowledge.
Here are several benefits of locking a door without a lock.
It's inexpensive
This technique costs less. It's because you don't have to buy extra items to implement it. That makes it even more attractive than using regular locks.
There's no damage to your house
Locking a door without a lock isn't going to do any damage to your house if it's in good shape. It's even better for older houses because it won't create more wear and tear on them.
Convenience
There's no need to carry around a bunch of keys. Also, you don't have to worry about losing them. This way, you don't need to remember where you put them for later use.
Conclusion
Locking a door without a lock might be helpful if you need to lock the door from inside to outside and vice versa.
You can use a door without a lock when you're out of your home and want someone else to lock it for you. Just make sure that the door will not increase anyone's chance of breaking into your home.
We hope you enjoyed our quick and simple guide on how to lock a door without a lock. The next time your lock gets damaged, or for some reason you wish to close the door without using the lock, you will know how to go about it and your options.
---
Featured Image Credit: kurhan, Shutterstock