10 Staircase Trends in 2023 – Design Ideas for a Modern Home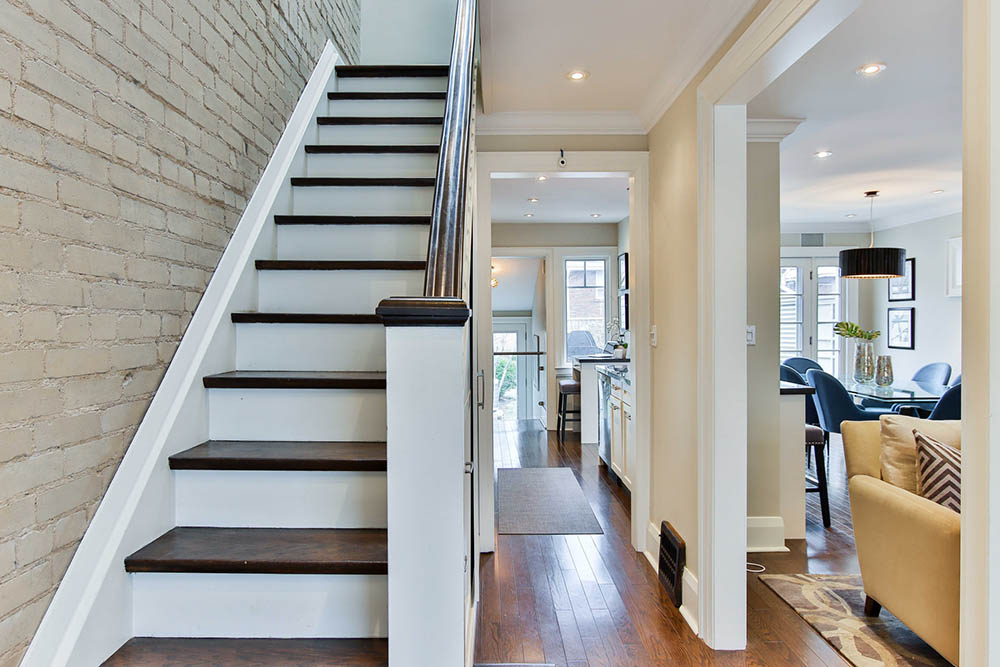 Since a staircase is one of the first things people see when they enter your home, it should be unique and eye-catching. There are infinite possibilities when it comes to staircases and their designs, but the trends change almost every year.
If you want to keep your staircase up to date or remodel it, you've come to the right place. We made a list of 10 staircase trends to help you decide and choose the perfect staircase option for your home.

The Top 10 Staircase Trends
1.

Staircase with Metal Finishes
One of the biggest trends in staircases this year is a staircase with metal finishes. That includes the railing and the poles, which can look unique due to the metal options on the market, including aluminum, stainless steel, galvanized steel, and wrought iron.
Also, depending on how much money you want to spend, you can be creative and order a custom-made design. Metal is more durable than wood, glass, timber, and other materials, so this type of staircase will stay beautiful for decades.
---
2.

Timber Staircase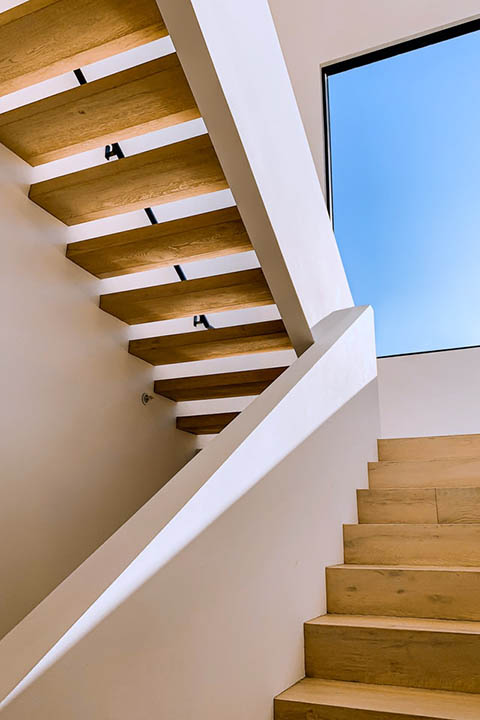 Timber staircases are also among the best staircase trends. As the name suggests, timber staircases are made out of timber boards. They are easy to construct, and timber is an excellent, durable material. It's a material that can be easily modified, so you can also have a custom staircase made out of timber.
Wood is easy to work with, and by choosing the right finish, your home can look sleek and modern. This staircase requires more maintenance than others because timber can bend, crack, or decay if not treated properly.
---
3.

Floating Staircase
If you want to achieve a contemporary, fun, and exciting aesthetic with your stairs, you should check out floating staircases. They are created to look like they are floating in the air without support. This staircase has an extra dose of excitement which can make your home exciting and unique.
Floating staircases are pretty pricey compared to other staircase types and can cost anywhere from $15,000 up to over $100,000, depending on the style you go for. With these designs, you can choose the shape, the size of the stairs, and other details so that it fits into your home perfectly.
---
4.

Brightly Colored Staircase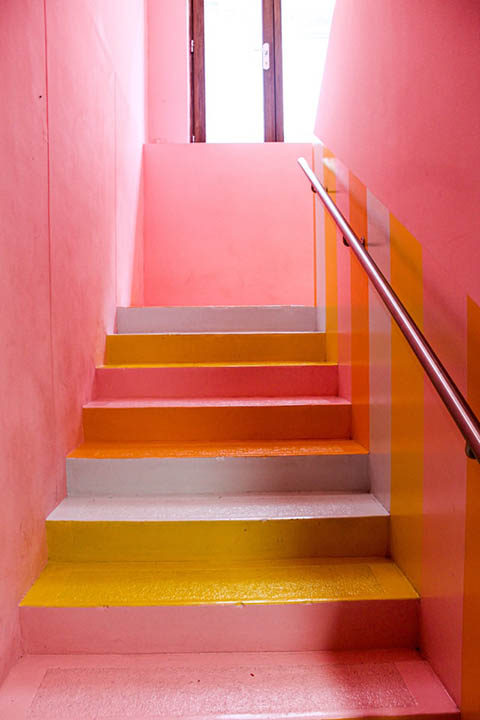 Colors are incredibly trendy this year, so there's no doubt that a brightly colored staircase will be a great fit in your home. This type of staircase is an easy way to add a touch of color to your house and make it more inviting and entertaining. Also, if you already have a staircase that looks boring, you don't have to replace it. Instead, you can simply buy paint and decorate the stairs!
You can match the color of your walls or go for a different color palette that will stand out and be the main focal point of the room. It's a fun project that the whole family can contribute to!
---
5.

Carpeted Staircase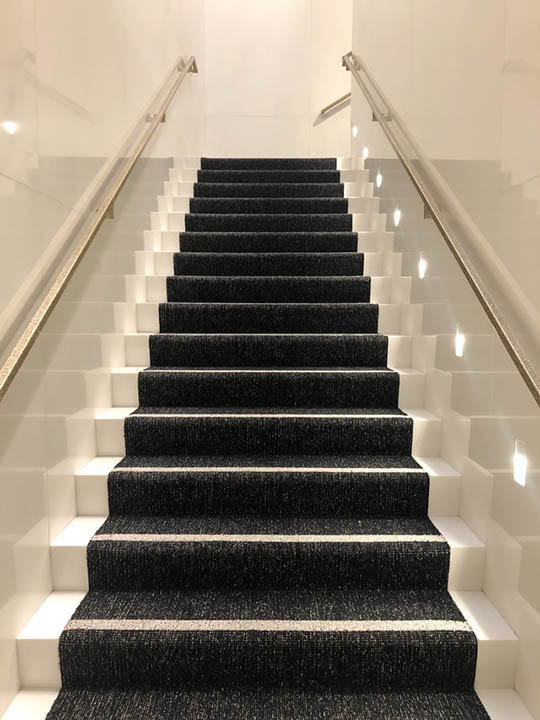 Carpeted staircases are also a popular choice this year. The difference between the carpeted staircase and other types is that it is the safest way to make your staircase pretty, and it's perfect for families with children because the carpet can reduce slipping and falls.
There are many stunning carpet designs with different patterns and colors, so you can make your stairs memorable and cover the whole staircase or just carpet the center section.
---
6.

Glass Staircase
A glass staircase can look polished, contemporary, and unique. It's the ultimate design in a modern house because it's so rare. Glass staircases are artistic masterpieces that make your stairs stand out.
The glass reflects light, so if your home is smaller, a glass staircase can make it seem bigger and more open. While this staircase is very durable and low-maintenance, it's slippery and can be damaged if you drop something heavy.
---
7.

Helical Staircase
If you are looking for a unique, distinctive staircase design that looks luxurious and sophisticated, helical staircases are ideal. They don't take up as much space as other staircases do, and they have an exquisite design. Helical staircases are like regular spiral staircases, but their shapes resemble DNA molecules.
They come in different variations of design and size, so you can easily find the ones that will suit your home the best. One of their flaws is that compared to regular stairs, they are pretty steep.
---
8.

Staircase Library
There's no better way to make your home attractive while adding extra storage space for your books than making a staircase library. This design turns a regular staircase into a library with built-in compartments under the stairs to store your books.
You'll be able to safely reach your top floor and enjoy a good book and a cup of tea while relaxing on the lower one. Also, you can save space, and all your books will be on display so that your guests can admire your collection!
---
9.

Split Staircase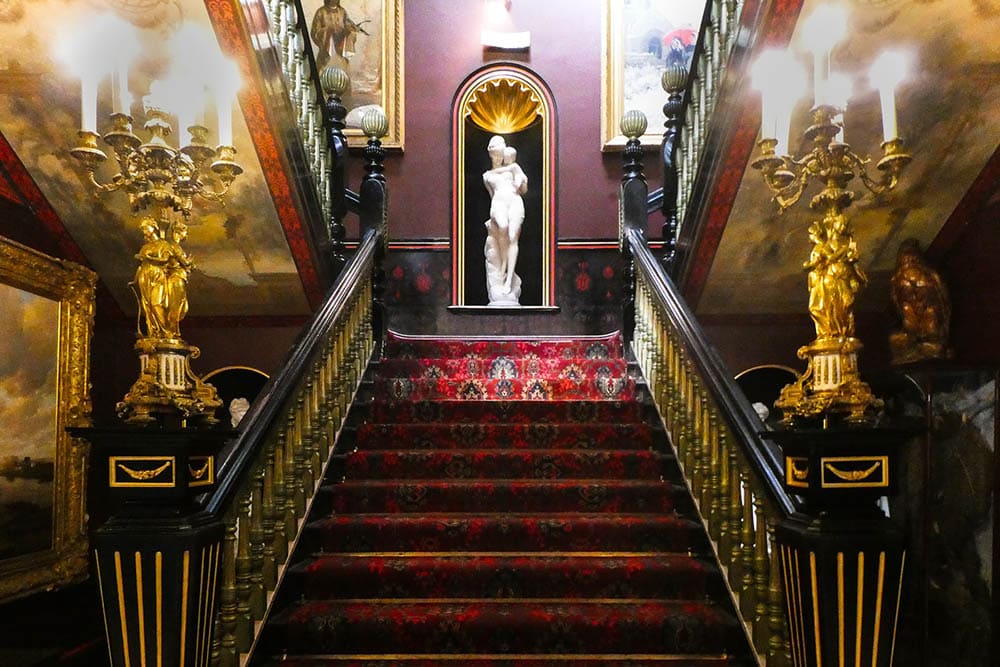 The split staircase looks grandiose and alluring in any home, making it feel like a castle. They have a unique appeal due to their size and the partition at the end of the staircase, where two smaller sets of stairs are set up in opposite directions.
It will be the centerpiece of any home while also being very convenient to maneuver through your home quickly. They are expensive and take up a lot of space, so they're not the best option for smaller houses but will look stunning in larger homes.
---
10.

Black Staircase
An all-black staircase is one of the latest trends this year. Black has become increasingly popular, and it's easily combined with other designs and colors you have in your house. This staircase is timeless and will add just the right touch of sophistication to your home!

How Much Does It Cost to Replace a Staircase?
The price of replacing your staircase can vary widely. It depends on the position, design, and material you choose. Also, exterior staircases are usually more expensive than interior ones. Regarding internal staircases, the prices can be anywhere from $1,000 up to $5,000 or more if you want a custom-made design.
Outdoor staircase prices can be anywhere from $4,000 to $10,000. However, replacing your old staircase will cost more than building a new one. The old stairs need to be demolished to replace the new ones, which will result in a higher price.
Another great thing you can do is not replace your entire staircase but just remodel it. You can apply a new coat of paint or stain or add a carpet.
What to Consider When Choosing the Design of Your Staircase?
When choosing the design of your staircase, there are many aspects you need to consider, including the available space, your budget, and the safety of the staircase you choose.
Once you've decided how much money you will spend and what can fit into your home while still being safe for the whole family, you can explore different designs and materials. Before you rush to a decision, however, consider all your options and research all the pros and cons of each staircase plan.
What are the most expensive and cheapest staircases?
Since stairs come in various designs, shapes, and sizes, their prices vary. If we divide them by design, the cheapest stairs are L-shaped and straight stairs, which can cost $800 to $2,000. When it comes to material, wood stairs are the most affordable, and their prices can go from $50–$150 per step.
The most expensive stairs by design are helical and floating staircases. Helical staircase prices range from $1,500 to $4,000, while floating staircases can cost anywhere from $1,800 to $5,000. The most expensive staircase materials are glass and concrete. Glass ranges from $150 to $250 per step, and concrete costs $200–$300.
Related Read: 23 DIY Basement Stair Ideas & Design Tips (with Pictures)

Conclusion
The designs and aesthetics of staircases have changed a lot over the years, but several new designs can make your home look great. Whether you decide to paint your stairs with vivid colors or tear them down and replace them with a helical design, improving your staircase can make your home more inviting and raise your property value. We hope we've narrowed down some of the trends to help you choose the right one!
You might also be interested in: 
---
Featured Image Credit: Sidekix Media, Unsplash