How to Move a Sleep Number Bed: 5 Tips & Tricks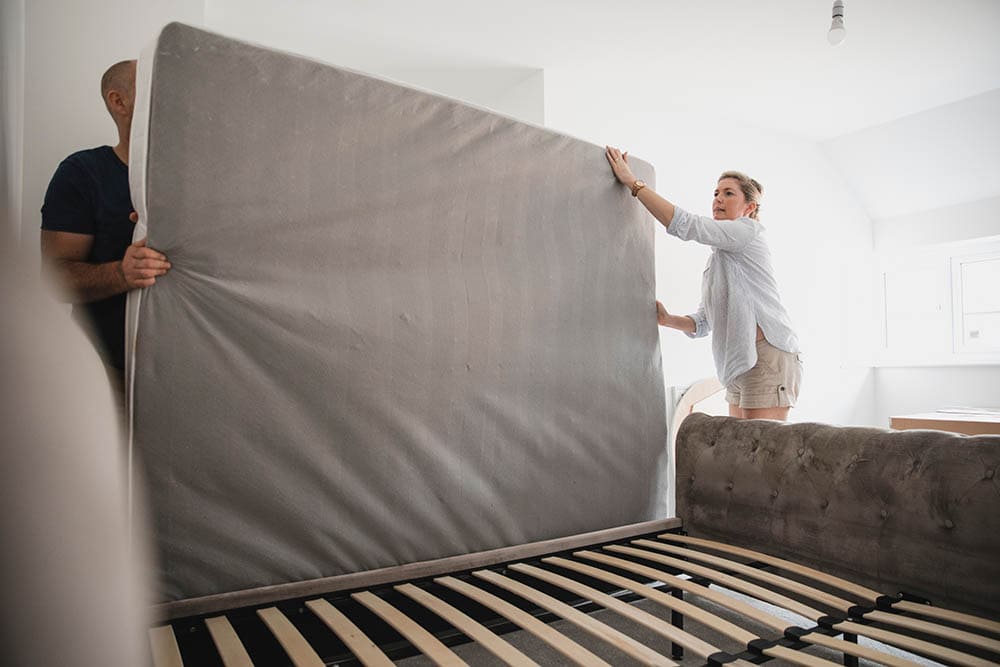 Moving a bed from one location to another is a simple process when you have a normal bed. However, a sleep number bed is moved differently. Although it's not difficult to move such beds, you may need more attention, time, and some help. For starters, you have to prepare for disassembly and packing.
Check out the following DIY and professional steps to ensure you move your sleep number bed from one point to another successfully.
DIY Preparation to Move a Sleep Number Bed
Before you disassemble a sleep number bed, you have to make the necessary preparations. If you have a king, queen, or full-size sleep number bed, you need the assistance of at least one person. You also need some tools and materials.
Materials and Tools Required
Instruction's manual
A pair of pliers
Zip ties
Camera or smartphone/tablet
Heavy duty cardboard moving box or several hard-sided storage tubs
Hex head bolt /16 socket

Sleep Number Bed Step-by-Step Moving Guide
There is a process you need to follow if you are to effectively move your sleep number bed. In this guide, we will show you how to disassemble the mattress and base, and how to pack them. The guide includes how to disassemble a FlexFit and modular base. Let's get started!
Disassembling the Mattress
You can do this by yourself, although it's easier when you have assistance. Additionally, using the manual that came with your bed makes the process easier.
Some sleeper bed manufacturers offer mattress assembly/disassembly manuals on their websites. If you don't find a disassembly manual, use the assembly manual as it's a great reference for disassembling the mattress. The steps to follow are:
1.

Opening the Mattress
Your bed has 1 or 2 zippers depending on its make and model. They are found at the bed's head and need to be completely unzipped. Sometimes, there are zippers located at the mattress's bottom edge so be sure to check for these. For duvet-style beds, remove the cover top and place it aside after you open the mattress.
---
2.

Disconnecting Hoses
There is a grey tab where the air chamber and pill connect to the hoses. Start on one side of your sleeper bed and push the grey tabs to disconnect the hoses. For dual beds, you need to do the same for the other side. Some models come with 2 hoses for each chamber. Make sure they are disconnected before you move to the next step.
---
3.

Removing Internal Components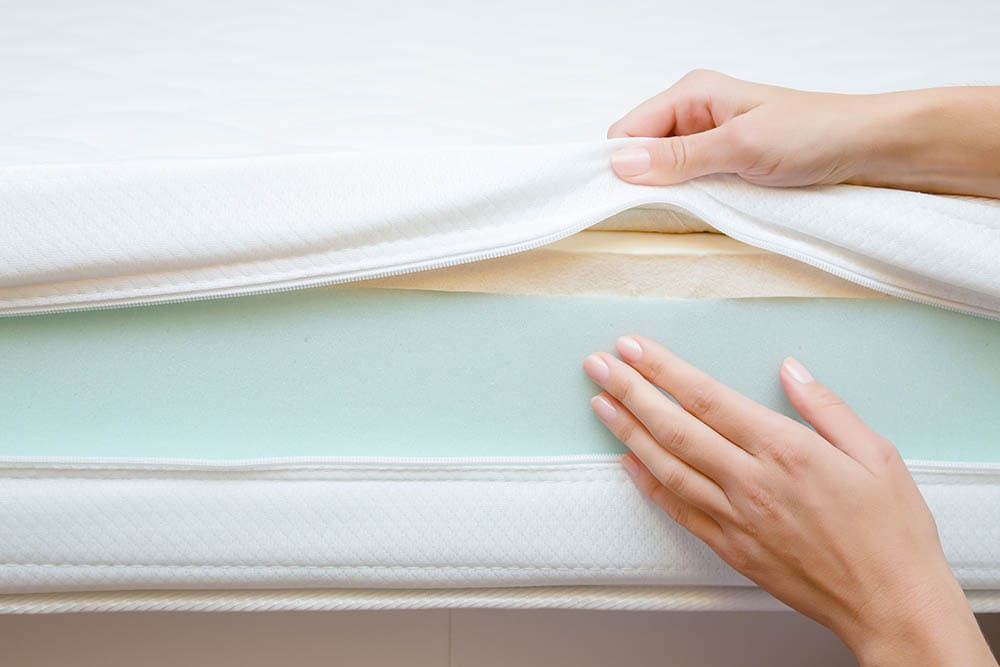 To expose the air chambers, fold away the foam layers (these are easy to fold away). Remove the corner locks and fold away the foam sidewalls. To be on the safe side, protect the air chambers by rolling them. Use the foam layers to secure them for added protection.
Tip: Use a camera or smartphone to take pictures of every layer. Make sure you photograph how they look before you disassemble them. These photos will help you when you are assembling your sleep number bed.
---
4.

Placing and Securing the Firmness Control System
The firmness control system is also known as the pump. It needs careful handling by preventing vibration and shock because it's fragile. The best way to pack the pump is in its original packaging or a box fitted with proper packing materials.
Make sure it doesn't move around in the box. If you aren't sure, place it in another box with a layer of vibration and shock-absorbing materials.
---
5.

Packing the Mattress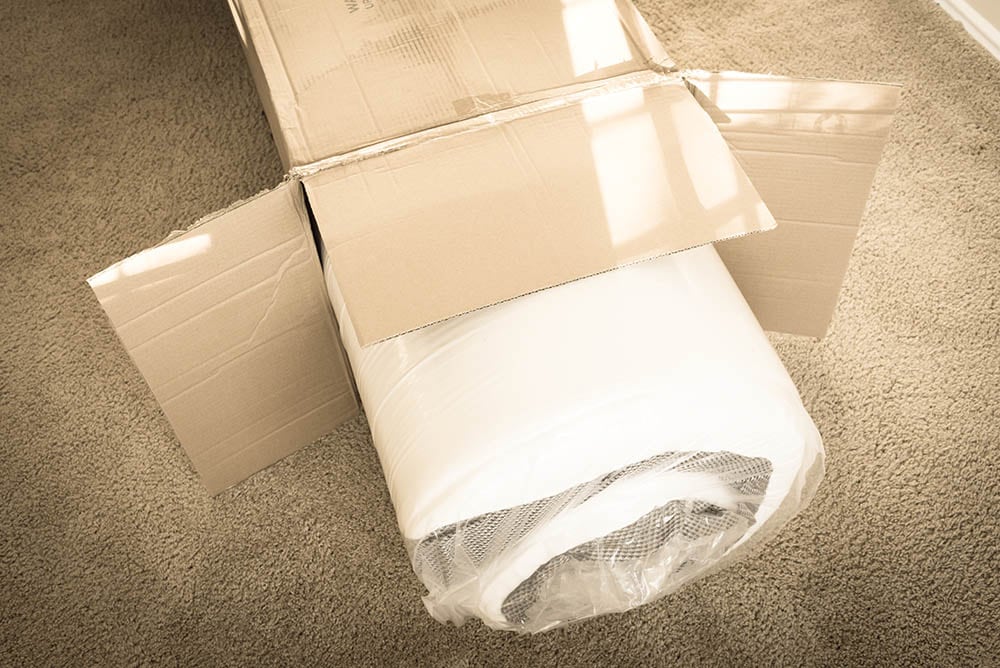 Start packing the mattress after you are sure you have completely disassembled it. It's best that you use its original packaging. If this isn't available, a heavy-duty cardboard moving box or hard-sided storage tubs will suffice.
This process doesn't have any complicated steps. You can start by rolling or folding the mattress cover and foam comfort pads. Pack them and make sure they fit into the packaging of your choice. Avoid any staining or moisture by double bagging these items. Now you can start disassembling the base.

Disassembling the Base
A base on sleep number beds is optional. You can go with any available base options as long as it supports your bed. If you have a sleep number base, its type determines the process you'll follow to disassemble it.
Let's check out the two types and how to disassemble them. We'll start with FlexFit bases because they are a bit more complex to disassemble.
1.

FlexFit Bases
These bases work with the SleepIQ technology app to raise the bed to various positions. They also offer massage and lighting in some models. Such ergonomic designs have a separate power source that you should take into consideration when moving your sleep number bed.
Follow these steps to successfully disassemble FlexFit bases.
Removing Mattress Retainers: The number of mattress retainers connecting the bed's bottom to the base is determined by the size of your bed. In total, expect 2 to 8 connectors that require using the 7/16 socket to remove them. Bag the connectors and other attachments to avoid losing them after removal.
Decking Panels: Push the decking panels to the side and pull them loose to slide them out. Secure them as you set them to the side. Follow by wrapping them using a protective moving blanket to prevent any scratches or dings when you are moving.
The Control System: Unplug the control system and store it with the remotes in a box. Make sure this hardware is well secured and the box is padded to avoid damages caused by jostling during transportation. Use zip ties (or other similar materials) or wrap the cables to secure them to the frame. Do this for both sides of the bed if you have dual control.
Removing Bed Straps (where applicable): All king sleep number beds have a bed strap for connecting the two adjustable and individual bases. To remove these straps and disconnect them from the bed, loosen the bed's legs. Don't remove the legs because they ensure you have base support. Screw the legs back tightly to prevent them from bending while on transit. That's it for FlexFit bases.
---
2.

Modular Bases
For modular bases, the process is very simple. Push the decking panels to the side and slide them for the remainder of the way. This will ensure you slide the decking panels off your frame. For king, queen, and full-sized beds remove the centre support beam. This allows you to slide the side panels up and remove them.
For beds with base legs, unscrew the wingnuts to remove the legs. Keep in mind these bases are heavy and you may need an extra hand to move them if you don't want to get injured. Additionally, by trying to carry or drag the base on your own, you risk damaging it accidentally.

Moving a Sleep Number Bed Using Professional Help
You may want to make your work easier by seeking professional services. They will do everything from disassembling the bed and packing it to transporting it and assembling it. Such services are recommended for people who don't want the hassle associated with moving a sleep number bed on their own.
When you are sourcing for professional movers, make sure you get a service with experience with handling sleep number beds. You can consult with family, friends, and colleagues who have used such services before to get a good referral. Alternatively, you can do your own research online and check out their reviews.
Each service has its terms and conditions. For example, some services have comprehensive insurance that covers your sleep number bed for any damages during the move.  Also, compare the cost. Some may charge as a whole package, and others have a base amount with additions for "extra services". These extra services include assembly/disassembly and insurance.

Conclusion
Moving a sleep number bed is not a daunting task as long as you know how to go about it. Go for the DIY method if you are sure you can disassemble and assemble it. Use the guide above for this method, and don't forget to get some help from one or two people.
If do-it-yourself isn't your cup of tea, get professional movers. They will handle everything from disassembling your sleep number bed to assembling it at its new location. Make sure you do due diligence in terms of the cost and services offered before engaging any professional mover.
---
Featured Image Credit: DGLimages, Shutterstock