How to Pack for a Move: 11 Tips & Tricks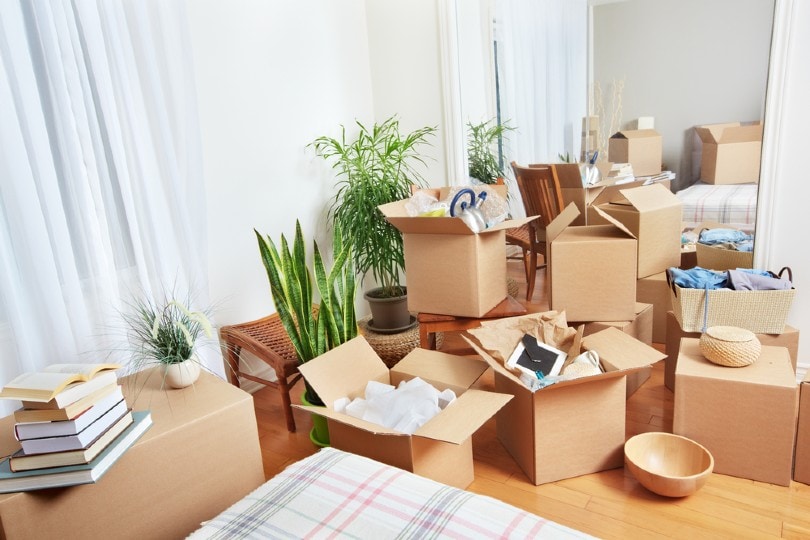 No matter how much we may love the thought of living in a better neighborhood or a larger home, the idea of moving can be terrifying for anyone. According to a North American Van Lines study,1 most people find that moving is even more stressful than divorce!
Unfortunately, the nerve-wracking prospect of moving isn't enough to stop most Americans from doing it at least 11 times during their lifetime. While moving might be unavoidable, it doesn't have to be unmanageable. Make life easier during your next relocation by following these 11 tips and tricks for packing for a move.

The 11 Tips to Pack For a Move
1.

Make a Checklist
There are a thousand details to deal with in a move, and forgetting one minor aspect can cause enormous headaches. You have to change your address, cancel utilities, update friends and employers, and keep all your possessions in check.
It can all become overwhelming if you don't have a management system in place, and nothing is easier or more effective than a checklist. Keep a running list of tasks you need to accomplish, deadlines, and responsibilities. Ensure everyone in the house knows their role to prevent any conflict or oversight on moving day.
---
2.

Get Rid of Anything You Don't Need/Want
Moving gets a lot simpler when there's less to move. Go from room to room and make an inventory of everything you have, and start deciding what you need for the next house.
Trash any damaged pieces or old junk and separate anything you want to donate. Do a purge several weeks before the move to give yourself time to do a yard sale or list items online.
---
3.

Plan Your Meals Around the Move
You don't want to leave a stocked fridge on moving day, so make it a goal to clear it out ahead of time. Create a meal plan, and buy food with the move in mind. Get creative to use as much food as you can. Donate unused items to a local food bank if you feel you can't get to them.
---
4.

Gather Moving Supplies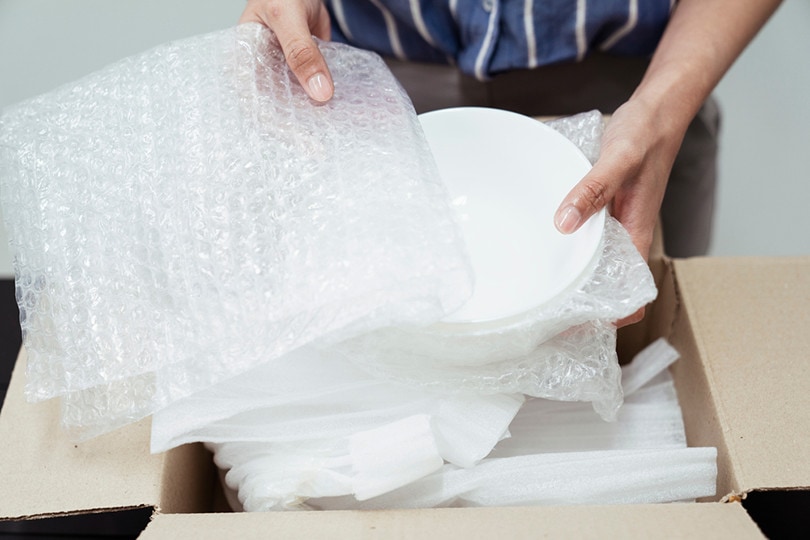 Moving supplies can be expensive, but if you ask around your neighborhood, search online, and visit local stores, you'll often find everything you need at a heavy discount or for free!
Some of the essential supplies include:
Cardboard boxes
Bubble wrap
Packing tape and dispenser
Moving blankets
Rope
Mattress bags
Newspaper
Dollies or moving carts
Electronics and furniture stores are excellent places to find large boxes for free. Ask them for TV boxes for your flatscreen or appliance boxes to protect large items. For general packing materials, Craigslist and Facebook Marketplace are often full of local people looking to unload unneeded supplies.
Checking the integrity of secondhand boxes is critical. Don't accept worn, flimsy, smelly, or otherwise unusable materials. If you have a hard time finding packing supplies for cheap, you can buy affordable unused options at well-known retailers, including Staples, Walmart, Home Depot, and Amazon.
---
5.

Break Down Furniture
Before moving any furniture out of the house, see what you can reasonably break down to ease movement.
Some simple ways to facilitate furniture-moving include:
Removing cushions from stationary furniture
Detaching the backs from reclining furniture
Disassembling lamps
Taking legs off of dining room chairs and tables
Removing shelves and drawers to lighten heavy furniture
Taking legs and backs off furniture will make the pieces lighter and easier to navigate through narrow doors and hallways. You can then stack or store legs and backs for more efficient packing on the truck.
---
6.

Pack Similar Items and Essentials Together
Start packing with an organizational mindset, grouping items together by categories like location and function. Doing so will make it easier to track and label your items from one home to the next.
Keep boxes of essentials together for easy access anytime during the move.
These items can include:
Toiletries
Medications
Snacks
Children's toys and games
First-aid kit
Screwdrivers and other simple tools
Clothes
Disposable plates and utensils
Think about your process for settling down in the new home. Try to keep everything you might need as accessible as possible to avoid becoming stuck if your moving truck hits a delay.
---
7.

Pack Boxes Thoughtfully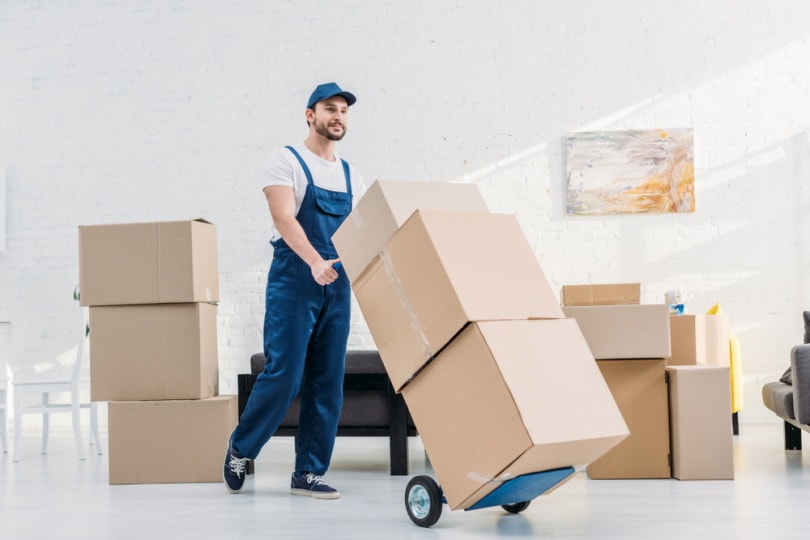 A poorly packed box is prone to damage and will often be challenging to move. Avoid packing boxes to the brim, and pay close attention to the weight you're putting in each box. Small boxes should hold the heaviest items to prevent you from overloading, while pillows, blankets, and other light items can go in larger containers.
You shouldn't pack boxes until they're overflowing, but you also shouldn't leave empty space between items. Use generous amounts of packing paper to keep pieces from shifting or damaging one another during the move.
---
8.

Take Extra Care with Kitchen Supplies
From spices to plates and mugs, almost everything in the kitchen can easily be damaged or do damage. Use paper or bubble wrap for individual dishes, and pack paper into boxes to prevent shifting.
Pack plates vertically to keep them from cracking under pressure. Put dishes, mugs, and glasses in smaller boxes, so they don't become too heavy.
You can nest pots and pans to save space but be aware of Teflon and easily damaged materials. Use plenty of paper to separate each one to prevent scratching. Take advantage of space in a sealable pot to pack spices and other small items.
---
9.

Ask Your Movers About Packing and Insurance
Many people don't budget for insurance during a move. Whether you're using professionals or moving by yourself, the extra coverage can save you tons of money if disaster strikes.
Ask your moving company about their insurance options. Many reputable companies offer full replacement value options if items are lost or damaged during the move, typically allowing the customer to set the coverage amount. Upfront premiums usually cost about 1% of the total value you set for your items.
It's crucial to discuss insurance with your mover as early as possible and before you start packing. Many companies will not cover items that the movers did not pack, as they may argue that damage resulted from improper packing on your part.
---
10.

Take Pictures of Connections
Electronics can be confusing. You likely set up all of your entertainment and smart home equipment so long ago that you don't remember exactly how you did it. Save time and aggravation by taking pictures of connections before unhooking and storing your devices.
---
11.

Protect Everything
Some items need more protection than others, but a good general rule is to eliminate hard contact points between everything. That means using moving blankets or cardboard to cushion furniture against truck walls, wrapping mattresses in bags, and separating dishes with paper or wrap.
The slightest movement on the road can result in minor dings, scratches, and other damage that you could avoid just as easily. Ensure everything has a cushion of some kind in case it should move.

Final Thoughts
Moving is a stressful ordeal whether you're traveling cross-town or cross-country. It's expensive, confusing, and time-consuming, and there are too many ways it can go wrong. Stress is a normal part of the experience, but you can make your move as smooth as possible by using these tips and tricks for packing.
---
Featured Image Credit: kurhan, Shutterstock