Husqvarna 435 Chainsaw Review 2023 – Pros, Cons, & Verdict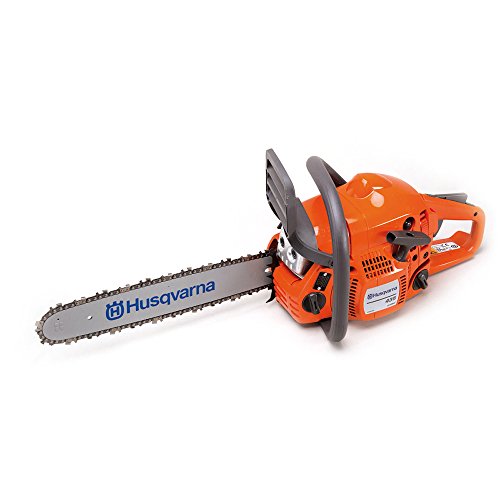 We give the Husqvarna 435 Chainsaw a rating of 3.7 out of 5 stars. 
Build Quality: 4/5
Power: 3.6/5
Features: 3.9/5
Price: 3.1/5
Warranty: 4/5
Review Summary
The lightweight, portable Husqvarna 435 chainsaw offers versatility for your cutting inventory. It's a bit underpowered to really eat through large hardwood trees, but it'll clean up your yard in a snap. If you've got a lot of land with many big trees to manage, it's a great companion to a larger chainsaw. If your workload isn't terribly heavy, it's a great chainsaw in its own right. The only trick is that when getting ready, make sure you follow the operator's manual instructions closely and measure the spark plug gaps. As long as you do that, this saw should be ready and steady in service for you.
Husqvarna's reputation is worth keeping in mind when shopping for chainsaws. This company has decades of experience in the field and continues to pioneer new, impressive features designed for better performance and safety.
Husqvarna 435 – A Quick Look
Pros
Great value-for-dollar
Great companion for a bigger saw
Cuts and cuts and cuts and cuts
Cons
Can be difficult to start
Specifications
Brand: Husqvarna
Model: 435
Engine power: 40.9 cc
Power output: 2.2 hp
Weight: 9.2 lbs.
Max. length: 16 in.
Max. power speed: 9000 rpm
Fuel capacity: 5.9 fl.oz.
Sound level: 102 dB
Easy on the hands
An ergonomic, asymmetric design and vibration control technology are paired to make operating an already comfortable chainsaw (relatively) downright luxurious. There's a lot of talk about features intended to reduce fatigue on the saw and reduce maintenance time. Even more important are features meant to reduce downtime and allow users to rest. These features help maintain optimum safe use of a dangerous tool.
Advanced air filtration
Husqvarna's centrifugal air system means less time spent cleaning and replacing the air filter. This system catches large pieces of debris, always present where chainsaws are operated, before they reach the air filter. It's no longer a matter of spending time opening up the saw and removing the filter. Just sweep out the large particles in between replacing the air filter. Less downtime means faster time completing the work, which means you'll be done and doing what you want to do in less time.
Close-to-the-ground versatility
With its lightweight and rear handle, Husqvarna's 435 is perfect for getting in close to the ground to cut wood with ease and safety. Its design permits you to put the blade where you want it, and control it so it only cuts where and what you want. This is an important safety feature, since cutting into the ground is potentially dangerous.
FAQ
How good is the warranty that comes with this model?
Husqvarna has a standard two-year warranty for basic consumer use, with the option to extend it at time of purchase.
Does the 435 come with an adjustable flow oil pump?
No. The Husqvarna 435 comes with a 13 ml/minute fixed flow pump.
Does the listed weight include attachments for cutting?
No. The listed weight is only for the powerhead. That weight will increase depending on the size of the blade you attach.
Is this saw CARB compliant?
While the X-Torq engine delivers on fuel efficiency, California's air quality regulations have tight restrictions on two-stroke engines. So, no, the 435 is not CARB compliant.
What the Users Say
The great thing about the Internet is that you can get a wide variety of opinions about big-ticket products. You can go to review sites and read what they've got to say, but the question you are left with is always whether trusting an expert is the way to go. If you're a casual user, your experience will be different from that of someone who uses a product all the time.
Across the Internet, the Husqvarna has a two-step process in user opinion. The first is getting it going. This is a substantial hang-up for many people. It's just plain unpleasant to spend a few hundred dollars on something and then not be able to get it running. Lack of ease of use right off, in fact, is a leading cause for returns and shifts in brand loyalty.
Other users say that correcting the 435's starting problems begins with the user manual. If you follow instructions carefully and start with fuel and oil designed for peak performance, this should clear up a lot of problems that plague some users right out of the box.
Once the 435 is running, users report that it is a goer. Keep the blade sharp, and you can turn a stand of small dead trees into firewood in short order. It's comfortable enough that user fatigue isn't much of a problem, and its X-Torq engine means going a decent period between refuelings.
Other users say that this saw doesn't quite have the muscle to chew up large oak trees, but it's a great companion to larger models. Pair it with a larger blade with more power, and you've got a good one-two punch that'll help you keep your home warm throughout the winter or make removing fallen trees a snap.
Conclusion
If you follow the instructions in the owner's manual closely, the Husqvarna 435 is a good addition to your power tool inventory. It doesn't have the size or power to bring down the gnarled old oak that is threatening to fall on your house but for the basic work of cleaning up and pruning it's a beaut. It is comfortable to use and reliable. If you've got a giant chainsaw for large jobs, this one is a great companion to help increase the range of work you can do around the yard.
More Husqvarna Models: