Husqvarna ST227P Snow Blower Review 2023 – Pros, Cons, & Verdict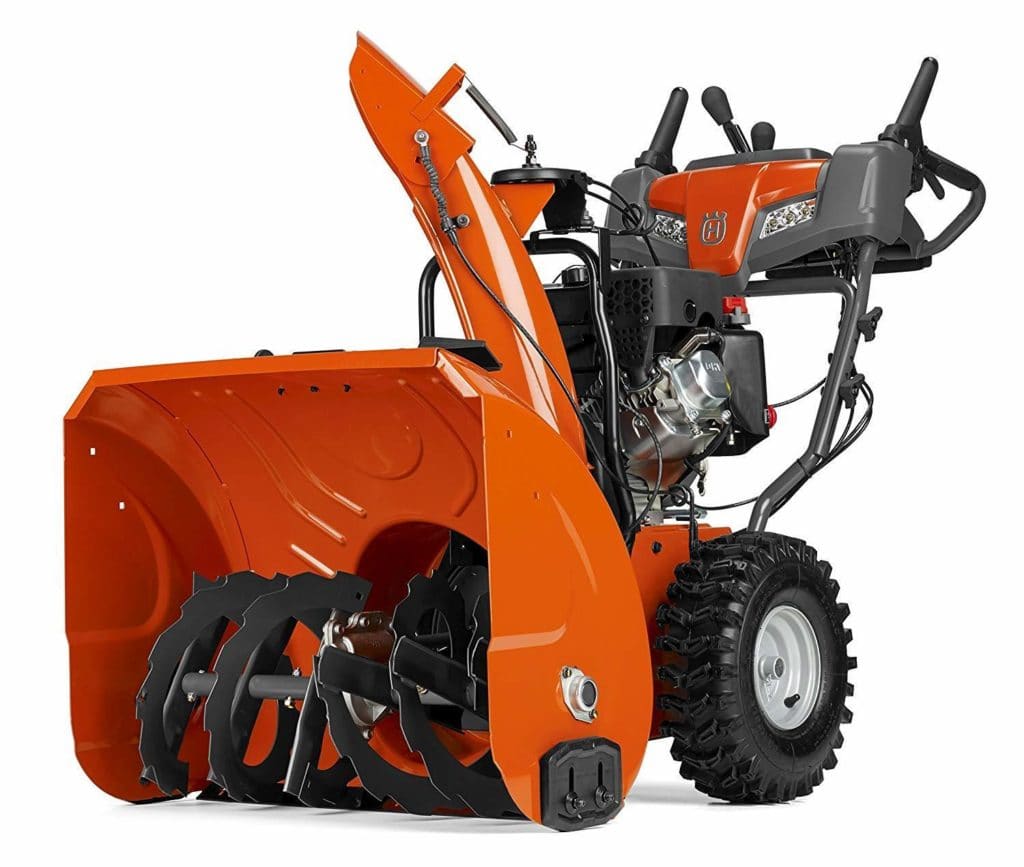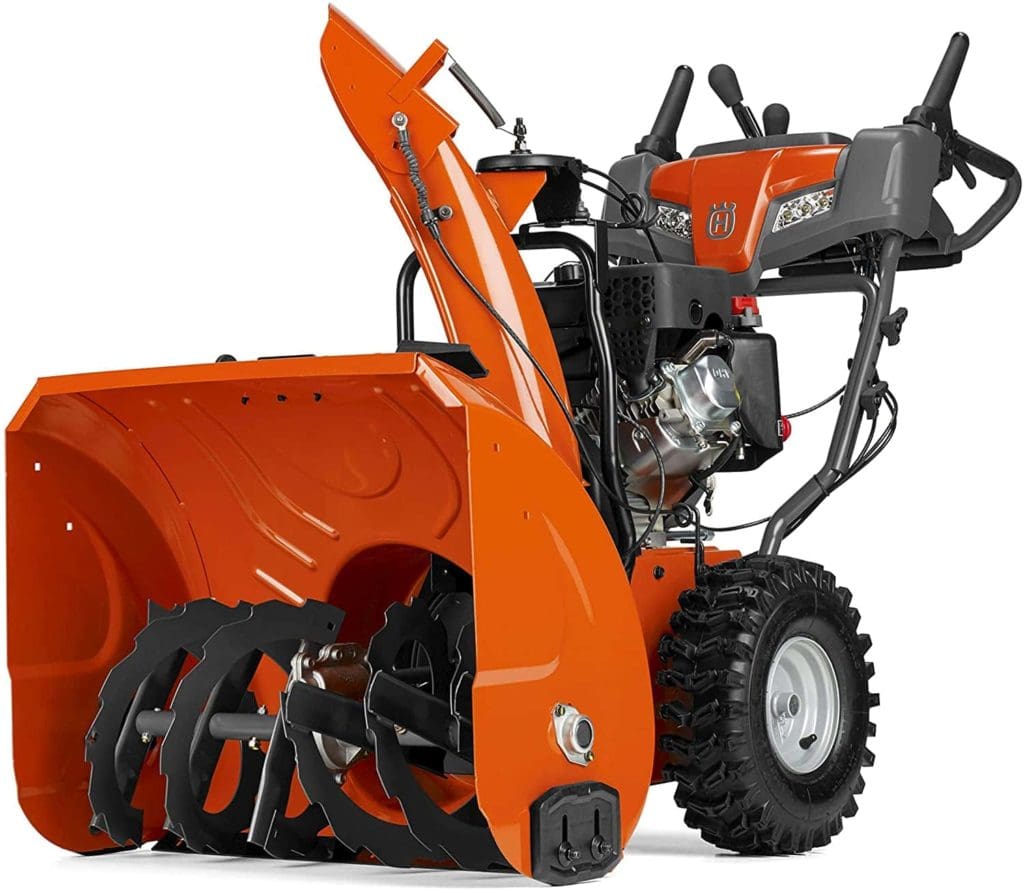 We give the Husqvarna ST227P Snow Blower a rating of 4.7 out of 5 stars. 
Build Quality: 4.5/5
Power: 4.8/5
Clearing Per Pass: 4.9/5
Features: 4.8/5
Price: 4.5/5
Review Summary
With roots dating back to the 1600s, Husqvarna is a leading manufacturer of tools and landscaping items. Their long history makes them a trusted manufacturer for amateurs and professionals. For people who live in snowy environments, the Husqvarna ST227P has quickly become a favorite snow blower.
This snow blower is the most powerful in its range and can blow away any type of snow, including compacted snow. At the same time, the ST227P is easy to use and maneuver. Though it isn't as durable as other Husqvarna products, It is ideal for those needing a killer snow blower.
The sheer power of the blower makes it ideal for homeowners who live in snowy environments. However, those who only get snow once or twice a year may find the ST227P way too expensive or necessary for their needs. Below, we'll discuss the Husqvarna ST227P's benefits and drawbacks. Let's get started.
Husqvarna ST227P Snow Blower – A Quick Look
Pros
Powerful
Large 27" clearing capacity
Easy to maneuver
LED headlight
Heavy-duty, no-slip tires
Cons
Expensive if you only use it once a year
Parts prone to breakage
Specifications
Specifications
Brand Name: Husqvarna
Model: ST227P
Engine: 254 CC two-cycle
Horsepower: 8.5
Auger Style: Ribbon
Fuel: Regular unleaded
Clearing Width: 27"
Snow Depth Capacity: 6″ to 8"
Sound Level: 88.4 dB(A)
Power
Unlike other snow blowers, the Husqvarna ST227P is powerful enough to move just about any snow type, ranging from fluffy white snow to compacted snow with ice. That's because of the sheer power of the motor. It comes with a 254cc, 8.5 horsepower 2-cycle motor.
For those unfamiliar with motor lingo, this allows the Husqvarna ST227P to move 30% more snow than other blowers within this line. 30% may not seem like much, but it quickly adds up, especially when working over large areas.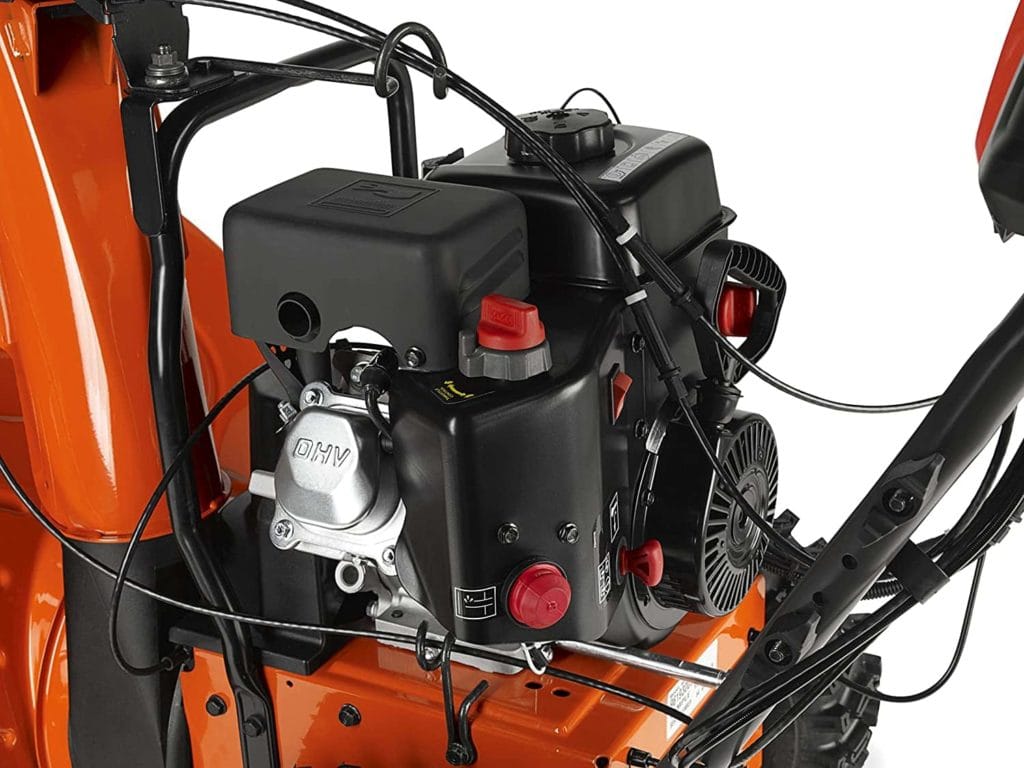 Clearing Per Pass
On top of the additional power, the Husqvarna ST227P comes with a larger clearing pass, too. It can clear 27 inches at one time. The second largest clearing pass in this line is only 24 inches. Once again, 3 inches makes a big difference if you move snow over large areas.
This is especially true if you have a long winter season requiring regularly moving snow. The additional 13% or 3 inches really matters.
Maneuverability
One problem with home snow blowers is their maneuverability. Thankfully, the Husqvarna ST227P is incredibly easy to maneuver. No matter the surface type you are working on or your experience level, you can move the ST227P pretty easily.
That's thanks to its four-position adjustable handles. The handles ensure the user feels comfortable, making it easier to control where the blower is going. Additionally, it comes with a friction disc transmission and power steering for smoother operation.
The Husqvarna ST227P has additional features, like an LED headlight, that make it much easier to use the blower, no matter the condition.
Durability
Considering how much the snow blower can move, it is relatively durable. Still, we do have some concerns where durability is concerned. For example, some of the blower parts are made of plastic. The plastic parts can break under pressure, especially considering the harsh elements the tool will be used in.
Still, we found that the Husqvarna ST227P is durable if you are careful with it. Be gentle with the plastic and store it correctly, or it will break prematurely.
Price
Due to the power and function of the snow blower, it is reasonably priced, but it will feel costly for those who only intend to use a blower once or twice a year. However, the high price of the Husqvarna ST227P is justified if you use it multiple times a year.

FAQ
Does the Husqvarna ST227P Move Compacted Snow?
Yes. The Husqvarna ST227P is strong enough to move compacted snow. This includes compacted snow that road plows have left. Moving compacted snow may take a bit more work, but this blower can move it.
Do the Tires Slip?
No. The oversized, heavy-tread tires do not slip. They come with 16 x 6.5-inch, deep-tread tires, which prevent slippage.
Does the Blower Require Assembly?
It requires minimal assembly and comes with instructions. The setup should not take more than 20 minutes to complete.
What the Users Say
We looked online to read other reviews of Husqvarna's snow blower. After all, we wanted to ensure we didn't get a fluke. Most reviews we found were positive, but a few people complained about durability.
Benefits
Users were impressed by the Husqvarna ST227P's power to move snow. Thanks to its high-power motor and maneuverability, most found it could help with all their snow-moving needs. Some customers even compared its power to other blowers within the same line and found that this model was much more capable and effective. This benefit didn't come as a surprise to us.
Maneuverability is another major perk of the Husqvarna ST227P. All users claimed that it was easy to move around. The electric start especially made usability and maneuverability much easier.
Drawbacks
For the most part, reviews were positive, but some people had issues with the model's durability. Multiple users noted that their auger belts broke. This made their blower utterly useless until it was fixed. Just as we found, some users thought the plastic parts were also prone to breaking.

Conclusion
If you need a high-power home snowblower, the Husqvarna ST227P is the best option. It's ideal if you live in a cold climate with long winters since the ST227P can handle compacted snow and clear paths through deep semi-frozen patches. Although it's powerful, it's easy to operate. However, you need to take care of it properly and store it correctly so its plastic parts don't break.