Kia Carnival vs. Toyota Sienna: Which One's Best for Me?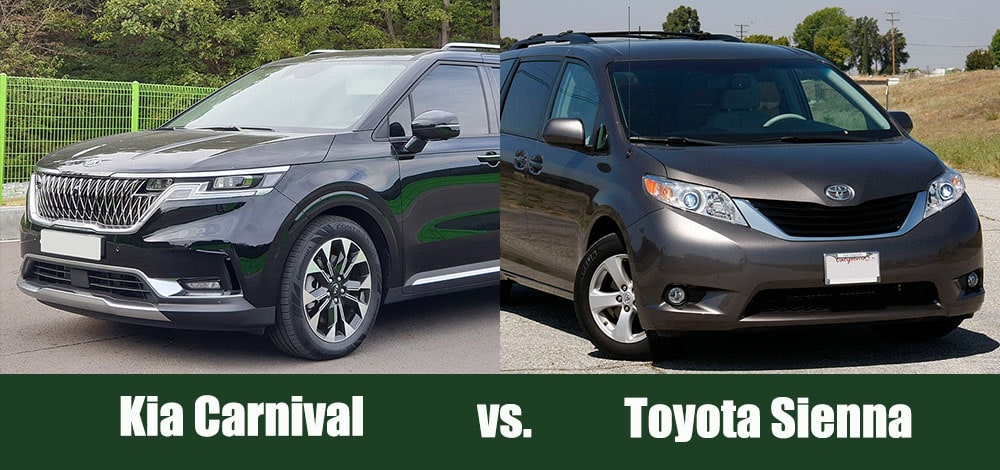 Can't seem to decide which minivan is best for you? Having a hard time picking between Sienna and Carnival? Well, if you make lots of road trips, the 2022 Sienna will be the right investment, as it's the most fuel-efficient minivan1 in the US right now (36 MPG combined). This is achieved thanks to the hybrid powertrain. Do keep in mind, however, that Carnival is more powerful (it has more HP and pound-feet of torque) and is faster to accelerate.
So, if camping out in the wilderness is something that you do every weekend, Kia's minivan will be the right choice. Besides, it has a significantly higher cargo capacity (145 cubic feet vs. 101), which makes it perfect for large families with lots of cargo. On the downside, it's only available with FWD, though, while Sienna can also be AWD. Toyota's best-seller is easier to drive, too, and boasts responsive handling. Both Carnival and Sienna can seat up to 8 passengers and are capable of towing 3,500 pounds.
For long trips, Carnival is the obvious pick, as it features a more polished interior with cozy seats. Sienna is a bit more tech-savvy, however, especially the entry-level trims. More importantly, it performs better in third-party crash tests. Read on to learn more about each minivan and to see how they compare in terms of the powertrain, comfort, pricing, and more.

At a Glance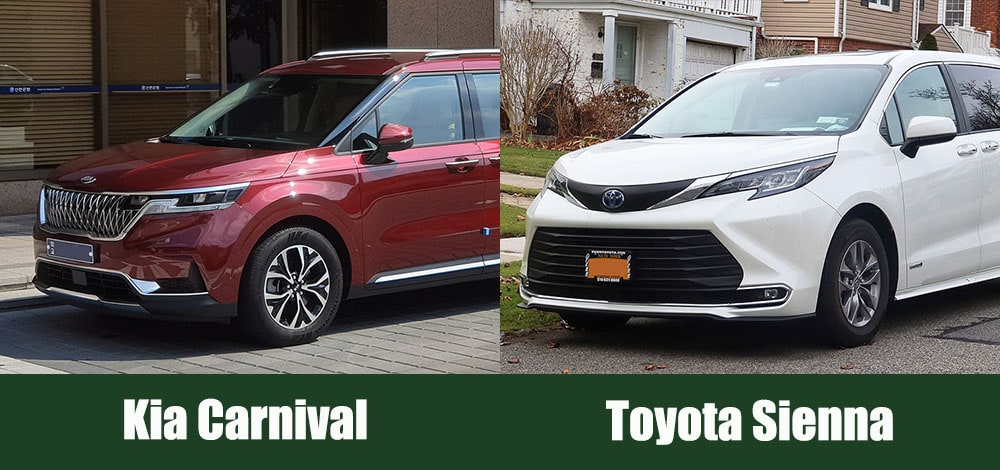 Let's look at the key points of each product.
Kia Carnival
Powertrain: G3.5 GDi V6 (290 HP)
Drivetrain: FWD
Transmission: 8-speed automatic
Fuel Economy: 19 MPG city/26 MPG highway
Towing Capacity: 3,500 pounds
Cargo Capacity: 145 cubic feet
Seating: 7–8
Toyota Sienna
Powertrain: 2.5-lit four-cylinder engine with electric motors (245HP)
Drivetrain: FWD/AWD
Transmission: Continuously Variable Transmission (CVT)
Fuel Economy: 36 MPG city/highway
Towing Capacity: 3,500 pounds
Cargo Capacity: 101 cubic feet
Seating: 7–8
---
Overview of Kia Carnival:
Carnival is all-new for the 2022 model year. That's right: it's a brand-new model that's replacing the Kia Sedona. A top-class minivan, it appeals to the US drivers with a mighty engine, impressive cargo capacity, and a premium interior with supportive seats and lots of headroom and legroom.
Polished Interior, Problematic Lounge Seats
Carnival provides more than enough space for a comfortable ride. Every single row of seats is spacious, while the materials are upscale and give the minivan an "expensive" look. And if you've got the bucks for that, the premium trims will please you with leather upholstery for the seats. Strangely enough, the lounge seats can't be removed and that limits the available cargo capacity.
An Abundance of Cargo Space
With Carnival, you'll have plenty of space to store your cargo. With the second and third-row seats tucked away, you'll get access to 145.1 cubic feet. Flexibility is another big pro: the second-row seats are very easy to fold or remove, while the third-row seats can fold right into the floor of the minivan. Even with just the third row folded, Carnival will still have 86.9 cubic feet, and that's quite a lot.
Lots of HP and Torque But No AWD
The Kia Carnival is powered by a 3.5-lit V6 that puts out 290 HP and 262 pound-feet of torque. It doesn't struggle much, no matter how steep the climbs are or how challenging the terrain is. There is one minor con, though: this is the only available engine (no hybrids available), and there's no RWD or AWD, only front-wheel drive.
Comes at an Affordable Price
While this isn't the cheapest minivan on the US market, Carnival is a very reasonably priced minivan. This is true both for the entry-level trims and the top tiers. And it's cheaper than Sienna, its main rival. Carnival is a bit more expensive than the 2021 Sedona, though, but it's still an affordable choice for the average family.
Pros
Polished, refined, and comfortable interior
Above-average cargo capacity
Comes packed with a capable engine
Available at a "user-friendly" price
Cons
The lounge seats are a bit limiting
No AWD or hybrid options

Overview of Toyota Sienna: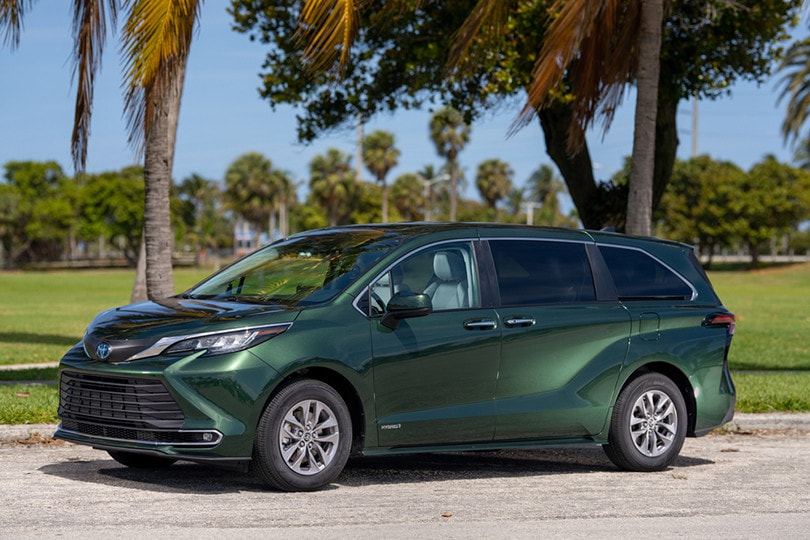 Sienna has been around for decades and has a strong foothold on the market of minivans. It's known as the most fuel-efficient option at US dealerships. Plus, it is easy (and fun) to drive and comes with an enticing list of basic features. What else does this world-famous nameplate have to offer? Take a look!
Outstanding MPG Ratio, But Slow Acceleration
Yes, Sienna is quite an economical minivan. With a combined fuel efficiency of 36 MPG, it will save you a substantial amount of money in the long run. On the downside, while the hybrid powertrain is, indeed, very efficient, it's not very impressive in terms of acceleration and top speed. Sienna's 2.5-lit 4-cylinder motor lacks passing power, which means lackluster performance on steep hills and muddy/snowy terrain.
A Big Set of Entry-Level Features
Another thing that makes Toyota's best-seller stand out is the generous list of techy features that come with the cheapest trims. You'll get a decent dashboard with a 9-inch touchscreen, full Smartphone and voice control support, and a lovely stereo system. The same is true for the safety features. These include forward-collision warning, adaptive cruise control, and lane departure warning.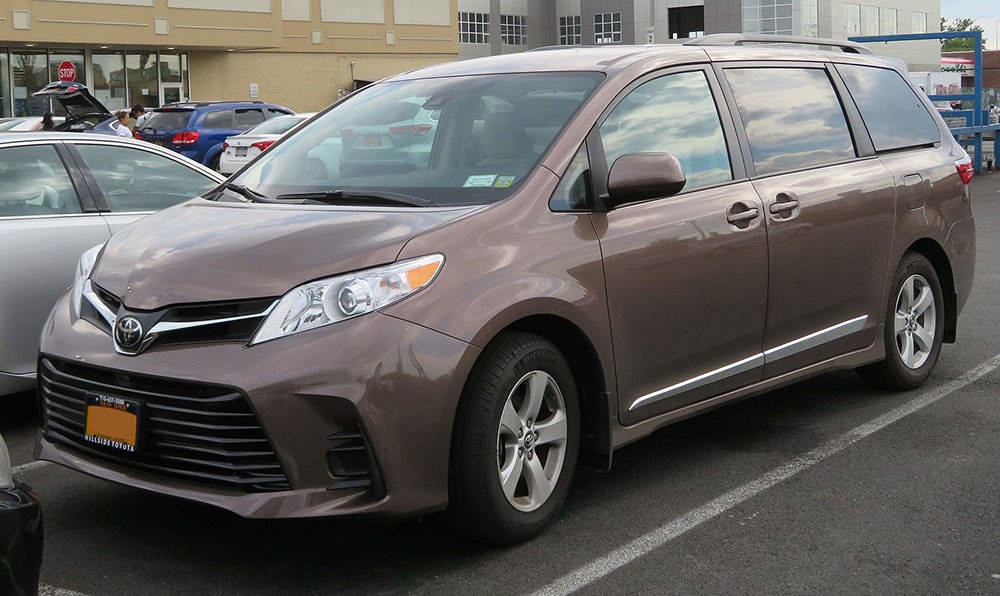 Polished Handling, Easy to Drive
If you're new to minivans and are looking for a vehicle with a refined, comfortable ride quality, Sienna will be a great pick. While it's not nearly as agile as a sports car, you will feel in control over the road, and that's more important. As mentioned, the engine does struggle a bit, but Sienna is still one of the most stable minivans out there and doesn't "wobble" on swift turns.
High Safety Rating, Low Cargo Capacity
Sienna's cargo capacity is much lower than the market average (you'll only get 101 cubic feet). But, that's compensated by impressive performance in crash tests. Toyota's hauler earned a 5/5 rating in the NHTSA trials. On top of that, it's incredibly dependable, according to the latest J.D. Power study.
Pros
Class-leading fuel efficiency
A generous set of basic features
Fun to drive, responsive handling
Strong safety scores
Cons
Weak acceleration
Rather limited cargo space

How do they compare?
Powertrain and Ride Quality
Edge: Sienna
Carnival is quick to accelerate, has more HP and pound-feet of torque, and easily handles tough roads. However, it's not nearly as fuel-efficient as the Toyota Sienna (22 MPG combined vs. 36 MPG combined) and doesn't have AWD. Besides, while Carnival does have a more capable powertrain, Sienna is easier to drive and boasts a refined ride quality, despite the lack of passing power. Carnival is quite smooth as well but tends to lean a bit. That puts Toyota one step ahead of Kia.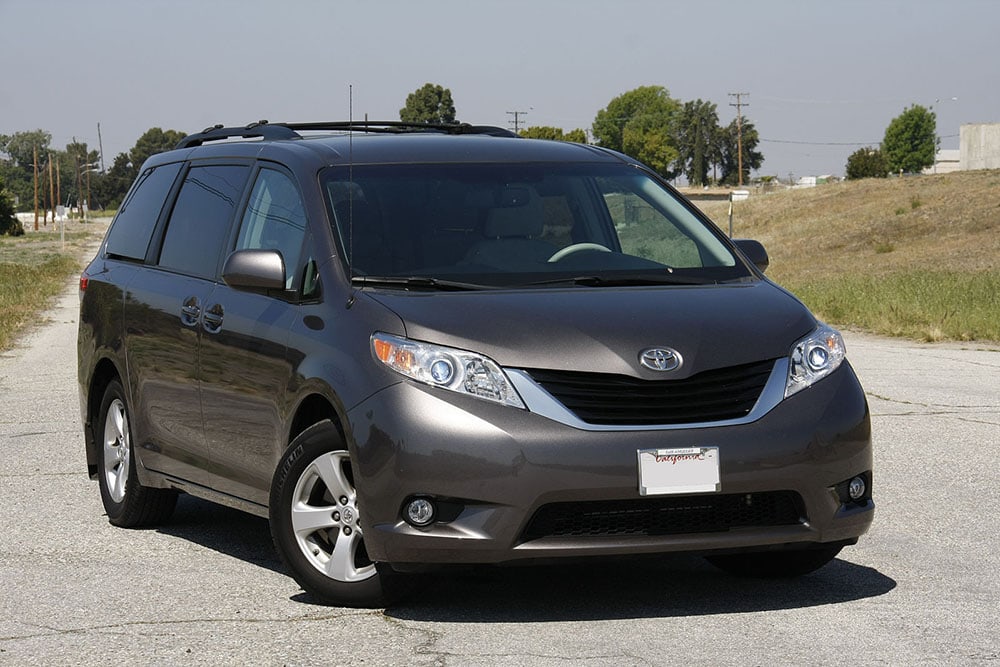 Interior Quality and Technology
Edge: Carnival
Technology-wise, Sienna has a slight edge over Carnival. The difference isn't dramatic, as Kia's minivan is quite feature-packed as well. However, Sienna is more generous with the entry-level trims, and that's a big pro. Plus, the touchscreen is more responsive. At the same time, if we talk about the interior, Carnival is the undisputed #1. The styling and material quality are simply unmatched, even with the basic tiers.
The seats are almost equally great, with Carnival offering a bit more comfort. With Sienna, you will have less cargo space because of the rear seats. The same is true for Carnival's lounge seats. But, as mentioned, it has a higher cargo capacity (45% more, to be exact). Overall, the Korean minivan is a better choice in this regard.
Family-Friendliness
Edge: Sienna
Both minivans can seat up to 8 passengers. And they have the same towing capacity: 3,500 pounds. Sienna is more durable and safer, though. The reliability scores for Carnival aren't available yet. Yet, we do have access to many crash test results, and while Carnival performed decently, it fell slightly behind Sienna.
Pricing and Warranties
Edge: Carnival
As mentioned, Carnival is quite an affordable minivan. Depending on the trim, it will cost you up to 10% less than Sienna. On top of that, Kia offers a better guarantee. Sienna comes with a standard 3-year/36,000-mile limited and 5-year/60,000-mile powertrain deal, while Carnival is covered by a 5-year/60,000-mile basic and 10-year/100,000-mile powertrain warranties. So, it's obvious that Kia Carnival "beats" Sienna in terms of pricing and warranties.
What the Users Say
Before we come up with a verdict for this Carnival vs. Sienna standoff, let's see what regular drivers have to say about these minivans. We studied the most popular and trusted forums in the US and checked out unbiased customer reviews to see which minivan gets more recognition from the people. Now, Sienna has always been praised for its chart-topping fuel economy ratings, along with the large feature set and top-notch ride quality.
For the average family, that's pretty much what a perfect minivan looks like. Toyota is also complimented for the interior, the seats, and the strong performance in third-party crash/safety tests. And what about Kia's brand-new offering? Most reviews say that Carnival isn't at all boring to drive, thanks to the mighty engine. The interior also gets lots of attention, mainly because it's very cozy and features premium materials.
People that have more than two kids swear by the above-average cargo capacity. The VIP seats are frowned upon, though, as they limit the available cargo space. The same is being said for Sienna's second-row seats, by the way. The one thing that's greatly appreciated by younger families in Carnival is the (relatively) low price and the extended warranties. So, yes, both Toyota and Kia did a wonderful job with their minivans, but they appeal to slightly different target audiences. Please, keep that in mind.

Conclusion
Alright, let's sum it up! Do you want extra cargo capacity, a powerful engine, and a polished interior? Then Kia's family hauler will be a bargain. But if you put fuel economy, refined ride quality, and safety above everything else, you should invest in Sienna. As a bonus, you'll get a generous set of techy features with the basic trims and a choice between FWD and AWD. Its hybrid engine isn't particularly impressive, though.
Kia Carnival is more affordable and is backed by a better warranty deal, making it a go-to minivan if you're on a limited budget.
Related Read:
---
Featured Image Credit: (Left) 20201013 Kia Carnival Front Side | Image Credit: Ki hoon, Wikimedia Commons CC SA 4.0; (Right) 2012 Toyota Sienna | Image Credit: Sasukekun22 at English Wikipedia CC 3.0