8 Kitchen Faucet Trends For 2023 – Design Ideas For a Modern Home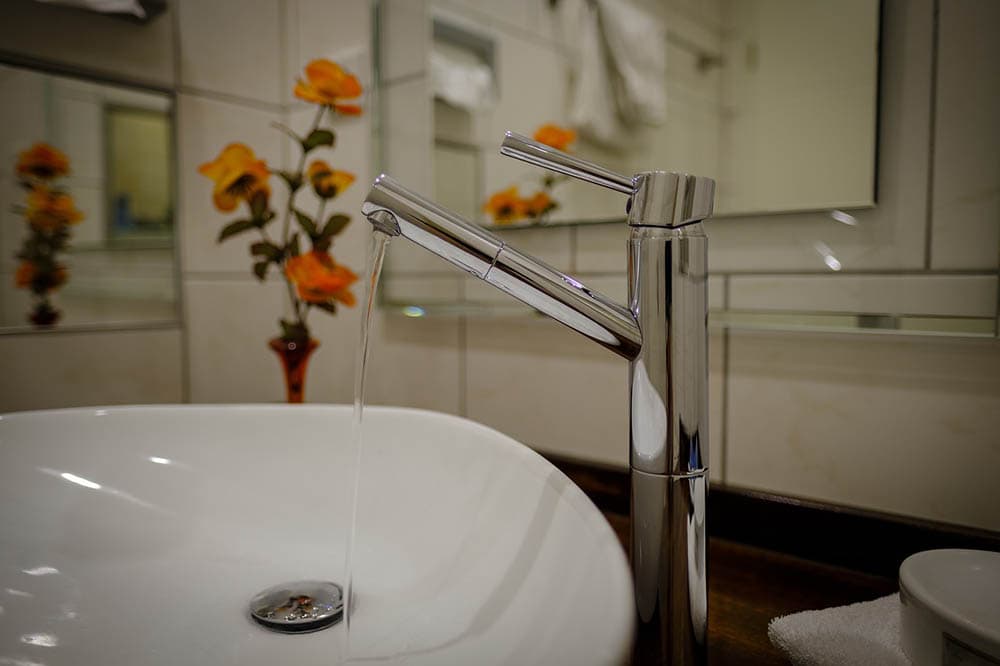 Kitchen designs continue to change at a breathtaking pace. The past couple of years have seen the kitchen space completely redesigned. Kitchen trends that were super hot just 5 years ago are already out of style. The new kitchens are large, airy, and feature color everywhere. When redesigning a kitchen, the sink faucets are getting a lot of attention. Before, many faucets looked and functioned the same. Now, faucets are a way to put your personal stamp on a design.
If you are looking to redo your whole kitchen or are simply looking to add a simple modern touch, there is a faucet on this list for you. These are eight kitchen faucet trends that are slated to dominate this year.
Price Guide
| | |
| --- | --- |
| $ | >$100 |
| $$ | $100 – $250 |
| $$$ | $250 – $600 |
| $$$$ | $600+ |

Top 8 Kitchen Faucet Trends in 2023
1.

Polished Copper Fixtures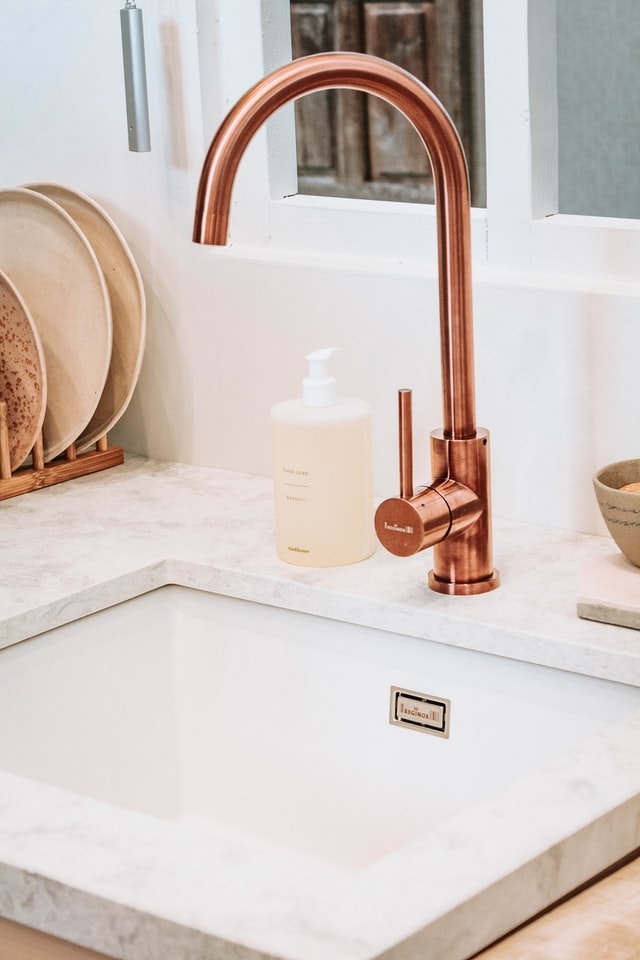 One of the most popular finishes continues to be polished copper. Copper rose quickly in popularity alongside the farmhouse kitchen and continues to be a dominant force in the design space today. Vintage and farmhouse-style faucets continue to be produced largely in copper. However, the polished copper look is becoming a popular finish for all styles of kitchen faucets. Modern and contemporary style faucets such as pull-downs and high bridge faucets are forgoing the traditional brushed nickel and chrome looks for the popular copper finishes.
---
2.

Mixed Metal Faucets
| | |
| --- | --- |
| Style | Contemporary |
| Price | $$ |
If you are a fan of the new metallic designs but do not like copper, don't worry. There are other metallic finishes that are becoming popular alongside copper. The newest metals on the rise include gold, brass, and bronze. The gold faucets are a nice foil to the copper in that they give a similar aesthetic while not being as blatant.
Mixed metal faucets are also becoming popular. Copper faucets might feature brass banding. Gold faucets might have oil-rubbed bronze accents incorporated. Mixed metal breaks up the monotony of a single metal faucet and gives the look more texture and character.
---
3.

Modern Smart Faucets
The smart home revolution is coming to your kitchen. In addition to smart lightbulbs, smart toilets, and smart appliances come the new smart faucets. Smart faucets can help monitor water use, you can set it to turn on and run water from your phone, and they can be synched with voice commands to be able to operate solely with your voice. These features allow the modern homeowner to use their sink from anywhere and never have to touch the faucet again. For anyone looking to continue to upgrade their home with the latest smart gadgets, smart faucets are going to have to be on your list.
Right now, many smart faucets are confined to the modern style. As the technology becomes more widespread, that is subject to change as more styles begin to incorporate smart tech.
---
4.

Touchless Faucets
Not all the latest faucets are smart. There are new designs that incorporate new technology without breaking the bank. If you do not want your kitchen sink to be hooked into your WiFi network (and if that is you, don't worry, you're not alone), then there are new touchless faucets. Touchless models take some of the newest technology without the connectivity to create something fresh.
Instead of having to hit a handle, you can simply wave your hand over the faucet or bump it with your elbow to get the water to flow. This is great for the times when your hands are full or dirty. These models are also great for those germ-conscious people who do not want to continue to touch things that are rarely cleaned. Look for touchless faucets to rise alongside smart faucets.
---
5.

Slender Matte Faucets
| | |
| --- | --- |
| Style |  Ultra-modern |
| Price | $$$$ |
The latest in the ultra-modern style is a spend matte faucet. These new faucets are similar to other modern designs, but they take the minimalist aesthetic to new levels. These faucets are slender, almost spindly, and are coated in sleek matte finishes. They eschew the metallic finishes of the more contemporary pieces to create a look all their own. The slender matte faucets are often smart but not always and are being showcased at the high-end showrooms. The modern matte finishes are often paired with curved high bridge faucets to create a stunning ultra-modern aesthetic.
---
6.

Pull-Down Faucets
| | |
| --- | --- |
| Style | Contemporary |
| Price | $ |
Making a comeback for another year are the hugely popular pull-down faucets. These kitchen sink accessories have been popular for many years now, and they continue to be a dominating force in the market. These faucets are notable for their arched look and the head that you can pull down to fill pots or wash dishes. The finishes are being upgraded to keep in line with the latest styles, but the form and functionality of the pull-down kitchen sink faucet continue to be extremely popular with homeowners around the country. The most popular pull-down faucets for this year are the ones featuring a single handle.
---
7.

Wall-Mounted Faucets
| | |
| --- | --- |
| Style | Contemporary |
| Price | $$$ |
Instead of having sink-mounted faucets, people are starting to switch to wall-mounted faucets. At first glance, they look more like vintage bathtub hardware rather than modern sink spigots. This new trend aims to blend old and new. The finish is often copper, bronze, or gold, and they protrude from the wall in a way that is completely unique yet strangely familiar.
Wall-mounted kitchen faucets are the next step in the continuing evolution that strives to blend vintage, farmhouse, and modern into one cohesive look. Do not be surprised to see more and more of these new spigots hitting shelves near you.
---
8.

Pot Fillers
| | |
| --- | --- |
| Style | Vintage / Farmhouse |
| Price | $$$$ |
Pot fillers are starting to take the design space by storm. These unique faucets are designed to fill pots directly on your stove. Pot fillers are similar to wall-mounted faucets that are also becoming hugely popular but located on the wall behind your stovetop. They require special piping to be installed properly, but once they are, you can fill all manner of pots for cooking directly on your stove.
Not only are pot filling faucets a new statement piece that draws the eye to the hood, but it is also very functional. Anyone who likes to cook will appreciate not having to carefully carry large pots full of water from a sink across the kitchen. Pot fillers are also becoming a popular upgrade to existing sink faucet designs. The newest models will feature a pot filler accouterment in addition to the regular kitchen faucet.

Is It Difficult To Change A Kitchen Faucet?
No. Changing out a kitchen faucet is fairly simple, but there are a few things to take into consideration. First, you must check how many holes your sink has in it. Sinks can feature anywhere from one to four holes. This is important information. A sink with one hole cannot accept a new faucet that requires two holes to be installed. But a new faucet that only requires one hole can be installed into a two-hole sink, and you will just have to find a way to cover the unused hole.
If your sink matches up with the new faucet you are looking to buy and install, the job is very easy and can be done by just about anyone.
Is It Difficult To Change a Sink?
Yes. Changing out a sink is a much more difficult job than simply changing out a faucet. If your sink does not have the right number of holes for your theoretical redesign, you might find yourself wanting to change out the sink entirely. That is a job that requires precise measurements and can be very difficult if you are not also changing out the countertops. It could be done by a homeowner with a history of DIY experience but it is not a job that an average homeowner should attempt on their own.

Conclusion
This year features some bold new kitchen design choices and faucets being used as centerpieces rather than simple tools. There are a variety of different style faucets with a multitude of eye-catching finishes ready to enhance or complete any kitchen. If you find yourself disappointed in your old faucet know that there is a new kitchen faucet out there that fits your style and your budget.
---
Featured Image Credit: Bru-nO, Pixabay