10 Lake House Interior Design Ideas (with Pictures)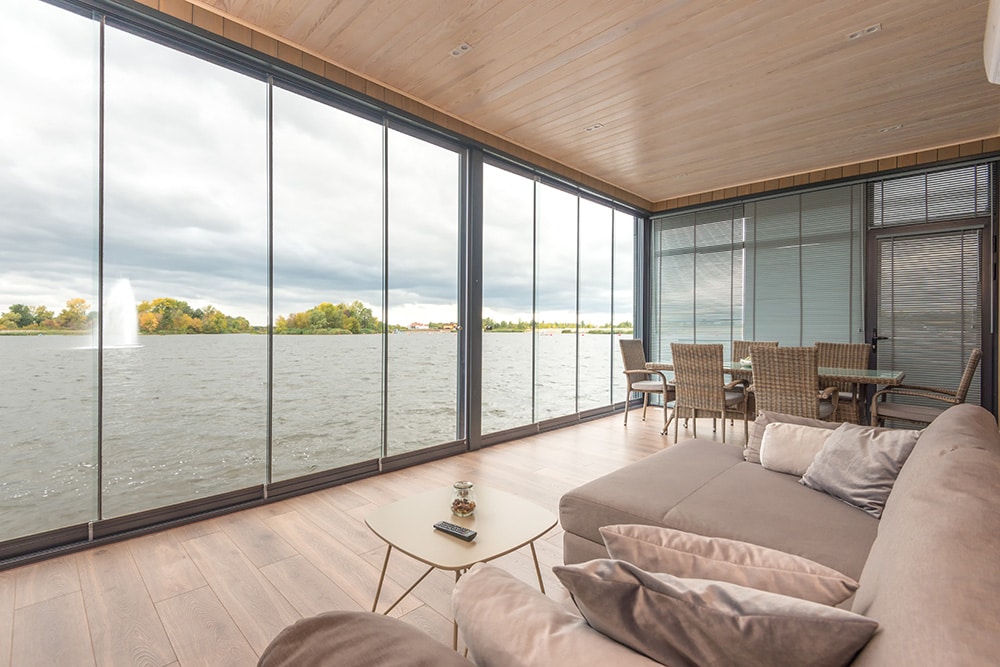 Lake houses are extremely popular. Whether you are looking for a permanent place to spend on the water, a property for family gatherings, or a seasonal rental property, there are a myriad of ways to design a lake house to get top dollar. There are classic designs focused on decor and functional designs aimed at getting the most functionality possible out of your home. The right design can increase flow and tie the entire lake house property together.

The Top 10 Lake House Interior Design Ideas and Projects
1.

Lean Into The Nautical
One of the best places to start on any lake house design is a nautical theme. Nautical themes are classic, timeless, and popular for lake houses of all stripes. Think about getting antiques off of local boats, add marine lanterns for a pop of color and charm, and use ropes, boat cleats, artwork, and flags to bring the water inside.
Some people might not like the prevalence of nautical elements in lake house designs, but for many, the theme is familiar, expected, and calming. Other nautical elements include dark wood furniture, blue and white stripes, and lighthouse motifs.
---
2.

Make The View The Focal Point
Center rooms around windows. Lake houses often feature stunning lake views. Natural views make an amazing focal point for any space. If there is a room with a view, make sure that the view is the centerpiece—frame windows with pieces that draw the eye but don't obstruct the views. Avoid curtains or blinds that will cover the windows.
Arrange seating in a way where the people sitting can see the windows with minimal effort. Using the natural views inherent to the property can replace expensive decor and artwork and replace it with a beautiful frame-perfect scene.
---
3.

Provide Plenty of Seating
Having adequate seating can bring a family together. Being able to fit everyone around the same table or in the same outdoor space can foster interactions and meals. It is a bummer to have crowded spaces where someone has to stand rather than sit. Focus on adding seating like benches, large round tables, long tables, plenty of couch space, and free-standing chairs. Gathering spaces should be focused primarily on seating so that everyone has a place to lounge and relax. After a long day out on the water, there is nothing better than a comfortable seat to lay back and doze off in.
---
4.

Choose Durable Waterproof Furniture
People spend a lot of time dripping wet when out on the lake and ensuring that you have the correct furniture for the job is important. Adding waterproof furniture can decrease stress and increase the number of usable seats at the lake house. Focus on getting wicker furniture, durable cushions, composite pieces, and other items that can hold up to a little water. Wicker furniture is lightweight and timeless.
You can invest in composite chairs and tables that make perfect outdoor pieces that can be used while dry or soaking wet and will last a lifetime. Do not bring in antique furniture or family heirlooms that you will worry about getting rings, dings, or stains because that will decrease the overall enjoyment of the lake house.
---
5.

Increase The Number Of Sleeping Spots
Lake houses can be natural family gathering spots or great rental properties. In both instances, there are a lot of benefits to increasing the number of sleeping spaces. You can get creative with adding sleeping space with things like modern bunk beds, trundle beds, and pull-out couches. Additional beds can help eke out top dollar for your rental or ensure that no one is left off of the invite to the next family reunion.
Bedrooms should be designed with the greatest number of people in mind, and guest spaces should be configured to hold as much stuff as possible. These touches will help increase the value of your lake house in terms of dollars and as a family staple.
---
6.

Use White and Light
Many lake house designs like to use airy colors such as white, cream, and gray to make the spaces feel very light. These designs focus on natural sunlight, have large windows and remove any sense of heavy or dark colors. This helps people bring the outdoors indoors when they are constantly transitioning from the water to the couch.
These spaces should feel like you are outside with plants, sun, and white featuring prominently throughout. Do not cover the windows. Consider adding skylights to strategic locations and keep spaces open so air and light can filter freely throughout the house.
---
7.

Consider Going Rustic
Not all lake houses have to be light and airy. In fact, there is a prominent design philosophy that goes in the opposite direction and leans hard into a rustic, cabin-like look. A rustic lake house trades whites for browns, light for brooding, and cool for warmth. Rustic lake houses feel more traditional, cozier, and appeal to a different aesthetic.
Rustic lake houses utilize a lot of cedar, shingles, exposed beams, and warm wood tones throughout to make them feel like a lodge from the past rather than a modern resort. Modern is not for everyone. Those who are looking for a warmer, more nostalgic lake house should consider playing up a more classic rustic design over an airy modern one.
---
8.

Do Up Indoor-Outdoor Spaces
One of the biggest draws of a lake house is its natural setting and the ability to spend quality time outdoors. That means that outdoor spaces are going to become more important than in other houses. You should focus on upscaling and enhancing indoor-outdoor spaces. Covered porches with tons of seating, docks that work for relaxation and fishing, and sunrooms that have great decor and functionality.
Outdoor kitchens where the food is easily sent into a covered dining area. When the sun is out, and the weather is cool, no one is going to want to spend the day cooped up inside, so make sure that the most popular spaces, the indoor-outdoor spaces, are focal points where people want to spend time.
---
9.

Make The Essentials Functional
One of the characteristics of a lake house is the fact that the house is not the focal point. Many people spend time at a lake house in order to boat, swim, relax by the water, grill some food outside and spend time under the stars. That means the interior of the house is not as important as it is in other types of homes. That means that you should focus on making the essential spaces in the house functional rather than trendy.
The kitchen should flow and be easy to use. The bathrooms should be simple but effective. That doesn't mean your designs have to be ugly, but they should not be cluttered with nonessential things. The design should be keyed in on making every space as usable as possible in order to move people through the house efficiently so they can get back outside to the water.
---
10.

Put A Paddle Somewhere, Anywhere
One of the staples of any lake house is the presence of a paddle or an oar. There are numerous ways to add a tasteful paddle to your lake house decor. Whether you want to simply hang a discreet oar over one of the guest beds or put a series of paddles throughout the entire home, there are numerous ways to add a classic lake house touch. No lake house is complete without at least one paddle hanging somewhere in the house.
Collecting oars can even be a fun side hobby for your lakeside adventures. Oars are commonly found in antique shops along lakeshores, and they are the perfect addition to any lake house, no matter the style.

Conclusion
There are plenty of ideas on this list to spark your next project, from simple decorative pieces to full functional redesigns. There are ideas to bolster your rental property rates and ideas that will help the family forge lasting memories together. Whatever idea catches your fancy, you are sure to embark on a project that will leave you satisfied. Oh, and don't forget the oar.
---
Featured Image Credit: Max Vakhtbovych, Pexels