7 Outdoor Furniture Trends In 2023 – Design Ideas for a Modern Home
We might not be able to agree on so many things as a country, but the one thing that we can all agree on, is the fact that these past couple of years have been brutal for almost everybody. We're living in unprecedented times, and no one can deny that. When it all started, the world outside was practically empty. Very few people could be seen roaming or even hanging out, and that sort of affected the outdoor furniture market.
But things have changed now. We've bounced back, and so has the market. These last few months we've seen incredible growth and recovery, as the demand for outdoor furniture has more than doubled. You can tell nobody no longer wishes to be cooped up in the house, and that's good for business.
On the off chance, you're looking to improve your outdoor space, these are some of the furniture pieces that we thought would turn that whole area into paradise.

Top 7 Outdoor Design Trends
1.

Outdoor wicker and rattan seating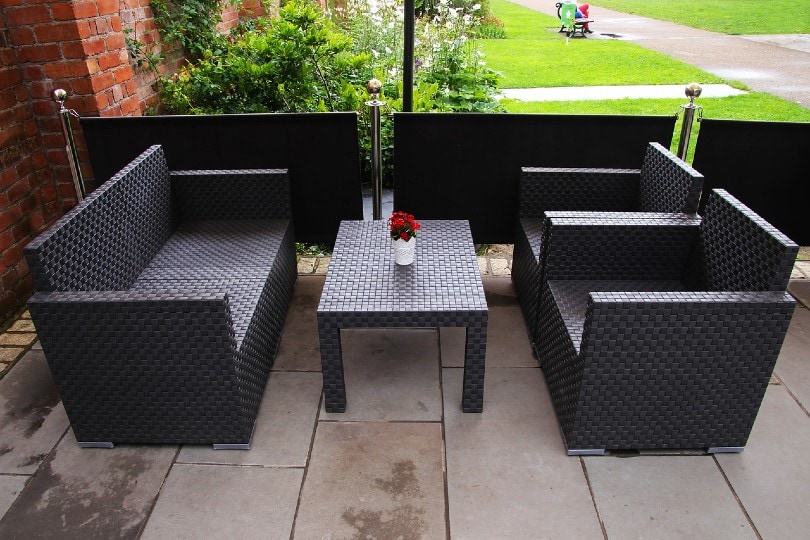 These two terms are often used interchangeably, and that's why distinguishing one from the other seems like an uphill battle.  But wicker is just a furniture-making method, and one of the oldest methods known to history. Our records show that it was first documented in Egypt nearly 5000 years ago, when people still used pliable plant material.
Rattan, on the other hand, is the material used in the process. Sometimes spelled 'ratan', it's a plant species that resembles a vine, and mostly grows in the tropical regions of Africa, Asia, and Australia.
When you see rattan furniture, you'll know it's rattan furniture. That material texture looks sophisticated and just… different. Needless to say, the design will for sure add a touch of elegance to your outdoor space.
---
2.

Outdoor daybeds
Assuming you're the type of person who not only believes in style but also comfort, you'll certainly fall in love with the outdoor daybed. They are usually designed to offer cool outdoor chilling spots and contribute to the exterior décor.
By the way, a daybed is basically a piece of furniture that's half-sofa and half-bed. We know whenever we talk about daybeds some people automatically think of futons, so we had to clarify that. Even though they both accomplish the same purpose, the daybed exudes elegance and opulence.
Daybeds have been around for a minute now. They were there during the Egyptian times, and we know the Greeks and Romans couldn't be part of any social activity that didn't have them. The Europeans also found them socially appropriate back in the day, and the Chinese… Well, the Chinese saw them as pieces of furniture only meant to be used by people of stature in society.
---
3.

Outdoor dining table
Who really doesn't like eating outside? Have you ever meant anyone who doesn't enjoy such a dining experience? You'll have to let us know because this is, in all honesty, one of life's greatest pleasures. It's even more enjoyable if the weather is warm, and you're surrounded by friends and family. All of you guys can bond over a delicious meal, while enjoying each other's company.
But you have to look into a couple of things before investing in this piece. The first thing is the placement. You must know where the table will fit, so as to encourage interaction. Secondly, think about the amount of space you have to spare. If it's a small space, go for a small outdoor dining table.
And lastly, the dining table's surface. The kind of surface that won't require high maintenance, just to ensure it looks fabulous all year round. If it were up to us, we would go with ceramic and granite, which are not only low maintenance, but also durable.
---
4.

Outdoor hanging/swinging chairs
The hanging chair is without a doubt a timeless piece. It was the idea of Finnish creator, who designed and produced the first one in 1968. That model was commonly referred to as the 'bubble chair', as it was perfectly round and hung from the ceiling.
Hanging chairs have never been outdated. And thanks to technology, they now come in different shapes, sizes, and materials.
The benefits of owning one are numerous. If you've had a long day at work, you could pour yourself a glass of red wine, look for your favorite book, go outside, and spend the rest of the evening relaxing in one. Science has actually proven that a gentle swing could quickly relax your muscles and stimulate deep sleep.
---
5.

Outdoor fire pit
Fire pits have a way of creating this sense of intimacy whenever they are installed in an outdoor space. You'll for sure love them because in addition to that fact, they also set an inviting tone for different gatherings.
You don't have to go for the traditional fire pit if you're environmentally conscious. The gas fire pit is the best option, seeing as it doesn't pollute the air by emitting soot.
Are there portable outdoor fire pits? Yes, there are. And they have been designed to offer the ultimate experience, should you feel the need to add a conversation center to your space.
Nowadays, you don't have to work with a fire pit that's installed in the ground. We have brands that offer a variety of options when it comes to height. The best part is, you could always pick a height that matches that of your coffee or dining table.  Alternatively, buy one that has a flush lid that could be used as a drink holder, when the fire feature is switched off.
---
6.

Outdoor lamp
Outdoor lamps are particularly useful on dull days. You know, those days that the sun is kind of shy, but the weather isn't all too bad. They'll enhance the mood, and make your guests love the space even more.
But the key is to first figure out which places you'd like to have the eye drawn. They cannot just be installed anywhere.
---
7.

Outdoor umbrellas
Umbrellas are an essential feature as they protect you from not only the rain, but also the sun. Too much sun is not good for the body. Its ultraviolet rays have been known to cause damage to the immune system, eyes, and skin. To make matters worse, there have been reported cases of instances where too much exposure led to cancer.
Homeowners now understand the concomitant risks of this kind of exposure, and that's why outdoor umbrellas are in demand.

Conclusion
Do you have anything that you'd like to share with us? Because we'd love to hear from you. We hope this piece will be instrumental in helping you decide what to go for, and what not to go for. Share the information with your friends, especially those that love to invest in trendy stuff. Until next time, goodbye.
---
Featured Image Credit: rhyslud, Pixabay