Makita 5377MG Magnesium Hypoid Saw Review 2023 – Pros, Cons, & Verdict
We give the Makita 5377MG Magnesium Hypoid Saw a rating of 4.8 out of 5 stars. 
Build Quality: 4.9/5
Features: 4.8/5
Price: 4.5/5
Review Summary
If you're looking for a circular saw to put others to shame, then you'll want to take a closer look at the Makita 5377MG. This is no standard circular saw. This is a magnesium hypoid saw, offering outrageous amounts of power and a build-quality that's second to none. It's a pretty hefty tool with substantial size to it, but magnesium parts keep the weight down. Even though it's bulky for a circular saw, it's light compared to worm drive saws and even other hypoid saws.
There's a lot to like about this machine. It's got integrated oil bath technology for a low-maintenance experience. Its 15-amp motor paired with hypoid gears means that it's a pleasure to use as it cuts through practically any material like a hot knife through butter. Its high price means that many hobbyists will look past it. But if you want professional quality from your saw and you need the power that only a next-level circular saw can provide, then you'll find all you're looking for and more in the Makita 5377MG magnesium hypoid saw.
Makita 5377MG Magnesium Hypoid Saw – A Quick Look
Pros
Magnesium components
Precision-machined hypoid gears
Much quieter than other circular saws
Doesn't require oil changes
Cons
It's rather expensive
2 pounds is pretty hefty for a circular saw
Specifications
Specifications
Brand Name: Makita
Model: 5377MG
Blade Size: 7.25"
Max Speed: 4,500 RPM
Motor: 15 amps
Weight: 13.2 pounds
Cutting Capacity: 2.375"
Bevel: 51.5 degrees 
Steel Hypoid Gears
Hypoid saws are the heavy-duty monsters of the circular saw world. They're like chainsaws in circular saw clothing, offering far more power and durability than a standard circular saw. The Makita 5377MG is a hypoid saw, so it's got gobs of torque and can power through just about anything. What makes this tool particularly durable is that the hypoid gears are all crafted out of steel, providing an incredible level of durability. This might be the last saw you ever need to purchase.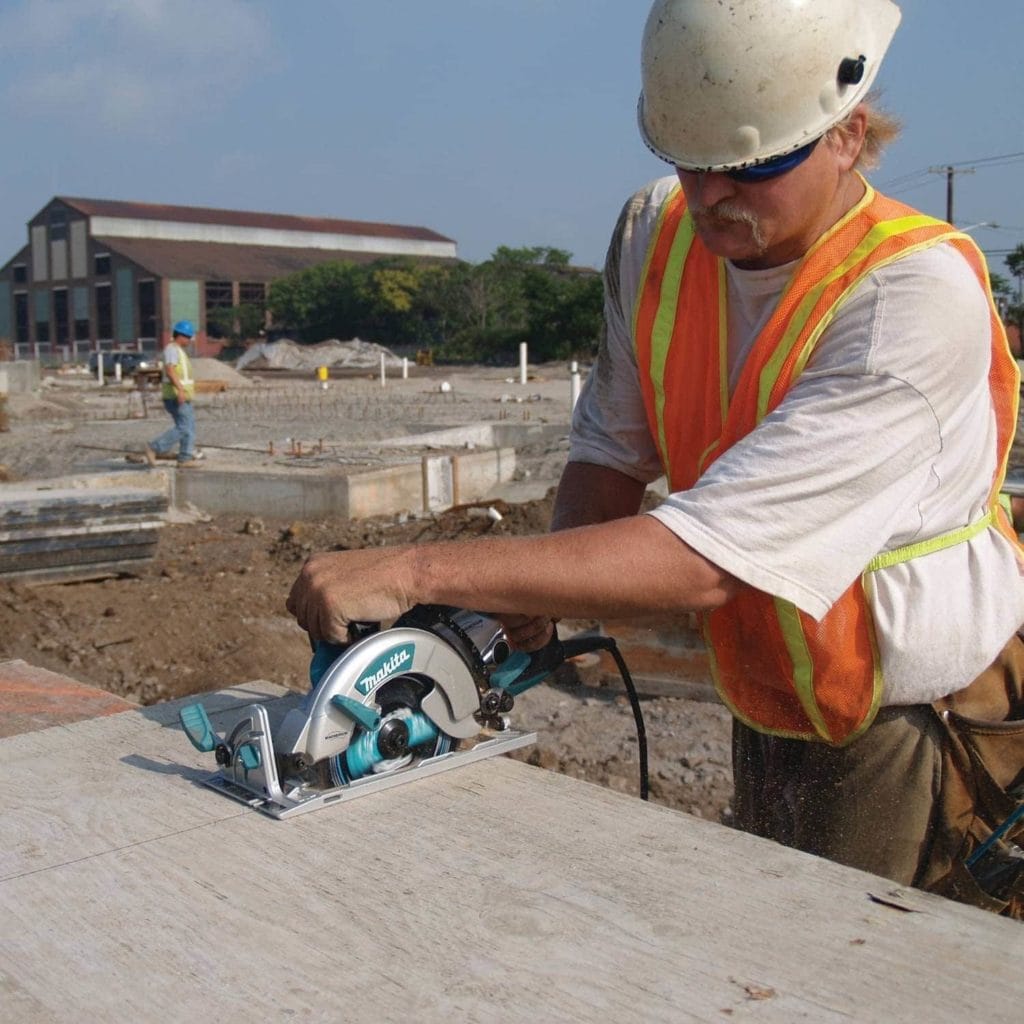 It's Pretty Bulky and Heavy
If you compare the 5377MG to other hypoid or worm drive circular saws, you won't think that it's a very heavy model. It compares favorably to similar saws. But compared to a regular circular saw, the 13.2 pounds that this saw weighs seems practically obese. If you're used to using a circular saw one-handed, you'll have to change gears and get used to using two. Not only is this a heavy and large saw, making it more difficult to manage, but its substantial power means a second hand is necessary to keep it steady.
Made with Magnesium Components
Magnesium is an incredibly strong metal that's also lightweight. Many of the components on this saw are crafted from magnesium, in order to keep the weight down. Granted, it's still a burly saw, but that's due to the hypoid gearing. You can't get this kind of torque and power from a tiny saw, but with magnesium components, it's as light as it could possibly be.
Oil Bath Means Maintenance-Free
Worm drive saws require regular oil changes and maintenance. But this hypoid saw features oil bath technology. This means it has a sealed gear housing and never needs oil changes. You won't have to maintain this machine, but you'll still get incredible performance that's superior even to worm drive circular saws.

FAQ
What size and type of blade arbor is compatible with this saw?
This saw uses the round ⅝-inch arbor.
Does this saw come with any sort of case?
No. The Makita 5377MG doesn't include any type of carrying or storage case.
How long is the attached power cord?
The power cord on this saw is about 9 feet long.
What the Users Say
We're pretty experienced with circular saws, having used them on a wide range of projects over many years. We've given you our opinions on this saw, but we're not the only users who have developed thoughts on this machine. We searched the internet, looking for the opinions of other people who have used this saw to share them with you.
Based on the reviews and comments we found, it seems like a large portion of the users of this saw are professional contractors, meaning they had lots of previous experience with similar tools. While this saw is pricey for a circular saw, few users seemed to think it was expensive for what you're getting.
Most users were happy with the amount of power and torque that this saw creates. A common comment was that the more someone used this saw, the more they fell in love with it. That said, many people felt that it was rather heavy with many saying it requires two hands to use. Similarly, lots of people echoed the feeling that this saw is pretty bulky and can be more difficult to maneuver than a standard circular saw.
Even for those who didn't think the weight was an issue, the amount of torque this saw creates requires two hands for starting a cut. Users were pleased with how fast this saw made its way through wood and how clean the resulting cuts were. Many users who were experienced with this type of saw were happy with how quiet this saw is compared to others.

Conclusion
Not everyone needs a super-powered circular saw. For the average hobbyist and even many professionals, a regular circular saw will fulfill their needs. But if you demand superior performance, you won't be disappointed by the Makita 5377MG magnesium hypoid saw. It's got gobs of torque to power through anything with ease, making for an incredibly smooth cutting experience. It's a joy to use, even if it's a bit on the heavy side. It might be a bit much for the weekend warrior, but discerning professionals will appreciate the power and reliability of this hypoid saw.
Related Reads: