Makita 500 7f 7-1/4-Inch Circular Saw Review 2023 – Pros, Cons, & Verdict
We give the Makita 500 7f 7-1/4-Inch Circular Saw a rating of 4.4 out of 5 stars. 
Build Quality: 5/5
Power: 4/5
Features: 5/5
Price: 3.5/5
Review Summary
Looking for a new circular saw? Of course you are! You have come to the right place to find out everything you could possibly need to know about the Makita 500 7f.
Shoppers already familiar with Makita are probably already aware that their name is synonymous with quality.
That reputation is probably because of tools like this one.
We will take a good look at the highs and lows of the 500 7f as the review progresses, but for now, here are a few important details that we can loop you in on.
One of the first things that we noticed is that the Makita is very feature-rich. The LED lights and built-in dust blower are both unnecessary though deeply appreciated features that will help you improve your work a little bit.
We will cover other drawbacks of this tool as this article progresses, but for now we can mention that it is a little bit heavier than we would prefer in a saw like this.
Is this a huge deal?
Check out the review and decide for yourself!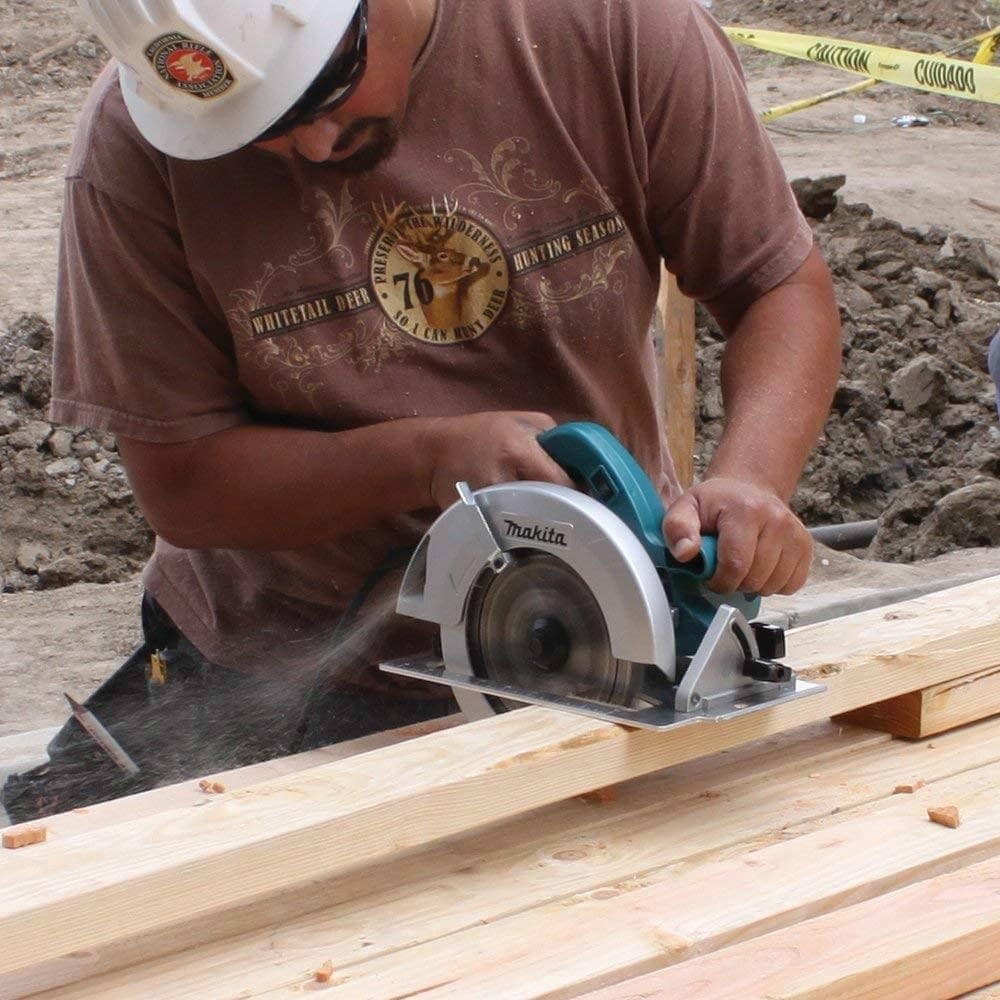 Makita 500 7f – a Quick Look
Pros
15-Amp Motor
Durable
LED Lights
Dust Blower
Specifications
Company: Makita
Model: 500 7f
Power Rating: 15-Amp
Weight: 11-Pounds
Power Source: Corded
Rotations Per Minute: 5800
We will now take a look at a few key features that are will help you make an informed decision about purchasing this product.
Power:
We will start by saying that this might not be the most powerful circular saw in its class that you could purchase.
There are some units out there that really bring the heat in this department.
However, there is still a lot to like in terms of the 500 7f's power rating. For starters, this unit features a 15-amp motor that provides ample power to work through a variety of materials.
This motor can deliver 5800 rotations per minute. Again, there are definitely quicker saws out there, but this is also certainly nothing to sneeze at.
With 5800 rotations per minute, you should not have any trouble making quick and accurate cuts.
Generally speaking, blade speed is associated with the actual quality of the cuts. Quicker saws usually produce much cleaner and more accurate work.
That being the case, it is nice to see that the 500 7f has plenty of power at its disposal.
Features:
One of the things that we liked a lot about this tool is that it really puts a special emphasis on the bonus features.
We have already highlighted these features in the introduction, but they nevertheless are still worth expanding on.
The LED lights are going to be great for emphasizing your cut line, which should serve to improve the accuracy of your work. Users familiar with high-end tools are probably already well aware of this type of feature.
However, it is worth mentioning that that isn't exactly what you are getting here. The lights shine on the cut line, but don't form a laser-accurate line to follow.
Still, it's a handy feature to have.
Then there is the dust blower feature. The dust blower is implemented to remove dust from your cut line so that you have less debris in your way as you attempt to make the cleanest cuts possible.
Neither one of these features are explicitly necessary, but they are definitely going to help you get the best work out of your saw.
Ease of Use:
Last but not least, the tool designed to be operated by pretty much anyone so regardless of your level of skill, you should not have any trouble at all picking it up and operating it.
This is a nice feature to have considering that many saws are not built with both experts and beginners in mind.
FAQ
How durable is this tool?
Great question! While this tool definitely does not have the durability that is desired for an industrial job site, it is definitely going to do just fine at suiting the needs of most home users. Assuming you aren't a professional, you shouldn't have any trouble at all with this tool's durability.
Does this tool come with a carrying case?
Unfortunately, no. Travel cases are going to have to be purchased separately.
Is the depth gauge adjustable?
Yep! Users are sure to appreciate that the depth gauge on this unit is entirely adjustable.
What the Users Say
As one would expect, the user impressions of this tool are generally very positive. People definitely appreciated the easy to use interface, the power of the tool, and the bonus features.
One thing that people did mention is that the light can be a little bit distracting, especially given that it isn't as useful as comparable features in other tools.
That said, most people seem to like the light.
Complaints were also pretty minimal. The one thing that we heard over and over again was that the tool was a whole lot heavier than was expected.
This isn't a disastrous con, but it also isn't great. Tools are progressively moving towards lighter builds, and this trend has been to the general satisfaction of most users.
Is this a deal-breaker? For most people, it probably won't be.
Makita 5007F 7-1/4" Circular Saw
Powerful 15 AMP motor delivers 5,800 RPM for proven performance and jobsite durability
Lower guard design improves performance when making bevel and narrow cuts
Large cutting capacity (2-3/8" at 90°, 1-3/4" at 45°)

Conclusion
So, what to do? As you can see, this is mostly a really good tool. While we weren't crazy about the weight of the machine, for most people this probably is not going to be a deal-breaker.
In our opinion, it seems like the high-quality features should more than compensate for this issue. The LED lights, dust blower, and high powered motor are all attributes that will really make a difference as you use your tool.
Of course, our objective is never to tell you how to spend your money. We only hope that we have been able to make the shopping process a little bit easier for you.
Related Reads: